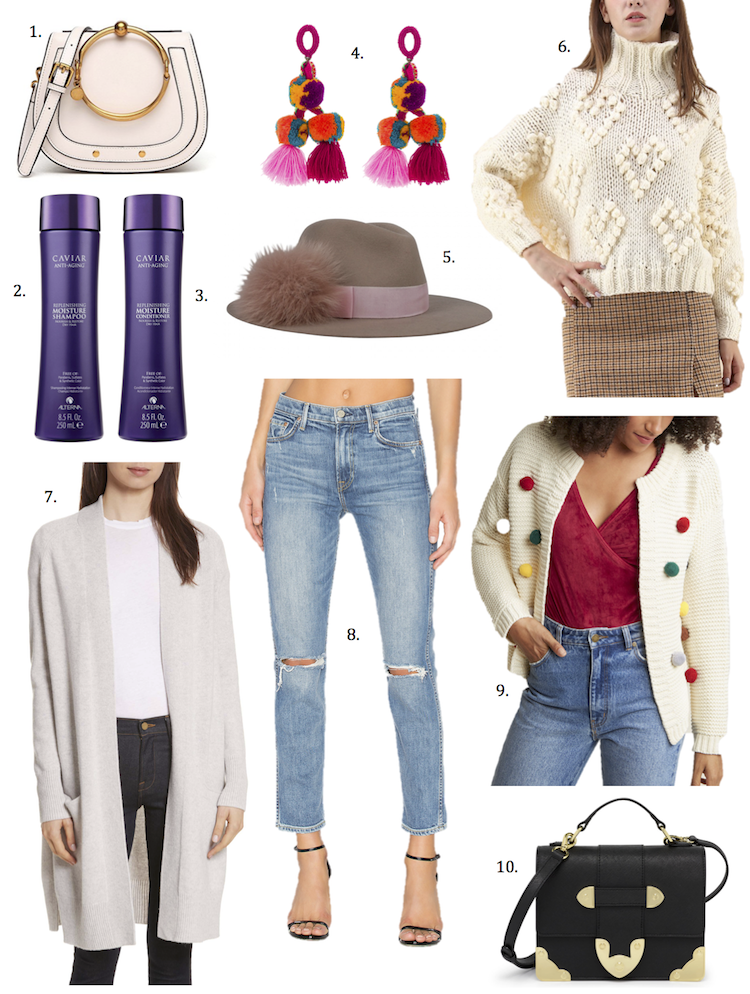 1 | 2 | 3 | 4 (half off!) | 5 | 6 | 7 | 8 | 9 | 10
For this week's wish list I thought it would be interesting to share some of the pieces I've most recently added to my closet that I am really loving.  Trying new things is essentially part of my job, and there are always some standouts that I find myself reaching for over and over again.
I got this bag right before my trip to London and wore it with everything. It's the perfect size for travel and is one of the best Prada dupes I've seen. Plus it comes in four colors – I love the pink too! I snagged this white designer dupe and it also goes with everything. A little smaller in size so it's better for nighttime but super cute all the same – and comes in 20 colors. No joke – 20 colors!
I got these jeans right before NYFW and have continued to wear them all the time because they're so soft.
This hat was designed by my friend Erika of Whiskey & Lace and it is even cuter in person. The pom pom is so adorable and the hat perfectly represents her girly, feminine style!
I shared last week here that I can't get over pom pom sweaters right now and I recently added this one and this one to my collection. So cute and so FUN.  This cashmere cardigan is officially my favorite cardigan in my closet. Feels like butter and is that perfect color that will go with everything.
I got these earrings when they were marked down because I had the neutral pair and have loved them so much. Now they are even MORE marked down and I know they'll be perfect for two tropical trips I have planned this winter!
Are there any pieces you've added to your closet so far this season that you're really loving? I'd love to hear! Thanks so much for reading – XO –