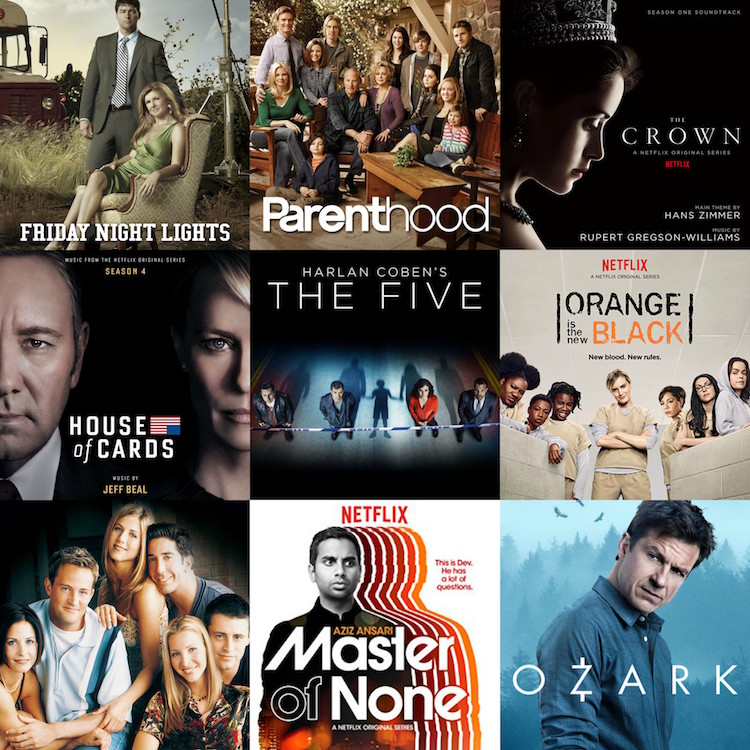 I love television. Love it. If I want to be basic female who blames any of her weaknesses on her parents, I would say maybe my love of television is deep rooted in my upbringing.
I was allowed to watch 30 minutes of TV a day growing up, and we weren't allowed to have in TV's in our bedrooms.  Apparently my Dad had one in his room growing up and said he didn't really hang out with his  brothers at home because everyone just retreated to their rooms.  So in an effort to get their kids to hang out with each other, learn to share and play outside… I was graciously turned down when I asked for my own TV every year for Christmas.
Cut to college where I got to have a TV in my dorm room.  I was like… THIS IS LIVING. Lying in my bed and watching The OC was one of my greatest pleasures in life. So now I'm basically a complete addict.  Maybe I'm making up for lost time?
I also work from home now which means I typically have a show on while I edit photos, answer emails, write copy (literally watching Parenthood while I'm typing this right now), etc.
Because I've been open with you guys about this addiction, I get a lot of questions about my favorite shows to binge and do I have a list for you!  I thought I would dedicate a whole post to my Netflix faves.  So let's get into it!
FEEL GOOD:
Parenthood | Love it. Love it so hard I wish I was a Braverman.
Friends | I mean… who doesn't like Friends!? I watched several seasons while painting our breakfast room table (post here).  I don't even feel like this one needs an explanation.
Master of None | Christian and I love Aziz Ansari. His stand-up specials are also on Netflix and they're hilarious.  We've seen him live and he was incredible.  So yeah… we're obsessed.
Friday Night Lights | I was slow to accept that this show is amazing. I was like… let me just dip my toe in it. And after like… 4 episodes I was all, "this is the best show regarding sports of all time."
Friends From College | We just kind of stumbled upon this one weekend and loved it. I think Keegan-Michael Key is beyond hilarious. He can say basically anything and I'll laugh (we love this skit of his).
DRAMA:
Mindhunter | If you're a true-crime lover, this show is for you.  It dives deeper into the history of several serial killers and tries to connect the dots of behavioral patterns. A fascinating look into the behind-the-scenes of capturing what is truly evil.
The Five |  I was basically advertising this show all over social media because I stumbled upon it, saw it was based on a novel by Harlan Coben (an amazing mystery author). It was SO good, and I felt the need to share a PSA! I've since received 92374384343 direct messages with "what was that show that you recommended?" so I need to share it somewhere permanently!
Ozark |  We love Jason Bateman and really hope this show has a second season. So good!
The Keepers |  A disturbing docu-series that is both heartbreaking and inspiring.
The Crown | A fabulous show!  I think this is a must-see for anyone who liked Downton Abbey. If you're a Downton fan, I think you'll love this show.
House of Cards |  I had a hard time listening to Kevin Spacey's terrible Southern accent (it's actually why I initially ditched it and later revisited the series), so selfishly I'm not sad to see him axed from the show. Looking forward to the final season and the stunning #bosslady that is Robin Wright.
Orange is the New Black |  I've been hooked on this show from the beginning. I love the complexity of the characters and you have to credit the writing of a show that completely takes place inside a female prison and is still completely captivating.
Stranger Things | I'm the opposite of a Sci-Fi person (still haven't seen Star Wars and probably never will), but I had to witness the return of Winona Ryder with my own eyes. I'll always root for her! More than anything, I'm amazed by the kids starring in this show and their talent. A++!
Other Netflix specials I really loved were Lady Gaga's Documentary (Five Foot Two), the Amanda Knox special and any stand-up by Jim Gaffigan, Kevin Hart, Amy Schumer or Sebastian Maniscalco (this guy is a riot, snippet here).
Christian really liked Narcos. I watched the first season and then was like… I think this is too much violence for me so you can watch it on your own. And he did!
I'm considering watching Mad Men, Black Mirror or The Fall.  I'd love to hear your favorite shows to binge on Netflix!  Thanks so much for reading – XO –