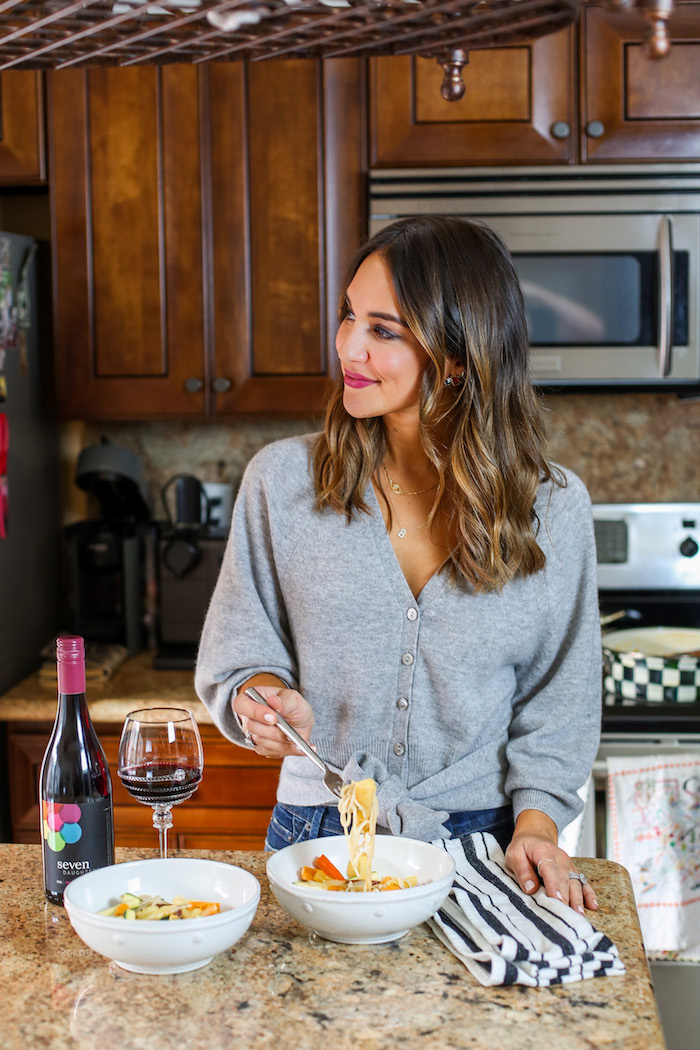 Last week I shared my first post about eating a plant-based diet for the month of January. I included why I was doing this, how I was feeling and my favorite vegan blogs + recipes.  SO, we are now two weeks in and I'm excited to share another update!
This week was little more challenging… thanks to hormones and lady things (TMI).  I found myself having a few not-as-healthy days… like when I bought a bag of salt & pepper kettle chips that became my best friend.  Also hence the mac & cheese recipe below. BUT one thing I've been really surprised by is that my beef/pork/chicken cravings are actually zero.
I have actually found myself occasionally thinking about a boiled egg, fish and cheese… but have somehow managed to stay on track.  More about how I'm feeling at the bottom of this post!
Last Week's Recipes:
Thai Curry – without chicken, 100% vegan version here – featured in this post! Note: I used brown rice noodles instead of rice and didn't like them as much as regular noodles. I would try to find rice noodles next time OR just use jasmine rice. I make this curry dish often and we switch it up between noodles and rice!
Broccoli Cheese Soup – so good, we also ate with a grilled (soy) cheese for leftovers.
Vegan Caesar Salad – crazy good and I added homemade croutons. YUM.
Garlicky Mac & Cheese – really savory and easy to make.
Crock Pot Steel Cut Oatmeal – it was alright but I've made one more like this recipe before and I remember it being better.
Hippie Bowls – if you watched Christian's review on Insta-stories… he wasn't digging this meal but I liked it!
Homemade Pizza – One of my go-to's when I want a quick and easy dinner is to make a pizza. I'll buy Trader Joe's pizza dough or cauliflower crust and do half red sauce, half of their vegan pesto. Top with almond or soy mozzarella and then load with veggies (we like to top with shredded brussels sprouts too)!  Other times I'll just do mushrooms and onions – it just depends on what veggies I have on-hand.
Dining Out:
Continues to be a non-issue.  We ate out three times last week.  Two times I had a vegetable sandwich with chips or fruit and one time we had Mexican food (I had a vegetable crispy taco with rice and beans).
Here is what I actually ended up eating last week (obviously some of these items weren't intended to be on my meal plan but sometimes a girl attacks a bag of chips. I am who I am):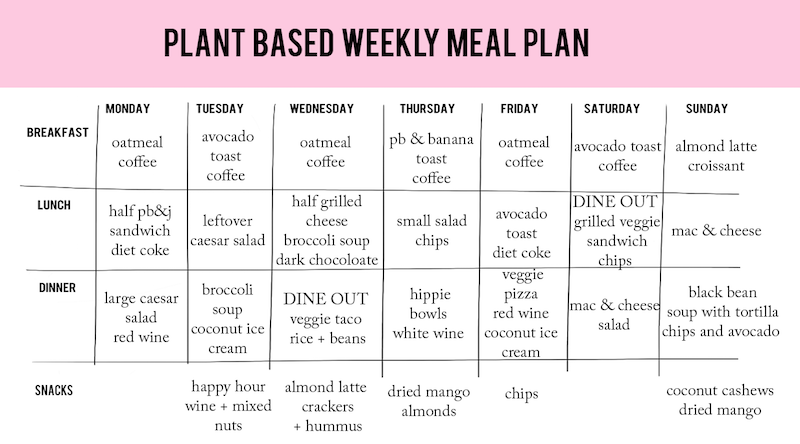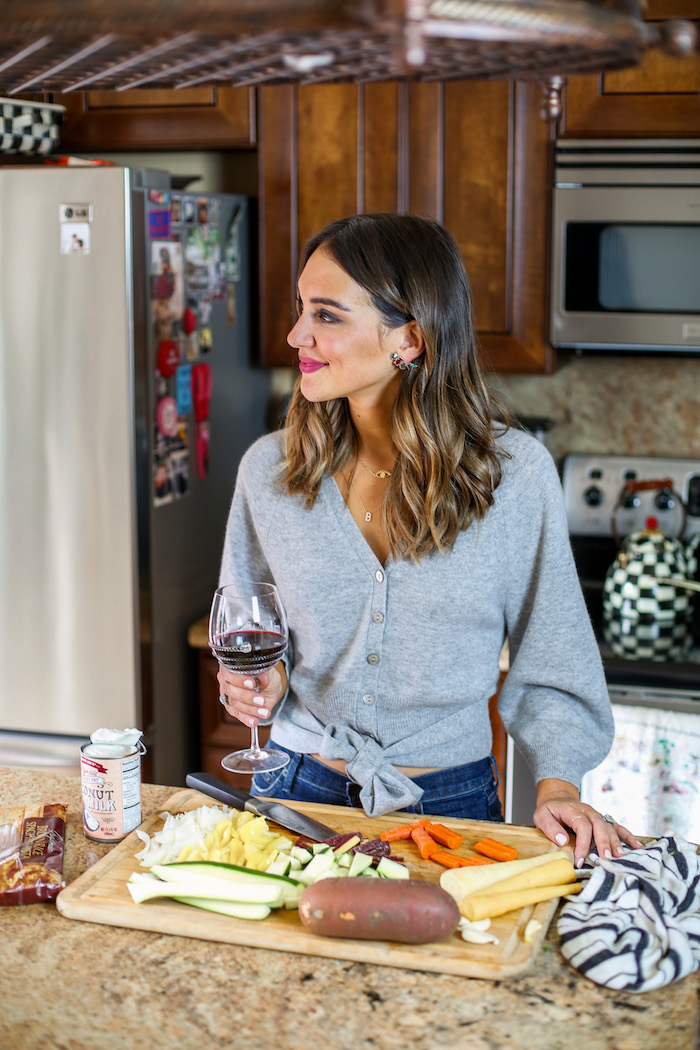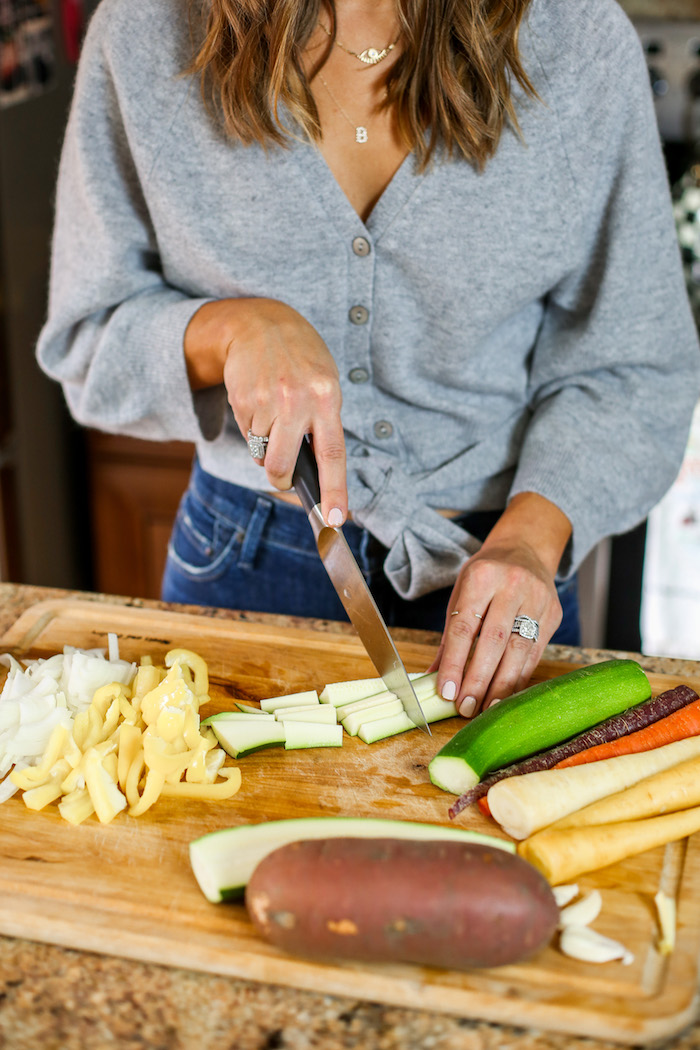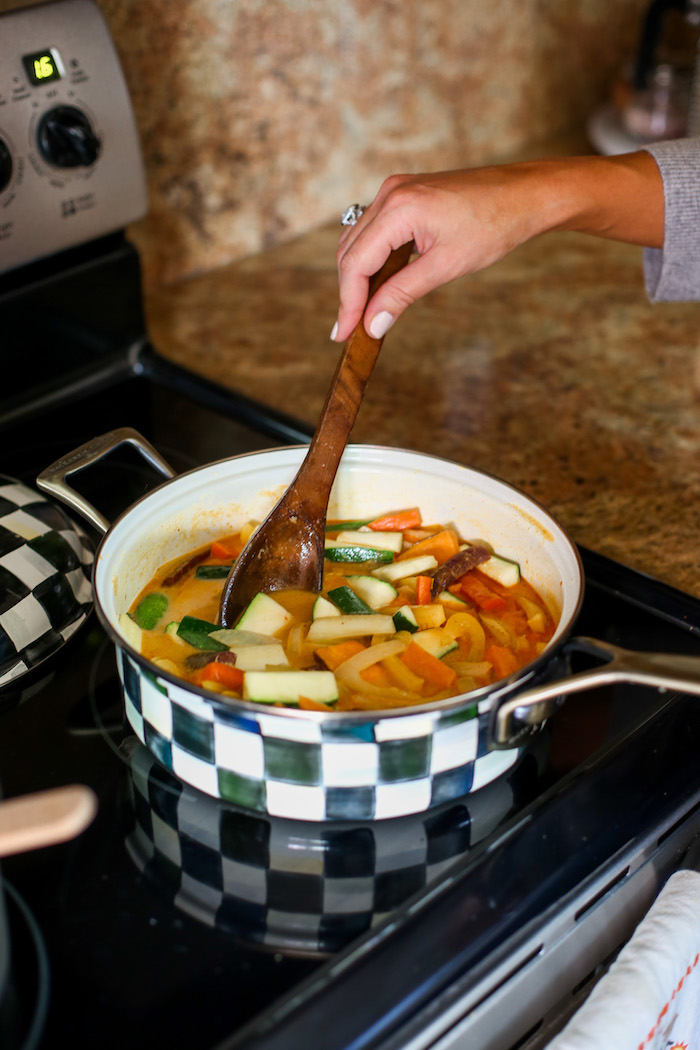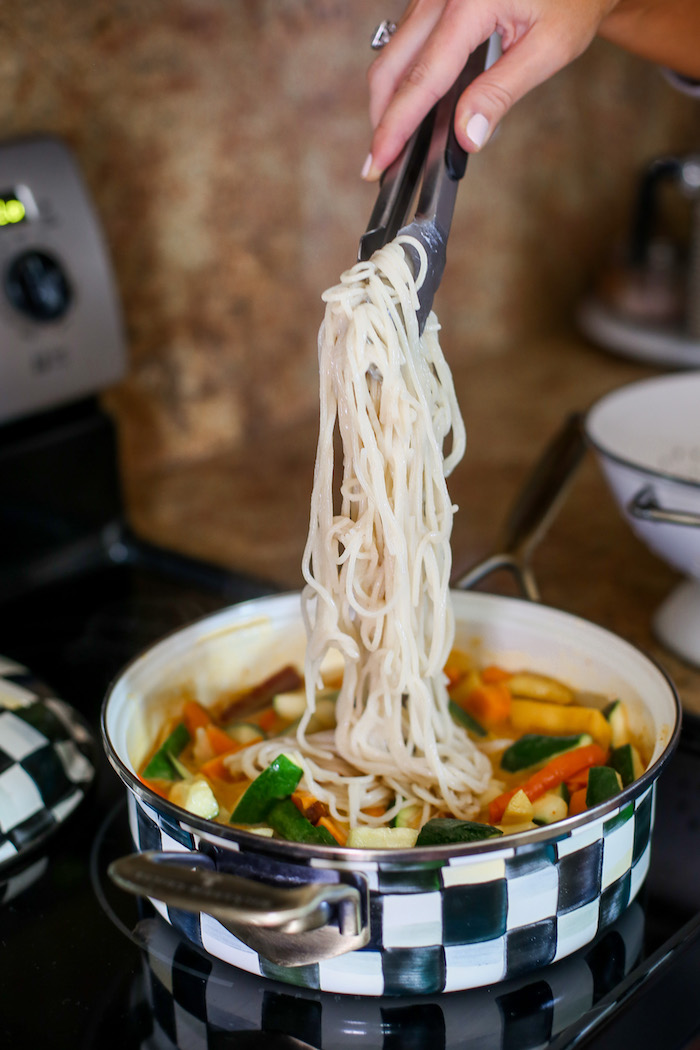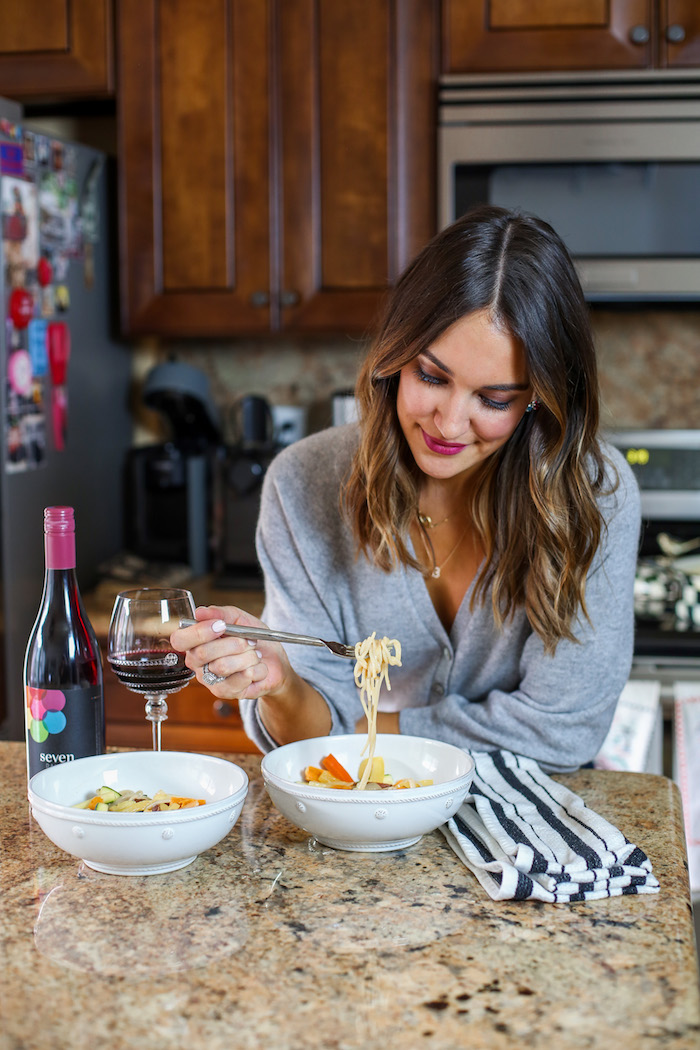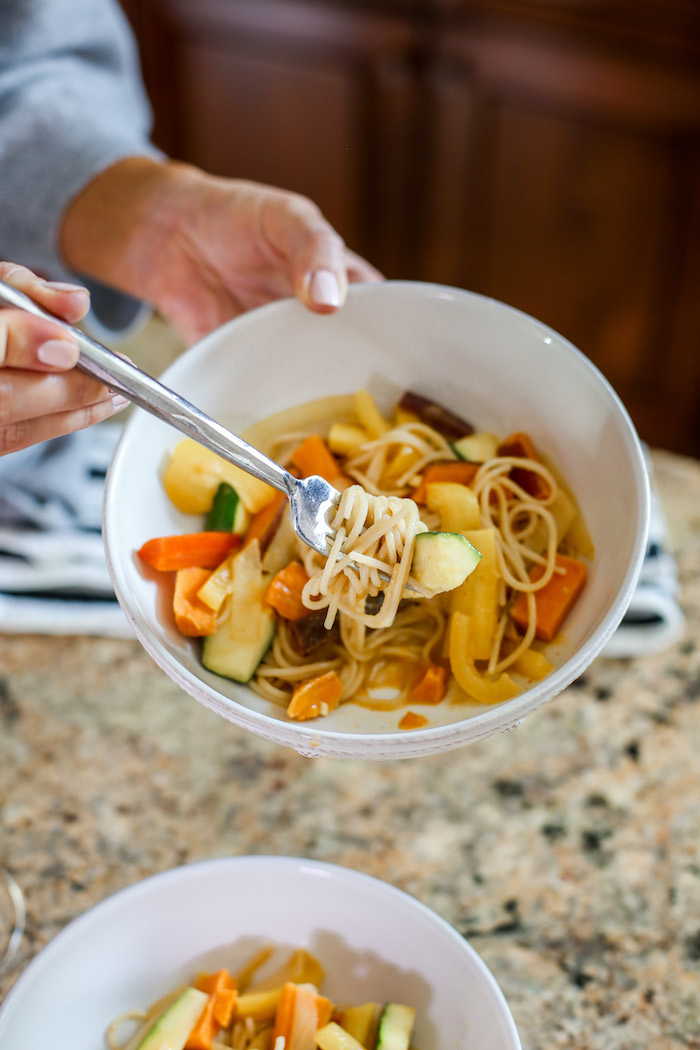 photos by Christian Barnes
sweater, also available here | denim | pasta bowls | wine glass | earrings | evil eye necklace | "B" necklace | lip in Pink Straight | courtly check pan
How I'm Feeling:
I feel great. My skin is clear, my energy levels feel normal I'm able to focus easily. I've been surprised that I don't feel puffy or bloated, despite eating carbs every day.  I did see an increase in my weigh-in this week but I think that was more cycle-related. Stay tuned!
Let me know if I missed anything, and I'll touch base with you guys next week! Thanks so much for reading and sharing all of your helpful tips. XO –