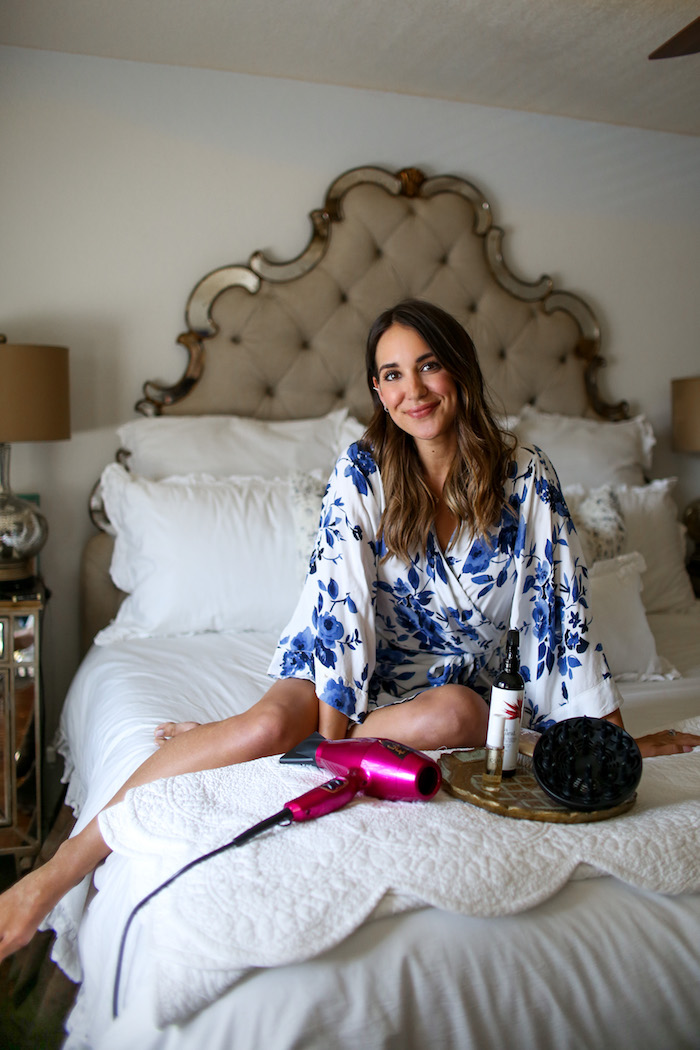 Today we're talking healthy hair and how you can properly use a blowdryer without damaging your mane!  I'm demonstrating with Conair's Infiniti Pro 3Q Compact Electric Brushless Motor Styler (say that 3x fast).
Below are five tips for using a blow dryer – some we're more aware of than others, but it's always great to have a reminder, right?
Don't Blow Dry Too Early!
I always try to let my hair air or towel dry at least halfway if not more before I turn on the blow dryer.  Once I'm ready to start with the blow dryer, this one dries your hair ultra-fast so you can be on your way to fabulous, healthy hair!
Spray Heat Protectant
I LOVE that there are so many great heat protectants out there. I have used this one for a while and I really like it.  So much so that when I ran out, I immediately bought it again without thinking twice.
Use the Dryer Attachments
This Conair blow dryer comes with two attachments for the nozzle.  One is a diffuser for you wavy and curly haired gals (lucky!!) and if you're a straight hair lady like me, the narrow concentrator attachment is your new bff. It allows a more concentrated air flow that helps focus on specific areas to reduce frizz and fly aways. I try to blow dry strands downwards for that sleek, shiny hair we all love so much.
Use a Lower Heat Setting
The 3QMS in this Conair blow dryer provide up to 70% more air pressure with less heat, which allows it to dry hair fast with less damage – so you're already a step in the right direction!  There are three heat settings and two speeds. Try the medium heat at first and then cool down with the cool setting. I rarely even use the hottest setting (unless I'm in a real hurry and Christian is pressuring me)!
Try a Brush
I always use a brush to assist in blow drying my hair, and I go back and forth between a paddle and round brush. It helps give you that "blowout" look (a great tutorial here). And how cool is this half round brush? I definitely need one of these!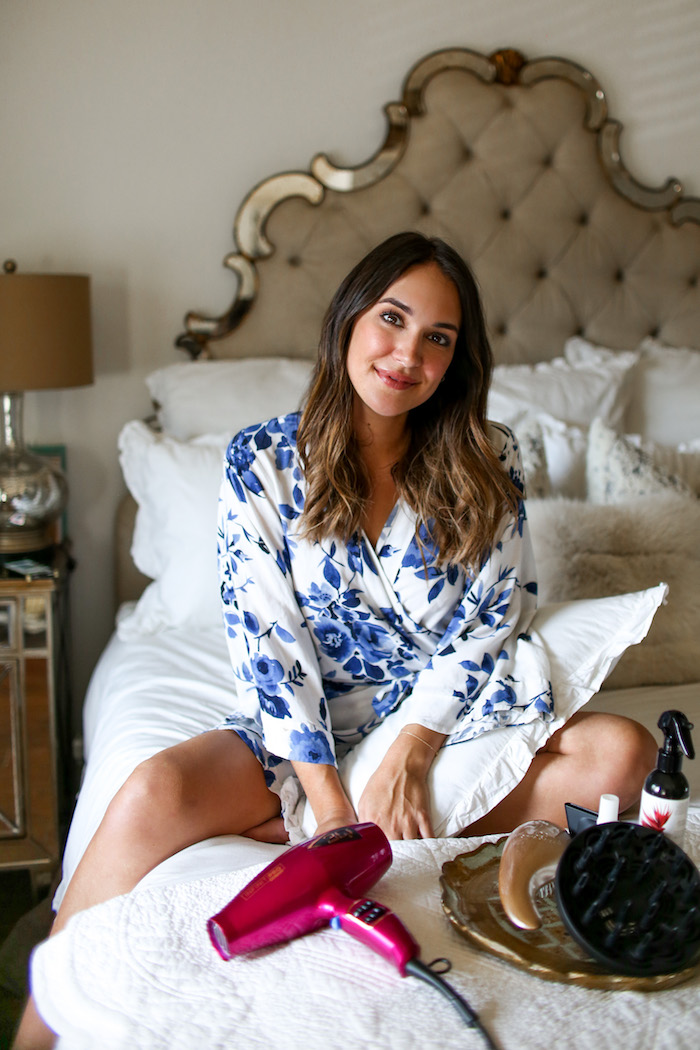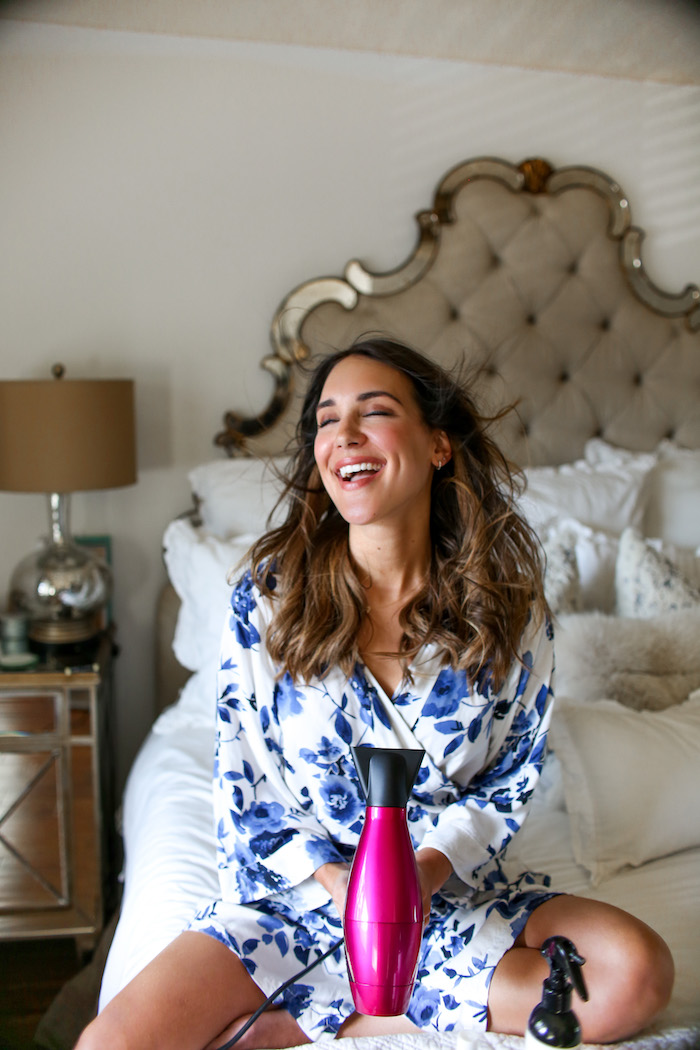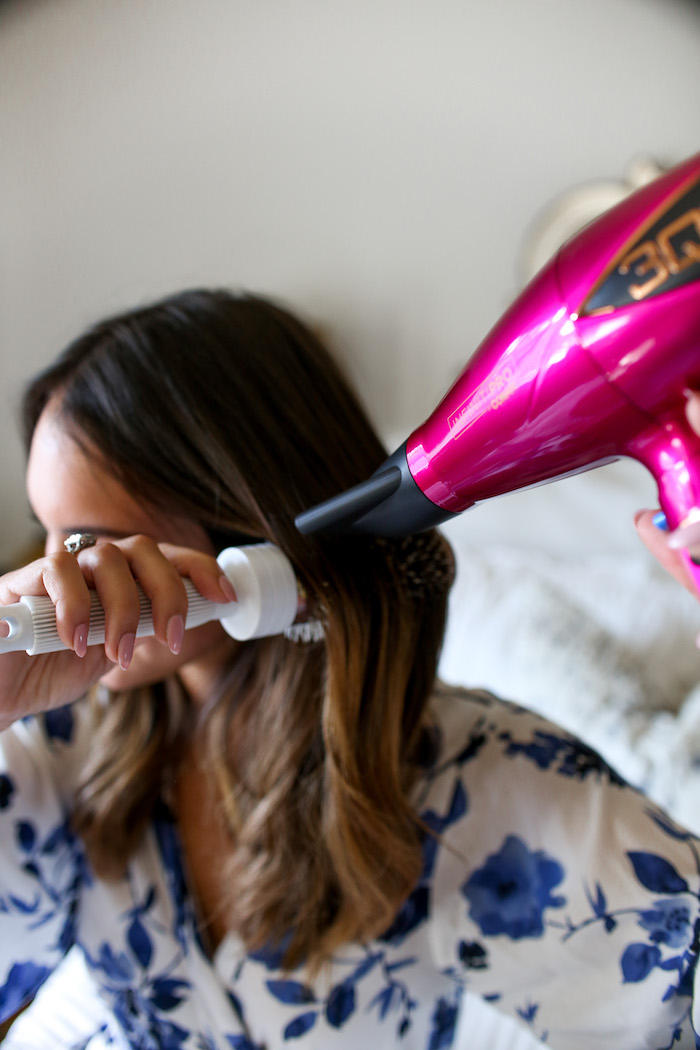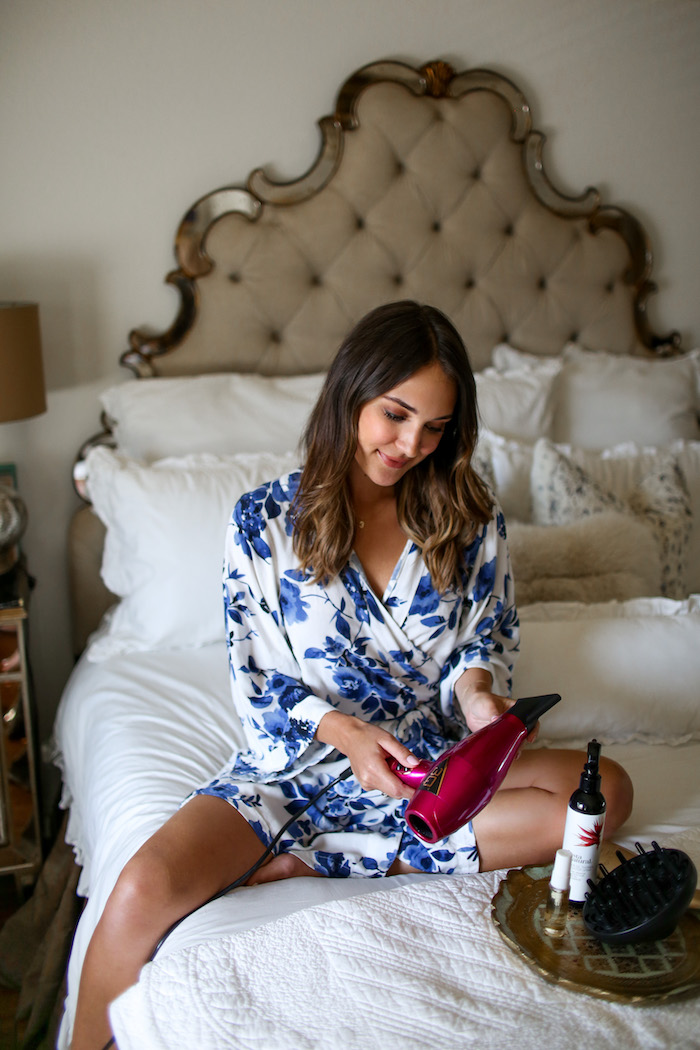 photos by Christian Barnes
Infiniti Pro 3Q Compact Electric Brushless Motor Styler | robe | headboard | similar bedding here and here
Do you use your blow dryer regularly? I'd love to hear if you're a blowout girl, a curling iron person or velcro/hot rollers gal. Fill me in – I love any tips I can get!  You can find all the products below at Target.com! Thanks so much for reading – XO –
brought to you by Conair