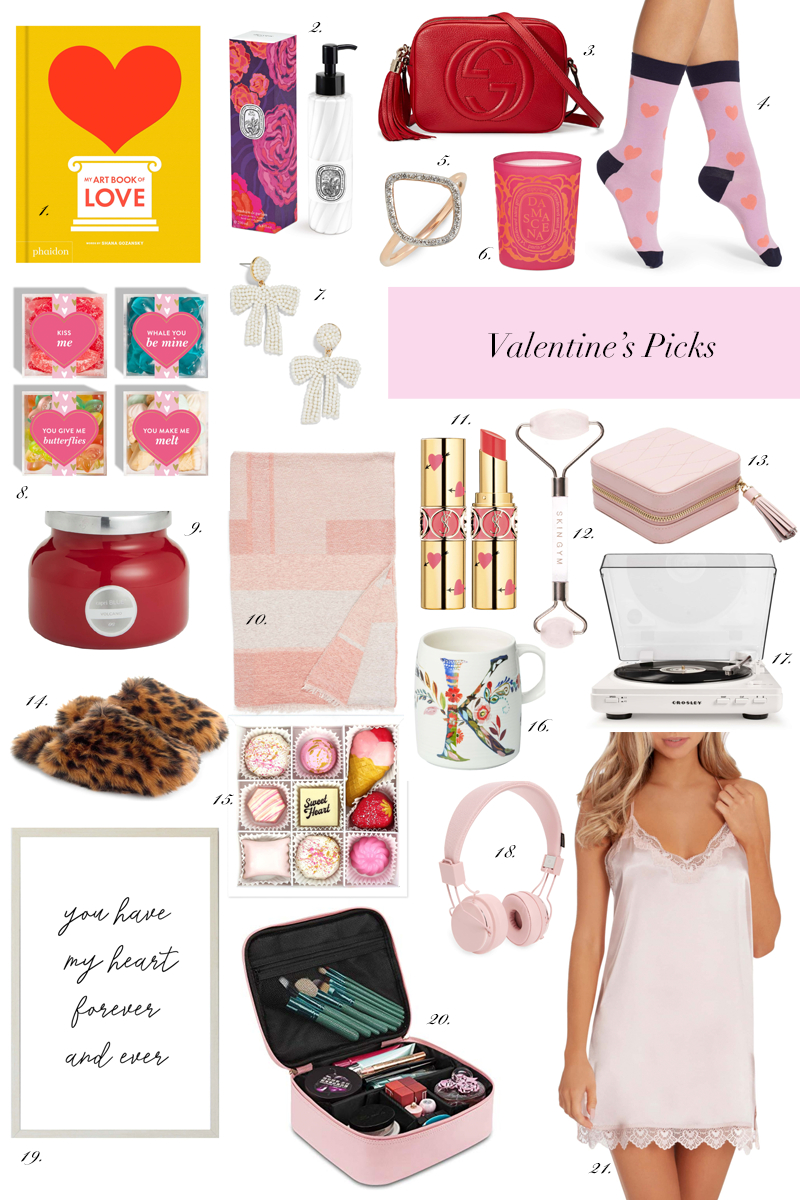 1 | 2 | 3 | 4 | 5 | 6 | 7 (similar on sale) | 8 | 9 | 10 | 11 | 12 | 13 | 14 | 15 | 16 | 17 | 18 | 19 | 20 | 21
I was trying to think of a theme for this week's wish list, and I realized Valentine's Day is actually around the corner… which feels WILD!  I still have my Christmas twinkle lights up around the windows in SF and usually leave them up until Valentine Day… I don't feel ready to take then down!
I saw some cute things – big and small – that would be sweet V-Day treats.  I love these lipsticks with mini hearts, and I use my ReFa roller almost everyday so if you're not rollin', #treatyoself.
Love this art for a little kid's room, and I can't have enough fuzzy slippers.  My girlfriend has this bag and says it's one of her most worn pieces, and I've had a little record player for around 7 years now and still love it!
I've seen sooo many girls lately on Instagram that have been raving about this $15 travel makeup case, so now I clearly think I need one as well. The design is pretty amazing, but I'm wondering if it's too bulky/big to travel with?  Verdict is still out… will keep you posted!
And if you're trying to save dollars or you're not a big Valentine's gifter (to be honest, we don't usually exchange gifts), you can take on my in-laws idea.  They have a $5 spending max for Valentine's Day and really get creative. One year my father-in-law bought flower seeds, a Hershey's kiss and a card… so technically it was a card, flowers and chocolate!
Would love to hear your Valentine's tradition if you have one! Thanks so much for reading – will share some gift ideas for the dudes next week – XO –