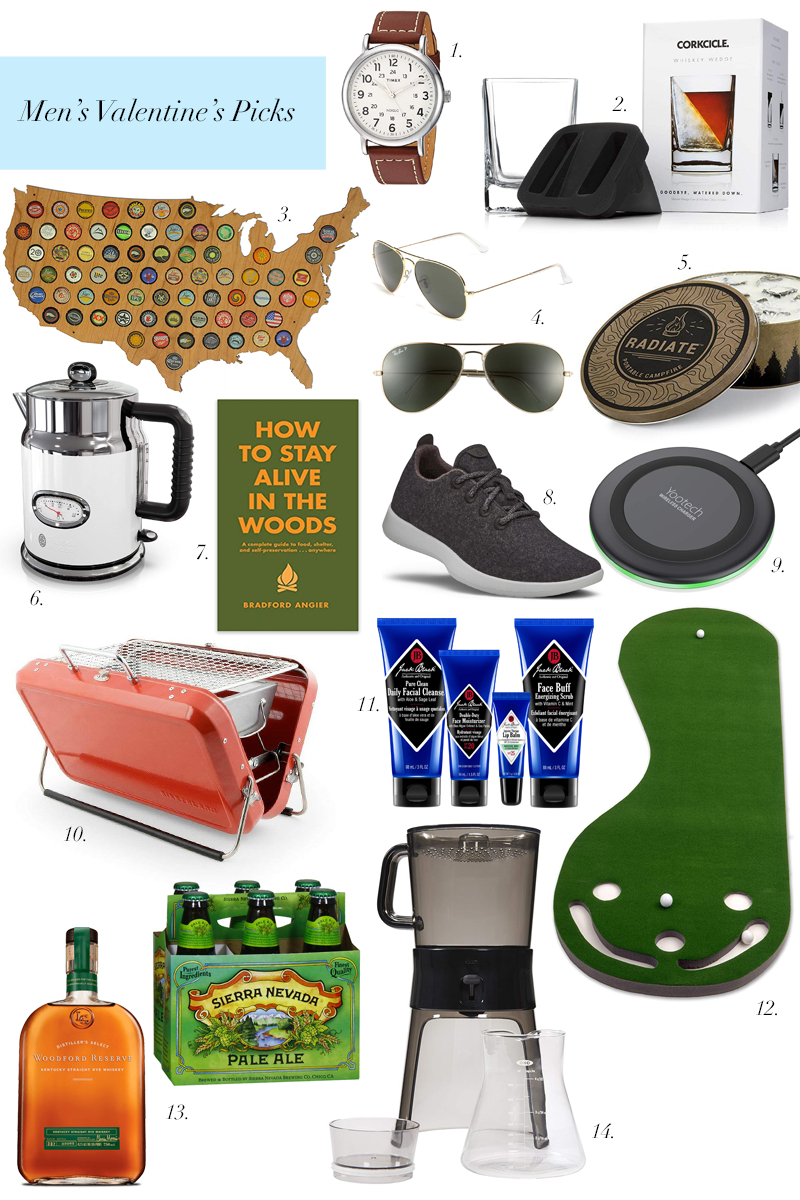 1 | 2 | 3 | 4 | 5 | 6 | 7 | 8 | 9 | 10 | 11 | 12 | 13 | 14
Last week I shared my Valentine's Day gifts for the ladies here, and this week I wanted to share some of my picks for the guy in your life!  Guys are hard to buy for, I get it girl, so let's get into it –
 1 | a great watch | Christian has his grandfather's rolex, yet until I gave him an Apple watch a few years ago, he always reached for his Timex. You can't go wrong with this classic watch!
 2 | whiskey wedge | How cool do these look:?
 3 | beer cap map | If your dude has an "man cave" or dude room or whatever you want to call it, I think this could be super fun for a beer lover.
 4 | classic shades | I've bought Christian several pairs of Ray Bans over the years. I think they look great on every face shape!
 5 | portable campfire | this little can is SO COOL.  You can take it with you and have a portable campfire! My mind is blown!
 6 | electric kettle | This is on Christian's list for when we are in a kitchen with more storage. We keep one on our stove but an electric kettle heats up instantly!
 7 | a good book | Of course, not every dude would want this book… but Christian likes to think he's Bear Grylls so it's right up his alley… that is if he doesn't already own it.
 8 | cozy sneaker (on sale) | Never enough sneakers, particularly for San Franciscans.
9 | wireless charger | This is more like a gift for everyone. Never enough chargers!
10 | suitcase grill | Ok this is the snazziest little thing I've ever seen.
11 | mens skincare | Guys never buy themselves good skincare
12 | mini putting green | I think this is hilarious!
13 | booze | Always a great gift, let's be honest.
14 | cold brew coffee maker |  Christian and I are coffee addicts, so any fun device to try is right up our alley.
You can check out an older roundup for dudes here and my favorite Valentine's Day movies here!  If you've hit it out of the park with a gift in the past, I'd love to hear!
Thank you so much for reading – XO –