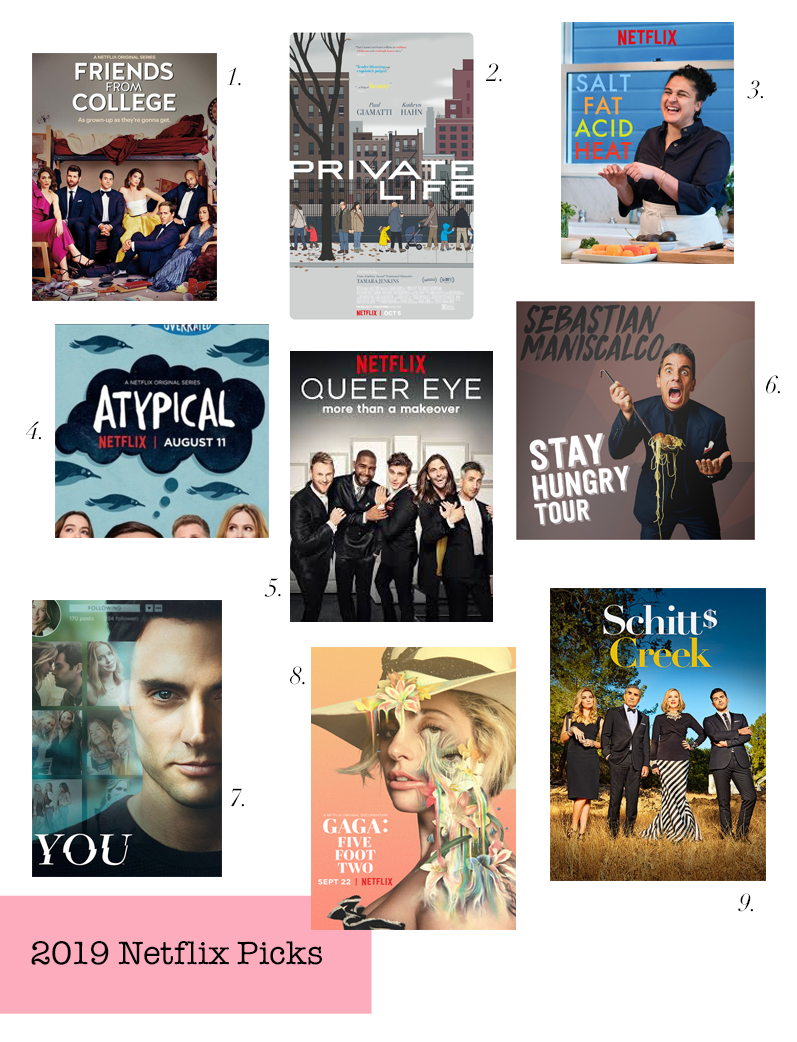 Last year around this time I shared this post with some of my favorite Netflix picks… because I'm a TV junkie.  Truth be told, I spend a lot of time at my home office, at my desk editing photos, putting together collages like the one above, writing blog posts, answering emails, etc., so I often have something on TV in the background.
My ideal pick for days like this are things that don't require my full attention (which is why I've yet to sit down and watch Bird Box – I know I need to give it 100%!).  Anything too intense doesn't work for my daytime marathons since I only give about 40% of my attention, but I save the more dramatic ones (like Ozark, House of Cards, etc.) for evenings when I can really concentrate on them.
With that being said, let's get into some January goodness!
1 | Friends from College, Season 2 | Christian and I randomly discovered season 1 when it came out years ago and we binged it in two days. I LOVE Keegan-Michael Key on a spiritual level.  It's hilarious, such a talented group of actors, and we loved both seasons so so much.
2 | Private Life | I heard about this movie from Sundance, and when it hit Netflix, I think I watched it the first day it came out. I love both lead actors, so I knew it would be worth the watch. And WOW. I was blown away at how raw, honest and heartbreaking it was, while still having laugh-out-loud moments.  It really helped me to understand more about women who have gone through IVF, and I feel more empathetic than ever about the process.
3 | Salt, Fat, Acid, Heat |  My friend Jennifer Rose recommend this four part docuseries and it's both fascinating and adorable. The host may be the most enthusiastic and likable person I've ever seen in a documentary. If you love food or cooking – I think you'll love this!
4 | Atypical |  I'd seen this on my Netflix homepage but I never watched the trailer.  On the first week of January when there was nothing going on, I dipped my toe in.  I watched both seasons that week. I can't express enough how much I love shows like This Is Us, Atypical and Modern Family that highlight family dynamics that are anything but cookie cutter.  It's insightful, endearing and helps us all be more understanding of each other.
5 | Queer Eye |  I LOVE these boys. It's impossible to watch one of these episodes and not fall in love with them.  What's great about this series is that you don't have to follow anything in a particular order. You can just grab a quick episode when you feel like it.
6 | Sebastian Maniscalco |  My favorite shows of Sebastian's are here and here, but this one is still worth a watch! I find myself saying "what's wrong with people?" perhaps a little too often.  His small annoyances and observations are truly hilarious.
7 | You |  So many of you recommended this show and WHOA. Penn Badgley plays one convincing creepy guy.  Warning: it makes you want to do a background check on anyone you go on a date with.
8 | Gaga: Five Foot Two |  I've always been a Gaga fan, but this documentary revealed things about her I never would have known had she not been so vulnerable.  If you already love her, you'll love her even more.  If you don't, I think it will show you how talented and big her heart really is.
9 | Schitt's Creek |  Ok so I have to confess I've only seen one episode of this show. My best friend Katie told me to watch it years ago, and I watched the first episode. I have no idea why I didn't stick with it! Now my parents and so many friends LOVE this show. So I'm going to pick it back up. Everyone says it's hilarious and it seems like the perfect show to tune into while I work. I'm on it!
For more recommendations, be sure to check out this post from last year.  And if you have a show you love that isn't on either of these lists, I'd love to hear about it!
Thanks so much for reading and sharing – XO –