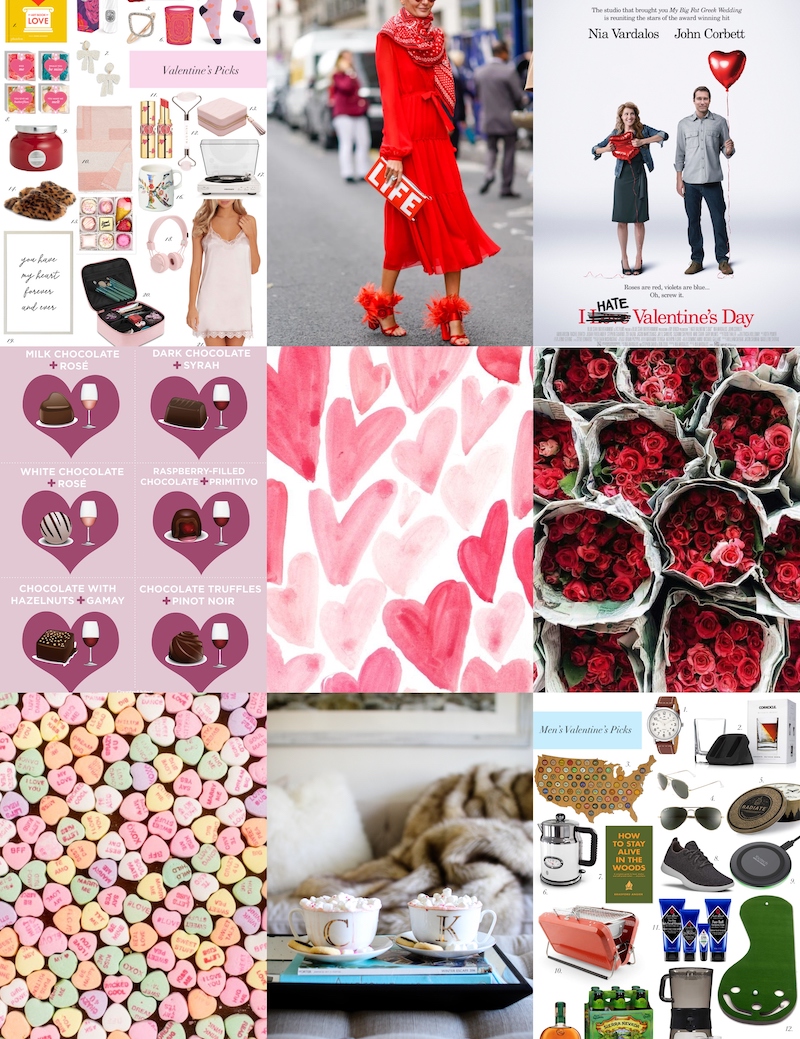 I've surprisingly gotten an earlier start on Valentine's Day than usual this year.  I think it's because I enjoyed the holidays so much this year (Christmas in a city was even more fun than I expected), that I am more than ready to bring on another.
Rather than another gift guide, I thought it could be fun to round up some of my favorite 2/14-related articles to get you in the spirit too!  Let's get into it –
1.  CBL's gift guide for her.
2.  CBL's gift guide for him.
3.  Secrets of happy couples.
4.  The best movies to stream if you're staying in for Valentine's Day.
5.  My favorite Valentine movie picks!
6.  A Valentine's Day hot cocoa.
7.  Gift ideas for couples who have been together forever.
8.  Rose colors and their meaning (another graphic here).
9.  A booze and candy pairing here and here.
10.  Date night outfits to inspire your Valentine's Day look.
11.  13 practically free ways to celebrate Valentine's Day.
So far our plans are just dinner and a walk in the neighborhood.  I recently made restaurant reservations for C and I at a raved about Michelin-rated spot that is close by, mostly because we walk past it all the time and keep saying, "we've got to make a rez to see what the fuss is about!"
Shockingly, there are actually 57 restaurants in San Francisco with Michelin Stars… which feels like quite a lot for such a small city.  Honestly the older I get, the less I necessarily care to drop too much on a meal.  I'm usually thinking, "I could have seen a broadway show or bought a beautiful silk scarf that I'd wear forever instead of eating risotto and truffles."  However when it's a special occasion and I can look forward to it leading up to, it feels more appropriate.  I think our fancy dinner will be our only gifts to each other this year, and that's a-ok by me (although I did love #7 article – some really good ideas!).
Would love to hear your plans, if you already have some! Thanks so much for reading – XO –