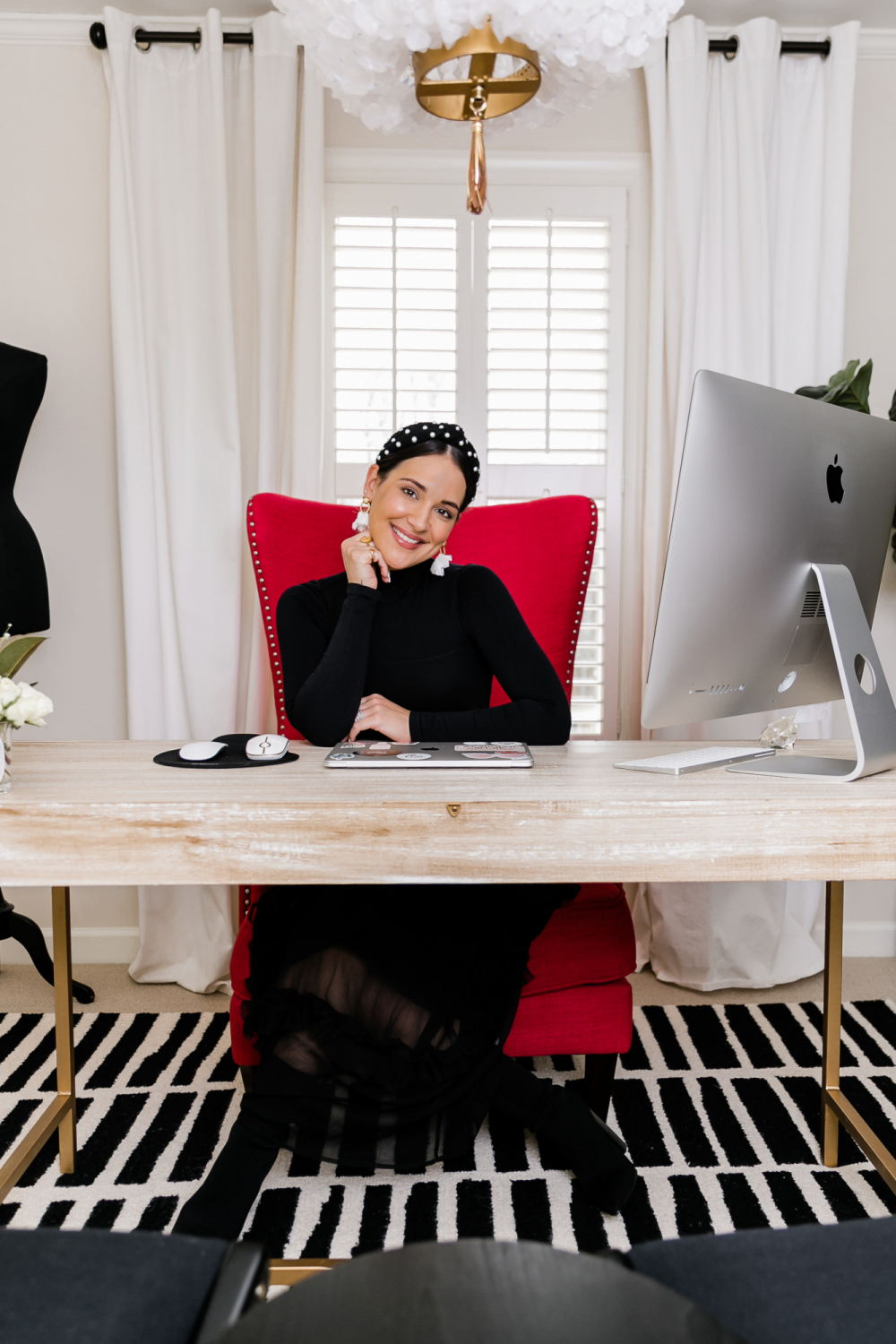 I'm so excited to share photos of the home office I've been working on – welcome to "#CBLHQ!"  When I left my corporate job in 2015, I knew having a designated office "space" was so important for my productivity.  I wanted to maintain some of the structure of a traditional office even though I was working at home.  It's remained to be incredibly important to me throughout our many moves to have this little home base if you will.
The below mood board is how I worked on a few rooms in the house that I was looking to complete.  It helped me see different patterns together to continue checking in to see if the room would flow.  I also did this for the basement and dining room.  It was honestly so helpful!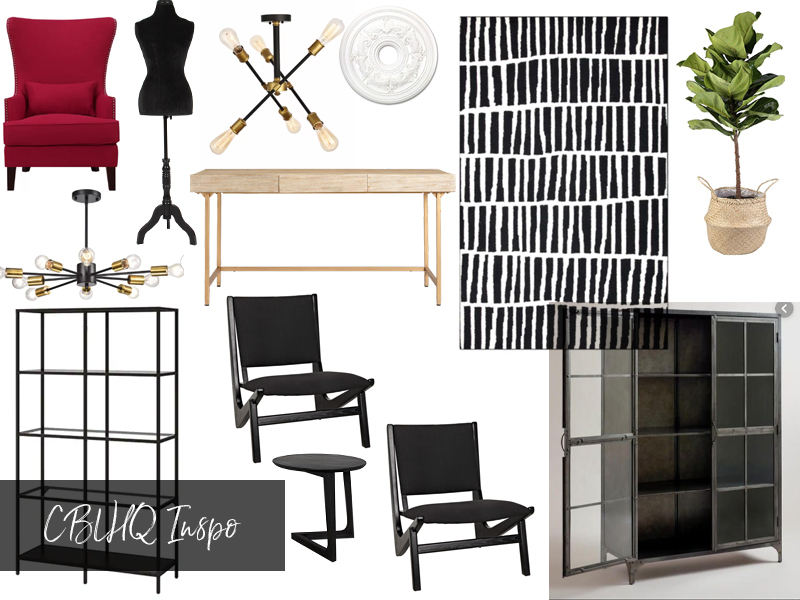 In our Georgia home, all of the bedrooms other than the master bedroom are upstairs.  So I knew I would be transforming one of those spaces into an office.  The downstairs is wood floors and the upstairs has carpet, which I appreciate because it really minimizes how much you can hear from downstairs.  But I knew I needed more of a vibe than beige carpet and enter this rug.
There's a little bit of a saga about how I ended with this desk.  I ordered this one but the order was being "processed" for over two weeks and no one could tell me when it would ship. Then I ordered this one and it came damaged.  I tried to buy one from Facebook Marketplace and the seller ghosted me.  I had been in Georgia for over four months and still couldn't find a desk!!  I love this desk but I think it might be too big for the room.  So I managed to snag this one 40% off and went for it.  If I come cross one someday that I love, I can replace it.  But at least I could get something to work on!
Originally this room had a white ceiling fan, but that wasn't gonna do.  I worked with Sullivan and Phenix who custom made this Sophie chandelier.  They will work with your space and dimensions to make sure you have a completely unique fixture to work in your space which is very, very cool.
After I had the desk, rug and pink chair set up, I knew I wanted some edgy accent chairs.  When Christian comes home, I'm often up here working while Hudson is napping next door in his room.  We end up sitting in here discussing the day, what's for dinner, etc.  These boomerang chairs from Paula Rallis Home are so comfortable and sleek.  They look great in here but I can also see myself moving them to an other room one day.  You just kind of melt into them in the best possible way.
I also had to throw in something to remind me of when this blog actually started to grow in California, so the little cactus that I can see from my desk is a little nod to those special years.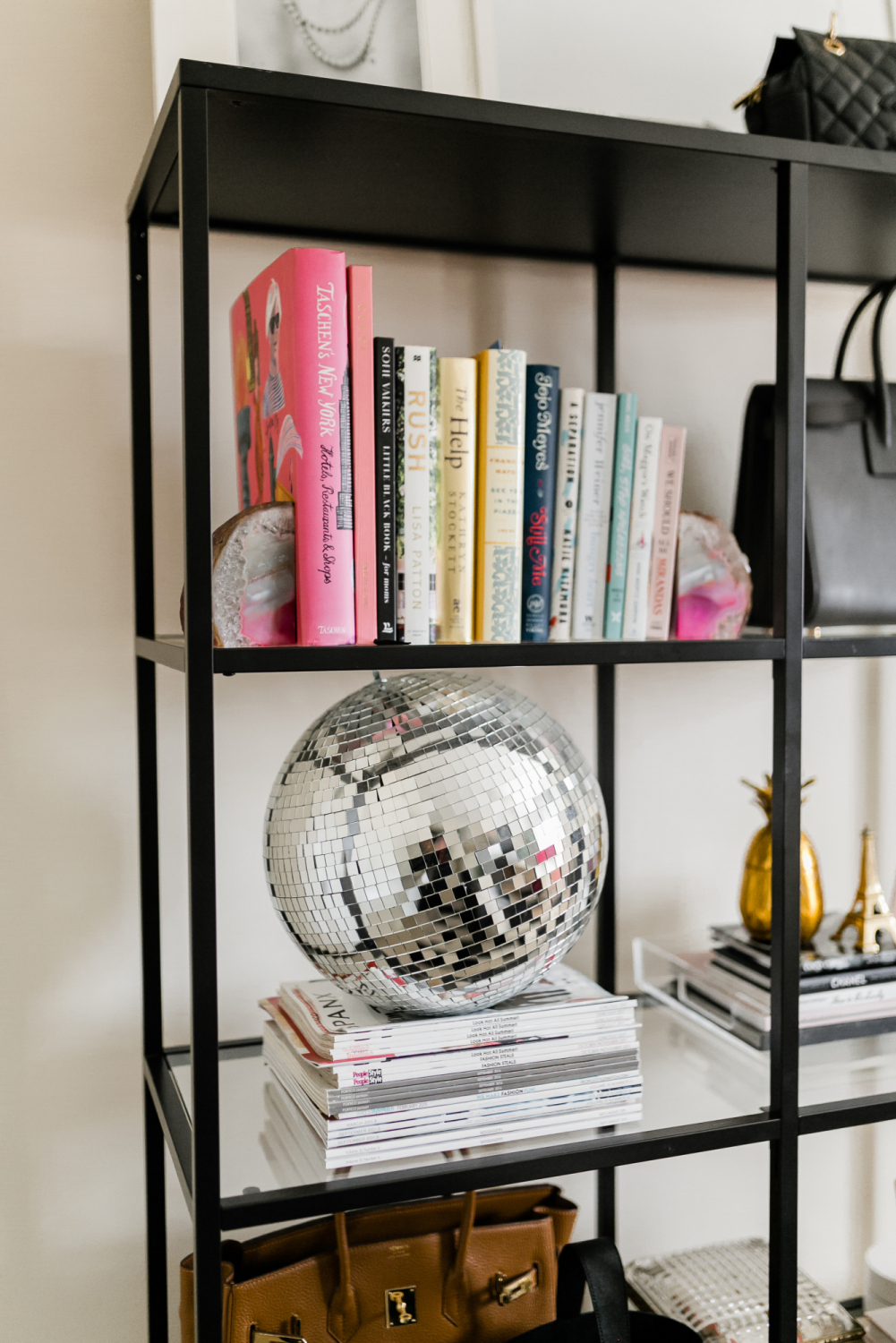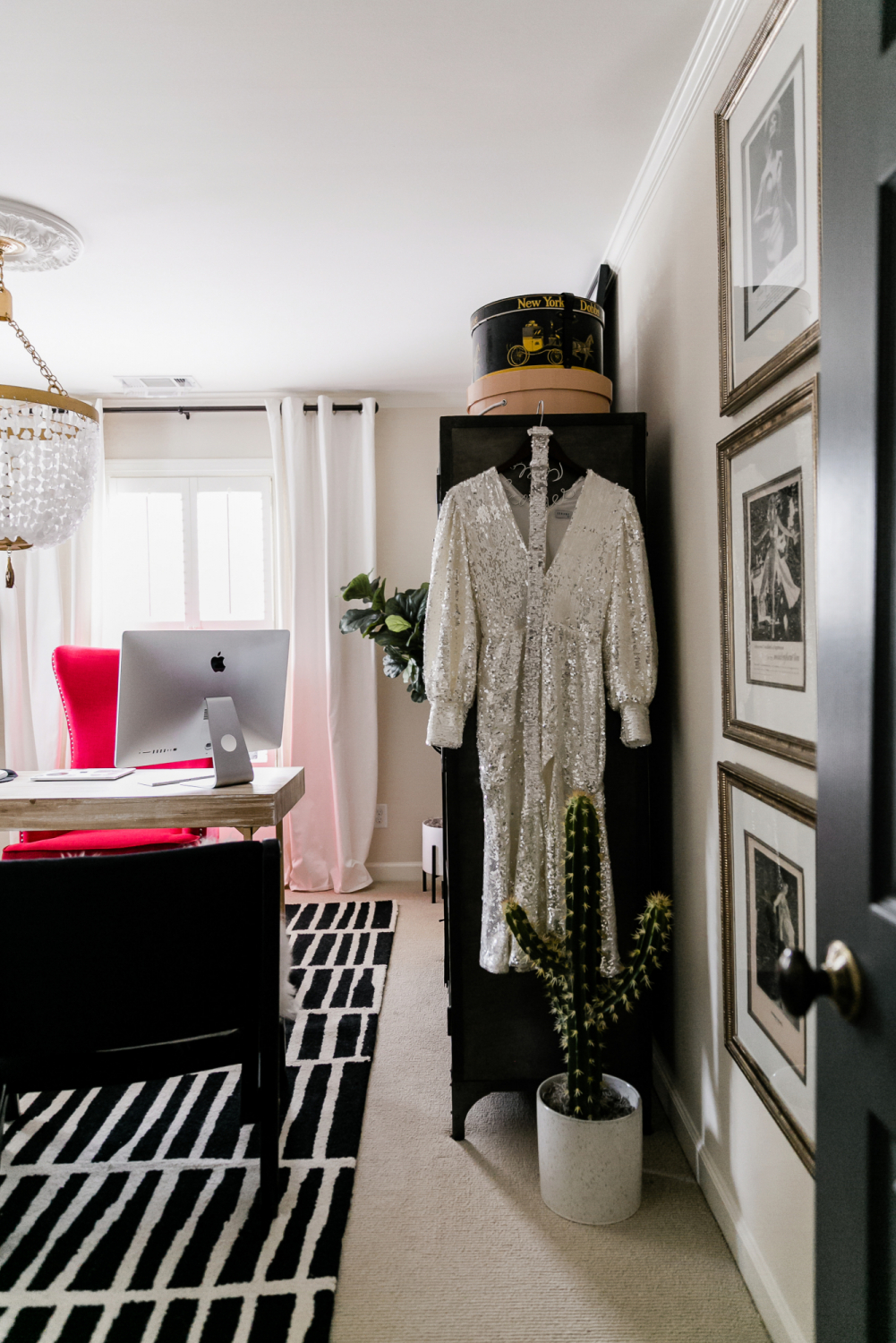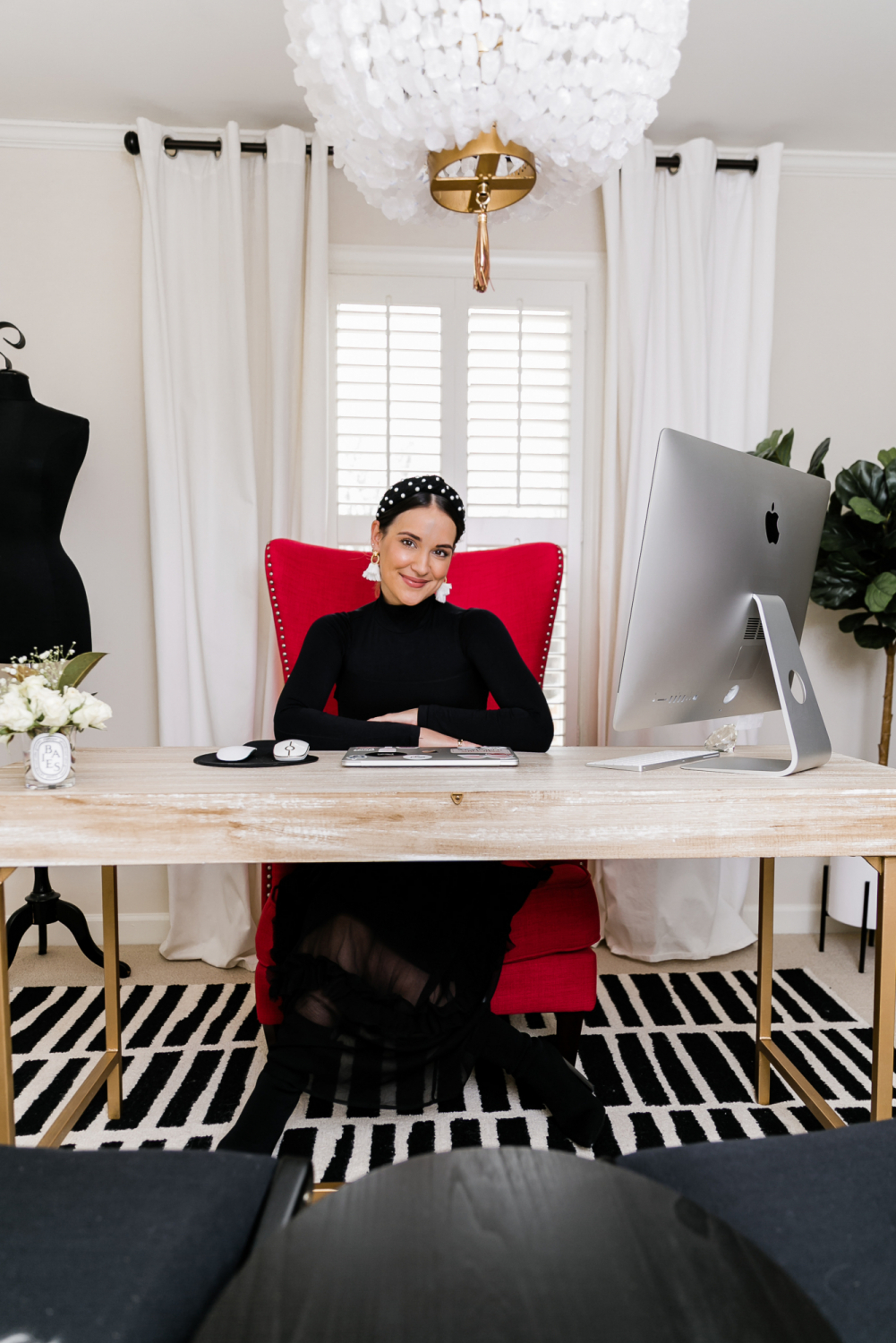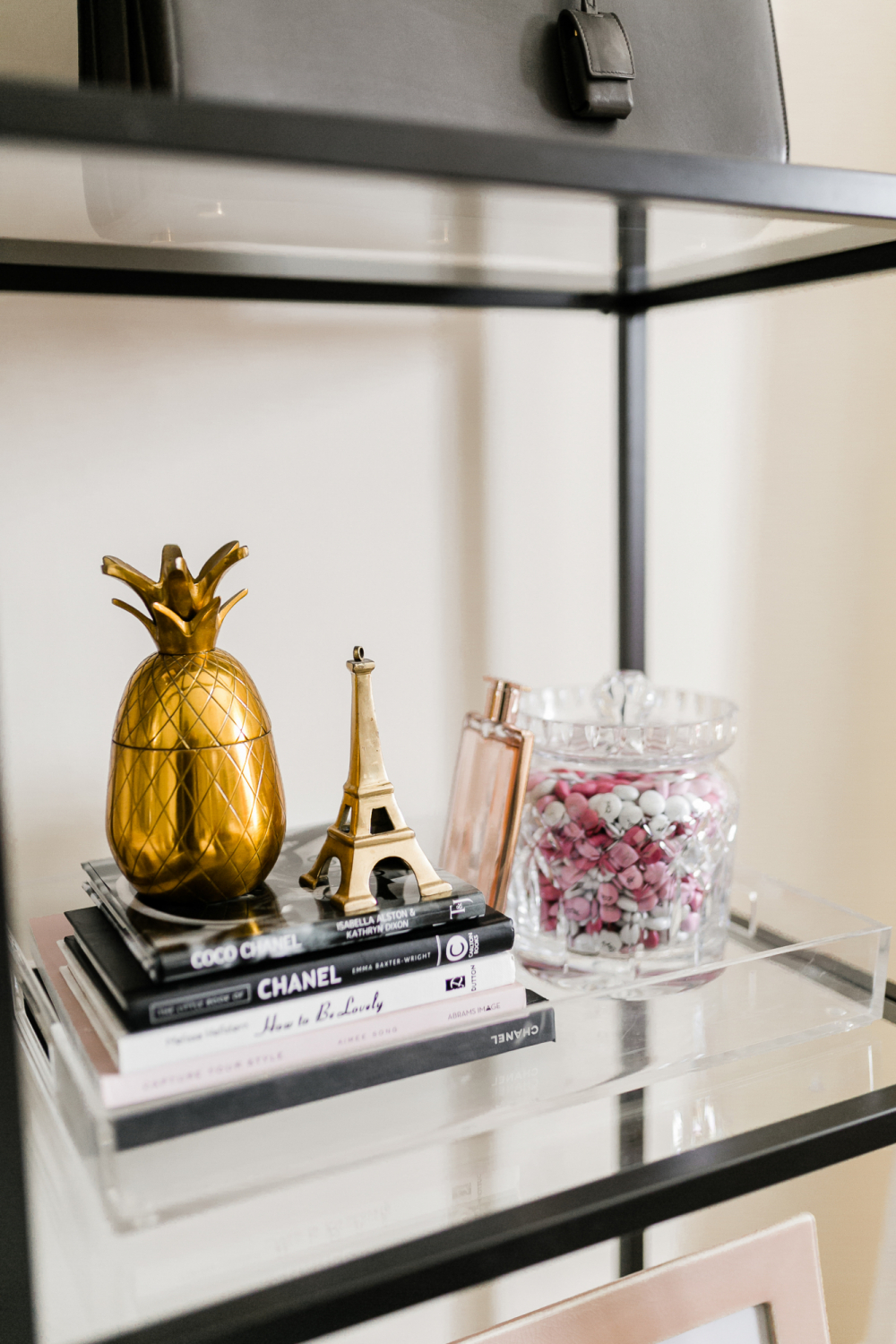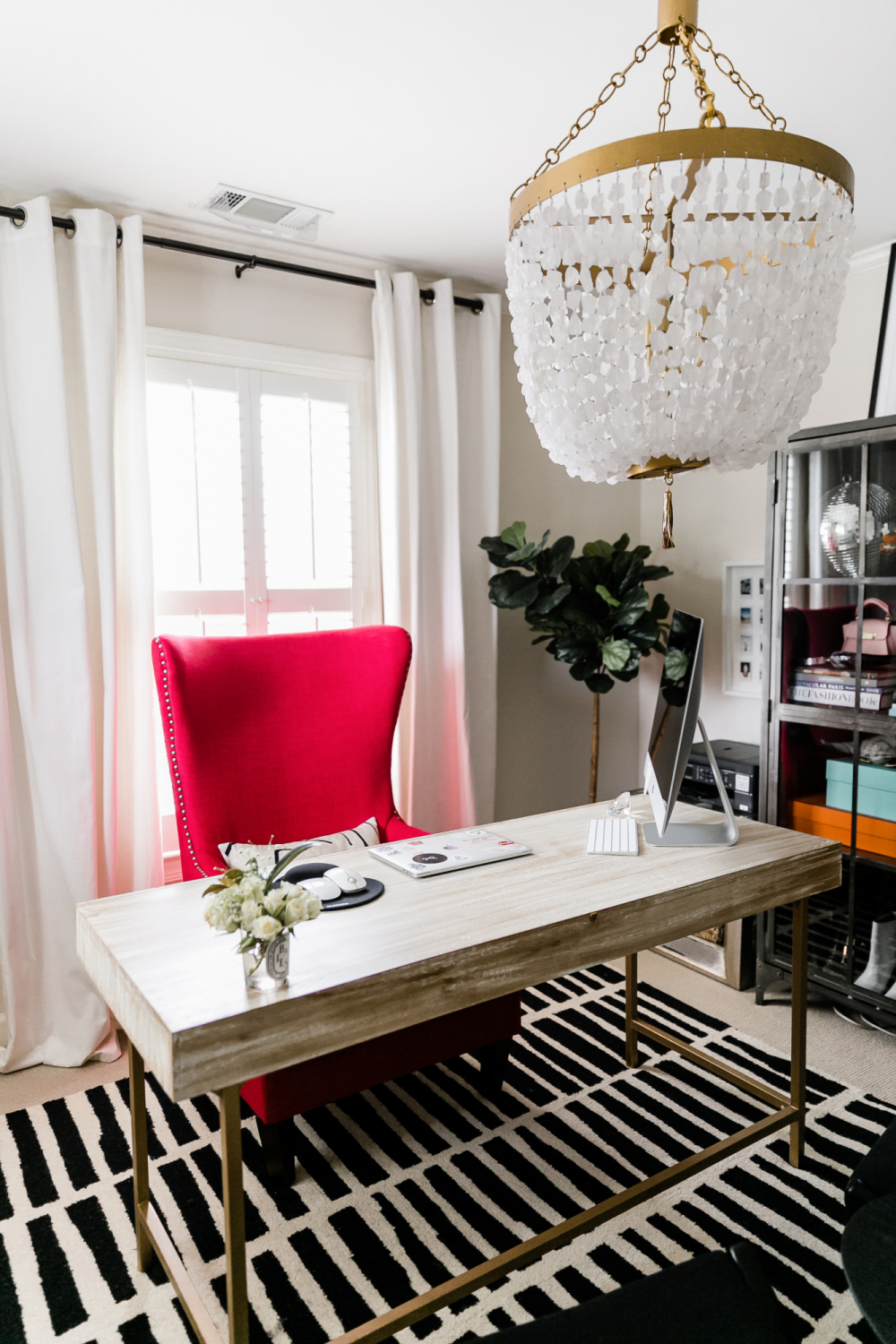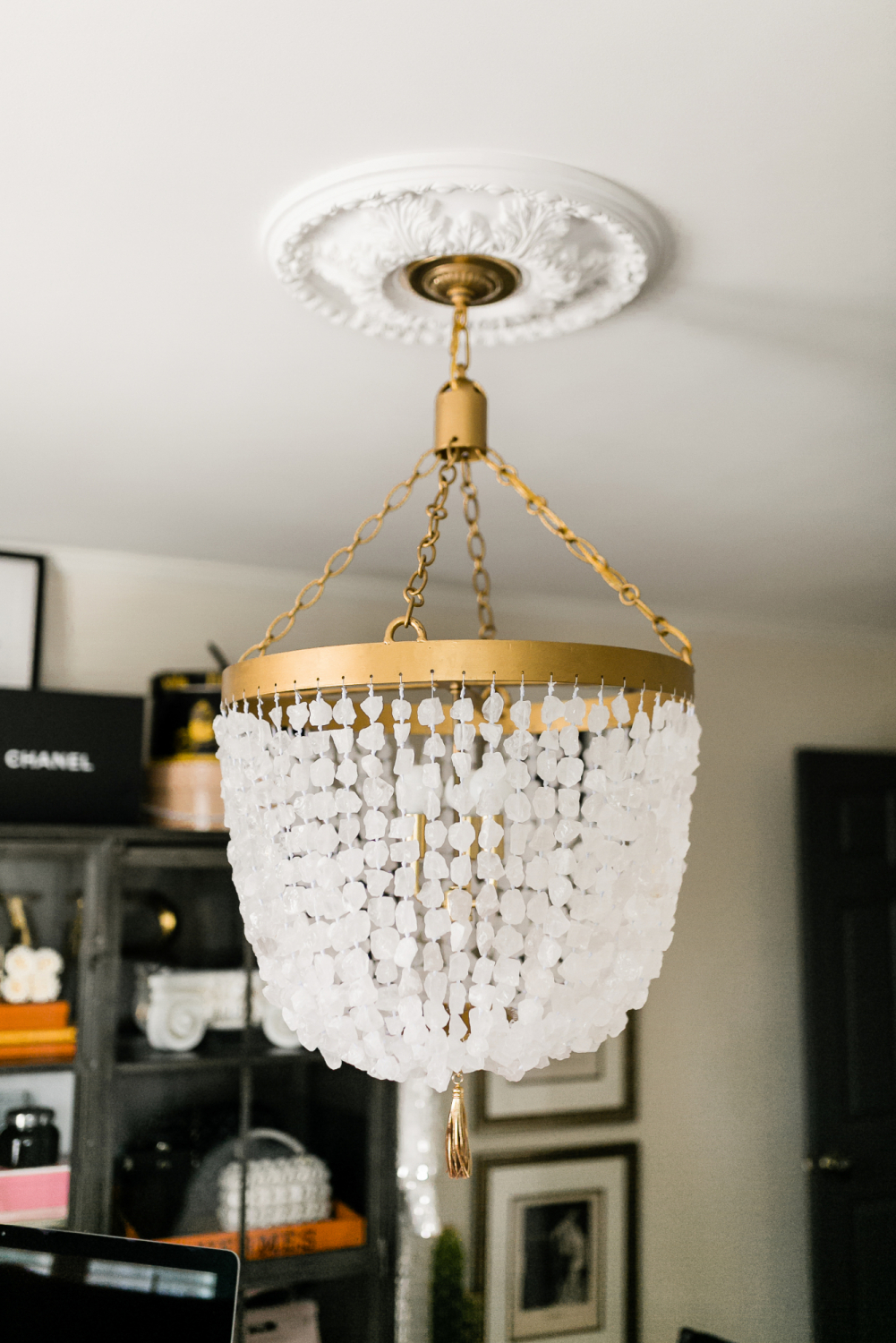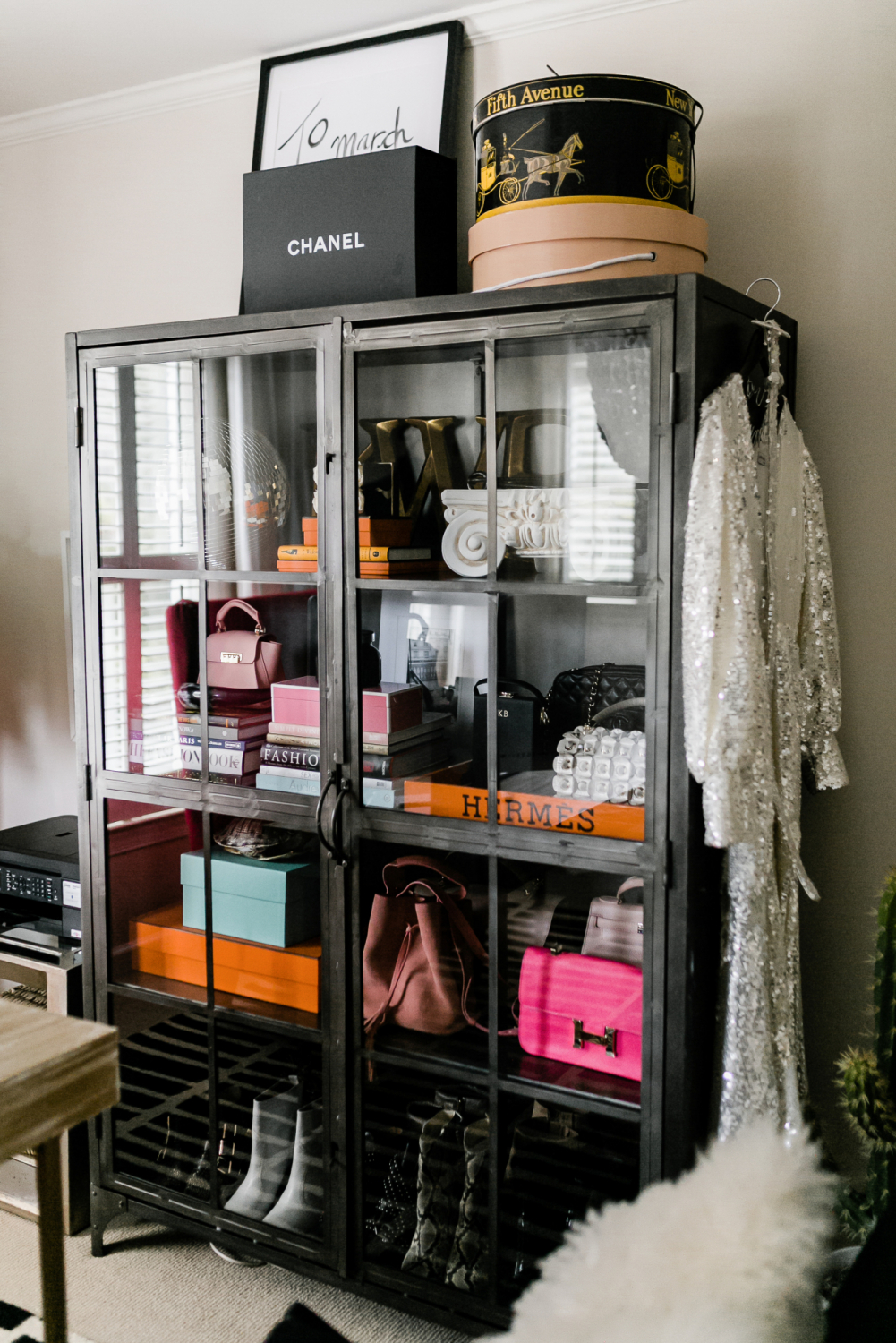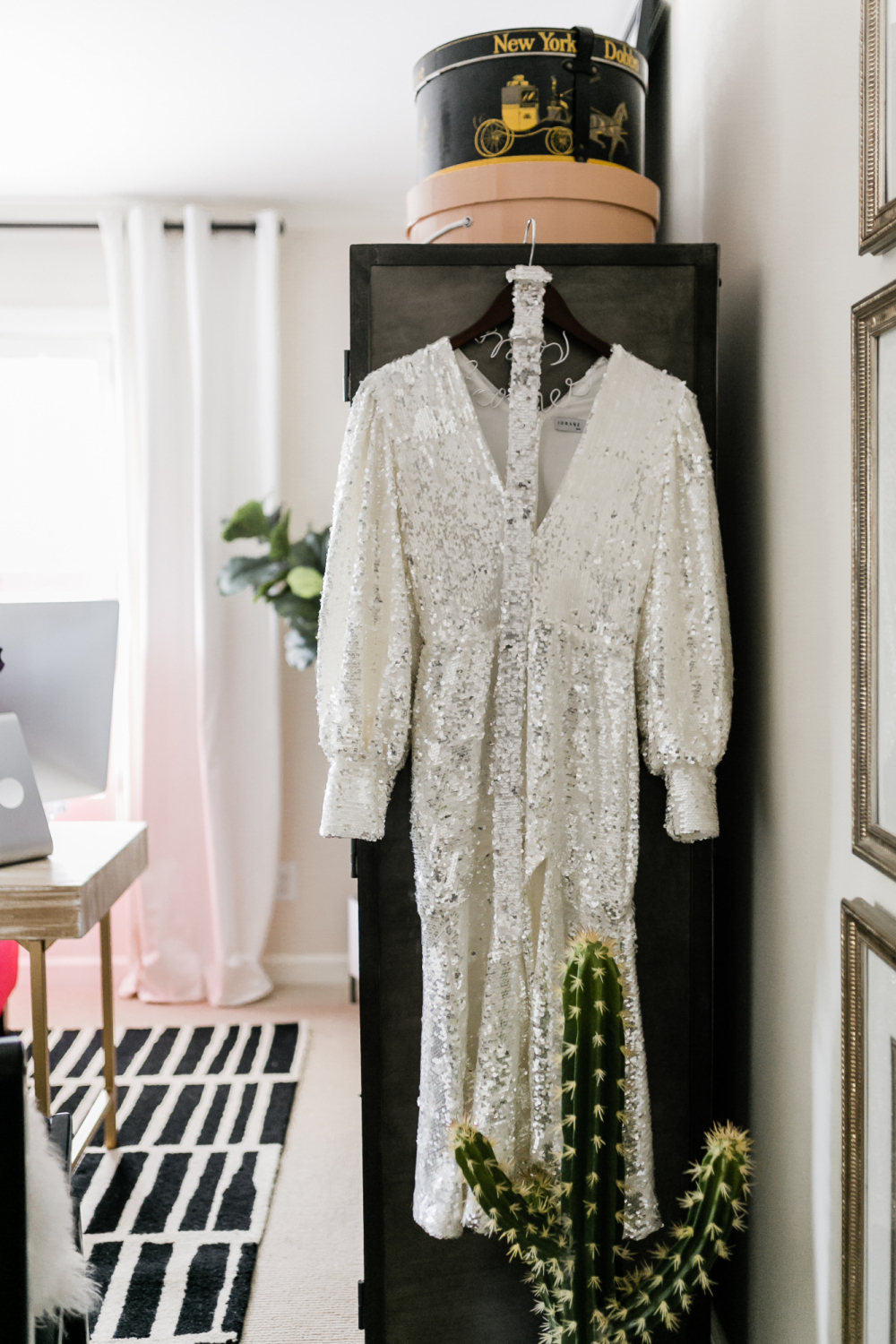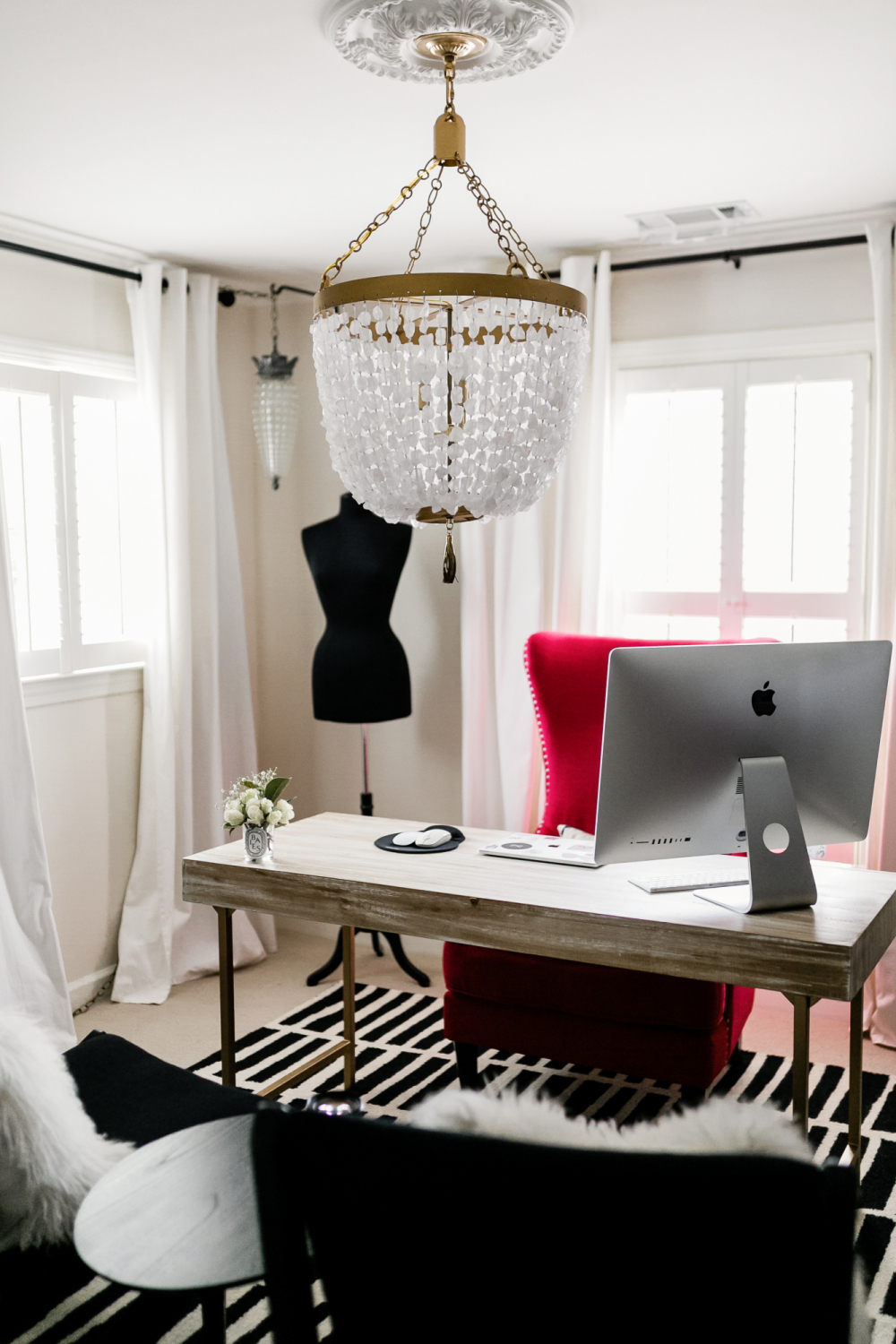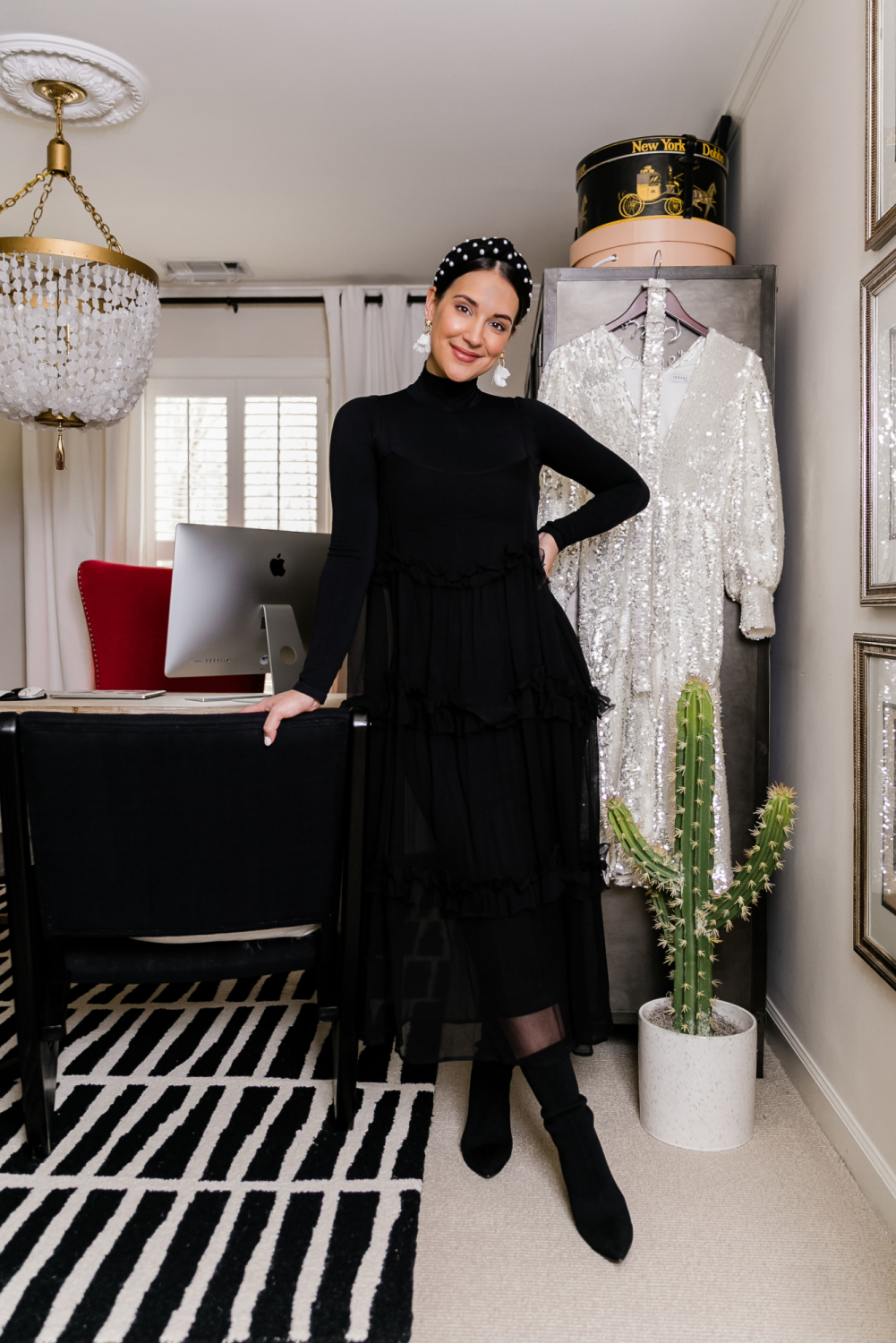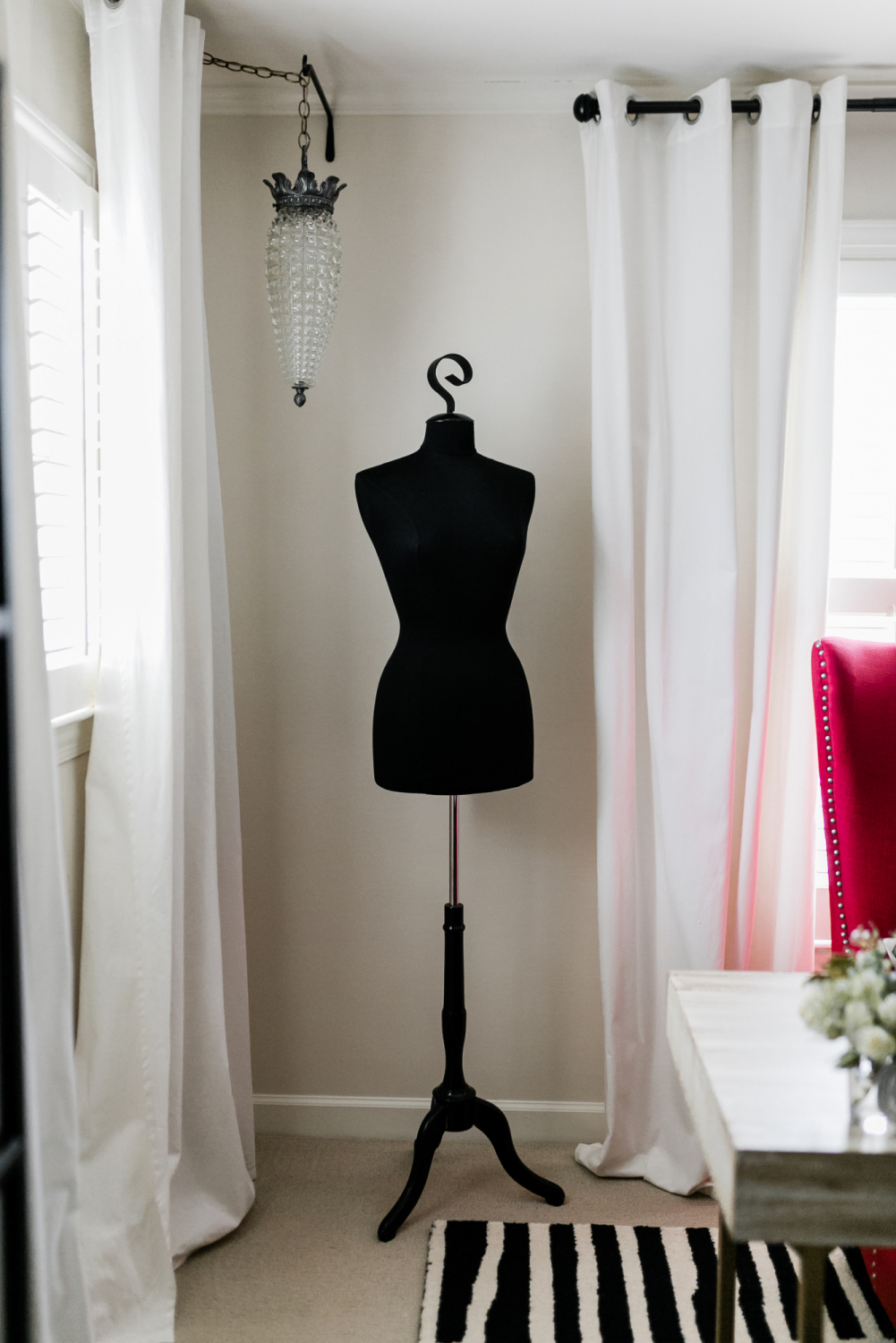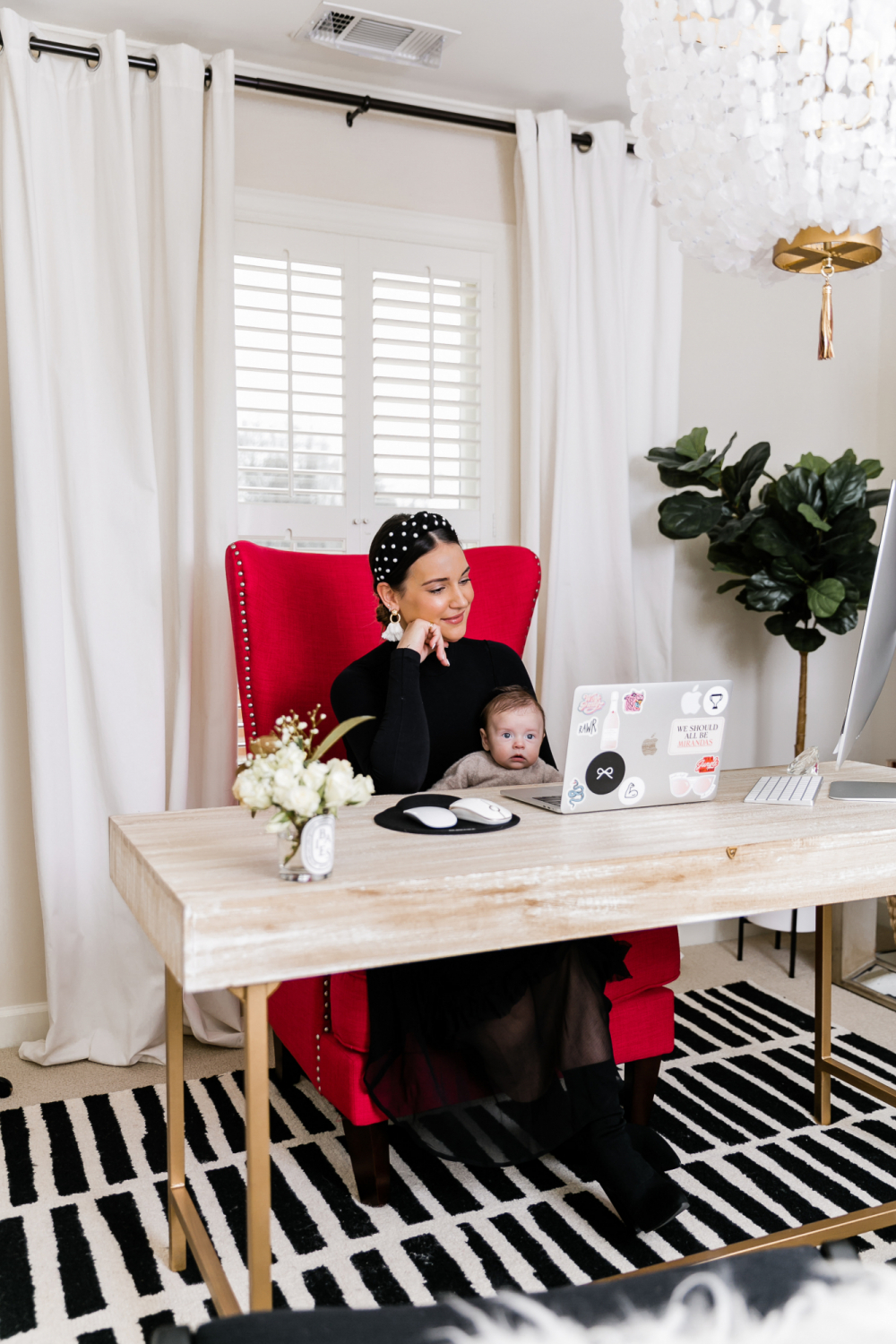 photos by Viva Lux Photography
turtleneck | similar sheer dress and love this top | similar skirt | similar booties here and here | headband | similar earrings
desk | rug | desk chair | black accent chairs and side table c/o Paula Rallis Home | throw pillows | lumbar pillow and insert | chandelier c/o Sullivan and Phenix | ceiling medallion | similar mannequin dress form | curtains – old, love the lightness of these | curtain rods – were left in the house, love the clean lines of this one | lantern light – antique | black and white magazine prints – found at a market | metal shelving | metal cabinet – no longer available, love this one and this one | disco ball | prada marfa print | silver sequin dress posted here, no longer available but love this one  | similar geode bookends | diy polaroid art | faux plants and planters – found locally but just bought this one
Thank you so much for reading and more room reveals coming soon! XO –