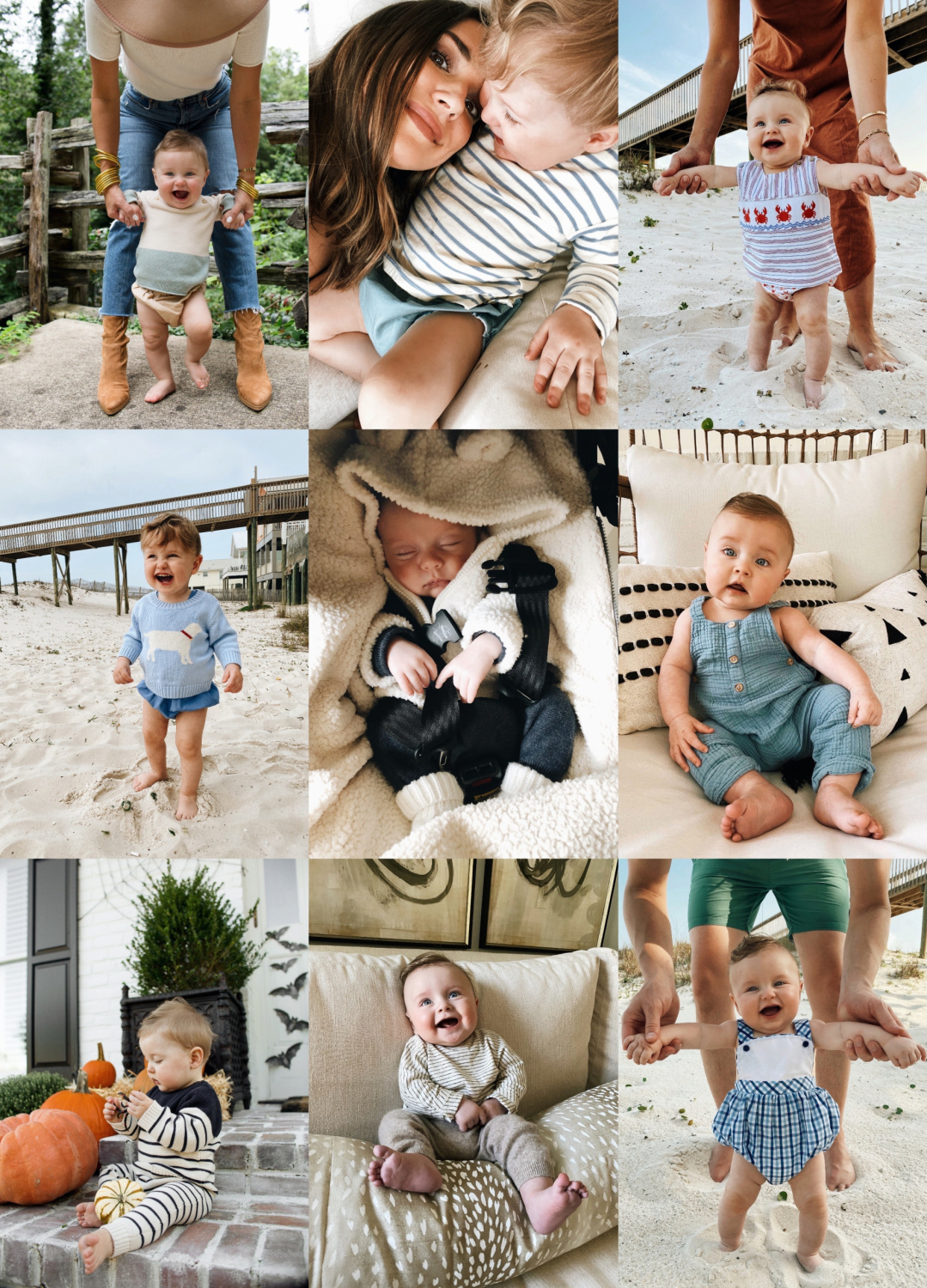 I don't cover a lot of kids clothing/fashion because I do try to keep this blog centered around adult fashion, but "help! boy mom and we need clothes" emails and messages keep coming, so it felt like it was time to share an update post about Hudson's wardrobe lately.
My biggest tip for dressing babies and toddlers is: keep it sweet and simple.  The ruffles, logos, bright colors, phrases, busy patterns… it's a lot on a small body!  I try to keep Hudson's clothing to solids and stripes (with the occasional large scale print like this), and the result is a sweet but small capsule wardrobe that easily mixes and matches for fool-proof mornings.  I also mostly commit to soft colors like whites, creams, camel, soft blues and greens, etc.  I don't think he has any black in his closet and only a few navy pieces.
My second biggest tip is fit.  Nothing makes me more sad than a baby in baggy clothes.  I prefer to have less clothes that fit well rather than tons of clothes that don't fit properly.  I keep the clothes that currently fit Hudson in his dresser and clothing that he hasn't grown into yet is in his closet, categorized by size (12M, 18M, 2T, etc).  If it's too baggy, it goes in the closet until it will fit properly.
To shop, click directly on the item or find its associated number below the collage –
FOR PLAY CLOTHES:
H&M | This is probably my #1 go to for Hudson's clothes.  They are soft, they are a realistic price point, and honestly their selection is pretty amazing.  A two piece linen short set for $30, a chunky knit cardigan for for $25, $10 camel joggers.  How can you beat that?
Baby Zara | They do not have a user-friendly site, but so many cute kids pieces.  Definitely for the "cool kid!"
Old Navy + Gap | I will get the occasional clothes and outerwear from here and oftentimes pajamas.  I also have this knit onesie in grey and navy (both on sale!) and it's adorable.  I also have these solid sneakers in every size.  Literally, I bought every size because non-logo sneakers are harder to find than you'd think!
Etsy | I do buy the occasional thing for him from Etsy, like these diaper covers in nearly every color and his Easter basket.
Amazon | Check out my favorites in the baby + kids category of my Amazon Storefront (under "shop" at the top of this site).  I just ordered Hudson these pajamas and this knit onesie.
Cadets | We love all shorts from Cadets!  They are a great length and have a super cute assortment of colors.   You can also personalize them if you want, and I find the cut really flattering on little legs.
Osh Kosh | I got this toggle coat for Hudson that he wore allllll fall and winter and it is A+ adorable and fantastic quality.  It's no longer on their sit but this one is really similar.  A lot of kids outerwear needs to be dry cleaned (which I find ridiculous), and this one can be thrown in the wash easy peasy.  I also have this vest for next fall.
Oliver & Rain | They have a lot of cute boy pieces!  We have these pants and these pants and they're too cute.
FOR SWIM:
Sunhouse Childrens |  The most beautiful childrens swimsuits you will find out there.  For sure.  We have these trunks and swim shirt and don't even get me started about this girls suit.
H&M | We have this onesie swimsuit (adorable), and last year we wore this set.
FOR ELEVATED PIECES:
Grace & James |  One of my all-time knit sets is from Grace & James, so much so that I have it in 3 sizes/colors.  I also just got this personalized sweater and these spring overalls just in time for Easter.  And how adorable is this swimsuit?  Really beautiful, special pieces you'll want to hand down for years and years.
Atelier Choux |  The sweetest, most angelic pieces from Paris.  The onesies are a dream but their crib sheets and cashmere blankets are equally precious and can be used for longer.
Janie & Jack |  I love how they master both sweet and chic.  Always well done!
Dondolo Baby | The sweetest fancy pieces to wear when grandparents visit.  This cardigan can be personalized and it super precious.
Egg New York |  I love their knit sets like this one and pajamas!
Poppy Kids Co | The sweetest bubbles and jon jons that can be personalized.
Little English | A favorite for super sweet pieces.
If you have favorite baby clothes sources, I would love to hear.  Thank you so much for reading and you can find more baby/family posts and resources in the "family" category of this site.  XO –