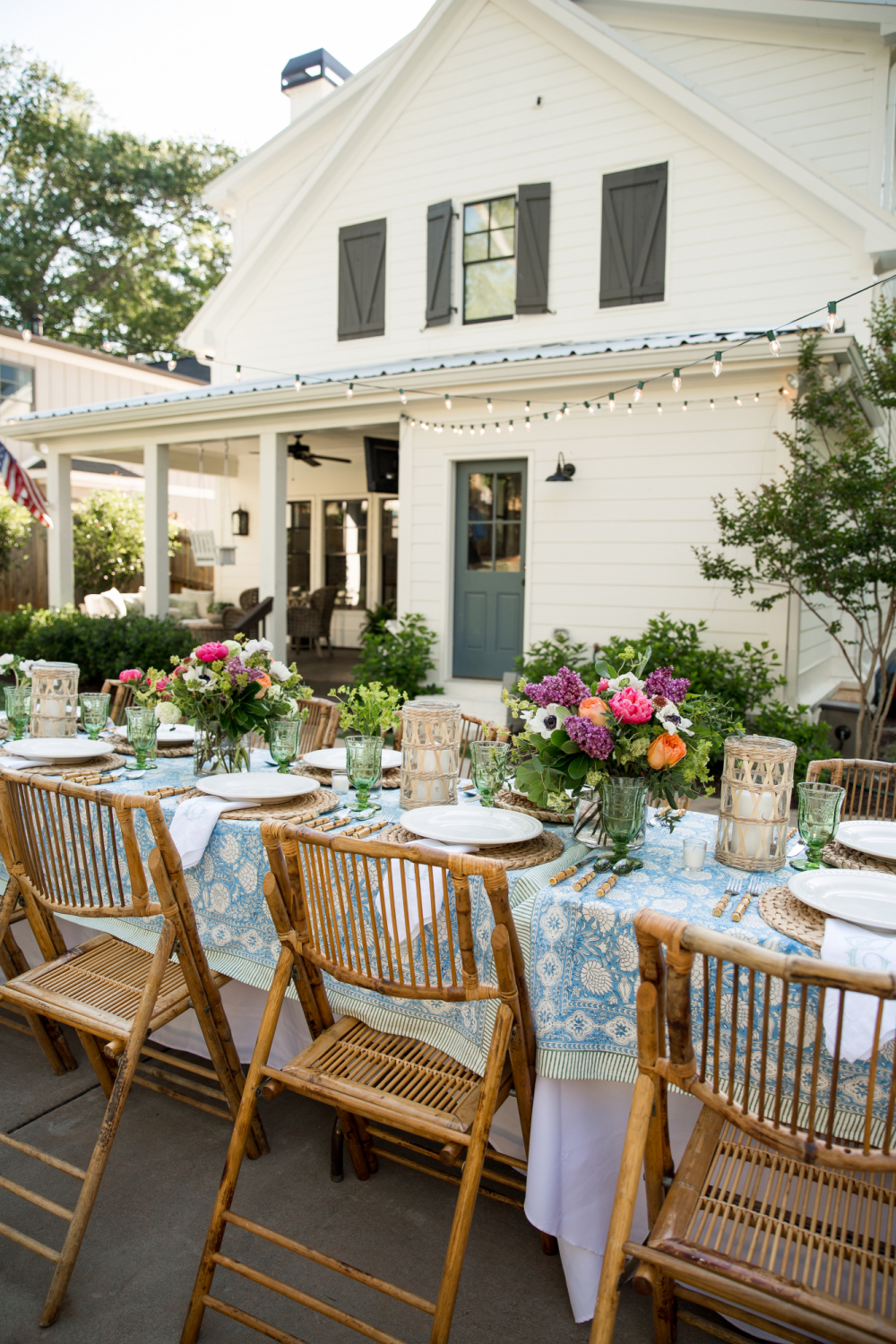 This past summer we were able to gather for a private outdoor dinner with a few couples. It was such a blast and a super sweet memory! My dear friend and interiors expert, Theresa Costas, set such a beautiful table that I had to take the opportunity to document it. This is the same gal who spearheaded our mega primary bathroom remodel (and killed it). So girlfriend has epic taste.
Now that we are in winter and looking to spring, I wanted to share this beautiful spread along with her tips for setting the scene for a special and memorable dinner for friends and family.
Let's dive in – passing the mic to Theresa!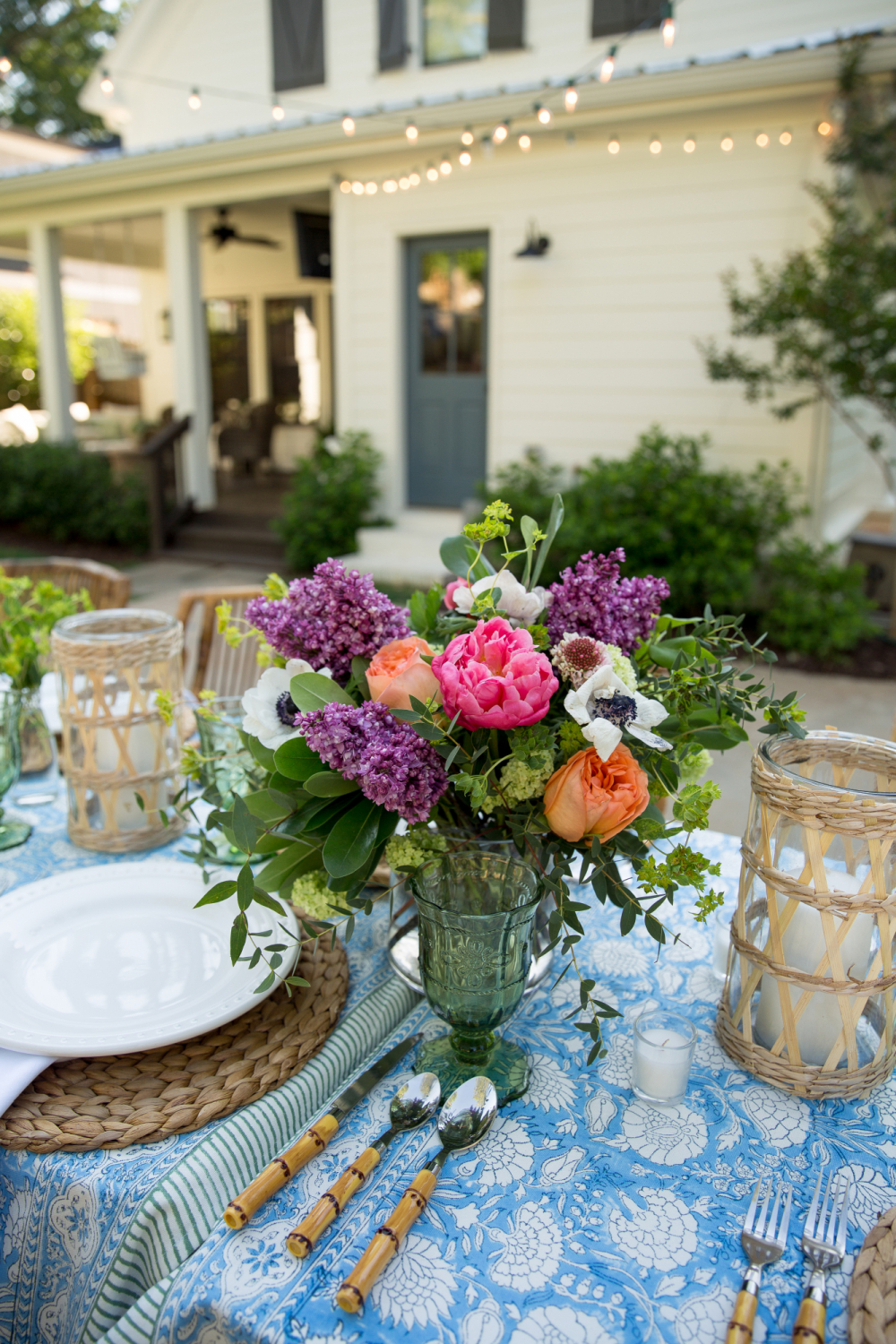 The concept of "tablescaping" has become quite the thing over the last two years – thanks in large part to Instagram and influencers like Kathleen 🙂 – and some of these tables, complete with doves flying out of the million-dollar centerpiece, can most certainly make it feel unattainable and intimidating if it's something you aren't used to doing – but I assure you, it shouldn't be…
Not only is setting a table something you can (and I'd argue should) do for special occasions, with the right arsenal of goods, it's something you can easily pull together to make a Tuesday date night at home feel special.
You won't find me in the kitchen – not willingly at least – so setting the table has always been the task I'll happily take on as my contribution to holiday dinners or get-togethers.  When we are hosting a dinner party, the meal we are serving is a total after-thought to me.  Much to my husband's annoyance, all I concern myself with is the table – which is probably how we have ended up serving pizza at a dinner party or two.  But let me tell you – with a bomb table, even take-out feels elevated.
Over the past few years I have been able to build a pretty impressive stash of linens, plates, candlesticks, glasses, vases, etc. by putting them at the top of my birthday or Christmas wish list.  When your mom or mother-in-law is looking for ideas on what to get you – I'm telling you, add something for your table to the list and before you know it, you too will be throwing out your kids' school work you thought you were going to save because you need somewhere to stash your new napkins.
I'm sure when Kathleen asked me to put together my top tips for setting a table, she didn't think I'd include my thesis on tablescaping, but here we are.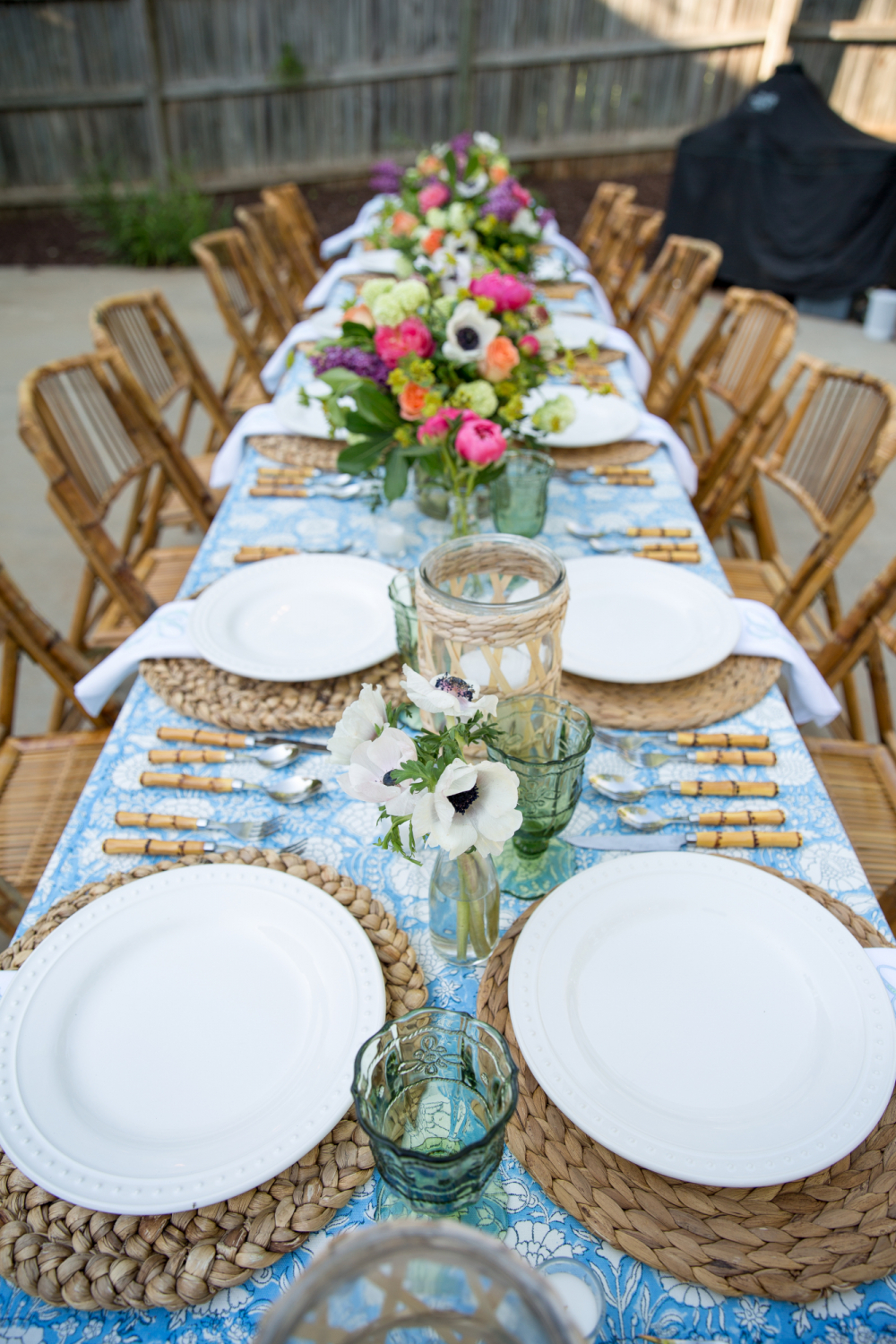 So if you've made it this far, here are my top five tablescaping tips: 
This isn't your mom's table – throw matchy-matchy out the window. 
Instead, pick a unifying color and choose things that work in that family – that can go for napkins, glasses or even plates.  Don't be afraid to mix prints, patterns and textures.
Just like Shelby in Steel Magnolias, everyone should have a signature color they love and repeat throughout their life – find yours and when you come across something you love in "your" color, buy it and chances are it will work perfectly with what you already have – helping you build a versatile collection. 
The more layers, the better.  
Sure, the plates, napkins, utensils and glasses are a good start – but they should be just that – the start.  Fruit, flowers and even figurines scattered down the table can help add layers and interest to your table.
Even better if you can mix in a few special heirloom pieces here or there – a great conversation starter.  If you don't have anything heirloom, why not start the tradition? I only have a couple pieces that have been passed down through family, and they are my favorite by far.  And I'd love for my grandkids to one day pull out a platter and say, "this belonged to my very chic and favorite grandmother!" So I keep that in mind and try to buy one quality and timeless piece every year with the hope that they are coveted one day.  
Oh how I'd love to build a collection of these dishes to pass down – choosing a pattern or brand that has been around for generations helps ensure whoever inherits it will likely be able to keep adding to the collection!
This is a piece that would be beautiful for just that.
Flowers. Flowers. Flowers. 
I'm most definitely a flower person, and a table looks naked to me without at least some kind of greenery.  If arranging fresh flowers isn't your thing, even a potted plant will work.  And think outside the one big arrangement box – it's much easier to put together a small bud vase with flowers – do multiple of these down the table, sticking with one flower type per vase to make it easiest for you.  Plus, lower arrangements make it easier for people to carry on conversation across the table.
Other small bud vases I love here and here.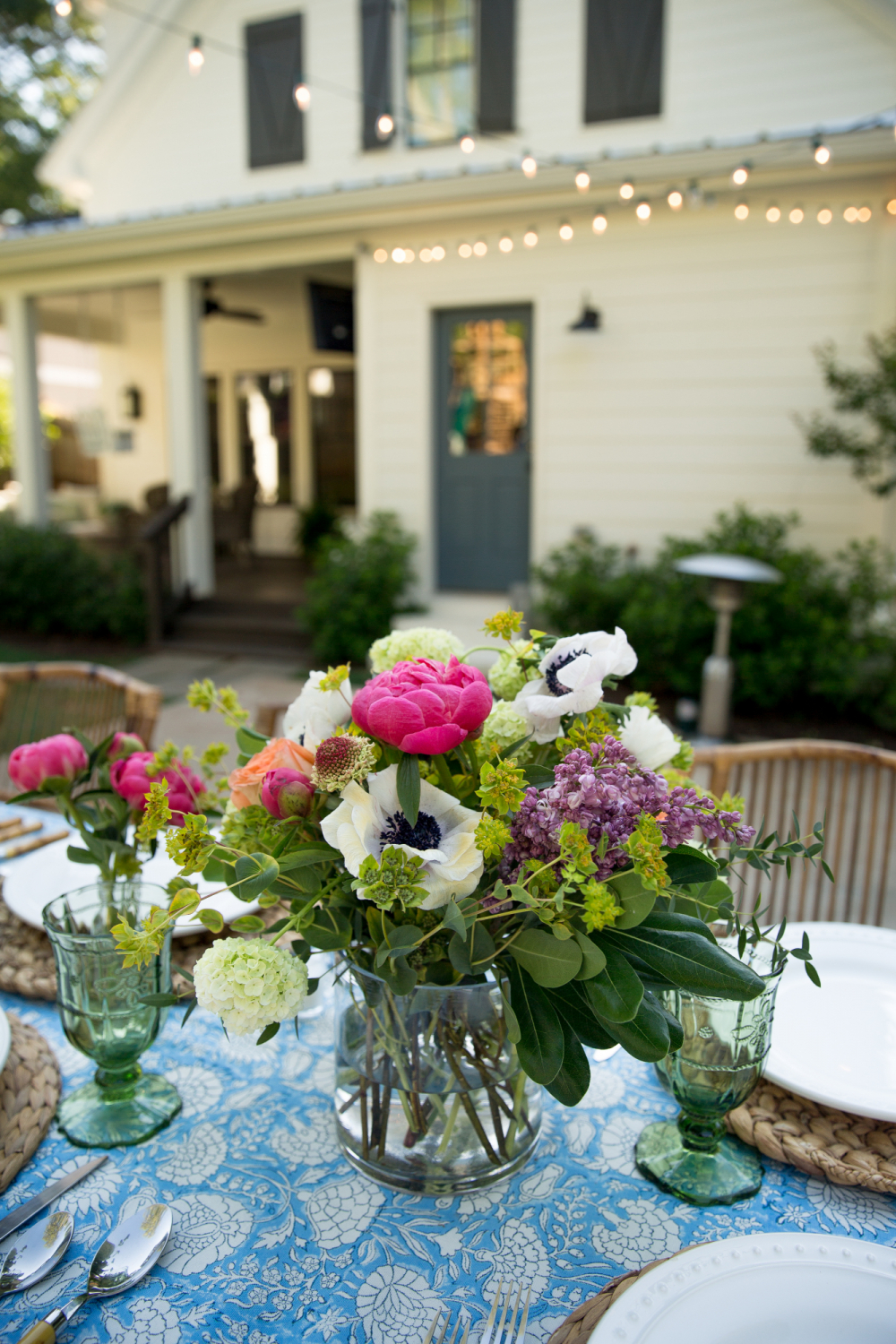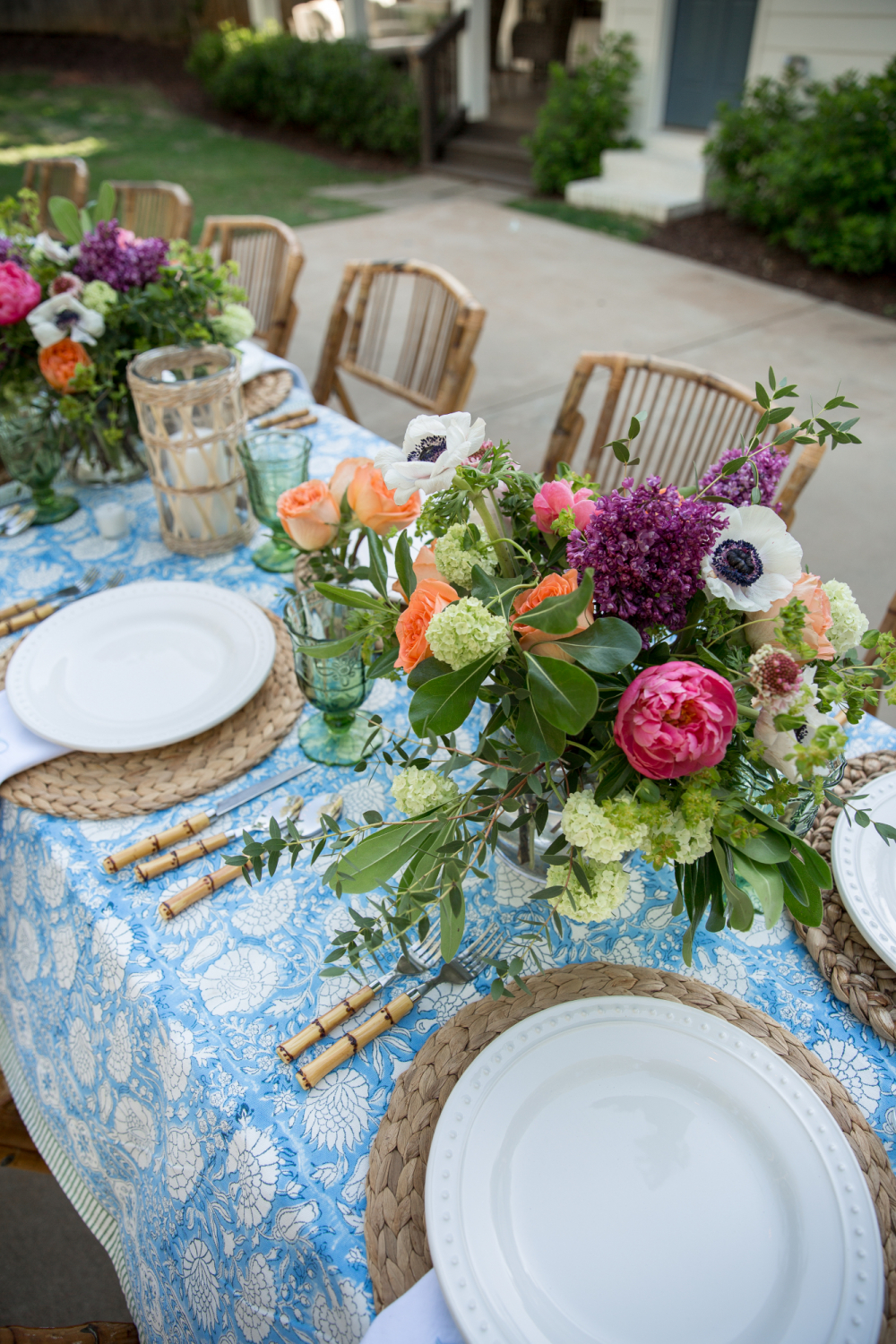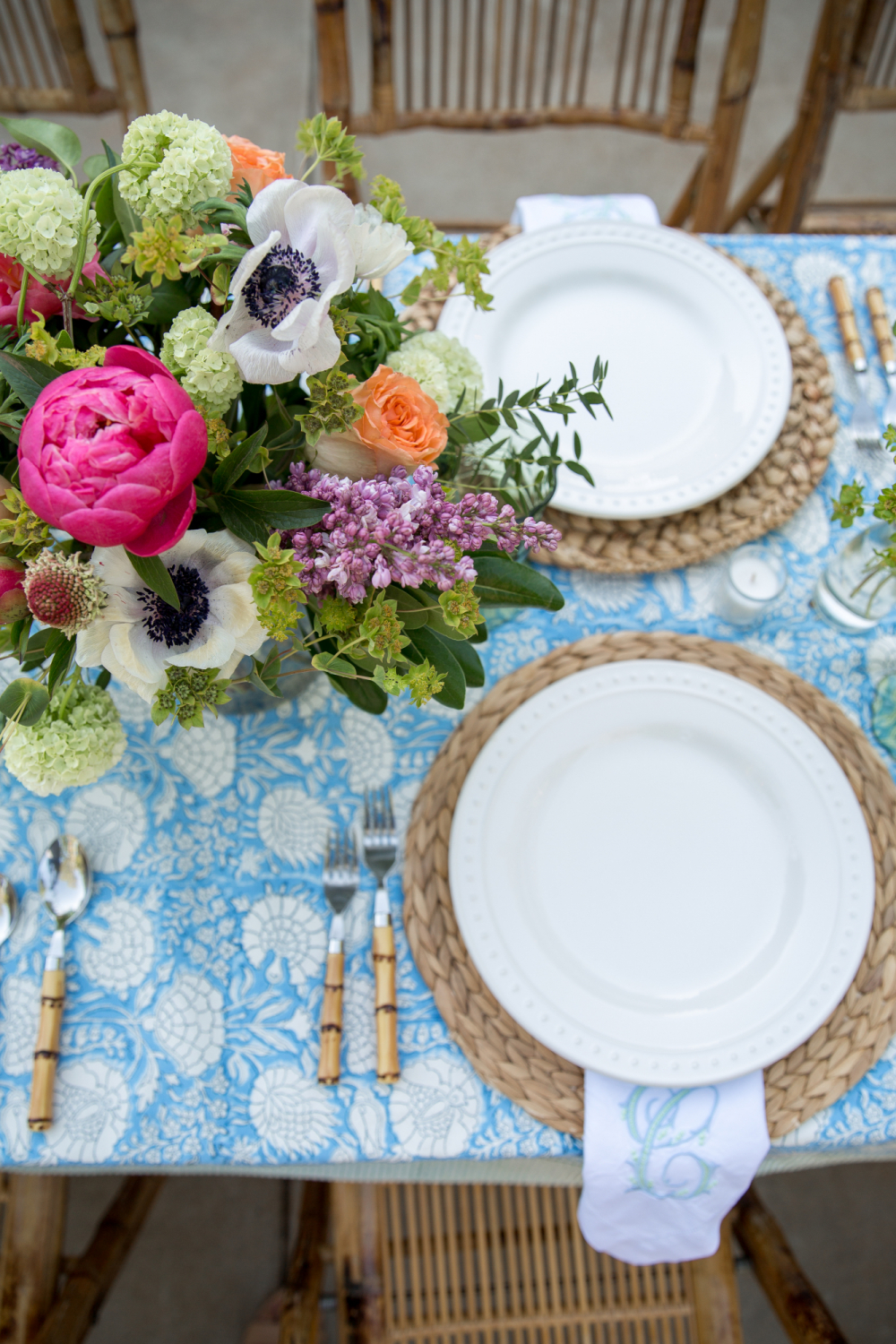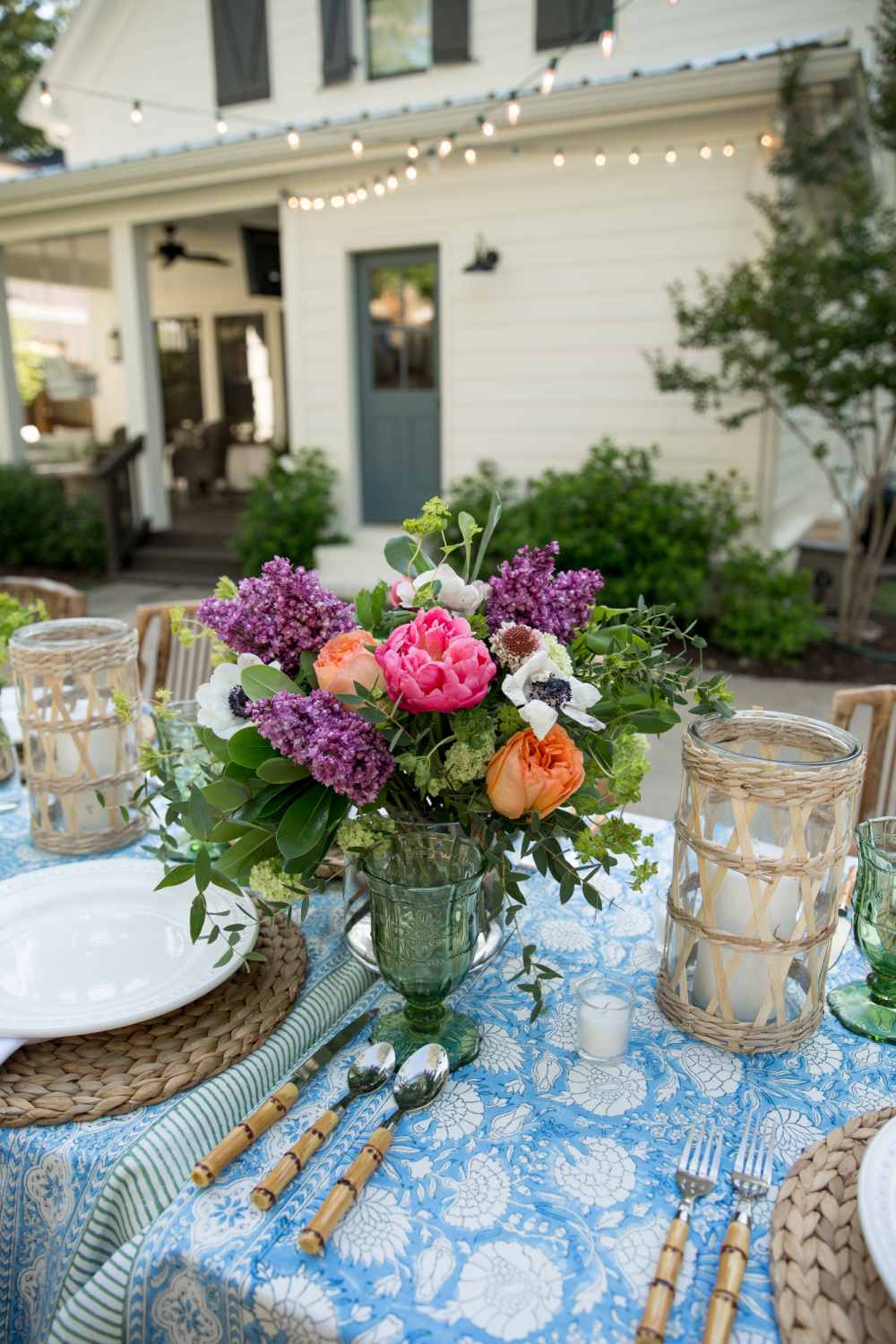 Don't forget the lighting. 
Just like at a good restaurant, good lighting is key to set the ambiance.  Seems silly, but installing a dimmer switch on your dining room fixture is cheap and actually pretty easy to do and makes a world of a difference.  Also think about the lighting on the table – mixing different heights and sizes of candles (taper, pillar, tea lights) can also be an easy way to add dimension and height to the table without blocking the view.  
I've been seeing these new small, battery-operated lamps being used more and more and I love the idea of mixing those with candles.  They can get pretty pricey, but these are more reasonably priced with the same look as the $$ ones.  Taking my own advice, this is on my birthday list.
I also love these candle holders and these candles.
Set yourself up for success so you can enjoy the party.
Nothing kills the vibe of a party faster than a stressed-out host.  If you can, start working on putting the table together in the days leading up – unlike food prep, the table can't go bad if you make it too early.  
I even go so far as to set out the platters I'll need and put little sticky notes in them of what food is intended to go in each piece – that way, if someone else is lending a helping hand day-of, they don't need your oversight.  Another small hack that saves more time than you think – I buy a gallon or two jug of water at the grocery store and chill it and use that to fill up the water glasses at the table.  Not having to fill each glass from the fridge water source saves more time than you think. Finally, if there is something that stresses you out – outsource it!  For whatever reason, picking the music is that for me, so designate someone – can even be a guest (is usually Kathleen for me) – to be in charge of a playlist.  Take your stressors off your plate – make them somebody else's problem 🙂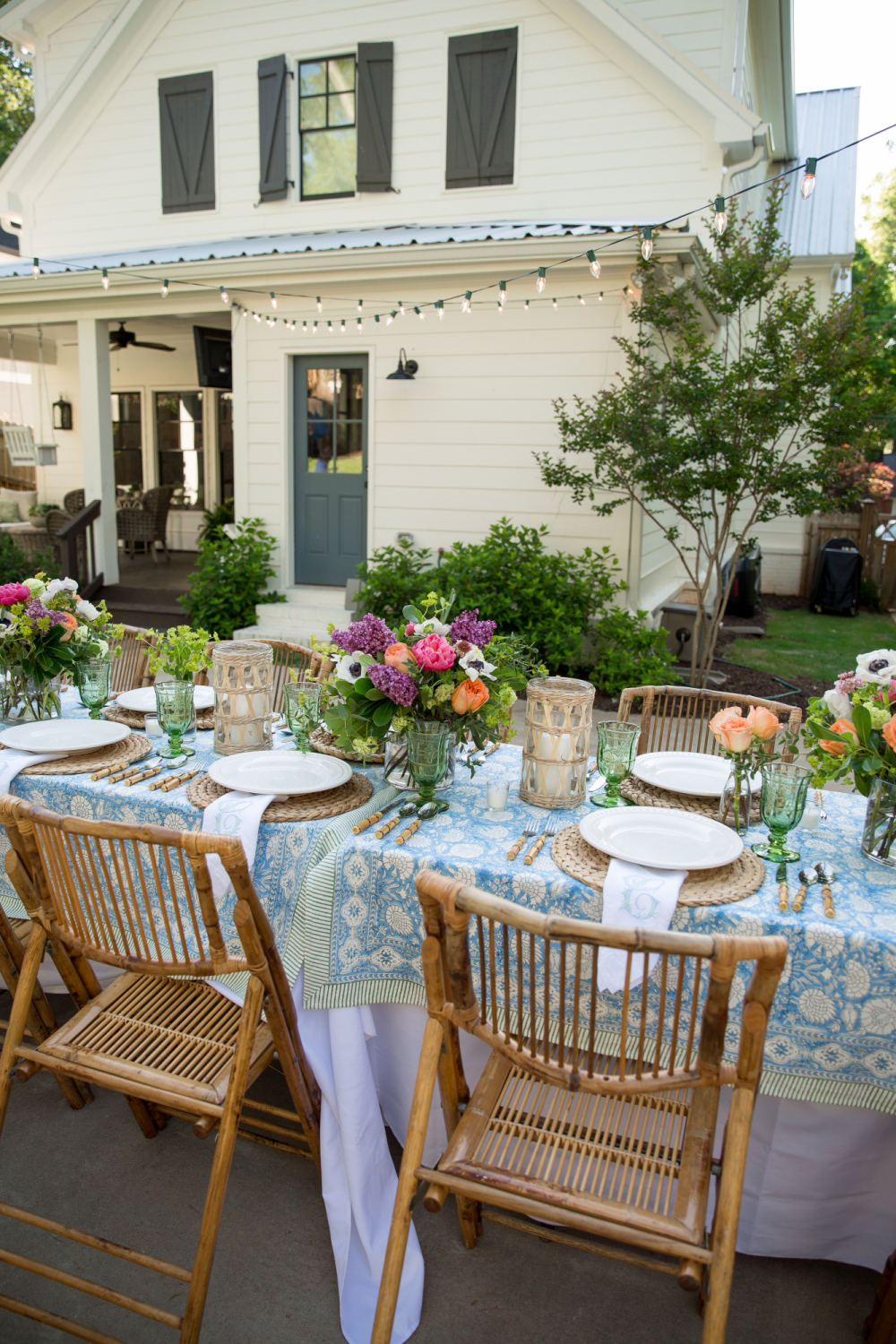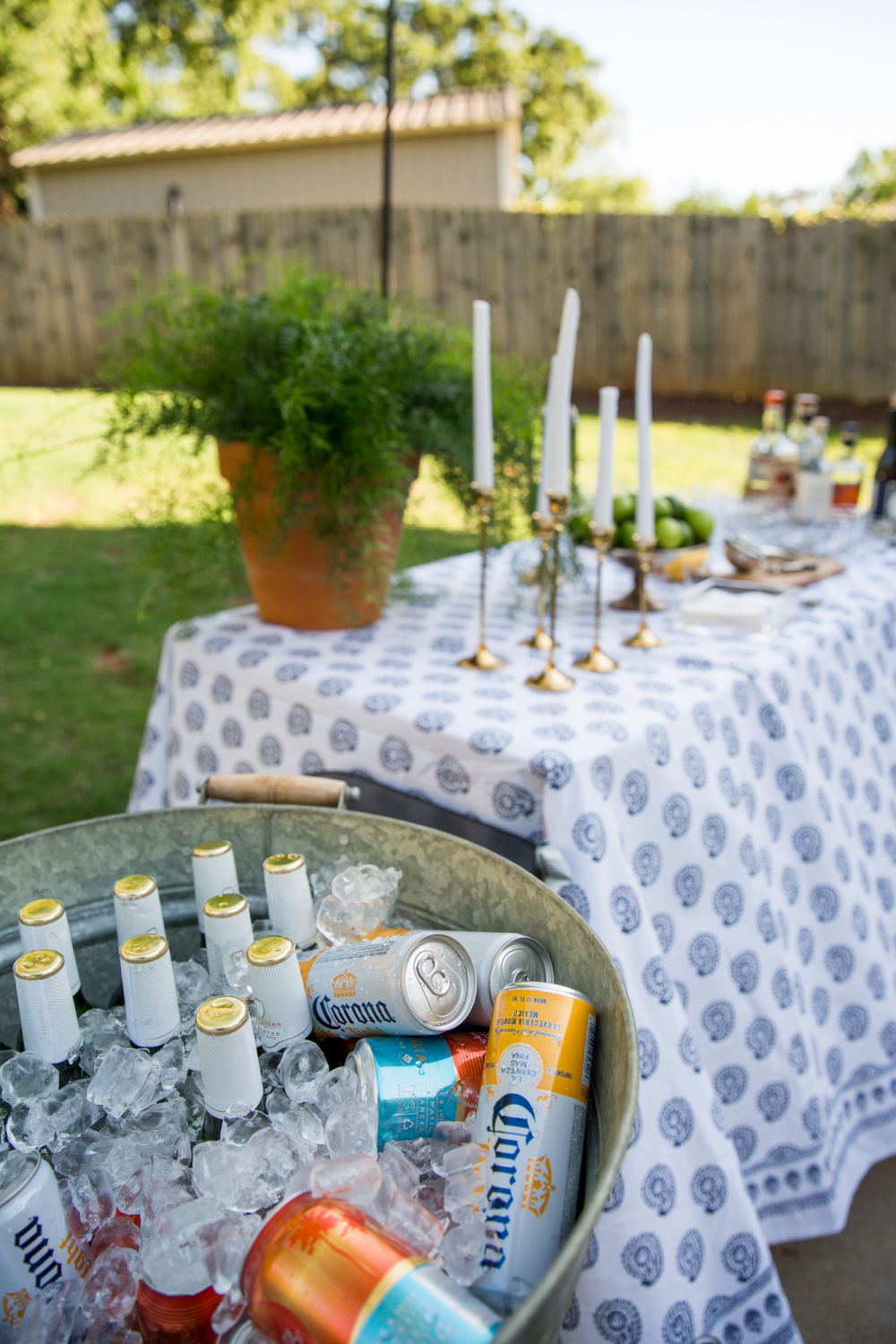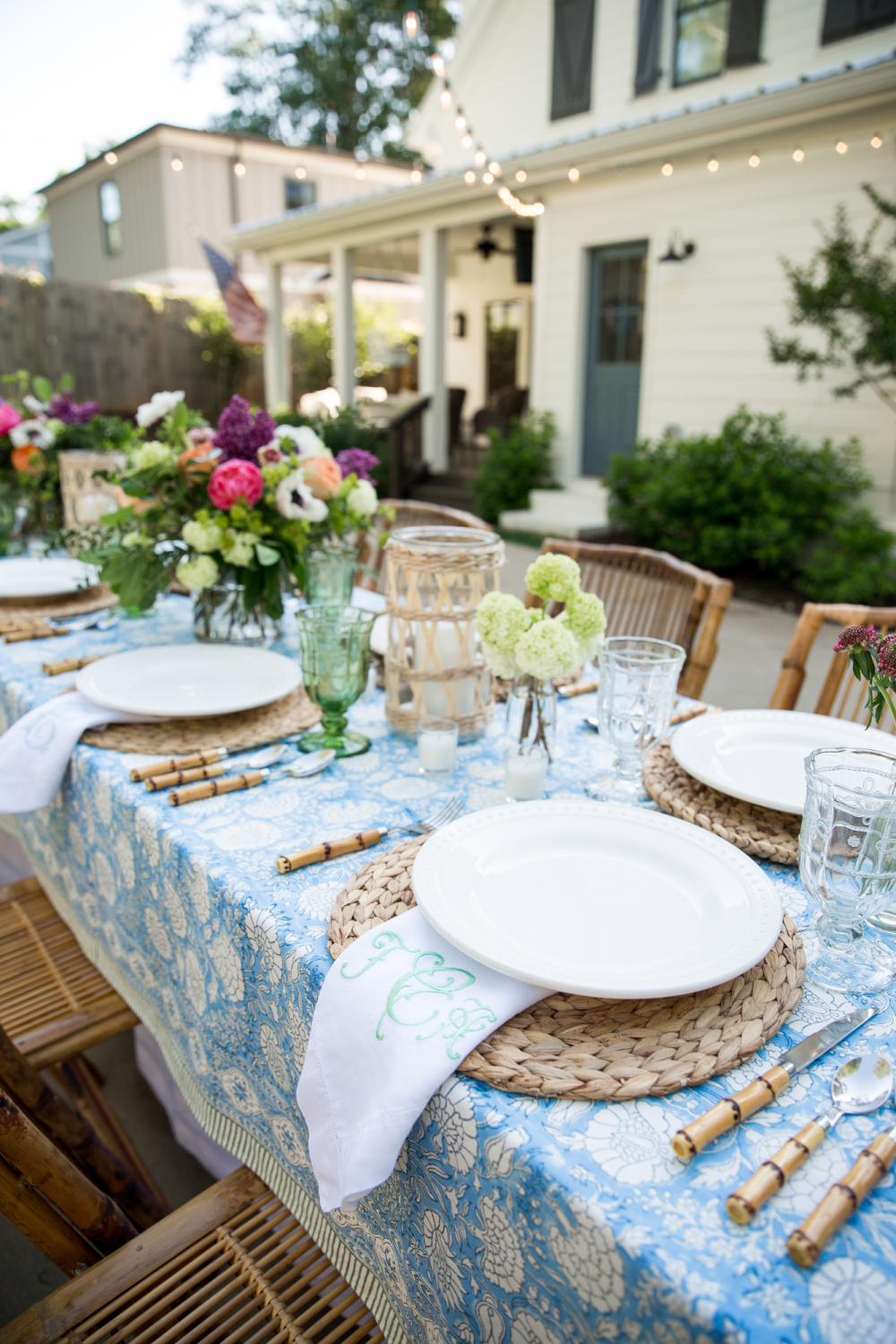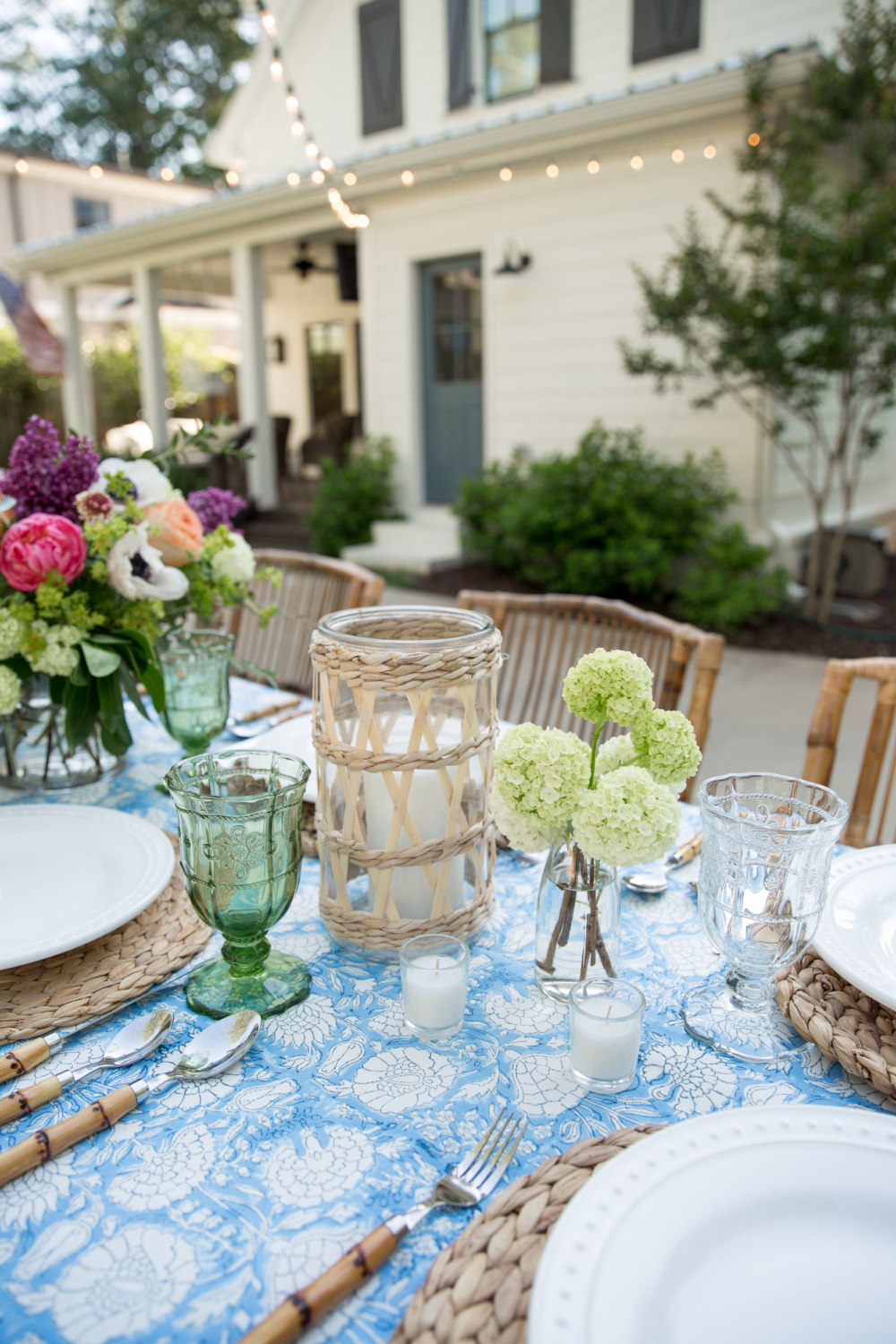 PRODUCT SOURCES:
Blue Tablecloth | Bamboo Flatware – wouldn't recommend these for everyday use, but works perfectly for a party (and can't beat the price) | Folding Chairs – I made my mom and sister each get a set or two of these chairs, so we can pull ours together for a set of 24 if having a big party | Rattan Chargers | Green Drinking Glasses (Juliska, sold out), similar glasses here | Personalized Linen Napkins | Dinner Party Set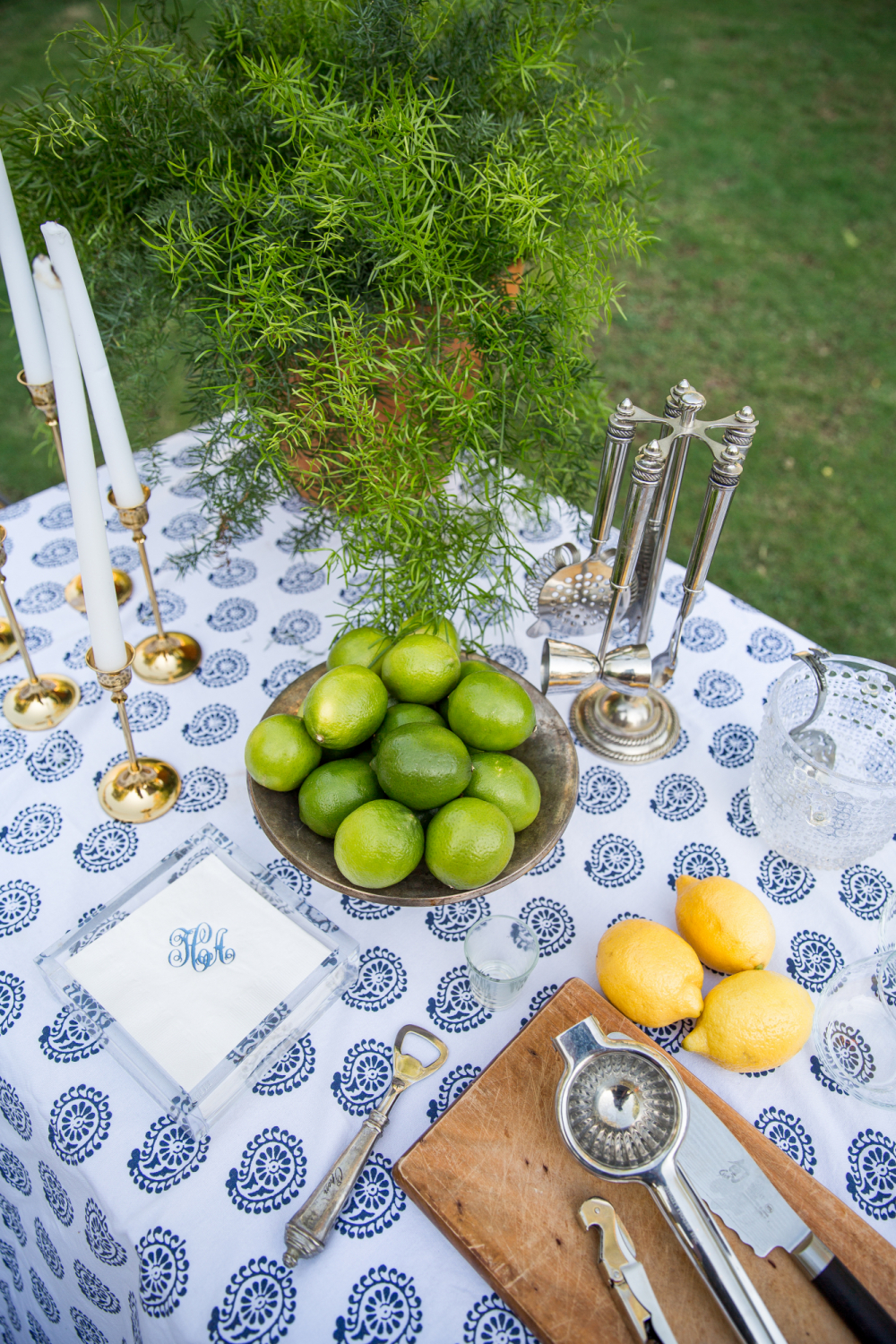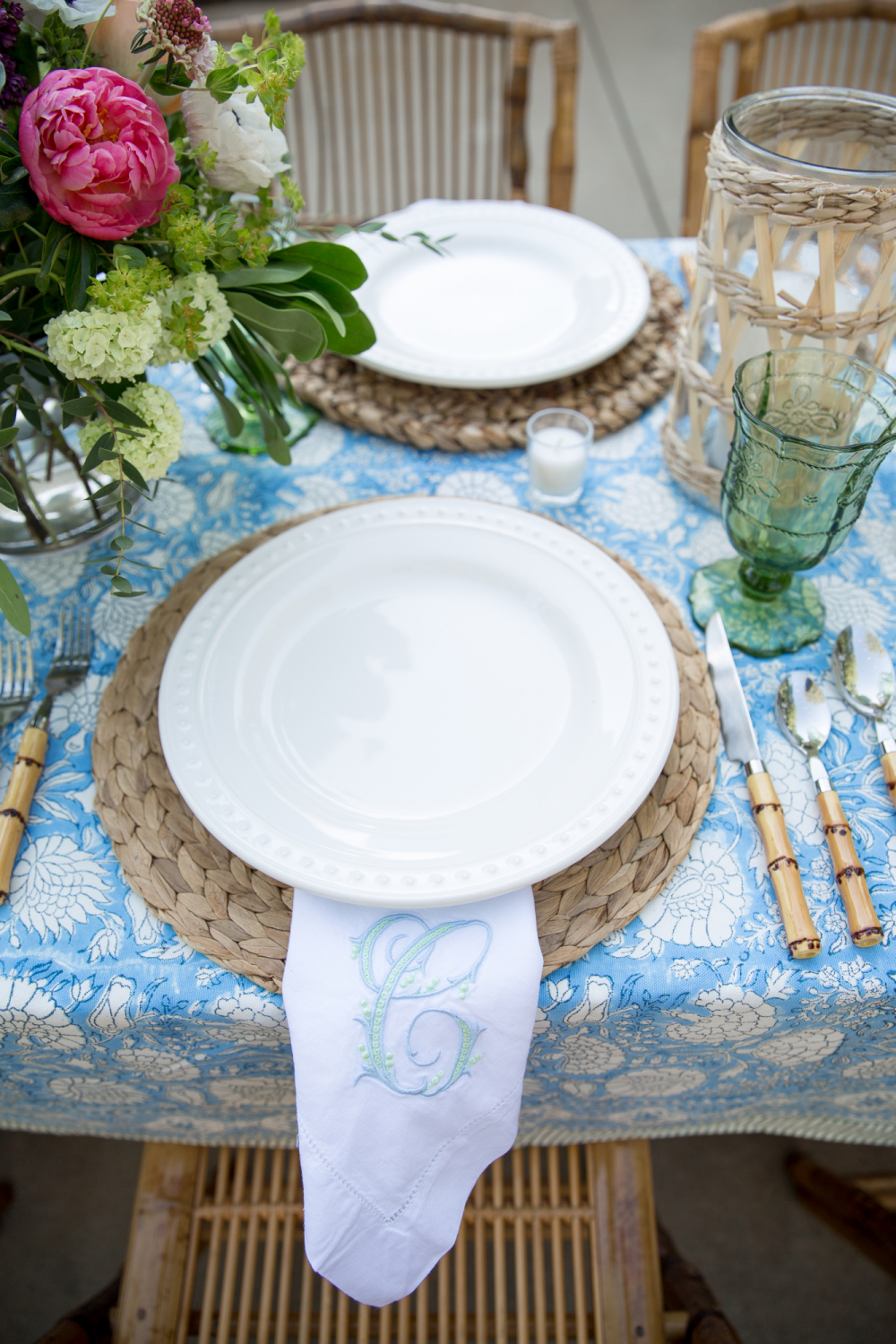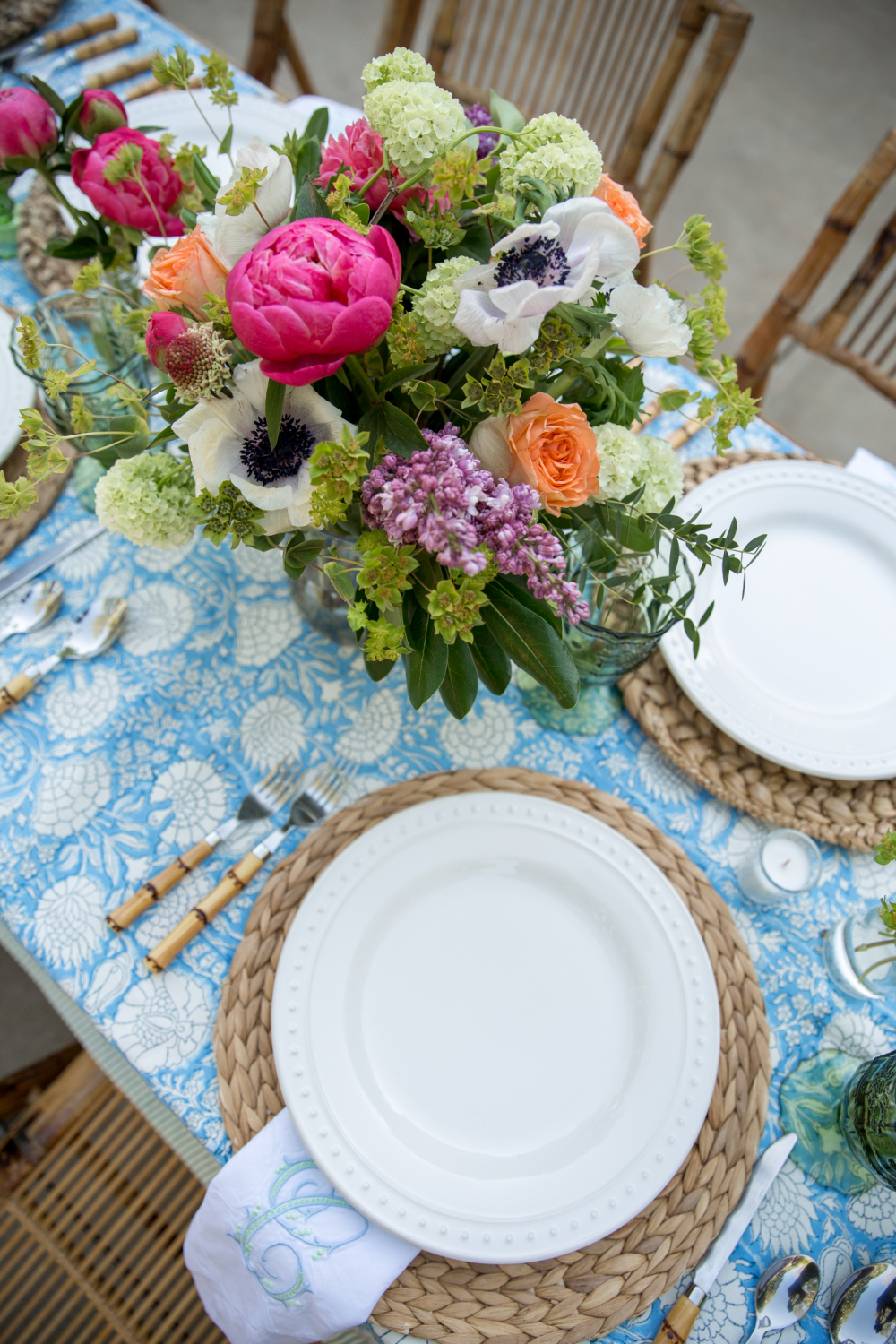 A few more tablescape ideas –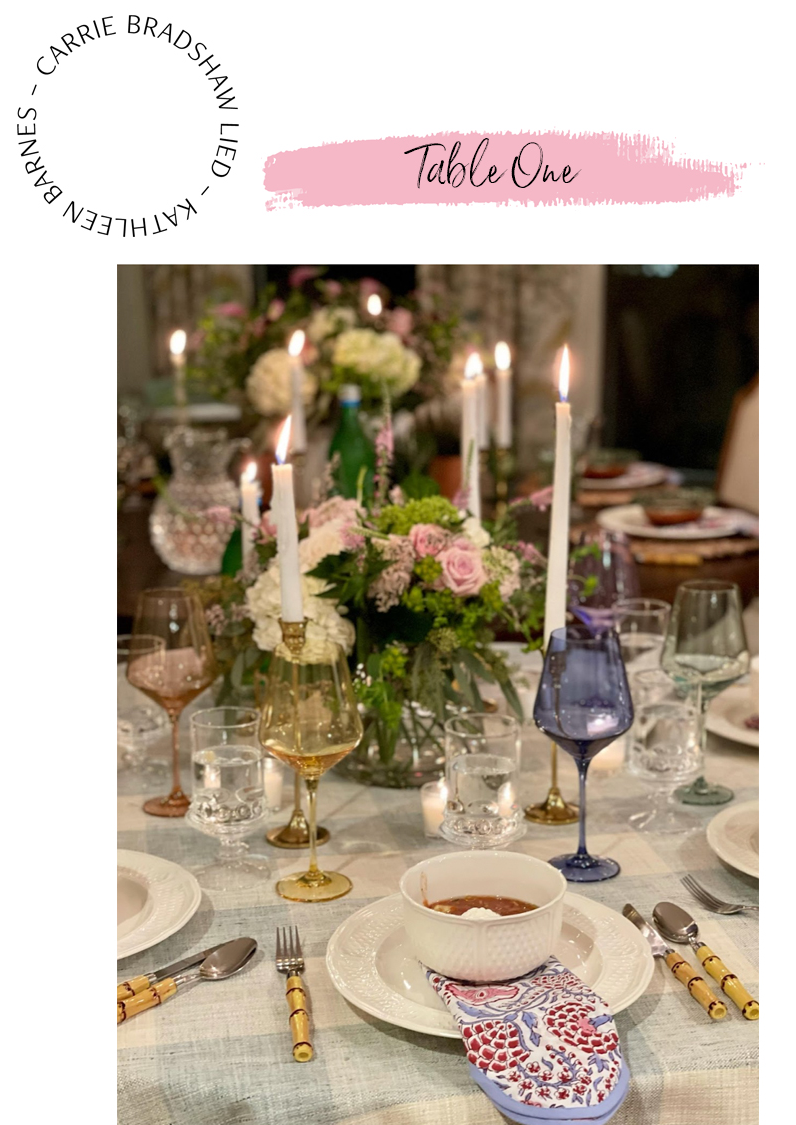 Napkins | Candlestick Holders | Stemware Set | Flatware Set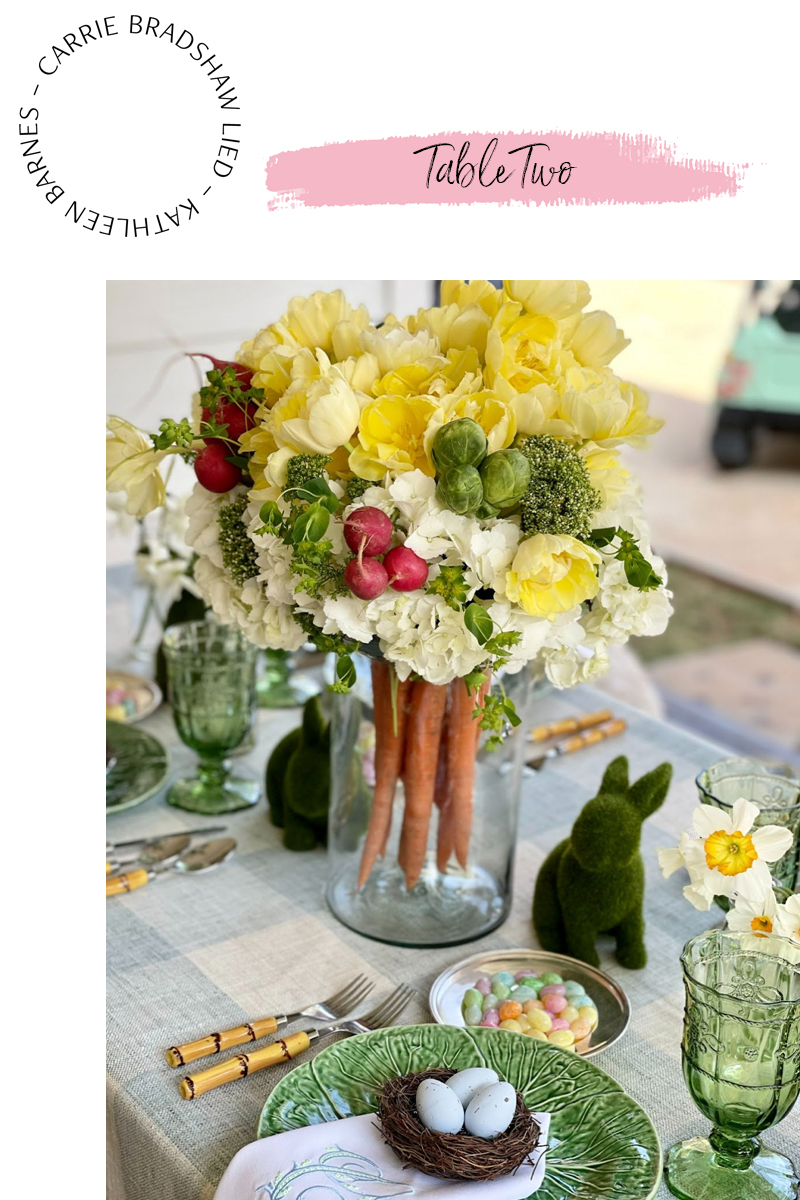 Cabbage Dinner Plates | Linen Napkins | Flatware | Similar Drinking Glasses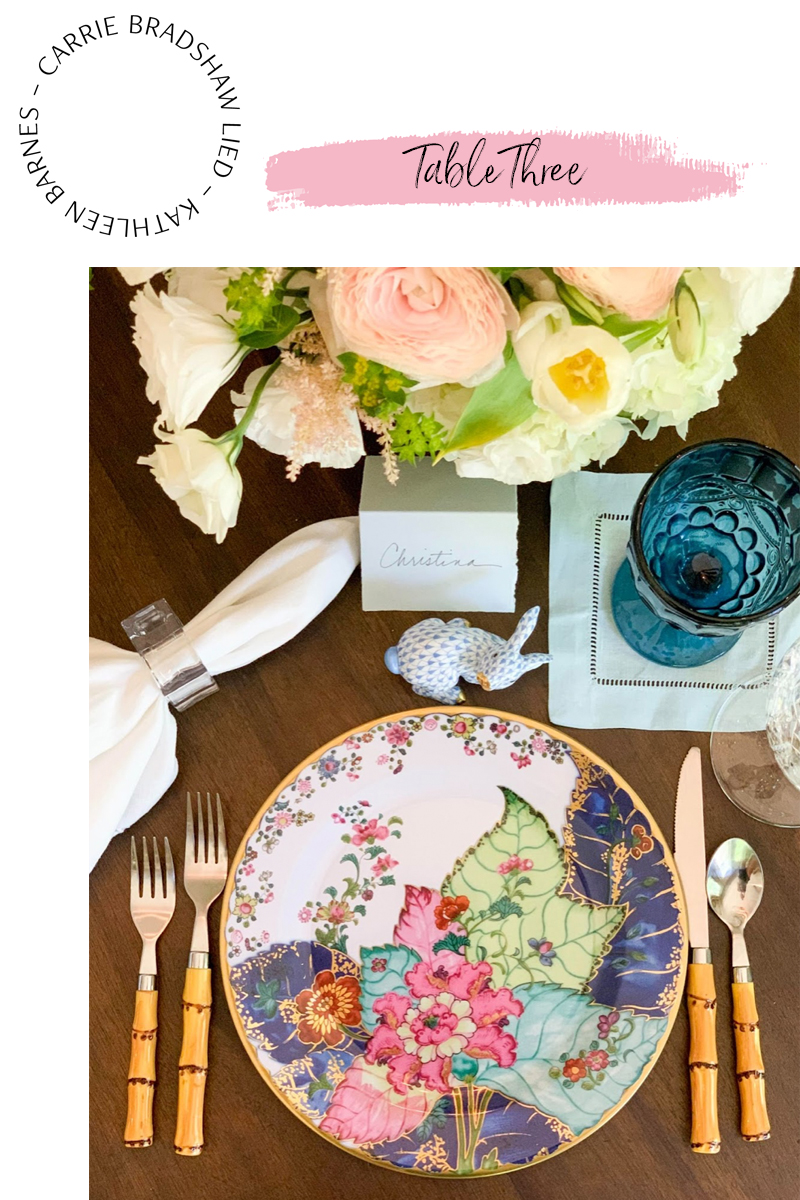 Plates – these plates are made of tin and a fraction of the price of the real Tobacco Leaf plates! | Herend Bunny | Water Goblets | Cocktail Napkins | Napkin Rings | Flatware | Linen Napkins
What a TREAT to have such a pro share her top tablescape tips. Another tablescape post here, but not nearly as detailed and chic. For more home content, be sure to check out the "Home" category at the top of this site.
Thank you so much for reading! XO –