– a little morning time with my Lula… and these gorgeous white hydrangeas –
– a fresh batch of homemade granola bars for Christian –
– stumbling upon a beautiful rose garden in San Diego (thank you for your help last week!) –
– winning first place at a pizza-making competition at work –
(must be all that practice from this pear and gorgonzola pizza, margherita pizza, eggplant and tomato pizza, bbq chicken pizza and flank steak pizza…is it sad how much I love making pizza?)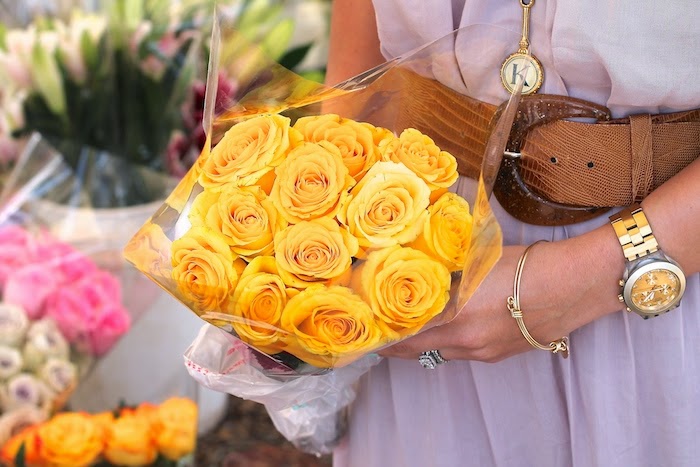 – beautiful roses at the farmer's market –
– my first surf and turf burrito, hello addiction –
– holy lemons! –
– farmers market Sundays with Bailey – and her best cobra impression –
– beautiful 
succulents
 – I'm obsessed – 
– dangerously delicious coconut m&m's –
We had such a fun and full week that I was snapping pictures left and night (Kathleen the paparazzi, that's nothing new).  It was a little cooler this week and Christian had a surprisingly light workload, so we spent a lot of time outside which is always his favorite – eating outside, biking, farmers markets, riding around with the top down and keeping all the apartment windows open.  This is nothing for California locals who are used to these privileges, but we aren't used to this kind of weather so we are obsessed! 
We spent last weekend in San Diego – thank you to those who helped us decide in this post!  It's such a beautiful city and next time I need to do a little more planning beforehand to make sure we make the most of it.  
This weekend we are heading to Temecula for some wine tastings with friends.  After our fun anniversary weekend in Santa Barbara, we decided we should definitely take advantage of the wineries within reach, so I can't think of  a better way to wrap up Easter Sunday after church than a toast in wine country with new friends.  
What are your weekend plans?  Do you have any favorite spots in Temecula?  Thank you so much for reading and for your input – y'all have no idea how helpful your feedback and comments really are! XO –