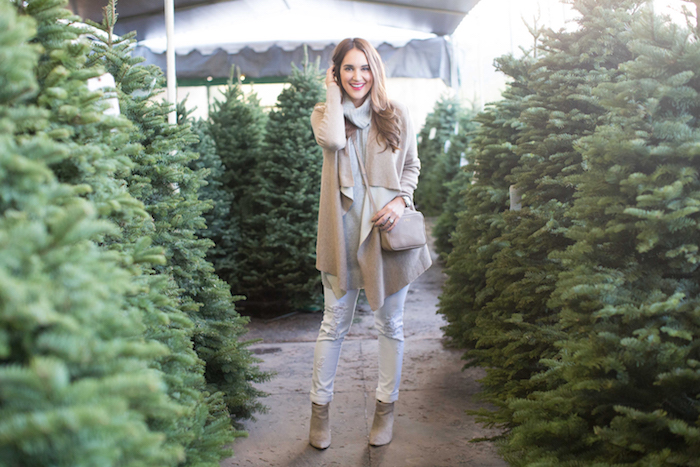 I shared some outfit inspiration last week for a Christmas Eve outfit, and today I wanted to share what I would normally wear on Christmas Day.  When I was younger and none of my siblings were married, we would stay in our pajamas until the afternoon sometimes. Why not?  Now that we have added seven new members to our family, people tend to get dressed in normal clothes well before 10AM, sometimes they're even dressed when opening gifts (tragic! You guys know I most definitely stay in my pajamas)!
SO all of this being said, I like to dress comfortable (I have to leave room for one or seven pieces of pie) but also cute enough that if I see pictures of myself from the weekend I'm not thinking, "really Kathleen? That's the best you could do?"  So this sleeveless cashmere turtleneck fits the bill perfectly, paired with an ultra soft cardigan like this one from ShopbellaC.
AND, Christmas came early thanks to the fabulous team at Henri Daussi! You guys may have seen this post on Instagram or seen a peek on Snapchat (CBLied), but I worked with the Henri Daussi team to select this beautiful diamond band to pair with my engagement ring.  I love my original wedding bands, but because C designed my engagement ring and we purchased the bands from the same jeweler rather than designing them, the rings have aged differently.  C has never been crazy about the bands and has often said he wished he had chosen to design them instead… so we were so excited to select this one that pairs so beautifully with my ring.  I still have my original bands and have been wearing them on my right hand, but Christian and I both feel this is a match made in heaven!
photos by Taylor Cole at Tanaka Farms

sweater c/o ShopBellaC | cashmere turtleneck c/o Design History, also love this one and this one | denim c/o, steal version here | bag | watch, steal version here | diamond band c/o Henri Daussi | sunnies, steal version here | boots – old, similar here
Because I know most of you are going to be traveling home for the holiday weekend, this will be my only style post of the week. I'm planning to share some fun posts over the next few days that I think you can incorporate into your weekends at home (hint, hint – like movies and chocolate). Thank you guys so much for reading and I hope you have a great start to a beautiful week! XO –