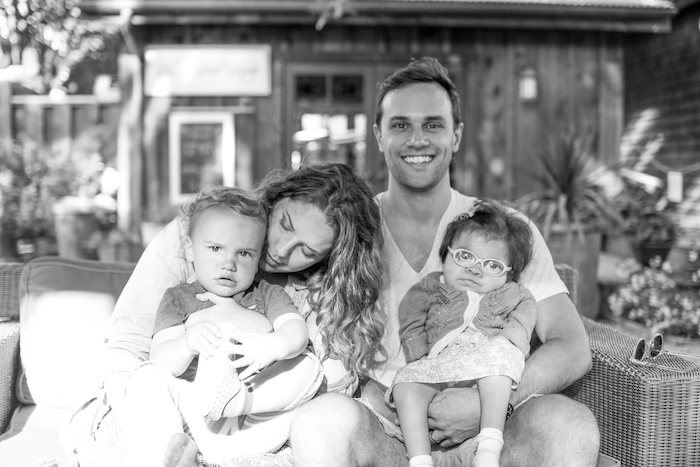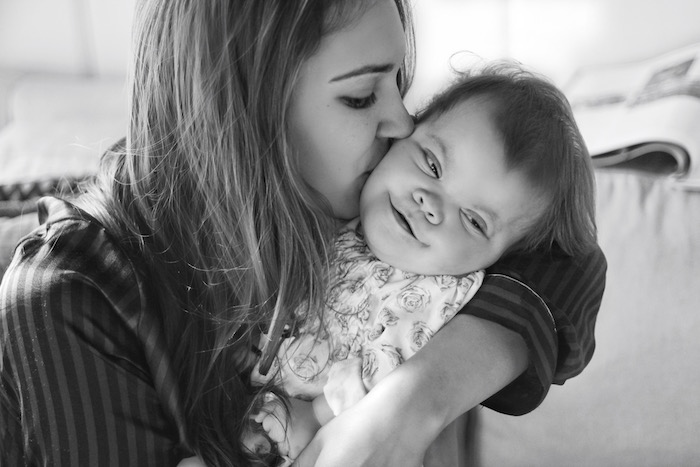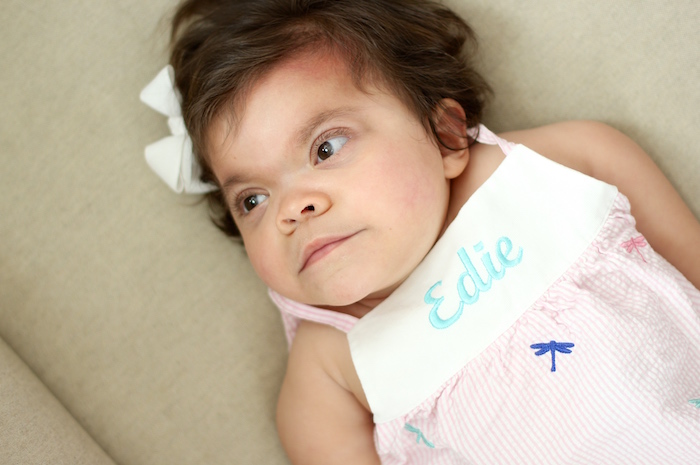 "The Lord is close to the broken hearted and saves those who are crushed in spirit." Psalm 34:18
"For we walk by faith, not by sight. We are confident, I say, and willing rather to be absent from the body, and to be present with the Lord." 2 Corinthians 5:7-8
"But Jesus said, 'Let the little children come to me and do not hinder them, for to such belongs the kingdom of heaven.'" Matthew 19:14
Late Monday night when I was asleep, I got a phone call from my brother. I knew my four year-old niece Edie was in the hospital with what we thought was a bad cold, so I answered after one ring.  I was told that Edie's cold had quickly escalated to pneumonia and her tiny body was unable to beat it.  Our Edie had left us for heaven.
In times of deep sadness, it warms my soul to think of her above, completely free of all pain and handicaps, in a perfect body with a bow in her hair. I know she is rejoicing with her Maker, and in that I will continue to find peace.  I've shared bits about Edie here, here, and here, and I recently shared some photos from our Memorial Day weekend trip here, but this little girl has stolen all of our hearts in a big way, and life will never be the same.
Edie blessed us with four years of love and changed our lives for the better.  She showed those of us on earth (those who knew her and those who didn't), what selfless love is and taught us how to trust His plan.  While our hearts are broken, we know she has left us for a more wonderful place and we will celebrate her life until we meet again.
I ask you to please pray for our family during this devastating time and lift up my brother and his wife as they welcome Edie's new brother in just a few short days.  I am grateful to God that I have always lived near them since Edie has been born, both in Mississippi and California.  Because we've always lived in the same place, I've have had the great privilege of being there for the good and sad, the highs and lows.  It is a blessing I'll never take for granted. I've never loved another person in the way I am madly, over the moon, head over heels in love with that little girl.  I can't even explain it, but my love for her is unlike anything I've ever experienced.
I've shared so much about our Edie over the years, and even with tears running down my cheeks, it just didn't feel right not to share this life-changing moment with those of you who have shared your love for our girl, both near and far.
Thank you for your support and prayer during this time.  We have arranged a small memorial in Los Angeles for family and close friends this weekend, and then we will be having a butterfly release – such a beautiful symbol of Edie's little body, which has now spread wings and flies around above us.
If you know Patrick and Anna and would like to help, we've set up a few options:
Eat24 Gift Card | email: patalbwil@gmail.com
Donations to RhizoKids
We appreciate your prayers for P & A as they welcome their second son next week. XO –
"You were only waiting for this moment to be free." The Beatles