swimsuit (sold out), similar style here (top & bottom – on sale!) and here | sunglasses |earrings
If you follow CBL on Instagram you're probably like, "we get it Kat… you're obsessed with La Paz." I don't even know how to begin to describe our week in paradise at the residences of Playa de la Paz.  I shared a sneak peek into the beginning of the week here, but I keep calling it my second honeymoon… except with girlfriends.
We were the first group to stay in the private three-bedroom residence at Playa de la Paz, and this property is unique because there are both units for sale and rent.  We had the luxury of peeking into a penthouse unit and one-bedroom unit and they both mirrored ours with incredible kitchens (complete with a wine fridge of my dreams), gorgeous marble bathrooms and tubs, multiple views of the Sea of Cortez and the options of furnished or unfurnished. I can't imagine a more fabulous second home!
We spent the week snorkeling, swimming with sea lions and whale sharks, getting massages on the terrace, having sunset dinners on the beach (along with a mariachi band!), exploring the downtown area of La Paz, doing yoga by the beach… Carla the incredible concierge for Playa de la Paz helped organize our entire stay and provides these services to any renter or owner of the units. A dream!
La Paz is a charming and private town about two hours from the Cabo International Airport.  I loved that we didn't see a single person on the beach – it's completely serene and private.  I think this would be such a fabulous vacation spot for a family or a couple seeking some relaxing time away.  There are several high profile and influential people who favor La Paz for this reason – they can get away with complete anonymity.
Some of my recommendations for anyone looking to visit this beautiful area are at the bottom of this post!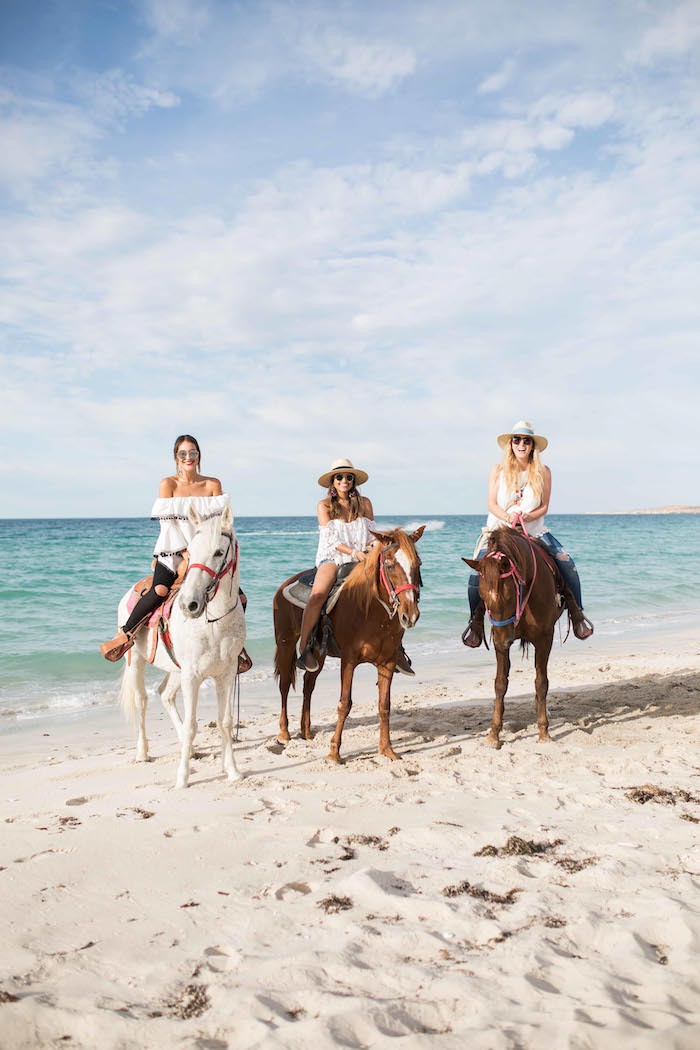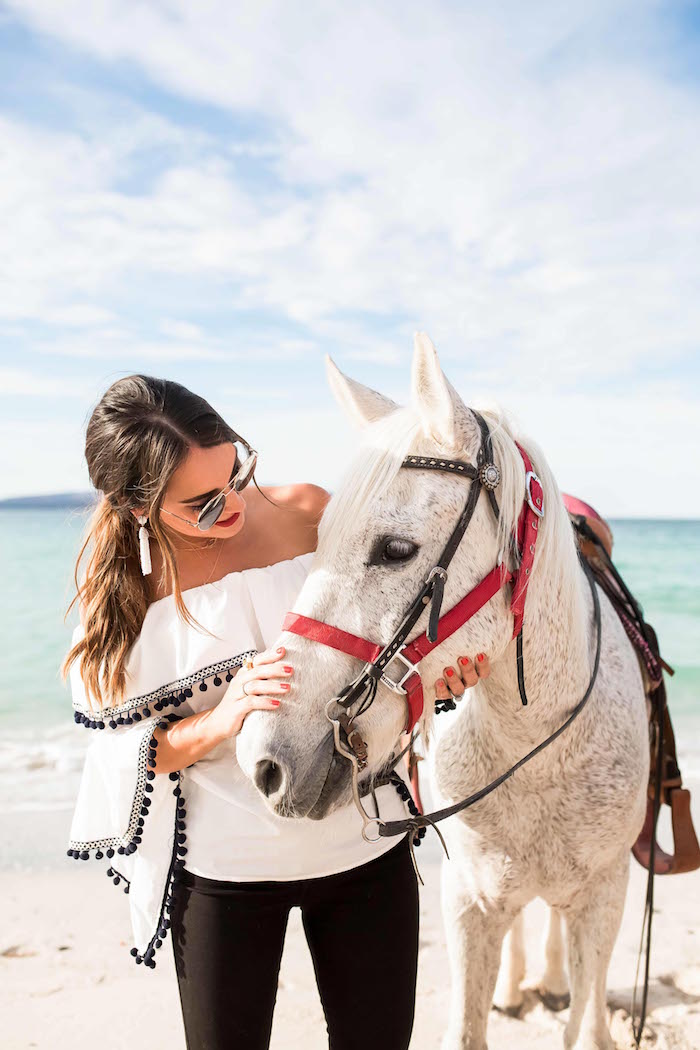 sunglasses | top, love this dress version | similar denim | earrings | lip in Tilt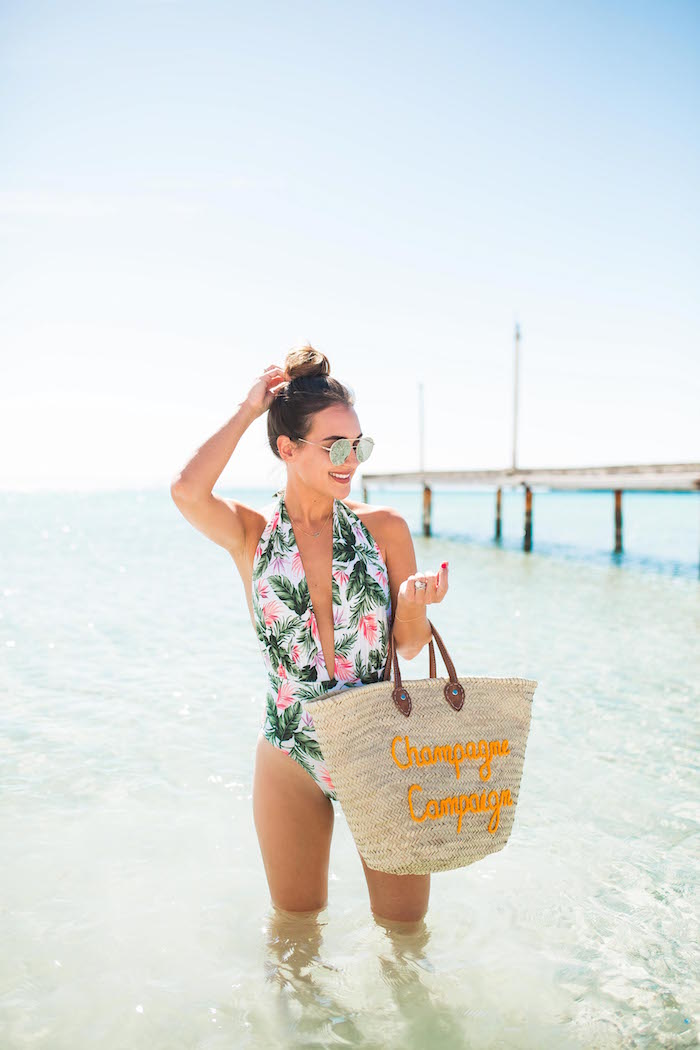 swimsuit (sold out), similar style here and here | sunglasses | bag
This photo above is Pichilingue Beach!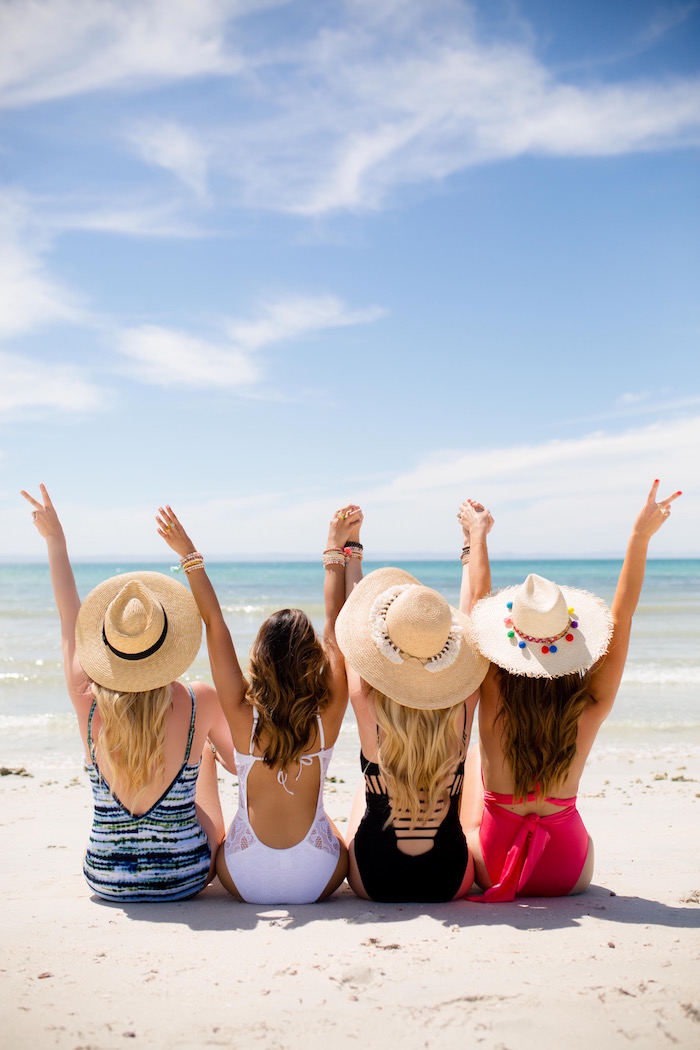 L to right: blue swimsuit | hat
similar black swimsuit here and here | bracelets | similar hat here
swimsuit (sold out in coral), similar pink style here and here | hat via Brooklyn Hat Company, similar style here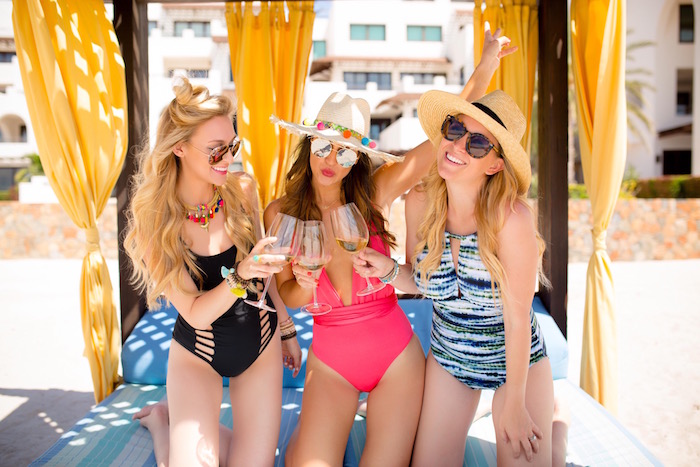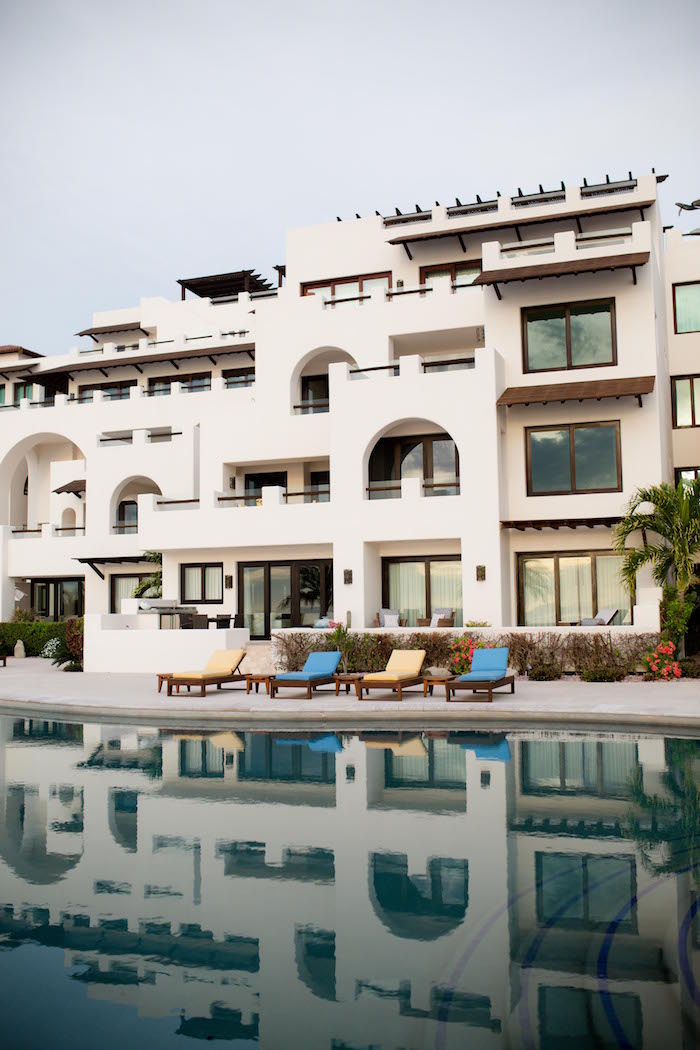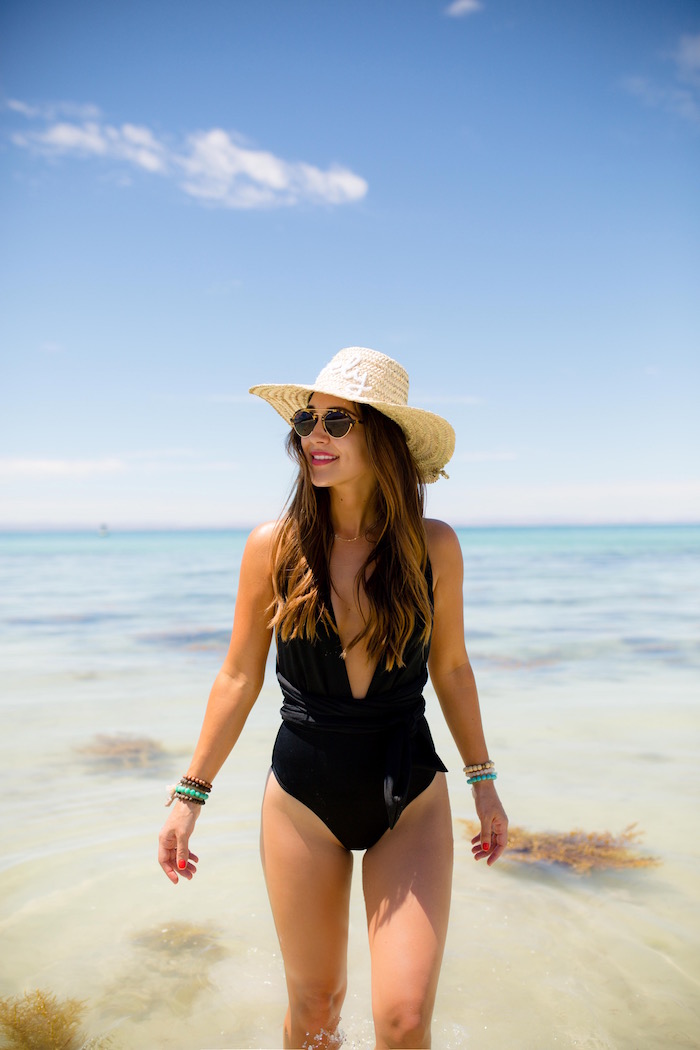 swimsuit | hat | similar bracelets here and here | sunglasses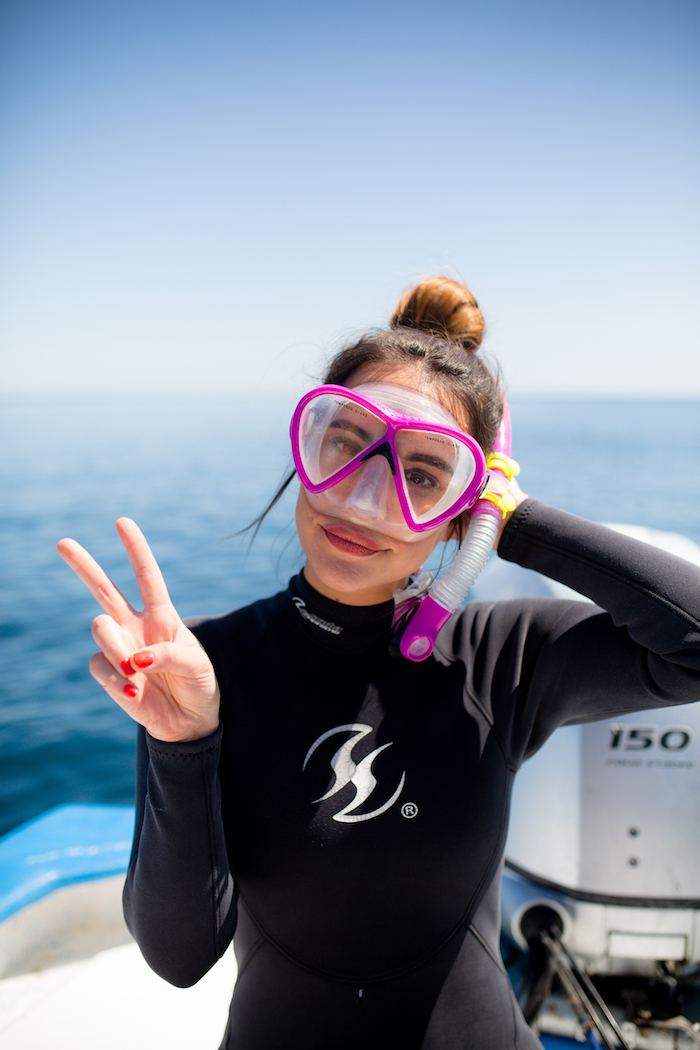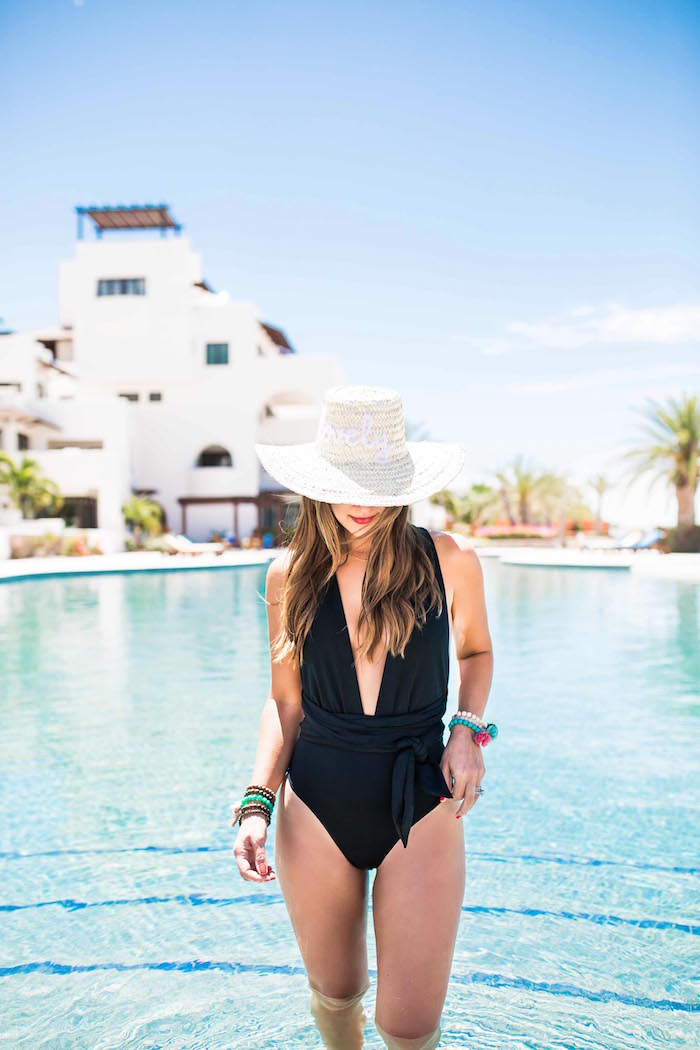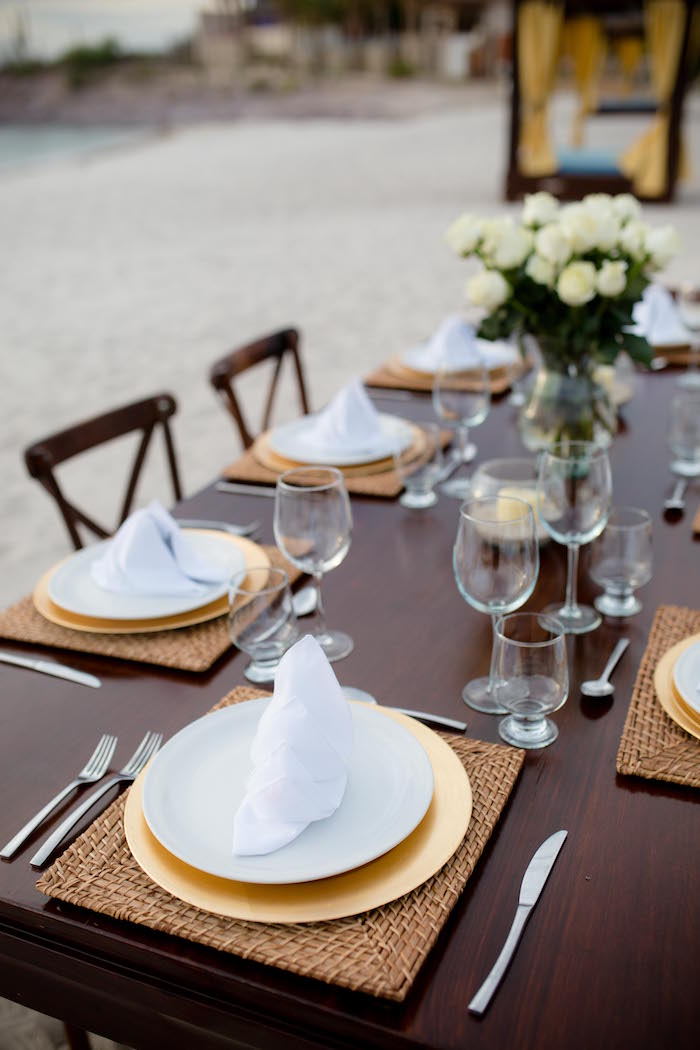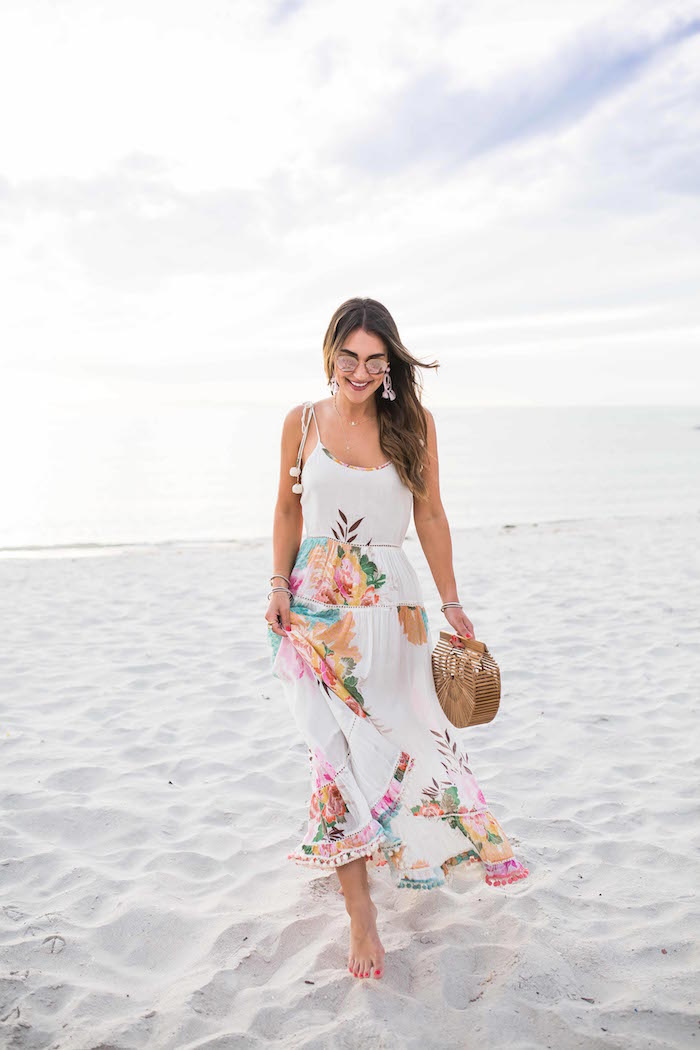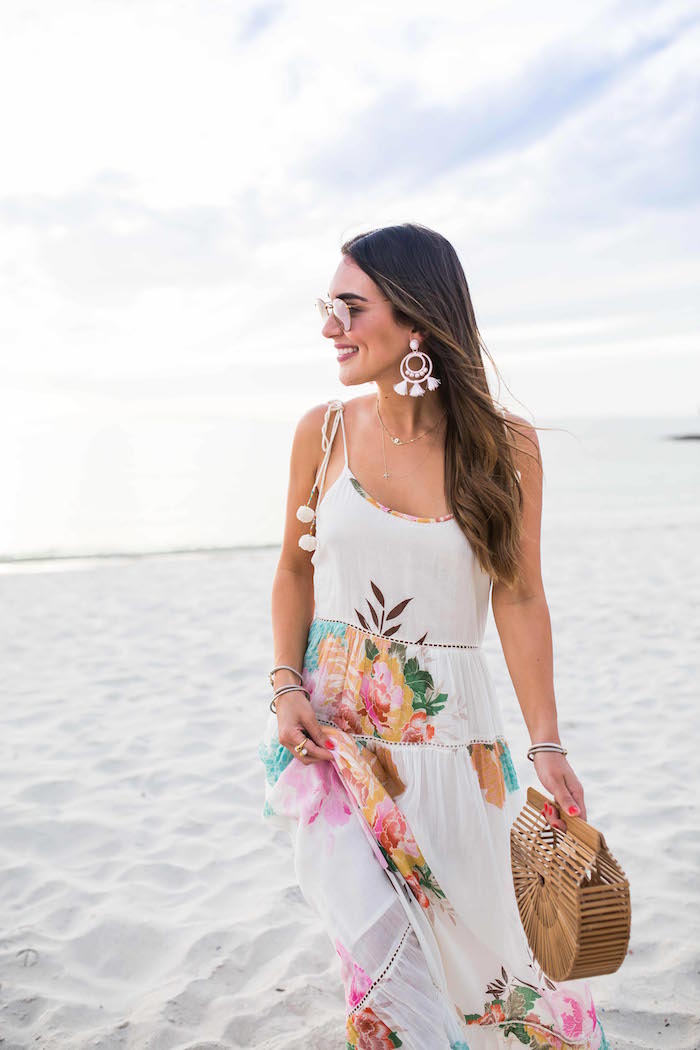 dress – I would recommend sizing down | earrings | sunglasses | bag (part of the Shopbop Sale!), also love this one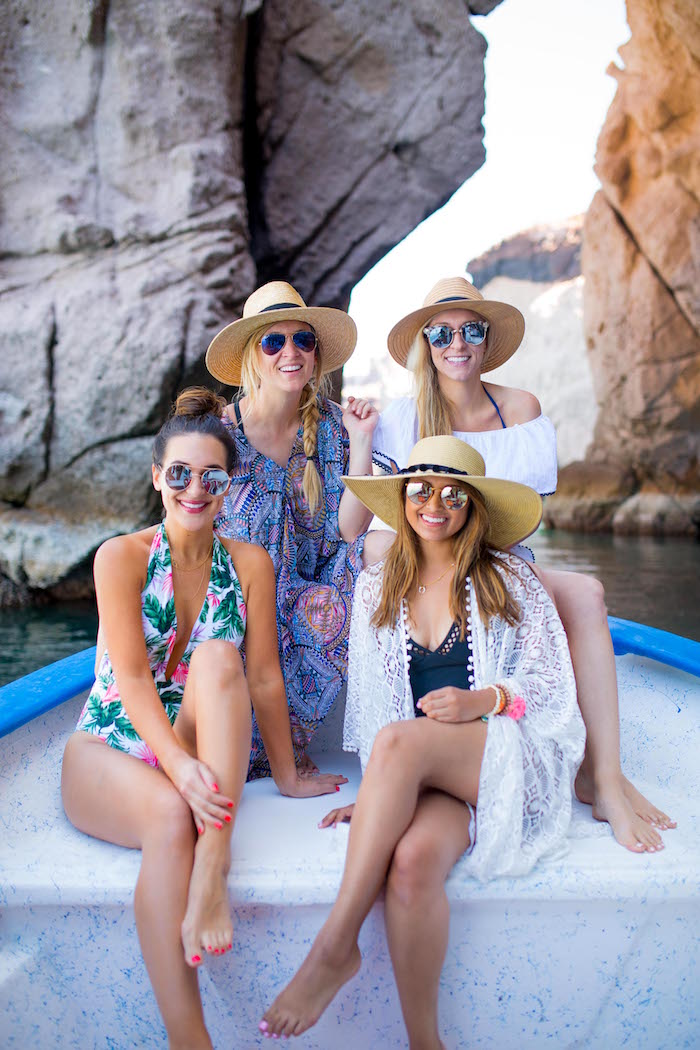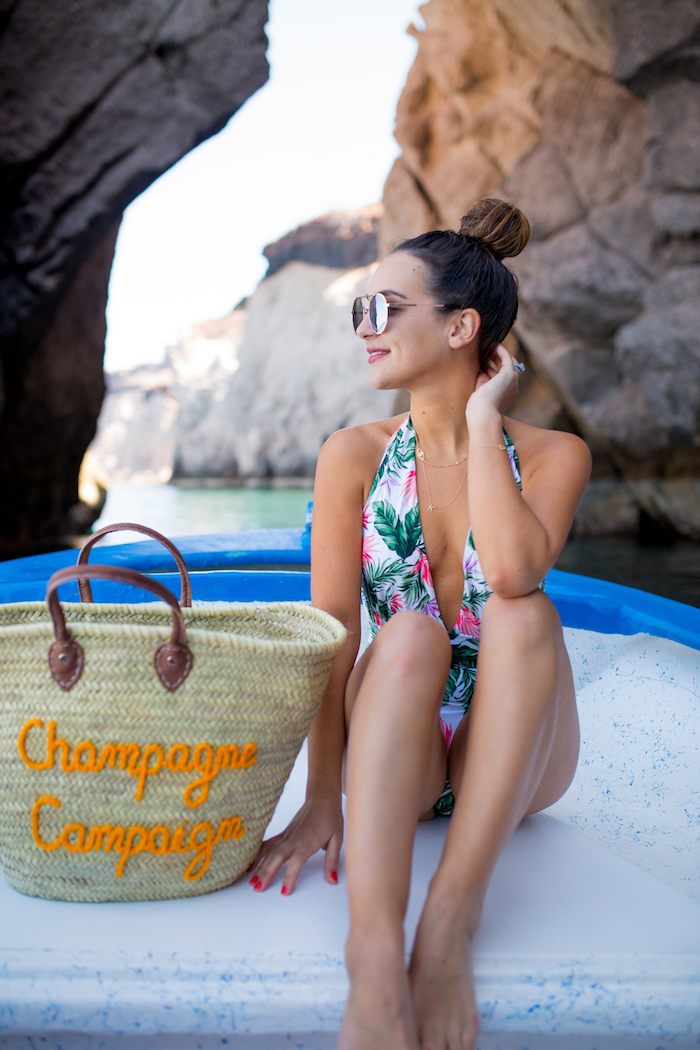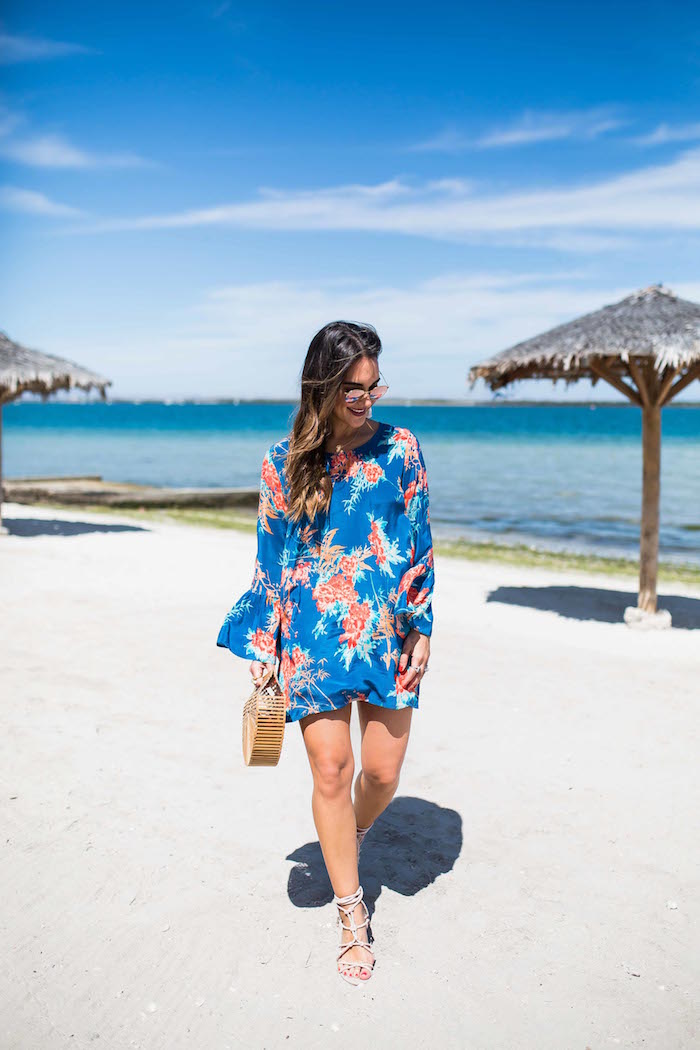 dress | sunglasses | heels | bag, also love this one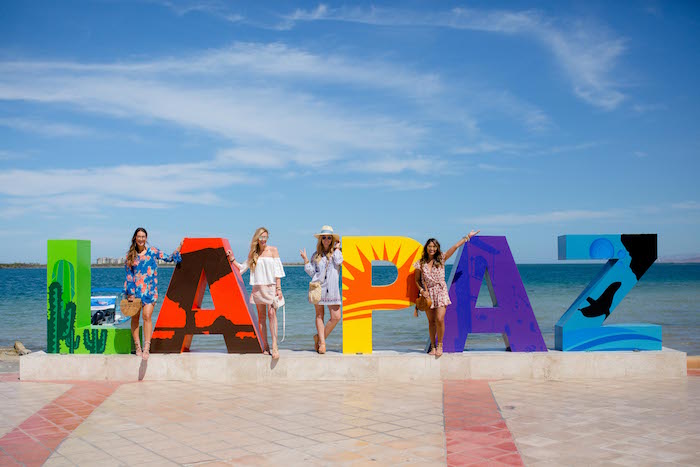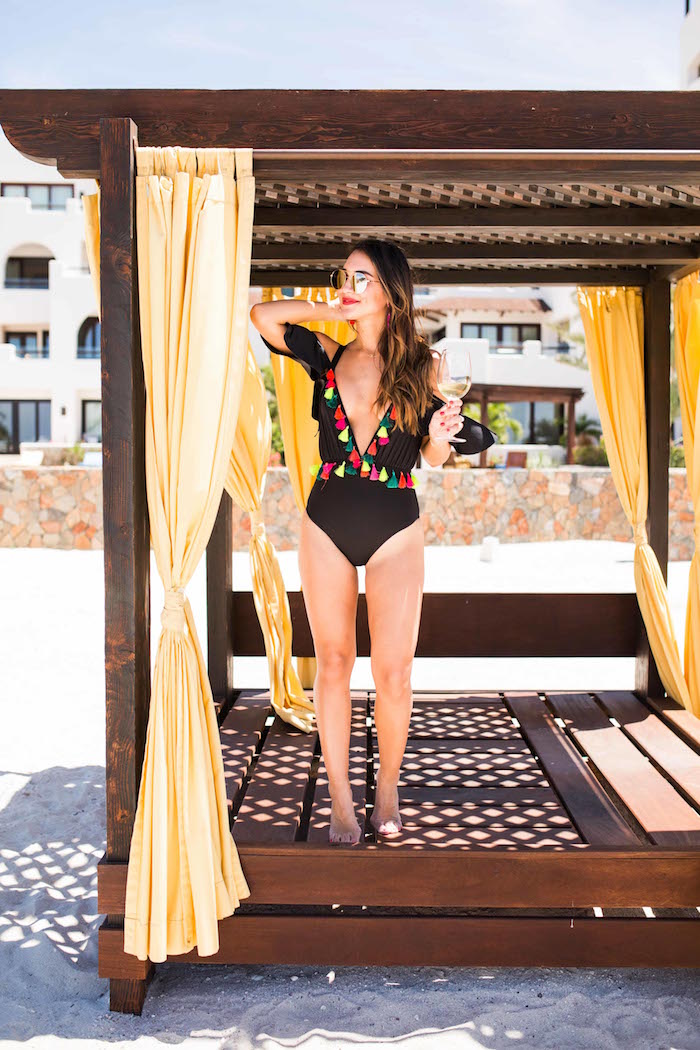 photos by Michelle Preau

Now onto the good stuff – my recommendations, aka food and activities (!!!).
Food – we ate at our rental unit for several meals but did make it out and these were definitely my favorites:
Cafe Santa Fe – maybe the most delicious caprese salad freshest ahi tuna I've ever had. I even loved the steak tartar and I never eat steak tartar!  Not to mention their lobster pasta left this carb-lover speechless. Yes – we had all of these dishes in one meal and it was beyond!
Restaurant Playa Pichilingue – this may have been my overall favorite. It's no secret I could eat Mexican food everyday and the guacamole, shrimp and salsa at this open-air restaurant hit the spot. It's right on the turquoise water of the Sea of Cortez, so we just pulled up by boat after snorkeling all morning. Heavenly!
Nim – this was our last dinner in La Paz, and the atmosphere was adorable and the food (and margaritas) were fantastic. The menu varies from traditional dishes to oysters, ceviche and daily fish catches.  The menu was also in both Spanish and English which was amazing!
Activities:
The Cortez Club – I can't begin to share how much I enjoyed Fisher and Lorenzo. These two guys were our captains, and they took us on an all-day adventure at sea that I'll never forget.
If you look into activities in this area of Mexico, you'll see that snorkeling and diving are probably two of the biggest "must see and do" things to conquer during your visit.  They were extremely knowledgeable with all of our questions (and spoke excellent English), and they managed to guide us to areas full of swimming dolphins and manta rays. I've never had an experience like this in my life and if you read this post you know that I literally had tears in my eyes being surrounded by so many dolphins!  Pretty sure that will never happen again in my life.
Museo de La Ballena – this is a whale museum that is new to the downtown area and quite impressive!
Pichilingue Beach – this is where we had lunch, but it's also a gorgeous beach that I think is definitely worth visiting. The color of the water is like a painting – doesn't seem real!
So all in all, I think it's safe to say that visiting Playa de la Paz was one of the best vacations I've had in quite a while, and now I'm peer pressuring my dad to look into properties.  I mean, a girl can dream, right?!
Have any of you been to Cabo or La Paz recently? I'd love to hear some of your favorite things you did during your stay! Thanks so much for reading! XO –