I shared recently in this post that this spring has been a more-stressful-than-usual season for us because Christian has chosen to pursue a medical fellowship after his Otolaryngology (ENT) residency. This means he has traveled to 14 cities and interviewed for a one-person fellowship position… with less than 50 available spots in the U.S. + Canada.
As a surgical subspecialty within an already small speciality… it's extremely competitive. It's stressful, exhausting and quite expensive.
I shared his ENT residency match in this reveal four years ago, so it felt appropriate to do the same this time, showing all of the places he has been traveling since March.
New York x 2, San Francisco, Austin, Houston, Kansas City, St. Louis, Atlanta, Chicago x 2, Philadelphia…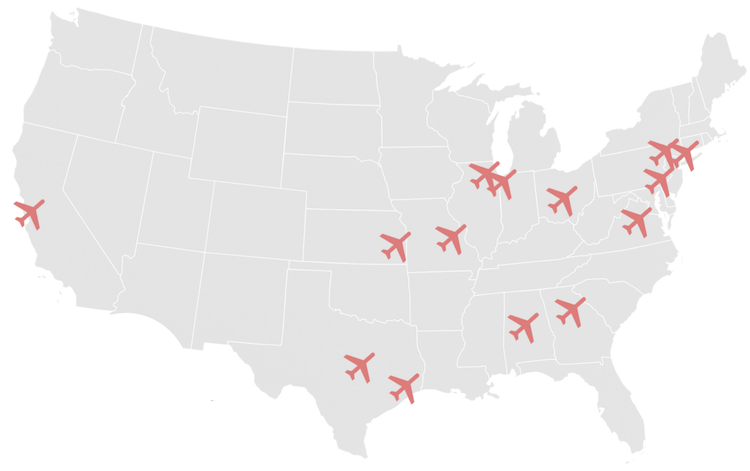 Christian has matched in Facial Plastic and Reconstructive Surgery in…
Oh snap! Cali has us hooked for another year and you know I'm not complainin'!  Christian matched last week and we've been celebrating ever since.  We still have one more year (year #5) for Christian to finish up his ENT residency and then we'll move to San Francisco for one year for his 10th and final year of training post-college. Ten. Years. The light at the end of the tunnel is there, guys. I can see it!!
In the meantime, we are really enjoying this palm tree journey God has blessed us with. It would have been really easy to stay in Mississippi or the South, and that would have been great too… but I am so proud of Christian for spreading his wings and seeing what's out there. To put yourself out there is not only extremely vulnerable but also can be a big risk, and dreaming BIG doesn't come without both successes and failures (speaking from my own experiences). We're in it together and have always encouraged each other to take the leap of faith… and here we are again, with another adventure ahead of us.
I've always thought he was one of the smartest fish I've ever met, and it's been a beautiful thing to watch him discover that for himself.  My boy is growing up and I feel so privileged to be a small part of his success! CHBoo, I'll ride the coattails of your lottery ticket any day.
Thanks so much for all of your support over the years. Honestly, there have been some really long and hard/lonely days and your comments and feedback have given me a feeling of community and a lump in my throat. You guys will never know how much I value and appreciate you.
And of course… I have another year to soak up SoCal and graciously accept any SF recommendations you guys have!  C has dabbled in looking at housing in the area where he'll be working and it happens to be one of the most expensive neighborhoods in one of the most expensive cities in the country… so I am just expecting to shell out, enjoy it and live like this for a year.  That handbag I was going to buy myself for my birthday? Yeah, I decided that maybe I would just save that cash instead. #Adulting.
I actually pulled up this post back in 2014 when Christian and I drove up the coast to San Francisco to visit my brother and his fam when they were living there.  And I already started making a bucket list like I did for SoCal when I found out we were moving here!
Thanks so much for reading and sharing in this celebratory moment with us – love you mean it! XO –