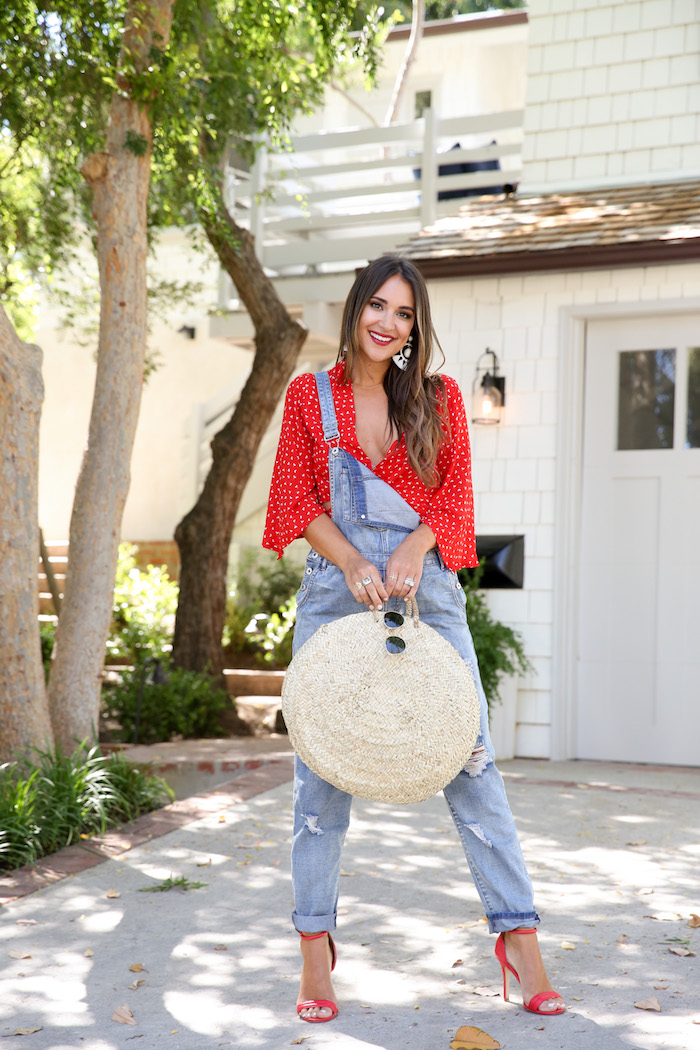 Last year I shared a pair of overalls I bought in this post, and to be completely honest – I have been really surprised about how frequently I've actually worn them. Way more than I thought I would (Christian is reading this and shaking his head right now)!
Since then, I've expanded my overalls collection to a few more variations of the trend, and I'm sharing some of my favorite styles at the bottom of this post.  I shared in this Instagram that when I pulled out this outfit, Christian asked "is that your milkin' outfit?" Then when I showed up in Laguna my photographer said, "you look like a Mississippi farmer."
And I replied to both with, "DON'T CARE. I love my outfit!" Haha – I've been like this my entire life. I think it's the combination of being a strong personality (this was recently confirmed in a really fun aura reading… I was full on red, aka "powerful," passionate and competitive… am I really this aggressive? Don't answer that.) and genuinely just loving getting dressed and putting together outfits.  I mean, just ask my high school friends and teachers some of the ensembles I showed up in. Some major hits and misses, people. If you're that girl too – you do you gf!
SO, if you are into overalls and want to try this trend, here's my advice: roll up the ankles and show a little skin. I think overalls look great with heels or flats, and when it comes to what top to wear – I think a crop top, a knotted tee or something with a low neckline is a great contrast. If you style something bulky or thick under overalls, you're going to feel like the Michelin man.
I also think overalls look great with both shoulders hooked or even just one shoulder strap. I wore it both ways in this post so you could see the different vibes each strap option gives. Play with it and make it your own! Be your best Fresh Prince of Bel Air.
photos by Vincent Elejorde

top, also love this one and this one | overalls (sold out), also love these, these and have and love these (runs TTS) | heels – old, similar style here | bag, asked for this one for my birthday! | sunglasses, also love these | lip in Color Me Confident | albion ring | monogram ring | earrings
Are you into the overall trend? Let me know if this is something you'll be trying or if you've tried it, tell me how you like to style yours! I also love shorts versions and even better, dress versions!
Thanks so much for reading – XO –