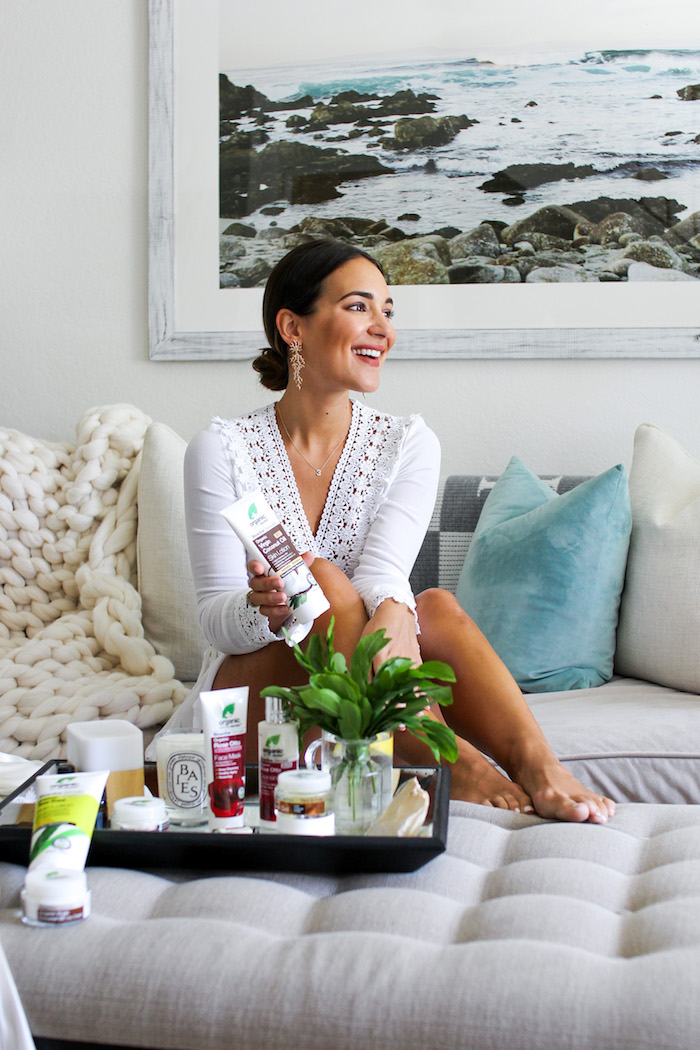 About two months ago I introduced a line of organic skincare products that I've been using lately called Organic Doctor®.  I always look at the ingredients in my food but not in my beauty products, but now that is changing!
I introduced the different collections in this post, and today I want to highlight how to use some of my favorite products to have an at-home spa day/night.  As you guys know, with Christian's schedule he has a lot of long nights.  If I didn't have my own interests, passions and agenda… I would get quite bored.
SO, one of my favorite things to do if I've got the house to myself and am all caught up on work is to have a relaxing little spa night at the house. Here are my quick steps to having your own –
1.  Face mask necessary. | I mean… this is a no brainer.  I love this Organic Doctor® Rose Otto Face Mask because it smells so good and leaves your skin silky smooth.  Sometimes I'll add cucumbers to my eyes or a cold eye mask from the freezer if I'm feeling a little extra.
Fun fact: Christian loves a cold cucumber on his eyes. He discovered it at our honeymoon when they would come by at the pool and massage your head and put cucumbers and a cold towel across your eyes and head. At first he was hesitant, and then by the end of the week he looked forward to it everyday! I was seriously so proud of him! So if he can enjoy it, trust – anyone can.
2.  The perfect robe. | Of course you can wear whatever you want, but a luxurious robe can be the cherry on top! You can find this one here (almost 40% off). I also love this one and this one.
3.  Organic lotion with all the good scents. | I think the smells and sounds are what make the spa the spa, you know?  I have fallen in love with Organic Doctor's Virgin Coconut Oil Skin Lotion and Tea Tree Oil Skin Lotion. They smell good, they feel good and most importantly, they're full of natural, organic ingredients. Best of all – totally affordable.
4.  A candle or diffuser. | Like I said earlier, you've got to add the good scents to make your home a spa! I love lighting a great candle or better yet, adding some essential oils to a diffuser.
5.  Hot tea or lemon water. |  Cucumber water, hot lemon water, tea, wine (you do you), pick your drink of choice!
photos by Christian Barnes
Rose Otto Cleansing Milk | Rose Otto Face Mask | Rose Otto Night Cream | Snail Gel Cream | Snail Gel | Tea Tree Oil Skin Lotion | Coconut Oil Eye Perfect | Coconut Oil Day Cream | Virgin Coconut Oil Skin Lotion
top | shorts, also available here | earrings | similar throw pillows here and here | coffee table | knit throw blanket | mirrored tray | art 
And of course, sometimes the pets want in on the R&R too!
Have you tried organic skincare products before? I'd love to hear what you think. I really recommend Organic Doctor® to anyone looking for something that has great ingredients and is budget-friendly. You don't have to break the bank to take great care of your skin.
You can find these products online at Amazon and at CVS.
Thanks so much for reading, and tell me if I'm missing any of your spa-favorites! You can find Organic Doctor® on Facebook here and Instagram here. XO –