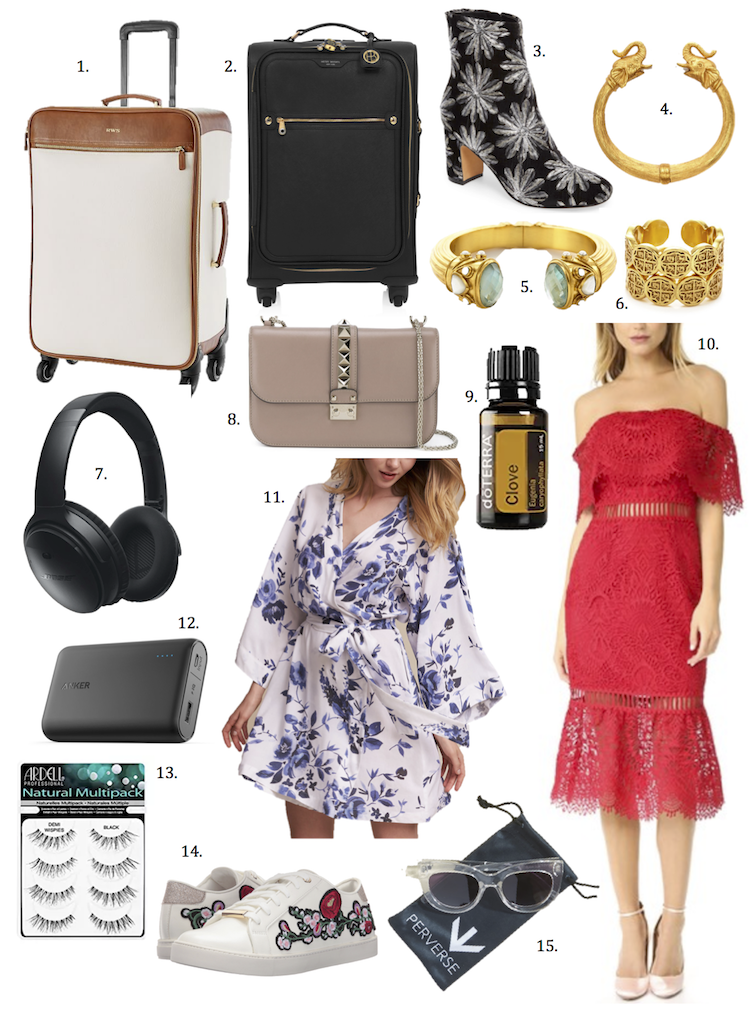 1 | 2 | 3 | 4 | 5 | 6 | 7 | 8 | 9 | 10 | 11 | 12 | 13 | 14 | 15, also love these
Packing for fashion week is unlike any packing process I've ever really had. The first year I went, I went with the company I was working for at the time. I was working at an event during the day and then at night I would hop to parties or events on behalf of my blog. It was a great way to get my feet wet without fully immersing myself in the environment.
I brought one outfit for each day… makes sense right!? Apparently not! Girls change outfits all day, wearing one outfit to one event and another for a designer's show. It's a doozy.  Now that I've been a few times, I have a better idea of what I need and always remember to bring the necessities with me from past trial and error.
Great luggage (both carryon and checked) are a no-brainer. I got these noise-cancelling headphones for my birthday this year and they live up to the hype = amazing.  I also never leave without a rechargeable battery pack for my cell phone. No one wants to be scouring the walls for an outlet to plug up their phone! Tennis shoes for the last few days when your feet hurt are a must (made this mistake once, never again!).
A few statement pieces are great to bring, but don't bring all your finest things. Last year I was at a brunch that took a hard turn for party town (of which I fully support) but I wasn't expecting it and was left in my seat clutching the Chanel bag Christian had just given me for my birthday. I was panicked/waiting for someone to slosh red wine on it by accident. I ended up excusing myself early due to my anxiety. SO, I bring a few of my nice bags and shoes but it's also nice to have a few less formal pieces you can actually live a little in, if you know what I mean.
Any work trip is full of talking, talking and more talking. I get sick with a sore throat EVERY year and am searching for cough drops or begging Jenn for some essential oils. She has let me use her Cloves oil in the past and it really helped, so I'm coming prepared this year!
I'm hopping on a red eye tonight to head to the city and look forward to seeing some of my favorite babes while I'm there. There's so much preparation that goes into the trip but it's a great time to see some familiar faces, meet some new ones and get inspired for the new season.
What do you guys think? Have you ever packed for a big work trip? What are your must-haves? Thanks so much for reading – XO –