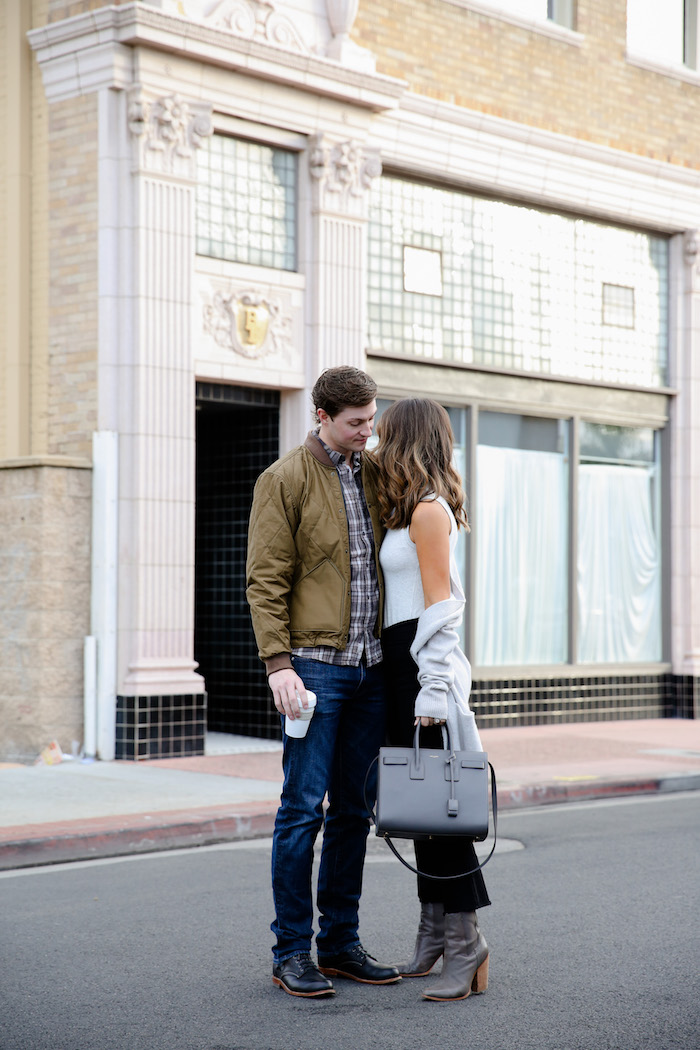 A few months ago I shared a post about shopping for a dude, and what I've learned through the years. Believe it or not, I sometimes have a hard time shopping for guy stuff for Christian. Not only is mens clothing totally different than women's, but he is also incredibly particular.  If the fit is slightly off or the quality isn't to "his liking"… he's out.
He's a minimal wardrobe kind of guy, which is why he hunts so hard for the perfect items. He wants one pair of black boots and he wants them to be perfect.  A few years ago he decided he wanted to buy a vest.  After A YEAR of looking for the perfect vest, he bought this one. It took a year!
This is why I love shopping from Nordstrom for him. They have an enormous selection, an incredible return/exchange policy, and they're constantly adding to their mens shop.  Also, when he is taking 45 minutes to pick out a belt, I can be one floor below shopping for myself.  Really, it's a win-win.
So I thought I'd share C's rule of thumb for adding to his wardrobe. I can't believe I'm typing this… but maybe I could learn a few things from him?
Invest in Classic Pieces
One thing that's a mantra here on Carrie Bradshaw Lied (or some might say I taught her this) is to invest in your classics/basics.  You can add a trend item here or there to update thing or keep it fresh, but if you're shopping for something you know you'll wear a lot, it's ok to invest in quality.
Fit
Learn what fits your body. Once you've figured out what you feel comfortable and confident in, stick to that fit and/or brand.  Your favorites are your favorites for a reason – because they meet all of your requirements: comfort, fit and confidence.  More isn't better.  Stick with what you like because if you can't find it now, you'll find it later.
Dog Hair
We have a yellow lab, and after living with her for 10 years we've found our house and clothes slowly but surely match her because… her hair is on everything no matter how hard we try. We wear "Bailey colors."
PS – I've added a new category to CBL at the top of this site! In the "family" category you can now find all couple/love/marriage/wedding/relationship content. I hope this will help keep everything in one place for anyone with questions related to these topics!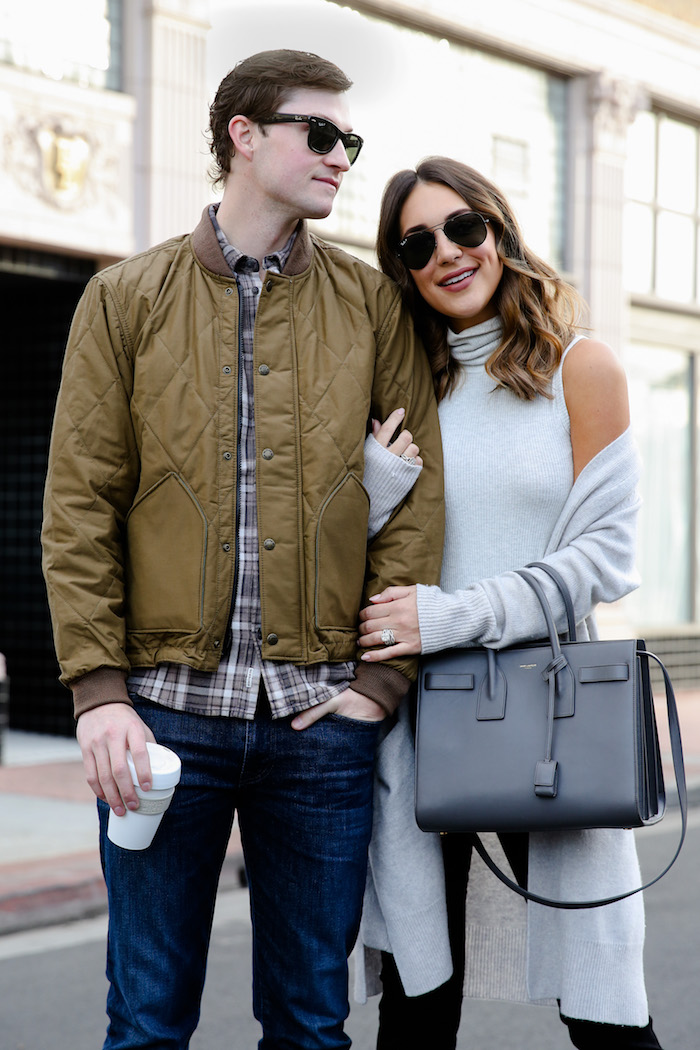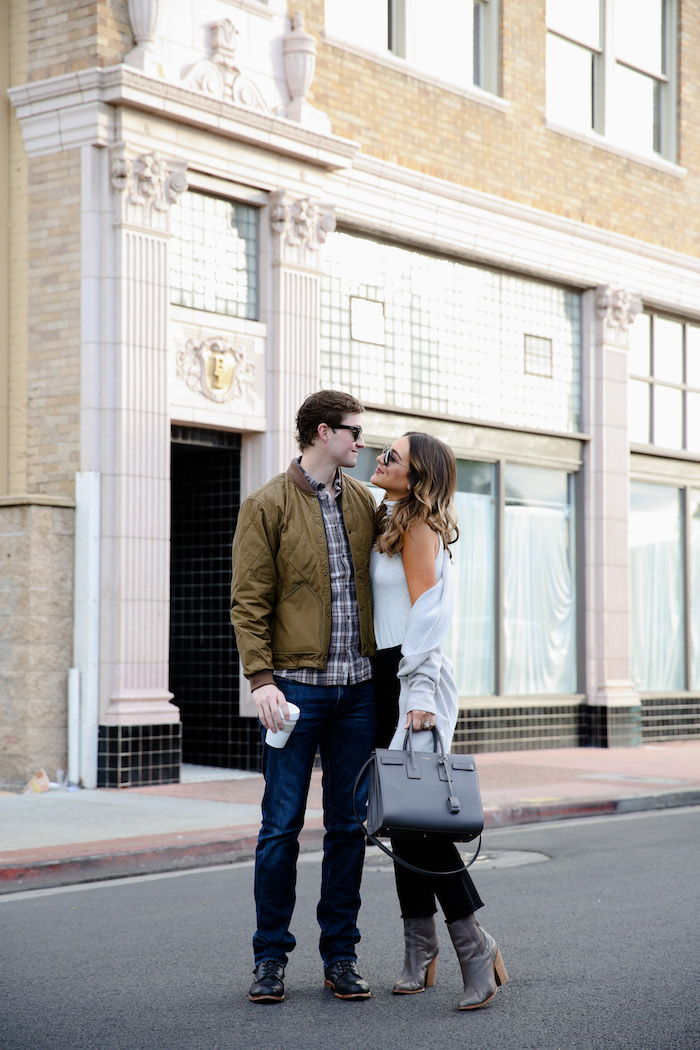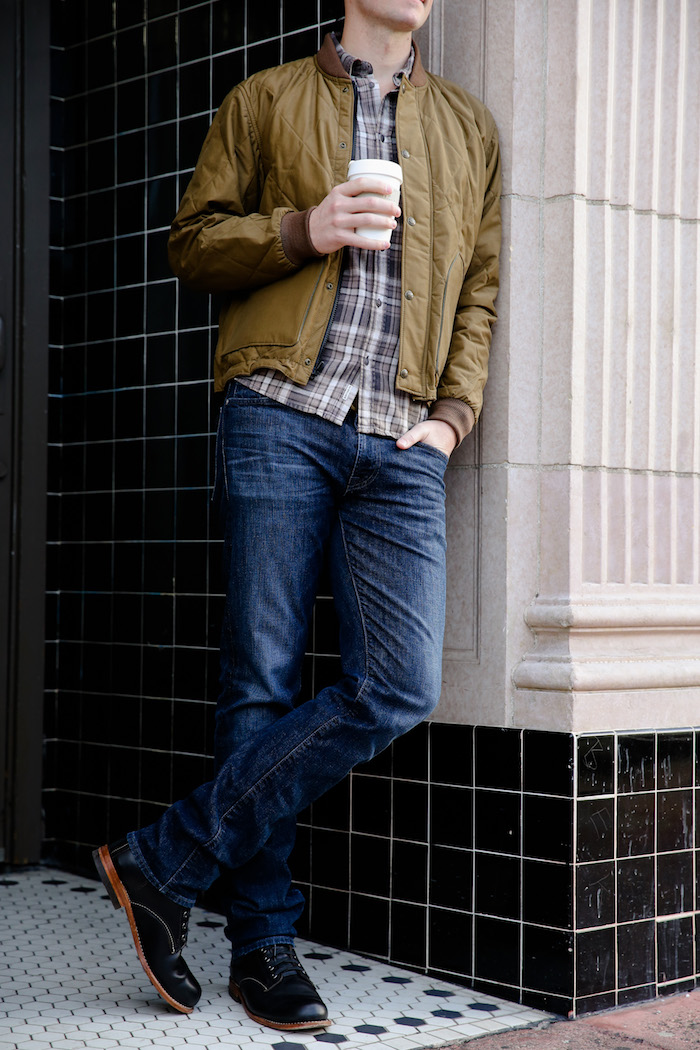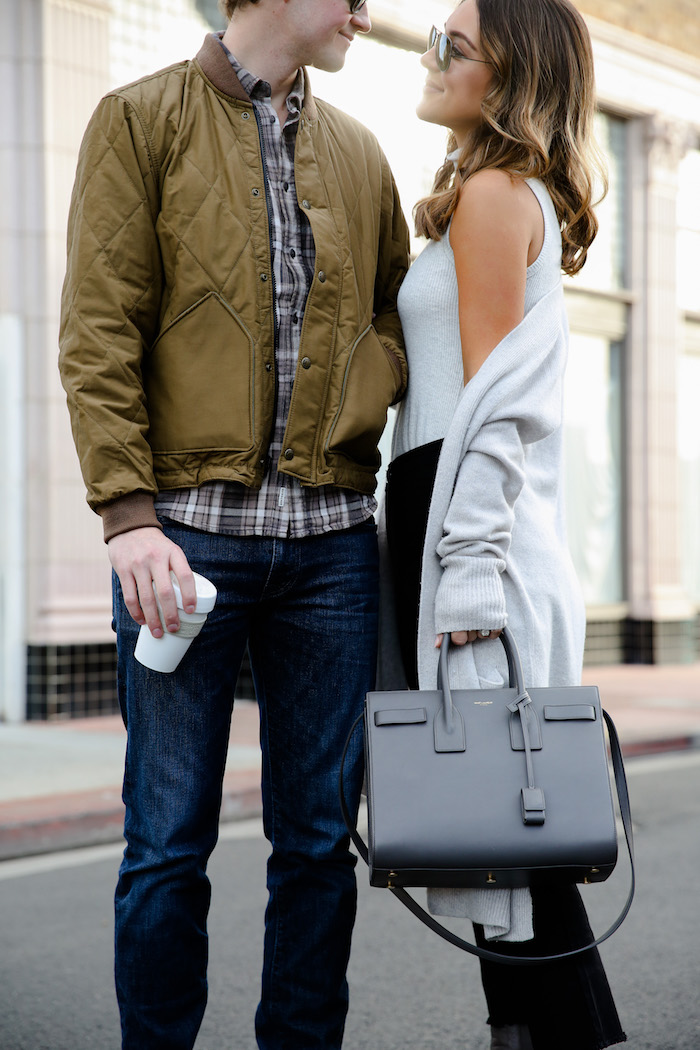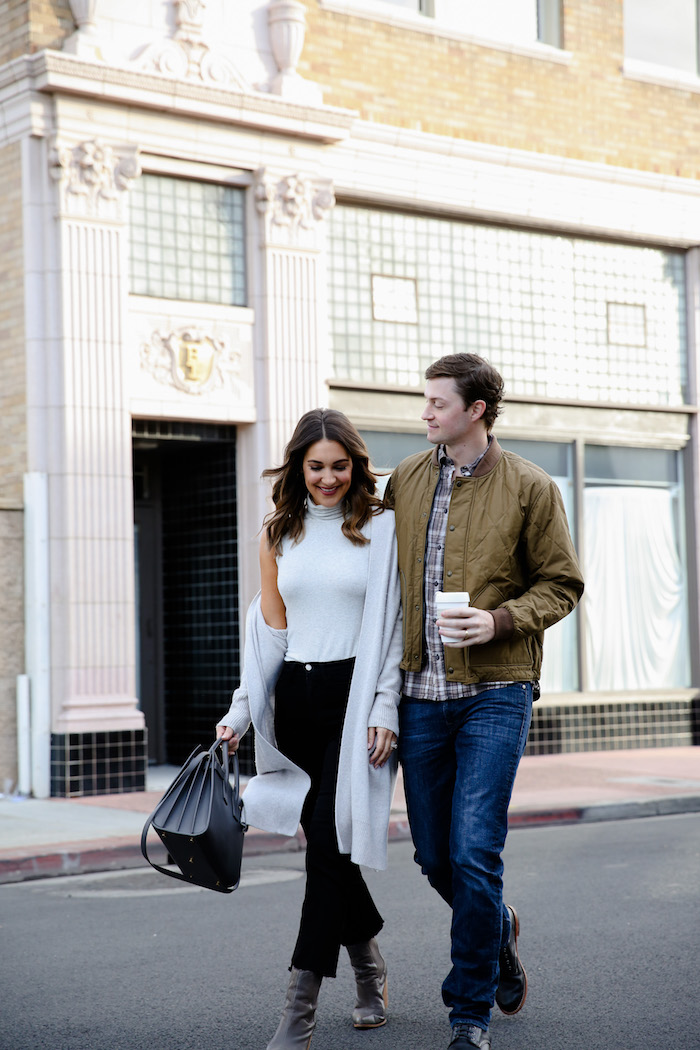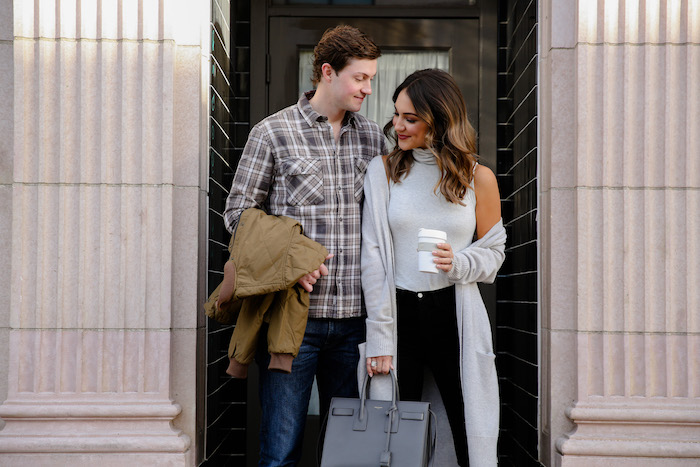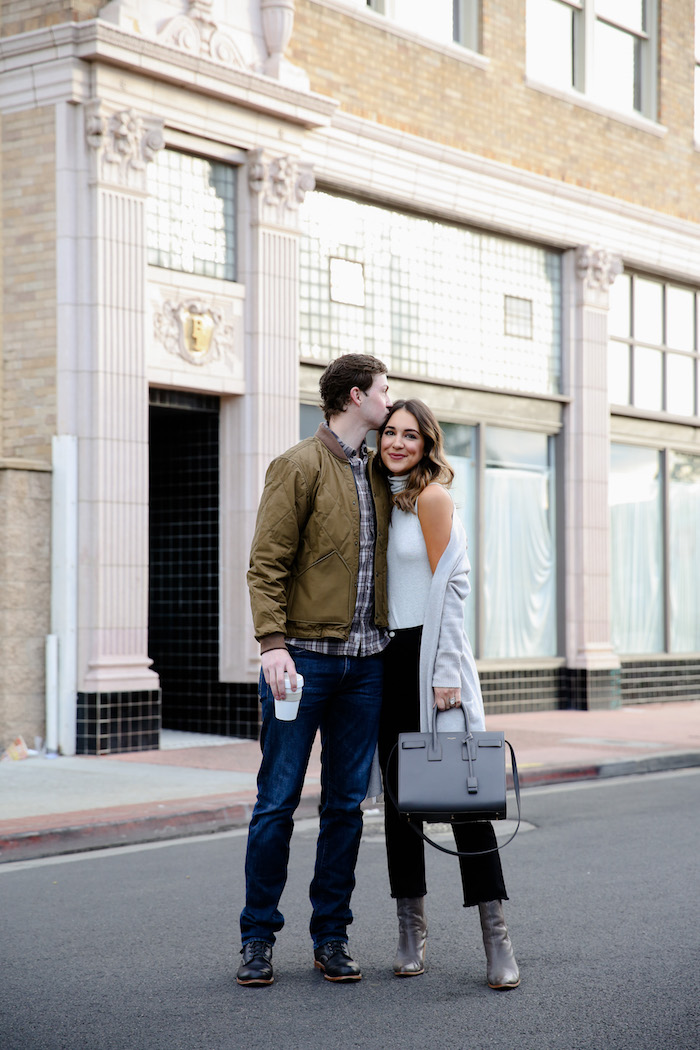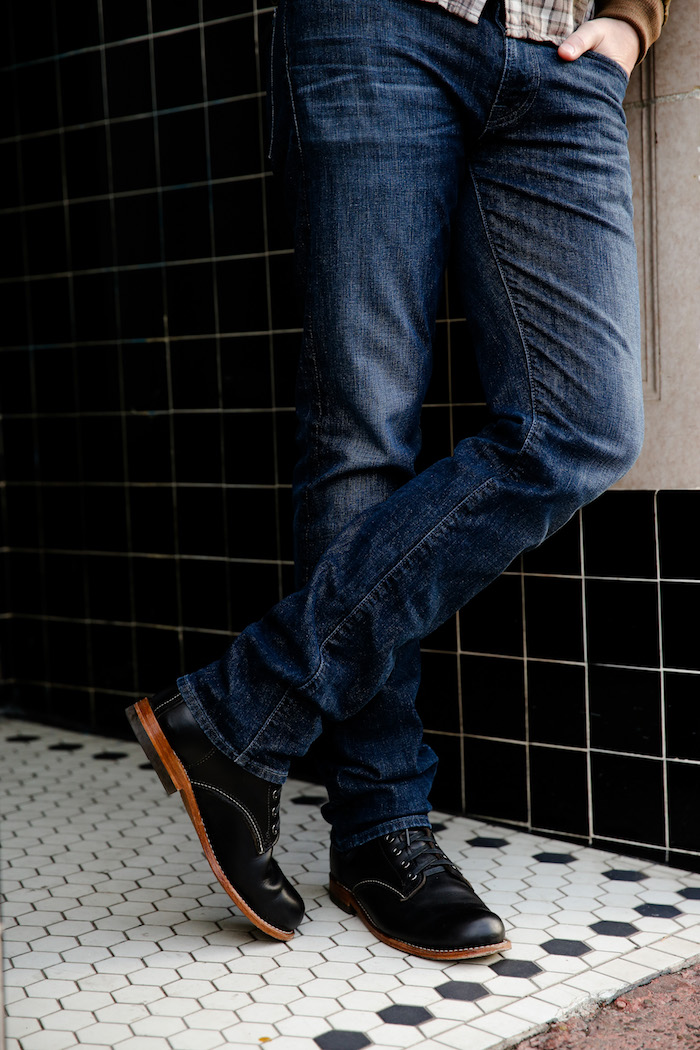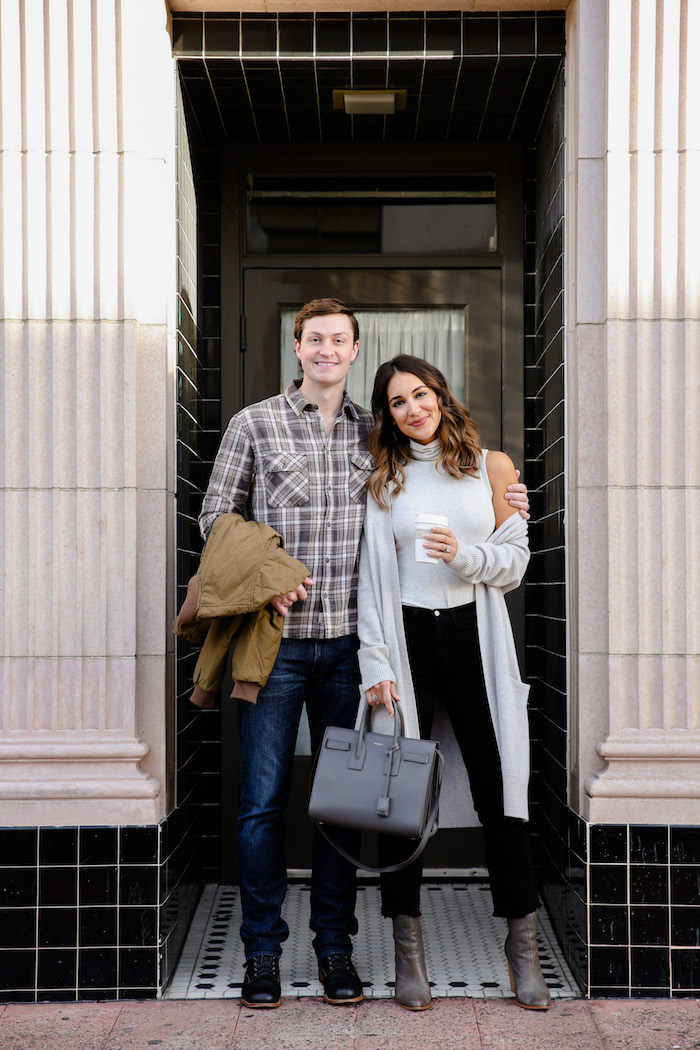 photos by Vincent Elejorde
his: jacket, also love this one (on sale) and this one | shirt (color is a little different in person than online), also love this one and this one | denim | sunglasses, look for less here | boots, also love these
hers: similar turtleneck here and here | cardigan, also love this one (40% off) | similar denim here, here (50% off) and here | bag, love this one for less | sunglasses | similar boots here, here (15% off) and here
I'd love to hear what you guys think of these "his and her" kind of posts. Do you like them? Are they helpful at all if you're the one shopping for the guy in your house? I'd love to hear what you think.
Thanks so much for reading and sharing! XO –
Brought to you by Nordstrom