I mean… going from 70 degree California to 10 degree Utah was a major body shock, but in a really fun way!  I didn't realize that Park City hasn't gotten much snow this season.  When we arrived on Friday, there was hardly any around (but of course the mountains were still gorgeous).
And then Friday evening it began to snow, like magic.  And it snowed more and more and more for two days.  I felt so lucky to experience the magic of the snowfall and you can tell in these photos, it was really coming down!
Christian and I skied together in Utah a few years ago, but I was so excited to return to the gorgeous area this year with Stella Artois for the Sundance Film Festival. Stella has been a huge supporter of both Sundance and Women in Film for years.  I was so inspired by all the creative people showcasing their talent, and I can't wait to share more on the experience tomorrow.
As for now, can we talk about this coat?! You guys – IT'S REVERSIBLE. Brilliant!  I had to really put my mind to work when putting together stylish but warm outfits for the festival.  Believe it or not… the only part of me that was cold when wearing this outfit were my hands. Seriously!
On that note, let's get into my three tips for staying stylish and warm –
Mix your fabrics
I was layering cashmere and wool but was careful not to dress in too many layers because then you're sweating anytime you're inside.  Which is the worst.  I'd rather be a little cold for a 15 minute walk than sweaty for hours inside, so think about your indoor comfort too.
Pockets
Depending on how long you're going to be outside and how big your bag is, you might want to sacrifice gloves.  On this trip, I only brought gloves on one day and never wore them because we were constantly looking up directions, taking photos or texting other girls in town. This means having pockets is really important so you can shove your hands in them when you're outside!  Even  better if you have hand warmers.
Layer your Socks
Yes, I wore these boots in the snow. I wear heels all the time and I didn't realize how much snow there was until I was already outside… so I went with it.  We were mostly inside during this trip, so I sacrificed some of my outside comfort so I could feel confident inside. I mean… I've been suffering for fashion for as long as I can remember. Let's be real!
BUT, every single day I wore two pairs of socks. I would wear a regular sock and then layer a wool sock over it. I always think wearing warm, wool socks can make a big difference. No one likes to have their toes going numb.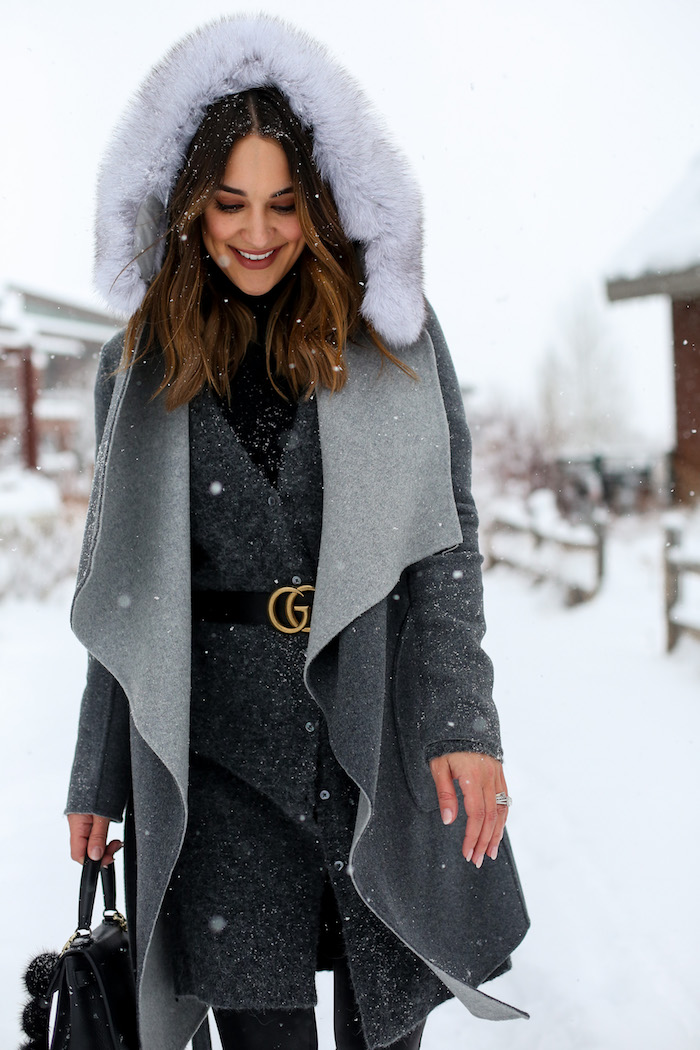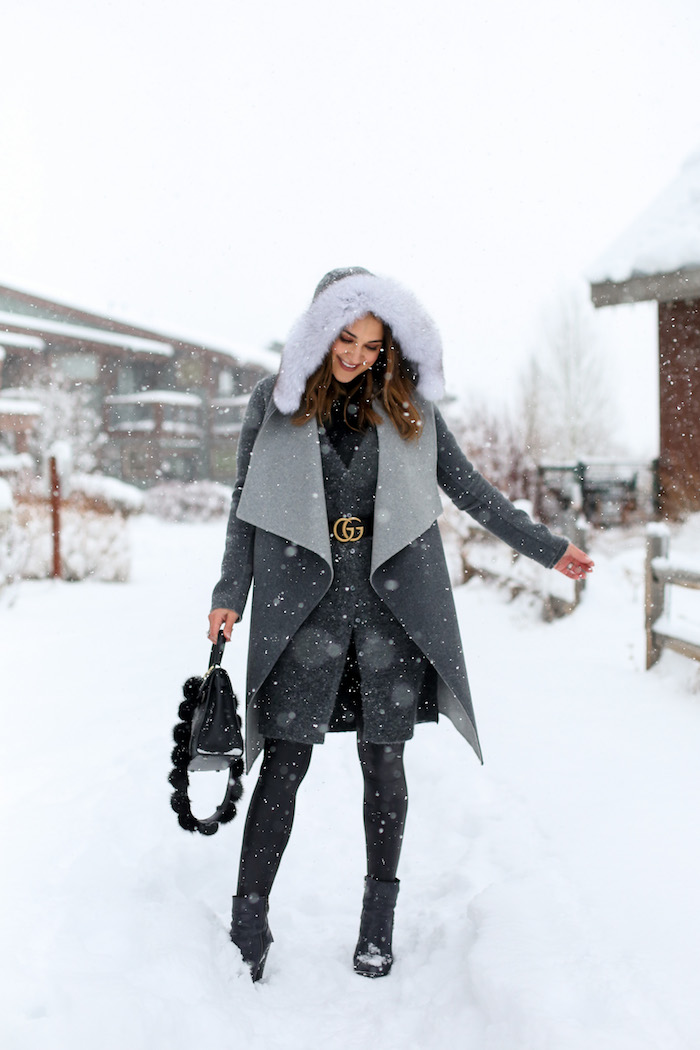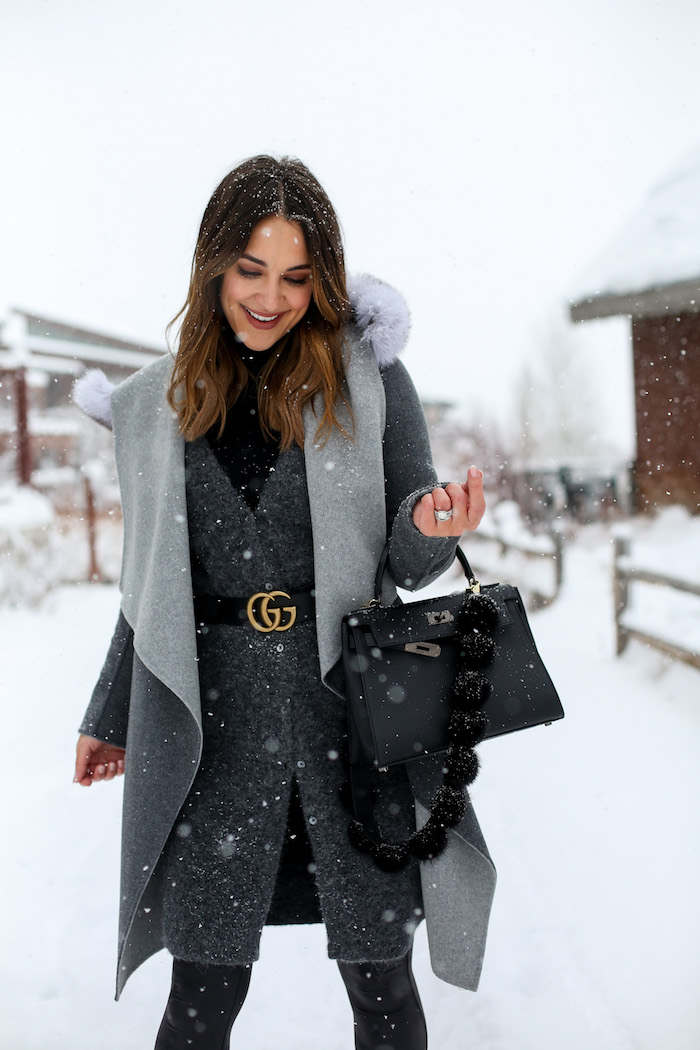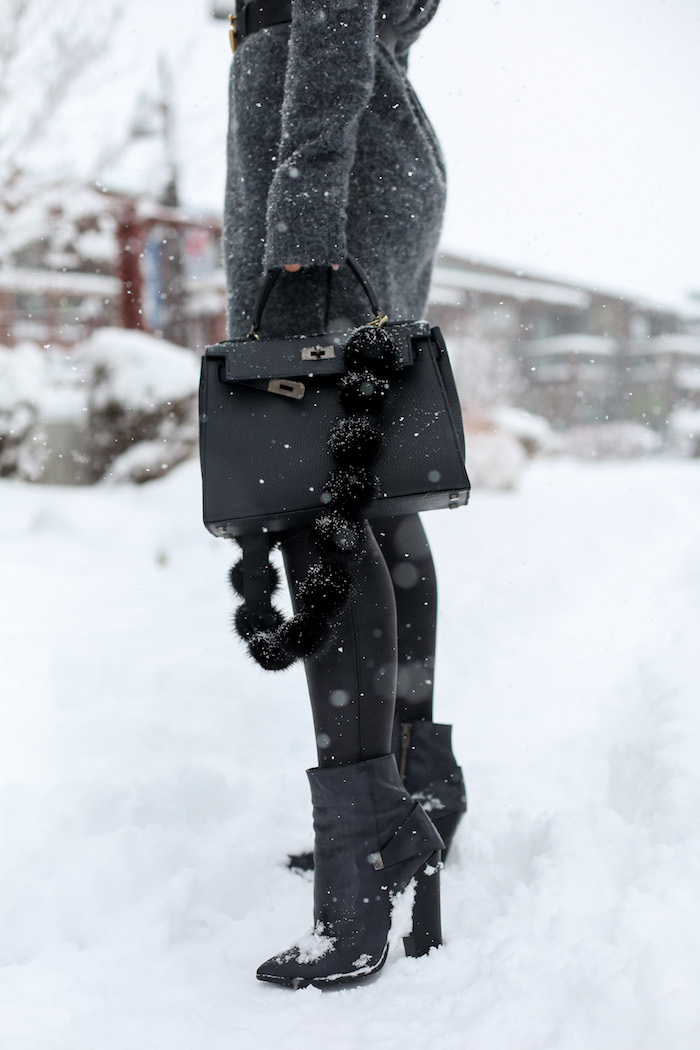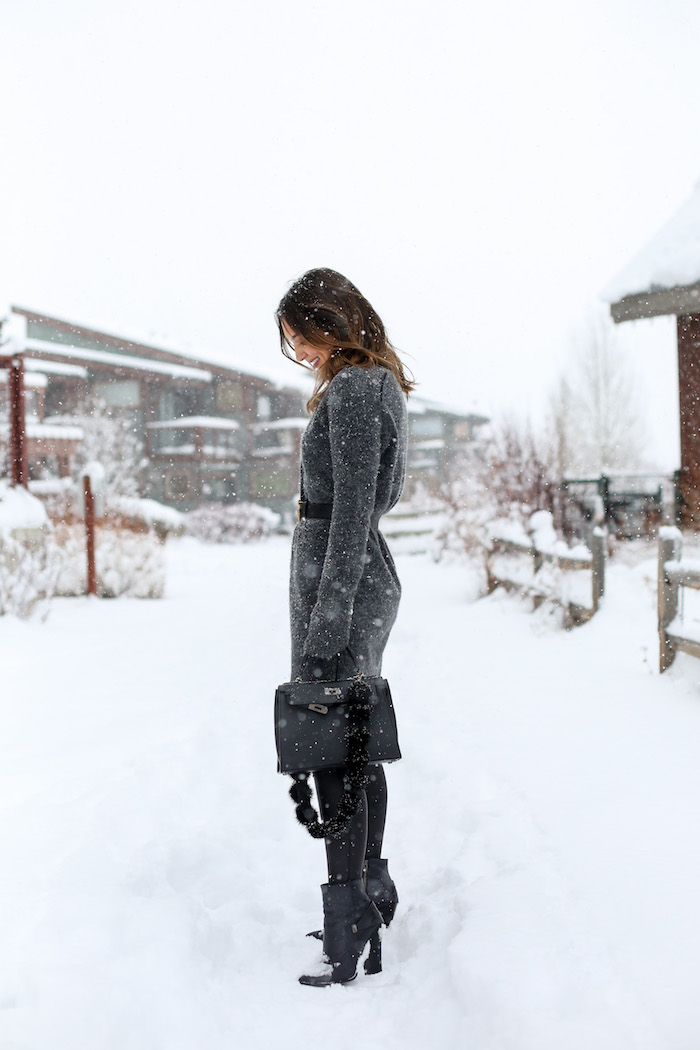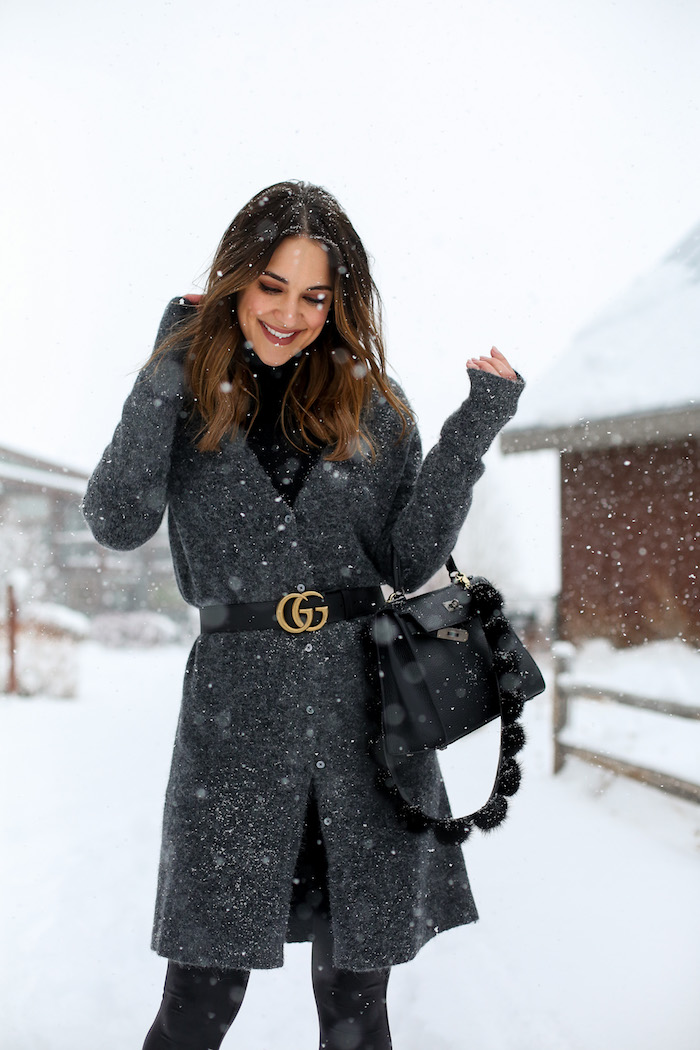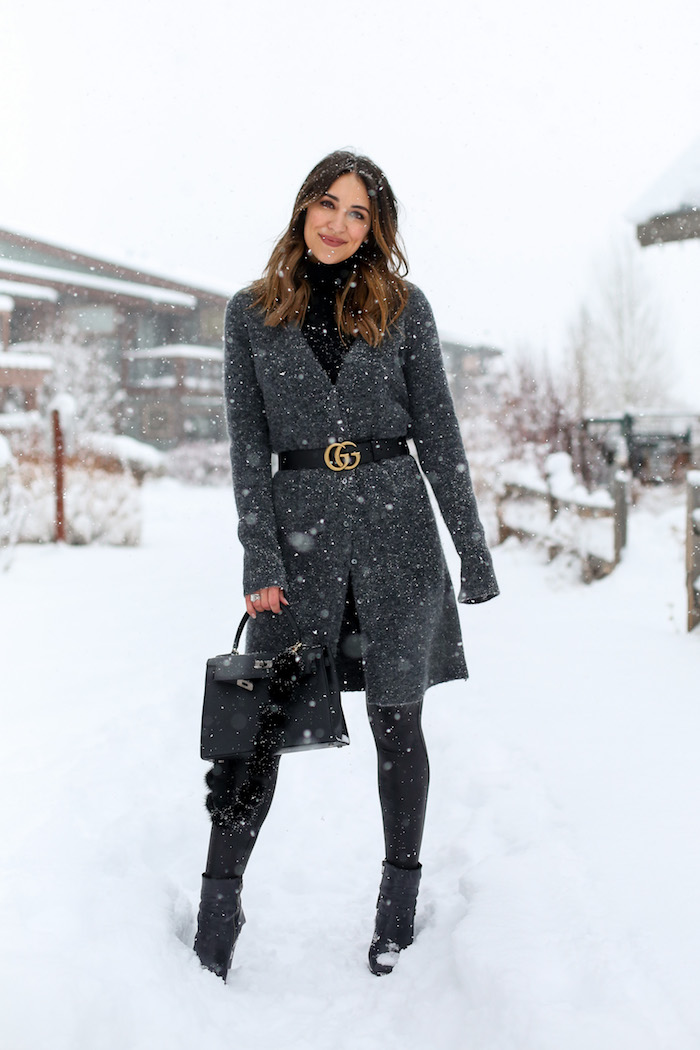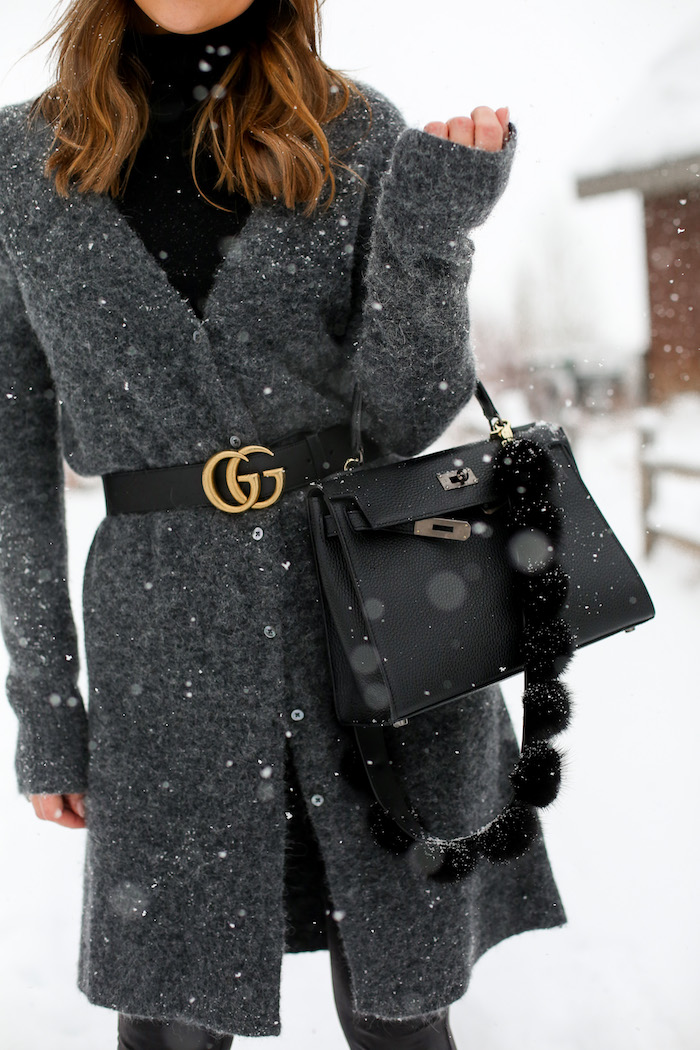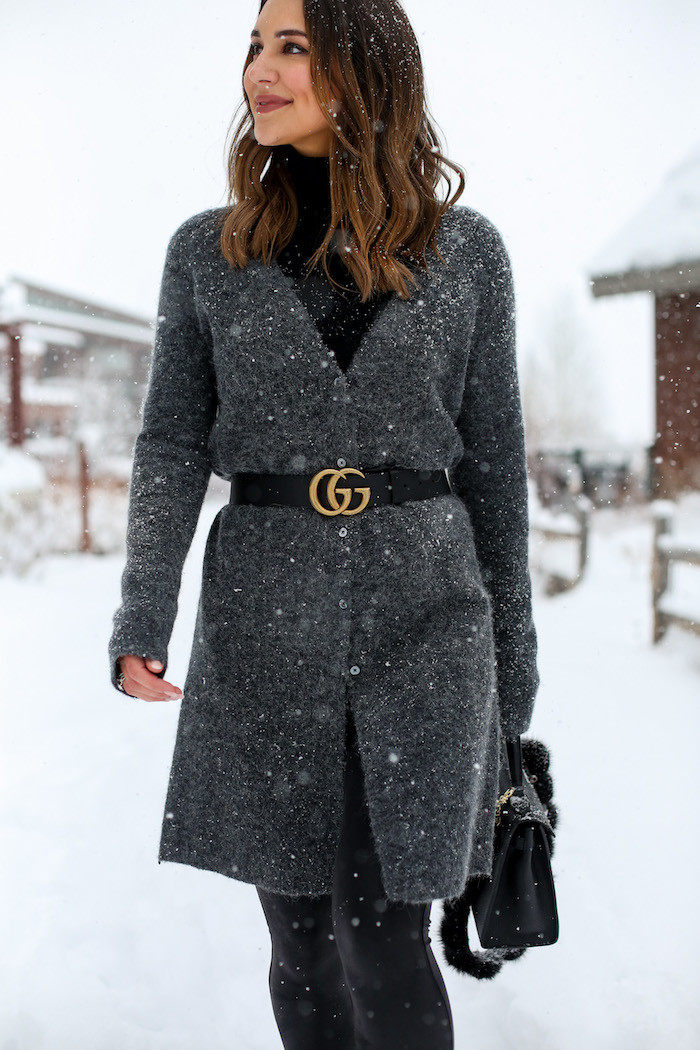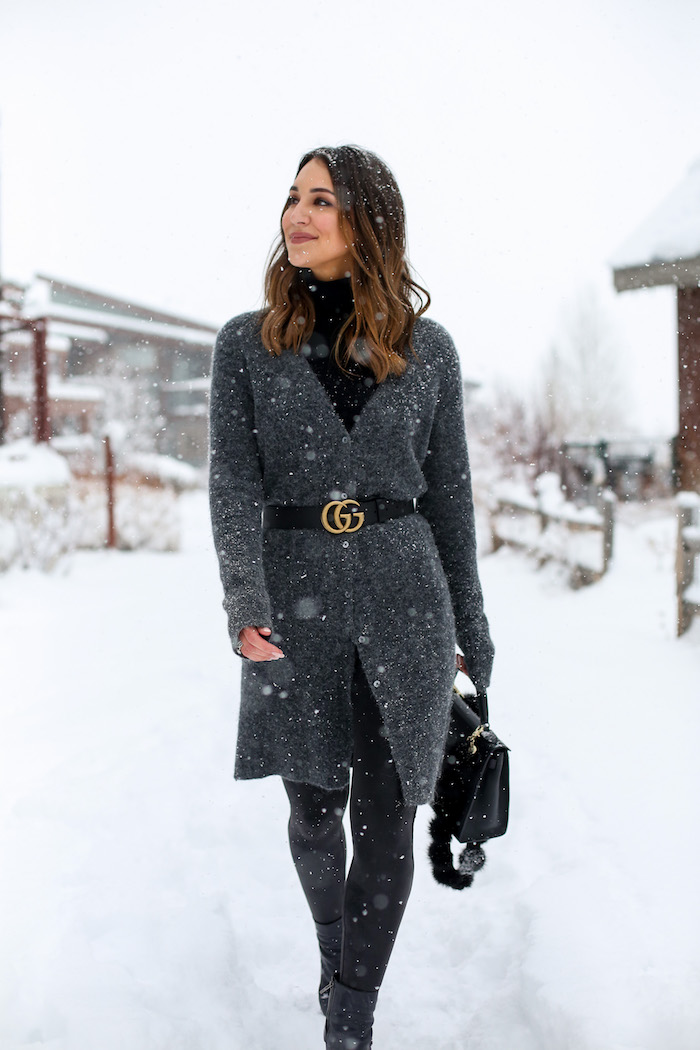 coat | similar cardigan sweater here, here and here | leggings, also available here  and here (have worn them here, here and here) | similar boots here | bag, also love this one | handbag strap | lip in Fawn | turtleneck | belt, also available here
More on our Sundance experience and where we ate and stayed in Park City tomorrow! Thanks so much for reading – XO –