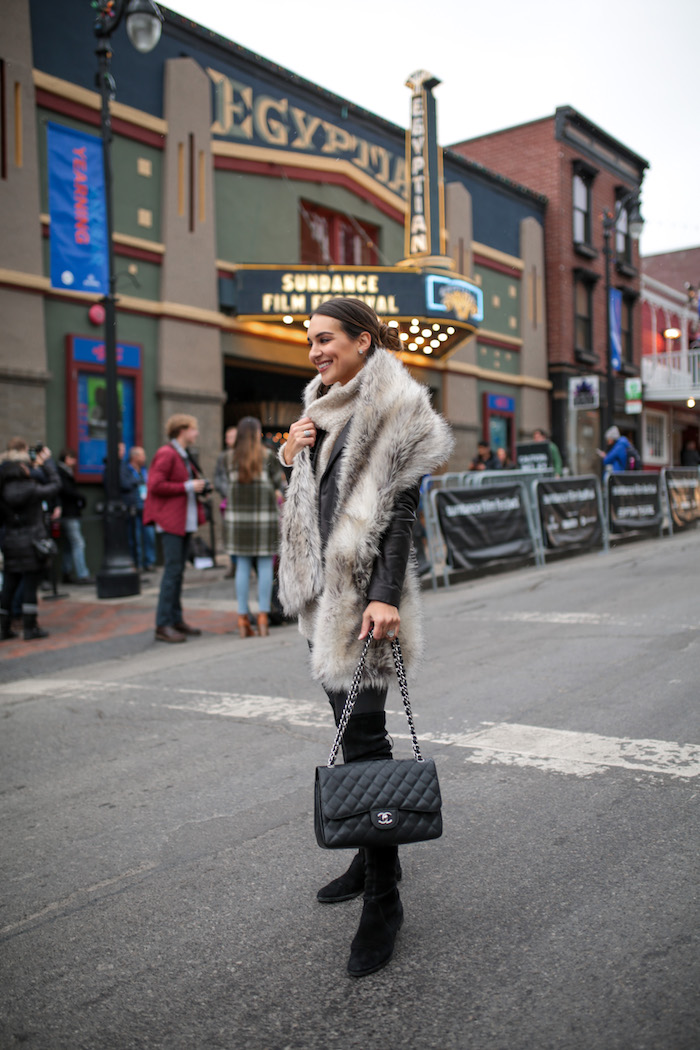 photo by Lisa Richov
faux fur wrap | jacket | sweater (40% off), also worn here and here | leggings, also available here and here | boots | bag
I shared in yesterday's post that I spent last weekend in Park City, Utah to attend the Sundance Film Festival with Stella Artois.  We got back to California Monday night, and it was most definitely a trip to remember.
We had tickets to three movies – The Kindergarten Teacher, Colette and Search.  I think one of the coolest part of the trip was watching the excitement of the cast and crew for the first premiere of their film. Some of these films take years to create and produce, so we are sitting in the room, experiencing it with fresh eyes and providing the first feedback for these directors. It's an incredible energy – a mixture of intense passion, emotion, excitement and eagerness.
We spent a lot of time in the Stella Artois lounge on Main Street.  There were Q&A's and panels hosted there that held conversations about being women in film, the persistence and patience it takes to create documentaries and what it's like to be a female in the entertainment industry today.
I would be remiss not to mention the elephant in the room – it was a very interesting time to be amongst some of the biggest names in the entertainment industry.  There was a thickness in the air given the recent "Me Too" movement and energy of the Golden Globes, and it was very cool to watch both women and men respect and voice women's rights. There was a march in town on Sunday, and the message was clear.
Where We Stayed
Newpark Resort | The rooms here are amazing. Huge, with balcony jacuzzis, a full refrigerator, kitchenette, giant tubs, fireplaces – it was fabulous. We loved staying here and although it wasn't walking distance to Main Street (which would have been nice considering it takes 45 minutes to go 5-7 miles during Sundance), everything else was fantastic.  The staff was great, the rooms were gigantic – would definitely stay here again if I were to come ski/snowboard in Park City.
Where We Ate
It was extremely hard to get in anywhere on Main Street. Without a reservation, people don't even want to put you on the waitlist. I'm not kidding – I was literally denied to even be added to a waitlist. SO, unless it's first come, first serve at the bar or you have an existing rez…  you are better off eating somewhere other than Main Street.
Thankfully we had a meal and some bites at the Stella lounge so we were able to stay afloat even when we couldn't get in places.
501 on Main | We had dinner here our first night and it was fantastic. They had vegan/vegetarian options that were excellent, and sitting by their fireplace with a coffee at the end of the meal, I definitely wanted to stick around forever.
Tupelo | We grabbed drinks here and the vibe vas very cool. A beautiful restaurant, and I would definitely be interested to come back for dinner.
Bistro 412 |  We also grabbed drinks here in between events and the staff was really friendly and attentive. The dining area downstairs looked really charming and the menu looked good as well.
Twisted Fern | We grabbed dinner here because it was walking distance from Search, and it was fantastic. I had a mushroom and lentil burger that I'm still thinking about, and their roasted brussels sprouts appetizer was amazing.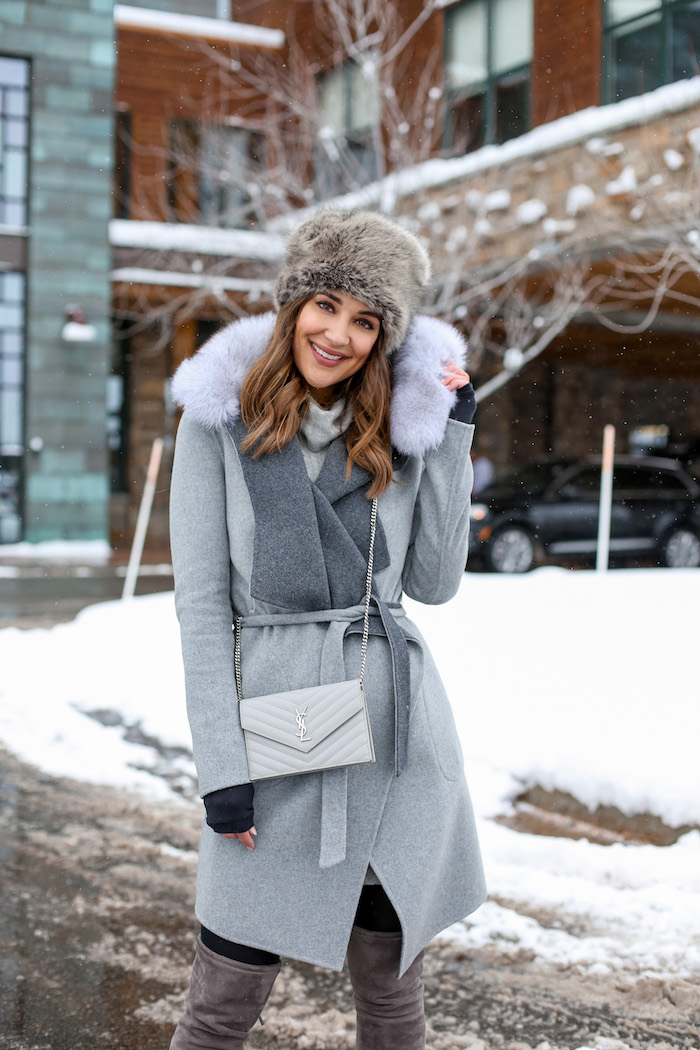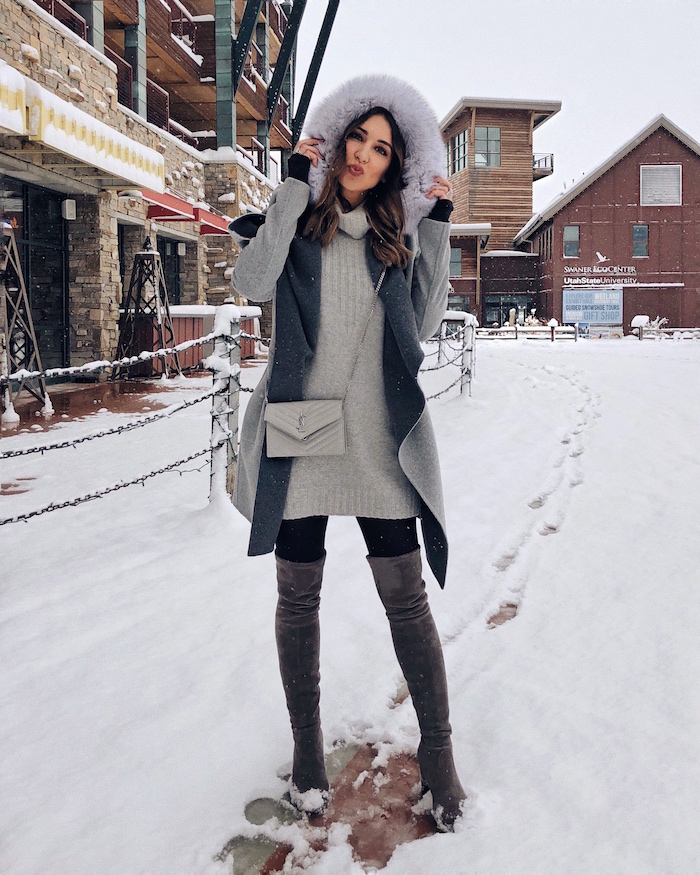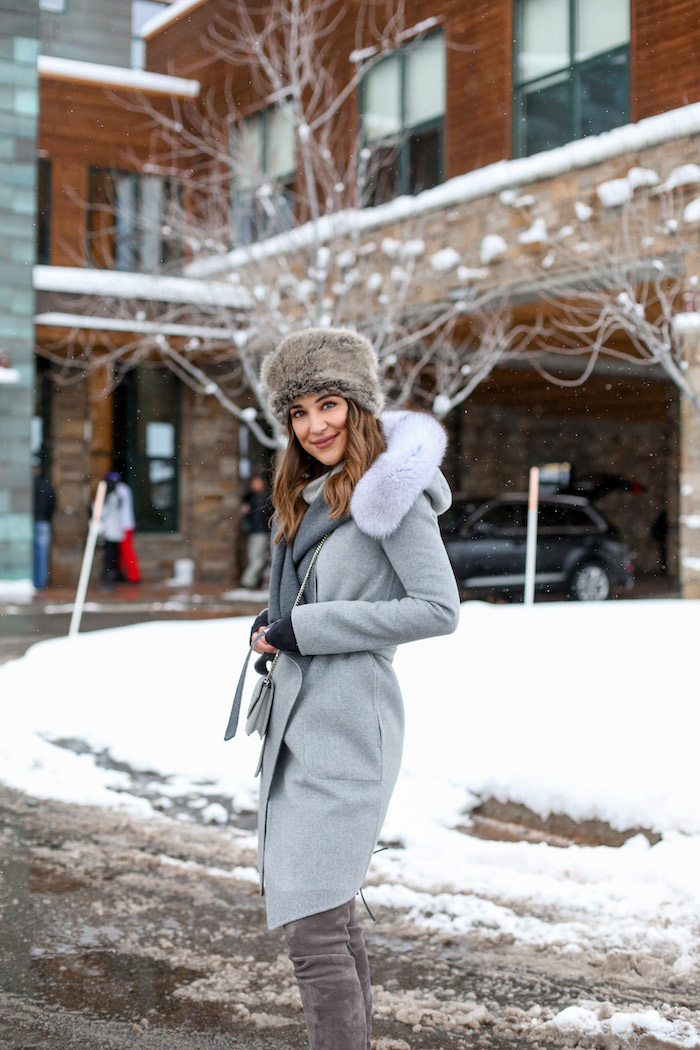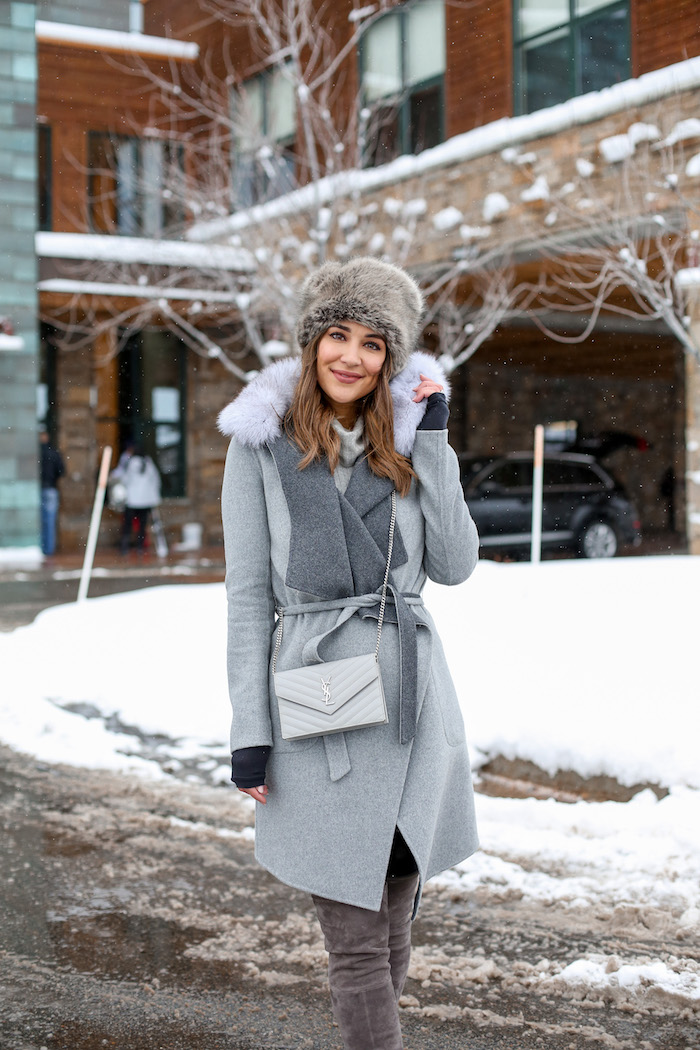 coat | similar sweater here and here | bag | boots (a look for less!) | similar hat here and here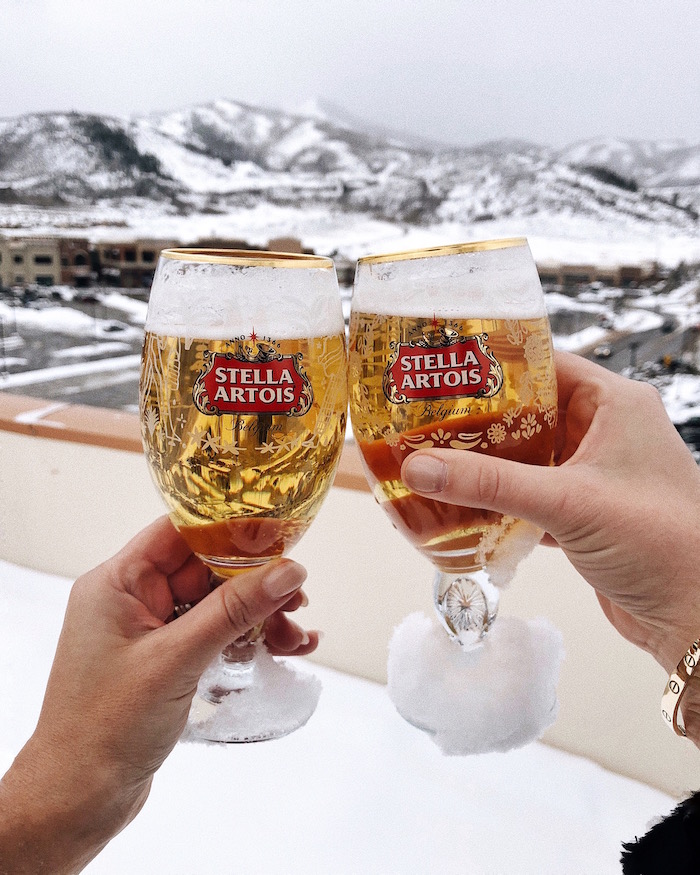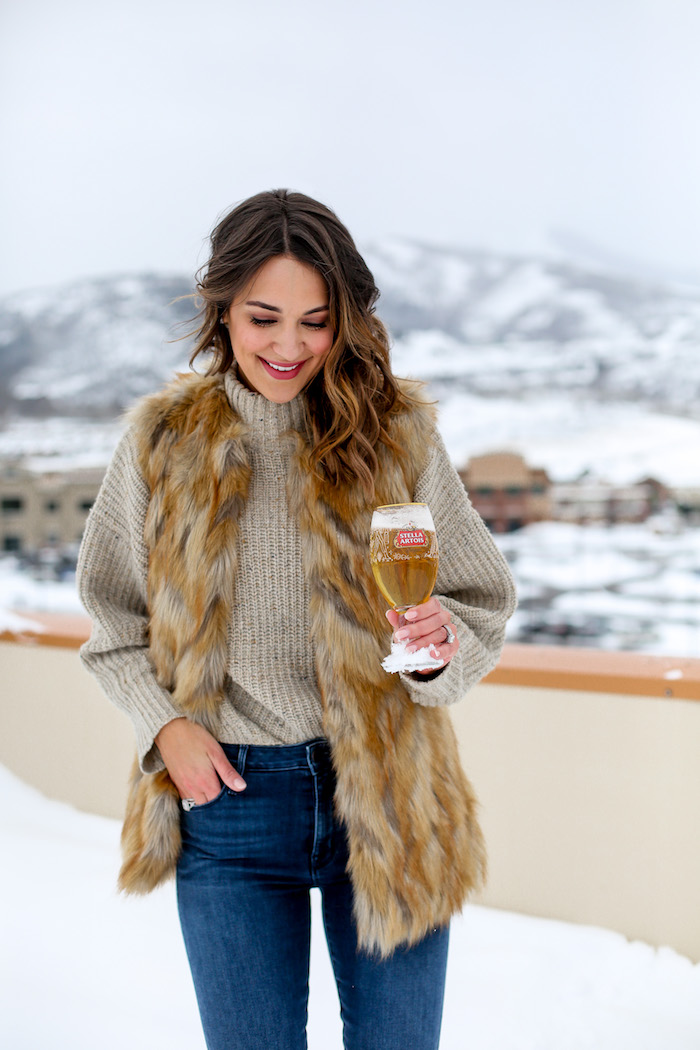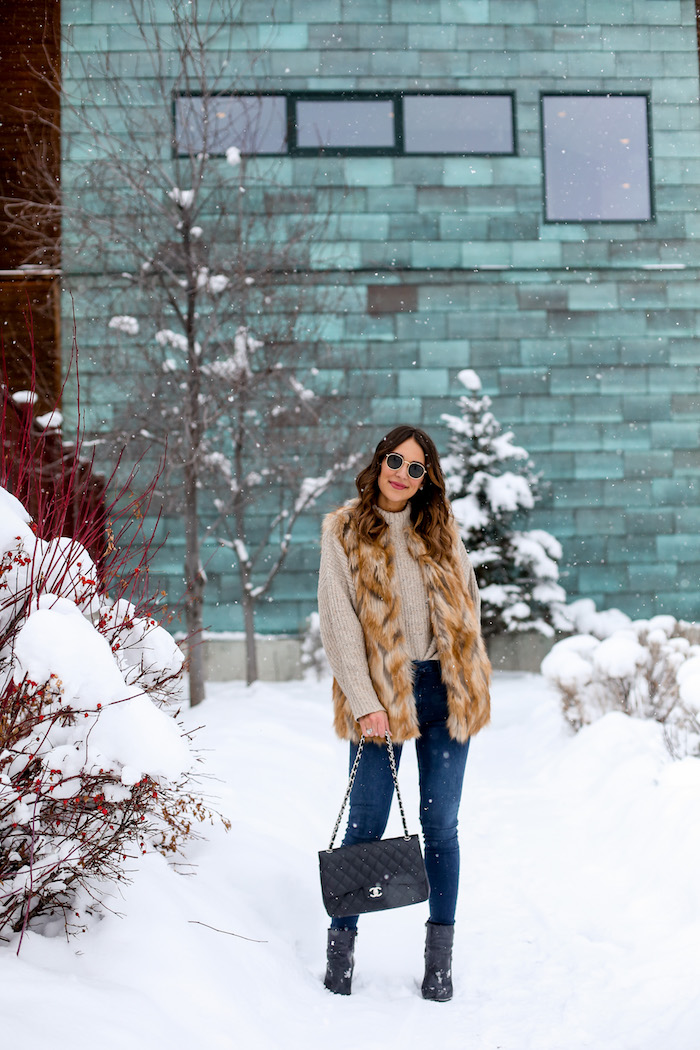 similar sweater here and here | similar vest here and here | denim | bag | similar booties | sunglasses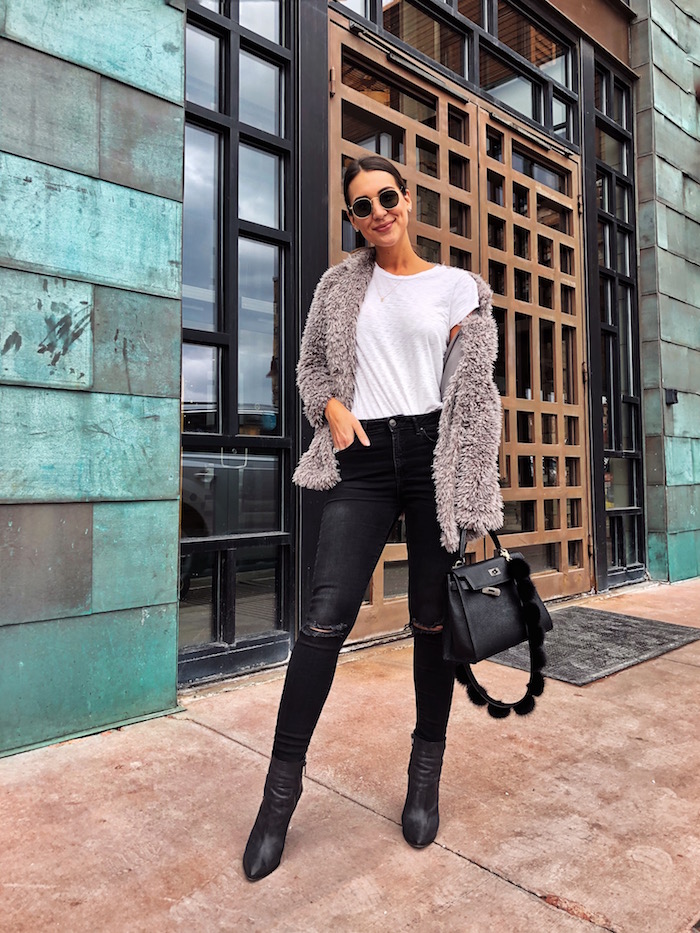 coat | similar tee | similar denim | similar booties | bag | handbag strap | sunglasses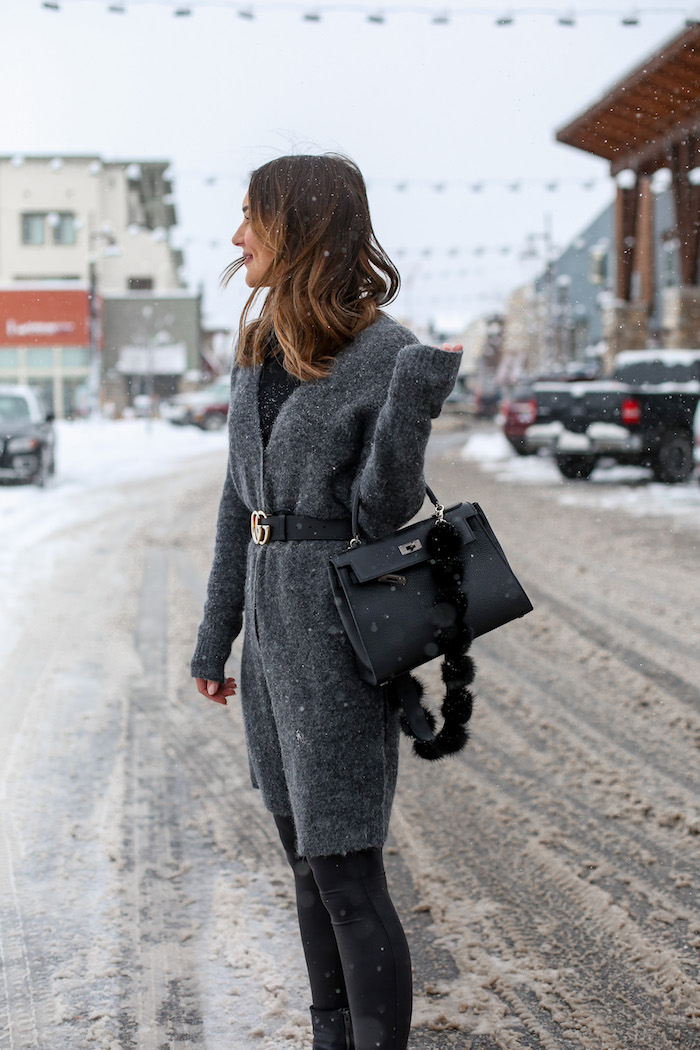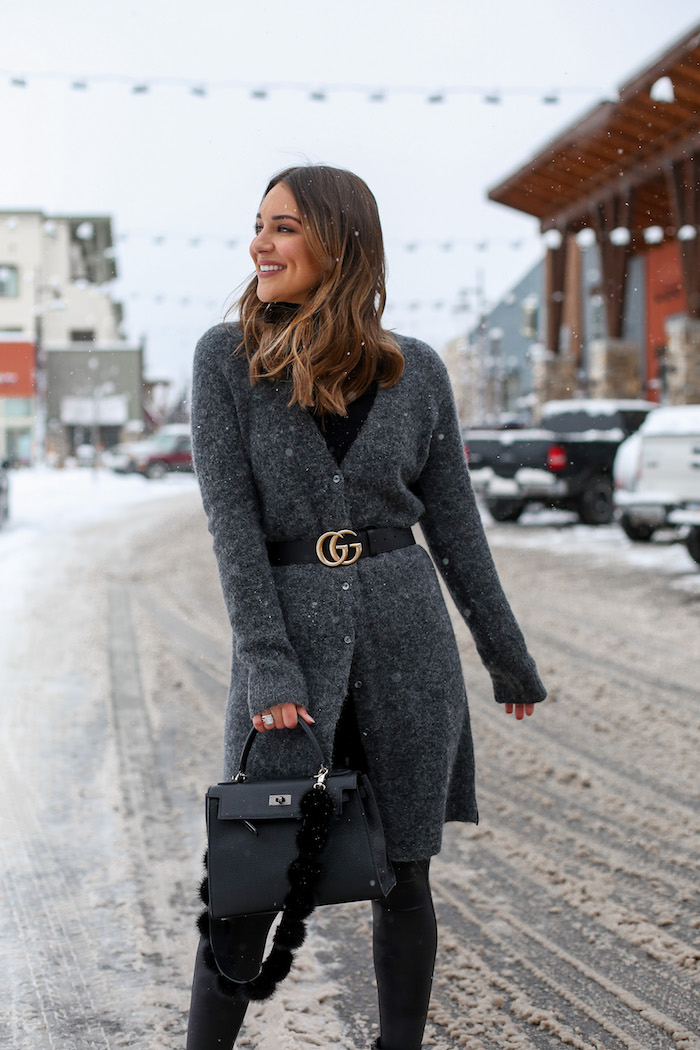 outfit shared here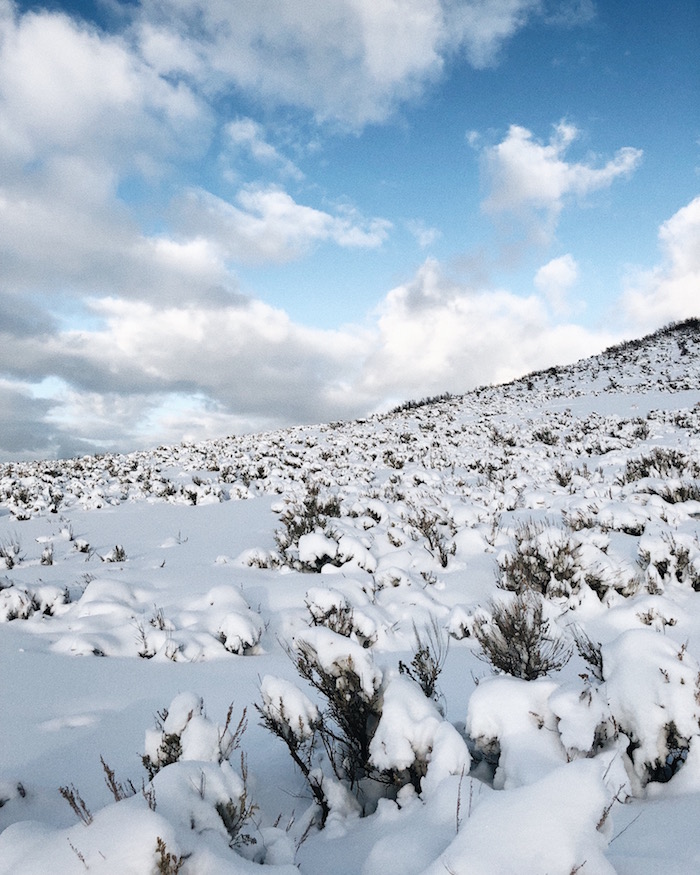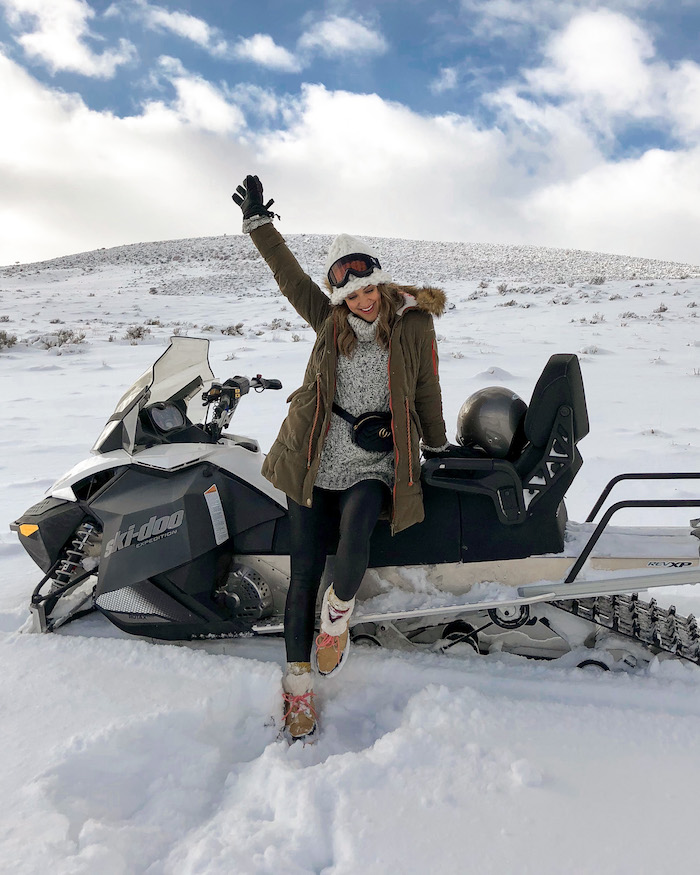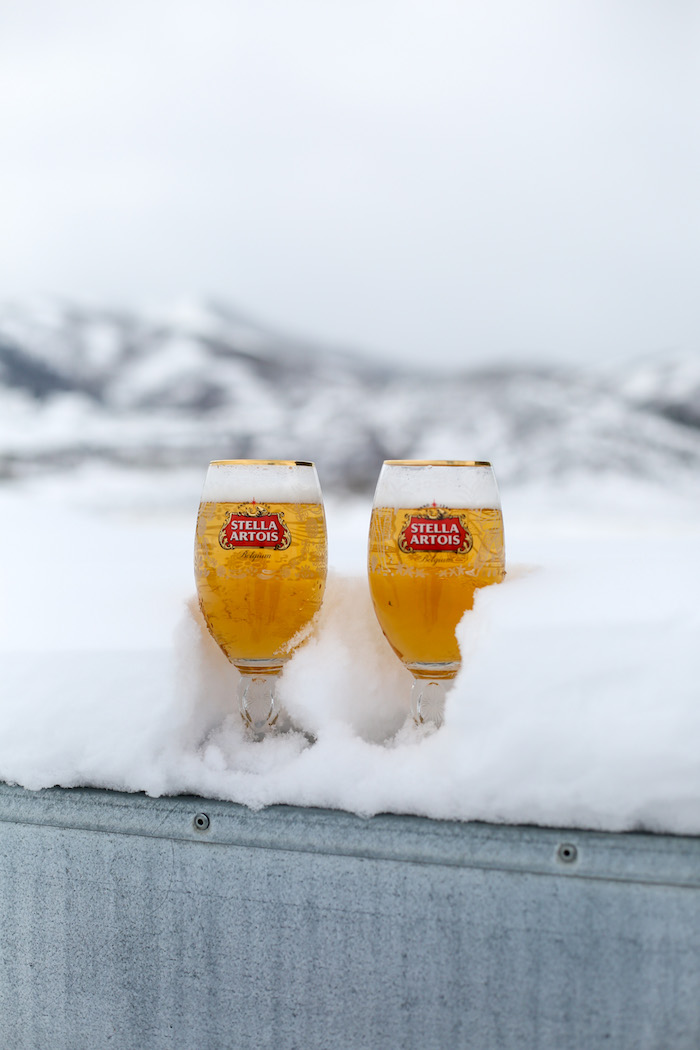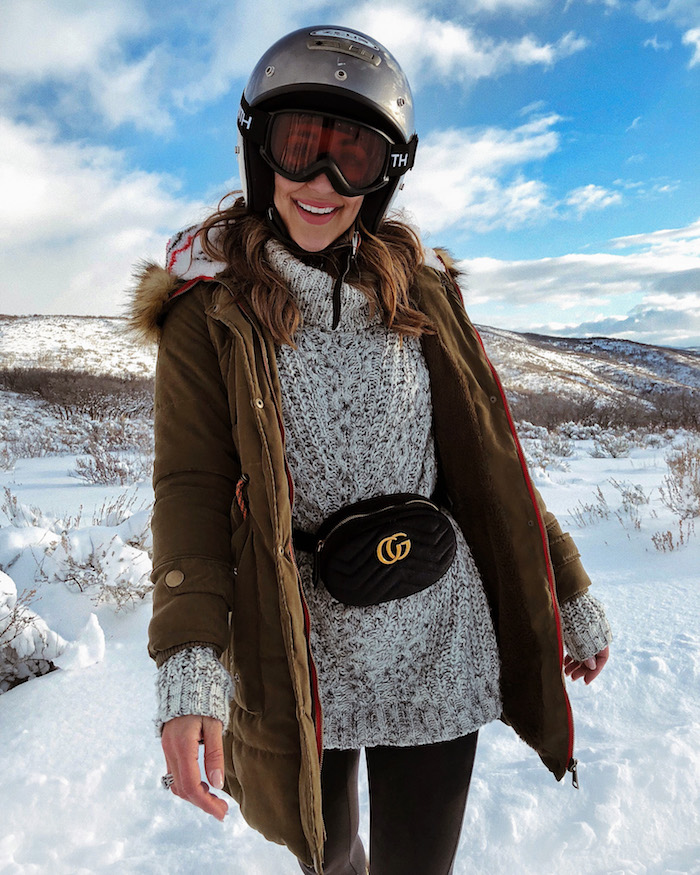 similar coat | leggings, also available here and here | boots, also available here | black turtleneck | similar marled turtleneck | belt bag (a dupe!), also love this one | hat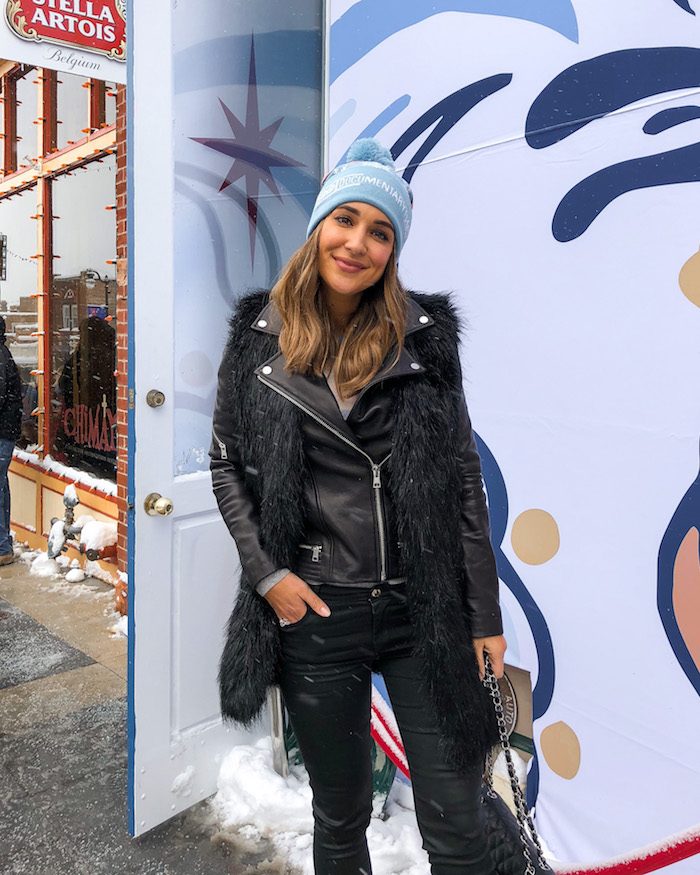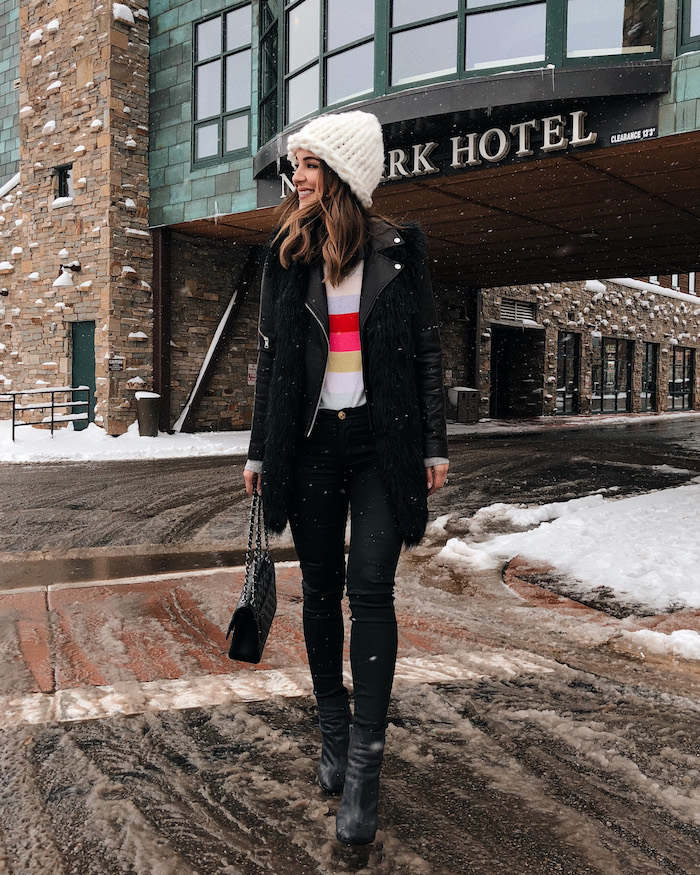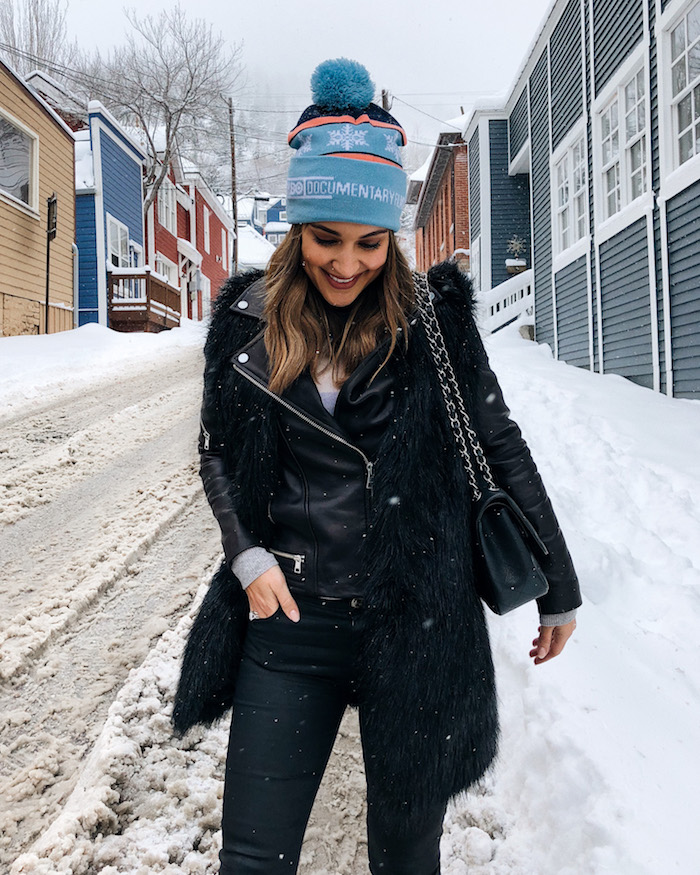 sweater, also available here and have and love this one (on major sale) | coat | similar vest here and here | similar wax denim | bag | hat | similar boots

What We Did
Movies | Obviously this was our main priority of this trip!
Snowmobiling in Deer Valley | I was a little nervous about hopping on a snowmobile but I have no idea why. It was SO FUN.  The only negative was that we were only driving these bad boys around for a few hours. I kept telling Christian how much fun it was, and that we should do it together.  If you ever get a chance to snowmobile – definitely do it!
Jacuzzi Life |  Nikki and I vowed that we wouldn't leave Park City until we got in the jacuzzi on the balcony of our hotel. So we popped in that bad boy from 2-4AM on our last night and it was epic. Drinking ice-cold Stella in a bubbling hot tub in 10 degrees. Amazing!
What I Wish I Had Also Done
Midway Ice Castles | Call me crazy, but I didn't even know this was a thing until Monday, a few hours before we left town. It looks incredible!
It was definitely an experience I'll never forget, and I'm so thankful to Stella Artois for taking me along for the ride!  If you've ever wanted to go to Sundance, I would strongly encourage you to add it to your bucket list.
For those with Park City questions – let me know if I missed anything! Thanks so much for reading – XO –