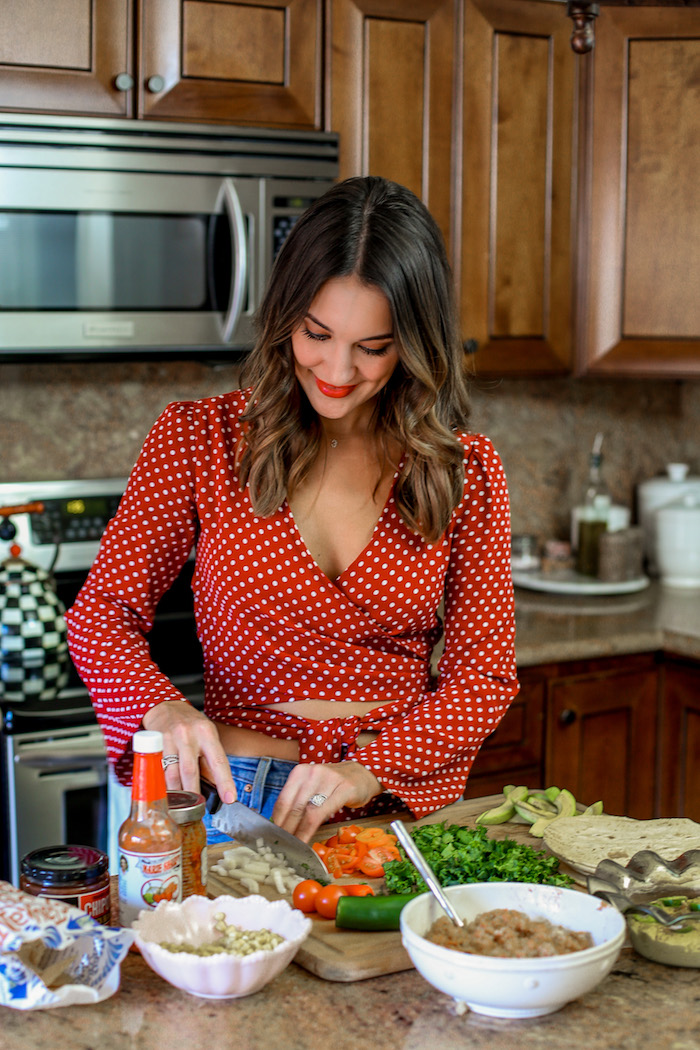 I can't believe it's been four weeks eating plant-based! This was a really cool experiement, and shockingly, not that hard to pull off.  Yes I had moments where I failed (flashback to week three's mahi mahi tacos and pizza), but I did my best and for that, cheers!
My main reason for this monthly trial was to force myself to explore more meat and dairy-free meals and substitutes, and I definitely think I achieved that.  The plan is to continue to try to eat this way in my own house and kitchen, but will be more flexible with dairy and fish when dining out.
Christian was a trooper and happily ate everything I cooked without complaining, but when I left town for four days he bought steak and bacon and ate both all weekend – ha!  We both agree that we want to be more intentionally with where we buy our meat, dairy and fish from. It was an eye-opening experiment.
What I Learned:
Plant-based groceries cut my weekly grocery spending by at least $20 – $40 a week.
My stomach only hurt when I was traveling and trying to do my best (aka eating pizza, soup that had cream, etc.). When I was home and cooking for myself I had no stomach problems or pain whatsoever.
I lost three pounds and half an inch in my thighs and waist.  Honestly, I thought I might see more of a difference here but then I thought about how I didn't really eat that much meat and diary anyway (I'm allergic to pork and midly lactose-intolerant)… so it kind of makes sense. Perhaps that is why this trial was so easy for me!?
Cooking plant-based cut my time in the kitchen down big-time. On average, dinners took around 30 minutes or less.
Unlike my experience with Whole30, eating plant-based is usually a one grocery trip visit. Almost every grocery store has everything you need which is awesome.
Almost every single restaurant has a vegetarian option (usually a veggie/black bean burger or salad). So eliminating any dairy from that dish is usually pretty easy.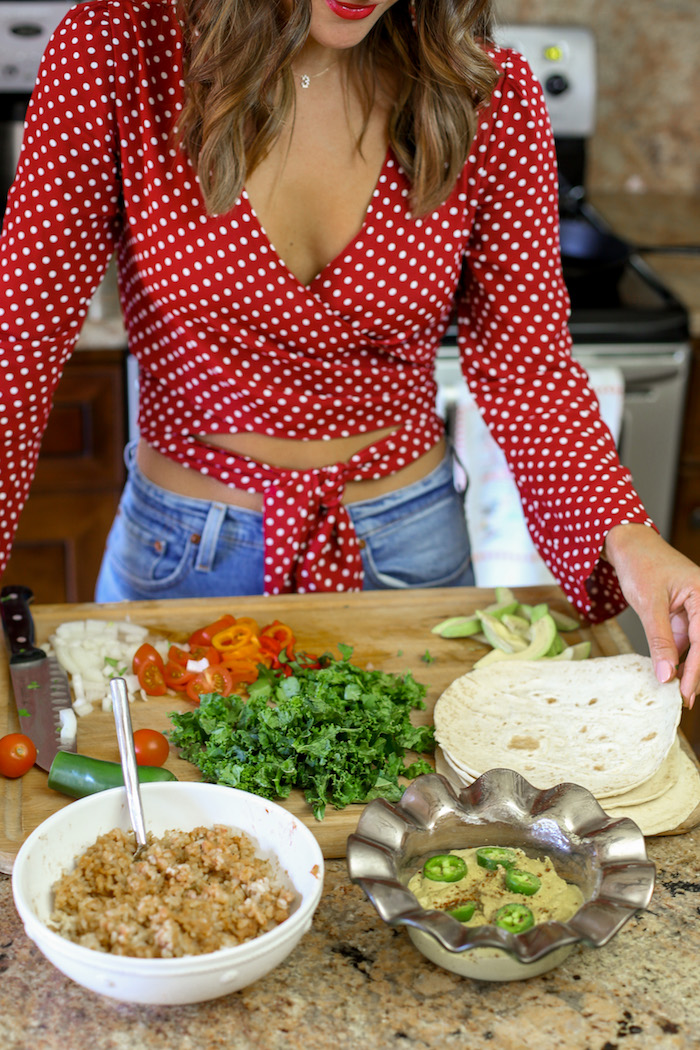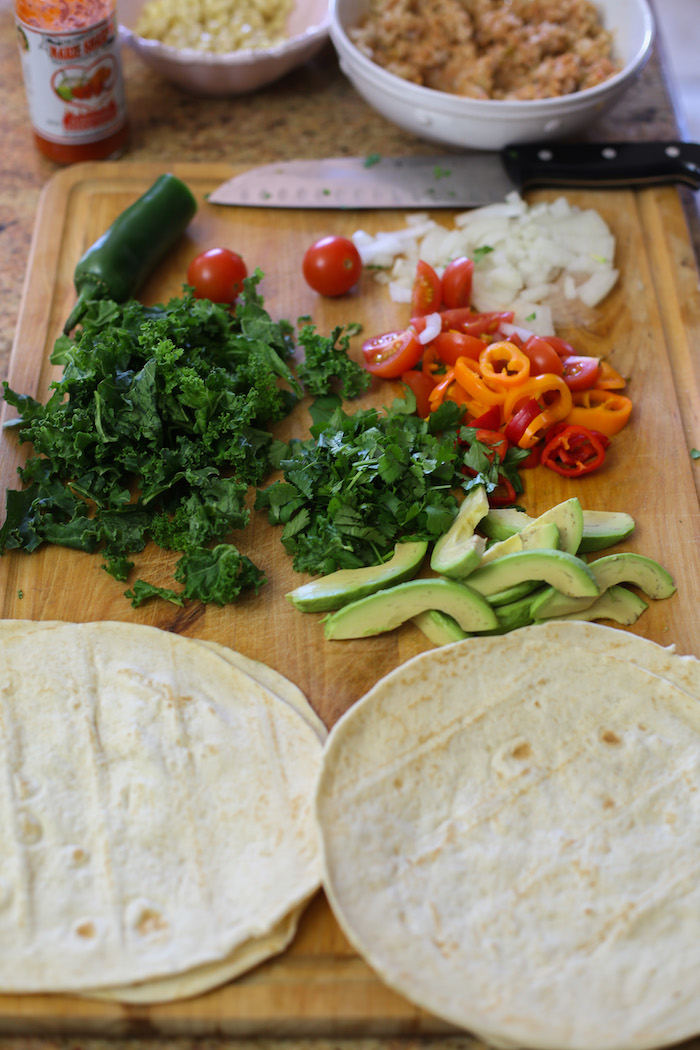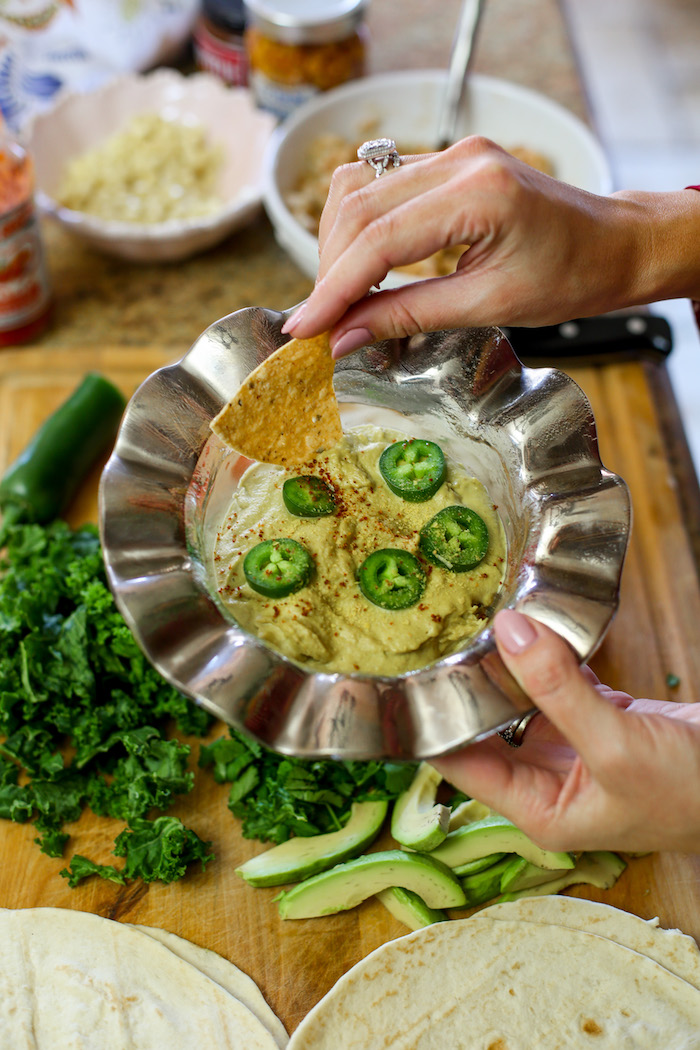 Last Week's Recipes:
Brussels Sprouts Slaw | Really good and saves well for leftovers and lunch.
Roasted Jalapeno Queso | I made this in this post and… it ain't queso. I mean, it's a good dip – but if you know queso… this isn't it. Just being honest!
Better-than-Chipotle Burrito |  This is also featured in this post! SO GOOD and very easy, even if it's not that photogenic!  My tortillas were too small, rookie mistake, so next time I'd be sure to get bigger tortillas.
The recipe is correct, the grilling at the end with a weighted pot lid on top is key. Delicious. So delicious that Christian insisted on having a second one, but wanted to roll it up himself as he seemed to think he could do it better (insert eye roll).
Garlic Alfredo Pasta | Really yummy and loved the simple ingredients.
Vegan Green Chile Mac & Cheese | It was pretty good, but I liked the mac & cheese recipe shared in this post better.
Dining Out:
I had several meetings this week that required eating out but per usual, it wasn't a problem.
We are traveling back to Mississippi this week and I've already looked up a few restaurants that I know we are eating at.  All of them have vegetarian options, so it makes me happy that I can order off the menu without looking/sounding difficult (I never want to be the difficult orderer… it's one of my fears)!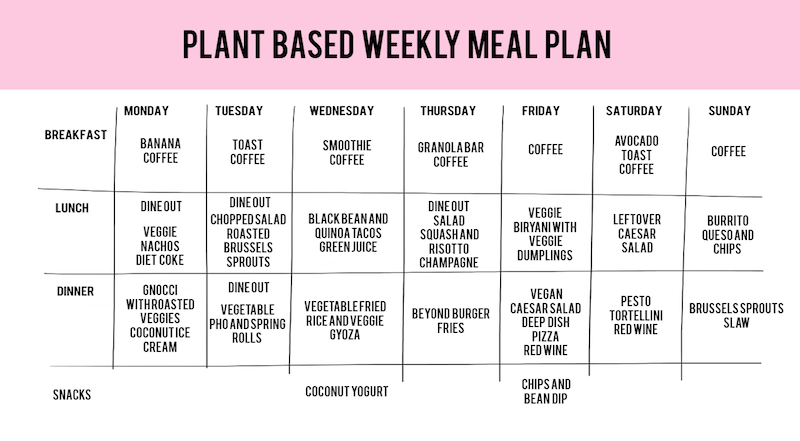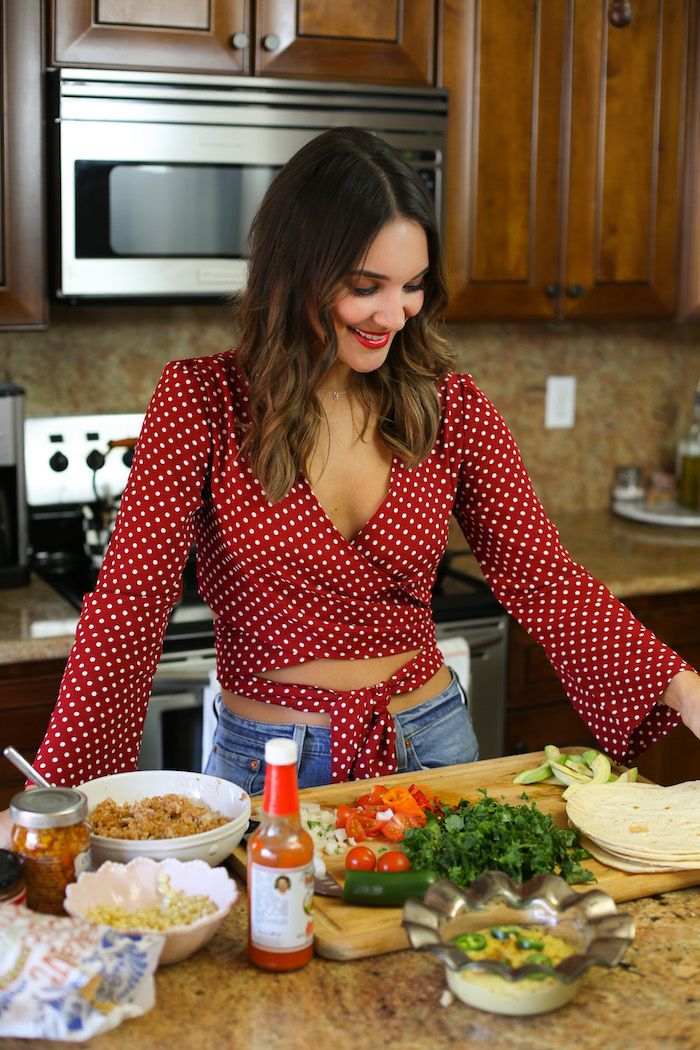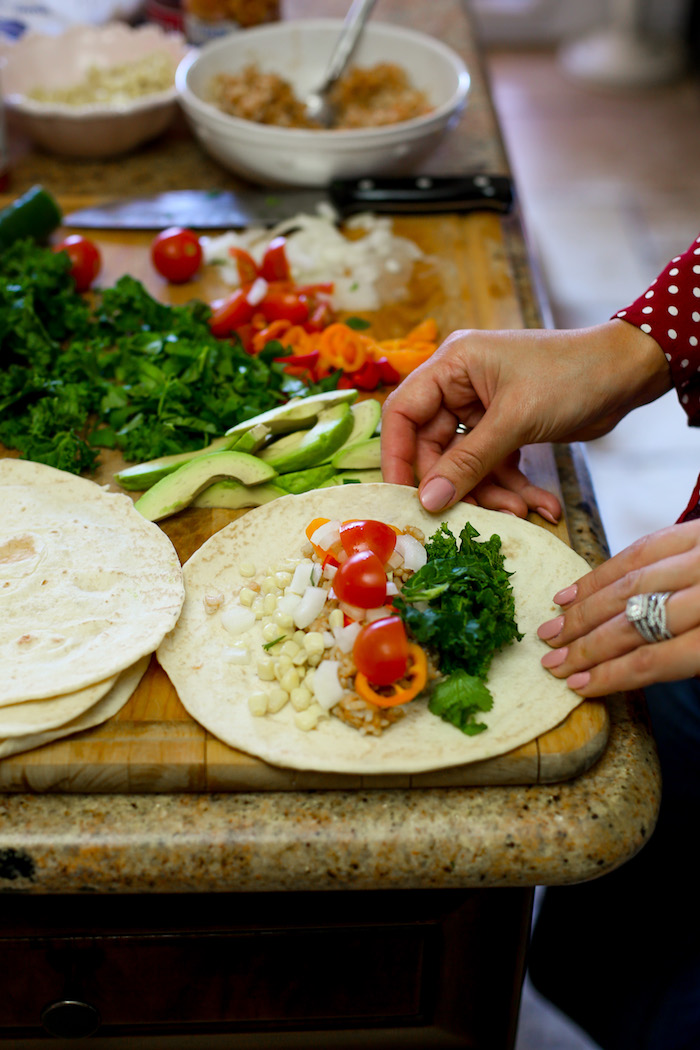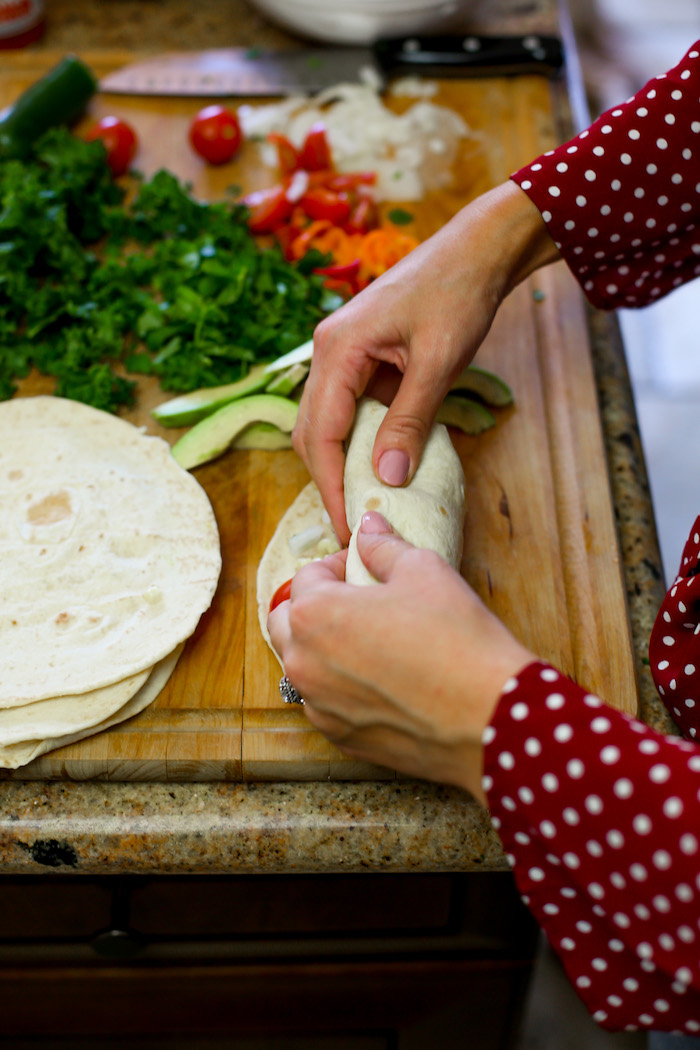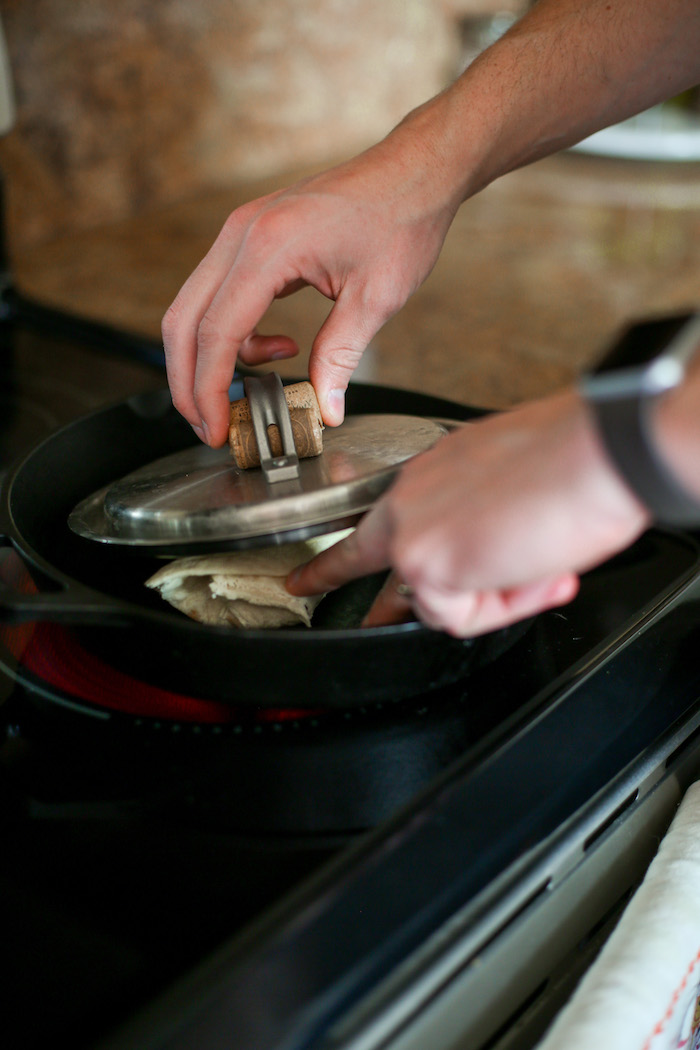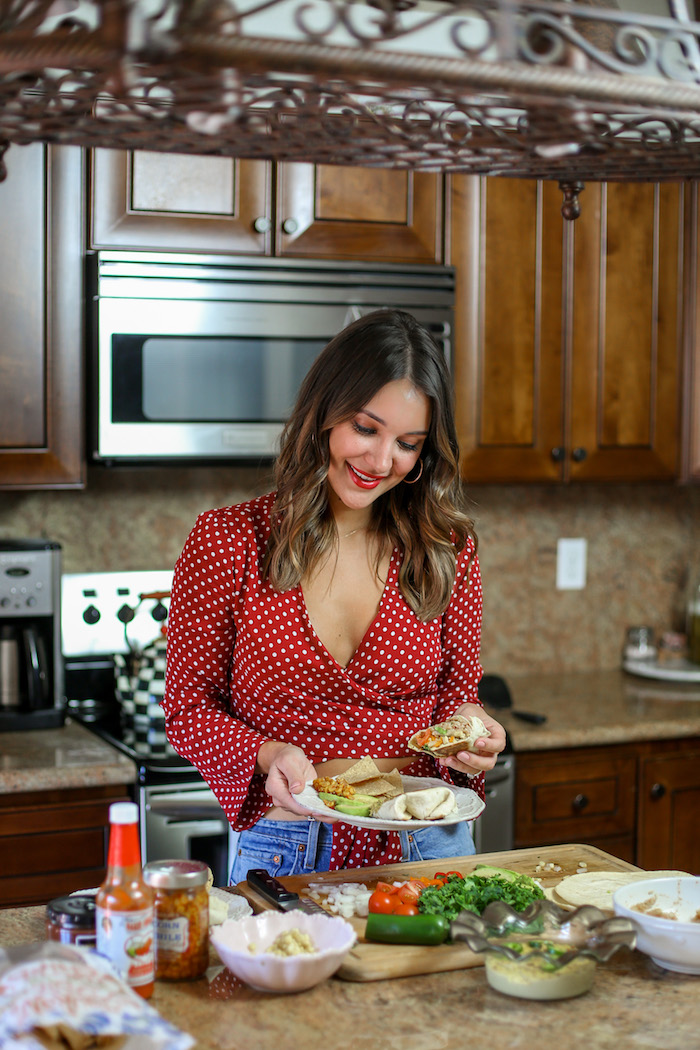 Photos by Christian Barnes
top, also love this one | denim (runs TTS), also available here | pasta bowls | platinum ruffled bowl | plates
You can see my other weekly recaps in the "food & drink" category of this site as well as here:
Week One | Week Two | Week Three
Thank you so much for going on this journey with me!  I loved exploring new recipes and sharing them with you, but I'm going to be honest – I'm not going to miss writing down everything I eat everyday. It was hard to keep up with – especially when traveling!