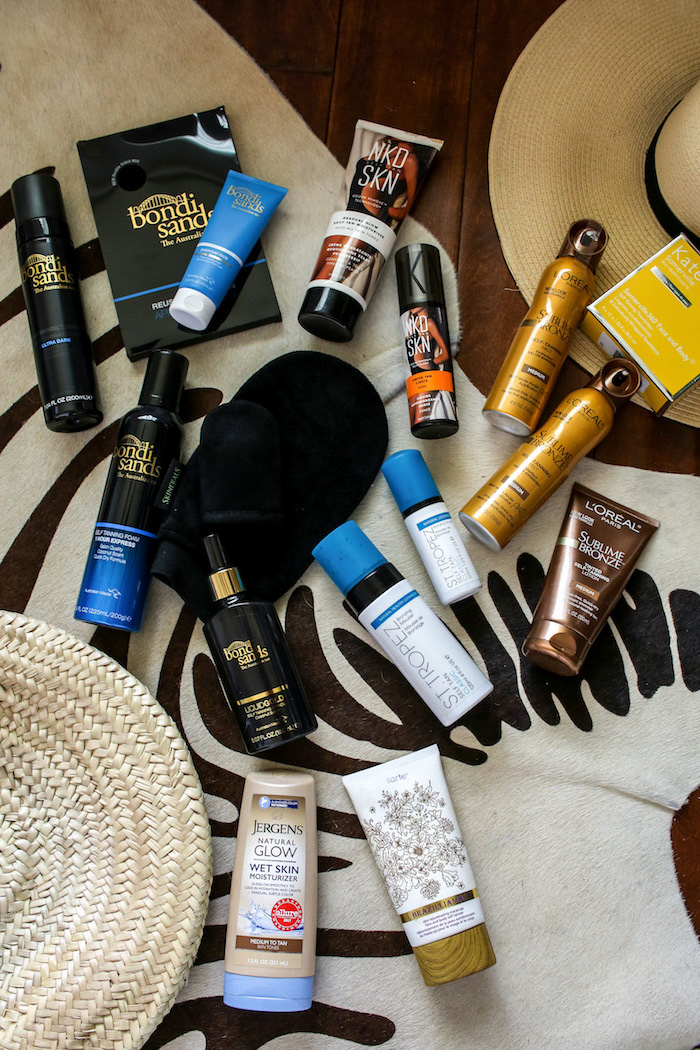 One of the most asked questions I get from you guys is… about self-tanner! I'm very open about using tanning products basically all year long. I live in California, therefore having some color in October isn't unusual around here.
I have some of my favorite products in the FAQ of this blog (lots of helpful info there!), but I wanted to dedicate a full blog post to the topic because I still get asked pretty regularly.
Judging by this assortment, which is literally just what I have on hand… you might say I've tried quite a few brands. First, I do want to share that I have olive skin. These products work well for me on olive skin. If you are fair or have never tried self-tanner, I would definitely read reviews first to try to pick something mild to start out with.  One of these products I would definitely recommend for you but more about that below!

If this ain't your first rodeo:
L'Oreal Sublime | My girlfriend, Emily Loftiss, was the one who got me hooked on this stuff. She is a TV host and always has the best glow. One time I literally thought she had just gotten back from vacation and she told me it was L'Oreal's self-tanner. I've been hooked ever since! I use the towelettes, lotion and airbrush spray. Love all three.
Tarte | I tried this for the first time after getting a free sample and loving it. This stuff works really well, but I would definitely make sure to use a mitt! I once used it without one and even though I washed my hands well, I still had those awesome streaky hands that really reveal what you were up to.
Bondi Sands | I just connected with Bondi Sands recently and received and amazing goody box with all kinds of products to try! So far, I really, really love it. Because I'm olive skinned, sometimes self-tanners just don't feel like enough color. I'll have to apply two nights in a row to get the color I'm going for. Not this stuff! I applied just one night before bed and was bronzed all week. I really love the foam tanner, but all of their products are the real deal.  Also available on Amazon!
If you're dipping your toe in the self-bronzed world:
Tanning Mitt | If you're not experienced in applying tanning products, you must get a mitt. Honestly, I consider myself a pro and I still prefer using this mitt. It even comes with a baby one that I use for my face! After a few applications, I just it throw it in the wash with my dark clothing.
NKD Skin | This is a great gradual tanning lotion that I would definitely recommend to beginners. A natural, slower building tan that is pretty much fool-proof.  They also now sell a pre-shower tanning product that looks really interesting!
Jergens | I feel the same about about this product as above. Great for someone who is a little more fair-skinned to build natural, gradual color.
Kate Somerville | I love their tanning towelettes. I will cut one sheet into four sections and use one section at a time for my face.  I am ALWAYS wearing a hat or will apply SPF30 to my body and SPF50 to my face, so my face is always a shade (or two) lighter than my bod. Enter a great towelette to solve that problem.
St. Tropez | There's a reason this is so many people's #1 tanning product of choice. If you just glance at the reviews, you'll see that it's a great product. I have it in both full and travel-size, and it's also a great foam application (use your mitt!).
And that's my self-tanning diary revealed!  I hope this deep dive into my tanning drawer was helpful to those of you looking to get some color at a fraction of the time AND without any sun damage to your skin. I mean, call me Mariah Carey, but I literally thank God that there are so many tanning products available to us now.
My mom use to use Sally Hansen on her legs when I was growing up… because that's all there was. Now we have SO many options, and we can get that summer color without stressing about SPF levels, sunburns or skin cancer. I'm all praise hands to the self-tanner game, y'all.
If you have a tanning product you love and swear by, I'd love to hear it! Thanks so much for reading and sharing – XO –