A few weeks ago I spent some time in my favorite Northern California destination… Sonoma County. I mean, I've already made it up to wine country twice in the 2.5 months I've lived here, so now it's becoming a monthly mission!
Ever since we moved to California, I've paid more attention to wine labels when I'm shopping. After visiting some of these gorgeous properties and learning about all of the details that go into making a great bottle of wine, I'm definitely partial to those vineyards and the teams behind them. I now have such a larger appreciate for all the time and research that goes into the wine industry!
October is actually Sonoma County Wine Month, and over 200 wineries and affiliated businesses are participating throughout Sonoma County.  You can see some of the offerings here!  And my favorite fun fact: you can fly right into Santa Rosa by way of Alaska Airlines (which I've done before and it's so great and easy), and up to a case of wine is actually included as part of your free luggage allowance on flights out of this airport. What other airport can say that? Amazing.
Vineyards We Visited:
We got to tour this property and spend a nice amount of time learning about the growing and maintaining of the grapes and vines. Seeing rows and rows of vines, it really takes your breath away.  We learned about the trained falcons used to help protect the grapes and that there's a flock of turkeys that roams the vineyards… which you know I love. We drank their Chardonnay and Cabernet Sauvignon (both delicious), and had the gorgeous farm-to-table picnic that you see above!
We also go to do something that was most definitely on my bucket list – a grape stomp! I came in second place although I was so convinced I was going to win because I was not getting out of that barrel until I had smashed every single delicious grape. Ha! This property is so stunning, and I would encourage you to look for the Cab in your area. Such a delicious and flavorful full bodied wine for fall and winter months.
This property is unbelievable (seen below in photos featuring the pink midi skirt).  We were able to chat with Kate MacMurray herself and learn so much about the history of this gorgeous estate (that even has some John Wayne connections, seriously!).  We drank their Russian River Valley Pinot Noir, which was smooth and silky, with views of the sprawling property that gave me major Parenthood/Braverman backyard vibes.  Now when I drink this wine I know I'll envision the estate!
And my favorite part… we were able to make our own Pinot Noir blend! I was really looking forward to this experience, and Christian keeps saying he can't wait to try my creation. The pressure is on!  It was so interesting trying to create my own red blend, and it really was the most fascinating process.
I had never tried Bear Flag wines and was excited to see what they were about!  We drank their Zinfandel and made s'mores by the fire at night, and the price point on this wine is so reasonable. I think it would be an amazing gift to bring to a host or the perfect pick for game day.
You guys know I've been a huge Coppola fan for years. I've worked with them before here and here, and Christian and I drink Coppola year-round.
I had visited one of their properties before, but not the Sonoma County vineyard. I was amazed at all of the incredible Oscar and movie history that we were able to peruse after tasting wine, and it was such a unique experience!  I mean, where else can you learn about wine and see the desk from The Godfather?
We were able to taste grapes right off the vines with one of the property's Viticulturist, and helped pick fruit and vegetables from the garden on-site for our outdoor lunch. I mean… it was an experience for all of the senses (I expect nothing less from Coppola).
We spent the afternoon at their beautiful pool before returning again for dinner at the winery.  I'm still dreaming about the dessert and cappucino!
I really love their Director's Cut wines, and if you look closely, the labels are all unique and tell their own story.  There is no detail that goes unnoticed with Coppola.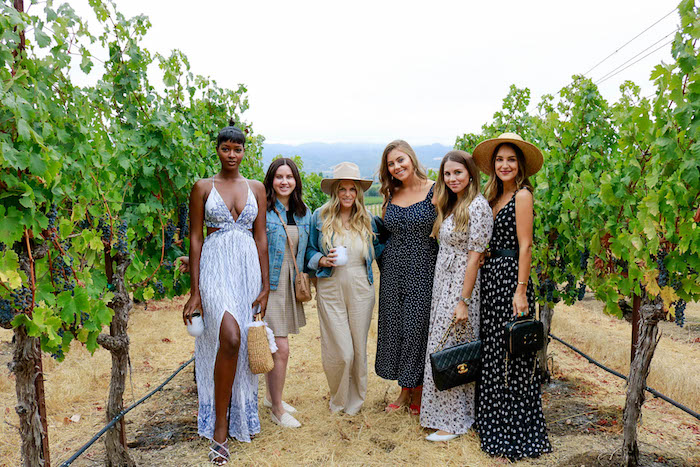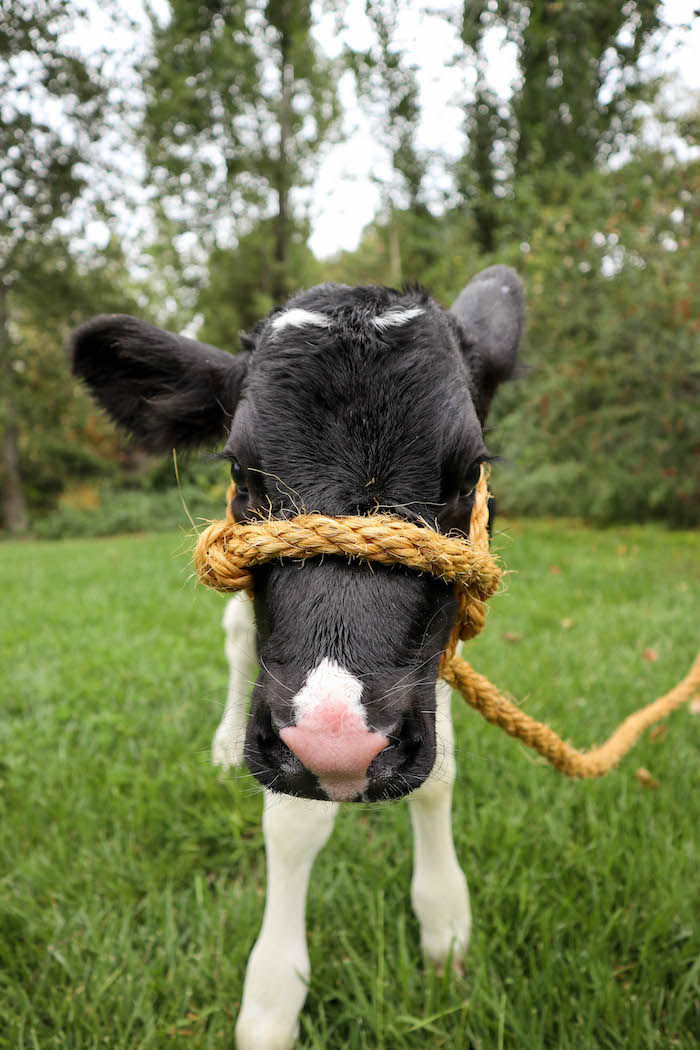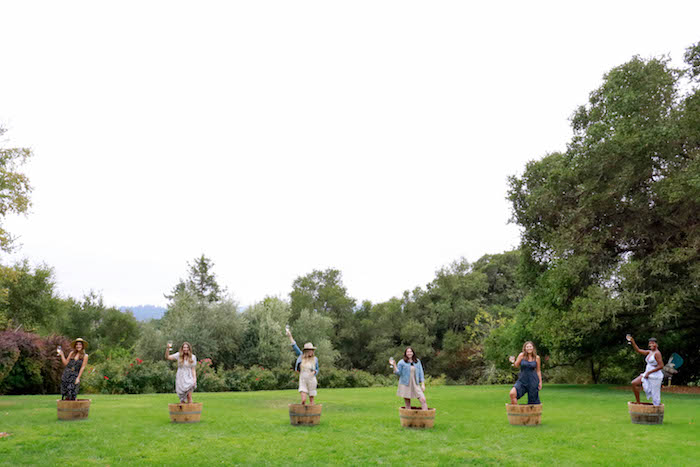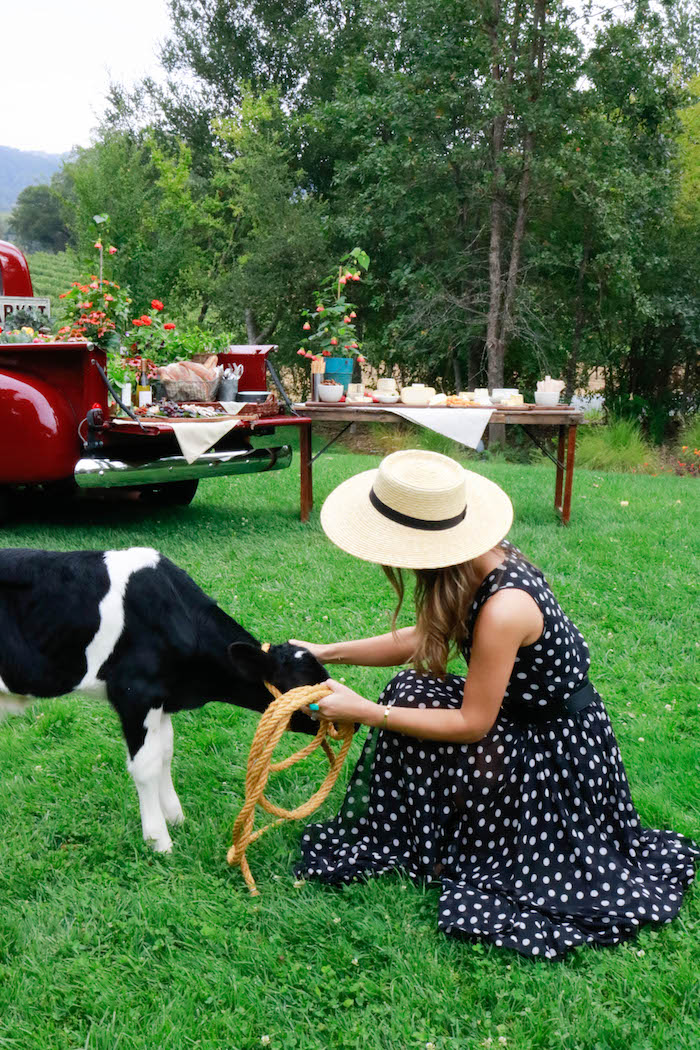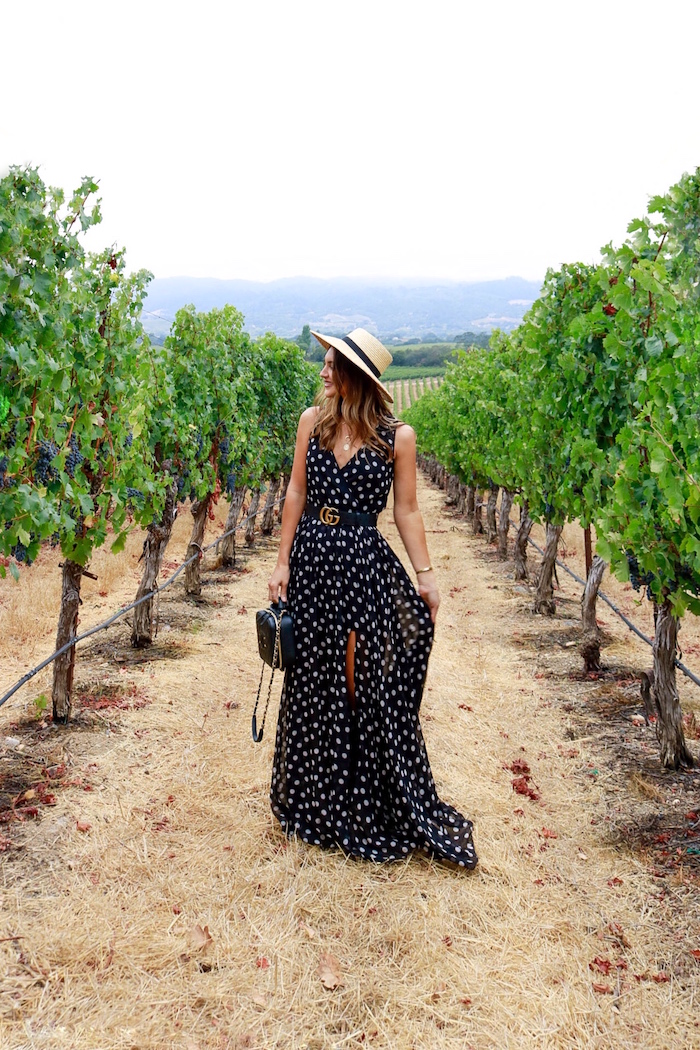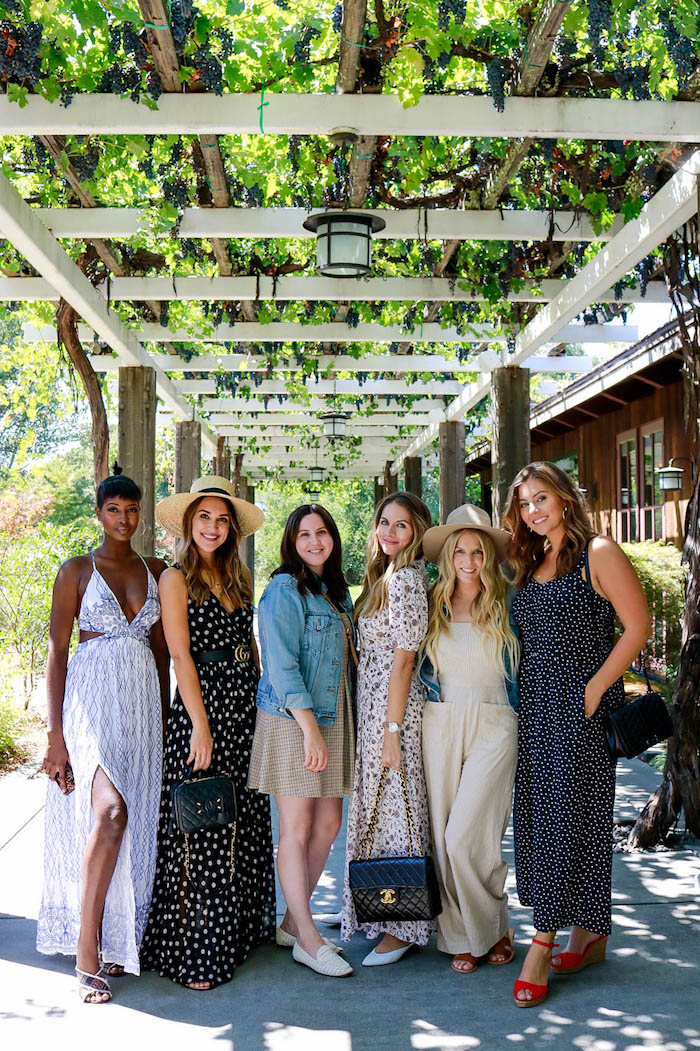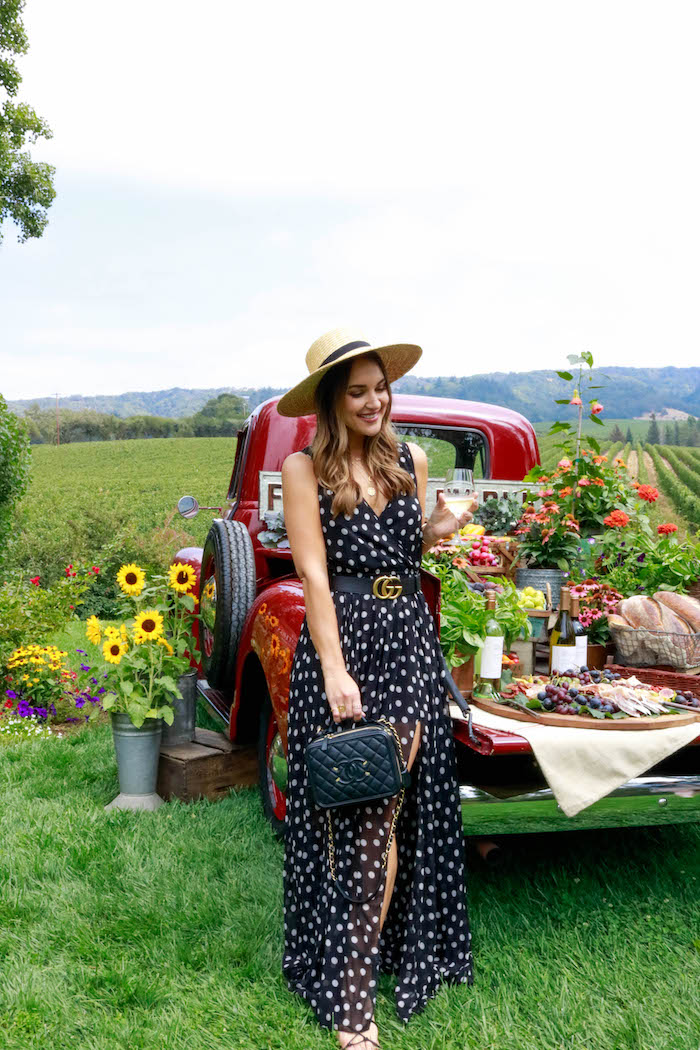 dress via Vici, similar styles here, here and here | heels, also available here | hat | belt | similar bag here and here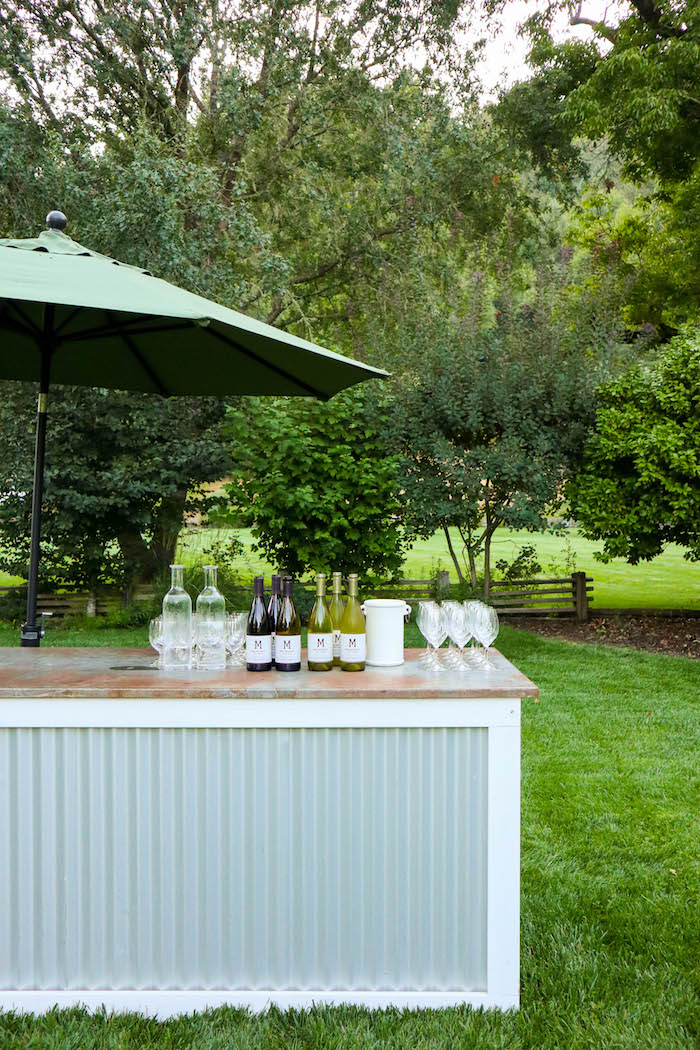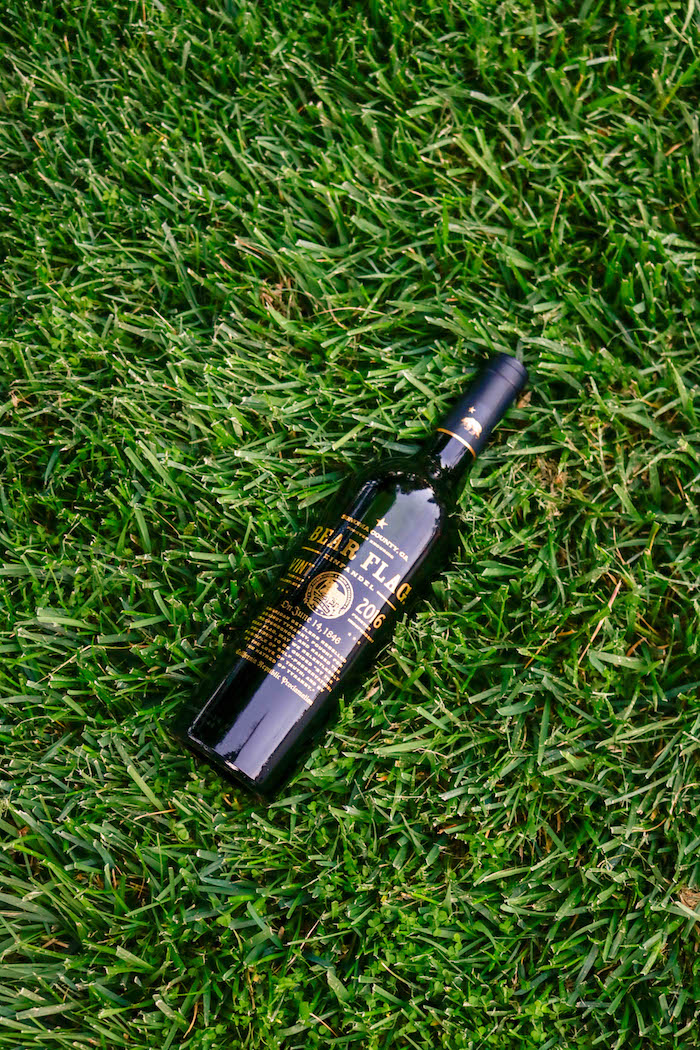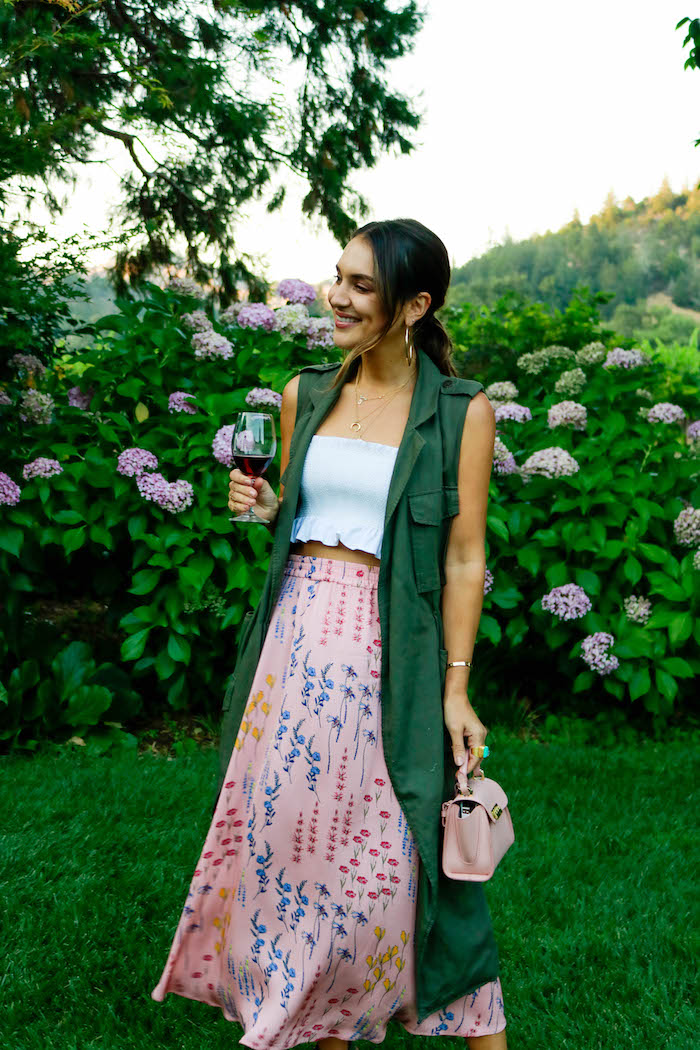 similar top, also love this one | similar vest | skirt | heels via Kat Maconie | similar bag | hoops | necklace 1, 2, 3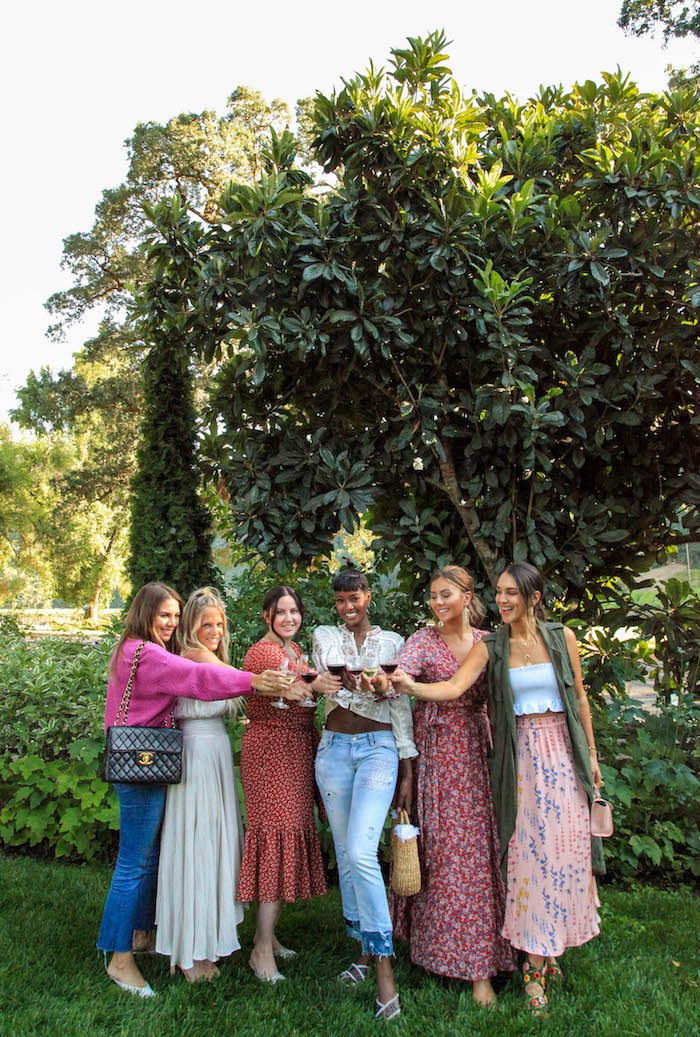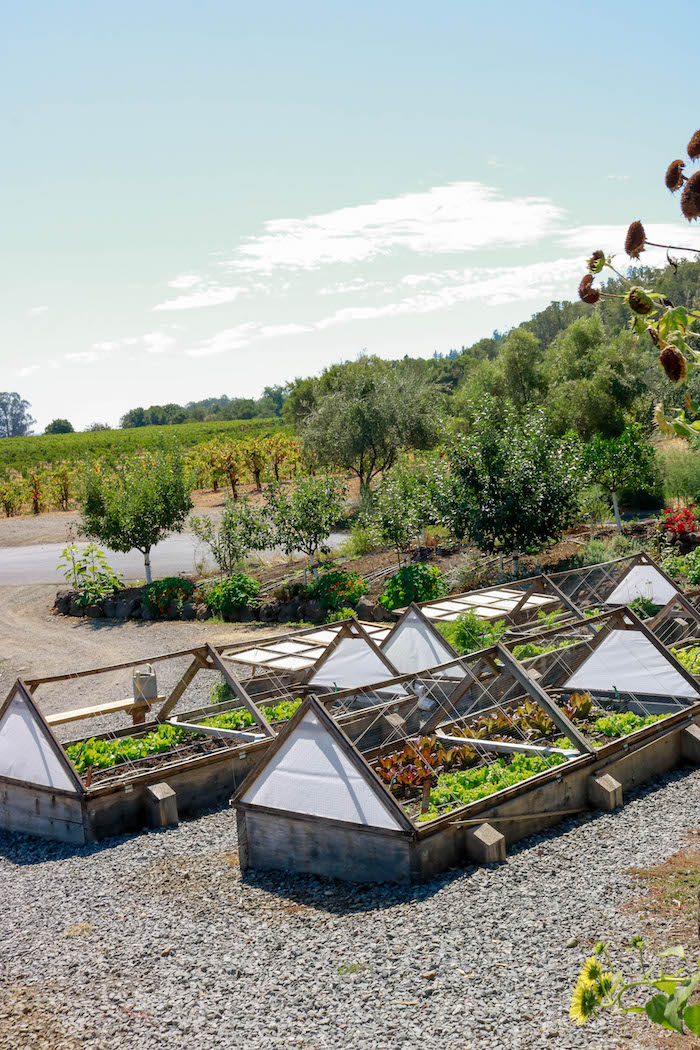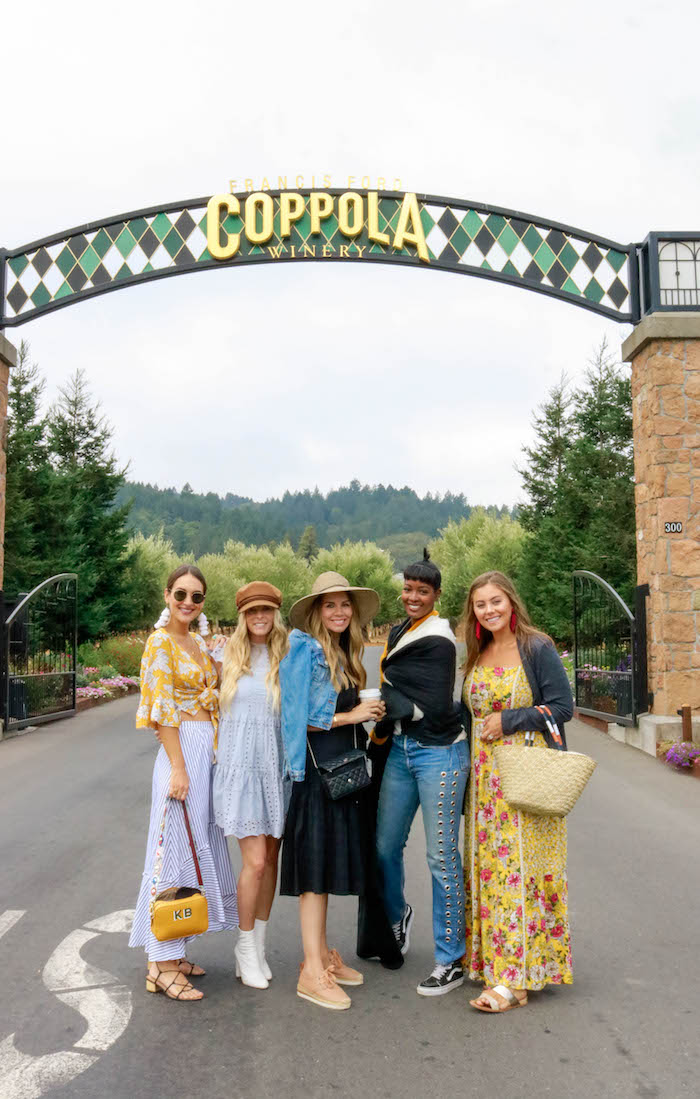 similar top here and here | skirt (on sale) | sandals | bag | purse strap | sunglasses | similar earrings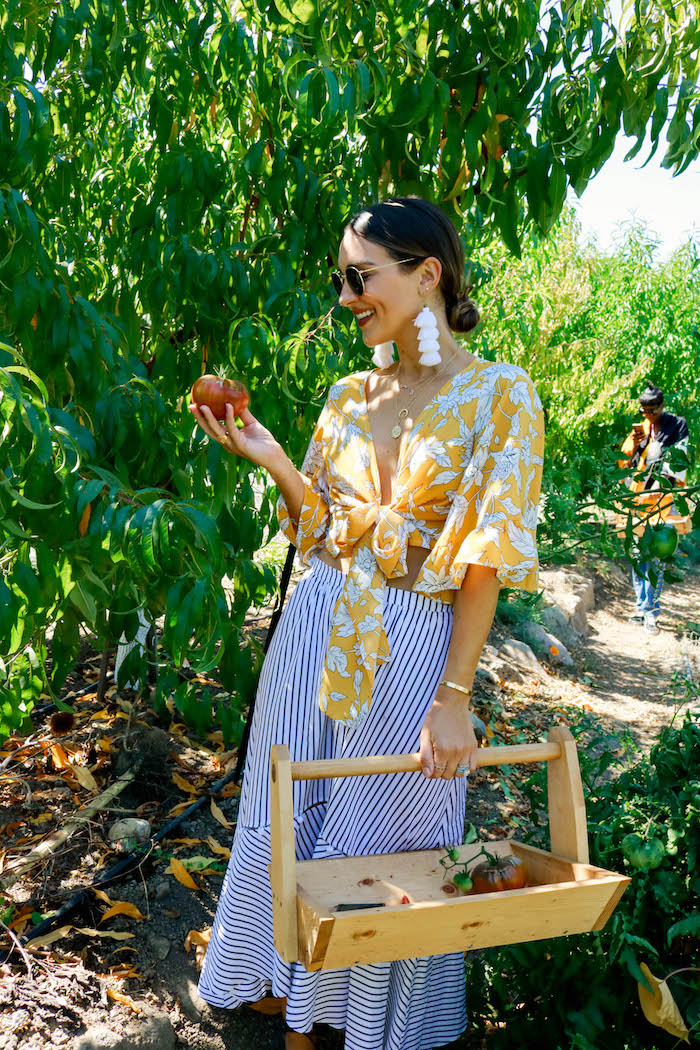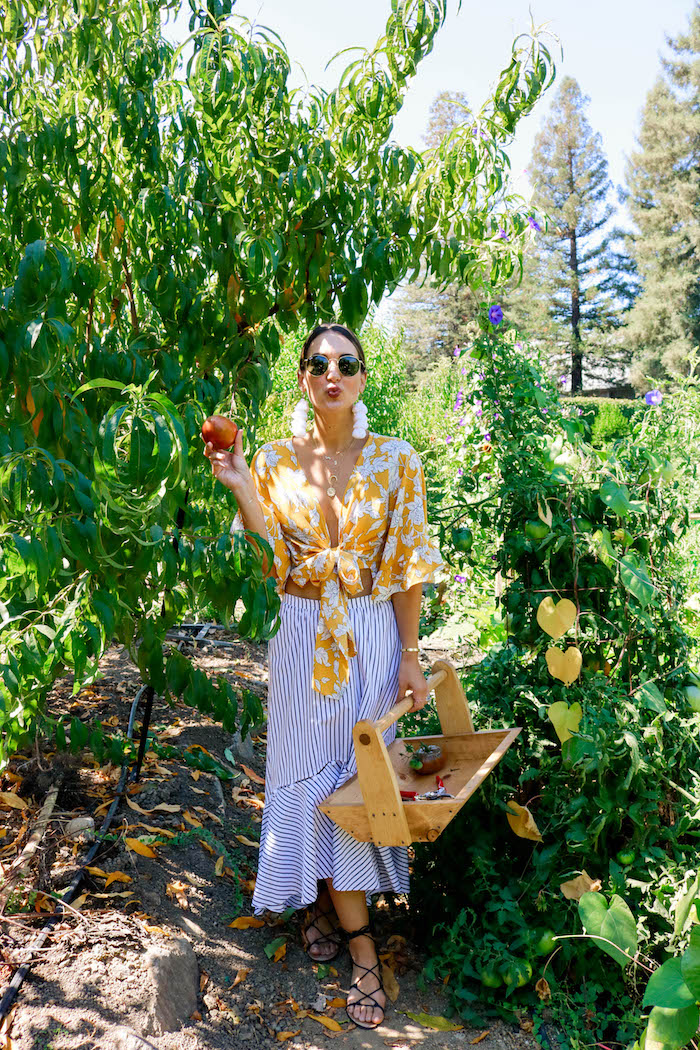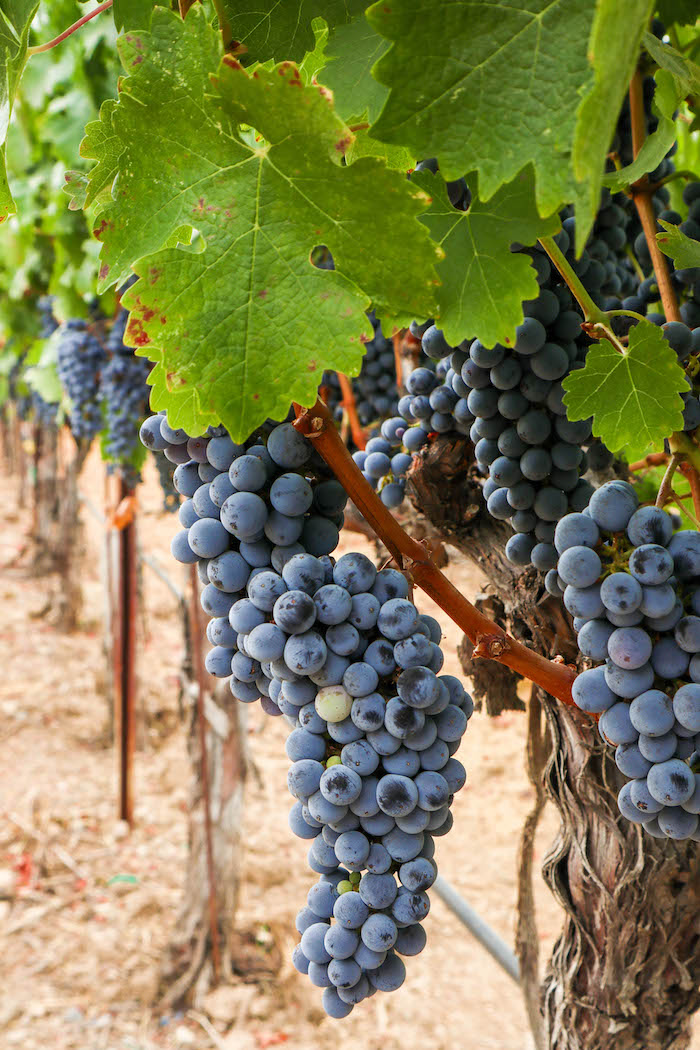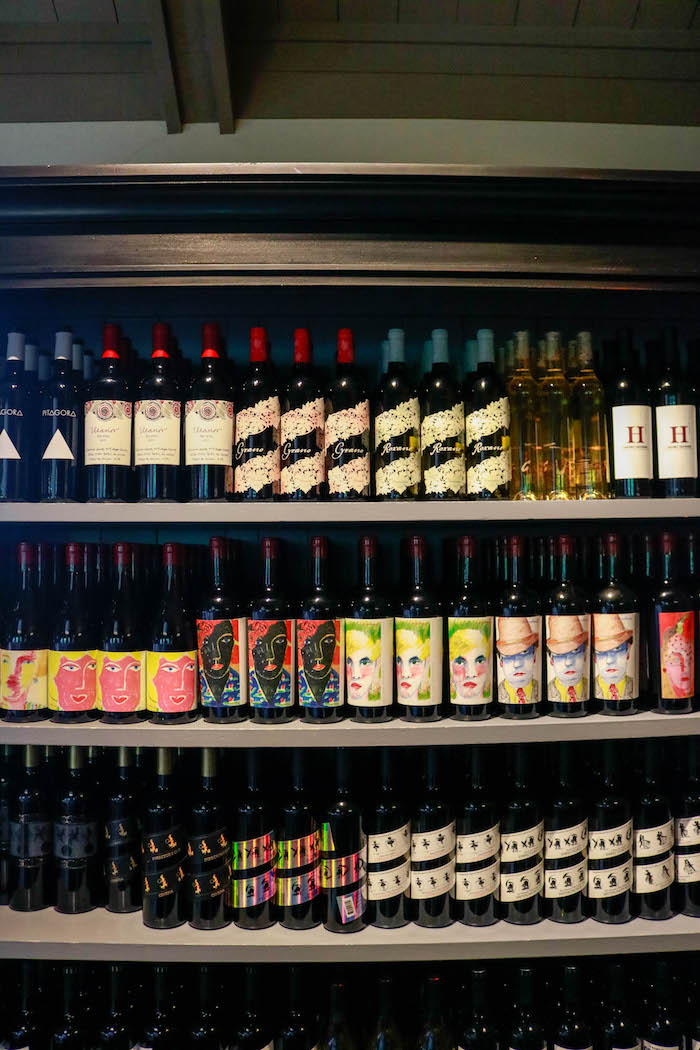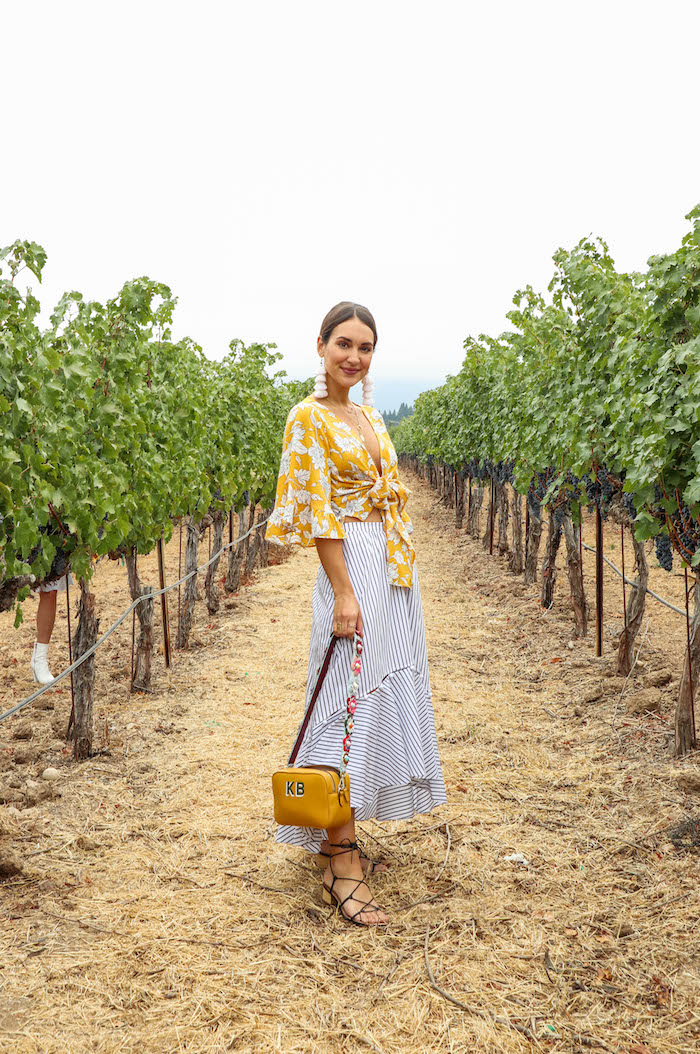 photos by Ashlee Green Matteri
Have you ever visited Sonoma County? It is really such a fun couples getaway or girls trip. Christian was so envious of my time in these gorgeous vineyards that he is determined to plan another visit in October!
Let me know if you have ever tried any of these wines or if you have a Sonoma wine you're partial to. I'm always looking for something new to try.  Thanks so much for reading and sharing – XO –
brought to you by Sonoma County Vintners