Oh hi October! Like most girls (or so it seems), fall is my favorite time of year. It's my favorite weather, favorite fashion, favorite holidays (Halloween and Thanksgiving!), favorite holiday movies… and some of my favorite foods.
Enter pumpkin bread! I always make pumpkin bread or muffins this time of year, but it's never really been up Christian's alley. So I challenged myself to make a loaf that even Barnez couldn't deny was delicious. And I succeeded!
The catch? Chocolate chips and a streusel topping.  So I mean, is this the healthiest treat in the books? Not really (but you can find something more like that here or here!), but it's still delish and worth sharing!
Ingredients:
1 Box Pumpkin Bread Mix (I used Trader Joe's) – if you're not lazy like me, this is a great recipe!
1/2 Bag White Chocolate Chips
For Topping:
3 Tablespoons Brown Sugar
1/2 Tablespoon Flour
1/2 Tablespoon Cold Butter
3/4 Teaspoon Cinnamon
Pinch of Salt
Directions:
Follow directions on box for pumpkin bread (or follow steps in this recipe), add chocolate chips and bake at 350 for 50-55 minutes (or until toothpick comes out clean).
While baking, make streusel topping. Crumble on top of bread once cool.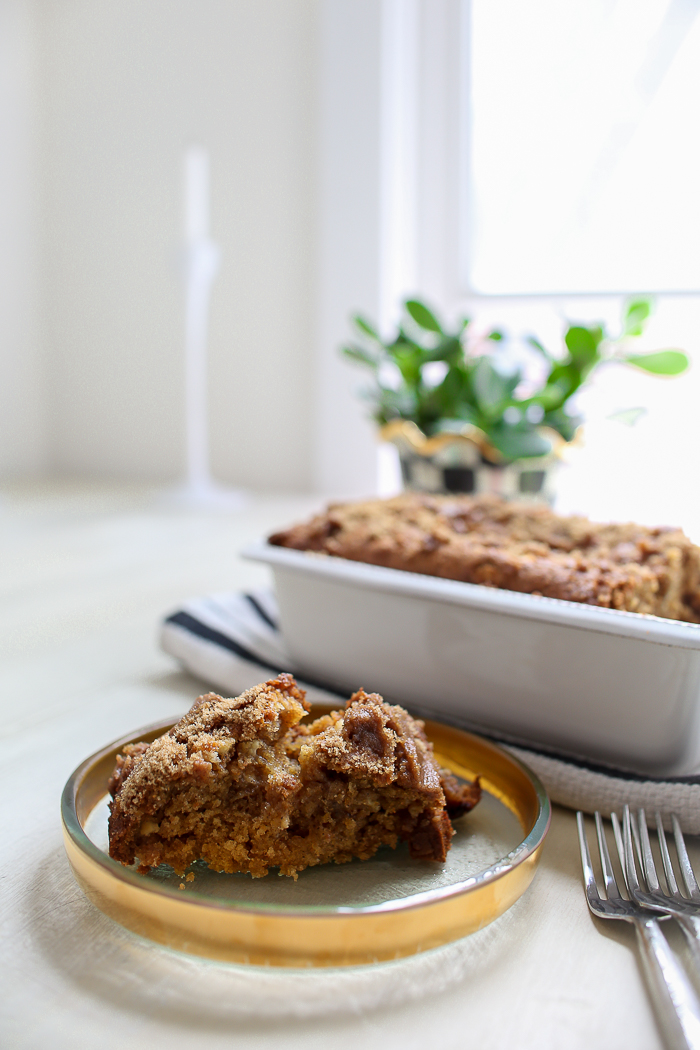 My recipe is a little more semi-homemade, but if you're feeling like Betty Crocker you could totally make this from scratch.  The added sweetness makes this a little more appropriate for dessert, and it fills some of those fall cravings.
Pour a cup of coffee or a glass of milk and grab a blanket.  Ooohh girl – tis the season! For more recipes, check out the food & drink category of CBL. Thanks so much for reading! XO –