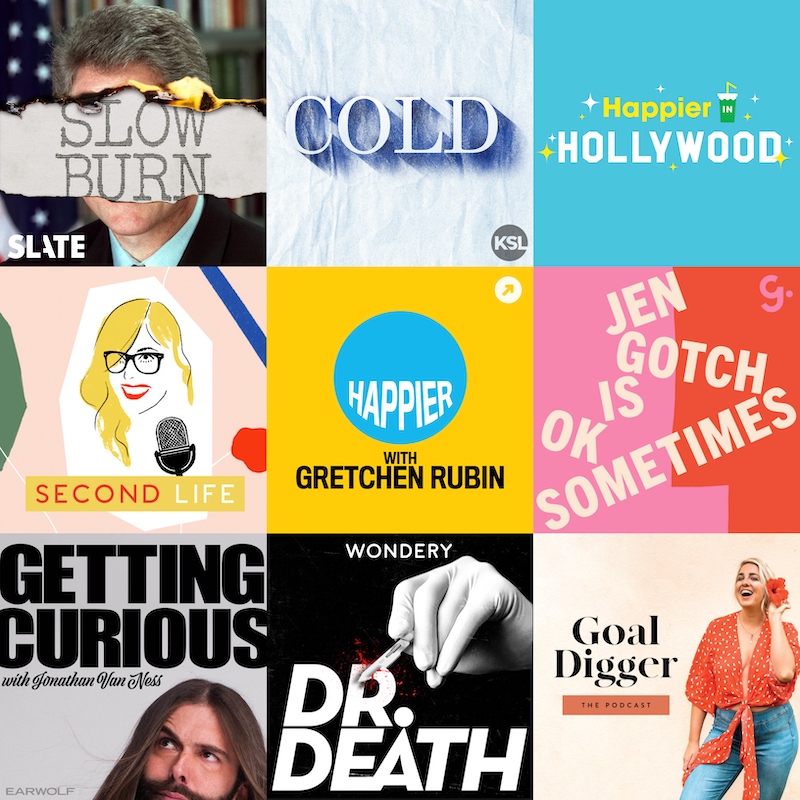 I've shared some of my favorite podcasts of 2016 and 2017 before, but I haven't posted about podcasts in a little bit, and if you follow me on Instagram you know I'm always looking for the latest and greatest.
Best of all, don't forget that all of these podcasts are totally free in the podcast app on your phone!  Let's get into some current favorites –
Slow Burn | My mom actually recommended this podcast and it is fascinating. I was in early elementary school when Clinton was President, so I obviously was unaware of so much during that time.  Regardless of your age or generation, this is worth a listen.
Cold |  I heard about this podcast from following other bloggers online and quickly became addicted.  It's centered around the 2009 disappearance of Susan Powell in Utah, and the story is wild and heartbreaking.  If you are interested in true crime stories, you'll quickly binge this one.
Happier in Hollywood | The slogan of this podcast is, "A podcast about how to be happier, healthier, saner, more creative, more successful, and more productive in a back-biting, superficial, chaotic, unpredictable, and fundamentally insane world."  LOVE IT.
Second Life | I just discovered this podcast and am loving it!  The host is Hillary Kerr of Who What Wear, and she interviews all kinds of inspirational and successful women.  I loved the episode with the Foster sisters and also Busy Phillips!
Happier w/ Gretchen Rubin | This podcast was my avenue for discovering Happier in Hollywood.  Two sisters host this show about finding ways to be happier in our everyday lives, and some of their tips are so simple yet brilliant.  Gretchen's sister, Liz, is the co-host of Happier in Hollywood!
Jen Gotch is ok Sometimes |  I love Jen Gotch's realness on Instagram, so when I heard she had a podcast I immediately subscribed.  Her discussions on mental health and vulnerability will both make your heart hurt yet laugh so hard.  She's a gem.
Getting Curious | I'm one of the many who watched Queer Eye and instantly fell in love with Jonathan Van Ness.  If you love him on your TV, you'll equally love listening to him host all kinds of intelligent people for deep conversations on government policies, current events and thought-provoking dialogues.  He really is such a bright light, hunny!
Dr. Death | WOW WOW WOW.  Having listened to medical and hospital jargon since I was born, this podcast blew. My. MIND.  To think that someone this ill-prepared and unskilled could get so far as to operate on so may people is beyond upsetting. BEYOND UPSETTING.  Addictive and binge-worthy listen.
Goal Digger |  I've known Jenna Kutcher for several years now, and I always knew she would do big things.  She began her influential career as a photographer (and is beyond talented), and now she has carved out a space to have big conversations about marketing, social media, self-love and entrepreneurship.  I was fortunate to be interviewed by her here, and she has so many amazing conversations on her podcast! A big inspiration.
Are you a podcast lover? I'd love to hear what you've been listening to lately!  Thanks so much for reading and sharing – XO –