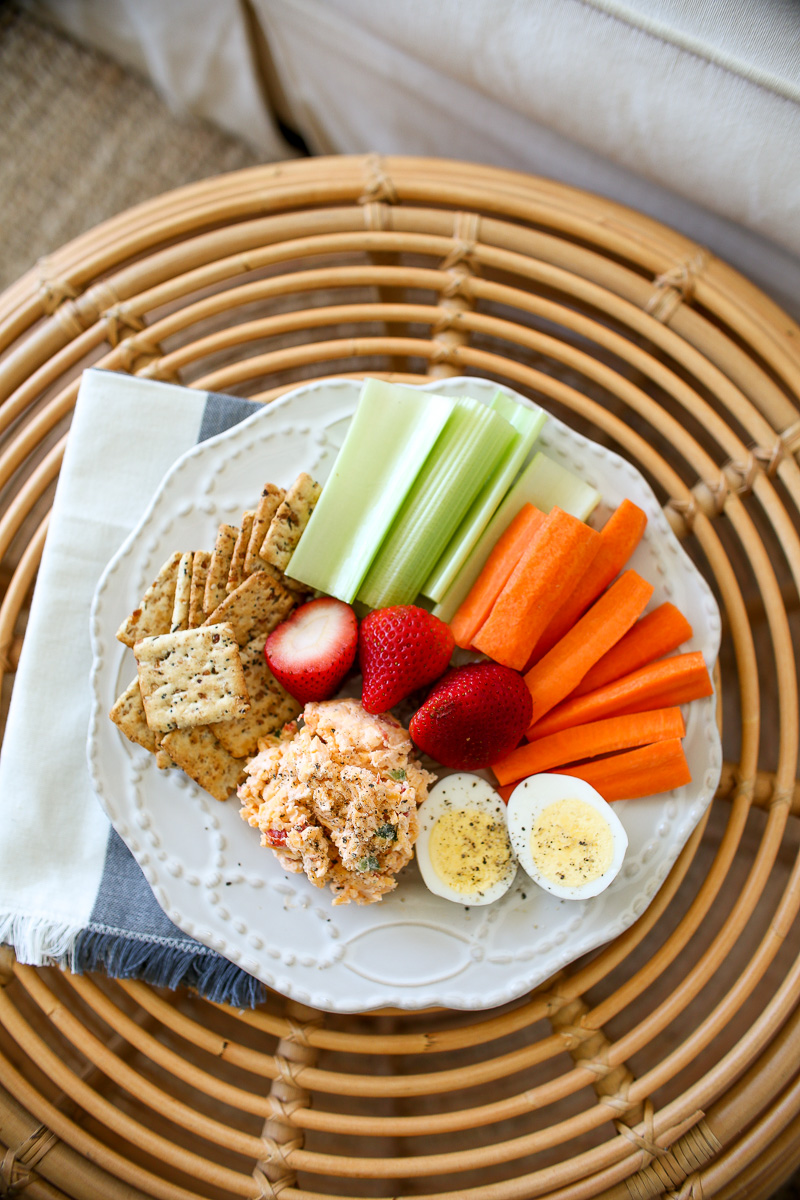 After spending almost the entire month of April in Texas and Mississippi, I had this urge to make pimento cheese.  I thought it would be so great for lunches, so I made the batch above and it seriously made my week.
At dinner every night, Christian and I verbally say three things we are grateful for that day, and I'm not exaggerating, one day it was for my pimento cheese.  If you're Southern, you grew up eating your grandma's pimento cheese on celery, on sandwiches, crackers, cheez-its, basically anything.  I hadn't made any in years, and it is so easy!
I usually eat mine like the photo above – with crackers, some veggies and some protein.  That can be a boiled egg or a few pieces of rolled up turkey, whatever works for you.  I've also heard of people making pimento grilled cheese!  You can add pecans, not add the jalapeño, there really are so many ways you can make it your own.
Ingredients:
12 oz sharp cheddar cheese, shredded
4 oz light cream cheese
1/2 cup plain Greek yogurt (or you could use mayo)
1 jalapeño, seeded and finely diced
4 oz jar pimentos OR finely chopped jarred red peppers
1/4 teaspoon garlic powder
1/4 teaspoon onion powder
s & p
Directions:
Mix cheeses and yogurt together. Add spices, jalapeños and pimentos/peppers together. Store in the refrigerator for up to a week!
If you have a unique pimento cheese recipe, I would truly love to hear.  This was a Southern gem like my Grammy's cheese straw recipe, so I would love to hear if you plan on trying this!  Thanks so much for reading – XO –