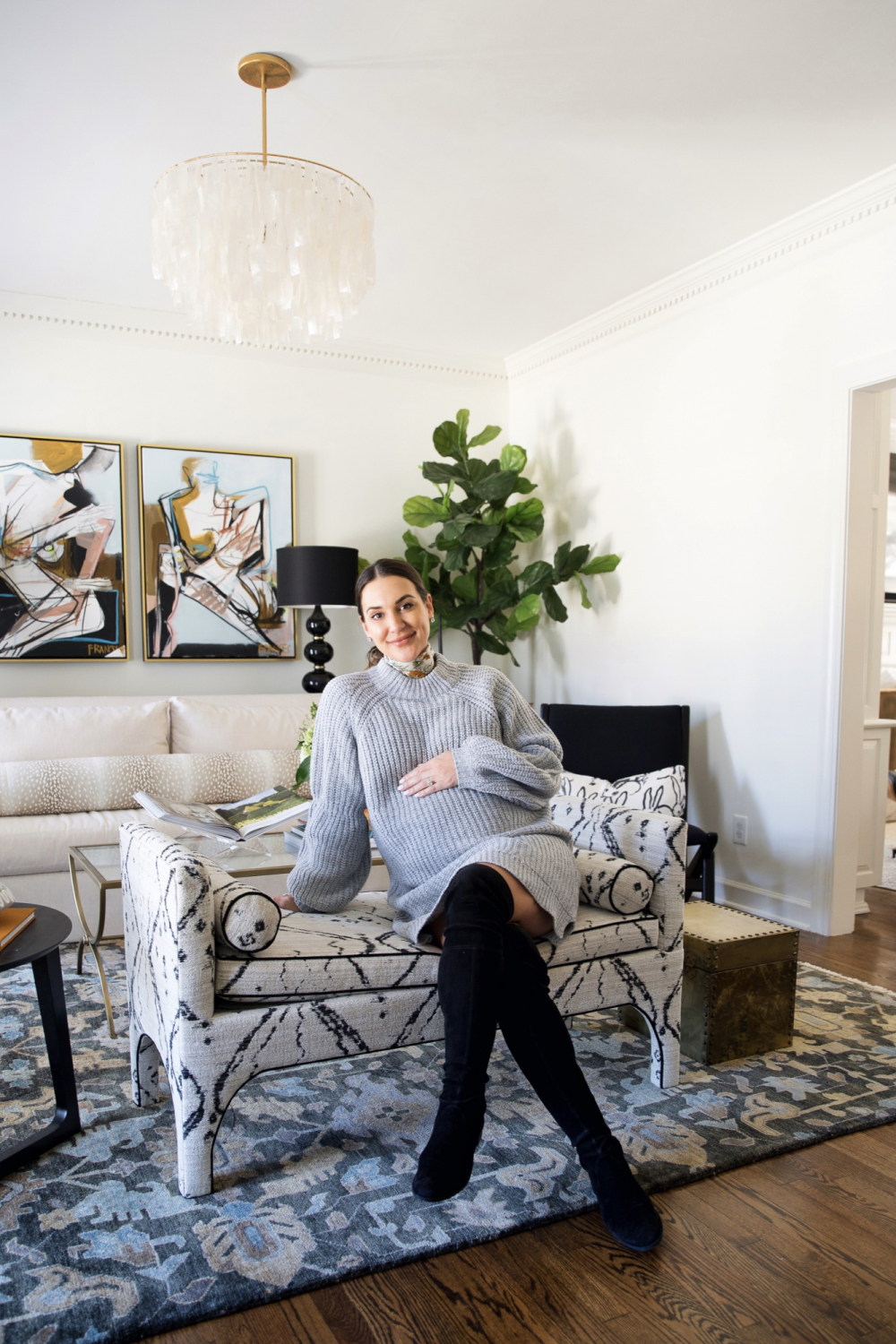 similar sweater dress here (on sale) and here | neckerchief | boots | room details
I recently packed  my hospital bag and actually used my first hospital bag packing list to remember what to take with me. Truthfully, I think it's the best resource for all the little details, but I wanted to share a few extra things I have in my bag this time!

One thing I couldn't remember if they offered me at the hospital or not last time was a heating pad. I've had a lot of back pain this time around (this support belt has been really useful), and I don't want to go anywhere without my heating pad.
I have this nursing pillow but when I originally bought it for Hudson, it didn't offer these beautiful velvet covers! Mine is gray and white cotton, and I'm jealous of this green velvet.
At the hospital where I delivered, the towels were super small and thin. I was so glad I had brought a velcro towel wrap and shower shoes. I think I only showered once while there for two nights, but I was so thankful to have a few small things to make that experience easier and nicer.
I'm also bringing a variety of pacifiers that I've already washed and sterilized. Hudson's favorite were these despite my efforts to get him to like "cuter" ones.
I've got the doona car seat/stroller installed in my car and ready to go. I don't know how I would have survived the first year without it! Worth the investment.
I have these pajamas and these pajamas in my bag, along with a little pink and blue going home outfit for me and a mini steamer. I also packed some sweet outfits and swaddles for the baby, specifically pants so I could easily get them in the car seat for the ride home. I remember crying on the ride home with Hudson because I just couldn't believe our baby was here, healthy and on the outside of my body. Overwhelming gratitude.
For other second or third-time moms out there, was there anything you added to your hospital bag that you're glad you did? Again, this original post is what I used to pack my bag this time and I still find it super helpful.
Thanks so much for reading – XO –