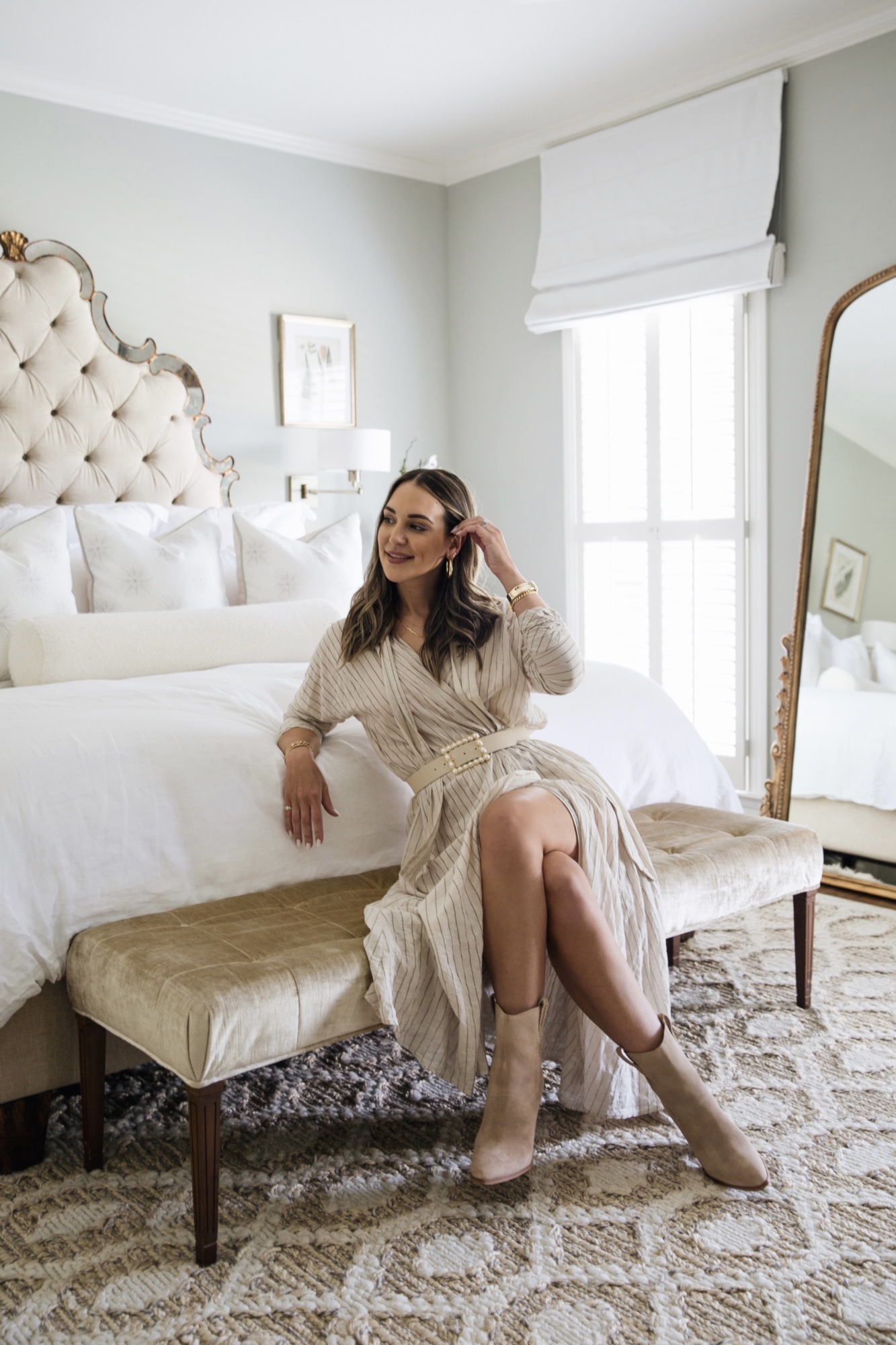 belt | boots (included in the #NSale)
What's a good hostess gift for a weekend stay that can be taken on an airplane?
TableTopics cards or some cool wooden cooking spoons? These are a little silly but I do think they would bring a smile, especially for someone with kids.
How often do you do Pilates a week?
I try to go twice a week. Would love to go more, but it's just not realistic with work and family.
What kitchen drawer organizers do you like?
I have two of these sets and they're awesome. These look really nice too!
I always love your recipes. What have you been making lately?
I have been loving this super simple salad.
This banana bread recipe is my favorite so far.
I'm making these ham & cheese sandwiches for Christian this week because he loves them.
I've also been making rice bowls with jasmine rice, grape tomatoes, marinated chickpeas (same as this recipe), pickled red onions, avocado, lime juice, grilled corn and sometimes a green goddess dressing. That's what I love about a rice bowl – just throw anything in there.
What do you think will be popular in fashion this fall?
Runway trends are always fun to keep an eye on. I am excited for more pops of pink, lots of knitwear layering, leather on leather, and power suits.
Linen pant recommendation?
I recently got these and they're really pretty!
I also have these and the elastic waistband is pretty great.
What nursing bra do you like most?
My body isn't the same after baby #2. I hate getting dressed. Any advice?
I would focus on loose, easy-breezy dresses that will still be wearable as your body continues to change.
Where is the rug from in your guest bedroom?
You can find it here. I don't have it in my overall rugs post because I never did a formal blog post on the guest bedroom. It's small but it does the job!
Do you have a favorite sunscreen?
This summer I've been all about Supergoop! I love the PLAY collection, including this spf 50, the spf 50 spray and the Unseen Sunscreen spf 40.
Can you share what you ask for from your colorist for color?
I usually just show her pictures of what I like and trust her expertise. I've found that you get what you pay for. So I splurge on hair color because I've been burned before, and it's worth it to go to someone who has a lot of experience!
I would also recommend checking out their social media feed to make sure you like the end result of what they share. You can also reference photos of their own client photos that you like!
I go to Catie and Jessica at Tribe Hair Company.
Which Agolde jeans are your favorite?
What are your favorite sunglasses this summer?
Lately it's been these big sunglasses, these look for less sunglasses and this cat eye pair.
What kind of shampoo & conditioner do you use?
Right now I'm using Bondi Boost HG Shampoo & Conditioner. I have also been taking Nutrafol to hopefully curb some of the postpartum hormonal hair loss.
Thank you so much for sharing your questions and for reading! If you have any to submit for the next round, please leave them in the comments. XO –