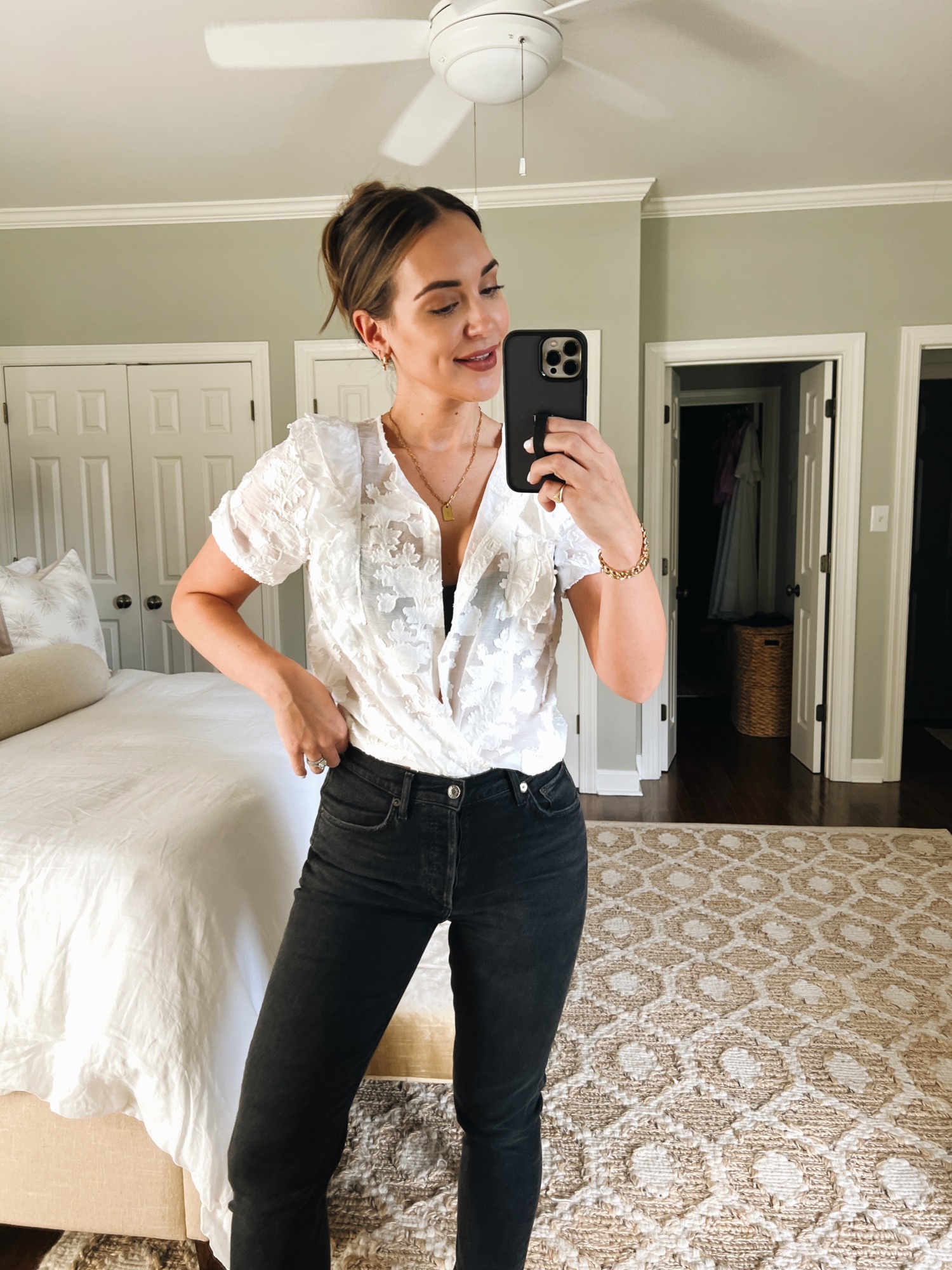 Tips on feeling chic on a day of errands, grocery, dropoff, etc.?
When I'm getting dressed quickly for a lot of "to-do's," I typically grab a white or black fitted tee or top like the above and denim. The above outfit is linked here! Easy, effortless, put together.
How do you pose for pictures? As in, what advice do you have for us camera-shy girls who want to look better in pics?
My recommendation would be to practice in the mirror and take mirror selfie photos of yourself. Don't worry – you can delete them later!
But after you have a few selfie-style photos in different poses, scroll through and see which you like most of yourself.
Would love your review of The Citizenry coffee table. Do you recommend it?
Yes, I really love it and think it is beautiful, a great size, and incredibly well made. You can see it in the photo below!
Can you share a photo of how you style the open shelves in your home? Links?
I am absolutely not a shelf styling expert. I styled these multiple ways over the span of a year or so before I got to a setup that I've left alone for a while. I would look at shelf styling in catalogs and magazines/coffee table books and then try to recreate the same look using pieces I already have.
I don't have links for the majority of these pieces, but I do have some!
lamp slips | marble ruffle bowl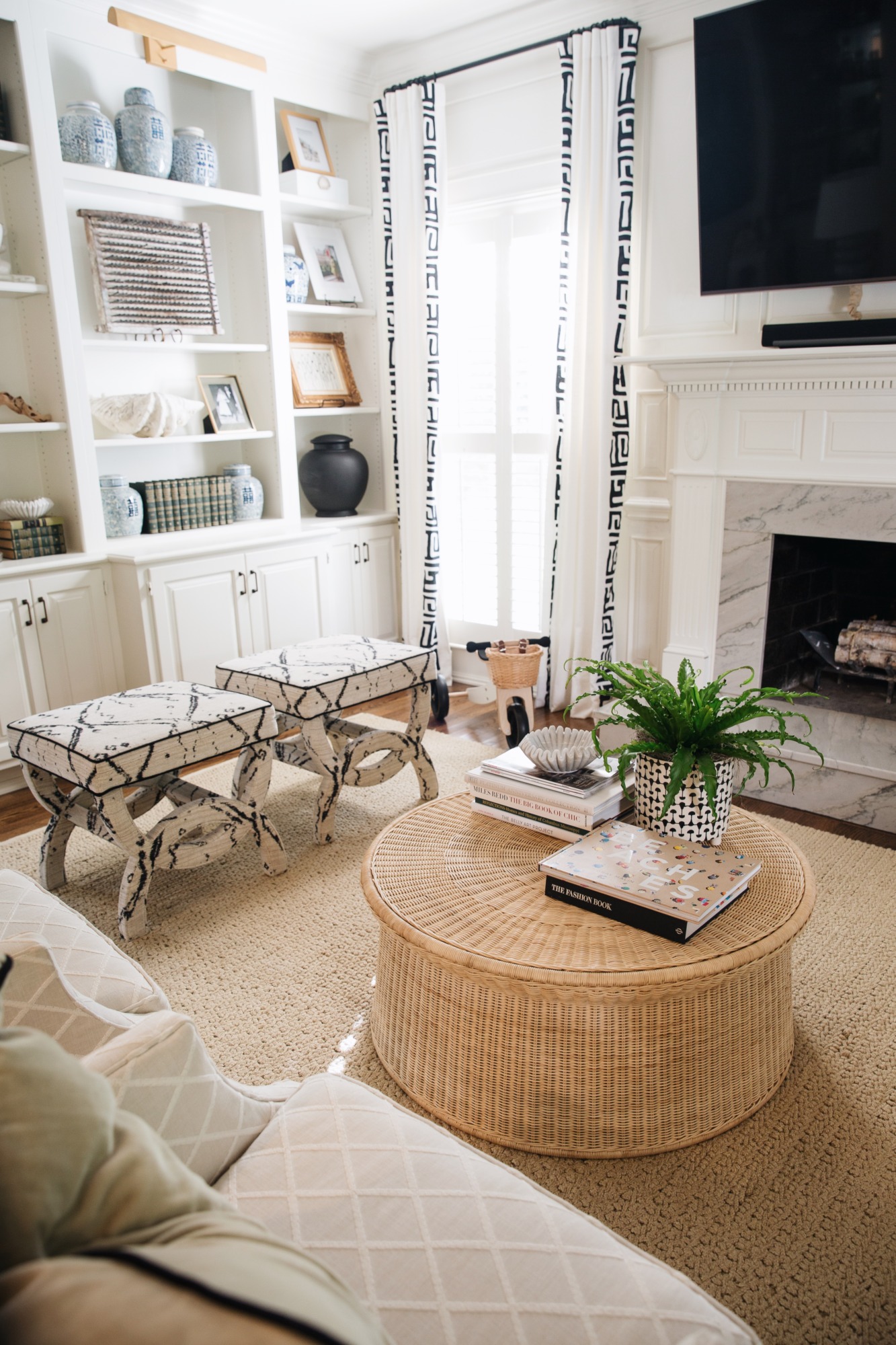 Can you share the cowboy caviar recipe?
This recipe is from Courtney Kerr! Combine ingredients in a bowl and refrigerate. It's the best!
COWBOY CAVIAR
3 cans black beans, drained and rinsed
3 small cans chopped green chilies
1 bunch green onions
1 ripe tomato, chopped
4 garlic cloves, minced
2 TB cilantro
1 TB hot sauce
1 TB worchershire
1 tsp black pepper
2 cups Newman's Own Olive Oil & Vinegar Dressing
Outfits for girls' trip to Charleston on Labor Day weekend!
I have been in Charleston during the same time of year, and when I tell you I have never sweat so much in my life. It was beautiful but incredibly sweaty. I would focus on breathable, comfortable, and something that won't show a ton of sweat. Linen options like this or this would be perfect!
Sheets can be so expensive! Are the good ones really worth the investment?
We have Boll & Branch sheets (I love these and these), and while I know they are an investment, I have no doubts. They're the best, they hold up incredibly well and they make me feel like I'm at a five-star hotel when I crawl into bed. What's better than that?
Blog post on how to build a capsule wardrobe? I want to but don't know where to start.
I get asked about capsule wardrobes in every Q&A, but I've never explored capsule wardrobes personally. So I'm not very educated on it!
But I did a quick google search and found this article that led me to Candice Tay who might be able to help you out. Itsy Bitsy Indulgences also provides some guidance in capsules.
What prenatal vitamin did you take?
Ritual. You can get 10% off your first three months with Barnes10.
Favorite self-tanner for your face?
For years I've used these drops, but I recently tried this face tanner and like it as well!
For my body, I've been using this 2-hour self-tanner and applying it with a medical glove. I really, really like it.
Dress recommendations for newborn photos?
You can see what I wore in Theo's newborn photos in this post and this post.
What do you use to make your hair so slick? It always looks perfect but not over product-y.
Thank you! The annoying news: I use nothing. After I wash my hair I use this thickening gel and Moroccan Oil on my ends. Then I air dry. I have naturally straight, fine hair but a good bit of it. I just pull it back and use a velvet scrunchie. If I need to tame baby hair, I use clear mascara.
I've been wearing the low bun for years because it works with my face and hair texture. It just happens to currently be a trend, but I do it more for a lazy hack!
Do we all agree that Hudson looks like Dad and Theo looks like Mom?
Hudson is definitely a physical clone of Christian. Not so much Christian's baby pictures, but they look alike now (to me at least!).
I don't see myself in Theo as much, but I do see my side of the family. He kind of looks like a combination of my siblings and myself as babies. If you compare Hudson and Theo at the same age, they do not look alike.
However, I do think the boys have a similar smile. And Hudson and Christian have different smiles, so I love that they uniquely share that!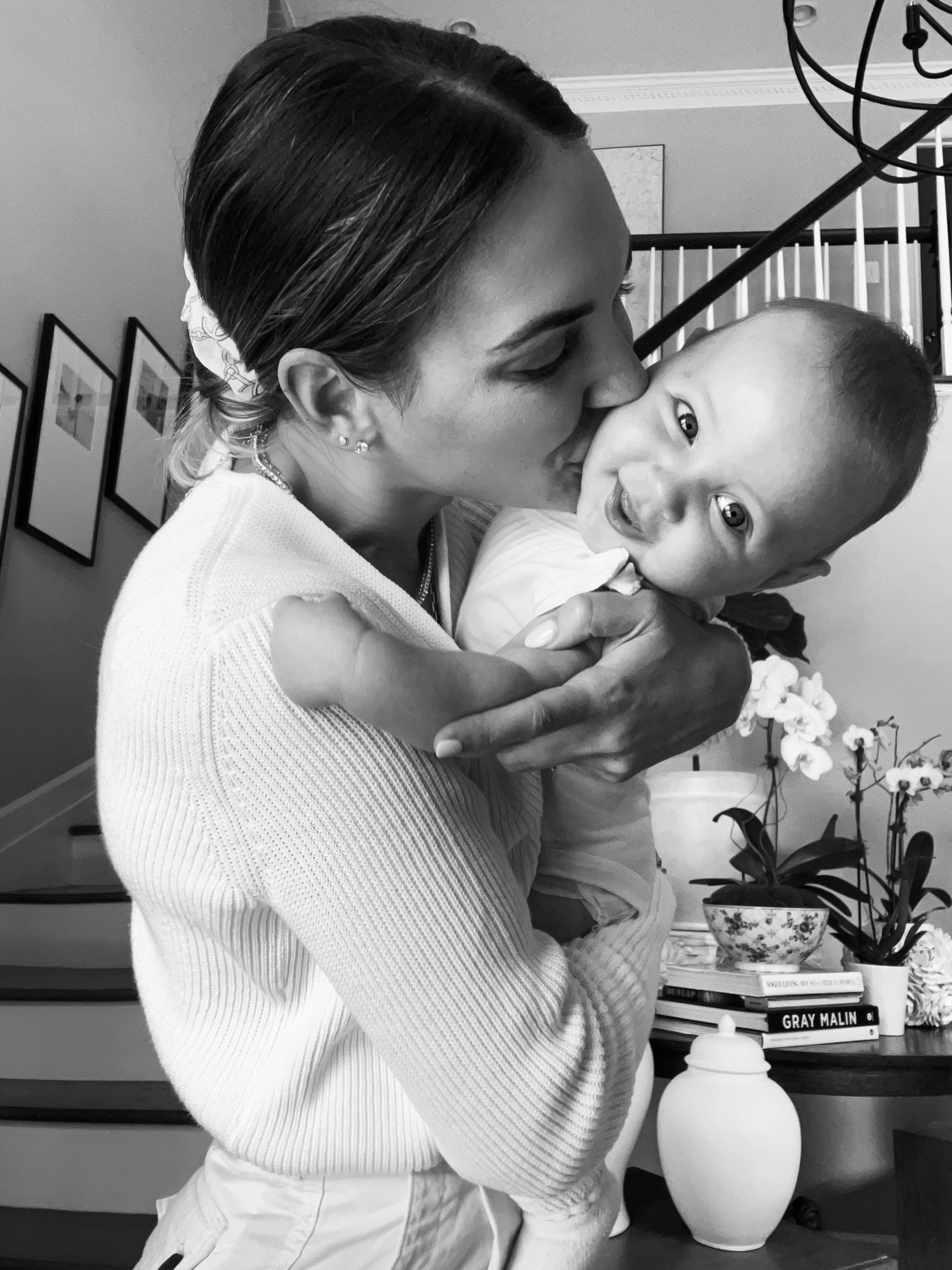 Any Amazon purchases you've been loving recently?
Any home decor items on your wish list right now?
Always! I wish I had a spot for this mirror.
Can you share some of the gold necklaces you've been wearing lately?
Yes! You can see the below linked here.
Thank you so much for sending in your questions! See you in September for another round. You can find all other Q&A's in the "personal" category – XO –