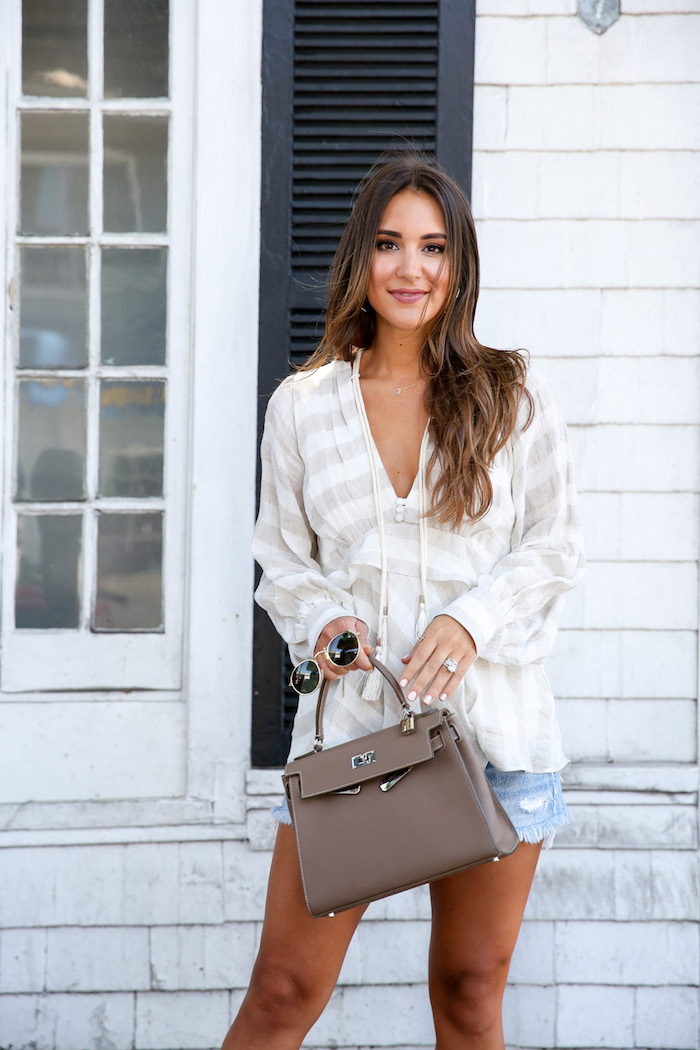 Remember in this post and this post when I talked about dressing for your body? Well, this is an example of me not doing that. Ha! But seriously, a billowy top with shorts is not necessarily highlighting my best features. I usually highlight my waist and cover these legs, but sometimes you find a piece so fabulous that you have to make an exception.
I never paid more than $30 for a pair of denim cutoffs… until I moved to Southern California. When the weather is 70-85 year-round, you find that a few awesome pairs of shorts become essential. My waist to rump ratio is not of the average gal, so it takes a special pair to fit like a glove and these are the winner. So much so that I bought this second pair.  For less of a splurge I really like this pair too!
photos by Vincent Elejorde

top via Hunter Bell, also love this one and this one and love this dress version | shorts (run TTS), also available here, just bought these | bag | heels, flat version on sale here and here | sunglasses | "3" necklace | earrings | monogram ring | albion ring
And of course I couldn't go without acknowledging the fabulous ladies at Lavender Salon and Boutique for blowing out this mane and doing my makeup before this shoot. I was so lucky to coincide a little girls pampering day with a Vincent-shoot day, so I had to give proper credit because you KNOW I couldn't get dolled up this good!
If you're in the Newport Beach area, this place is the best.  Thanks so much for reading! XO –