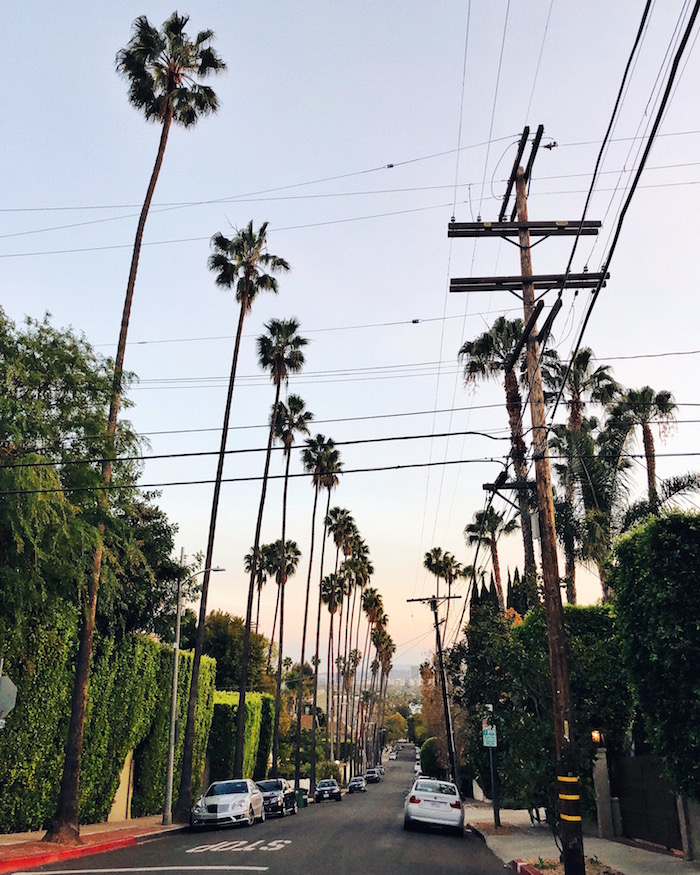 One of the most frequently asked questions I get from you guys is what to do in OC + LA. I have a Guide to OC, but I lived an hour south of Los Angeles… so I never really considered myself the guru of all things LA.
BUT, my brother, Patrick, and his fam have lived in LA for the past four years, and thanks to him, I have a list of recommendations for those of you looking for tips and tricks to the city!
I'm also including some of the photos I've taken over the years in LA.  I'm not linking items because many are years and years old, but I hope they'll give you an idea of the vibe of some of the different parts of town!

WEST HOLLYWOOD
STAY
Sunset Tower | I've never stayed here, but I've eaten at the restaurant here twice and it's pink and darling and fabulous. Have only heard great things about the hotel!
Sunset Marquis |  I've heard great things about this hotel as well!
EAT
The Hungry Cat Musso and Frank Grill | Classic, old school dinner restaurants that have been open since 1919. 
Osteria Mozza | Upscale Italian
Petit Trois | Upscale French
The Sycamore Kitchen | Casual breakfast and lunch spot.
Larchmont Wine and Cheese | Lunch
Bludso's Bar & Que | And we're Southerns so we don't take bbq lightly.
Connie and Ted's | Seafood
Son of a Gun | My brother's personal favorite seafood spot
Animal, AOC | Upscale American
Republique | Upscale French and great breakfast spot
Blue Jam Cafe | Breakfast
Meals by Genet | Ethiopian, another personal favorite of Patrick's
Odys + Penelope | Brazilian
Jon & Vinnys | Pizza
Sur | Food is good not great, but I mean, if you're a Bravo! superfan you gotta go. We actually saw Lisa and Jiggy here!
Gracias Madre | Vegan Mexican food, which sounds like a #fail but it's actually delicious and decor is on point!
ACTIVITIES
LACMA | I think this is both mine and Christian's favorite museum visit in the city. You can walk around outside for free, which also gives you free access to the Urban Lights Exhibit you've seen in movies and social media.
La Brea Tar Pits Museum | This was on Christian's list, and I went with him. I said it should be renamed the "Tar Pits Memorial" because it is both fascinating and so sad. The entire museum is about the natural asphalt that rose from the ground over 10,000 years ago. The museum shows the fossils of the animals who died there as the asphalt has been able to preserve their bones.
Getty Museum | You only have to pay for parking and you can walk around outside.  The outside of the museum is beautiful itself with its landscape architecture and has incredible views of the city and Pacific Ocean.
The Grove and the Farmer's Market | Very popular with tourists… but probably smaller than you think it is!
La Brea Avenue | Great shopping between Beverly and 6th. 

DOWNTOWN LA
STAY
Ace Hotel | I've had so many meetings here and also attending many events here as well. A great spot in the middle of the action. I mean, a cappuccino is probably like… $12 but that's LA for you!
The Line Hotel | Technically in Koreatown, but I've stayed in this hotel before and it is very, very cool with huge windows overlooking the city.
EAT
Grand Central Market | Very good, but has gotten very touristy and crowded (just a warning!).
Smorgasborg Food Truck Meetup | Sundays in the Arts District.  
Bestia, Drago Centro, Baco Mercat, Alma, The Factory Kitchen, Church and State | All popular downtown picks!
Langer's Deli | Easy lunch, Patrick's pick.
The Original Pantry Cafe | Patrick's personal favorite.
ACTIVITIES
Broad Museum | A contemporary art museum.

SILVERLAKE/LOS FELIZ
EAT
Intelligentsia Coffee | Good people watching and good coffee. You'll see this spot featured a lot on TV/movies.
Mh Zh
Night Market Song
Land's End
Pine and Crane
Little Dom's | One of my sister-in-law's favorites. 
Masa of Echo Park | Incredible deep dish pizza and personal favorite's of Patrick.
ACTIVITES
Griffith Park/Hollywood Sign | Great hiking. We hiked to the Hollywood sign on New Years Day and it was pretty epic!
Griffith Observatory | La La Land fans, you gotta go! Also the view is outrageous both day and night.

BEVERLY HILLS
STAY
The Beverly Hills Hotel | Ok yes, this is a crazy splurge. I've only stayed here once but I wish I had saved up for a second visit! It is truly darling and lives up to the expectation.  If you DO stay here, make sure you take a visit to the pool and Polo Lounge… great celeb spotting place!
Mr. C Beverly Hills | I've never stayed here but have always wanted to.
Sofitel Beverly Hills | The Sofitel is reasonably priced and dog-friendly, so we have actually stayed here with Bailey several times. Great location and easy!
SLS Beverly Hills | I've stayed here a few times as well and have had a great stay each time.
EAT
The Cabana Cafe | So yes, the salads are like $45 but the ambiance and people-watching is top notch. I've eaten here a few times and it was always worth it! Try to make a reservation if you can!
The Ivy | I've been here a few times – you absolutely need a reservation, no matter what day of the week. The food is good but the people-watching is GREAT. A must-do in the neighborhood and worth the hype (in my opinion). Even the valet is good people-watching.
Villa Blanca | Christian took me to lunch here on my birthday when we first moved to OC and Scheana was waiting tables that day, ha! Food was good not great, and I bought a $50+ bottle of wine that I've still not drank because I'm that kind of person.
Taste on Melrose | Probably my favorite
ACTIVITIES
Rodeo Drive | A quick walk but a must-do if you're visiting for the first time!
Melrose Avenue | Another great stroll. TONS of amazing stores and boutiques, be sure to pop in Alfred Coffee!
Greystone Mansion | Absolutely breathtaking and completely free. You can walk the property and peek in the windows… but leave your fancy cameras in the car because they're not welcome here. I learned that when snapping this post!
Beverly Gardens Park | A beautiful park in the area you can drive by or walk through easily.

COASTLINE
EAT
Malibu Farm Pier Cafe | This restaurant is out on the pier, but you'll definitely will have to wait to get a table.
The Tasting Kitchen
Gjelina
ACTIVITIES
Venice Canals and Abbot Kinney | If you're in that area these are fun to see, but Patrick and I both agree it's not worth a trip just to see it. 
Malibu Country Mart | Lots of upscale shopping and restaurants with a big playground in the middle for those with kids.
Manhattan Beach | A favorite beach for locals. You can easily spend an entire day here with half the day at beach and half the day walking around the stores here.

PASADENA
ACTIVITES
Rose Bowl Flea Market | Once a month and absolutely massive.
Huntington Gardens | Probably the best garden-museum in the city.
Descanso Gardens | Also beautiful but not as beautiful as Huntington Gardens (in Patrick's opinion).

OTHER SUGGESTIONS
Runyon Canyon | Finally went on this hike toward the end of my five years in Southern California and it totally lived up to the hype. This website is great for showing the hiking options in the area.
Dodgers Baseball, LA Lakers, LA Clippers | I've been to a Clippers game and my brother says Dodgers tickets are easy and inexpensive to get!
Live Music | This site will show you who is playing and they have a free app as well!
Outdoor Movies | Hollywood Forever Cemetery and Rooftop Cinema Club 
Comedy Shows | Upright Citizens Brigade, The Comedy Store, and The Laugh Factory
Studio Tours | I've done both the Universal and Paramount Studio Tours with visitors and they were both so fun! I learned so much about the behind-the-scenes of movies and television shows, and now I honestly look at them so differently. Mind-blowing!
I hope this guide will be helpful to any of you looking to visit! Huge thanks to my brother Patrick for basically writing this post for me. Thanks so much for reading – XO –