We live right next to a park, and since we've moved into our new apartment I've thought, "we should definitely plan a picnic this summer." So I wanted to get some things together for a cute little happy hour picnic date… and then I thought about San Francisco's major wind blowing everything over, keeping drinks cold, logistics, etc…
Enter an indoor picnic!  I was like, you know what? Let's open all the windows, put on some Leon Bridges and have this party inside. No regrets!
Our summer has been a little more stressful than others because of our move, and I wanted to slow down, enjoy a summer afternoon and savor these moments we have together. Let's be honest, there's no better way to have a happy hour date than with a cold Stella Artois and a cheese plate.
So let's get into my tips for planning the perfect happy hour in your own place –
Your Besties, S/O, Pets –
Not that having a clean house to yourself isn't something to celebrate (because it totally is), but my favorite happy hours are when I get to sneak in some quality time with Christian or catch up with my girlfriends.  And that includes Lula and Bailey, obviously.
Cold Beer
Is there anything better than a super cold beer?  Christian and I have been drinking Stella Artois for years. I love a cold Stella after a long work week, and after going to Sundance with them and learning even more about their company, I love a cold Stella even more!
A quick trick I learned is if you're trying to cool down a room temperature can: stick it in the freezer for 20 minutes. Seriously though, set a timer! Do not freeze that bad boy by mistake!
Snack Time
Where there are drinks, there should be bites.  My go-to for hosting a get together is a cheese and charcuterie plate. When styling a cheese board, my must-haves are:
At Least Three Different Cheeses | I typically go for a sharp white cheddar, goat cheese and brie.
Nuts | My favorite are truffled almonds!
Olives | I go for blue cheese or almond stuffed.
Dried Fruit | Apricots are my pick.
Fresh Fruit | Grapes are a always a great idea as well as figs if they're in season!
Meat | Salami or prosciutto are usually crowd pleasers.
Mustard, Preserves | To add some bite –
Crackers | Some assorted crackers are even better.
Music
You gotta set the mood! Leon Bridges and John Mayer are easy choices. You can check out some of my playlists here and here.
Blankets and Pillows
If you want to have an outdoor picnic or even a little floor party arrangement like we did here, blankets and pillows are key. They help create that comfortable and cozy vibe that keeps everyone lingering.
Candles, Flowers and/or Greenery
I love to light some candles and have fresh flowers or greenery. It's not necessary but it definitely adds to the ambiance.
Games
I love having some dominoes, a puzzle or playing cards out.  You would be surprised how many fun memories we have centered around a board game. We have moved three times in six years and the drawer of board games always makes the cut!  Another fun thing to have is a mini polaroid camera (how I use these mini photos here) for guests to use. A fun an easy party favor!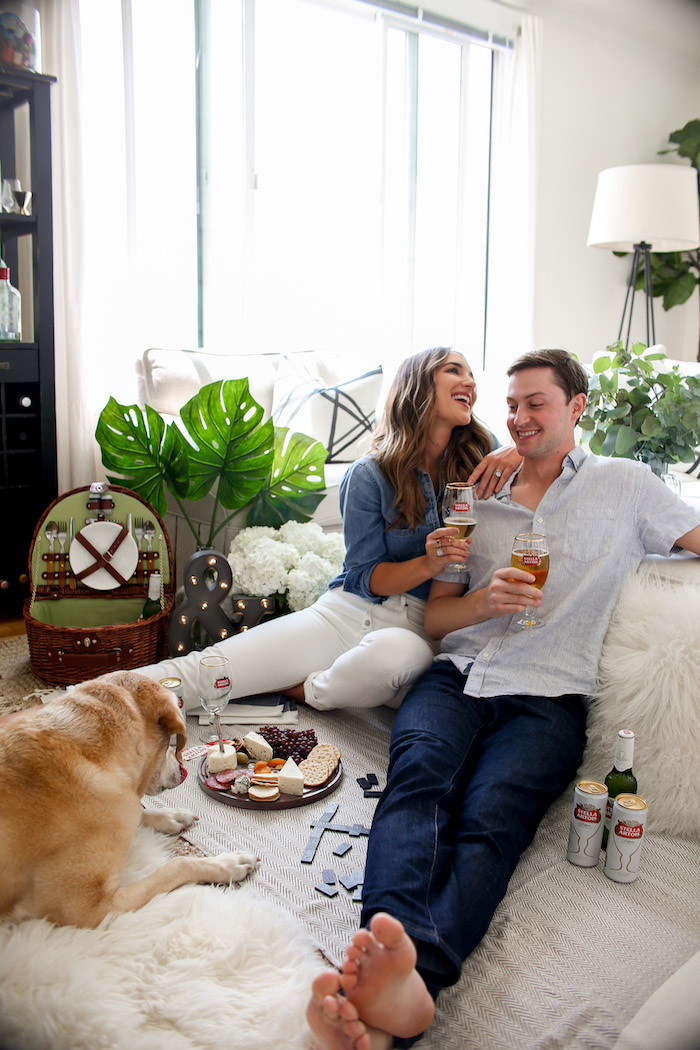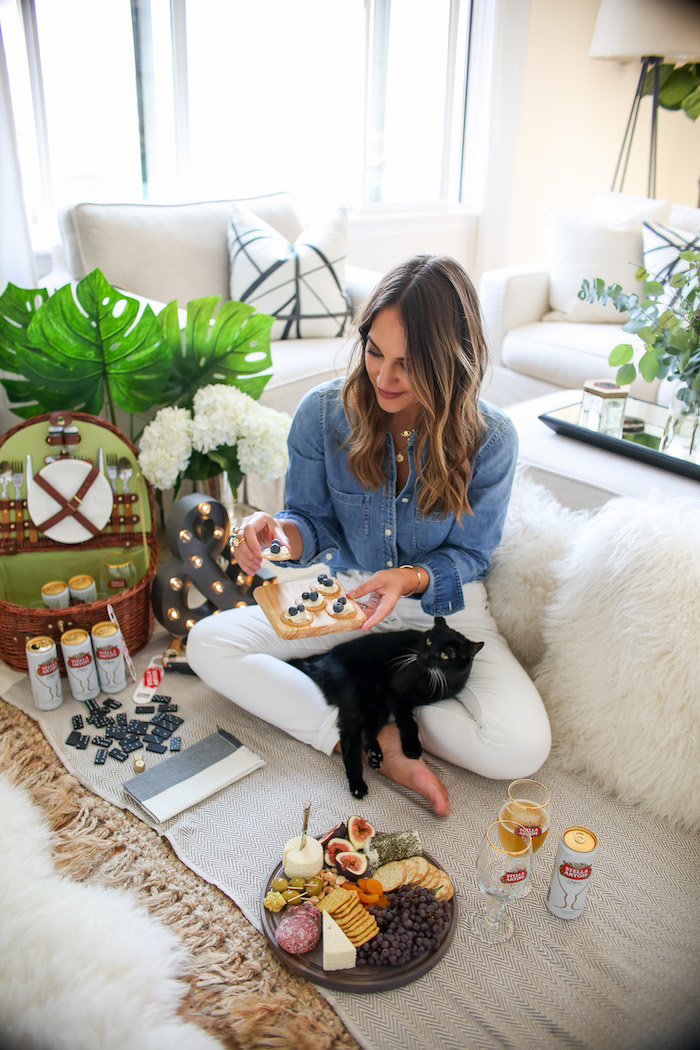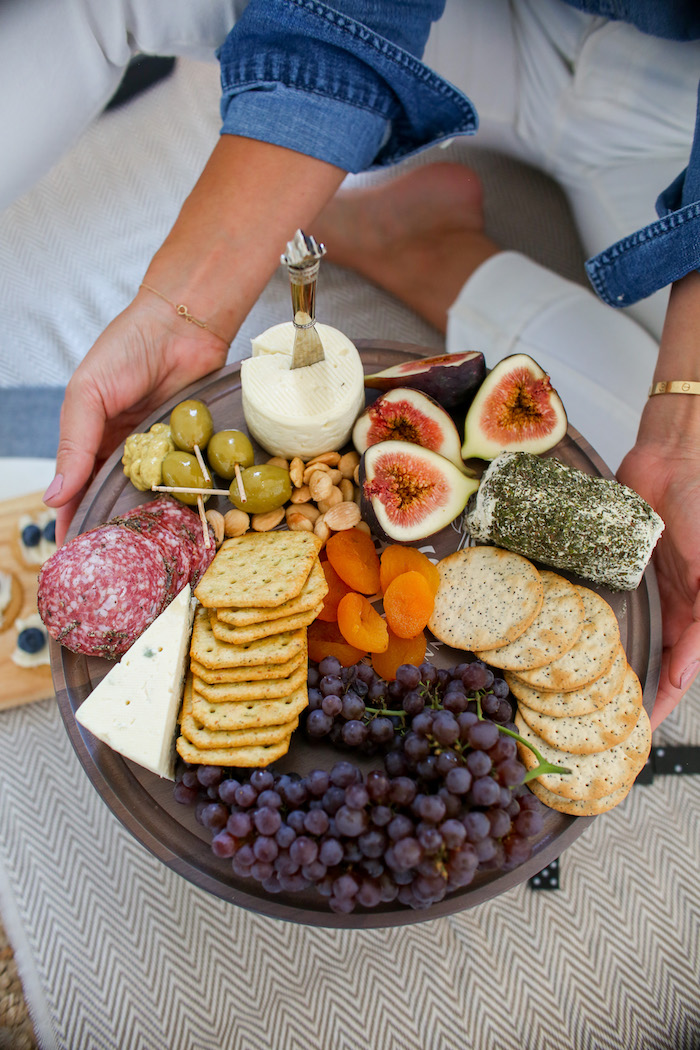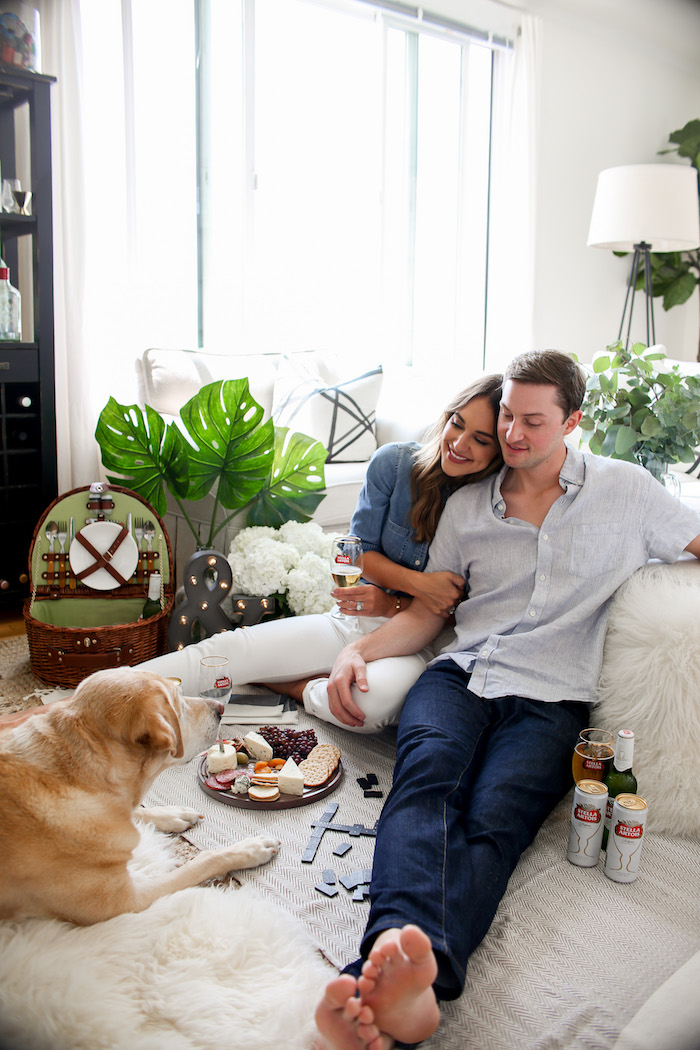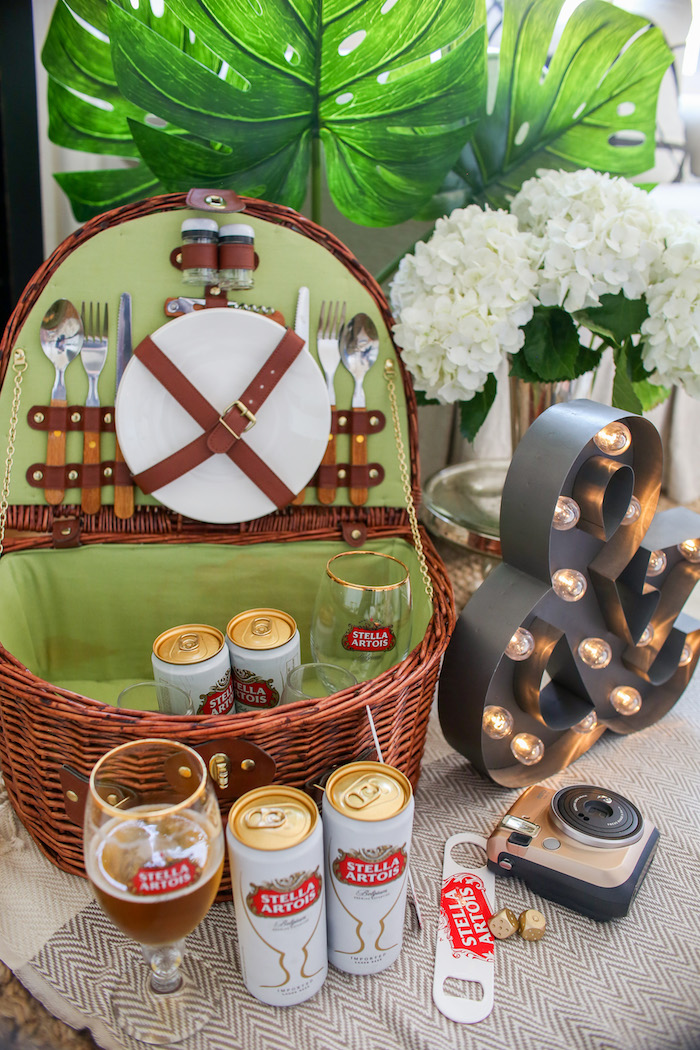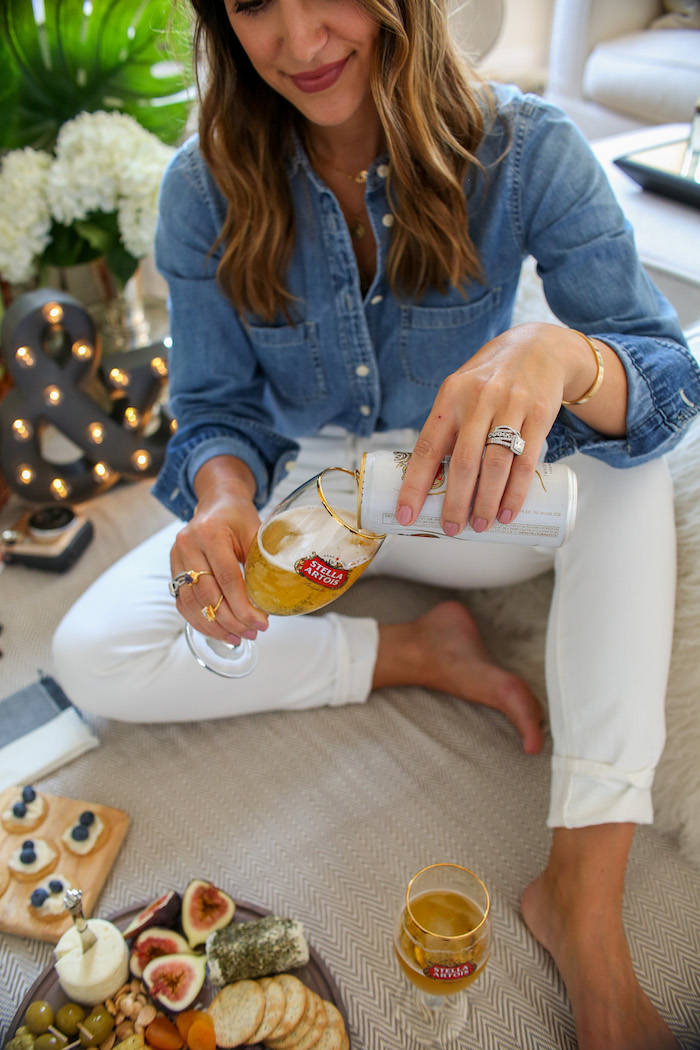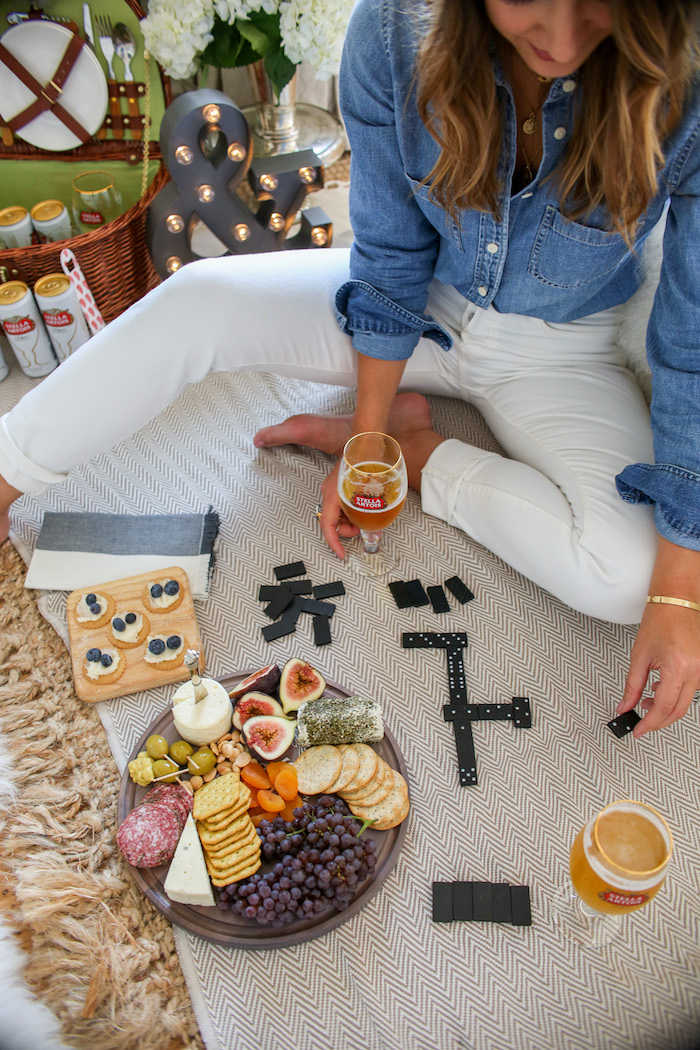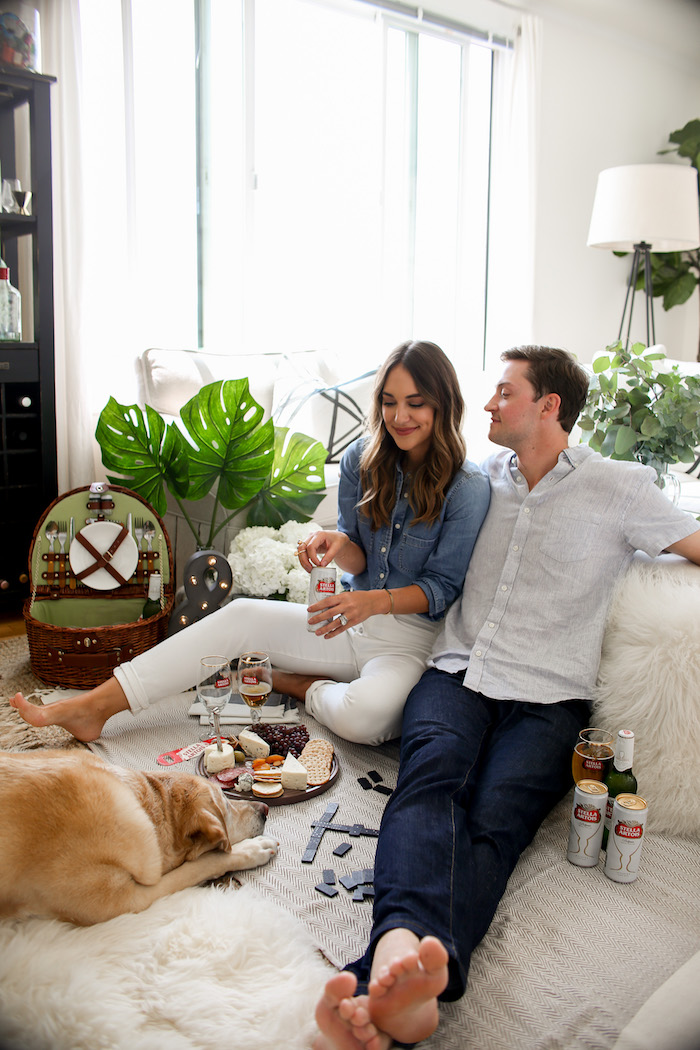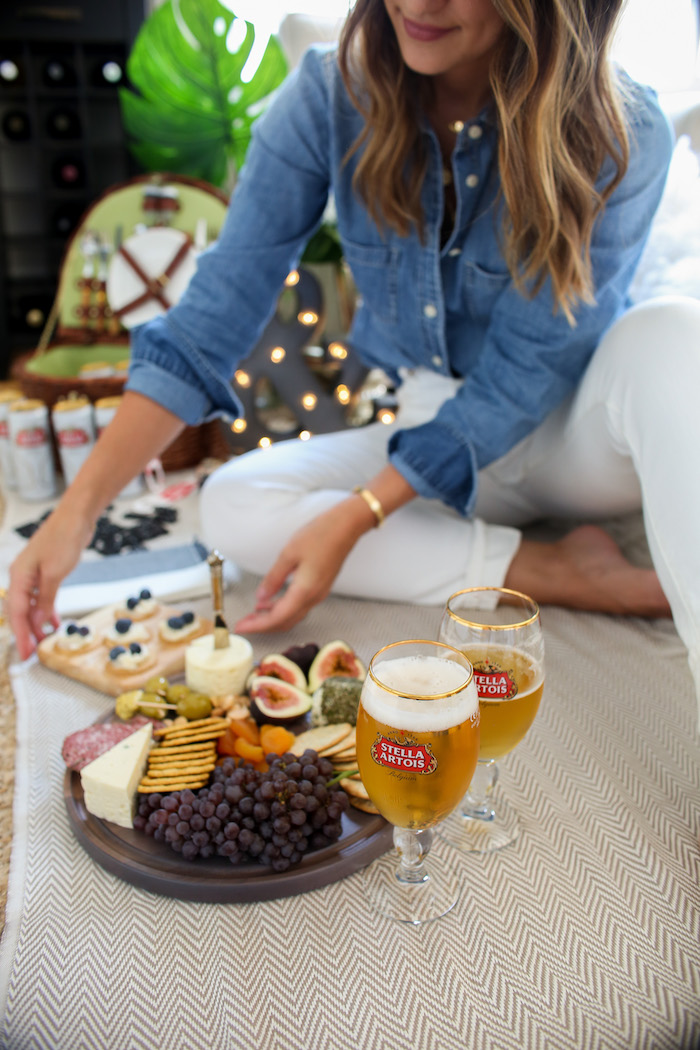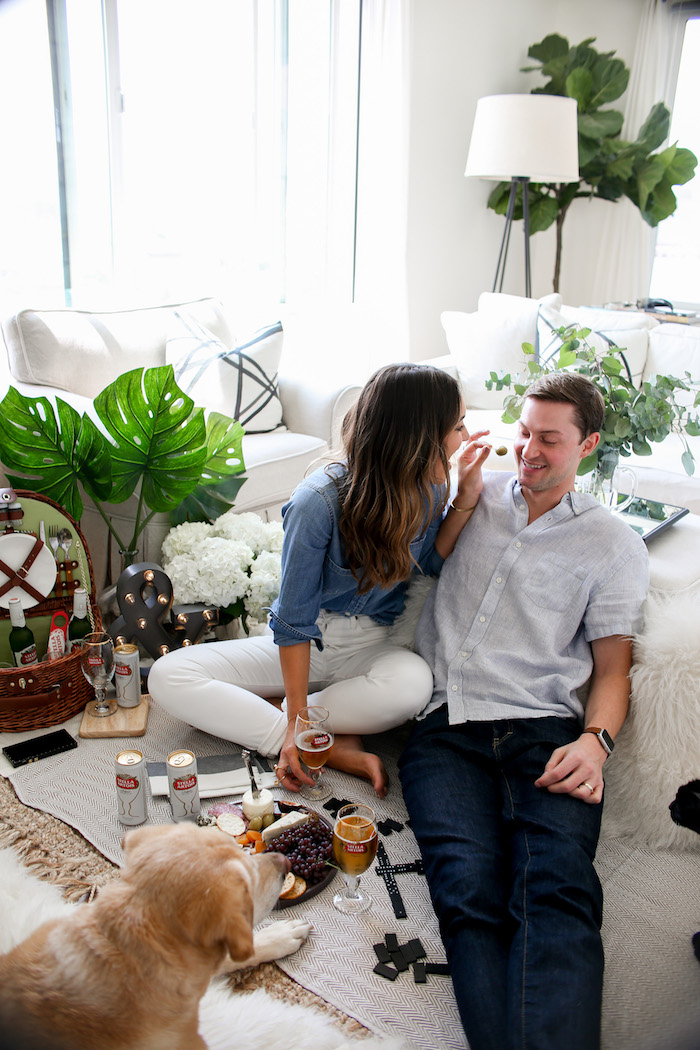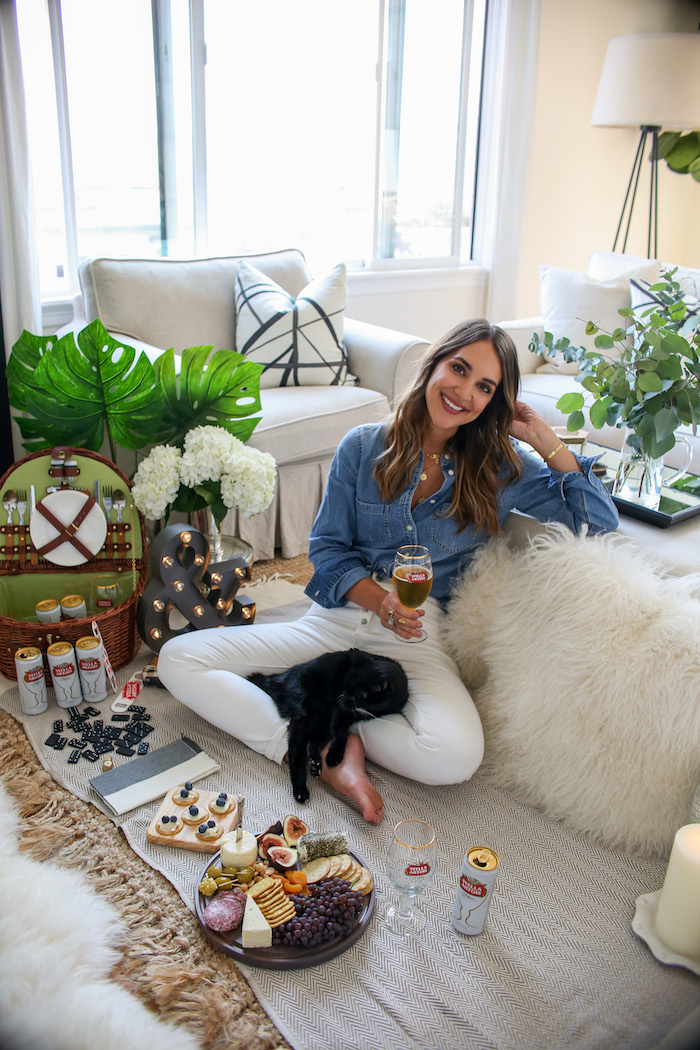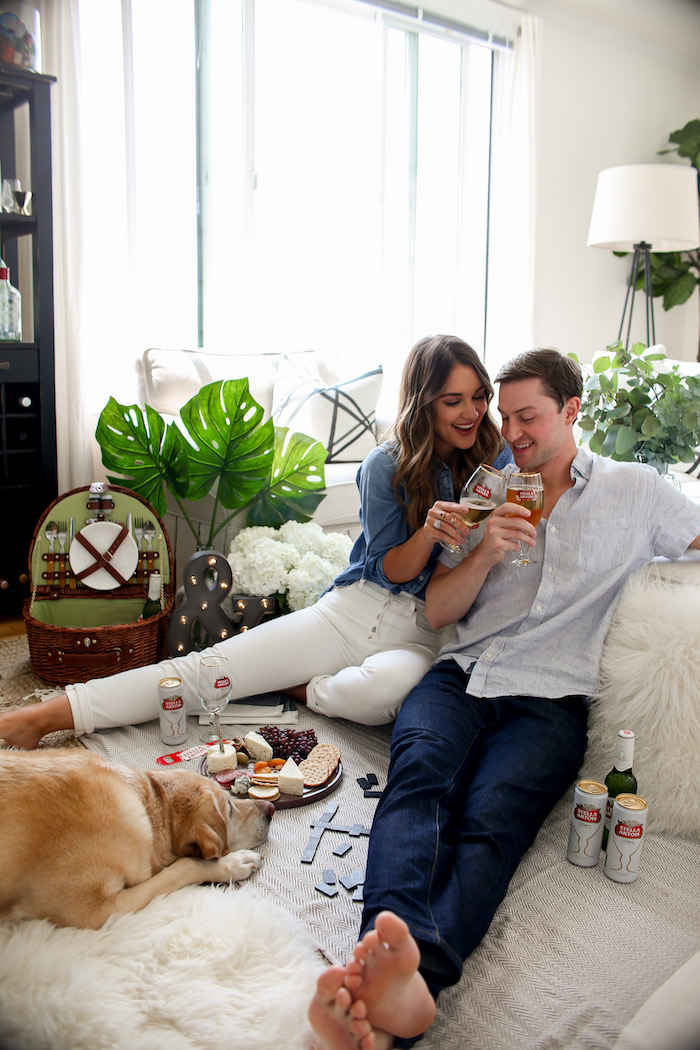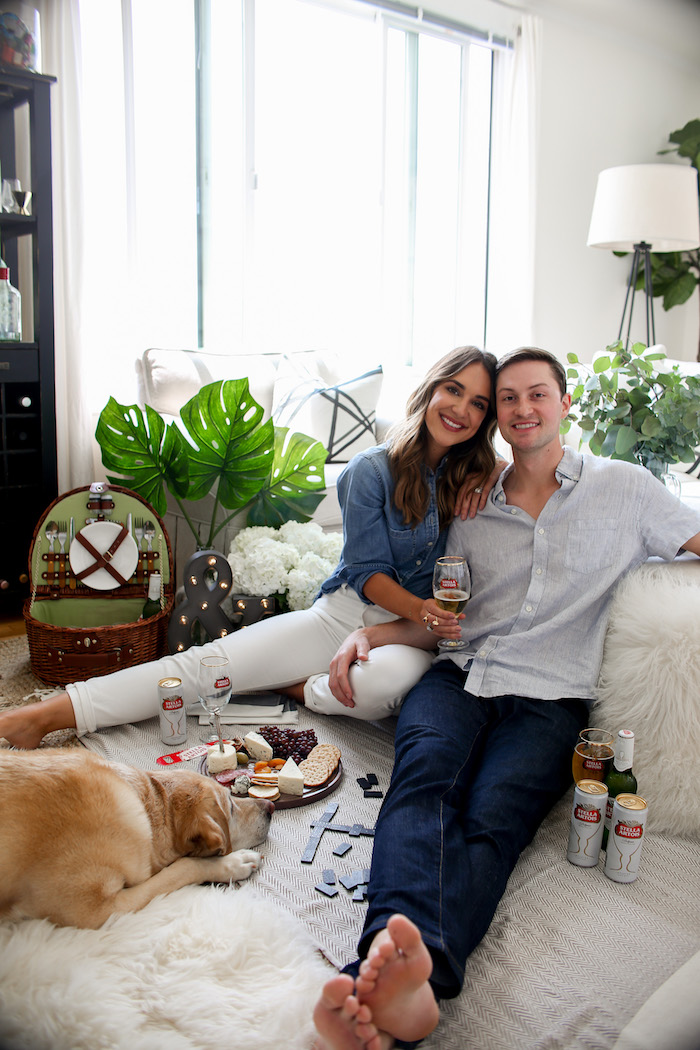 photos by Christian Barnes
How are you slowing down and savoring the last few weeks of summer?  I'd love to hear if you are a Stella-drinker as well!  And now after writing this I now feel like I need another happy hour tonight… I gotta text Christian and get this on the books.
Thank you so much for reading! Tell me some of your favorite things you like to include in a picnic or happy hour with friends! XO –
brought to you by Stella Artois