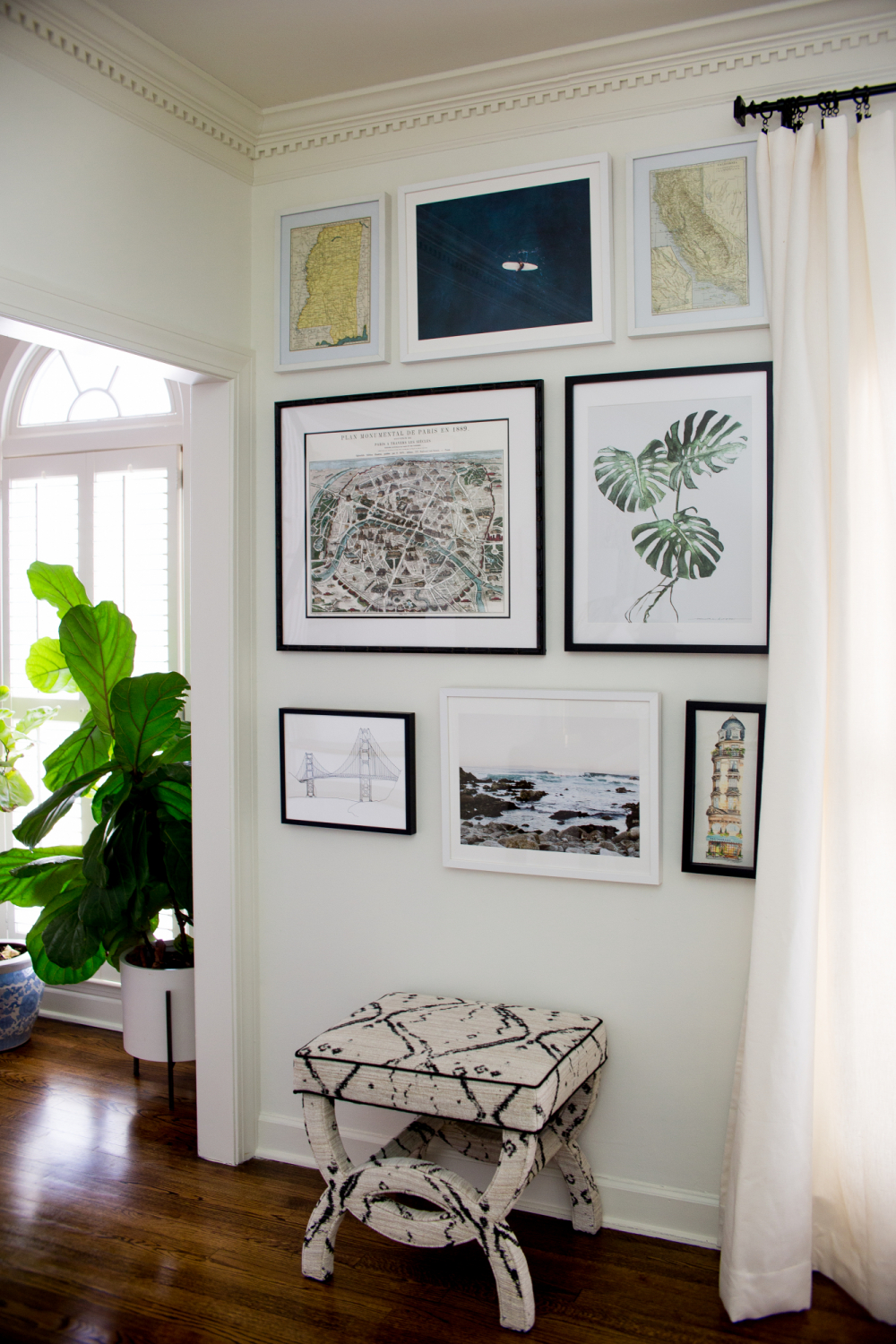 bench | drapes | white planter | coastal art + surfer art + San Francisco sketch c/o Minted | map frame
I get a lot of questions about the different art and gallery walls in our Georgia home, so I wanted to put a few photos together with my tips and advice when choosing custom framing.
When we were in Europe this summer on our babymoon (posts on that here, here, here and here), I bought an Hermés scarf of a map of Paris as a souvenir that I could frame in an acrylic frame in our living room.  I took the scarf to a local framing shop, only to find out the cost of framing it was more than the actual scarf.  And the scarf was Hermés.  Yowza!
I did a little research and discovered a few things.  For acrylic frames, Etsy had much better prices than my local shop.  I bought this frame and framed the scarf myself for less than half the cost I was originally quoted.
For smaller custom framing, Framebridge had the best prices.  I sent off the above map of Paris and three Babar prints (featured below) we bought on our trip for Hudson's nursery.  I picked out custom framing for each piece online and they were mailed back to me so beautifully, you would honestly think it cost double of what it actually does.
As for gallery walls – the key in my opinion is laying out the pieces on the floor and measuring.  First, measure the space you're working with.  Tape that off on the floor (or use paper or something to create boundaries so you know what you've got to play with).  Move the frames around within the space until you have a layout that works for you and then go for it.  You can get hardcore with the measurements if you're into that or you can wing it.  I typically… wing it.  Christian is hardcore measurement man.  It's whatever strikes your fancy!
A cheater tip is to put a tiny piece of toothpaste on the pack of a frame where the nail should be.  Hold it to the wall where you want it to go.  When you remove the frame, you'll know to put the nail where the toothpaste is.  This was always my strategy until Christian came along and took over.  But it rarely failed me!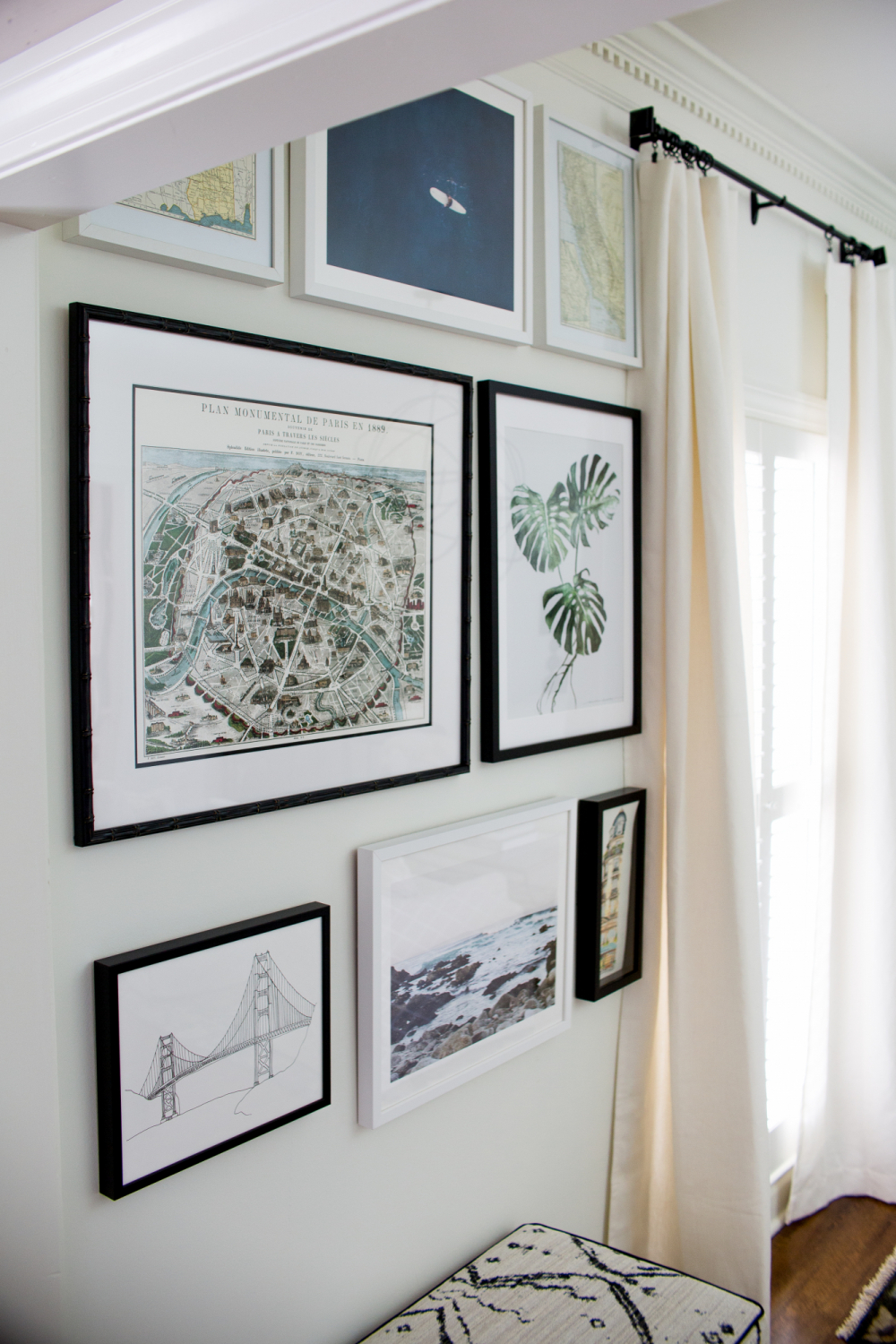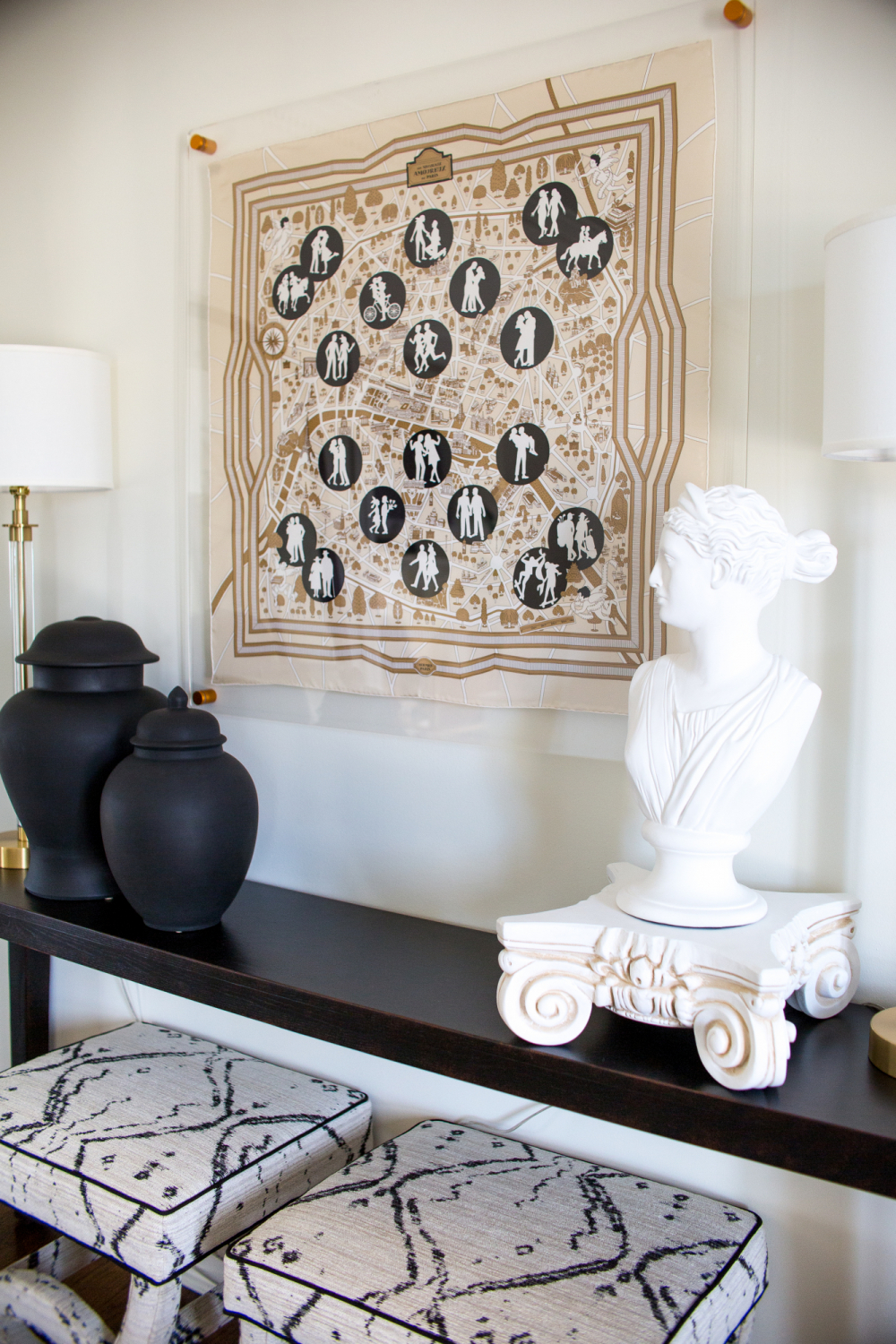 acrylic frame | all other pieces from Ballard Designs and will be in a full room reveal soon!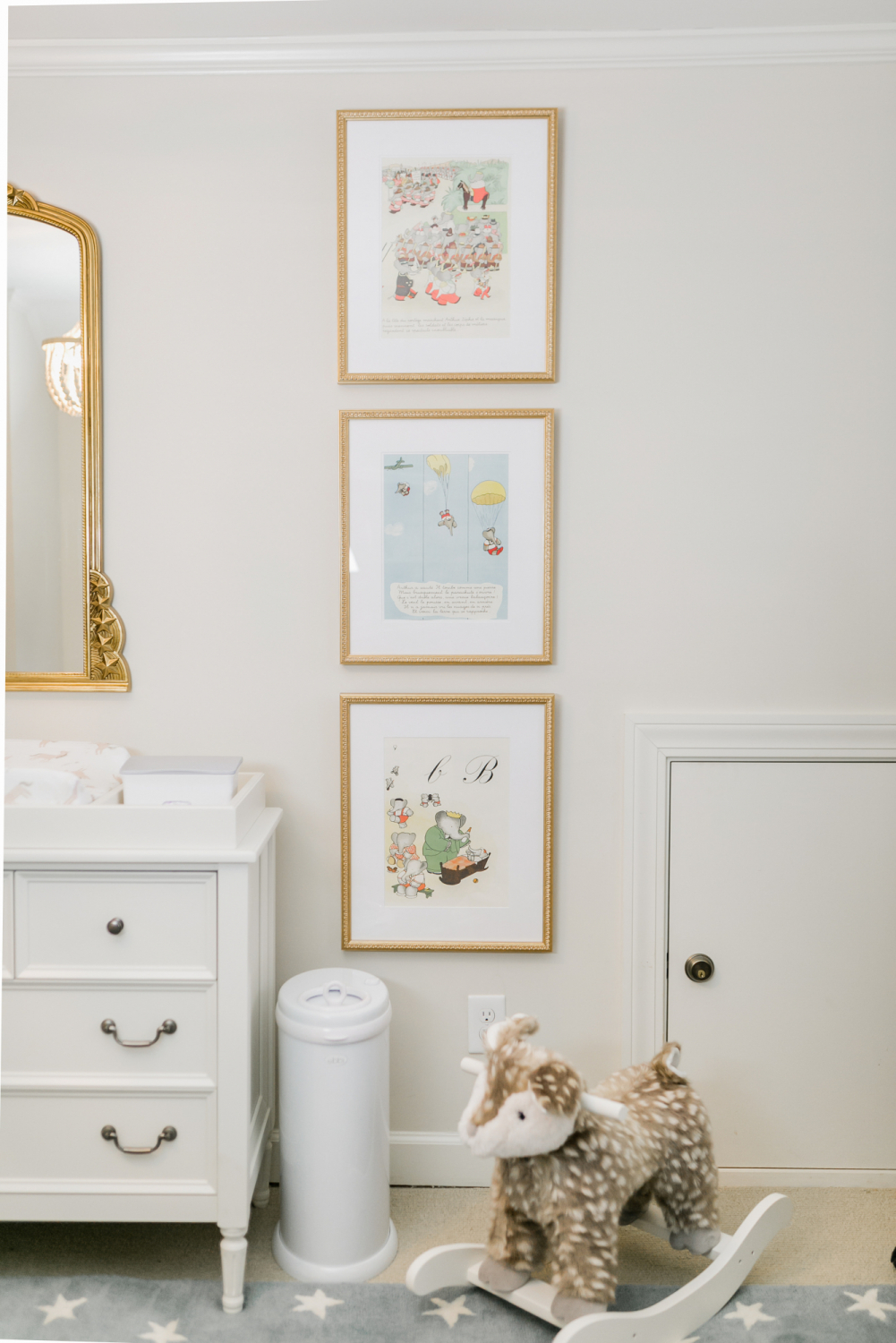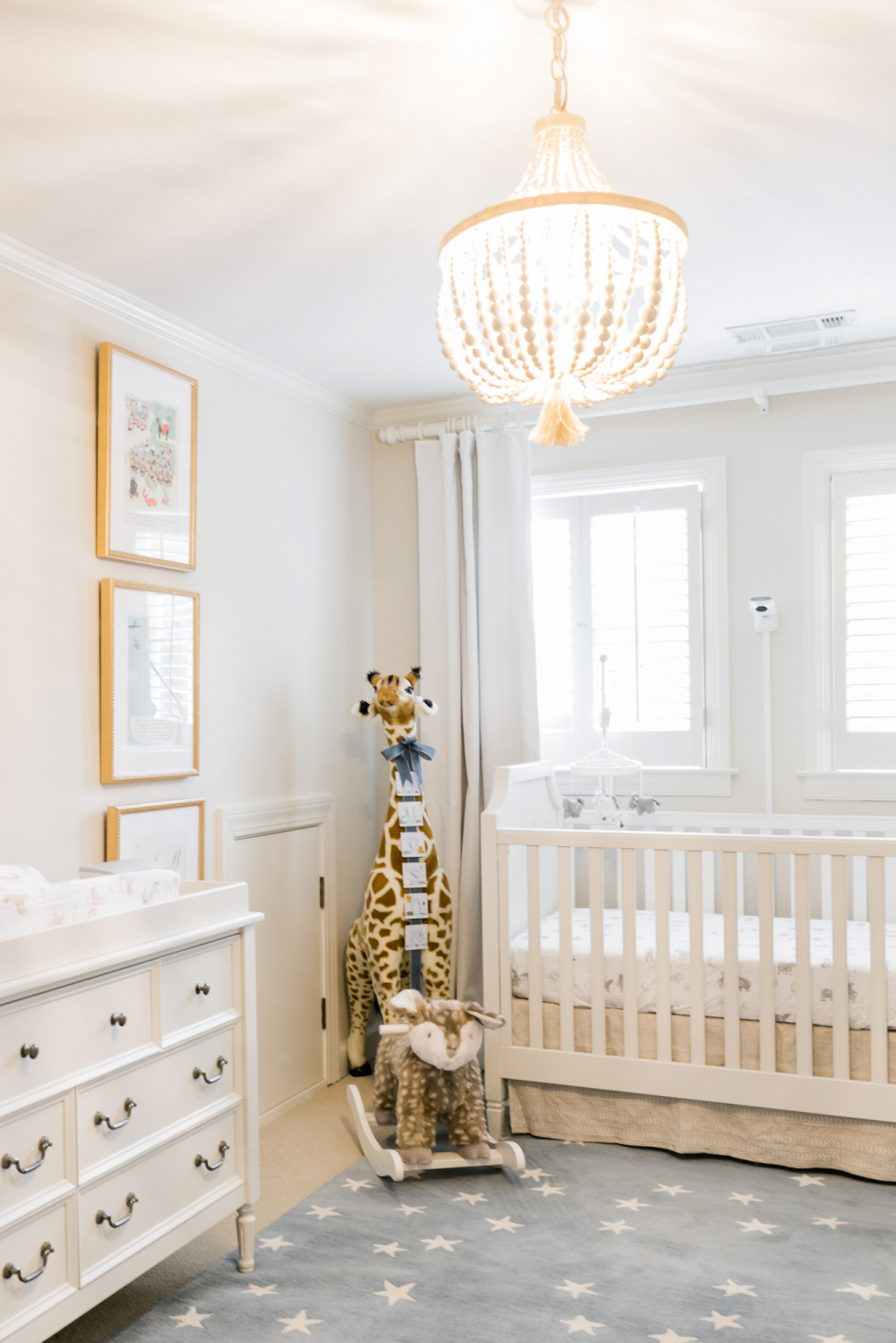 gold frames | full nursery details will be in tomorrow's blog post!
And onto the staircase (below!).  I knew when we bought this home I would want black and white framing up the staircase.  I worked with Framebridge and uploaded five black and white photos from different adventures in California into these frames and couldn't love the way it turned out more.  So crisp and clean and a nod to some of our West Coast memories.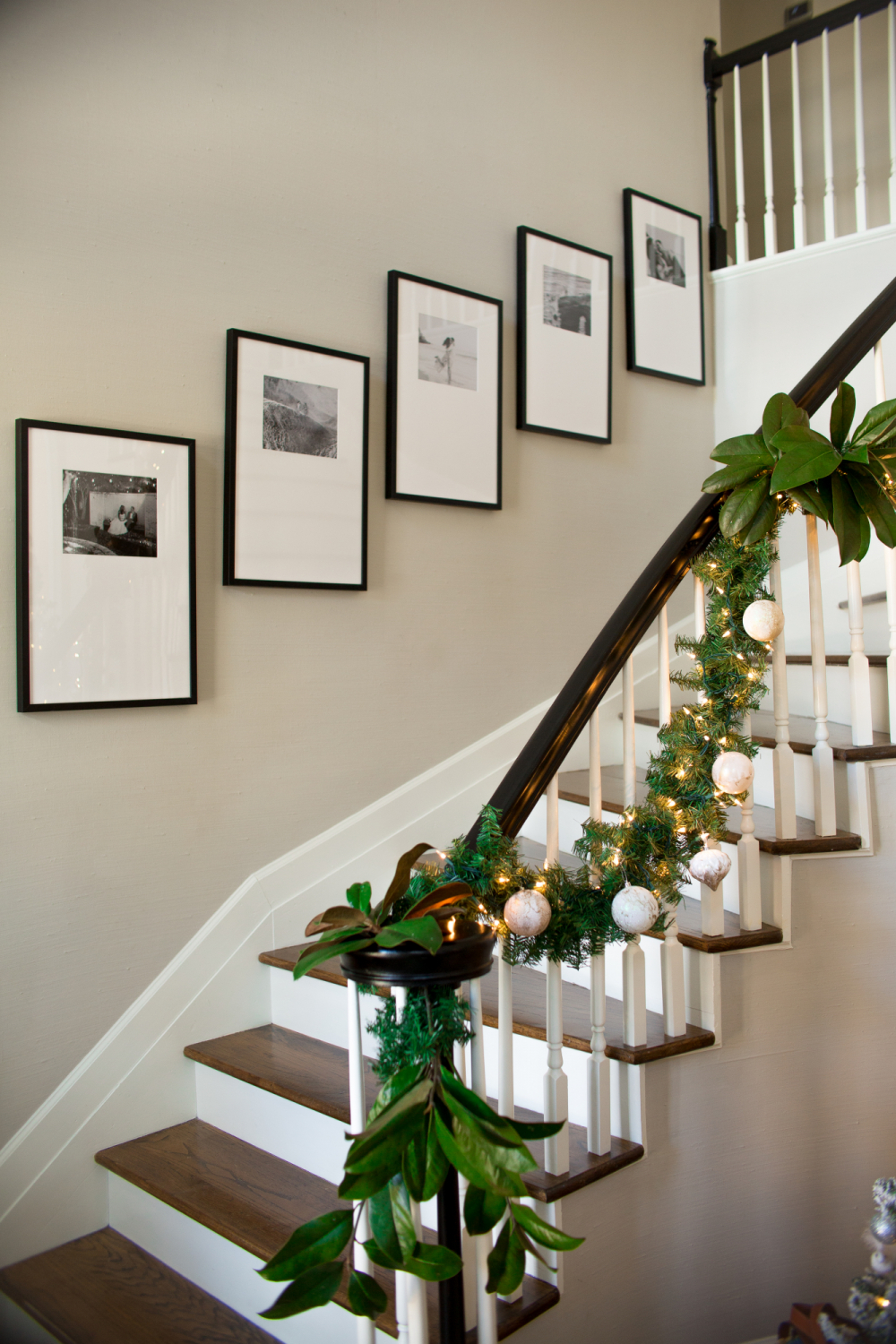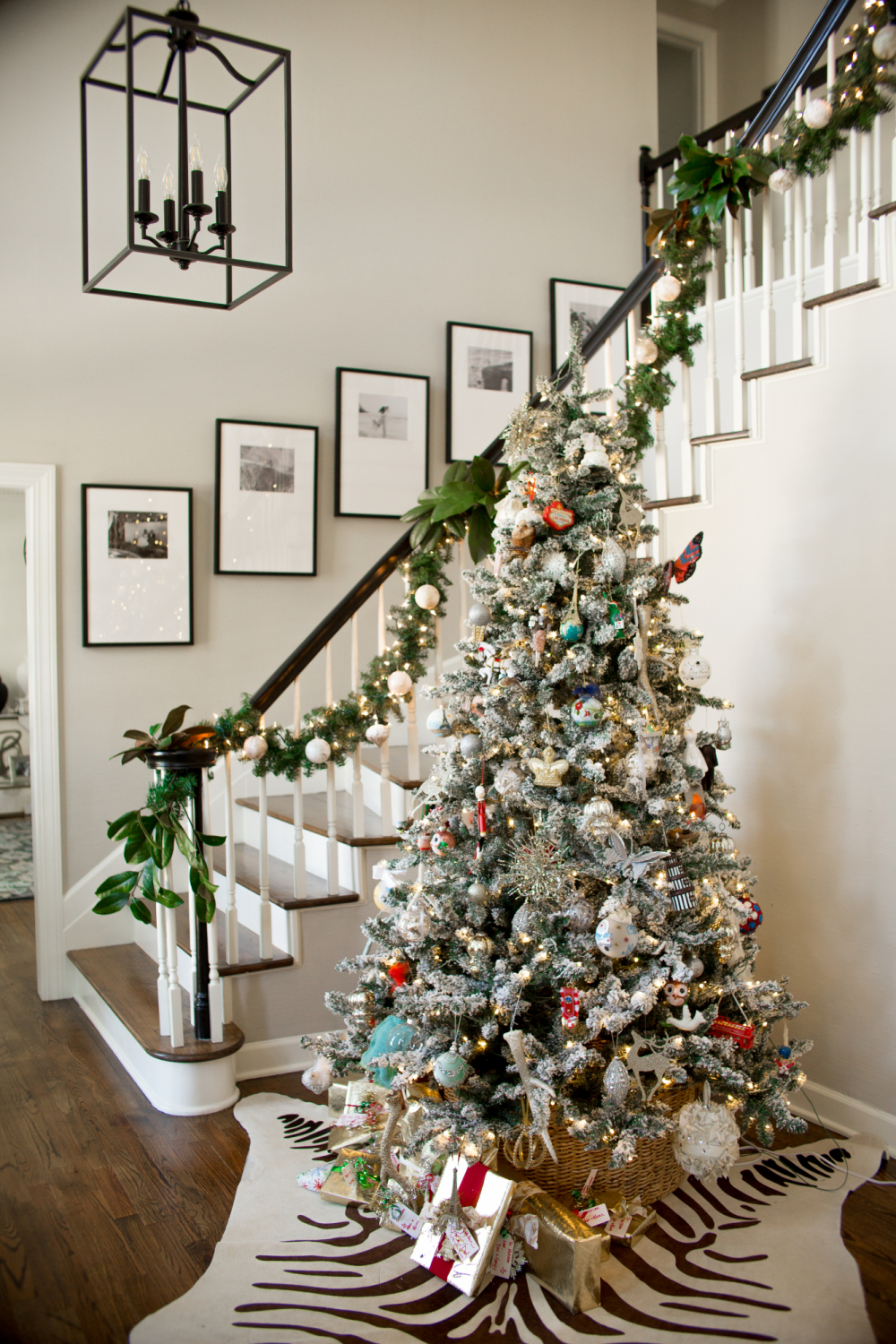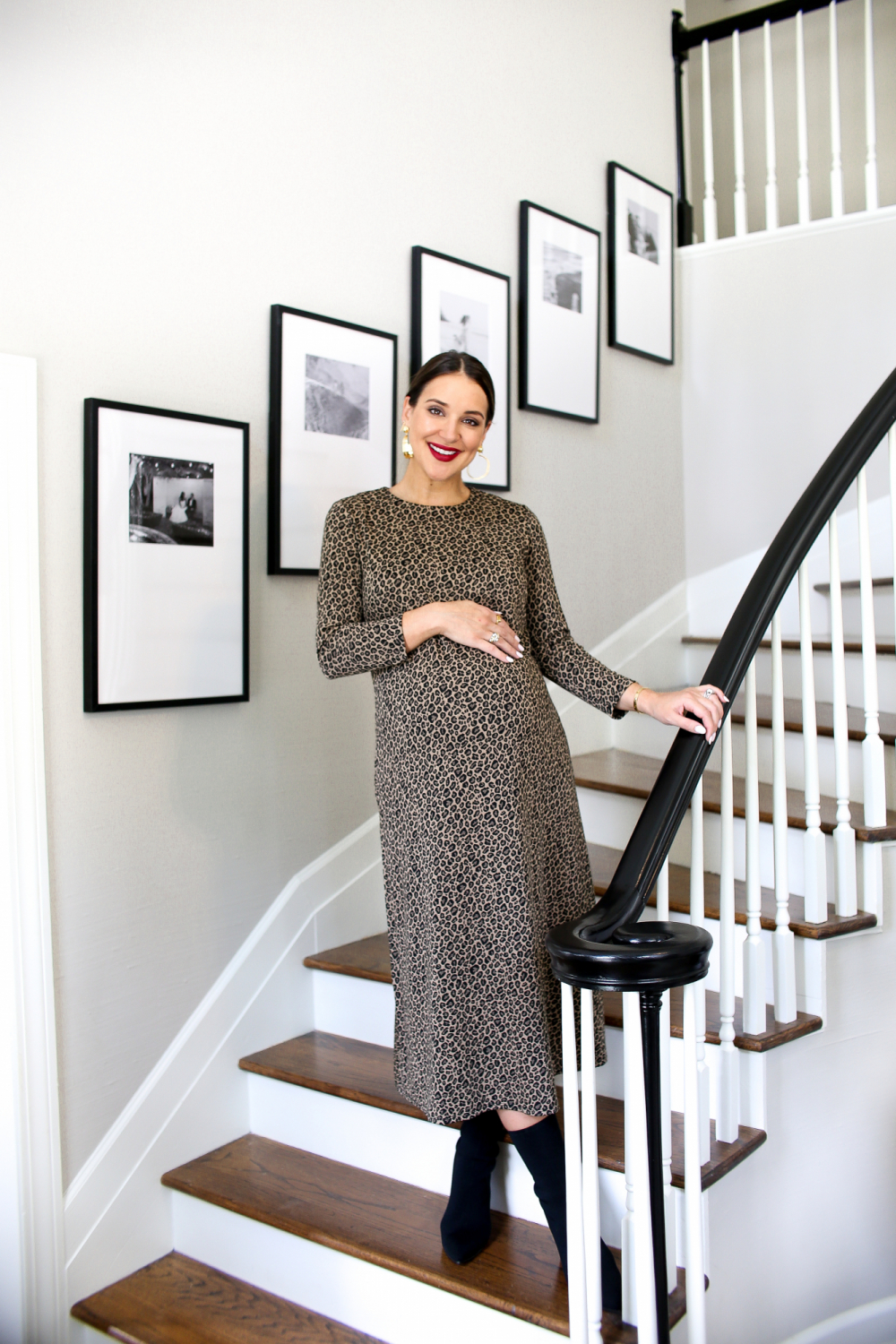 outfit details in this post | magnolia garland DIY in this post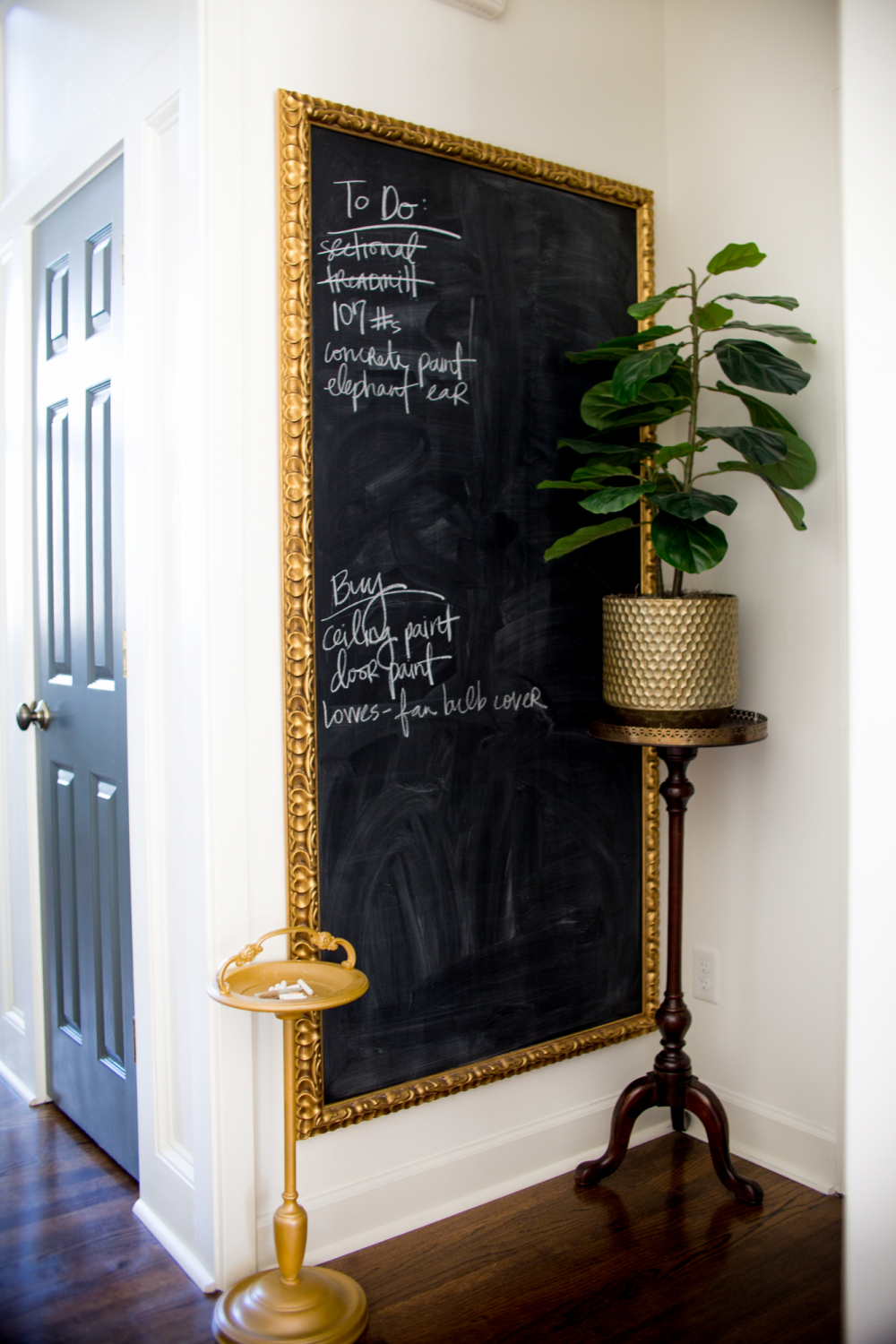 gold frame – custom | cigarette stand, planter – antique
Another custom framing element I wanted to talk about was this chalkboard.  For over 10 years I had a tall, thin chalkboard I used in every house/apartment I lived in.  My mom made it for me in college.  We would write to do's, grocery list items, the week's menu, etc. on it.  In this house, I just couldn't find the right spot for it and ended up giving it my sister.
My mom and I had the idea to frame a chalkboard to make it look a little more polished.  I had this frame made locally for around $200 and bought chalk paint and plywood.  Looking at this now, I might need to throw one more coat of chalk paint on it, but we've used it constantly.  The cool thing about this is that you can customize the size to whatever wall you're putting it on!
Bonus points: when nieces/nephews/friends kids come over, it's a hit.
Let me know if you have any framing favorite sources – I'd love to hear!  Thanks so much for reading, and you can see more home features in the "home" category of this site.  XO –