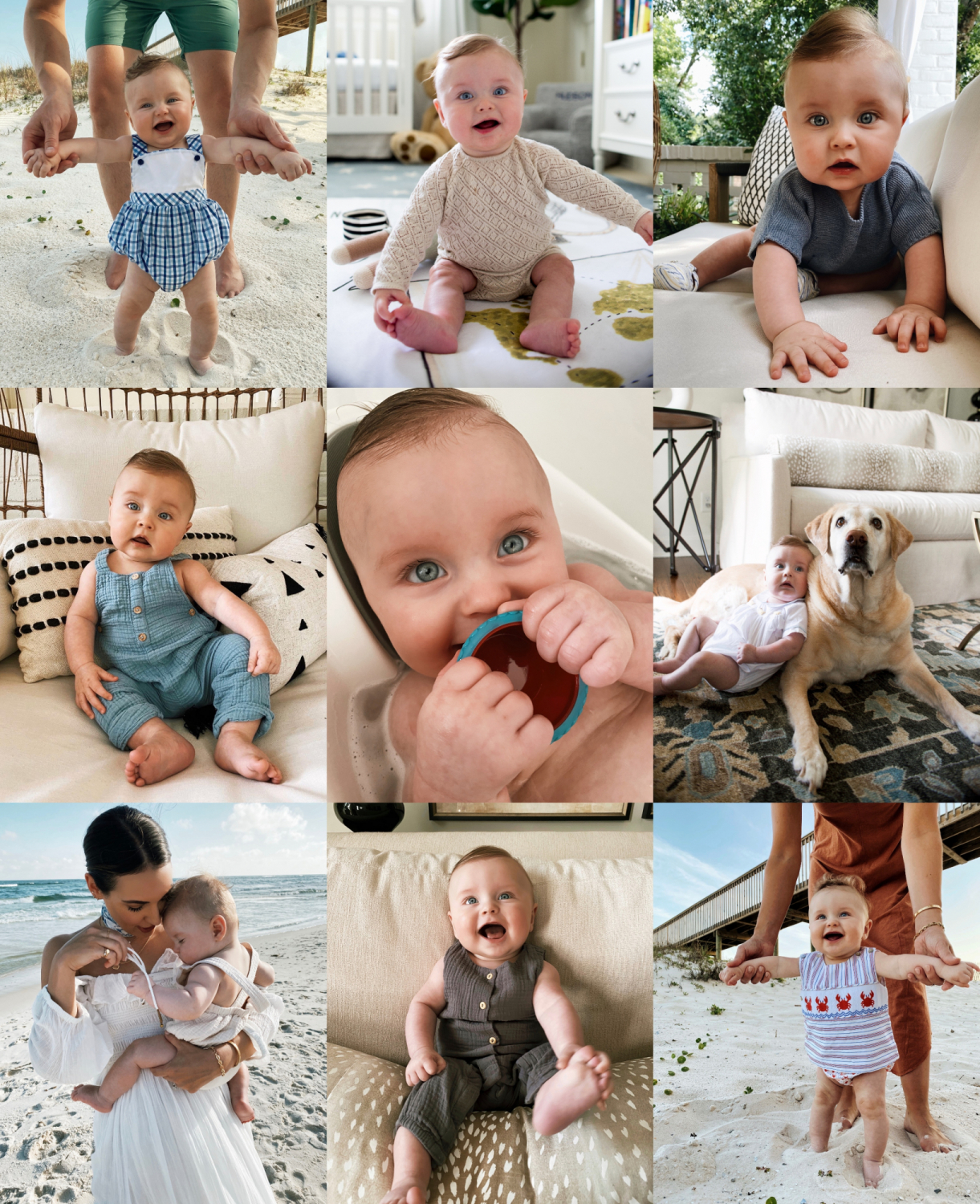 When Hudson was a newborn, I shared some of my favorite newborn products and why.  I've received some requests for another post now that he is almost seven months old (!!!), and I compiled some of our most used and loved items below.
To shop, click on the image or find it's corresponding number below –

1 | 2 | 3 | 4 | 5 | 6 | 7 | 8 | 9 | 10 | 11 | 12 | 13 | 14 | 15 | 16 | 17 | 18 | 19
STROLLER
This 2-in-1 stroller was on my newborn list and is still on the list.  So practical, so easy and convenient.
FEEDING
We've been using this high chair at our breakfast room table and it's been super convenient and helpful.  The directions say that you are not supposed to wash it, but after reading some articles online we have put the seat cover in the wash and hung dry.  It worked perfectly and came out as a brand new seat.
We also have one of these silicone bibs and it's the only one we use.  I've been making a lot of Hudson's baby blends with this babyfood steamer + puree machine which I find somehow incredibly satisfying, ha!  But I also mix in a few flavors from Beech-Nut which is our preferred store-bought baby food.
DIAPERS, POWDER, CREAM
A very sweet CBL girl told me that Sam's Club had great diapers and she was right!  We previously were using Pampers (which are great), but I like Sam's Club brand diapers equally and we use both.
We use this talc-free powder and Aquaphor has my favorite diaper rash cream.  My sister-in-law recommended using diaper rash cream frequently, even if they don't have a rash.  We took her advice and I think in almost seven months Hudson has only had one diaper rash.
TOYS
I actually haven't bought Hudson many toys.  He has been given so many sweet toys from friends and family and honestly loves most all of them.  For several months he was very into this cube.
My mom bought him this aquarium for his crib and while I was at first hesitant, it's been amazing.  If he wakes up halfway into his nap and is struggling to get back to sleep, I will tip toe in his room and turn on just the music.  He will drift off back to sleep.  Or if he wakes up 30 minutes early, he can reach and touch the star which will start music.  It will entertain him for a little bit of "rest" time before I get him out of his crib.
TEETHING
His first two teeth came in around five months so I ordered the Sophie that everyone loves.  He does love it, in additional to this silicone ring pop looking thing that I will put ice cubes in.  Always a hit!
ENTERTAINMENT
A few months ago I bought this Joovy walker.  I wanted one that was easy to clean and had a tray that I could put different toys on opposed to one that had a built-in toy bar.  It's been great.  He can only walk backwards, but it's how I buy some time when I'm cooking dinner, need to use the bathroom or have to go to another room for something.  It also folds up really slim and we have traveled with it.
CARRIERS
We use two baby carriers, the Baby Bjorn and Artipoppe.  I love them both for different reasons.
The Baby Bjorn is super breathable and allows your baby to sit in many different positions (facing in, facing out, on the back, etc.).  It's also washable – PERK!
Artipoppe is stylish, gorgeous and very lightweight.  The baby can only face in, but the way it's designed they can still easily look all around and I love wearing him in this one around the house.
SLEEP
The best sound machine.  I need to buy a travel one, but I currently just take this one because I love it to so much.
BATH
This baby tub was also on my newborn list and we still love it.  We use a few different baby bath washes and shampoos but I can't deny that I love the smell of this one.  So much so that I also bought the lotion.  I just know I'm going to think of bathing our babies forever when I catch a whiff of this magic!
CLOTHES
As for clothes, we love Kickee Pants for pajamas and Baby ZARA and H&M.
If you have any infant favorites, I would love to hear!  Babies vary so much, but I love hearing other moms share their favorite items and why.  So I hope this will be hopeful to some of you!
Thanks so much for reading – XO –