dress | bracelets | Hudson's top | Hudson's bloomers | checked bowl
Whenever you guys submit questions for our monthly Q&A's, what I eat in a day is always asked a few times.  I've never answered it before because like most of us, there's not a routine day.  Some days I am constantly hungry and eat everything.  Other times I am busy and don't find as much time to sit down.  I also am not a nutritionist and don't want to assume as much!
But I understand that it's interesting to see what other people are eating and cooking, mostly because it gives ideas.  And with the monotonous vibe of 2020, we could all use some ideas, right?
For breakfast, I have two cups of coffee with non-dairy creamer (any plain almond creamer works for me).  If I am not that hungry, I'll wait until around noon to have lunch.  If I am really hungry, around 10AM I'll have a snack.
Some of my favorite healthy snacks are fruit, laughing cow cheese on a rice cake or egg salad with pickles on nut crackers.  But sometimes I'm not in the mood to be healthy, and that's when a snack pack of chips comes into play.  Christian actually gave me a big bag of mixed doritos and cheetos snack packs as a gift recently (LOLOL) because he knew it would be something I loved that I wouldn't buy for myself.  And it has gotten me in trouble because every time I want to eat like… 3 bags!
On other days I want something equally less healthy, I try to keep it around 250-300 calories or less.  I also love this for a healthy snack.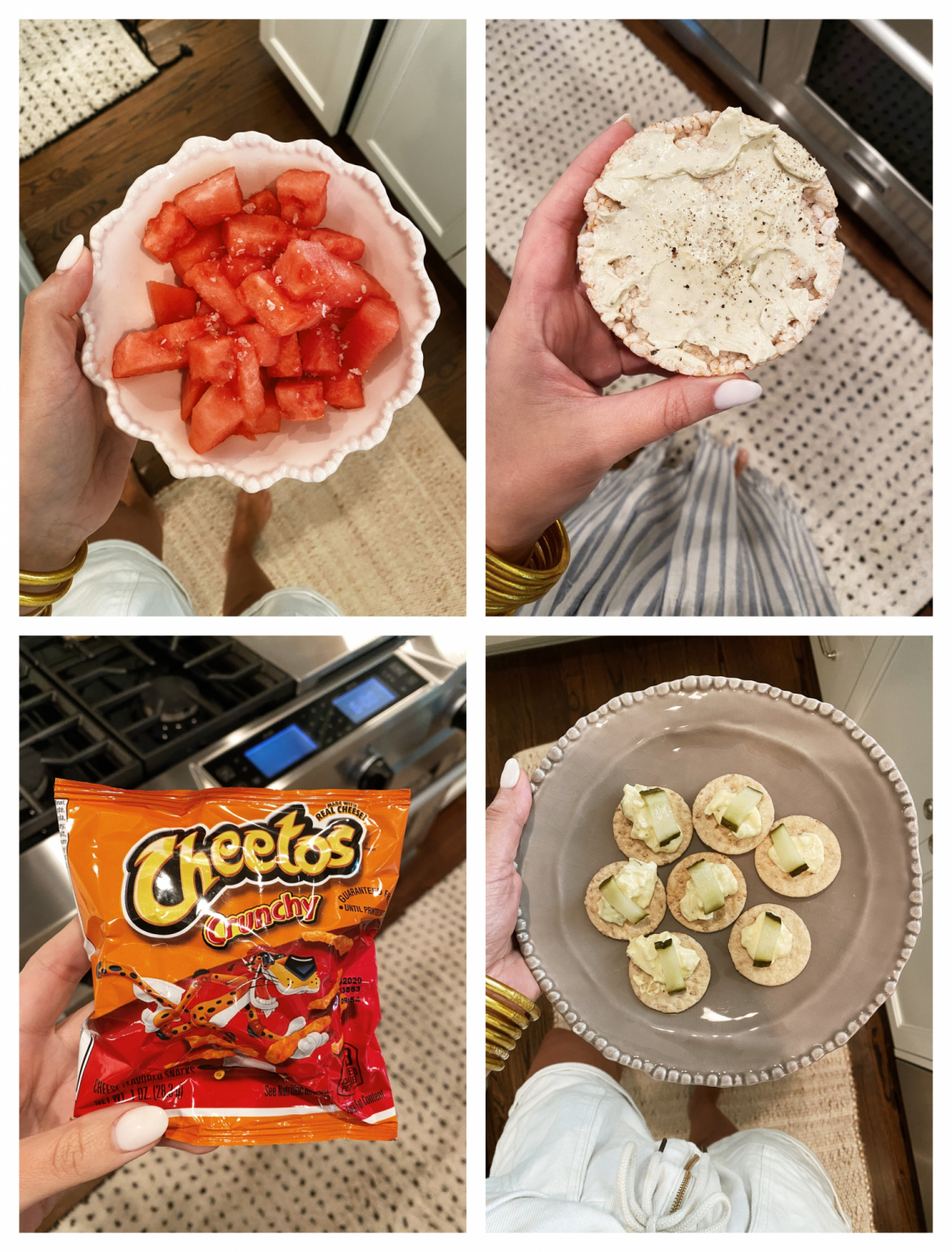 Then comes lunch.  For lunch I'll eat something that I've meal prepped like this quinoa salad over arugula with feta cheese or a veggie quiche with some extra fruit or veggies on the side.  Or I'll just warm up some leftovers like veggie fajitas.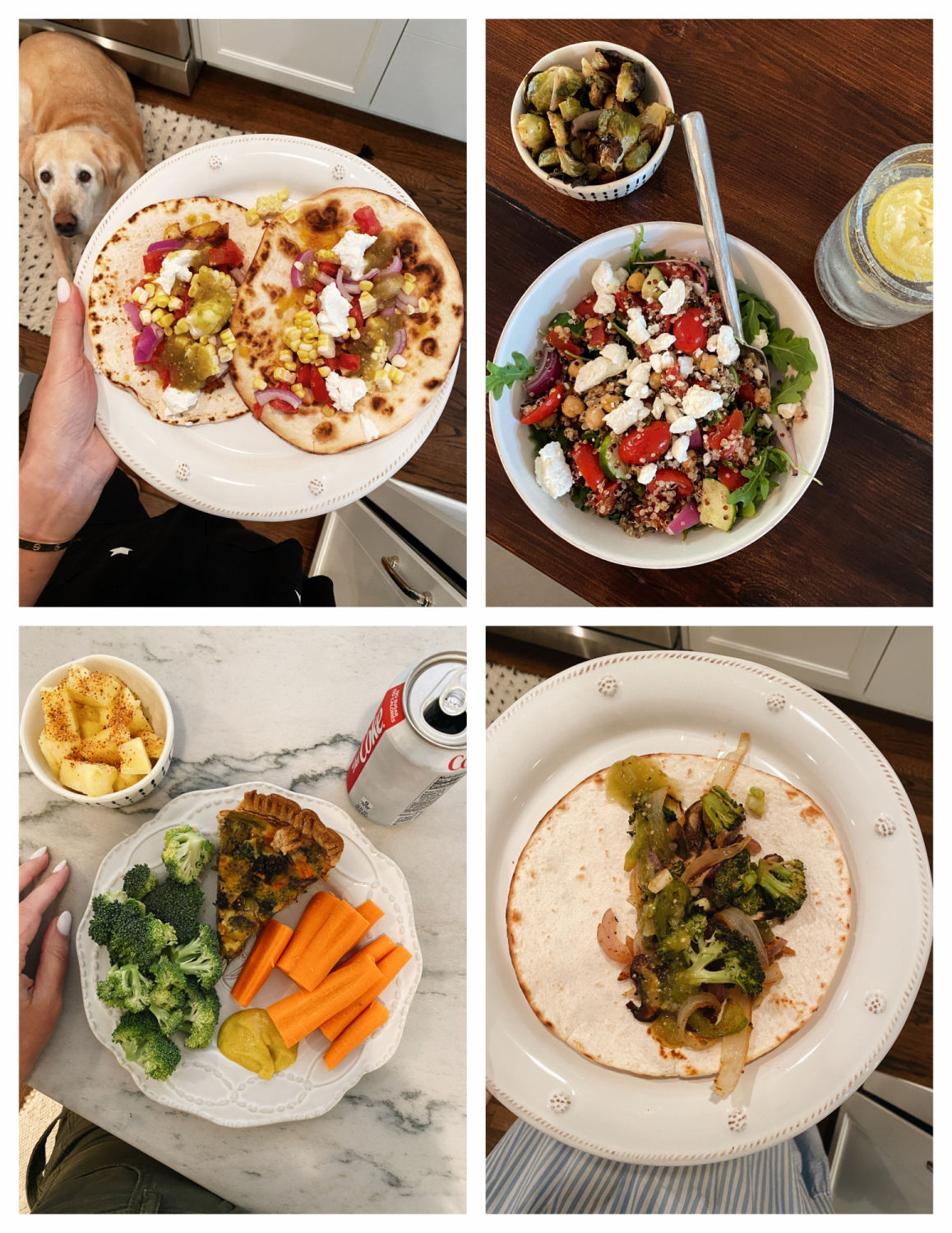 I spend the most time (and also probably eat the most) at dinner.  I usually pick the week's meals on a Sunday or Monday and then I'll write them on our large breakfast room chalkboard so we know what our options are.  Each night we do the "_______ or ______?" dance.  I love this juicy baked chicken breast recipe with roasted veggies and brown rice.  I also love throwing chicken breasts in the crockpot and doing bbq chicken (so easy).  Other go-to's are fajitas or tacos (I fill the tacos and pop them in the oven for a few minutes.)  And any kind of pasta is always on the menu.  My favorite recipes are this one and this one!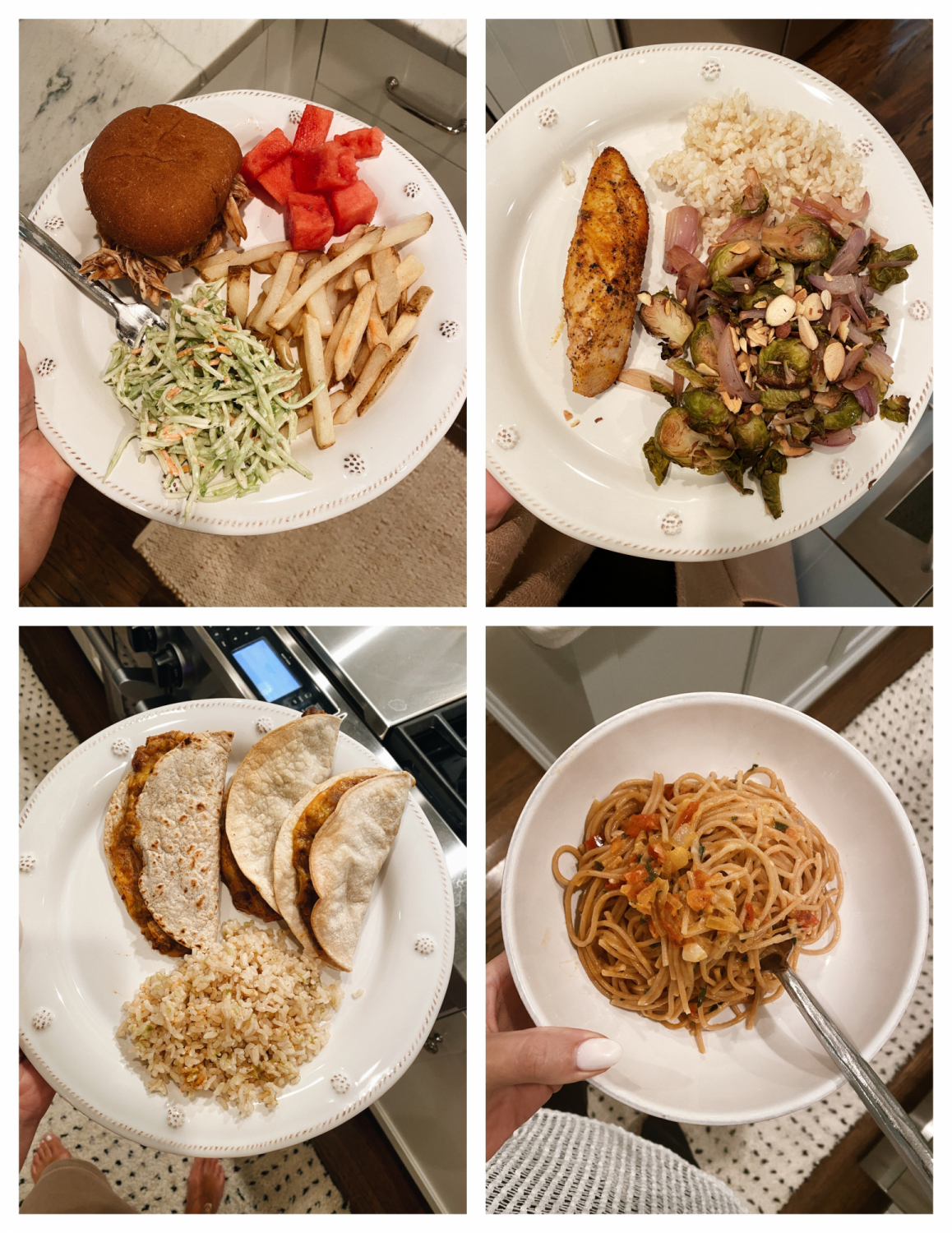 Nothing too fancy and forgive the real time photos – but this is as honest as it gets!  Oh – and one more confession: I usually have a Diet Coke with lunch.  I know, I know… but it brings me joy and I just let it be.  It's the little things, and it could be worse, right?
Would love to hear an easy go-to lunch or dinner idea in your house!  Thanks so much for reading and you can find more recipes in the "food + drink" category of this site. XO –