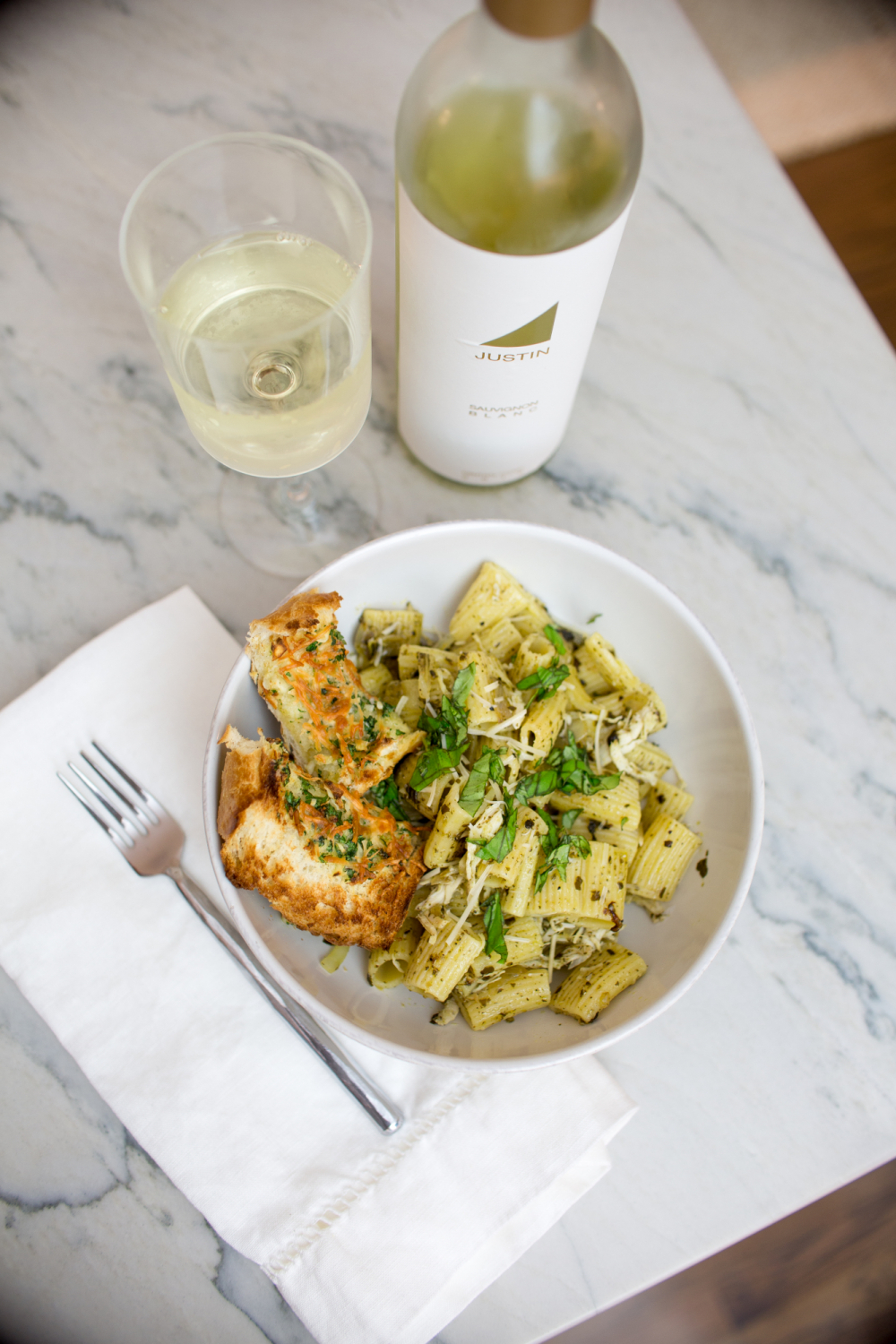 I've shared a few quarantine meal ideas here and here, but at this point in the game… if it takes more than 30 minutes or can't be done in a crockpot, I'm not interested.
This pasta dish is incredibly easy, full of flavor and has a two pot cleanup.  Just my style.
Something I've started doing is cooking chicken breasts in a crockpot, shredding and keeping in the fridge.  You can use it for anything throughout the week – quesadillas, pasta, sandwiches, etc.
Easy Crockpot Shredded Chicken
1 cup chicken broth (I was out so I actually used 1 cup water and 1TB olive oil)
1 tsp salt
1 tsp pepper
1 tsp garlic powder
1 tsp onion powder
4 chicken breasts
Cook on high for 3 hours.  Remove, shred and you're done.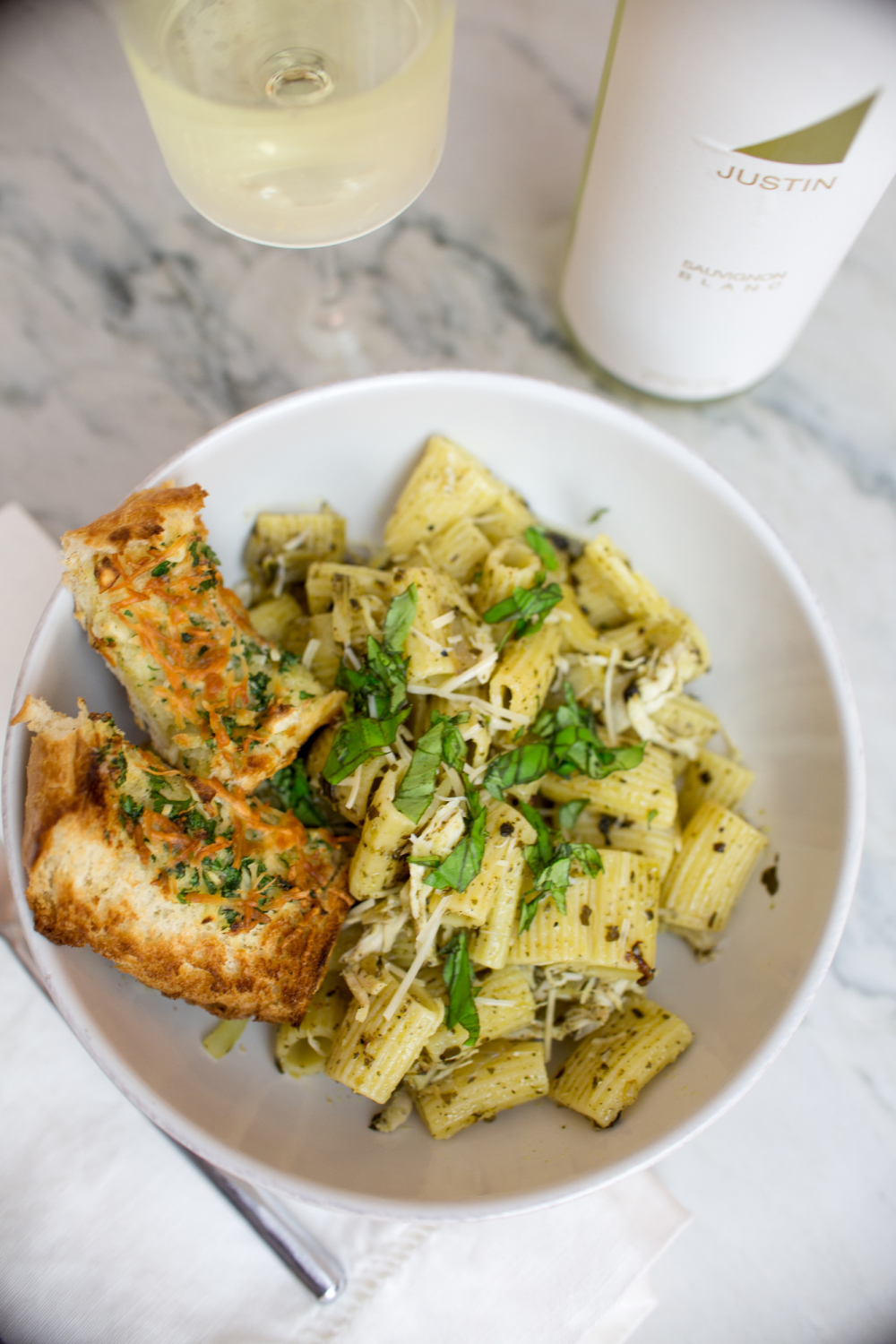 Pesto Pasta Ingredients:
1 lb. rigatoni or pasta of your choice
1/2 small onion
2 TB olive oil
1/4 cup pesto – you can always add more!
salt & pepper to taste
sprinkle of parmesan
Optional: chopped fresh basil, pine nuts
Optional: grilled or shredded chicken, grilled or sautéed shrimp
Directions:
Cook pasta al dente.  In a nonstick skillet or pan, saute onions in olive oil at medium-low until translucent (a few minutes).  Add pesto, let simmer while pasta cooks.
Once drained, combine pasta and onion + pesto combo.  Mix in some parmesan cheese, s&p to taste and top with basil.
Garlic Bread Ingredients:
baguette, dinner roll, whatever you have!
garlic – I used 2 cloves for 1/2 loaf, you could use 4 for a full loaf
butter – I used 1.5 TB for 1/2 loaf, you could also use olive oil 
fresh parsley – I used 2 TB for 1/2 loaf
sprinkle of salt
sprinkle of parmesan
Directions:
Mix butter, salt, chopped garlic and parsley together.  Apply to bread and sprinkle with parmesan.  Stick in the oven or toaster oven at 425 for around 5 minutes.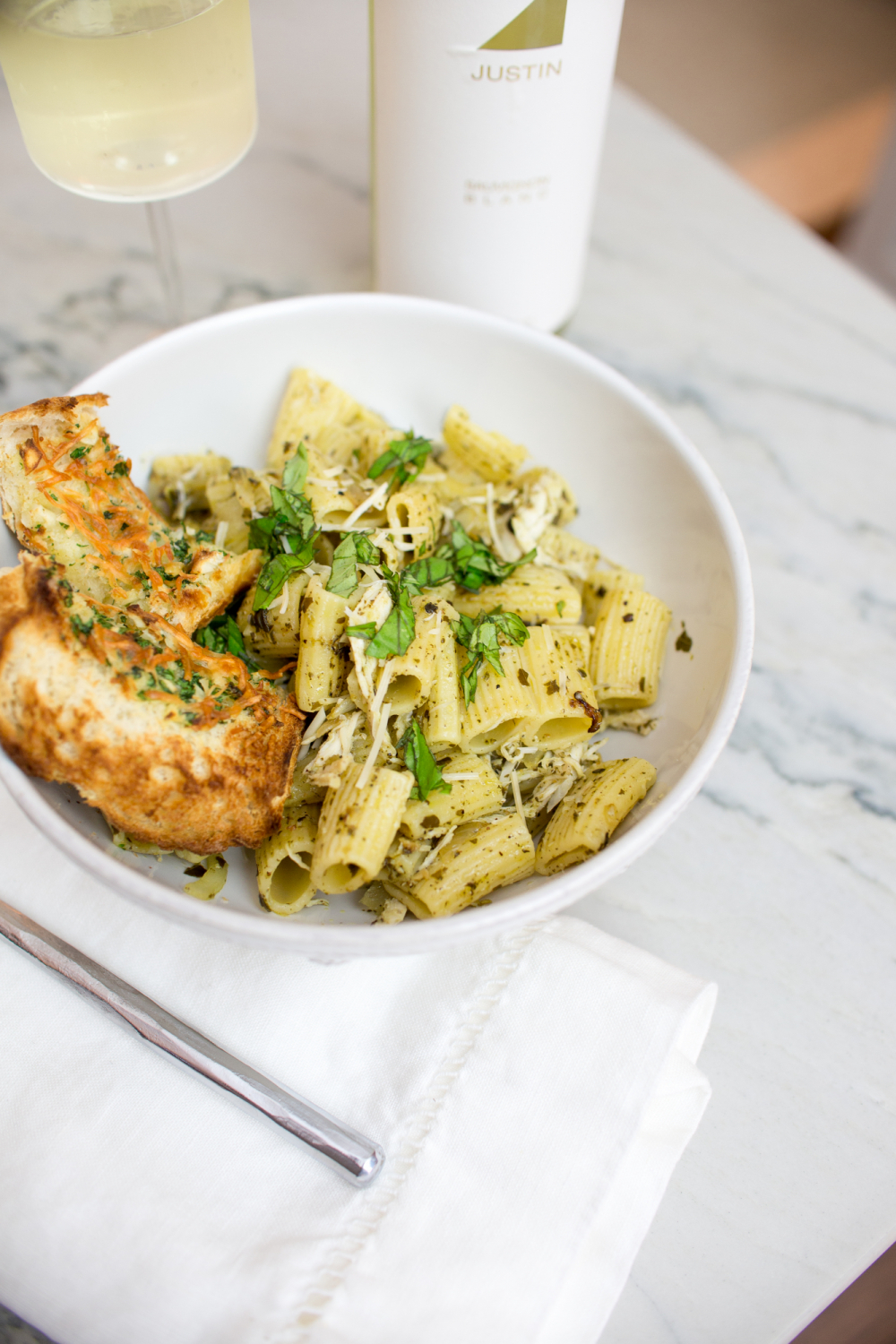 That's it!  I usually keep some spaghetti noodles and rigatoni in the pantry because when I'm in a pinch, this is a quick and easy dinner that can be on the table in 20-30 minutes.  Another great part about a beginner's herb garden – you can quickly elevate any meal with some of your fresh herbs.  I almost always have a jar or container of pesto because we use it on pizza and pastas all the time – so easy!
If you have any quick quarantine meals, I'd love to hear!  Thanks so much for reading and you can find more recipes in the "food + drink" category of CBL.  XO –