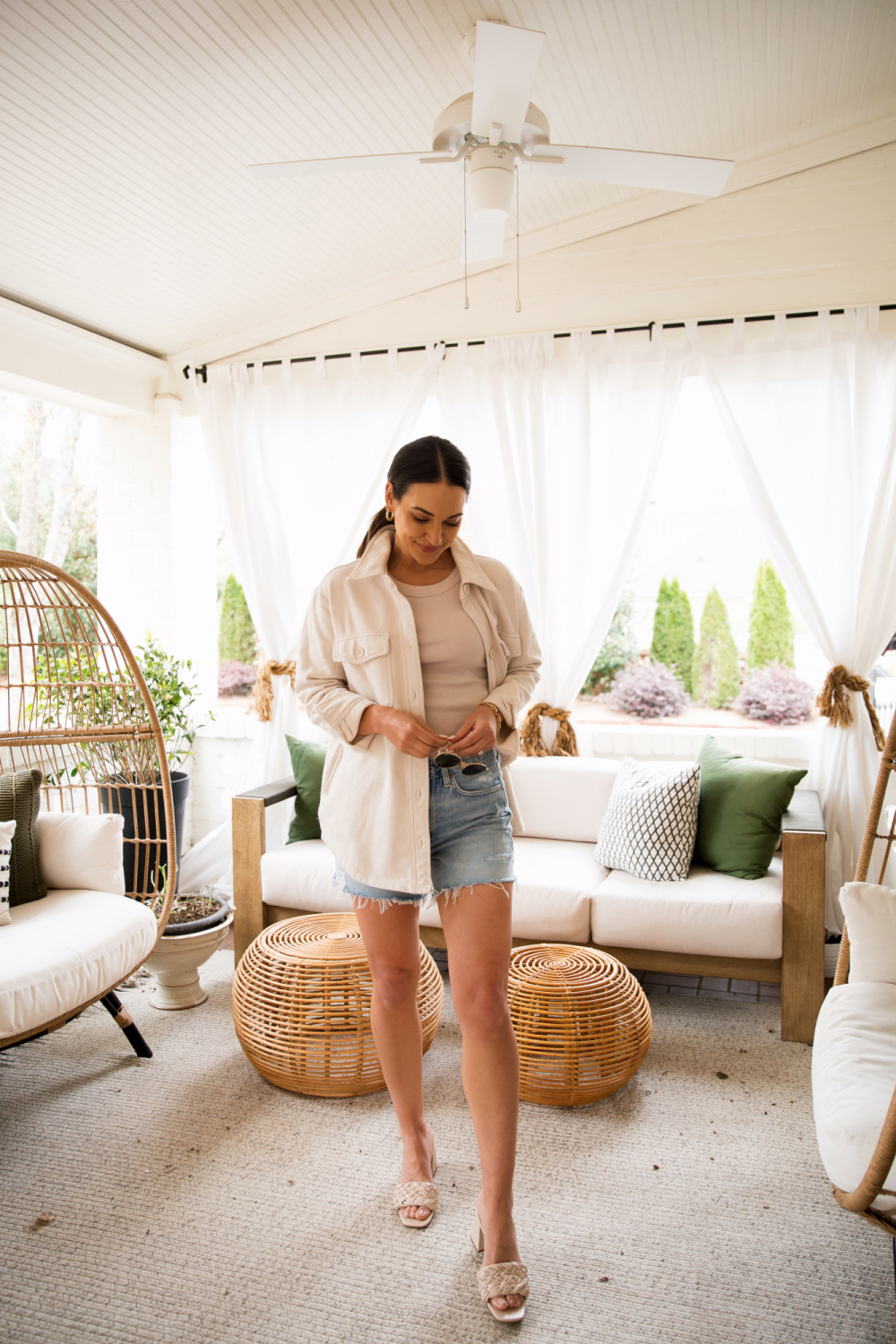 shacket, similar style here | tank | shorts, also available here – TTS | heels, also loving these | sunglasses, similar look for less here | chain bracelet | similar tennis bracelet here and here | outdoor rug | ottomans | sofa | egg chairs
Do you have mascara recommendations?
I bounce between this mascara and this one. I also really love all of Tarte's mascaras like this one and this one.  Truthfully, I don't wear the same beauty products daily.  I'm always trying different things and rotating products, as it's a part of my job.
I've also stopped curling my eyelashes this past year… maybe that has helped less fall out?
Lash serums are also in regular rotation.  I use R+F eyelash boost a few times a week and just started using Dime Beauty's lash serum as well.
What do you think about mixing up designer handbag straps?  Can you please link some?
I love them!  I bought one from Etsy many years ago that's no longer listed, but this one and this one are also fab.
Where can I find the chunky gold bracelet you're wearing?
It's this one!  I also love this one.
What are your current favorite lipsticks?
I love lipsticks.  And I probably have at least 60… maybe more.  They are my weakness!  So I honestly mix and match different liners, lipsticks and glosses constantly.  I shared my favorite liners and lipsticks in this post.
I am having the hardest time finding good side tables for the sofa for a smaller space.  Any recommendations?
I recently saw this small marble bistro table and thought it was ultra Parisian chic.  And this pedestal table is very trendy and cool.
On your black & white gallery wall, do you mix professional and non-professional photos?
Yes, absolutely!  We have photos taken by professional photographers as well as iPhone photos.  There are even a few family selfies up there!
I have a mix of these frames, these frames and this set.
When can we expect the bathroom reveal? 
I have shot the photos but I haven't written the copy yet!  I was so fortunate to work with so many brands when decorating other areas of our house, but it also kept me on a tight turnaround to complete and "reveal."

Our bathroom wasn't a brand or work project, rather a labor of love.  So I promised myself I would take my time and not feel rushed!  
I love wearing black, but I have two dogs.  How do you keep the dog hair off?
You would be surprised by how often I get asked about my nemesis, dog hair.  Particularly labrador hair, which is a special form of torture.  I don't have a magic solution.  I vacuum daily, have a roomba, encourage Bailey to enjoy the covered patio when the weather is nice and lint roll everything.  I have even used tweezers to pluck her hair that is woven into an upholstered chair simply by her presence.  Needless to say, Bailey is soon-to-be 14 and her legacy will be that she is our first and only labrador.  It is a lot of maintenance!
What was the thermal you were wearing the other day?
This one – it comes with a matching short!  I sized up one size for a looser loungewear fit, but I think it runs pretty true to size.
What is your Dairy Queen secret again?  I forgot what to order!
If you order a blizzard, you can "make it a double."  Which means they'll double the toppings for a small additional charge!  I live and die by Snickers.
Do you use a facial steamer before masking?
I have this facial steamer and love it.  I use it when I feel congested.  I use it when I want some extra TLC.  I'll put on a sheet mask and use it, I've even used it on Hudson when he's been sick.  I don't necessarily do it before masking, but I don't see why not?
Do you keep your designer shoe boxes?
I do keep some boxes if they're particularly beautiful, but not most.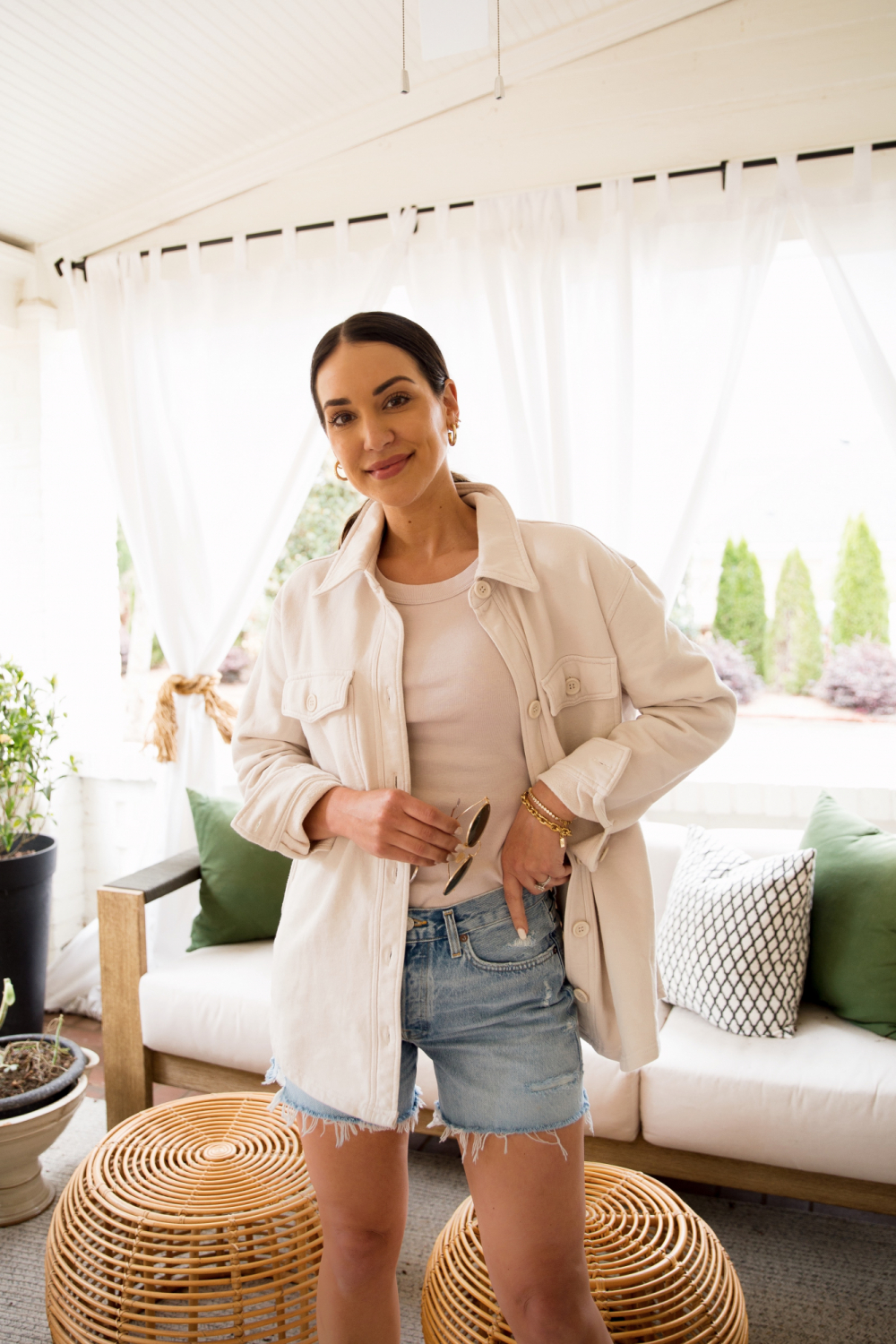 What other baby names did y'all consider besides Hudson?
I'm still holding them close to the chest because there are two names we will likely use if we have another little boy (it was the other name we almost named Hudson).  But some names that I loved and were eliminated are: Hampton, Reese, Sawyer, Roman, Beau and Everett.
Tips for traveling with a baby?  I'm worried that my son will go nuts if he's not in his room/crib.
I don't want to sound like a Debbie Downer, but traveling with a baby is not a vacation, it's a relocation.  There is a big difference, and the sooner you accept this the more realistic your expectations will be.
Hudson has his challenges, but thankfully sleep hasn't been one of them.  He sleeps pretty well most places, but we have this travel crib, this blackout cover and this small sound machine.  As long as these elements are with us, we are usually good to go.
That being said, every child is unique.  You don't know if you don't try, so give it a shot and you might be surprised!
What hair products do you put in Hudson's hair?
I just use my own products.  Texturizing spray, sea salt or wave spray and/or a non aerosol liquid hairspray.
Did you paint your stair banister yourself?  If so, any tips or tricks?
I did not paint it myself – we hired painters who handled it!
Would you consider your current home your forever home?  If not, why?
Probably not.  This is the first and only home we have ever purchased, so I feel like that is pretty rare to stay in your first home forever?  But if we were to stay here for a long time I would be fine with it!  One of the reasons I rooted for this house over others is because it has plenty of space for a growing family.  After moving so frequently, I didn't want to be forced to move because of outgrowing the space.  So we could easily stay here with a larger family.
What do you use to hang your hats on the wall?
Nails.  Literally… they're just hanging on nails.
Would Christian ever do a Q&A on Botox, Dysport and all the things?
I try to keep Christian's business separate from mine for our own sanity, but if you're nearby and would be interested in discussing Botox or any facial plastics concerns, you can find him here!
Tips for someone who hates their job and cries everyday because of it?
Girl.  We gotta get a new gig.  Start sharpening up that resume and think of your next move.  I've had one particular job, a six-month stint, that made me feel so bleak.  I started putting feelers out there and never once regretted leaving.  The next position I took was with an amazing team, and I loved it.
That being said, it's always a good reminder that every job has it's pros and cons.  I absolutely love my job, but there are a few elements of it that can make me miserable if I don't recognize when boundaries are being crossed.  And one benefit of living through a treacherous job is that you will always be grateful for the jobs that you enjoy.  It makes you more appreciative!
So there is no "perfect" job or career, but the pros should outweigh the cons.  We spend a LOT of our lives working, so it should ultimately make you better, not less happy.
Easter dress picks?
I recently blogged about this dress I think is so sweet, and I think something like this could work too.  I also love something like this top with a midi skirt or this dress.  Chic!
What are your top three beauty/face products you can't live without?
GREAT and tough question!  I've got to separate skincare and makeup because combining the two is too hard.  For skincare:
1 | A great cleanser.  Right now I'm using Kate Somerville.
2 | A facial oil.  I'm currently using L'Occitane, Cle de Peau and Vintner's Daughter.
3 | Chapstick.  I'm addicted to my Palmer's swivel stick but have also recently fallen hard for Lano.
Thank you so much for reading!  You can find all previous Q&A's in the "personal" category under lifestyle or by searching "Q&A."  XO –