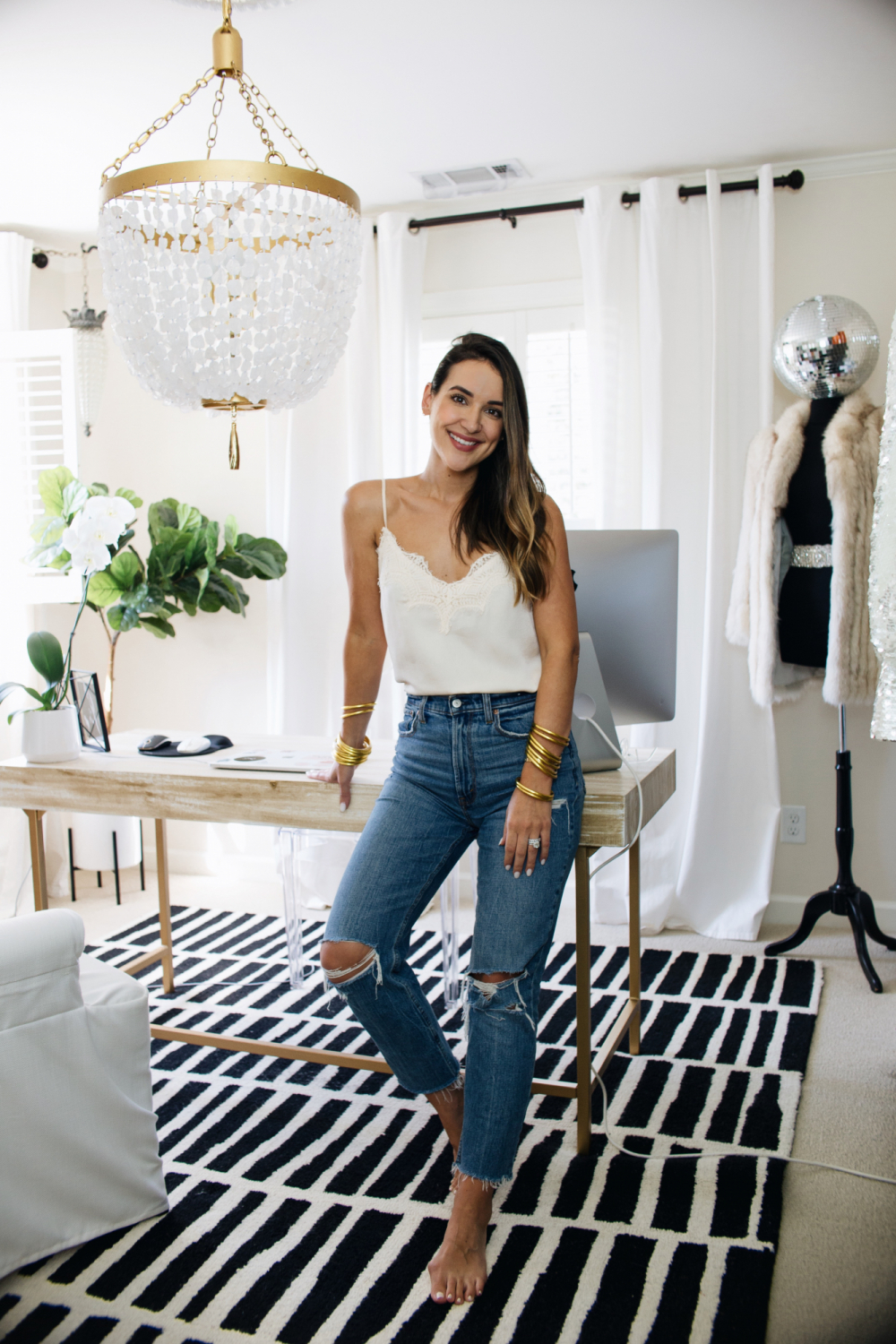 camisole | denim | bracelets | office details
Will there be more Amazon Drop pieces available?  Will there be a a restock?
I wish!  There are no plans to restock.  The Drop is created by ordering a limited about of fabric and once the fabric has run out, the pieces are gone.  I know it's frustrating, but it's also what makes each limited-edition piece so unique!
As people return pieces, they will appear on the Drop site for sale in the "Just A Few Left" section.  So if you want to try to snag another size or get a piece you may have missed out on, you might spot it there!
How do you get the motivation?  To get dressed everyday, workout, etc.?
This job is my motivation!  I also have childcare for Hudson, so I am motivated to get dressed because I don't want them to think, "this lady needs help with her child yet she can't even get dressed every day."  Ha!
I share my appearance for a living on Instagram Stories, Zoom calls, etc.  I also have to film post previews for brands and partnerships.
However I do usually choose 1-2 days a week to just stay in lounge clothes with no makeup.  And I really do appreciate those days as well.
How did you decide on Georgia for your forever-home vs. other job locations?
It came down to the two best job opportunities for Christian and they were in Newport Beach, California and Athens, Georgia.  While I could have easily spent 5-10 more years in Southern California, wherever we chose we intended to plant roots, raise our family and remain for decades to come.
It was hard to imagine always being across the country from our families.  Hudson has 12 first cousins (and counting!) and they all live in Mississippi, Alabama and Tennessee.  Ultimately we chose the opportunity that would allow us to be a car ride from our families.
Favorite strapless bra?
Strapless bras are tough, and admittedly I wear these petals whenever I can.
But if I have to wear a strapless bra, it's this one.
Would you ever consider a clothing line?
In my dreams, absolutely.
Biggest fall trend you're loving?
Jewel tones – so beautiful.  Loving this top and this belted jacket.
How do you feel about vintage jewelry?  Cool or not your thing?
I LOVE IT!  I love consigned and vintage pieces and used to shop them much more.  Now that this blog and Instagram are my full-time job, girls can get really frustrated when I wear things that have no online links.
I think we all wear things that are from years ago, seasons past, from boutiques or hand-me-downs.  But I try to wear those kinds of pieces offline as they usually bring lots of questions.
I see you in a lot of white tees.  Any tricks to avoid yellowing?
Soak your favorite white tees in OxiClean.  They have directions on the container for soaking, and it WORKS.
For really yellow-stained tees, soak overnight and wash in the AM.
Recommendations for what to wear to a fall wedding?
Love the idea of something emerald green or burgundy (also love this one).
And you can never go wrong with a classic black dress.  Make it your own with statement accessories!
How to you balance work with a baby?  Do you have a specific schedule, help, etc.?
I don't have any magic tip for work/life/mom balance, but I couldn't work without help.  If I didn't have help, Hudson would be watching three hours of TV a day, and that's not fair to him.
I feel that having someone to help me care for him during the day allows him to have constant interaction for all of his waking hours, less screen time and more play time.  Christian and I both have full-time jobs and the ability to work during the day without caring for Hudson as well truly allows me to be the best mom I can be when I am with him.
It also means I genuinely look forward to our mornings together and to shutting my computer for the day around 4:30PM so I can spend the rest of the day with him.  I try to really focus on being present during our time together.
Of course… all of this is easier with just one child.  I'm sure I'll have to figure it out all over again whenever there's another child in the mix!
How do you and your husband make being opposites work?  Any common interests?
This question made me laugh!  We are pretty different in our natural skill sets, however we have a quite a bit of similar interests.  Our core values and religious beliefs are the same, which is the most important to us.  We like a lot of the same movies, we like most all of the same foods/restaurants.  It's funny because while our personalities are extremely different, we agree on about 95% of things.
I guess my attempt at answering this question shows that I'm not quite sure how/why exactly it works, but we've been together 13 years and married almost 8 and… it just works!
Baby-proofing tips?
I bought this little play pen, these bumpers for our coffee table, cabinet latch locks and these outlet covers.  If he isn't with me, he's in the play pen or his Joovy walker.
What are your organization tips?  Your home seems so neat all of the time.
I have always been a very organized person.  I live by the "outer order, inner calm" mantra.  I also feel like I have worked really hard to have spaces I find beautiful, so I want them to look beautiful!
When I notice a drawer or closet getting out of hand, I just tackle it before it feels out of control.  I do think being "organized" or "tidy" is a bit of a personality trait.  You know?
Housewarming tips for young couples?
My go-to housewarming gift is an orchid or hydrangeas in a vase.  In my opinion, you can't have too many of either!
Where is that matte blag mug from?
It was a mug in the rental cabin we stayed in.  I found a similar one online with quick googler search here and here.
Can you share the link for the acrylic frame you put the scarf in?
Yes!  If you search "acrylic frame" on this site, several posts will pop up with it linked here and here.
Do you plan on traveling soon?
We have a few road trips planned for 2020 but that's about it.  We haven't stayed in a hotel since summer 2019 believe it or not!  After having Hudson, we have only stayed in family homes or rental houses.
Do you have a work-from-home playlist?
I have several!  You can find my "Monday" + "Friday" playlists here.
A 90's playlist here.
My usual go-to "vibe-y" playlist here.
And if you just search "playlist" on this website, many posts should pop right up!
How do you not have fly-aways with your low bun?
I don't have any layers, so that helps.  I also tame baby hairs with clear mascara or brow gel.
Where is your "Hudson" necklace from?
You can find it here.  Also, if you search "Hudson Necklace" on this site, it is linked in all of the posts that come up along with the outfit details.  I also love this one!
Baby boy clothing picks for fall for Hudson?
I recently bought him this sweater and jogger set.  Knit overalls in grey and cream (with the matching cardigan and bloomers).  I also got him this elephant sweatshirt and elephant knit set.  And this cardigan.  It was… a big order.  Ha!
Thank you so much for sending in your questions!  You can see many more Q&A's in the "personal" category of this site or by searching "Q&A" in the search bar.  Thank you for reading – XO –