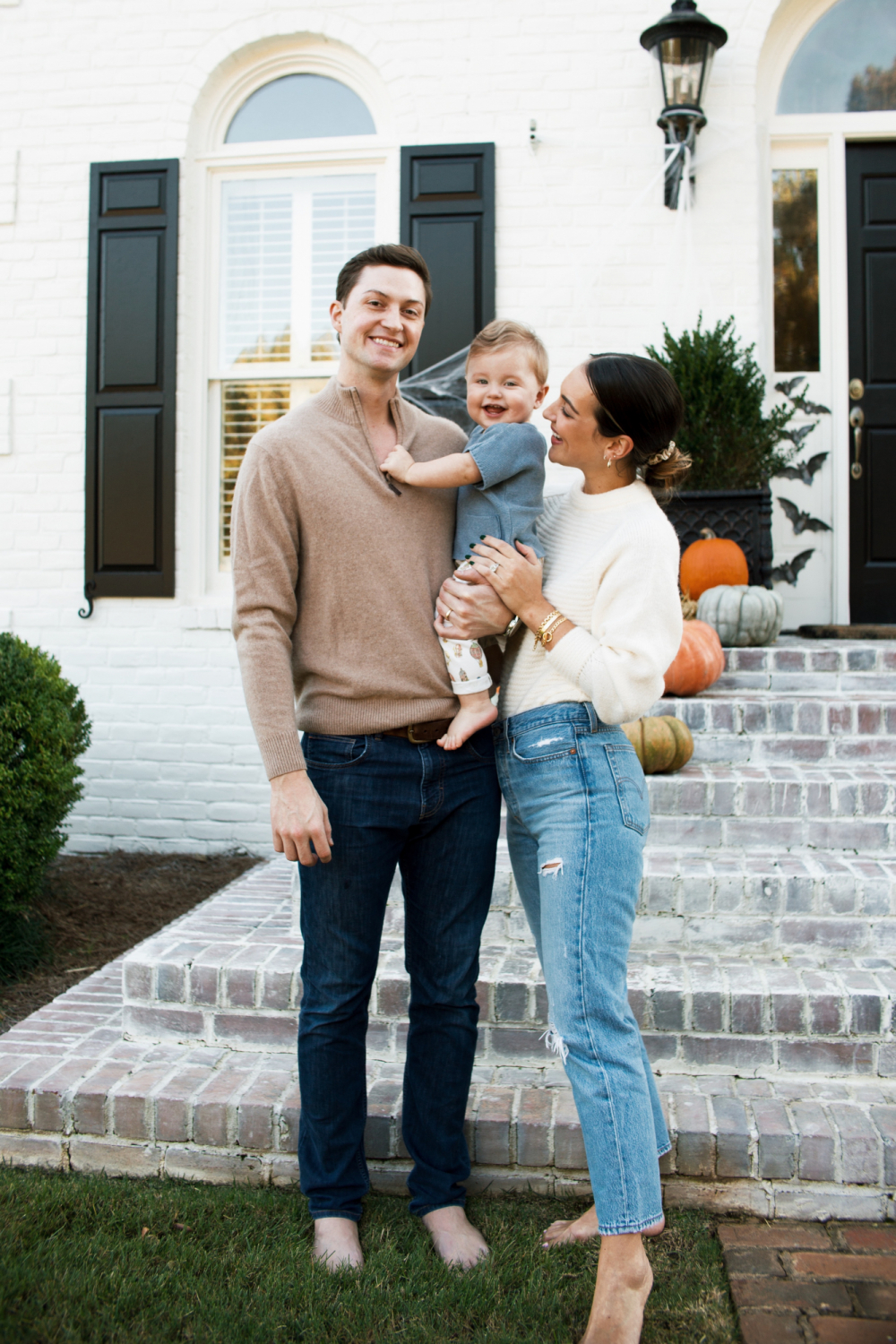 Hudson's top | Hudson's leggings (50% off) | similar sweater here, here and here | denim | similar mens sweater (24% off) | mens denim
What food blogs do you follow for inspiration or recipes?
Who are some of your favorite artists – both splurge and affordable?
How do you keep your house so clean?  We never see you clean but it's always immaculate!
I have always been a type-A kind person.  Emma, who helped us keep our home clean growing up, had to ask me to stop making my bed on the day that she came because it was more work for her to unmake it to change the sheets.  Like… what 6th grader is like that!?
I do have two women who come every other week, and they are wonderful.  That's not to say that I don't clean sinks and toilets myself, because I definitely do!  I have a roomba that runs daily Monday – Friday, and I probably use my Dyson at least once a day (more because of Bailey's Labrador hair than Hudson's messes).
We have invested in these nice things for our home, so I've always kind of thought – what's the point if the house is always a mess and I can't enjoy it?  I think I've just found that it's a lot easier for me to clean a little bit every day than to wait until thing are really dirty and spend hours.
When will you be showing us your bathroom?
When it's fully complete!  We still have a few finishing touches and I felt a little rushed to share many of our room reveals (all in the "home" category) that I plan on waiting until it really feels fully done.  So I guess some time in early 2021.
I'm planning my wedding.  What did you think was a waste of money?
I chose to have an outdoor ceremony and an indoor/outdoor reception and it greatly reduced the cost of flowers.   We did have some floral arrangements of course, but used a lot of candles, twinkle lights and of course, nature was the biggest backdrop.
We also used the incorporated the florals from the rehearsal dinner for the wedding reception the next day.  Why not maximize gorgeous flowers and save a little money?
What's the biggest misconception people have about you?
I guess I don't really know because I haven't asked what people's assumptions may be?
I think there can be a lot of confusion about my job.  It's kind of crazy that I spend more time on email, negotiating projects and reviewing contracts than I do creating actual content.
For three sponsored Instagram stories, there's often 35 emails back and forth, a 7-page contract and 14-20 page brand document with asks and deliverables.  So on the outside it looks like 45 seconds, but the behind-the-scenes of everything we see in social media and/or entertainment is more complex than it appears!
Do you use both natural and cashmere mist deodorant?  Which do you prefer?
I do use both!  I usually use this deodorant (currently 15% off) in the warm months and this one in cooler months.  When it's really hot, I need to know what I'm wearing is 100% sweat and stink proof.
Do you have any favorite drug store dupes of luxury skincare or beauty products?
Definitely!  I use this clear mascara on baby hairs and often as eyebrow gel.
I use this detangler.
This is my favorite lash primer.
And I love this lip liner in Toffee.
What are your favorite fall nail colors?
Dark green, navy blue, black and burgundy.  I'm an SNS dip person, so I never know the exact color names.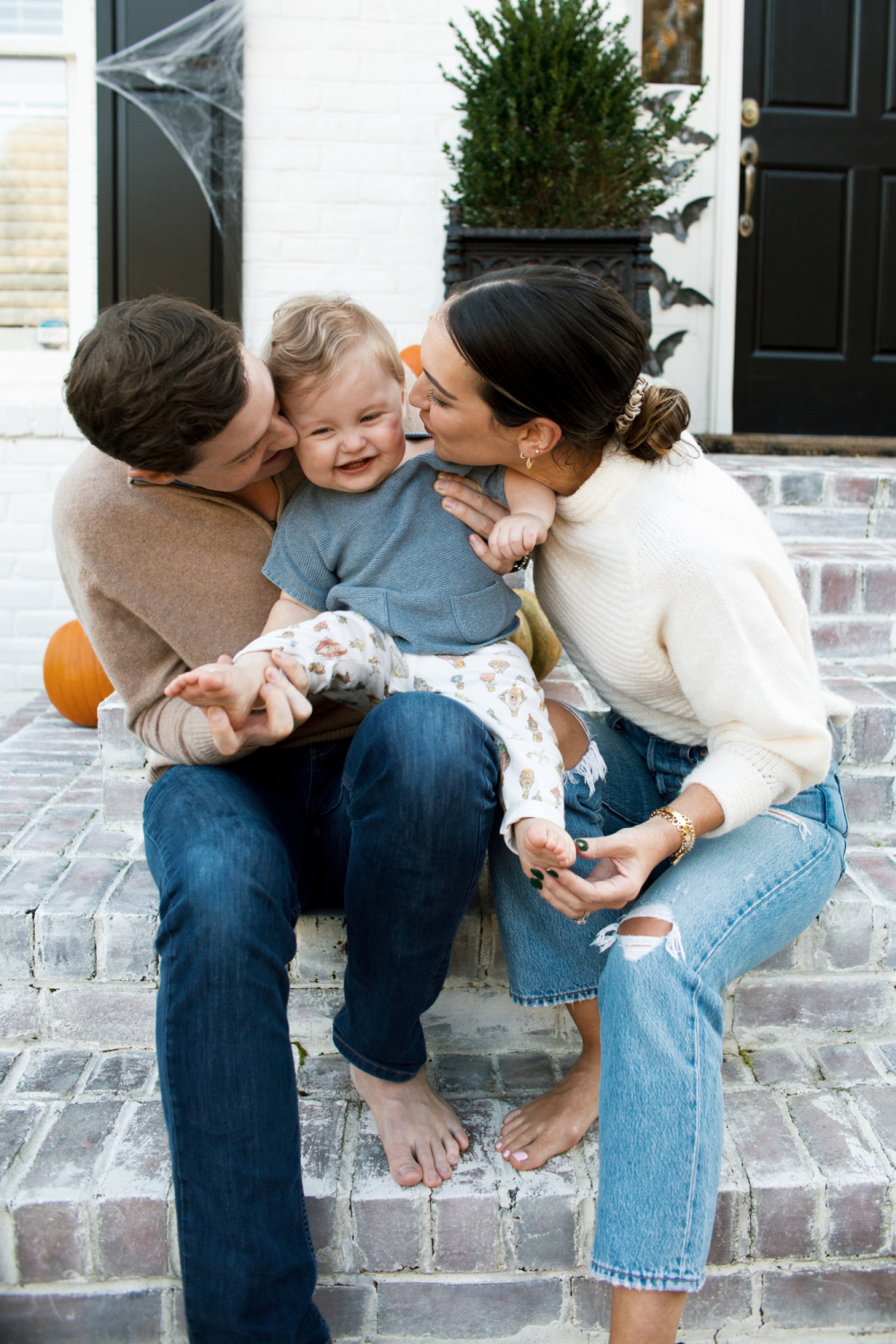 What holiday tradition are you looking forward to this year?
Last year I had envisioned the holidays with our one month old newborn baby, sleepy and snuggling.
In actuality, he had colic weeks 2-11, I was really struggling with disliking breastfeeding (more on that here), and I was in my busiest season of work.  It's hard to bond with your first baby when they are always crying.  I actually spent the afternoon of Christmas day crying in my sister's laundry room (exhaustion, breastfeeding hormones, you know the drill).
All of that to say, this year I am keep expectations low!  Christian will be working this Christmas so we will be celebrating with just our little trio in Georgia.  I know that Hudson will enjoy boxes and wrapping paper more than his gifts so I don't plan on going too crazy.  I'm sure closer to time we will make some loose plans (meals, movies, hot chocolate, these matching pajamas, etc.) to make it feel special.  Last year the week of Christmas we drove around different neighborhoods with Hudson sleeping in his car seat and looked at all of the decorations, and that was really fun.
And I know those of you who have a baby with colic are going to ask me for tips.  Sadly… I don't have any.  I'm so sorry, and I know it's so hard.  You don't even know how tough it is unless you've lived it.  I followed the advice of our pediatrician (whose first child also had colic) and was fully honest with him.  I hired help when I needed a break.  We tried all the drops, prescriptions, gripe water.  I cut all dairy from my diet.  Breastfed exclusively, then tried incorporating different formulas. It didn't make much of a difference.  My dad is a Gastroenterologist and he even sent us pediatric GI articles on colic that we read.
Hudson even stumped our night nurse who works in the NICU and has kept hundreds of babies.  And like all newborns, he eventually grew out of it.  They all do.  On week 11, I had a new baby who smiled, coo-ed and rarely cried.  And that's when we really started to bond.
I remember exactly where I was standing when he first smiled at me at 10 weeks.  I stood there and wept, Christian laughing and hugging me.  After having such an easy pregnancy, delivery and recovery, those first few months of mom life were so tough.  That little baby smile was truly a small gift from God.  A little encouragement, letting me know it was going to get better.  And boy, did I need it at that time!  I cried again just typing this and revisiting that time.  It was a lot.  You're not alone!
So all of that to say… I feel confident the holidays this year will be a little happier!
How has motherhood changed you?  Has Christian noticed anything different about you?
That's a great question!  I would say that I feel like so much of my life now is centered around making our son as happy as he can be.
Sometimes I realize it's 10AM and I've been up for 3 hours, have fed Hudson a bottle and a snack, changed his diaper multiple times, gotten him dressed and done his laundry.  And I haven't even poured myself coffee or gotten dressed.  There's no one else that I put before myself entirely like that.  And it's not because I have to.  It's because I want to.  Because I'm addicted to him!
I asked Christian and, he said that I'm the same other than that I've reevaluated my priorities and value more personal time.  I used to happily work all of the time, and now I work harder to ensure I have a healthier amount of time off the clock.  Which means I've learned to say no more often than before in order to ensure that there's not just family time, but also more time investing in relationships with new friends in Georgia.
I would agree with the above!  I think having a child makes you view and value your time differently.
Which MacKenzie-Childs pieces would you recommend for someone new to the brand?
You guys know I LOVE MacKenzie-Childs!  My pick would be their iconic tea kettle or one of their cookware pieces in courtly check.
Recommendations for cashmere sweaters?
Oh gurl.  Mango, Filoro, Nordstrom… even J.Crew.  They're everywhere!
Recommendations for camisoles?
For a splurge – Cami NYC and Alex & Olivia.
For a save – Free People and Halogen.
How did you get in shape after Hudson?  I need some motivation.
You know how everyone tells you "9 months in, 9 months out?"  I would eye roll to myself like, yeah yeah, not me.
Well I'll be damned.  About a month or so postpartum I had 15 lbs to lose.  It came off slowly on it's own.  But I had to work at those last 5 lbs.  Month 6 – 9 postpartum, I had to really try to make healthier choices daily.  And truthfully, once my clothes fit again… I didn't really care that much.
I kid you not, when Hudson was 9 months old I finally stepped on the scale one week (I weigh myself around once a week, sometimes less) and I was one pound below my weight when I got pregnant with him.
It took time.  Literally was 9 months in, 9 months out.  That really surprised me that everyone who said that was 100% correct.
Where is your gold safety pin earring from?
You can find it here.  I love it, and rarely take it out.
Can you tell us more about your hair color?
I haven't gotten a cut or color since February 2020.  I usually get balayage about once a year and I have my hair cut about twice a year.  Perhaps one of the only areas of my life in which I am fairly low maintenance/under budget!
Can you link your diamond eternity band?
My band is a setting redesign from Albriton's Jewelry with my original stones.  You can see more of it here – I am truly obsessed.
Best bra for mock neck tops or sweaters?
I have been LOVING this one because it has no underwire and the thick side strap smoothes everything out so nicely.  I also am a big fan of Third Love and Tommy John bras.
What are some of your favorite undergarments?
I love Hanky Panky and Chantelle, specifically these.
I'm also a big fan of Spanx.
Comfortable and casual boots that aren't Uggs?
I would lean into the moto boot trend like these or these.
I've ordered these and these for Hudson.
Details about your Birkin buying process?
It's a 2016 and I bought it from Agora Vintage.
Do you wear your Love bracelet all the time (gardening, showering, working out)?
Always.  I don't remember the last time I took it off.
Thanksgiving dinner outfit ideas?
This one is on the blog, but I just think whatever makes you feel your best.  Denim and a sweater is an easy go-to (like the photo below).  If it's not cool enough yet where you live, a tee and denim with a big sweater cardigan is nice because you can easily take it off.
Another option is a dress with boots or booties – always cute and you don't have to think about unbuttoning your pant button after all the turkey and dressing!
Thank you so much to everyone who sent in questions!  You can find every Q&A on this site by searching "Q&A" in the search bar or visiting the "personal" category.
I hope everyone had a Happy Halloween and here's to election week.  May we all try to remain calm and respectful regardless of whether or not the outcome is our preference.  Thank you for reading – XO –