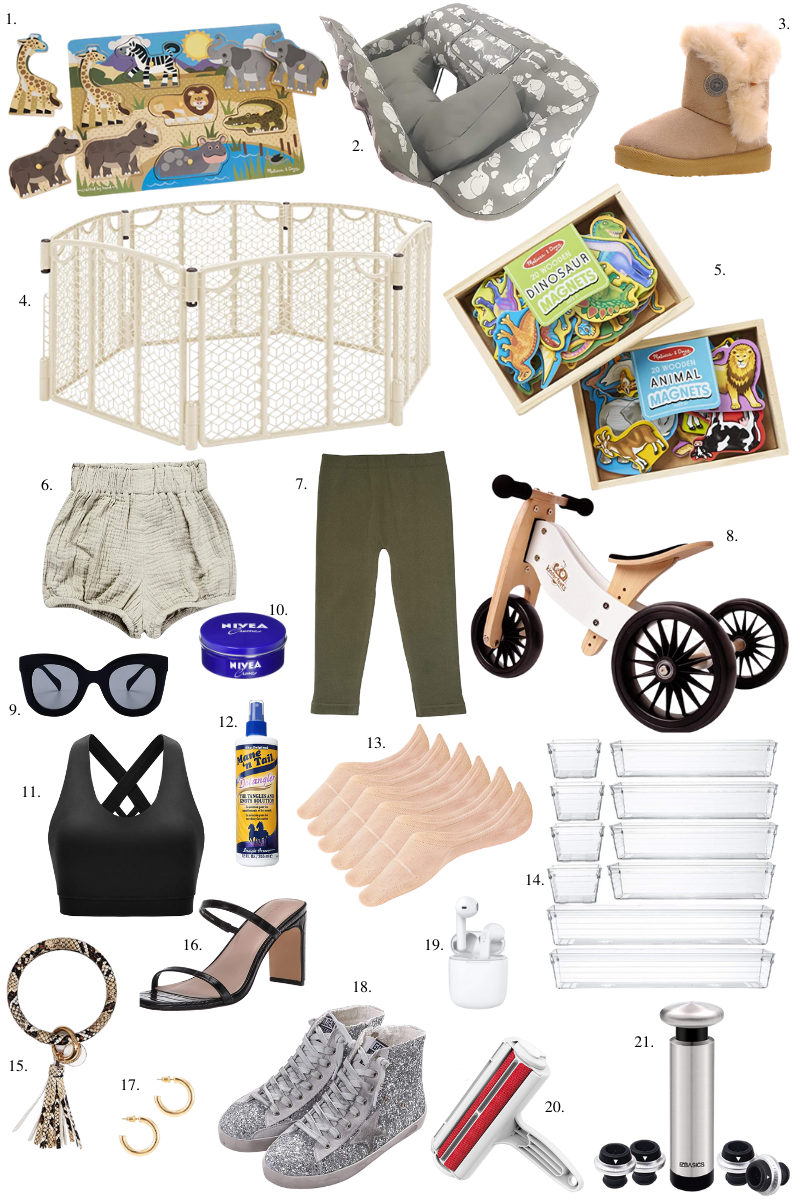 1 | 2 | 3 | 4 | 5 | 6 | 7 | 8 | 9 | 10 | 11 | 12
13 | 14 | 15 | 16 | 17 | 18 | 19 | 20 | 21
I love seeing what's in other people's grocery carts (like this), and it's been a while since I shared what's been purchased from my Amazon cart!  Let's dive in –
I've bought these and these for Hudson for his birthday after seeing him love them at a friend's house.
I also recently bought him these leggings in 3 colors and I love them.  Such great quality, really comfortable for him to crawl in and much thicker and more well-made than I expected.  This summer I also bought these bloomers for him in a handful of colors.  F
or cooler months I bought him these boots and these soft sole slippers.
I bought this little cover for grocery carts but have yet to use it.  I've only taken him on a handful of errand runs since March and when so, I carry him in the baby carrier because I don't want him to touch anything.  I still try to keep his exposure to germs as low as possible at our pediatrician's recommendation, but when I do take him – he loves it.  He is always so silent, observing all of the action.  Bless these 2020 babies!
I can't even tell you how many times this plastic mat has saved us.  We usually keep it on top of the rug under our dining table.  If he tosses food, so far it has always landed on the mat making cleanup super easy.
Similarly this play pen or baby gate, baby fence, play space, baby jail – whatever you want to call it, has been a home run.
I have two of these key rings and love them.  You can't beat $9.
I finally received these strappy heels and absolutely love them.   I've also ordered these glitter sneakers which have yet to arrive, but I'm hoping they will fit!
I've been using this detangler for years – always a favorite.
I read someone compare this sports bra to a lululemon version, so I snagged it, and I've ordered these no-show socks twice.
These $15 sunglasses are fabulous! I keep the matte black pair as a spare in my car.
If you google it, you'll see some articles comparing this body creme to La Mer.
I have these $14 gold hoops and love them.
I bought these for our bathroom drawers and they're great for the price.
After having them for a few years, I lost an AirPod and didn't want to pay to replace it so I bought these.  So far, so good.
If you've bought something from Amazon lately that you love, please share in the comments!!  I love recommendations!  You can find other Amazon posts here, here and here.  Thank you so much for reading – XO –