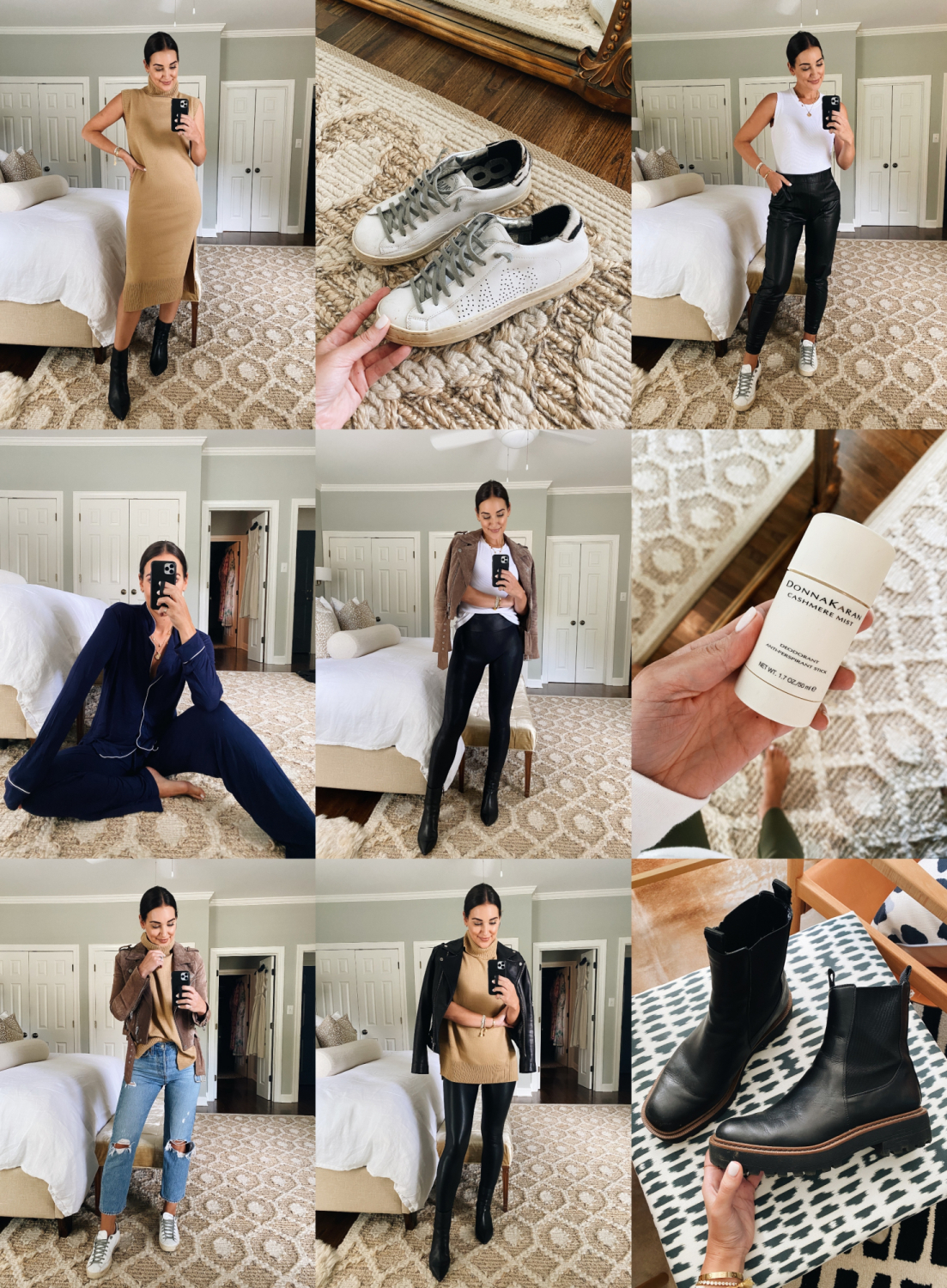 So believe it or not… none of these items are pieces I bought this year.  These are pieces from my closet that I've bought or that I purchased in previous Nordstrom Sales over the years.  Which means they are pieces I really stand behind because they are classic, versatile and worth the splurge.
You can find my picks in all categories in this post, but today I'm going to walk through some identical or nearly identical items I already own and would recommend.  Let's go –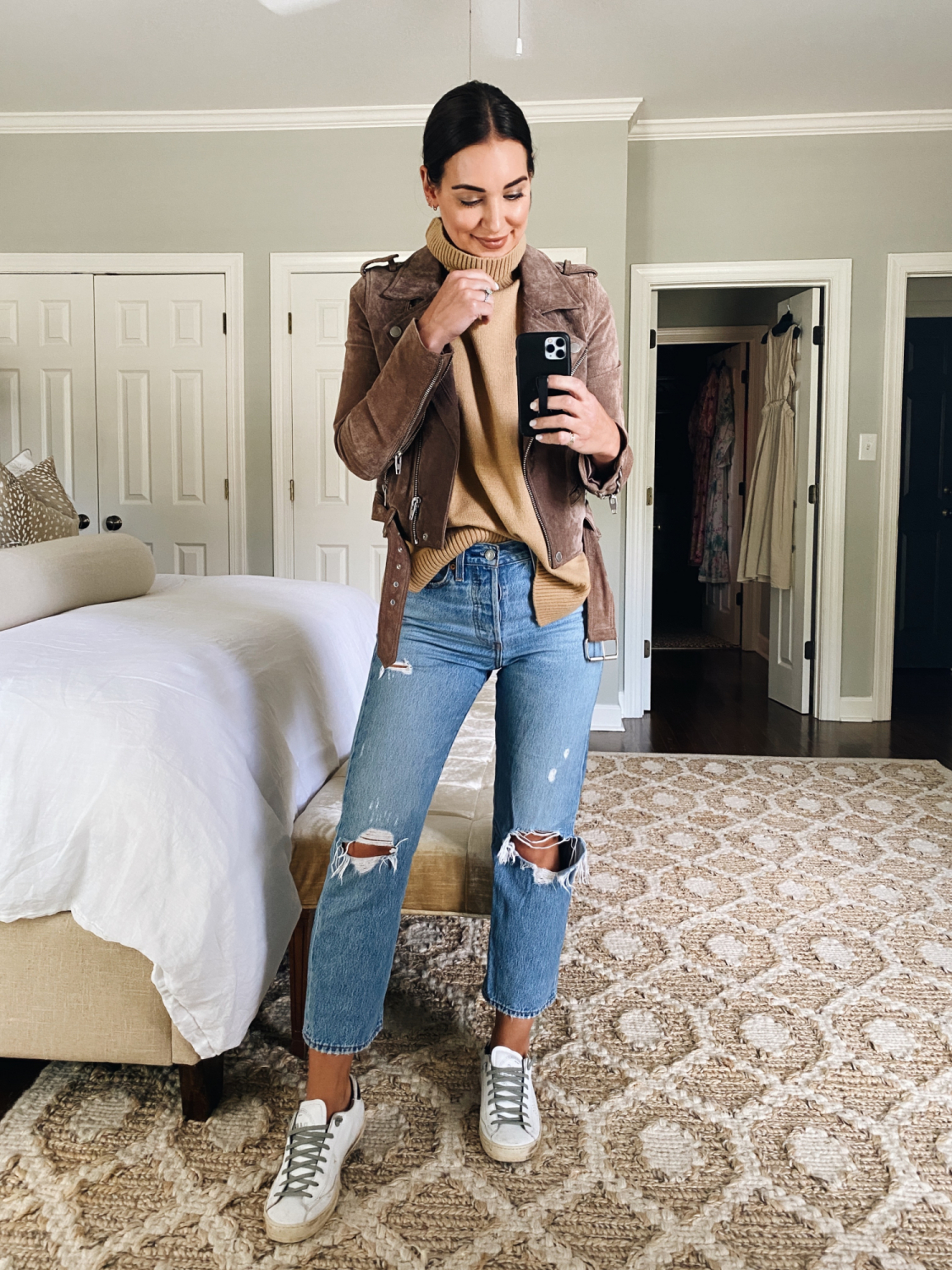 SUEDE MOTO JACKET, TTS
I've had this jacket since I lived in Orange County, and it looks so cute with pretty much everything.  Which is why I've kept it all of these years!  It has a really  nice weight and feels more expensive than it is.  I love the faux leather version also.
I have several pairs of p448 sneakers, and I love them.  I often slip them on without socks, and I think they're a great Golden Goose for less option.
LEVI'S WEDGIE FIT CROPPED DENIM, TTS
I've had these for a few years, and they're a great intro to the classic Levi's style of denim.  Ultra chic with a sleek bodysuit and ankle booties too!  I also have these Levi's in several washes (run TTS), and really love their ultra high rise.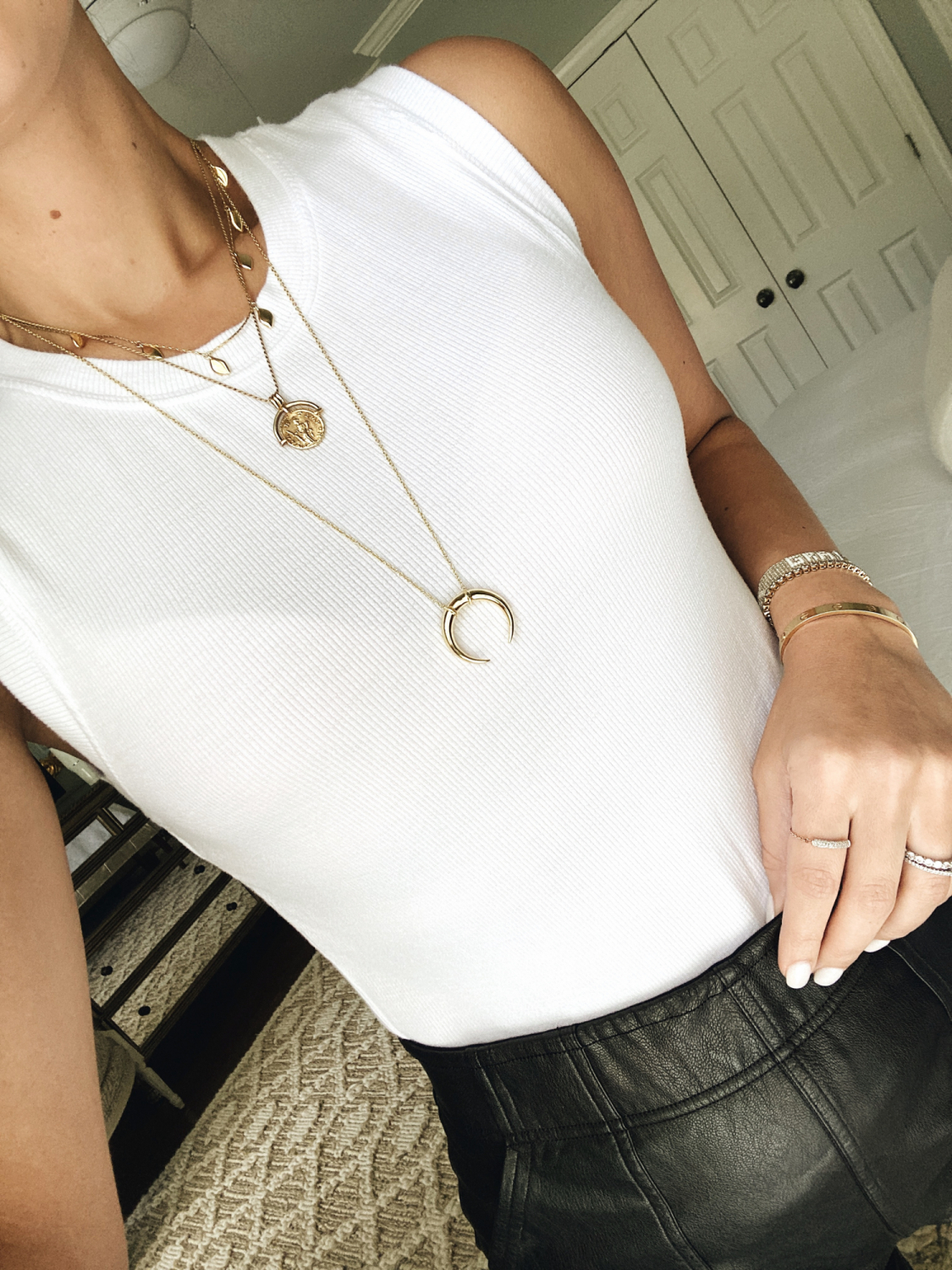 I've had this necklace for a few years now and it's one of the only long necklaces I consistently wear.  It's really beautiful and looks much more expensive than it actually is.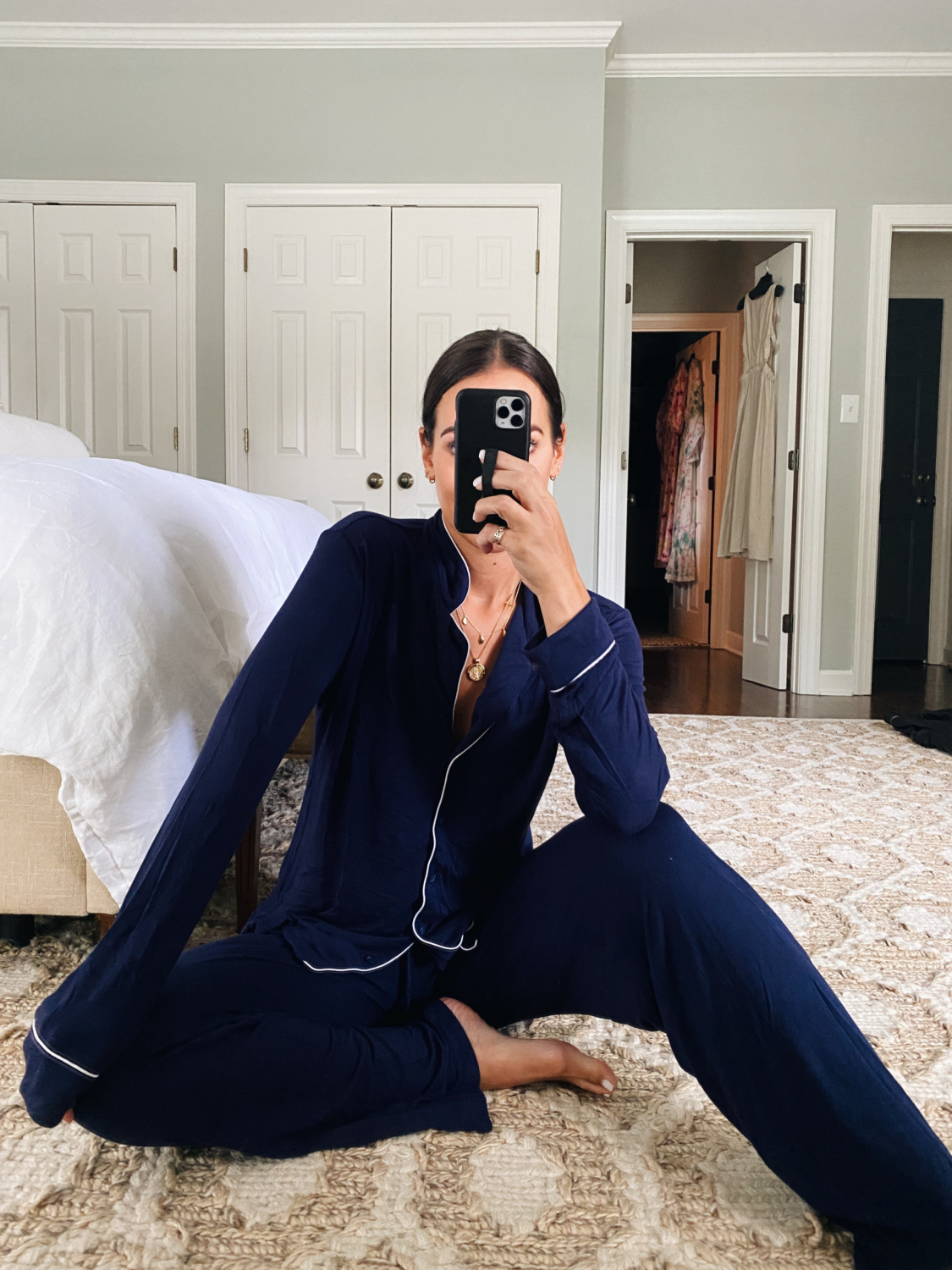 NAVY PAJAMA SET, RUNS BIG
I buy a set of these pajamas almost every year.  This navy pair is from last year, and I also have it in black, the shorts version and the nightgown version.  I even wore them (and perhaps stretched them out) when I was pregnant!
They're incredibly comfortable, run on the looser side (I wear my usual size but they fit loose and lounge-y) and are the perfect travel pajama because they fold up really small.  A favorite and worth the price without a doubt!  I would happily pay for more them, I love them that much.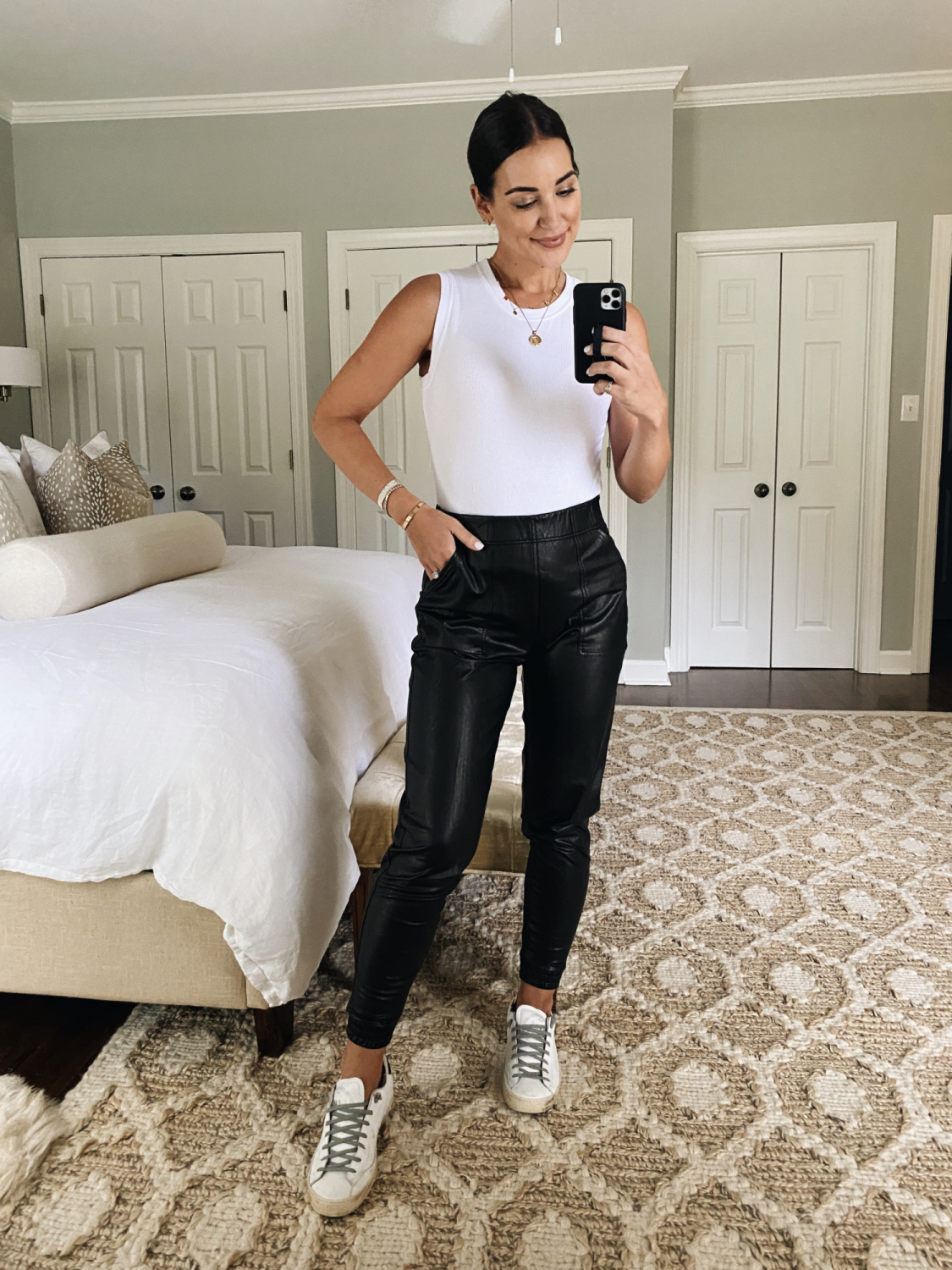 SPANX FAUX LEATHER JOGGER, RUNS TTS
I shared these joggers on stories when they first came out, and they're such a great piece!  I love them with a tee and sneakers, but they also look great with strappy heels and a simple black top.  They have a jogger-like fit, so I would recommend ordering your usual pant size.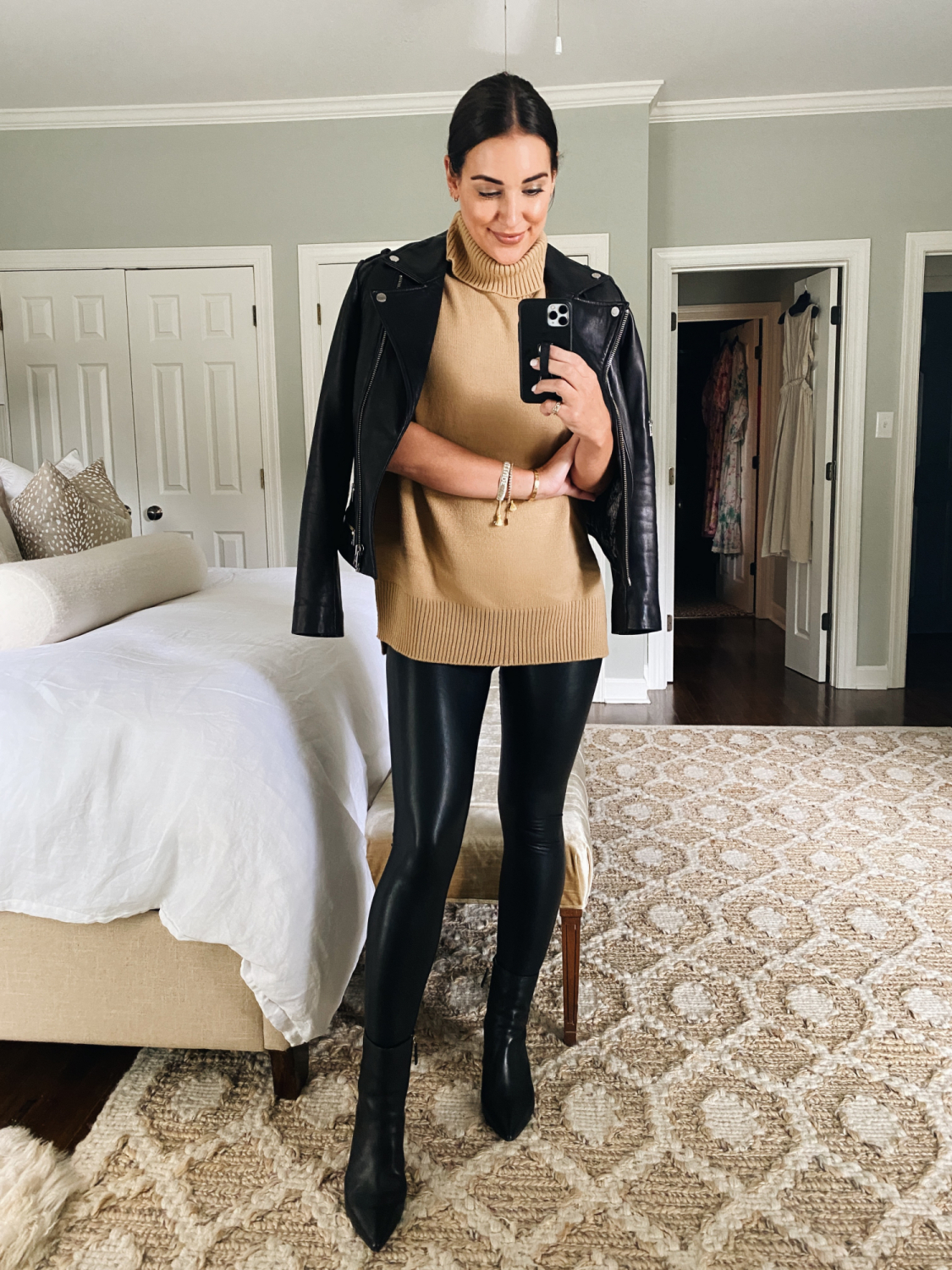 COMMANDO FAUX LEATHER LEGGINGS, TTS
The second pair of faux leather leggings that I own that are ultra sleek and flattering.  These run a little bit more snug than the similar Spanx pair, but I love them equally.  They have a more faux leather look than the Spanx pair and provide this vertical shine that I think makes legs look longer.  I've had them for about three years now and love them.
SLEEVELESS TURTLENECK SWEATER, TTS
This sweater sold out in early access, but I'm a BIG fan of sleeveless sweaters.  Let's be real, it can still be hot in September and October so it's the perfect compromise!
SIMILAR LEATHER JACKET HERE AND HERE AND FAUX LEATHER JACKET
I already own two leather jackets, but if I didn't this would be an amazing time to splurge on a lifetime staple piece like that.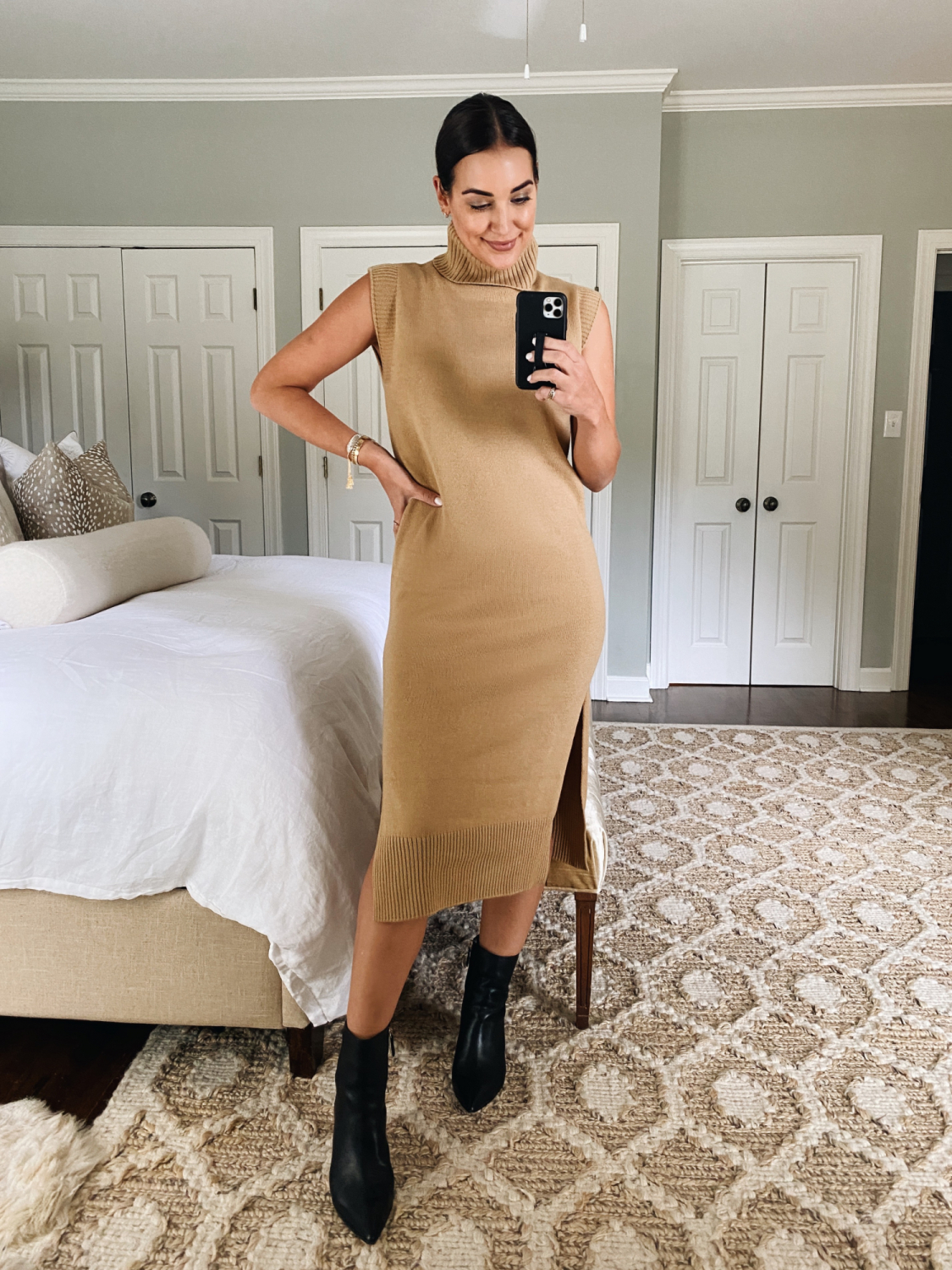 SLEEVELESS TURTLENECK SWEATER DRESS, RUNS SMALL
This dress is a great piece for early fall and would be so cute with a leather jacket layered or a sleek bodysuit underneath!  I did order my usual size and it fits a little snug in the hips, so I wish I had sized up one size and that is what I would recommend.
SIMILAR BOOTIES AND LOVE THESE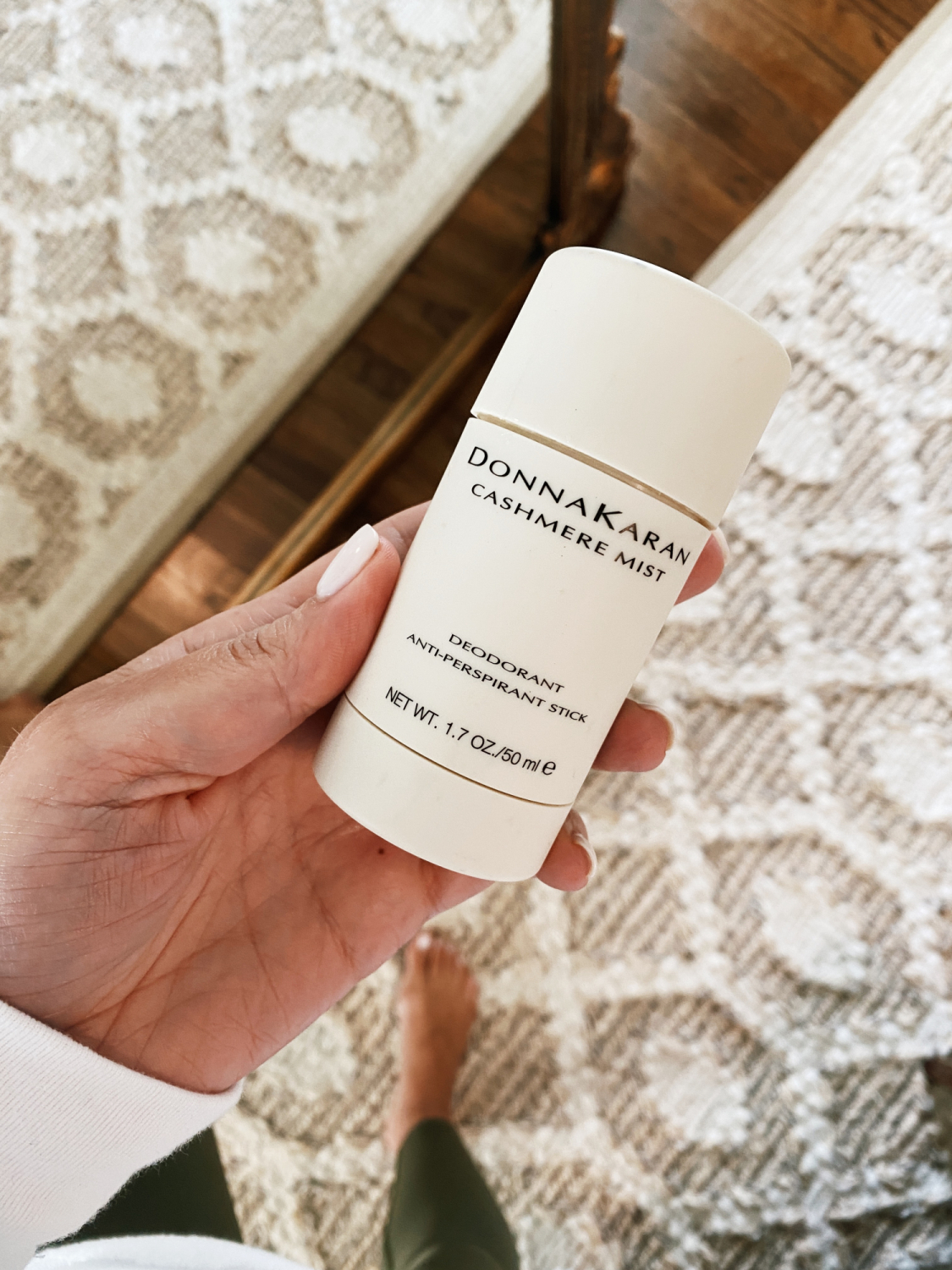 The best deodorant by a landslide, I buy this 3-pack every year and I don't think I can live without it.  I don't want to because I'm simply addicted.  It smells amazing, helps prevent sweating better than any other deodorant I've ever tried and it glides on so silky smooth.  It's the best, hands down, no question.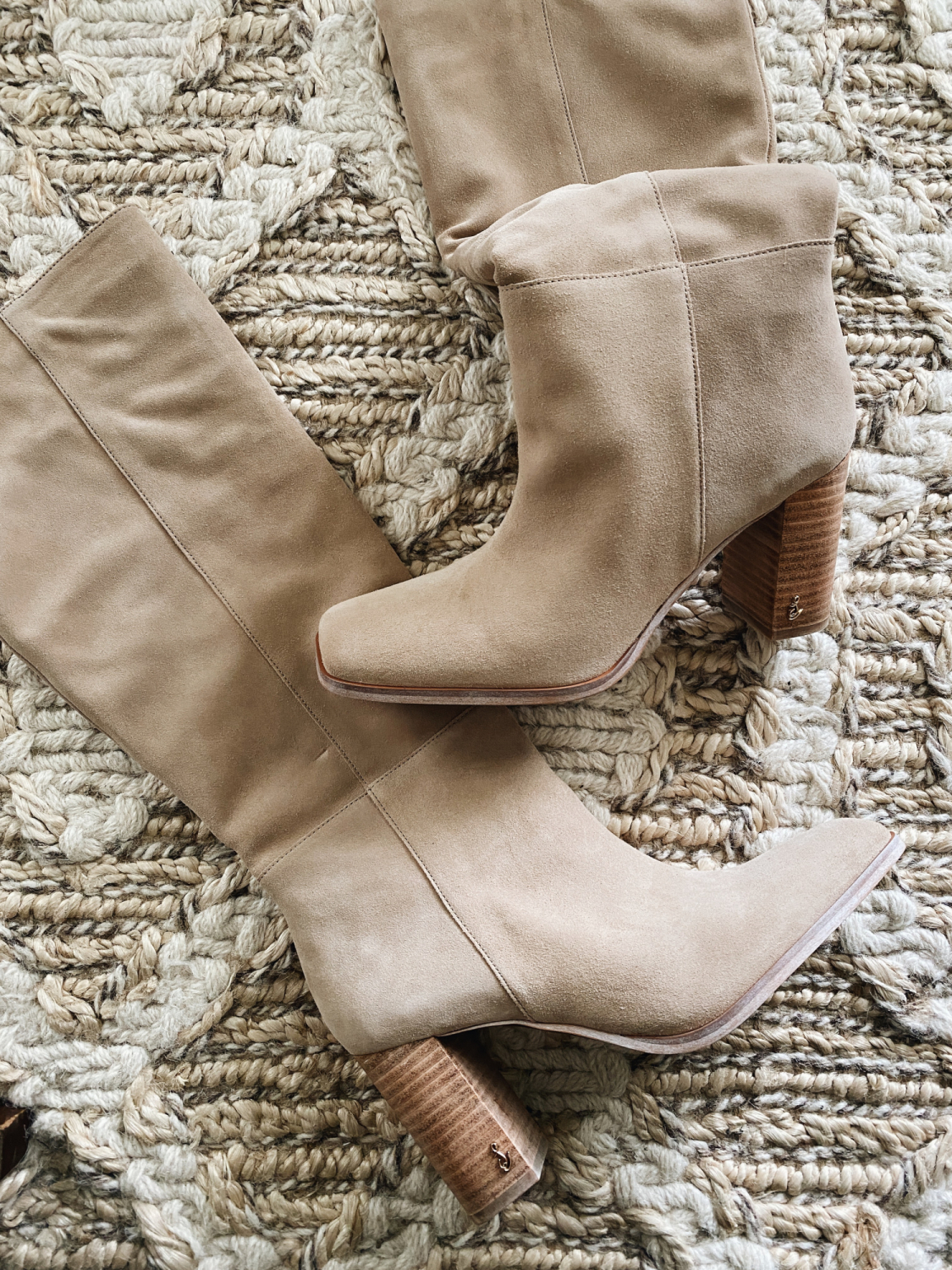 These boots come in several colors and are timeless.  I am usually in between two sizes in boots and I went with the larger size and am glad I did.  They run a smidge narrow, so I appreciate having the extra space!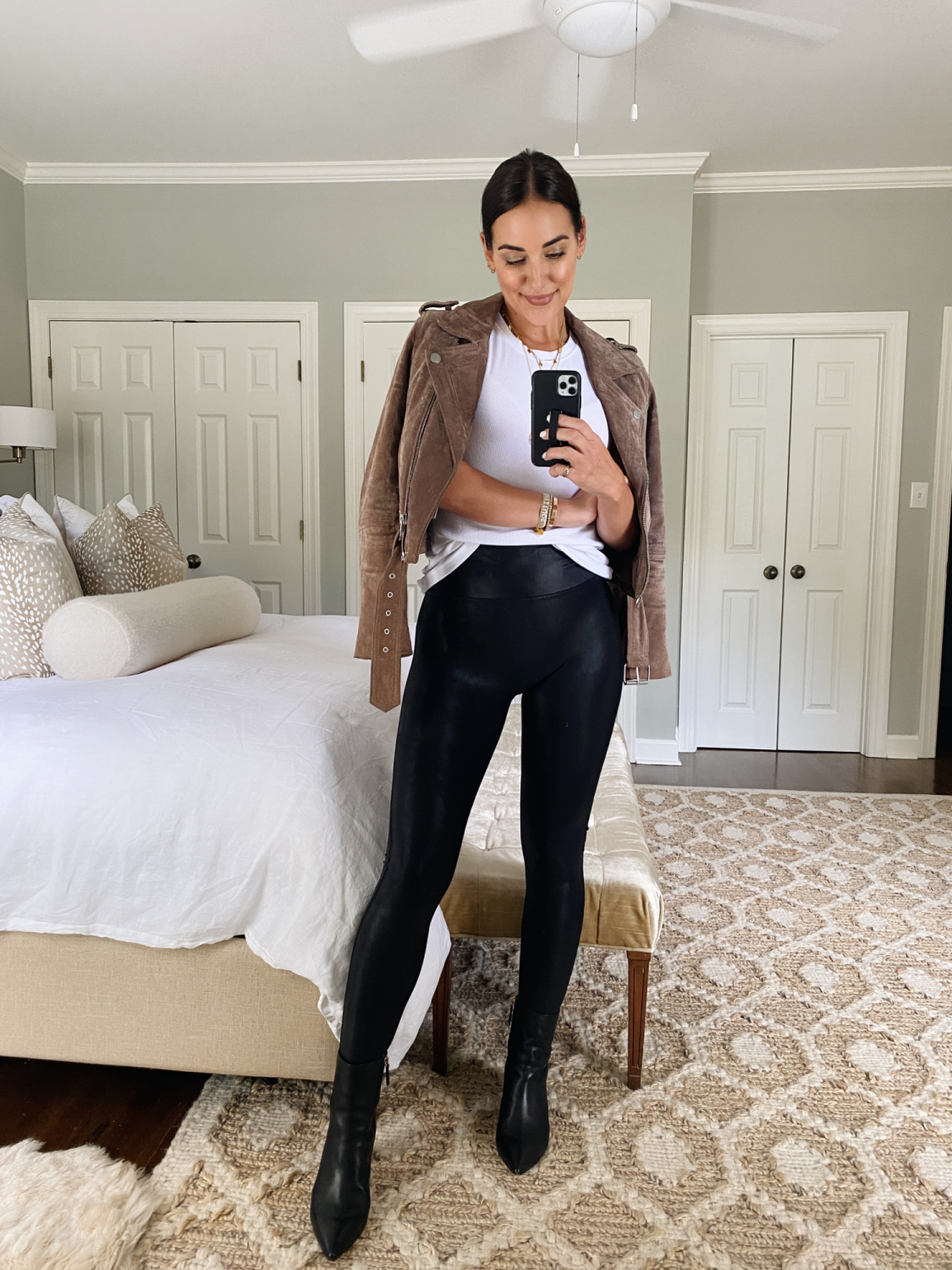 SPANX FAUX LEATHER LEGGINGS, TTS
These leggings have been in my closet for almost 5 years, if not longer.  You can see them styled in 2017 here!  I LOVE them, they're so comfortable and a purchase you will hold onto for a long, long time.  I also own the maternity version and wore them often when I was pregnant with Hudson.
SUEDE MOTO JACKET, TTS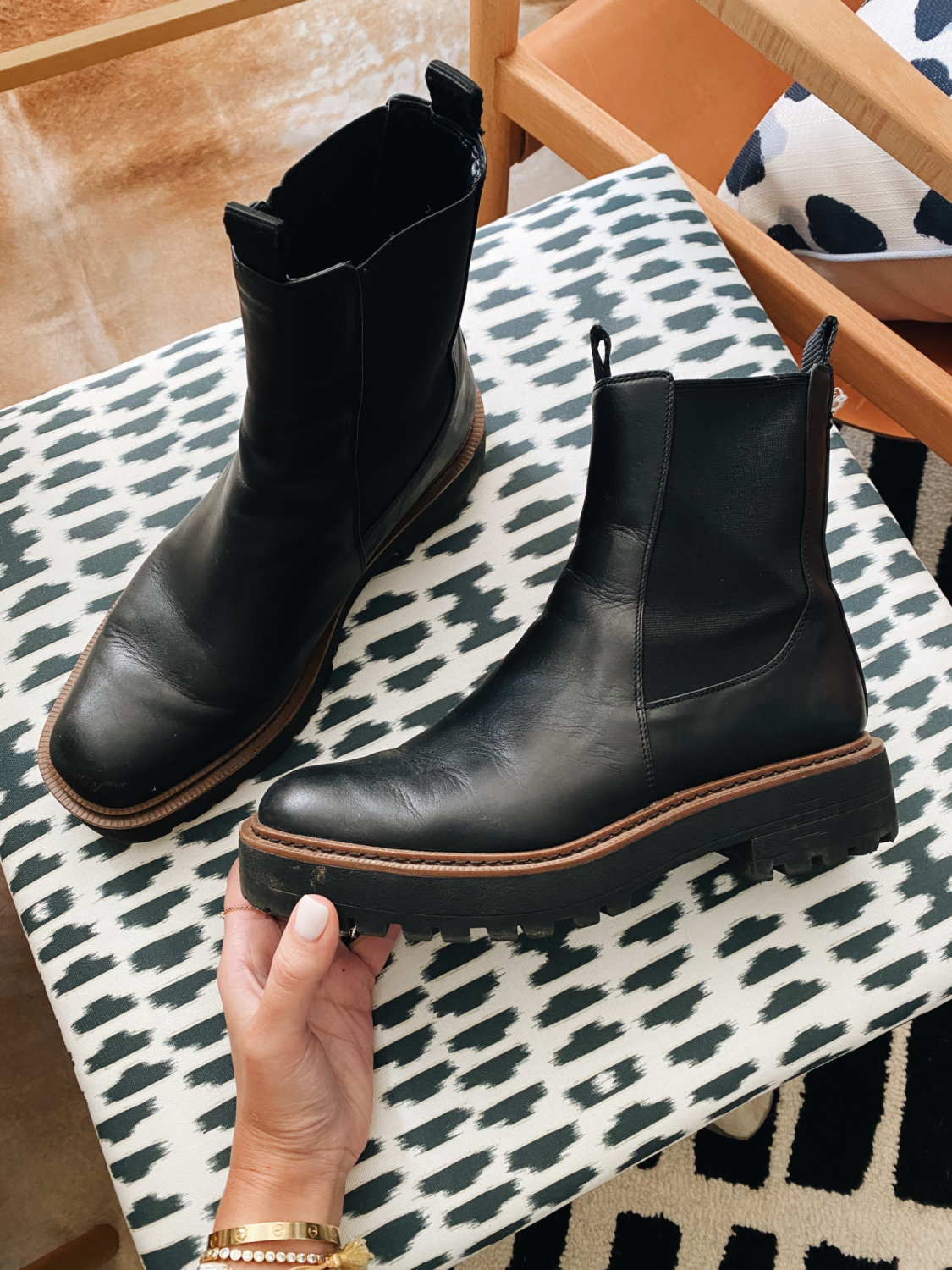 WATER-RESISTANT COMBAT/CHELSEA BOOT
These boots aren't exact, but nearly identical and I LOVED these last year.  They are that perfect "cool girl" touch, and I know I'll be wearing them a lot this fall and winter also.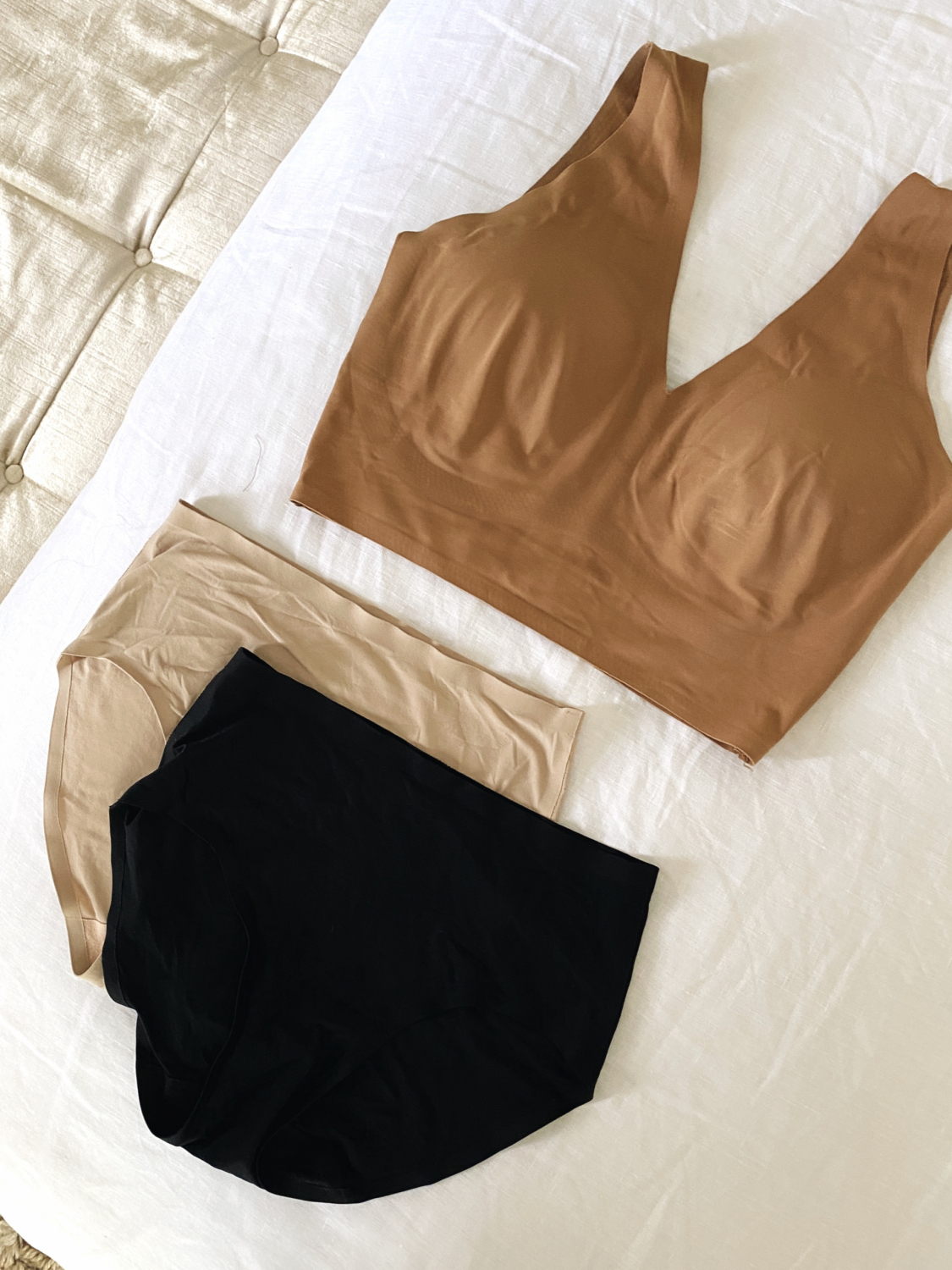 TRUE & CO BRALETTE, RUNS TTS
I bought this bra last year, and it was absolutely one of my most worn bras of the year.  So much so that this year I bought two of the spaghetti strap version.  The pros are that it's wireless, wildly comfortable and has a very wide height on the back which smooths out your back and eliminates any bulges.
The con is that the v-neck cut doesn't it allow it to be worn with all tops, which is what I'm hoping the spaghetti strap version might solve!
CHANTELLE UNDERWEAR, ONE SIZE FITS MOST
This underwear somehow fits sizes 2-10, and it's my favorite.  Every year I buy several pairs (this year I bought 8… I'm not kidding) and they also come in a higher waist version.  They're incredibly comfortable, and while not completely 100% line-free… I think they're as close as you're going to get without wearing a hanky panky style.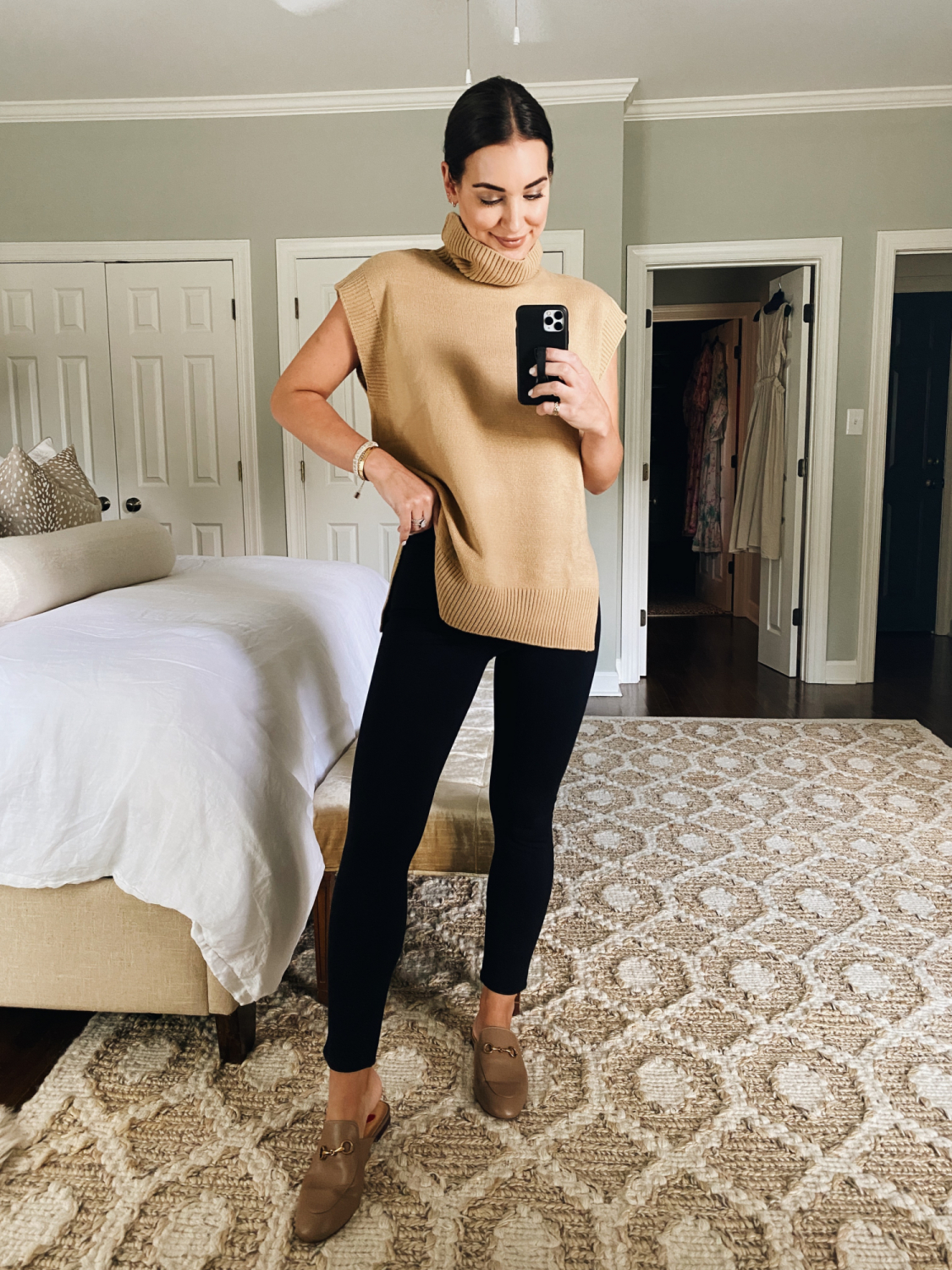 SPANX PERFECT BLACK PANT, RUN TTS
These pants are kind of in between a pant and a legging.  They are great for the office and have faux front pockets but real back pockets.  They are a pull-on style and look really tailored, plus they're very flattering.  A+ for me!
SLEEVELESS TURTLENECK SWEATER, TTS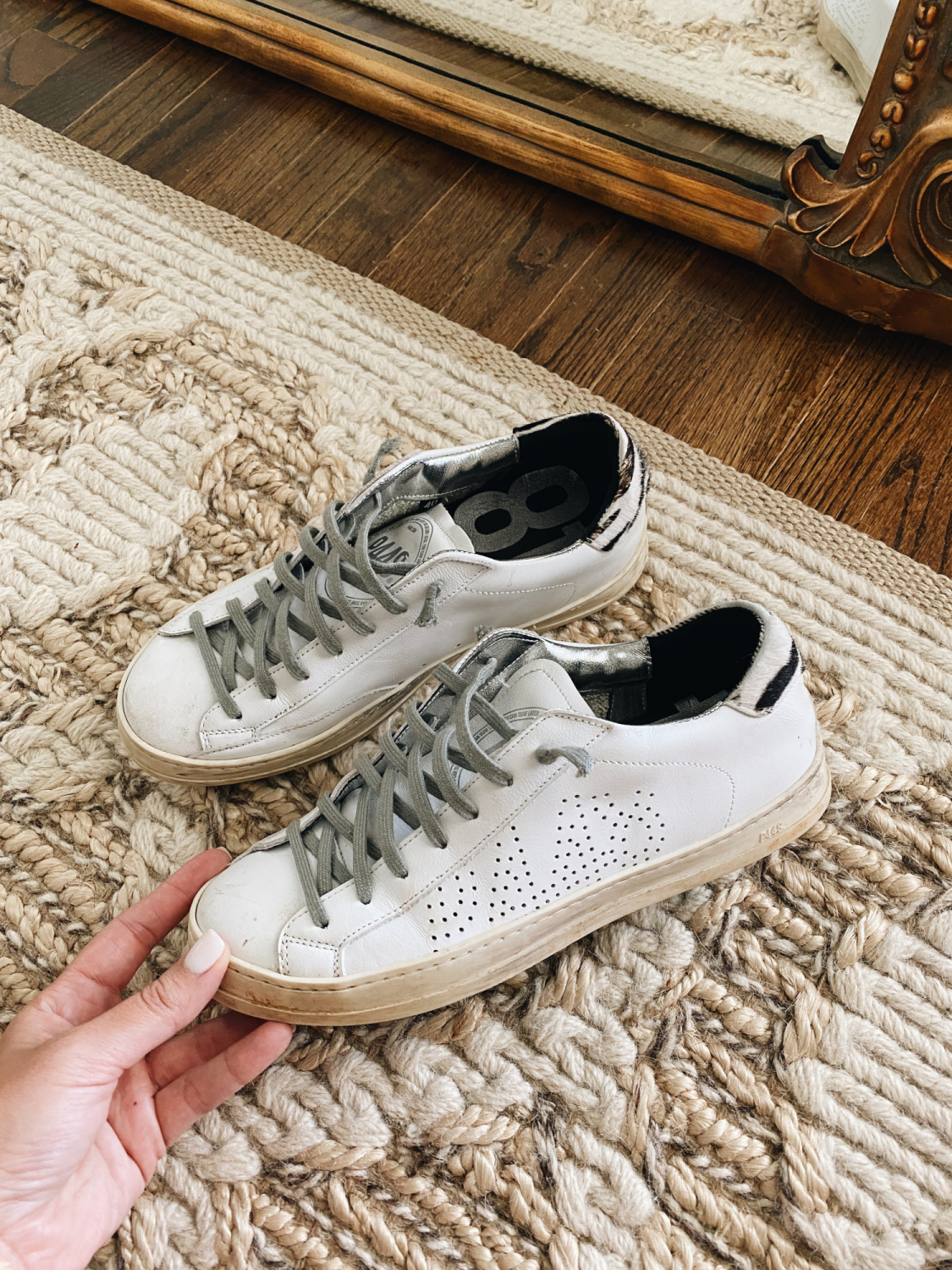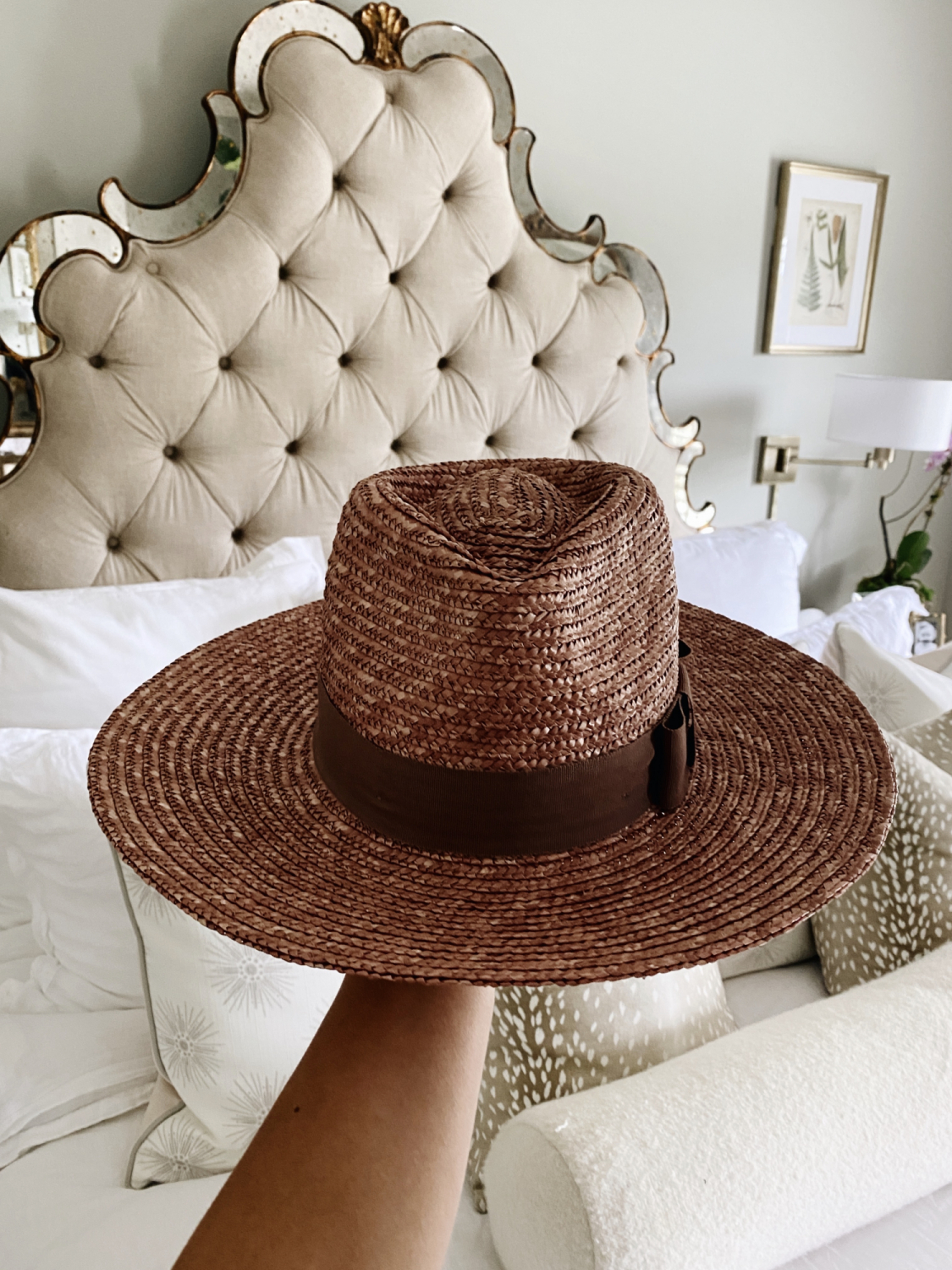 I have this hat in a lighter color, but this chocolate version is really pretty and a little bit more unexpected.  I've had it for 2-3 summers now and wear it each year!  You can see it from this summer in this blog post.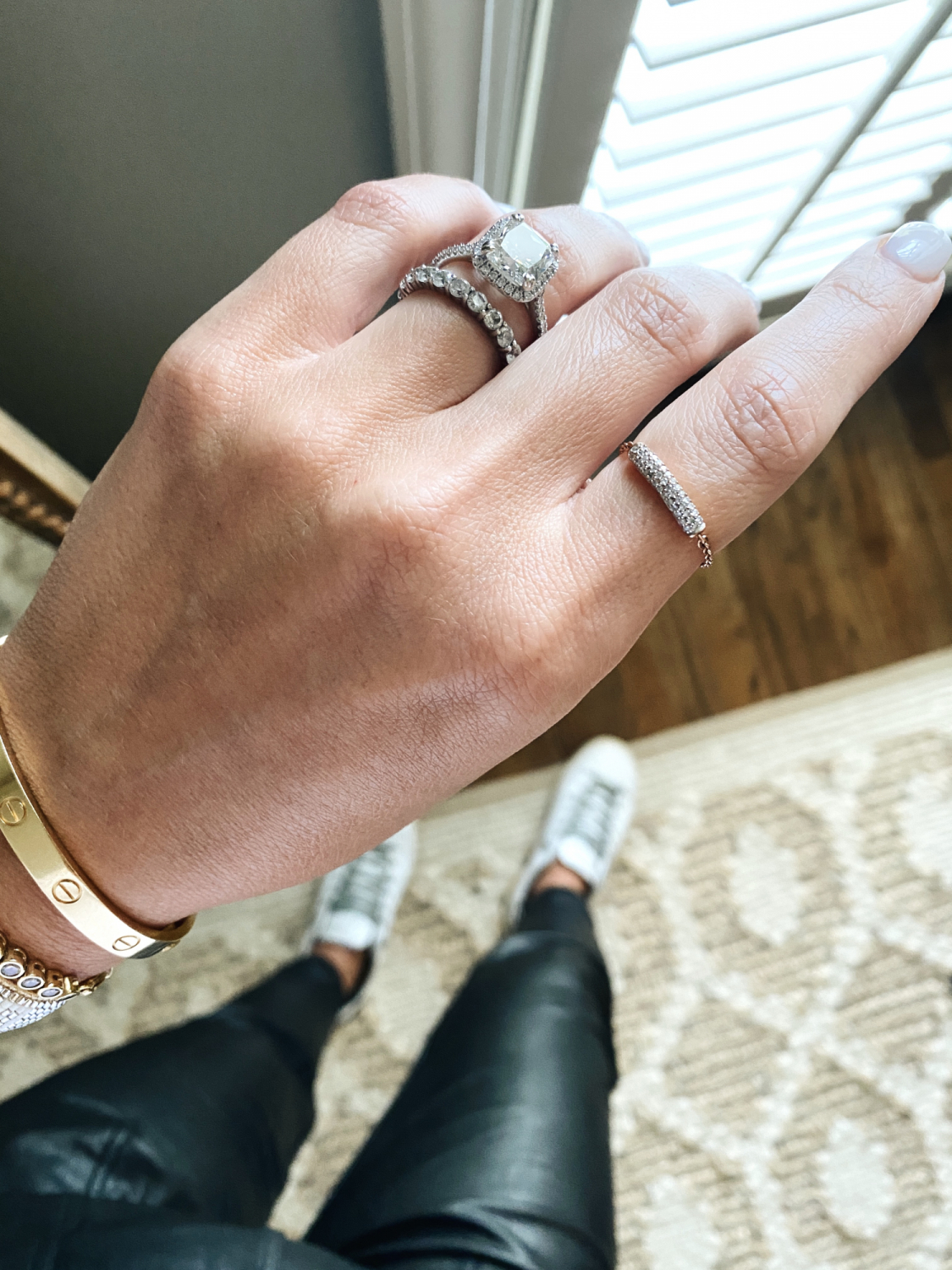 The coolest part of this ring is that the back of it is actually adjustable, so it can work for any finger making it incredibly versatile!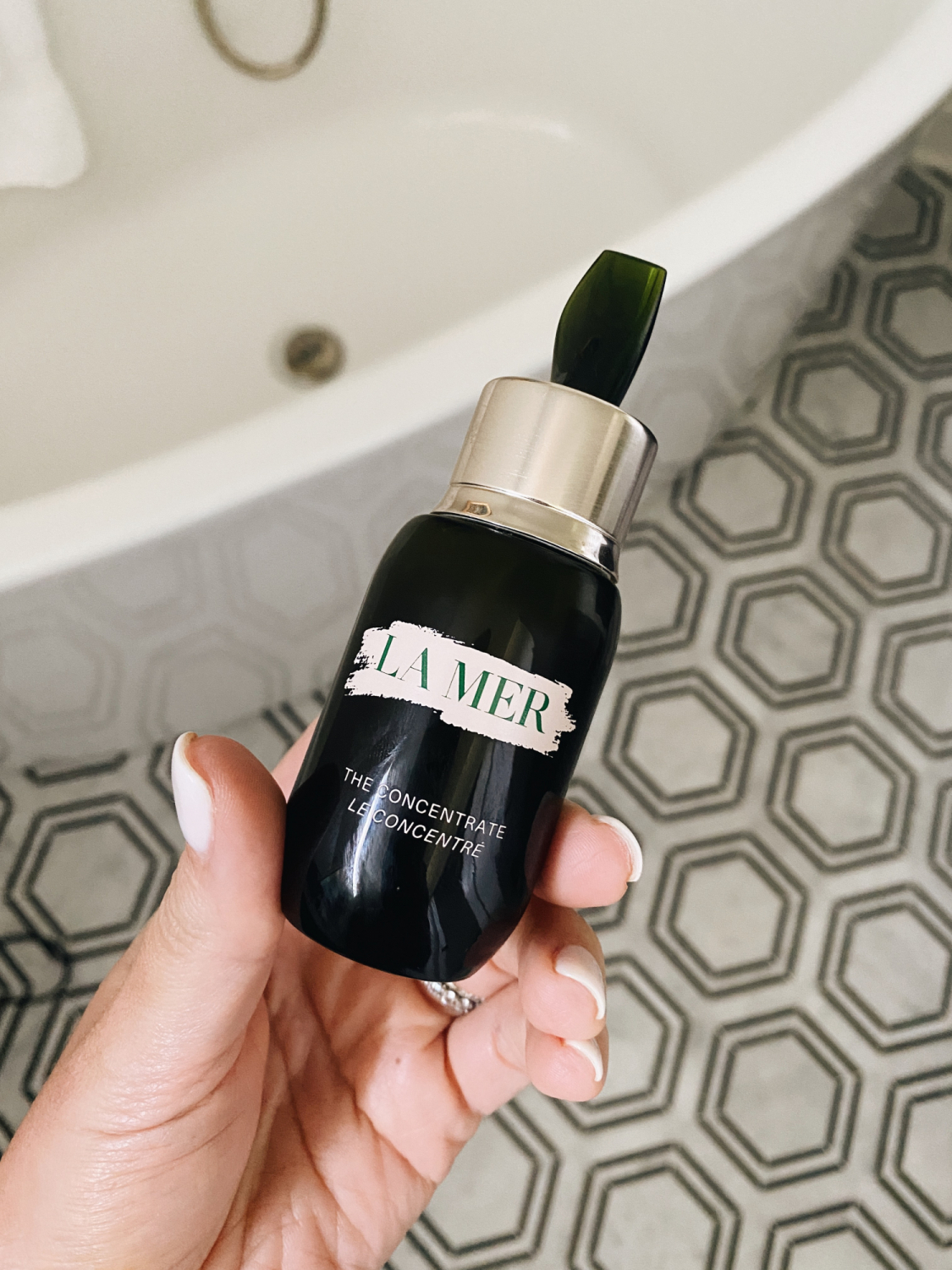 I tried this product for the first time this year, and I looooove it.  I talked about it more here, but it's so velvety and smooth – it feels amazing on my skin.  I may have purchased a backup bottle.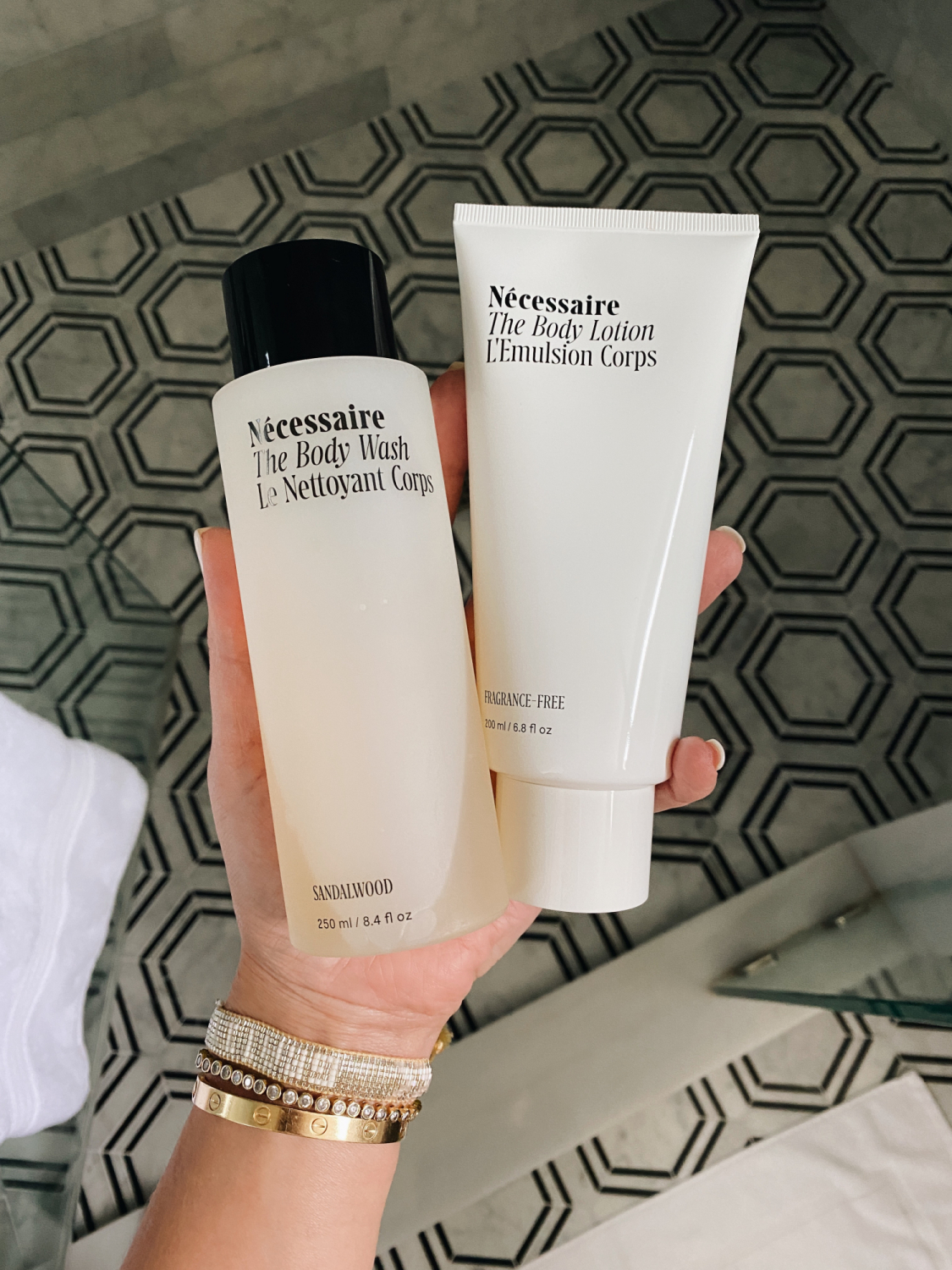 NECESSAIRE BODY WASH AND LOTION
I have been a longtime fan of all Necessaire, and I love seeing that the body wash and lotion combo is included in the sale!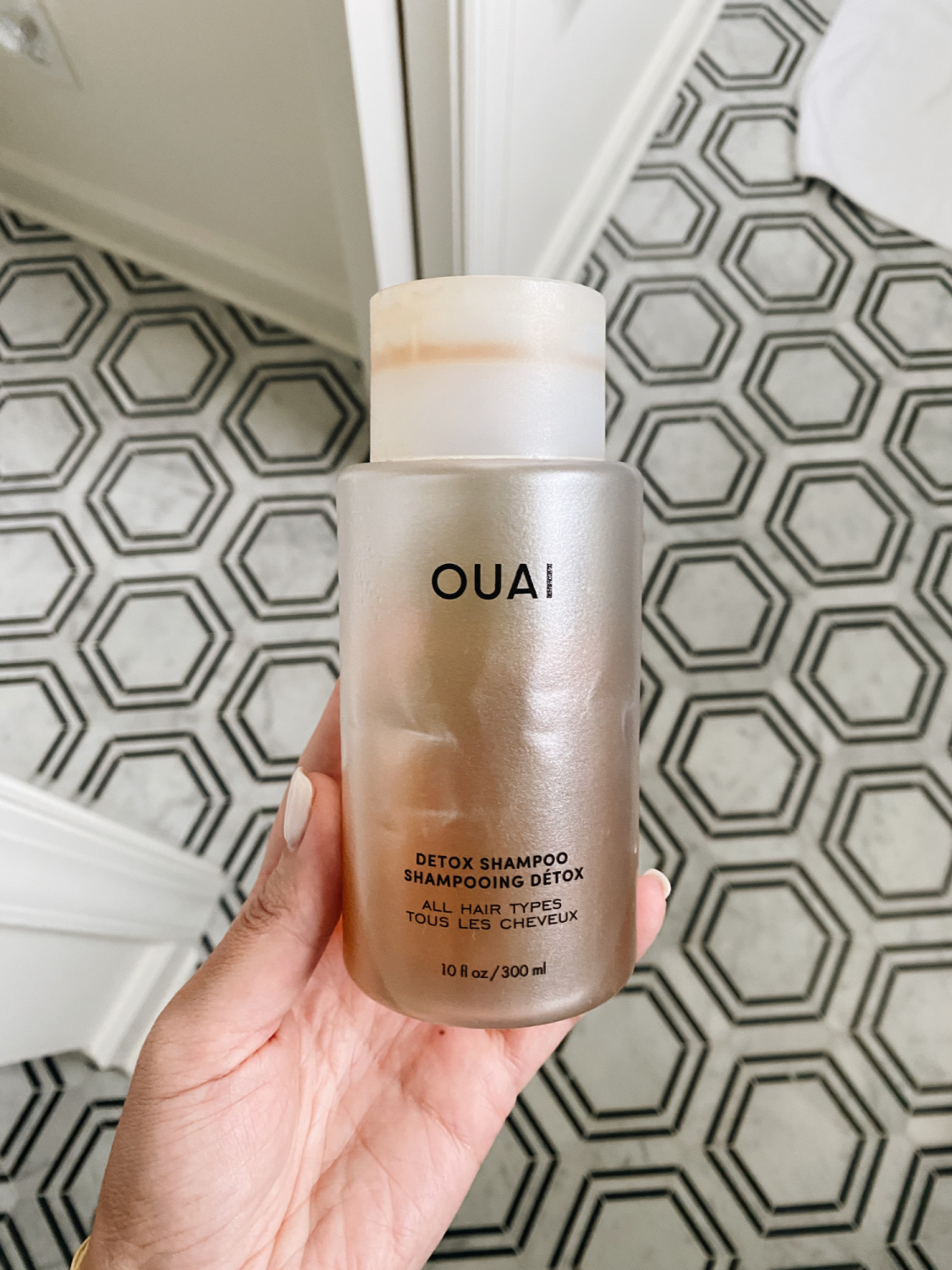 You can tell I've been loving this detox shampoo and I will use it 2-3x a month!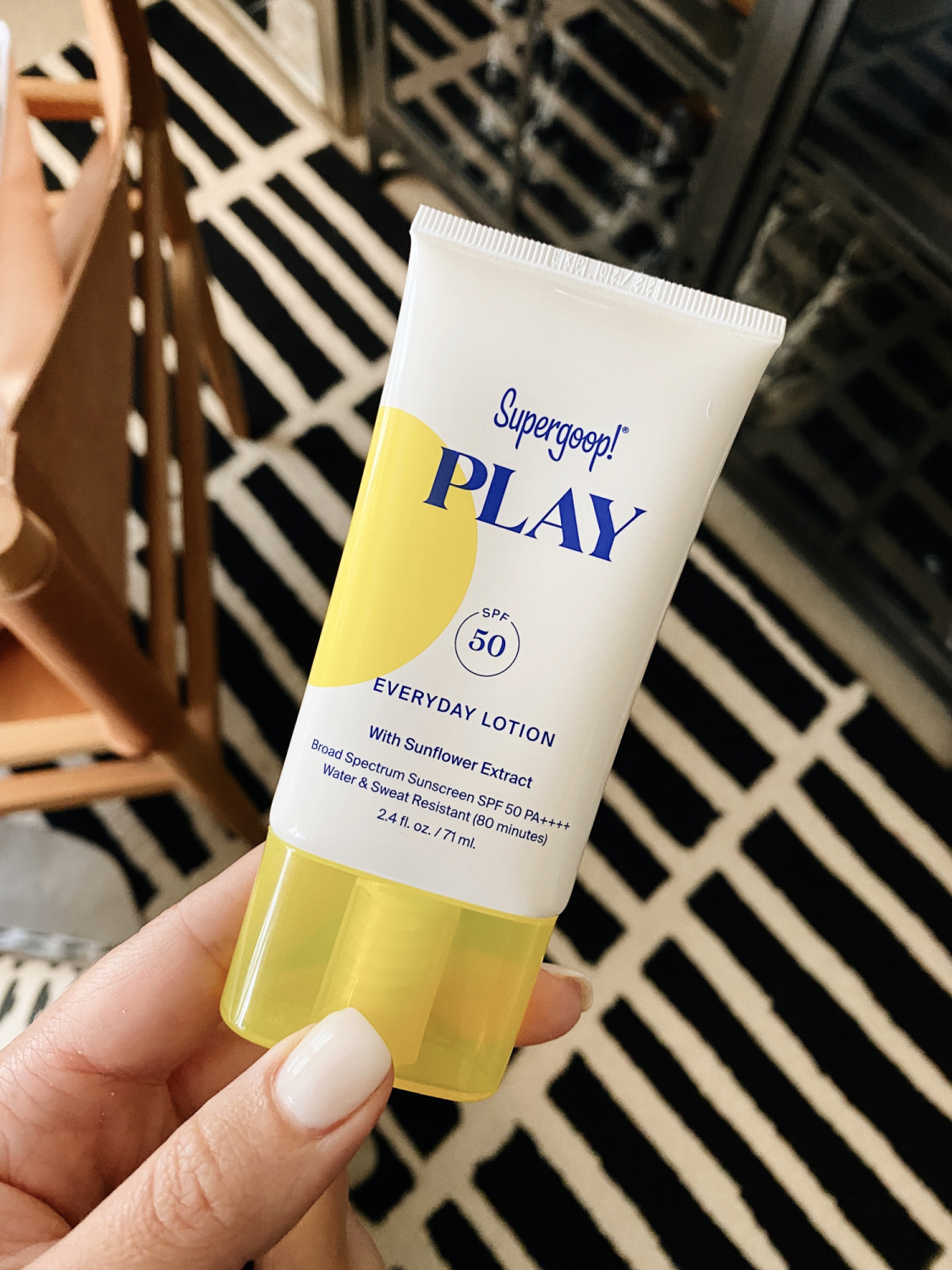 I use this sunscreen on the entire family and it's a favorite.  They have several versions that are included in the sale, and I don't think you'll regret it!  The spray is great also.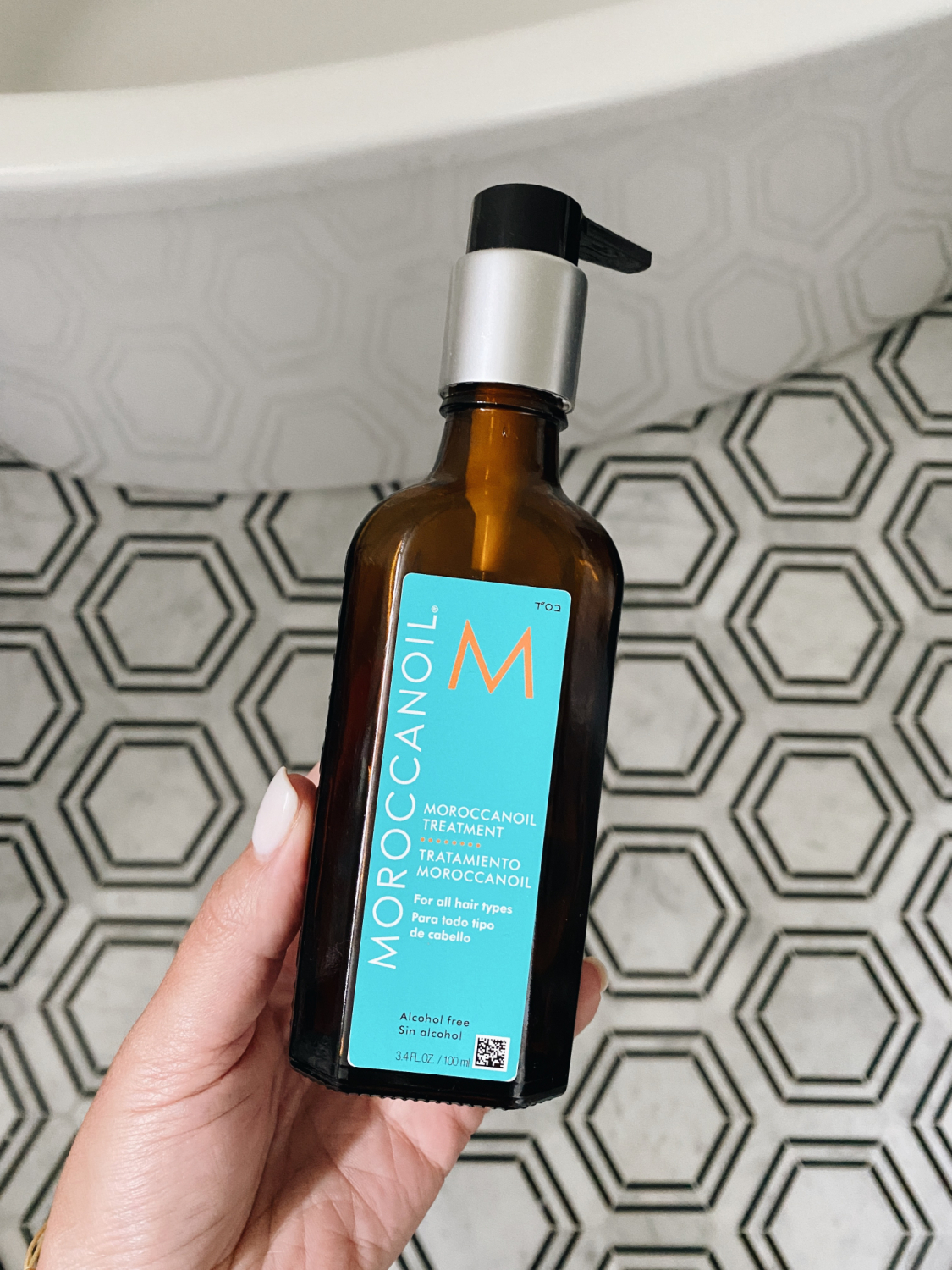 I've been using this hair oil since before I was even married, that's how long I've been a super fan.  It smells amazing, I love all Moroccan Oil products (as does Christian), and I stand by everything in their collection, truly.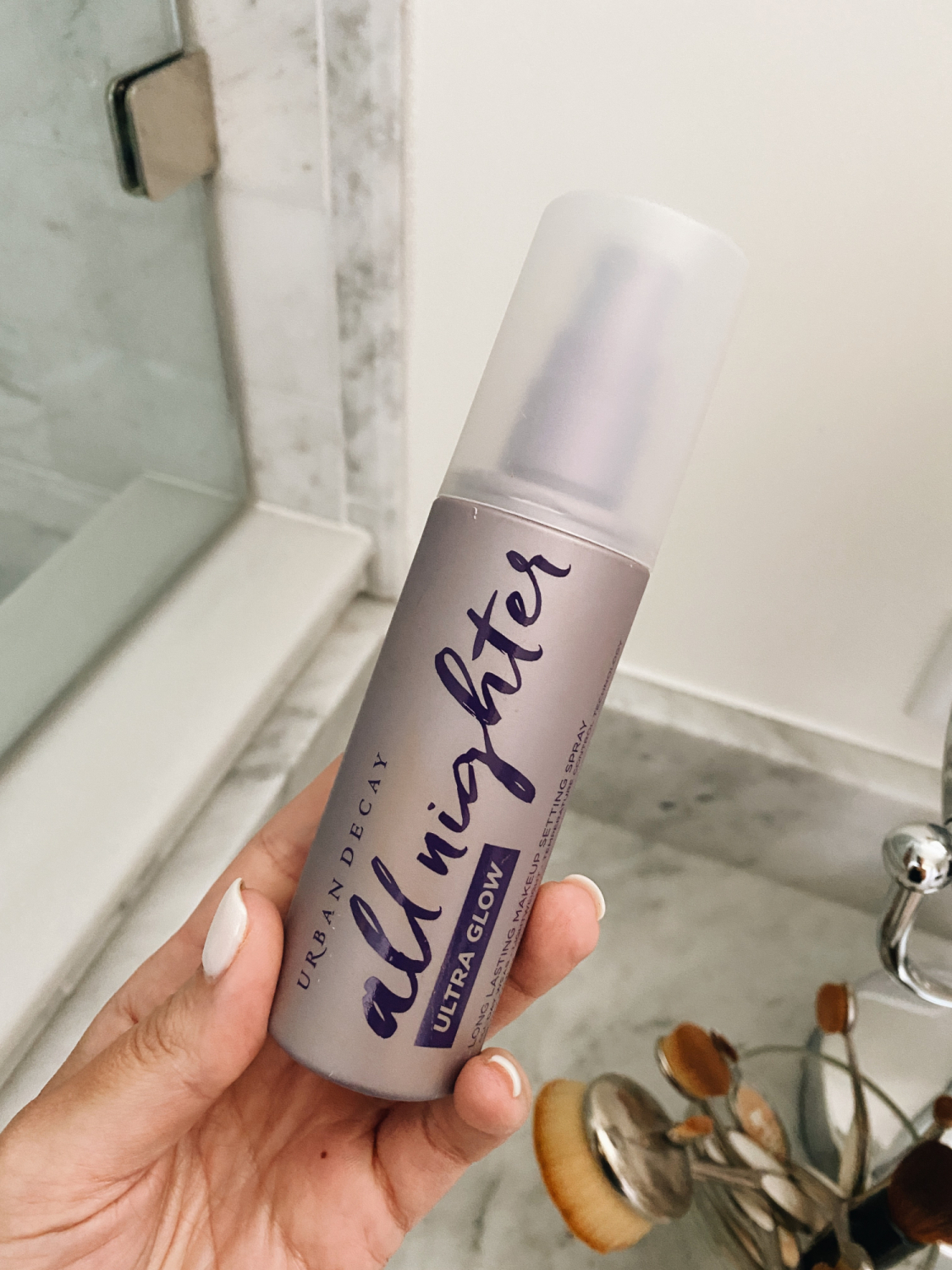 ALL NIGHTER MAKEUP SETTING SPRAY
I've tried a few different makeup setting sprays, and I don't think anyone can beat Urban Decay.  It's the best, the gold star, the OG.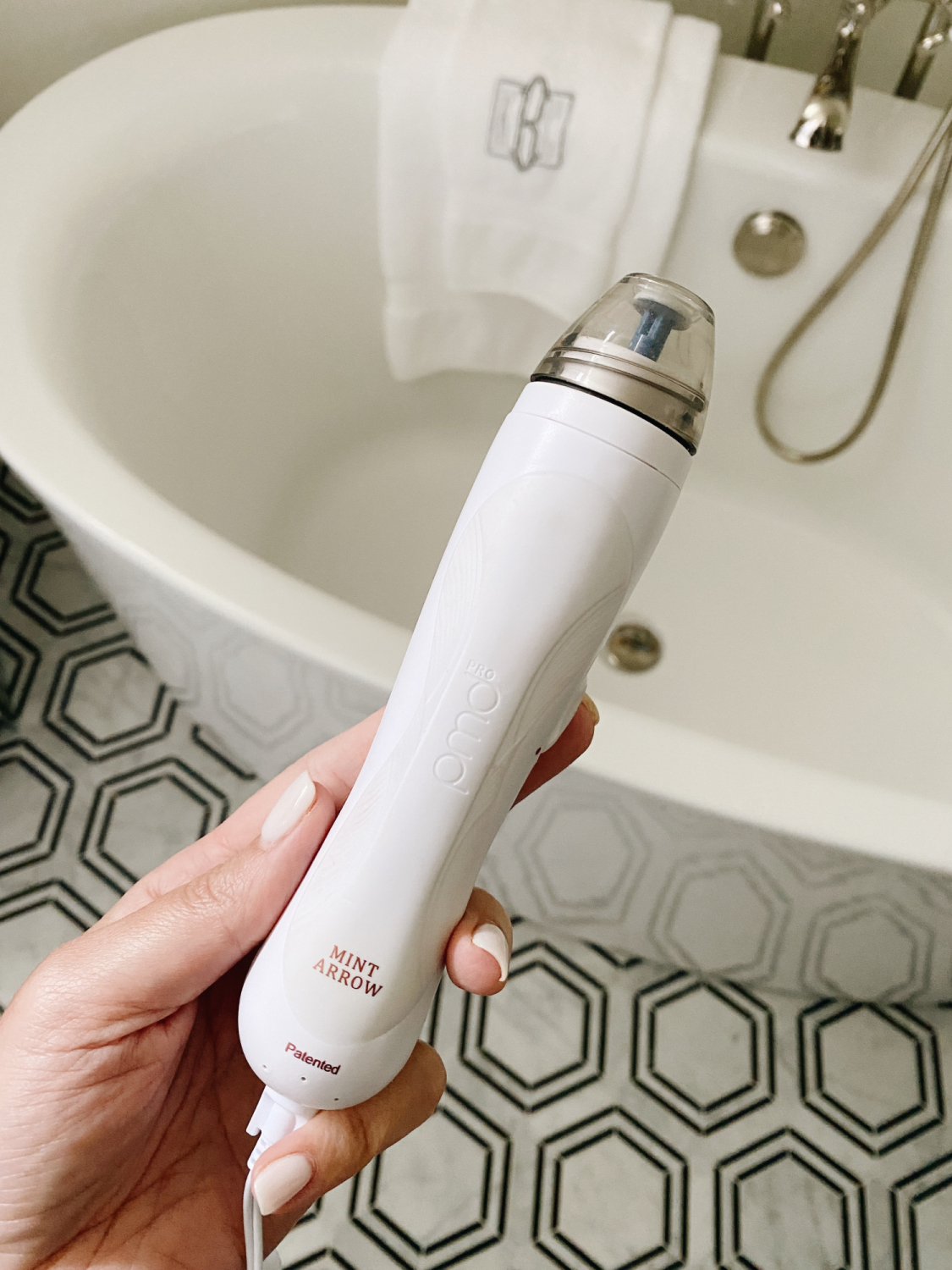 I will often use my PMD on my face but I also love to use it on bumps anywhere on my body – my legs or arms.  I try to use it once a week!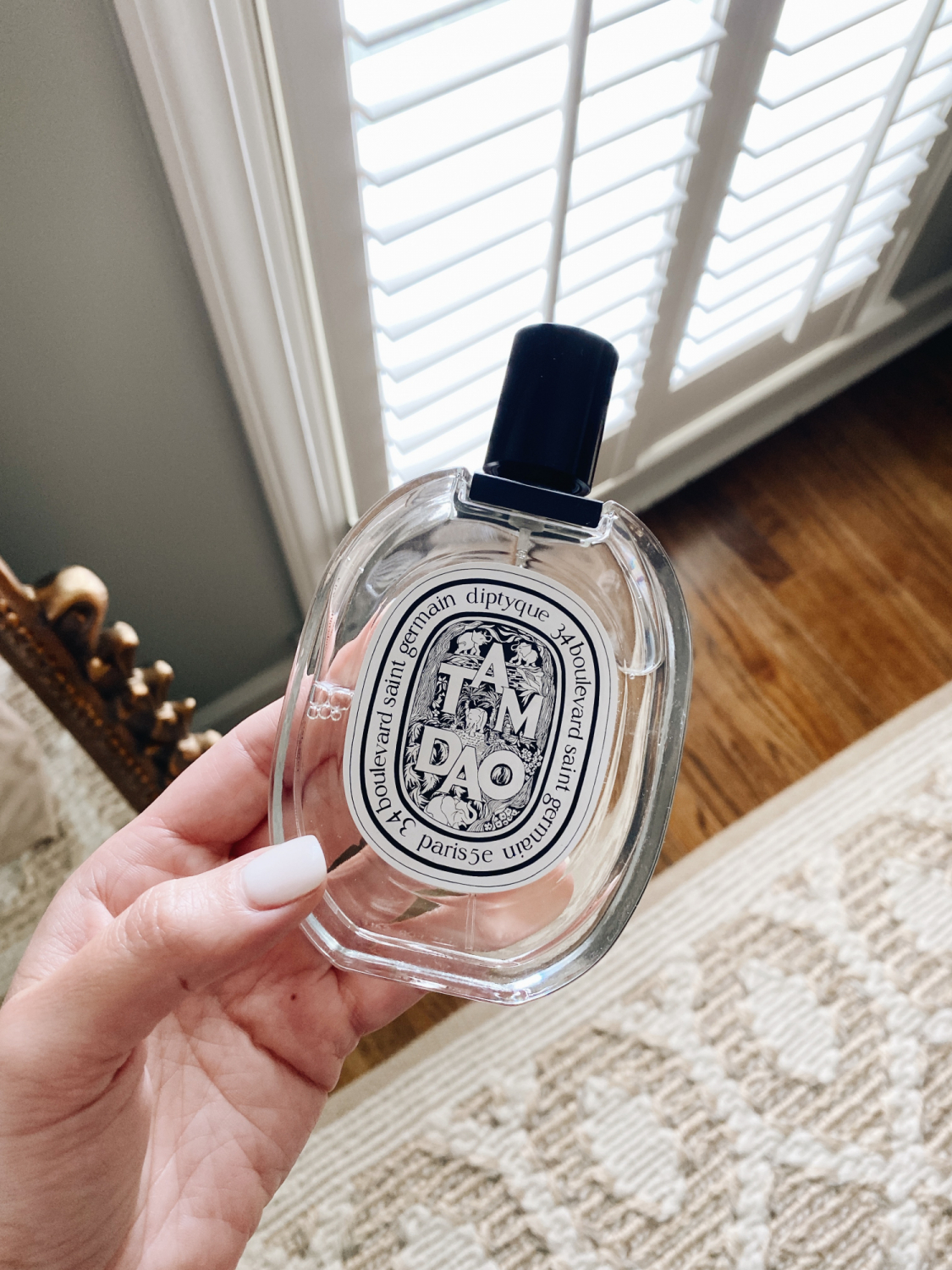 There is a hair and body perfume combo included in the sale as well as a candle set.  I'm a big fan of Diptyque products and they can be on the pricey side, so when they are on sale it's best to snag them while you can!
That's all I've got for now, but I'll continue to share my favorite products and why as the Nordstrom Anniversary Sale continues through August 9th.  They're currently still only allowing early access shoppers and cardholders to shop, but it will open to anyone on July 28!  You can find my picks in all categories here.
Thanks so much for reading and happy shopping – XO –