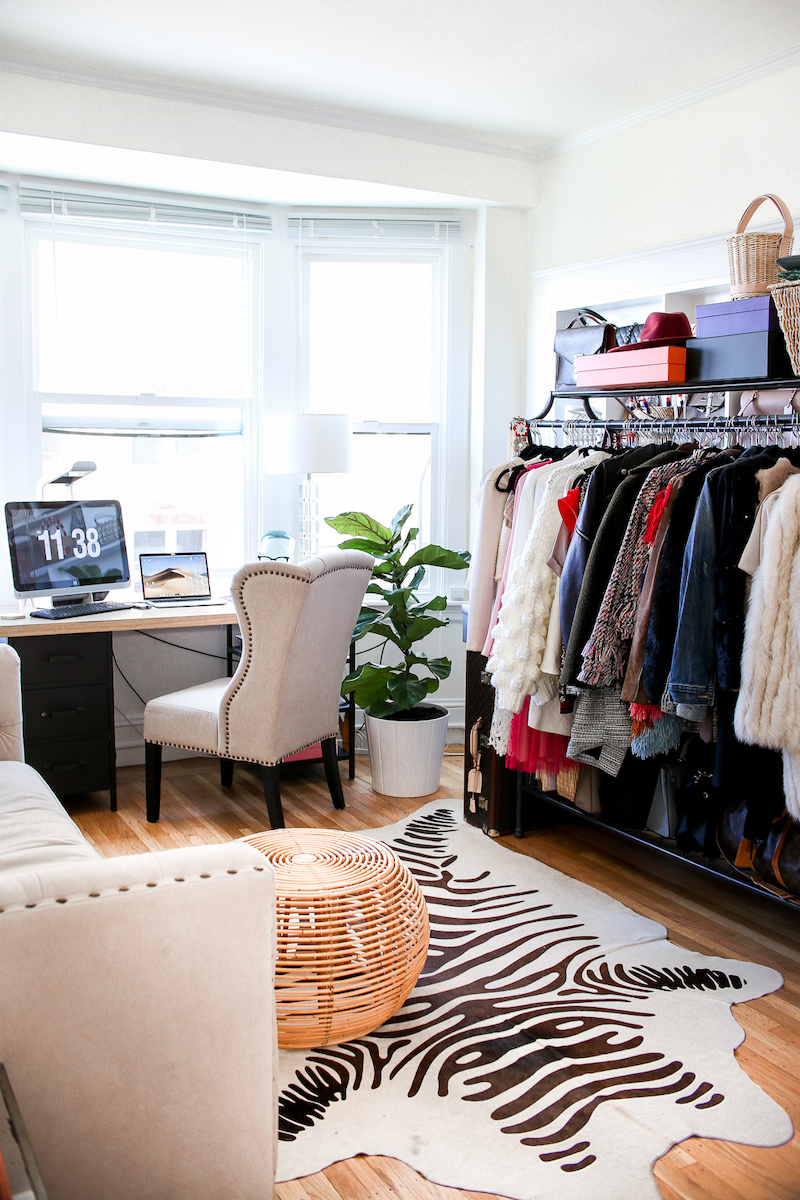 Thank you so much for the sweet words on yesterday's home tour video! We filmed this a few months ago, but I was waiting until after the holiday madness to share it so it could have its own time to shine. I'm absolutely dedicated to creating more video content in 2019 but putting together one video is probably the same expense/effort that 5+ photo blog posts take, so I definitely want to be intentional with the themes and topics we cover.  If you have any subjects you would like to see covered in video, please let me know in the comments and be sure to subscribe to my YouTube channel to get the heads up on all future videos!
Yesterday's post was a quick walk-through of the space, so today I'm sharing photos of all the little nooks and crannies so you can see the detail, as well as product links for most everything at the bottom of this post.
We went from about 1200 square feet (not including a garage and patio) in our Orange County townhouse to around 1000 square feet in San Francisco (we do have a garage spot but no outdoor space).  For two 5'7″ and 6'3″ adults, an 88 lb. labrador, three legged cat and home office… we are cozy, ha!
We definitely look forward to having more space in the future (particularly storage as we essentially have one small coat closet as this year's storage), but we also know that there will be times we'll look back at this small apartment fondly.  Christian and I joke that we'll probably never be able to get from the bedroom to the kitchen for a glass of water as quickly ever again (it's like… 10 steps).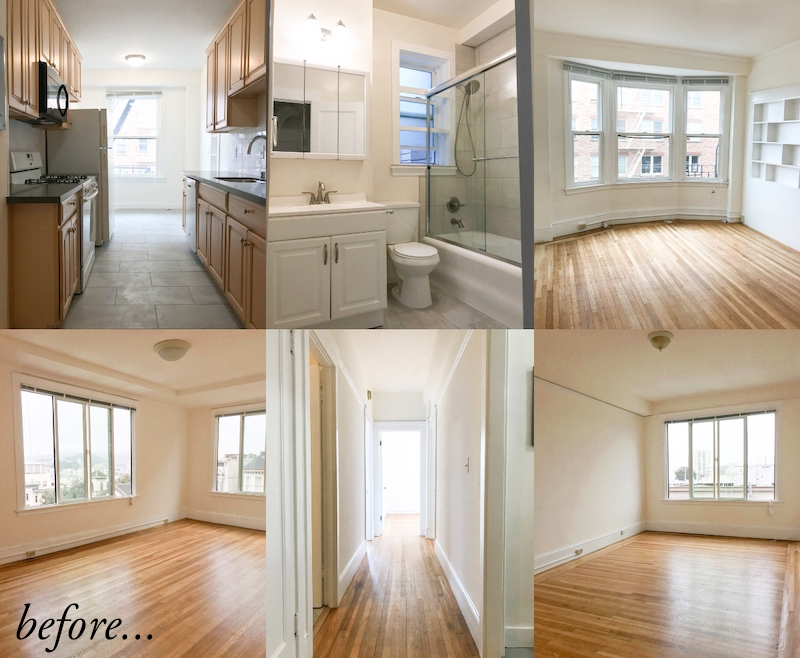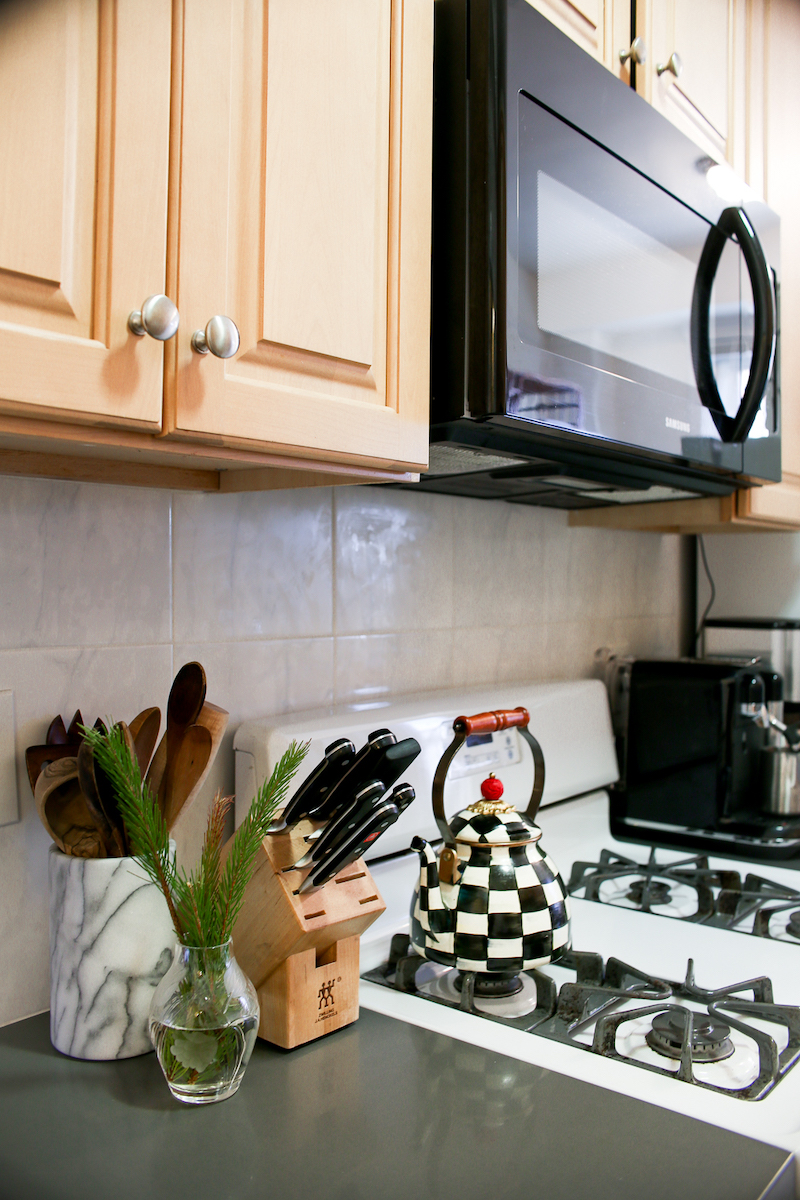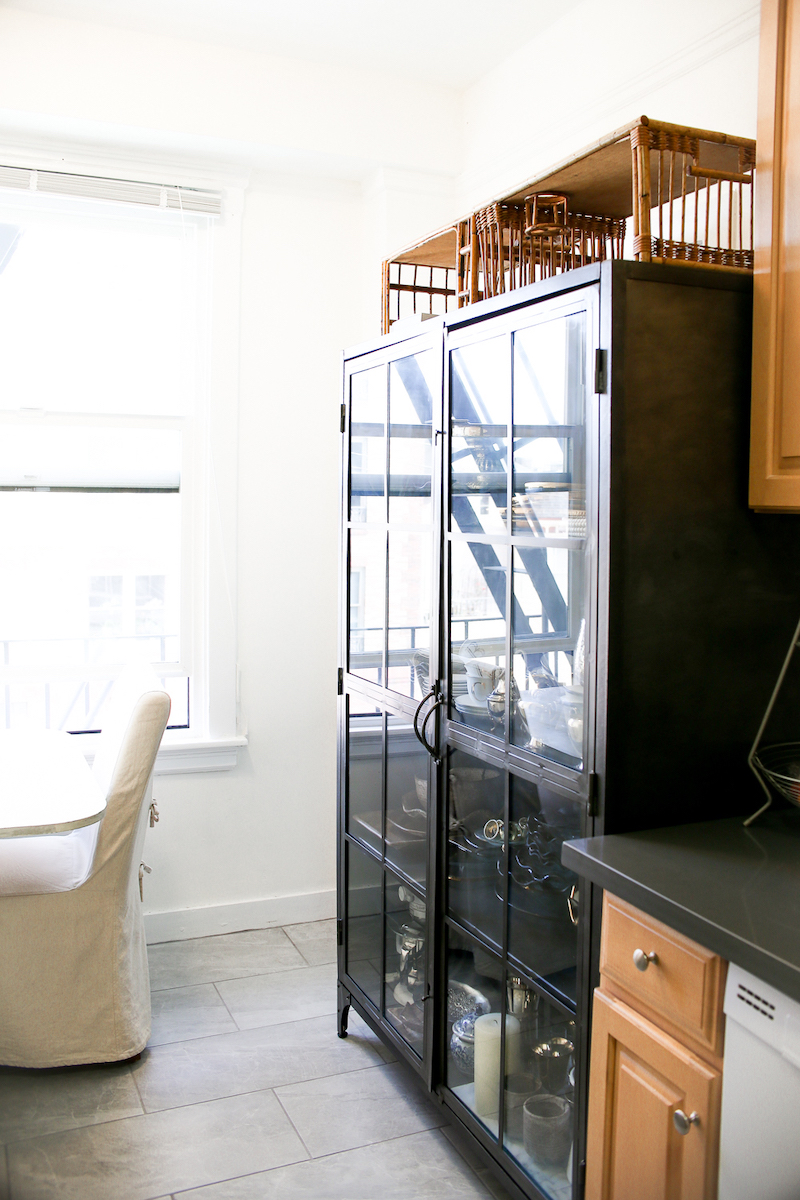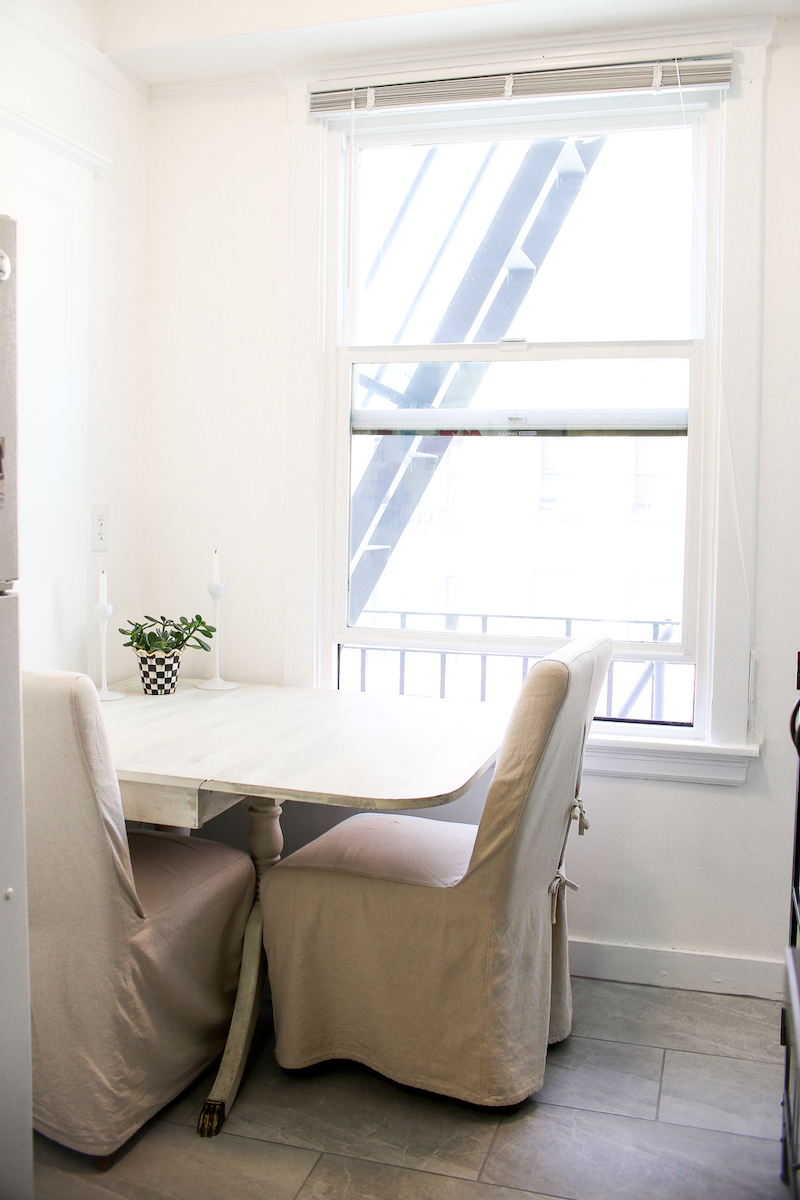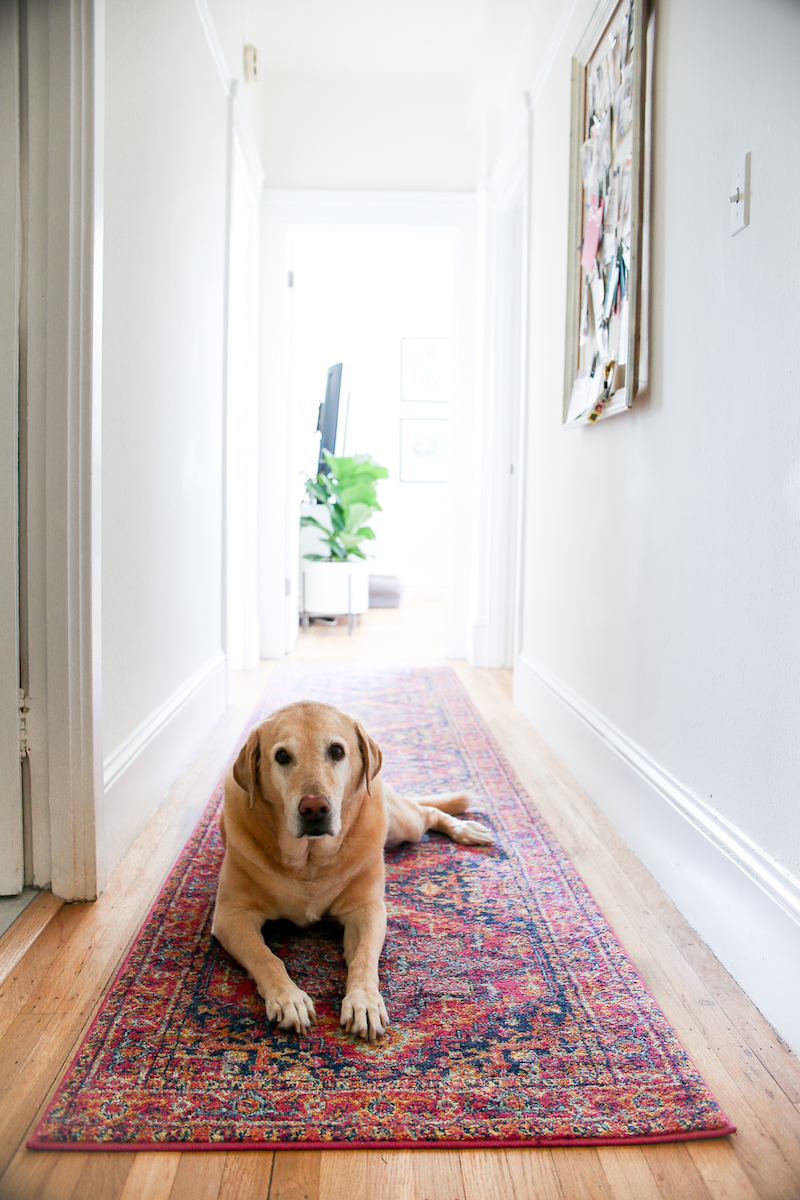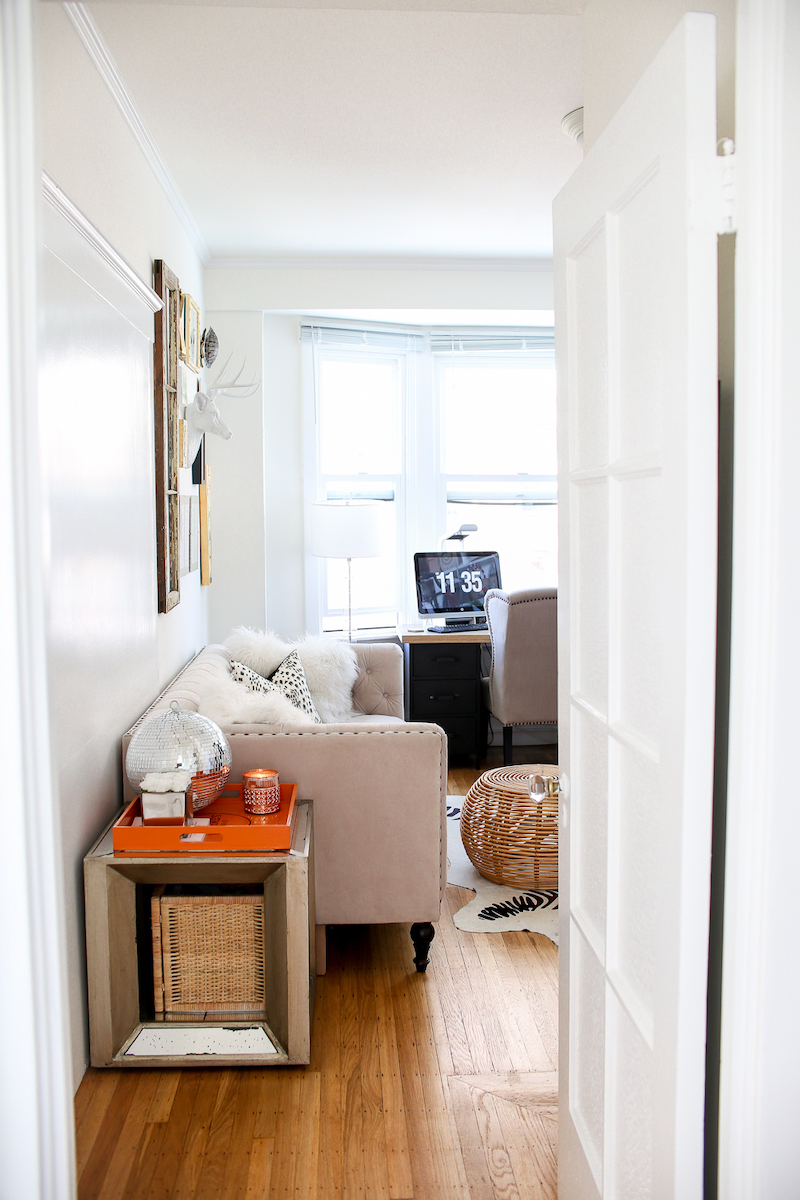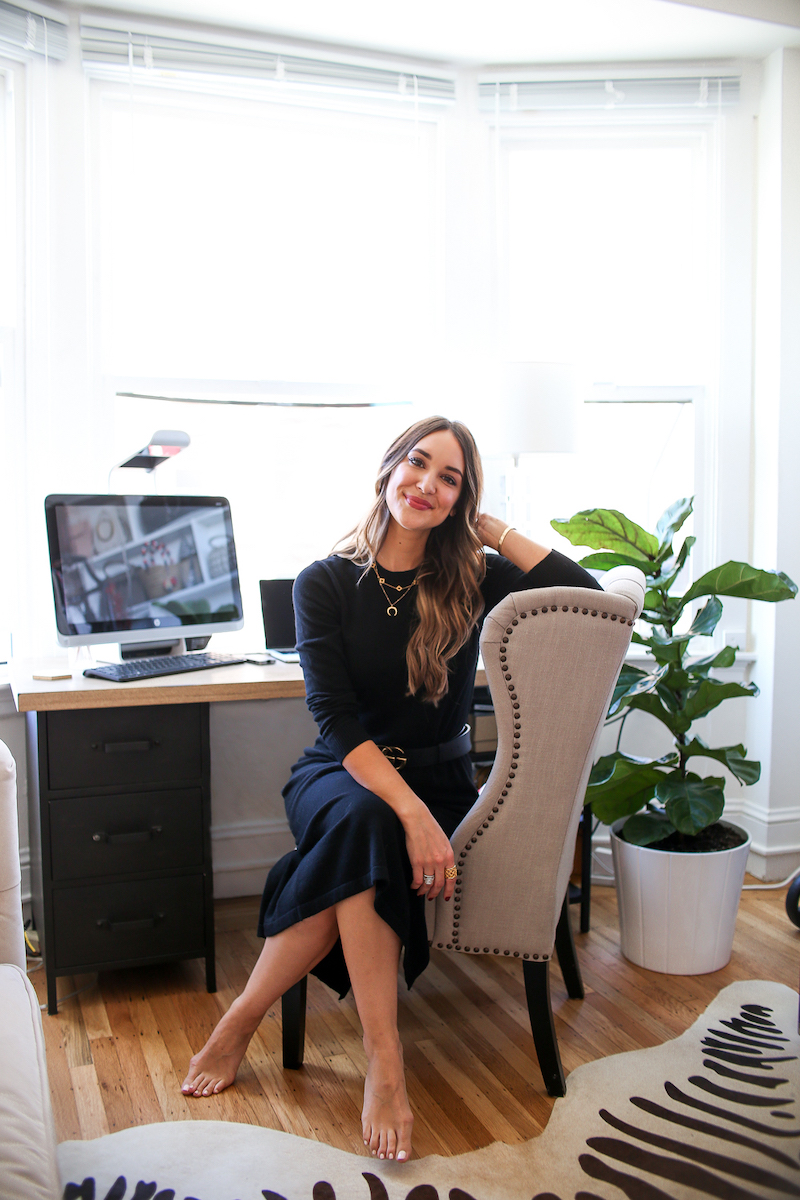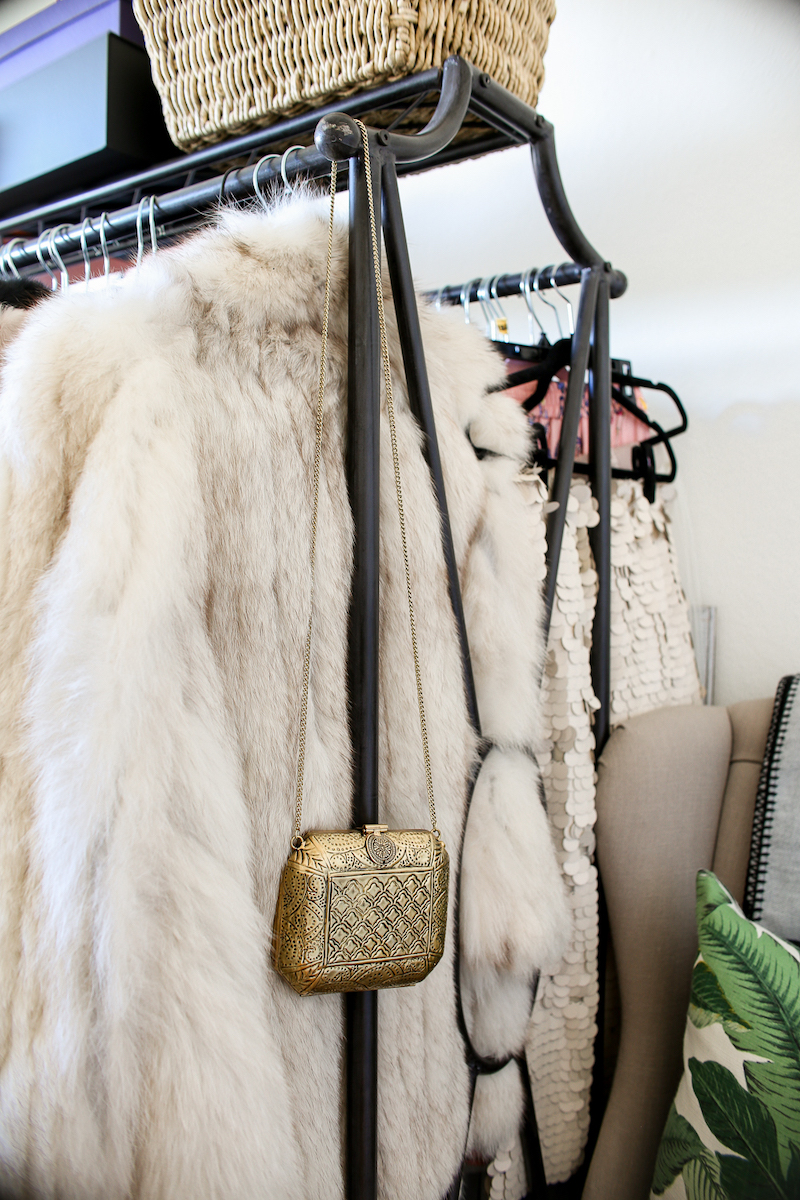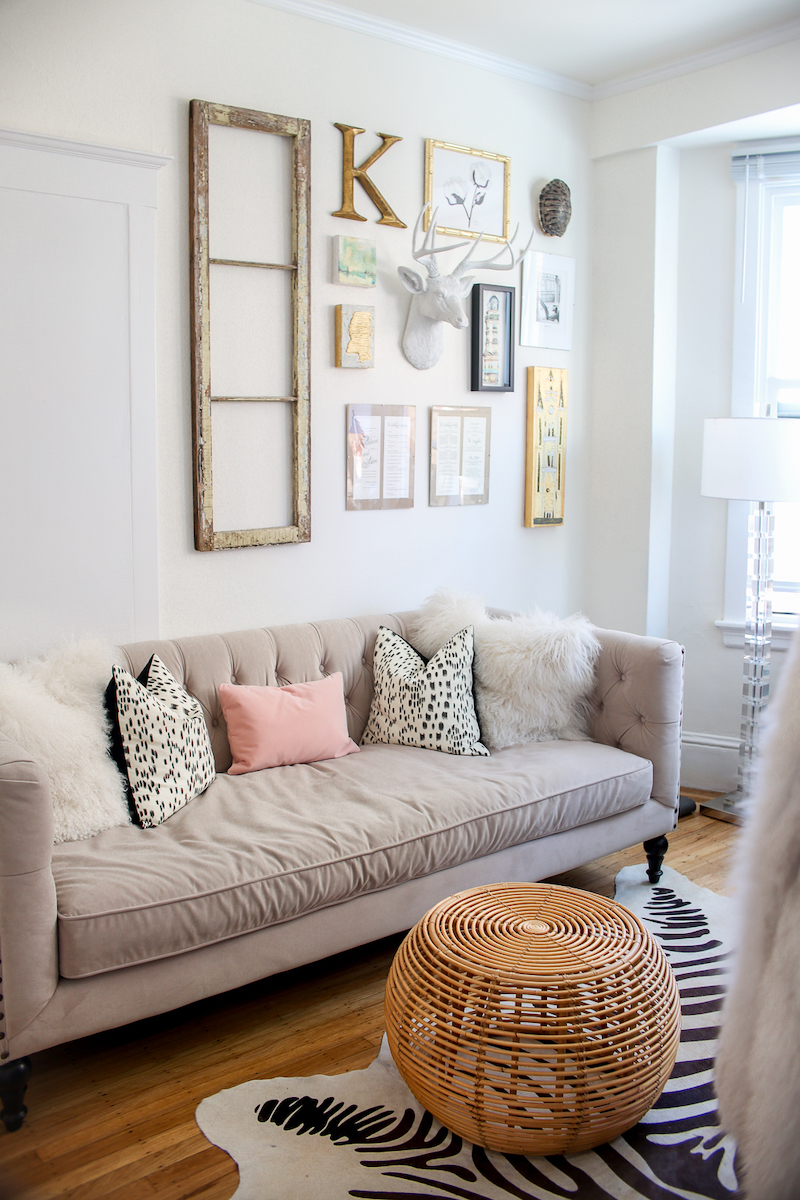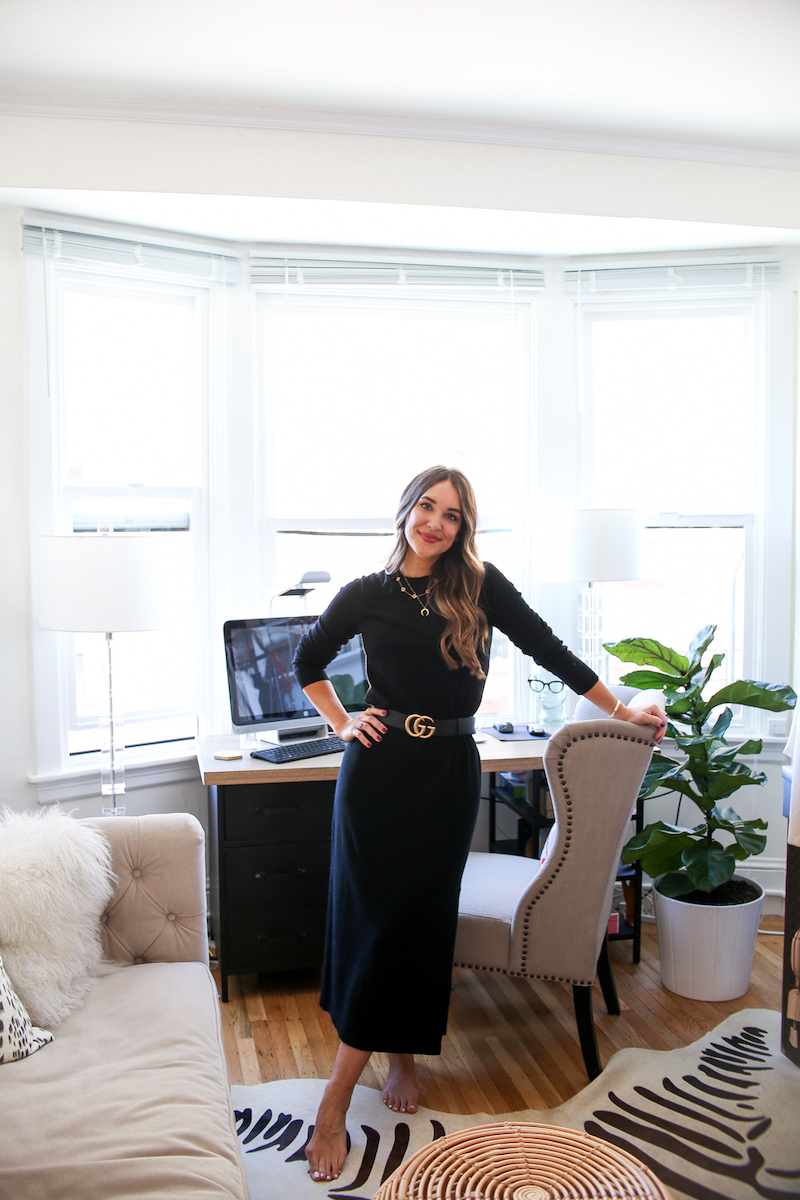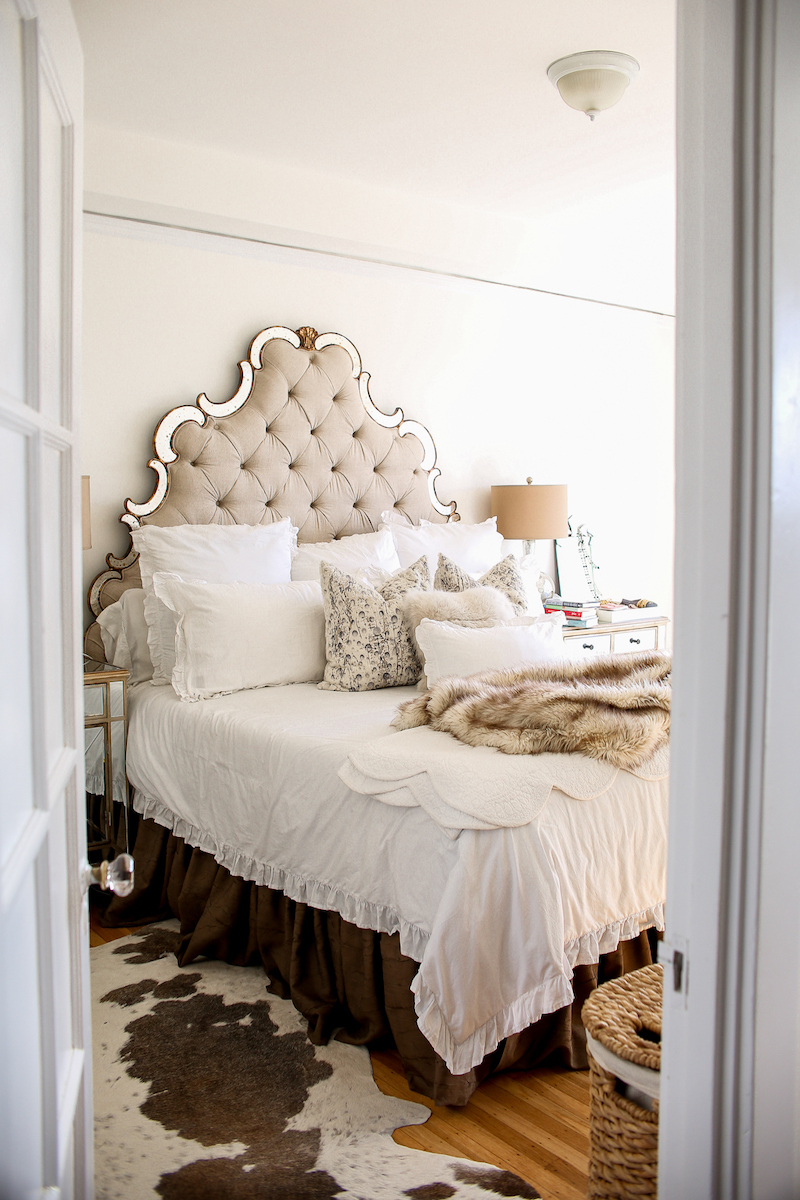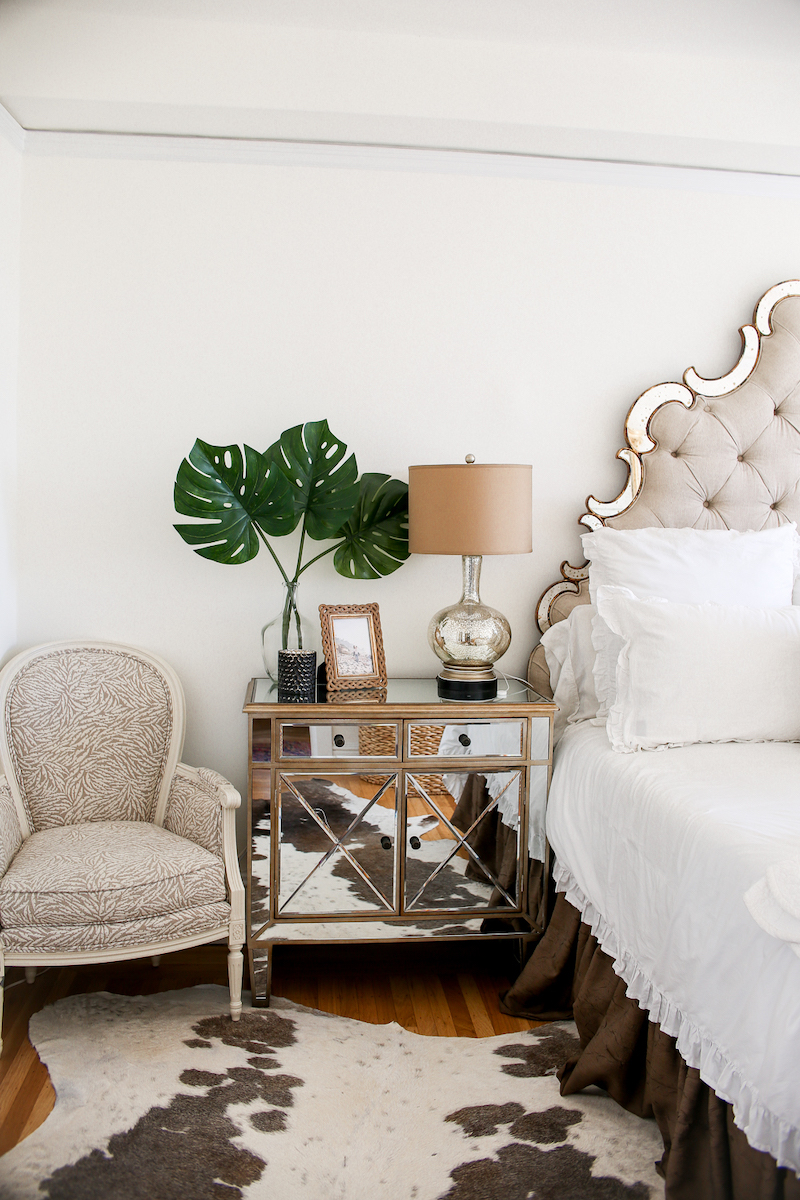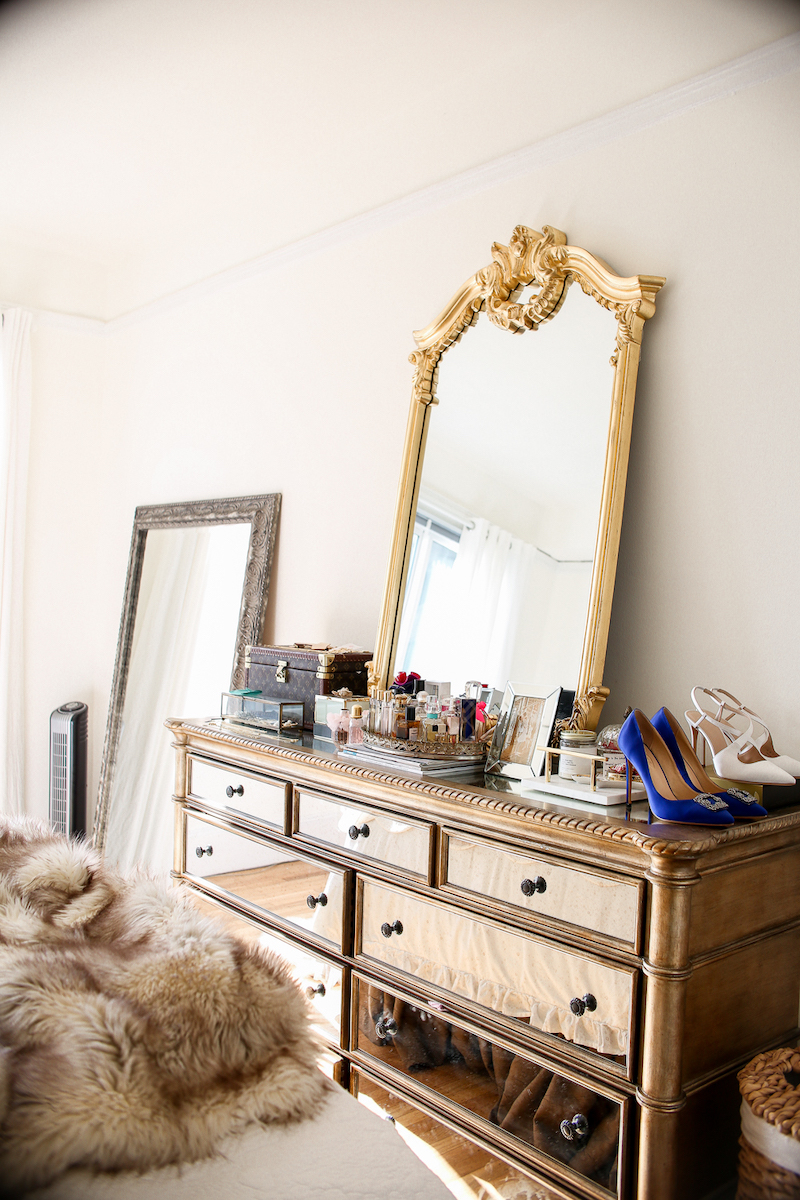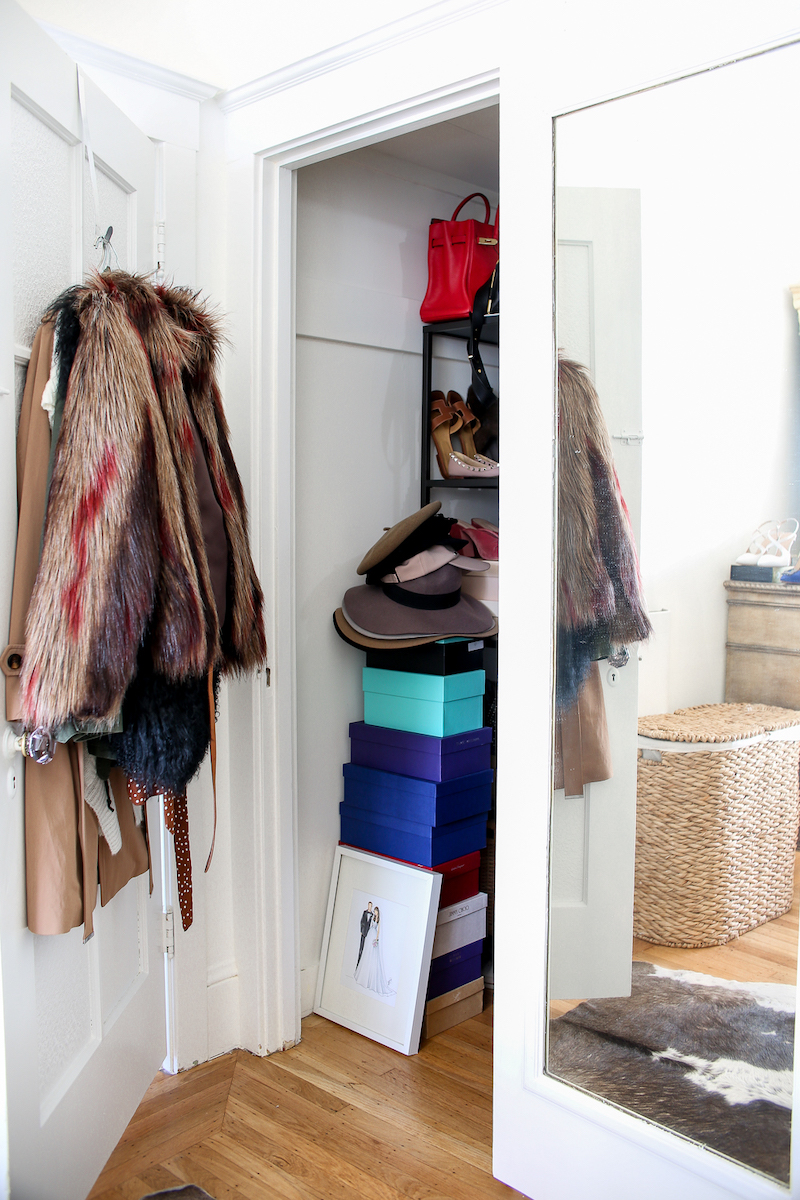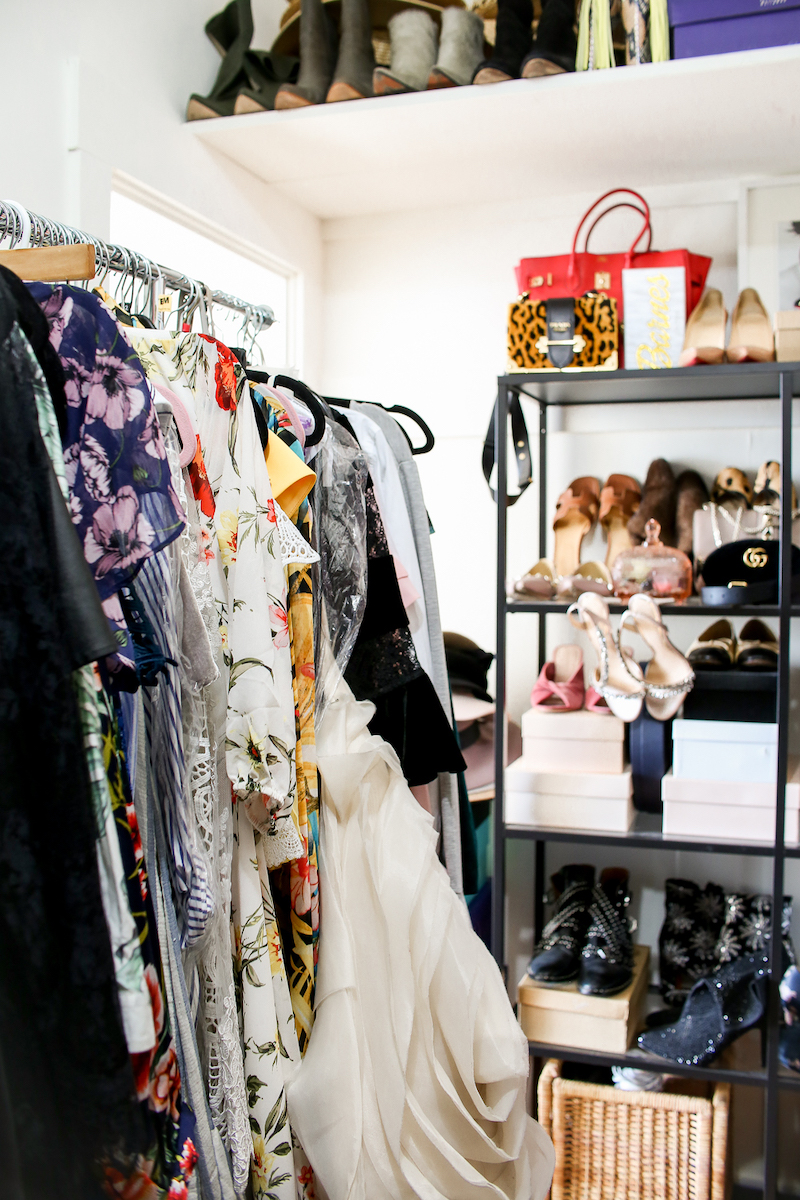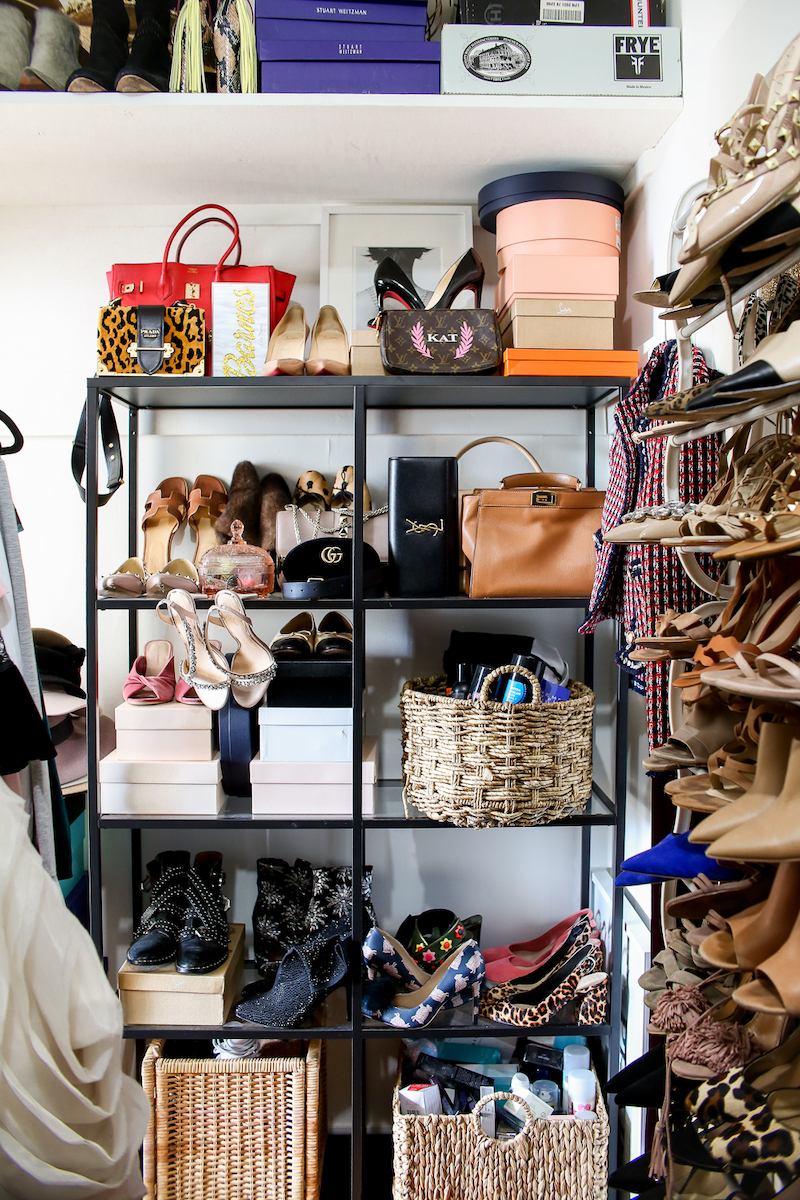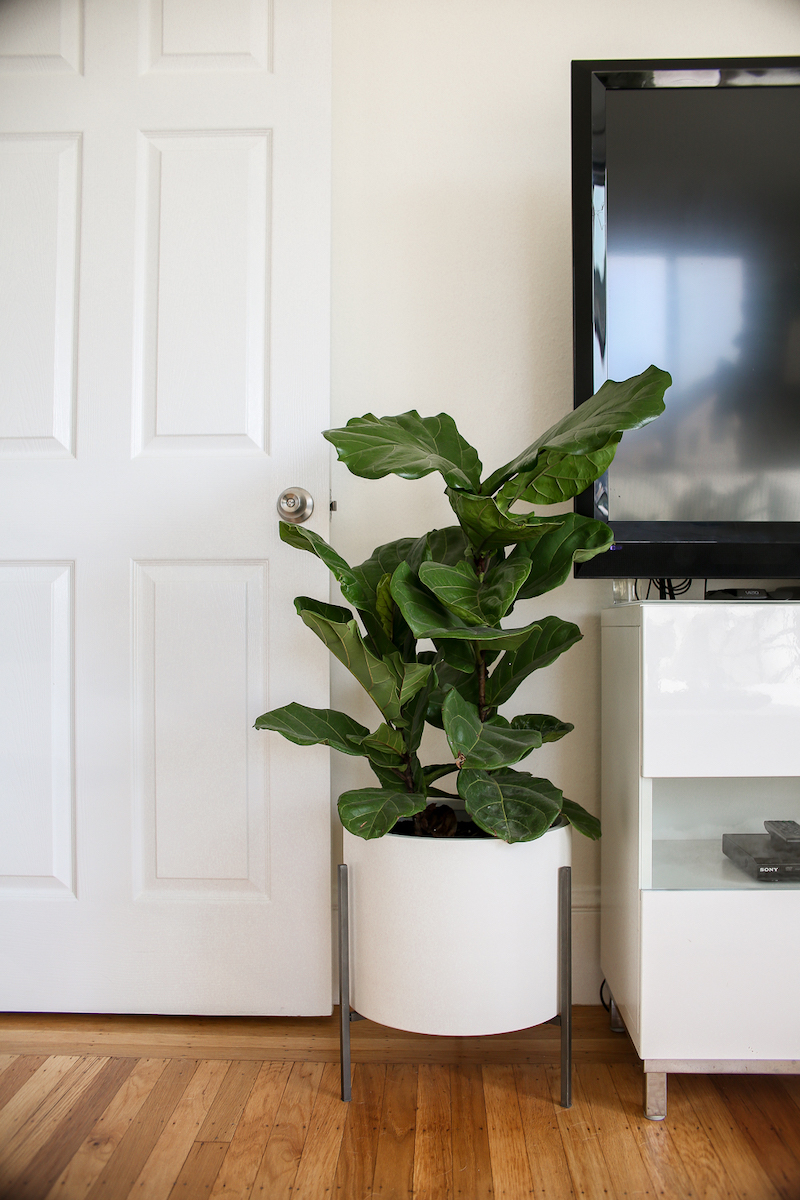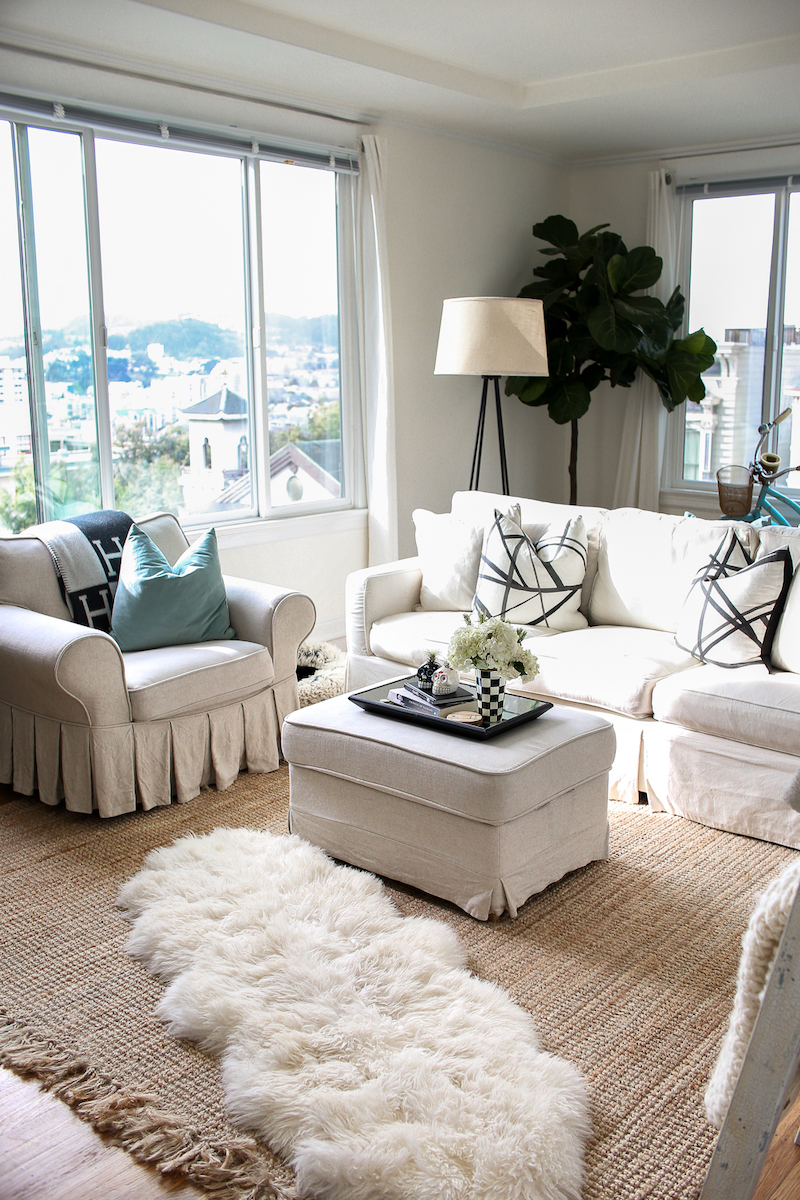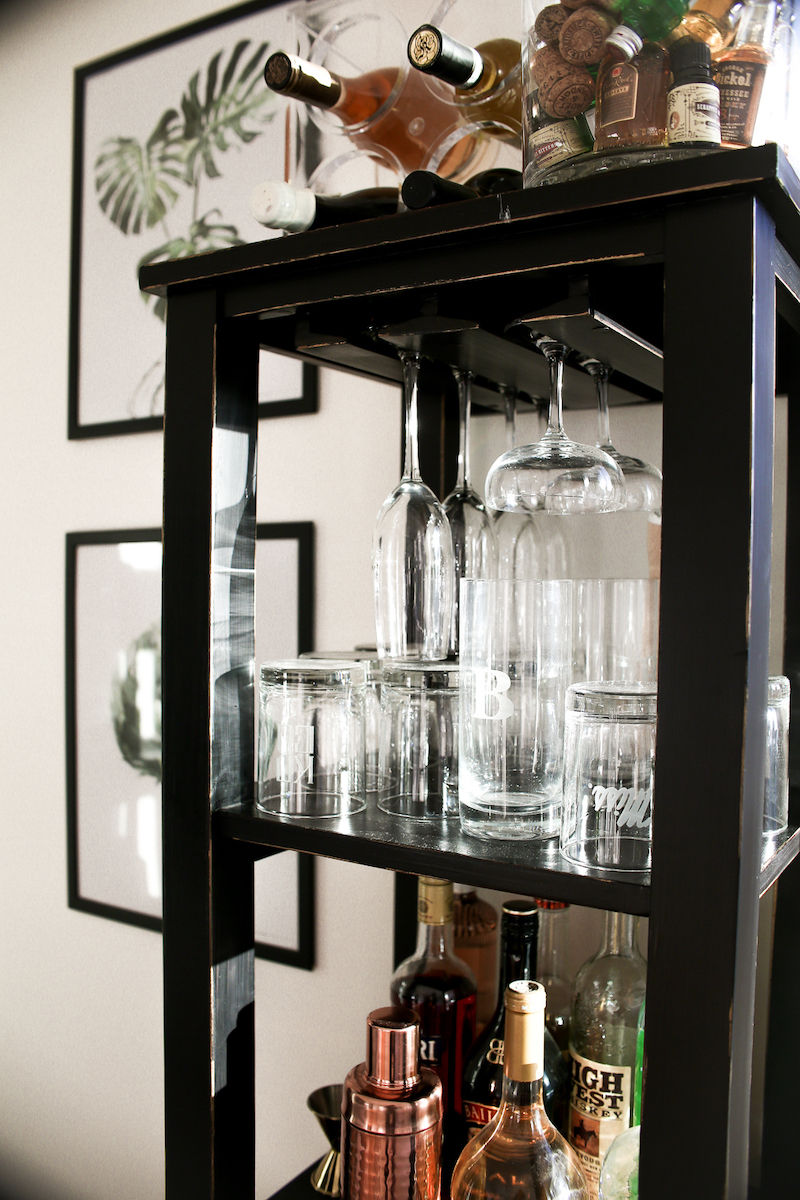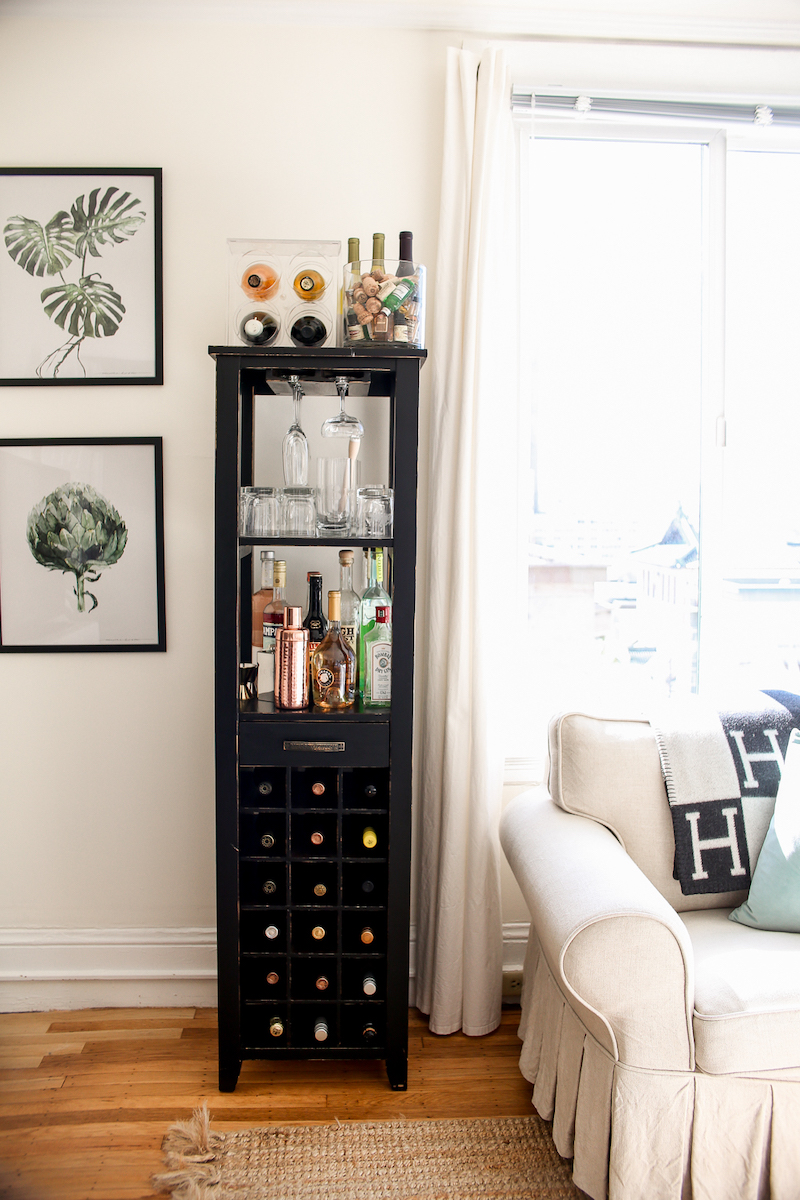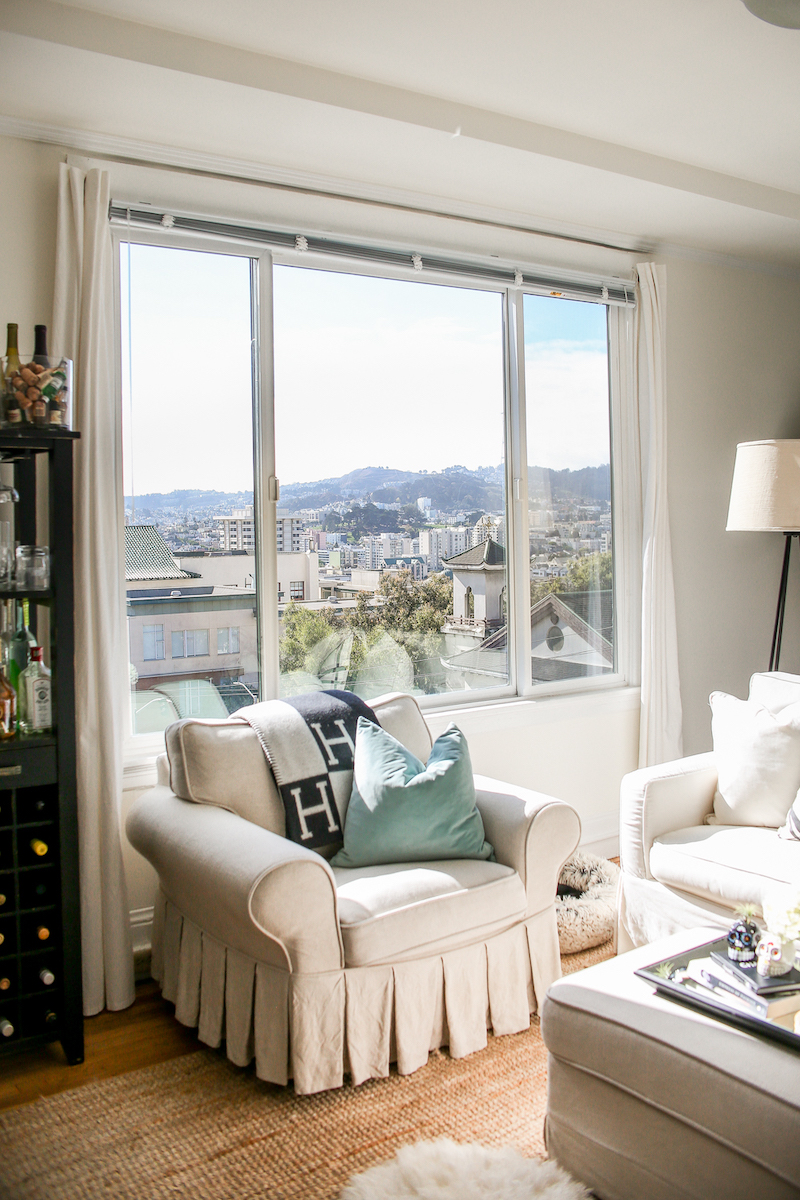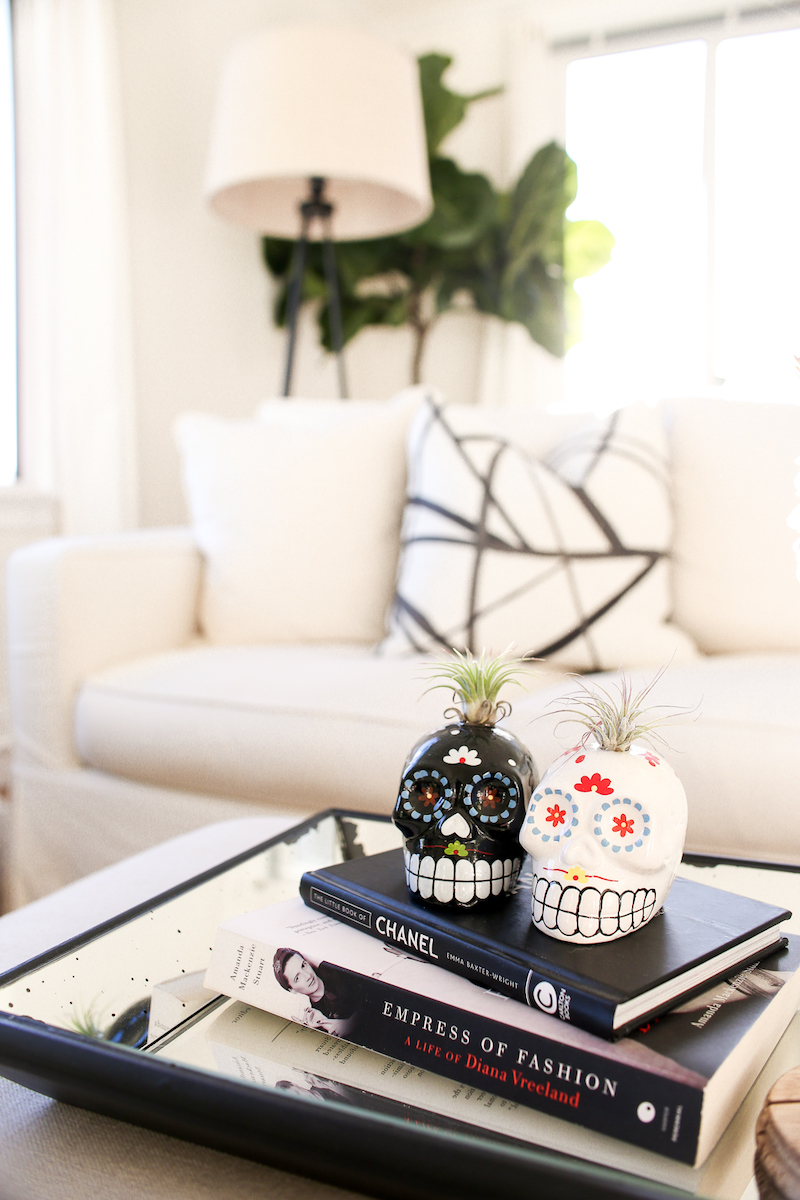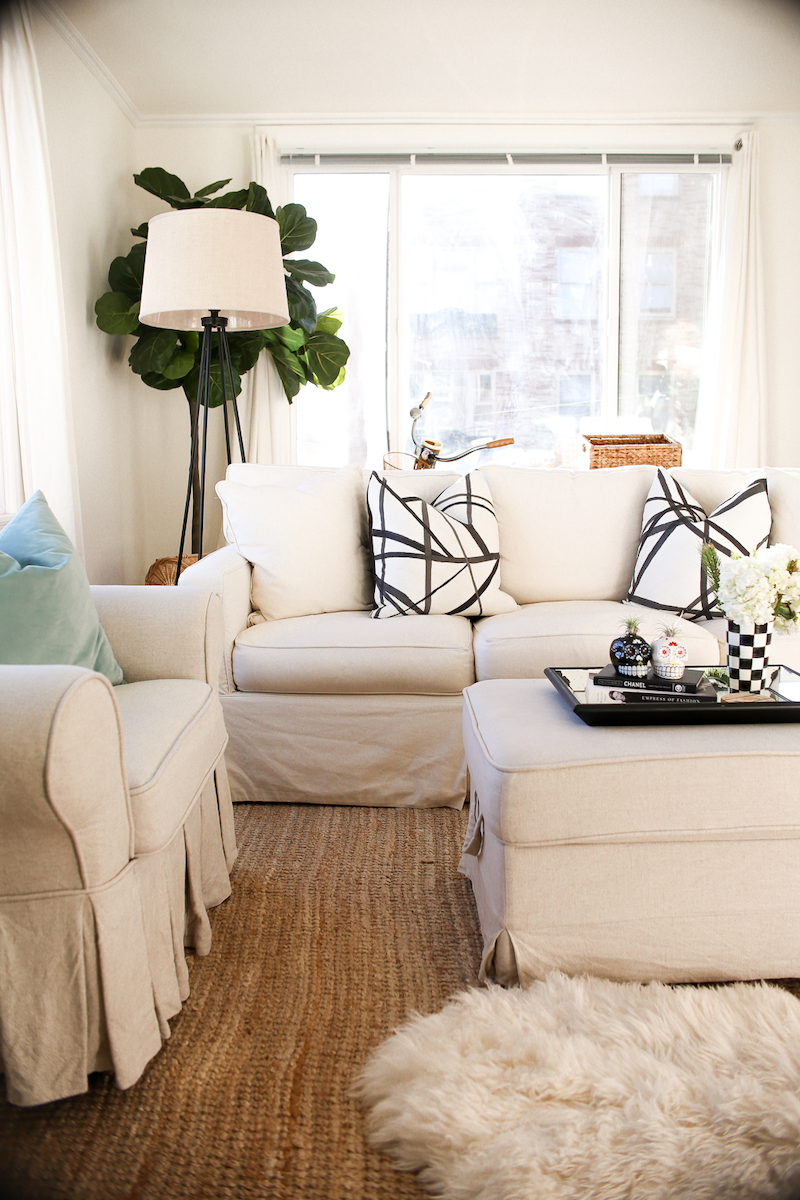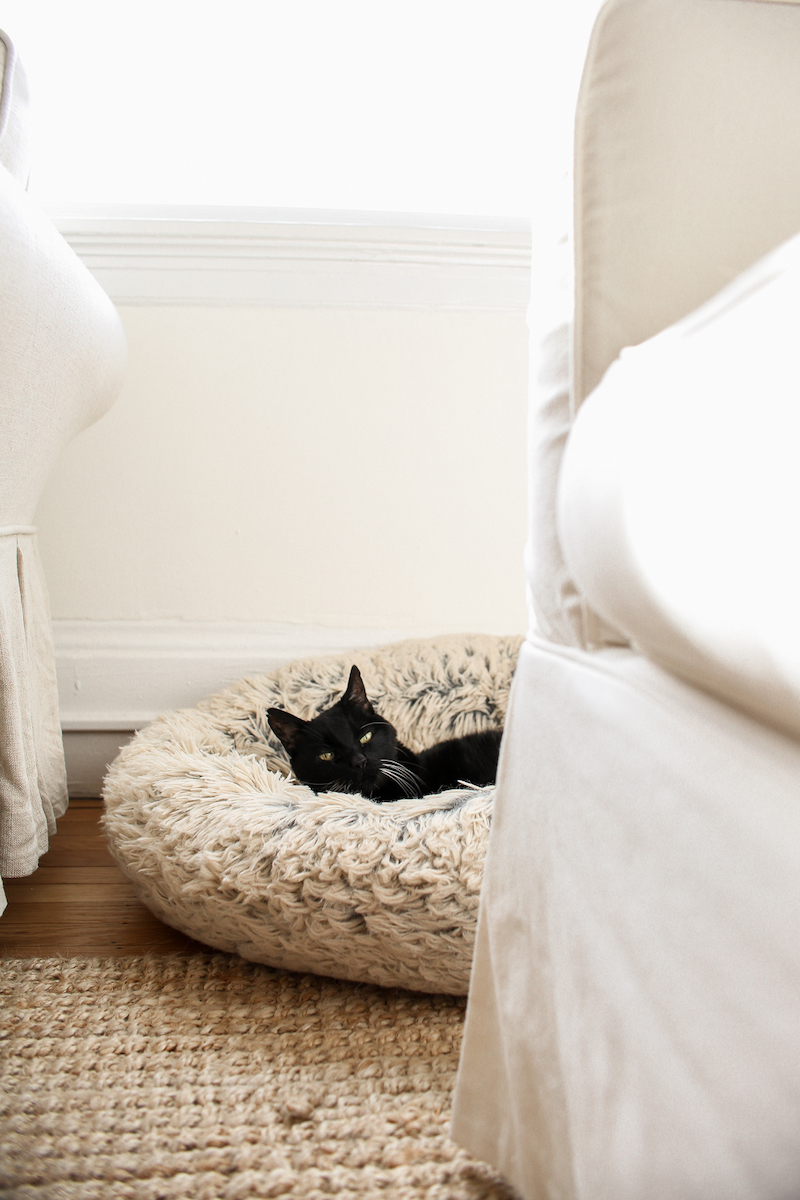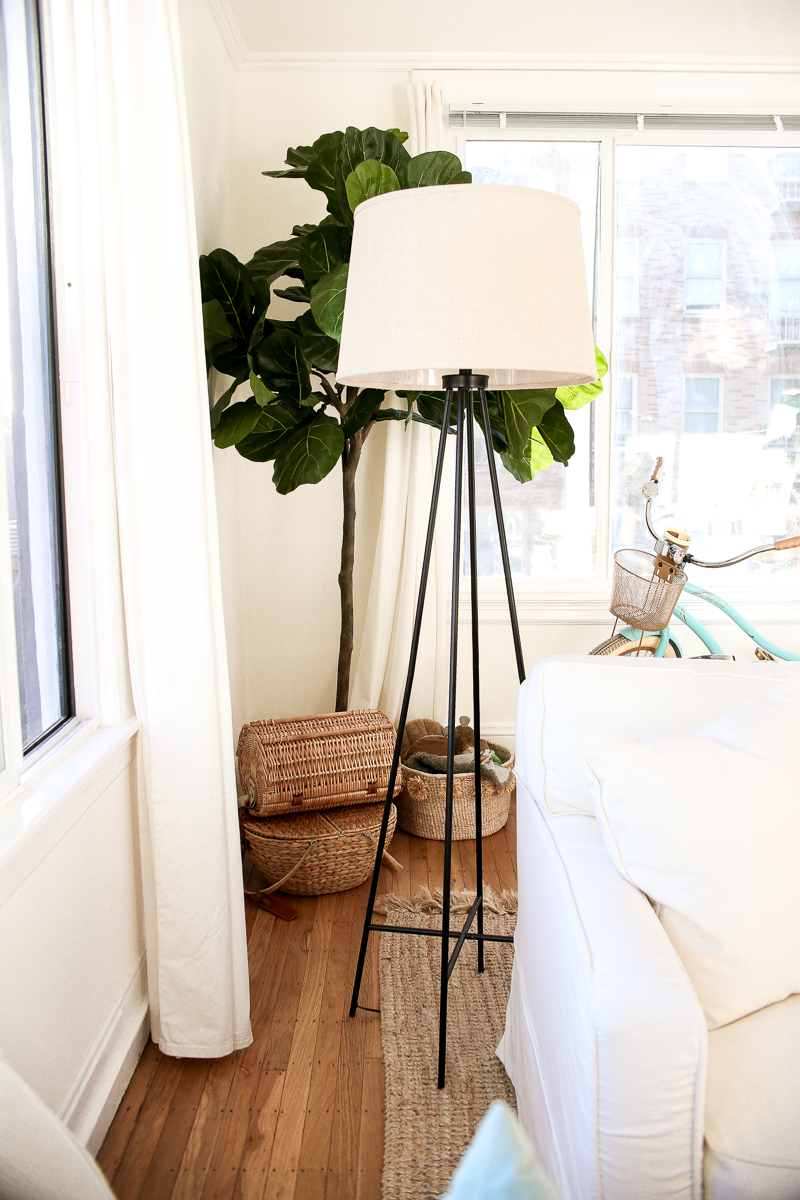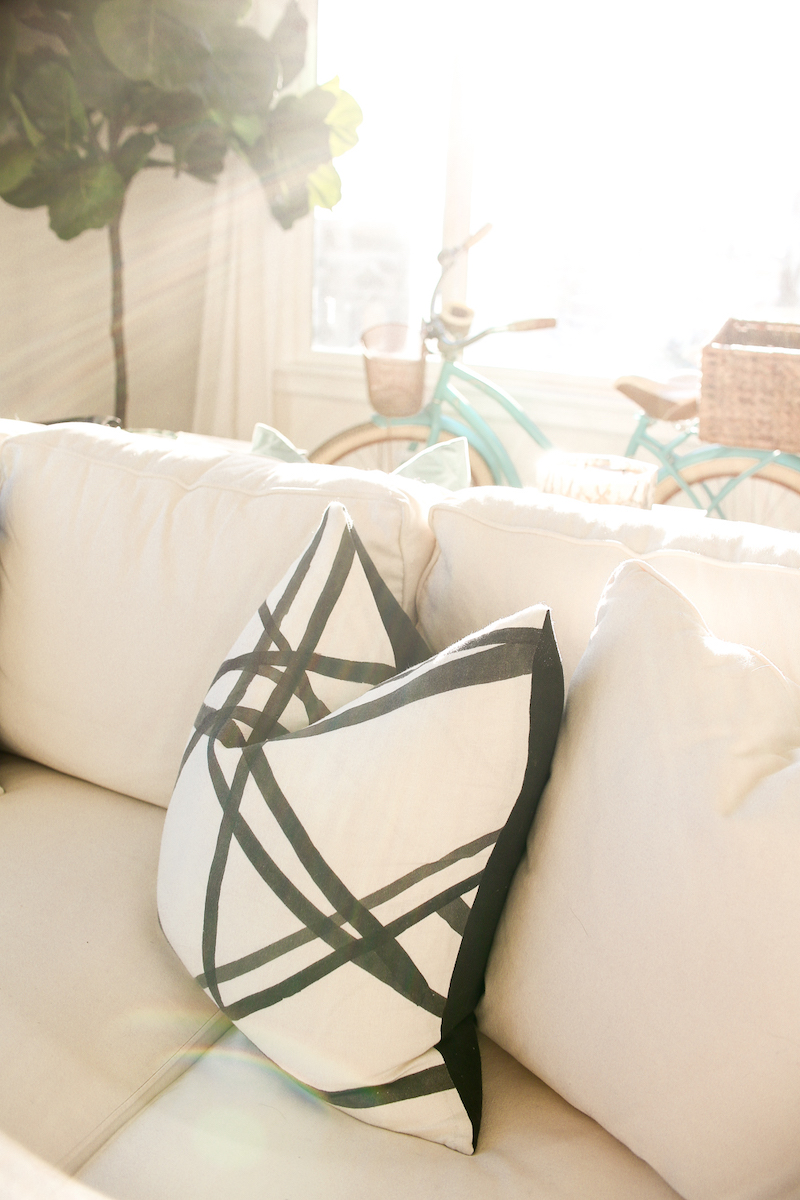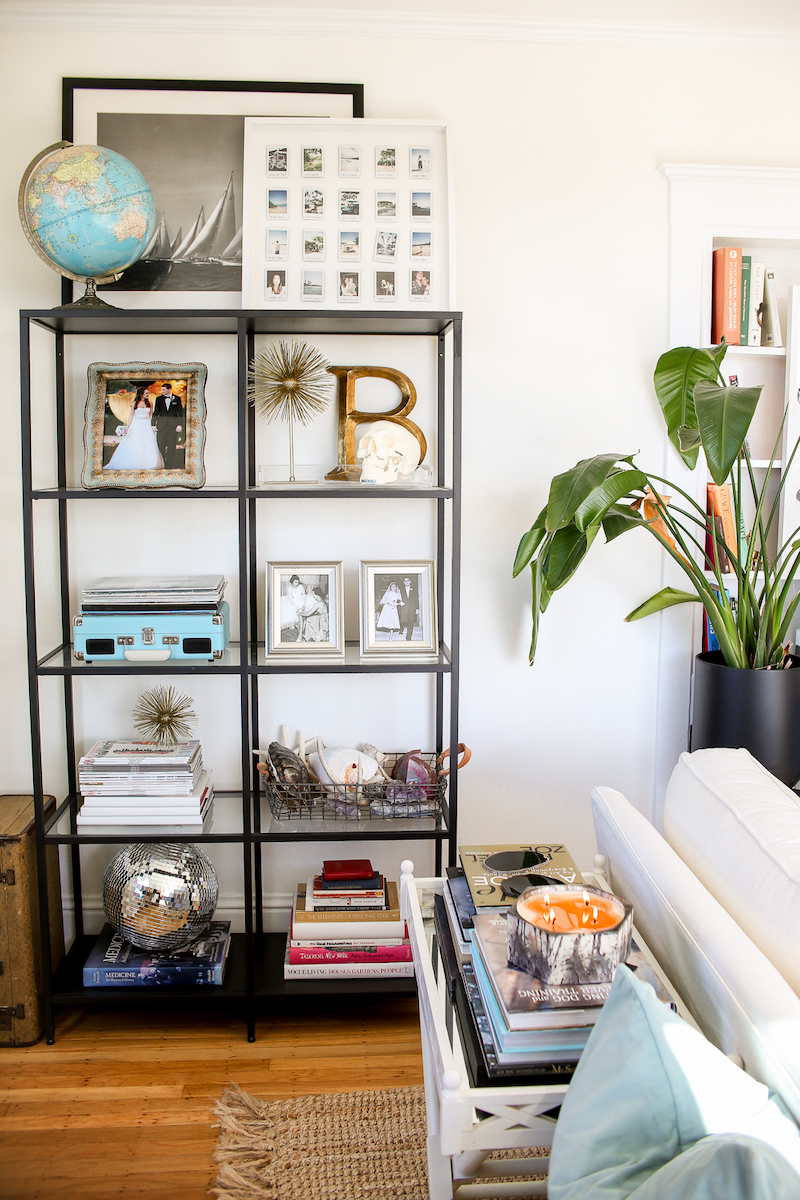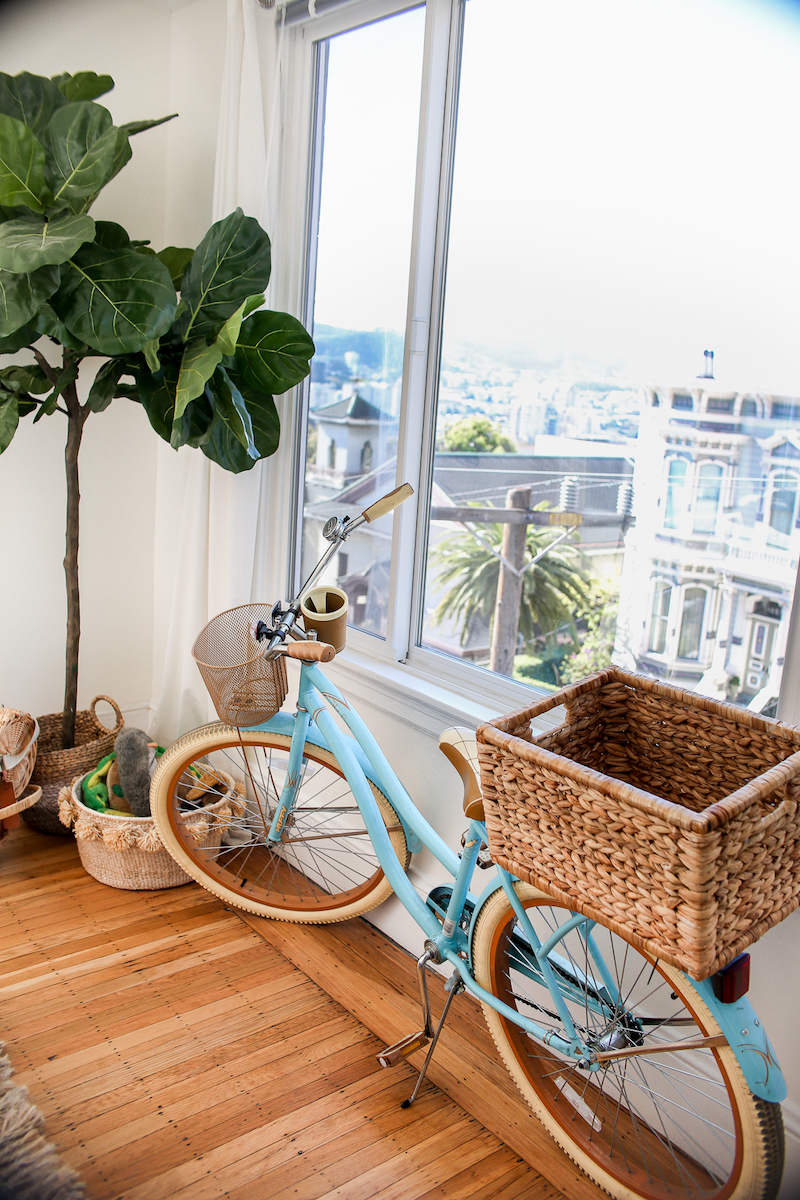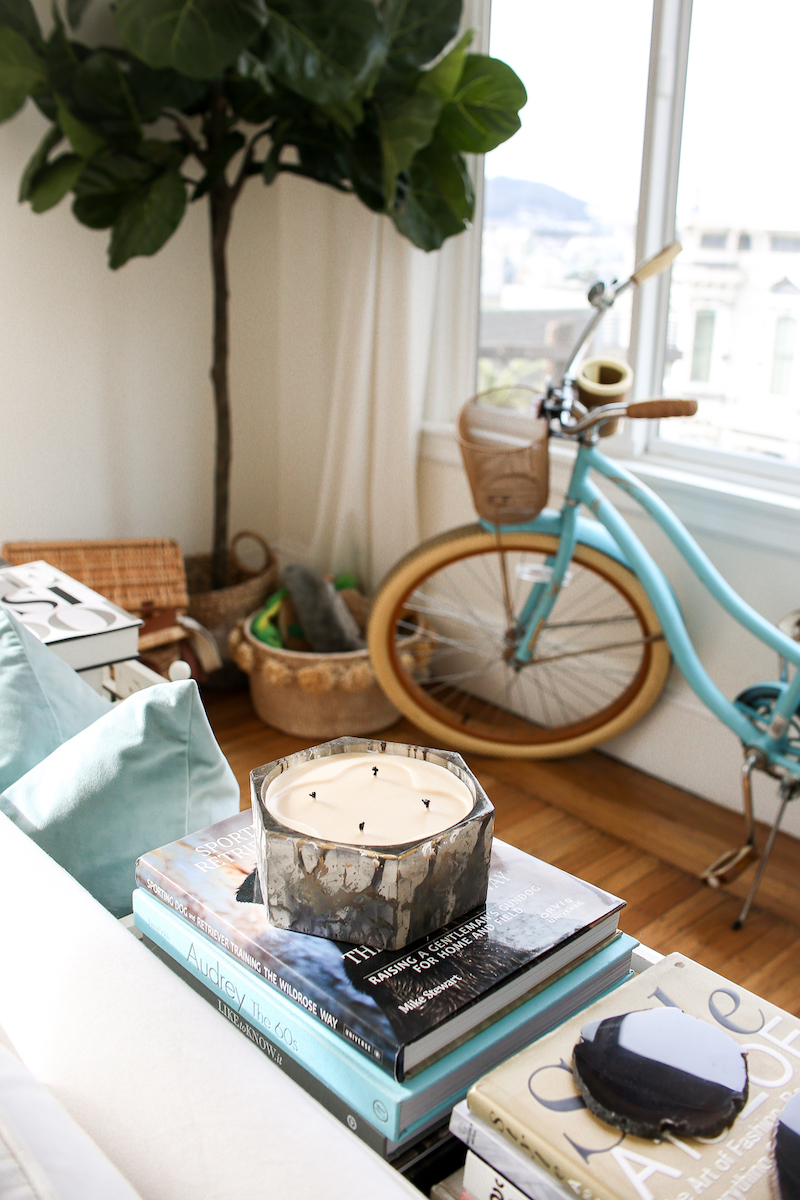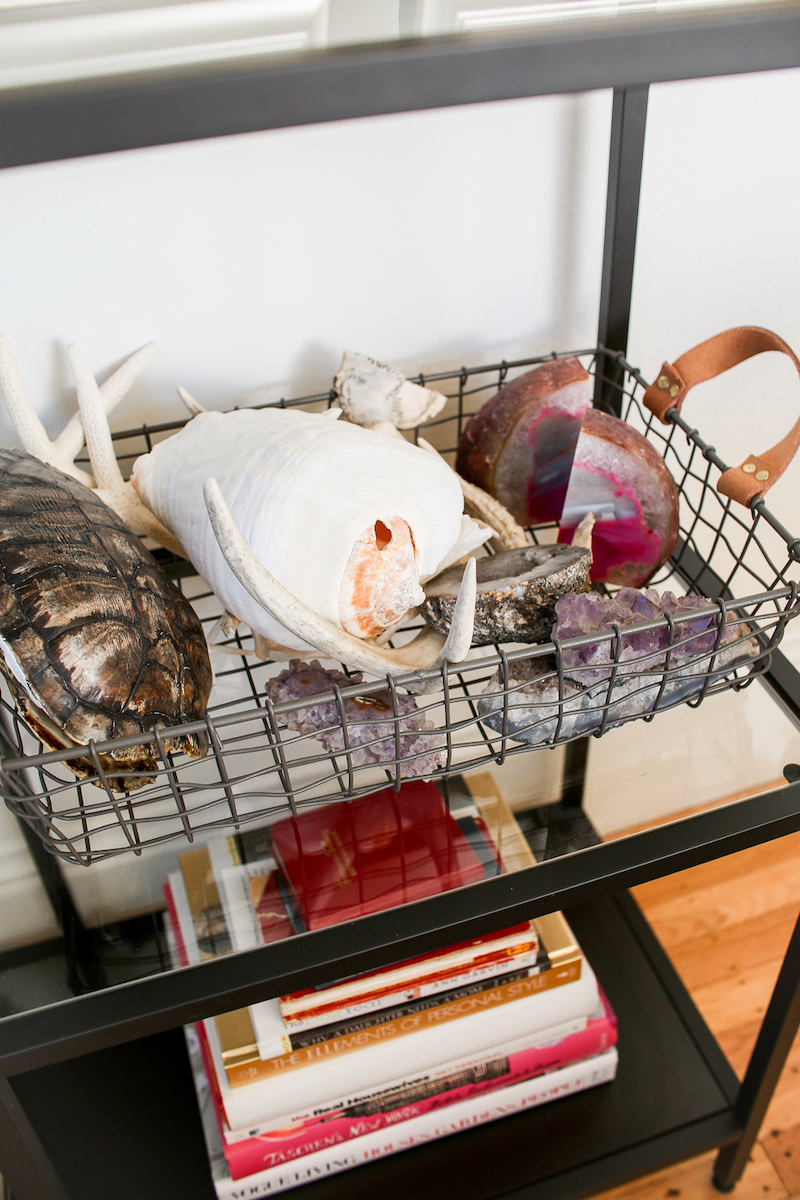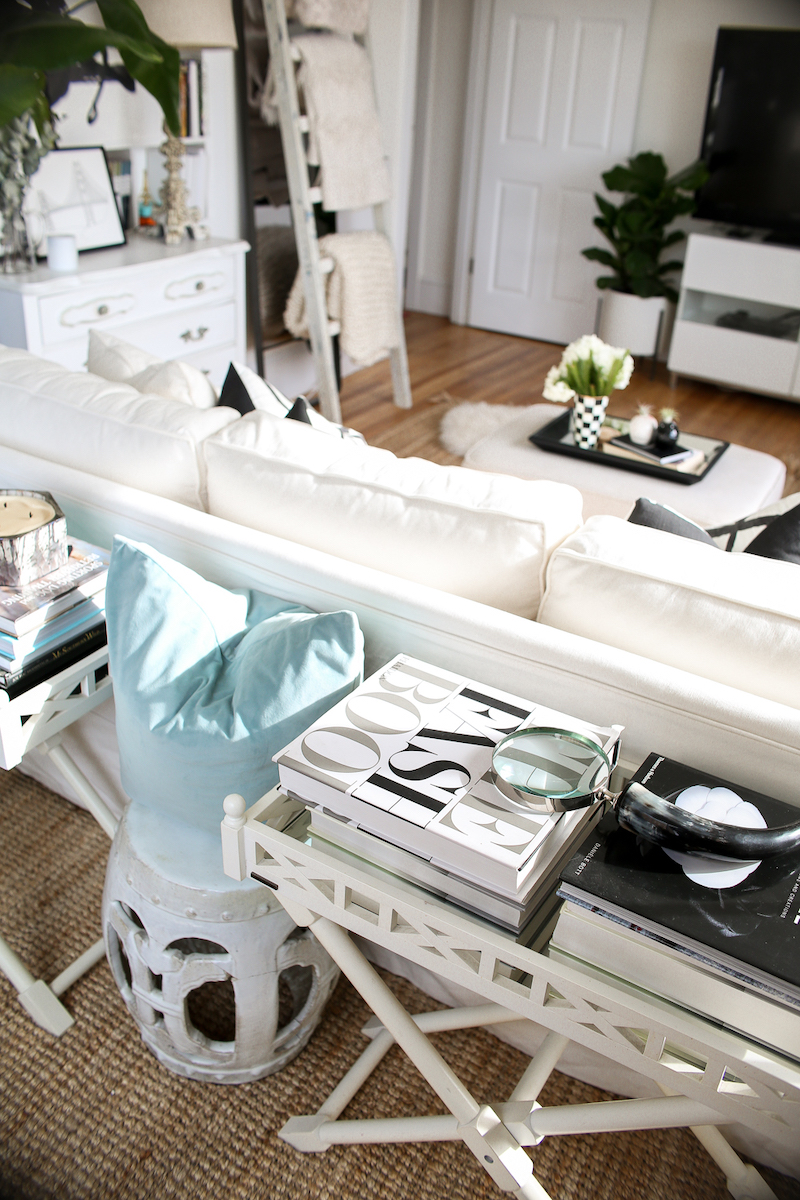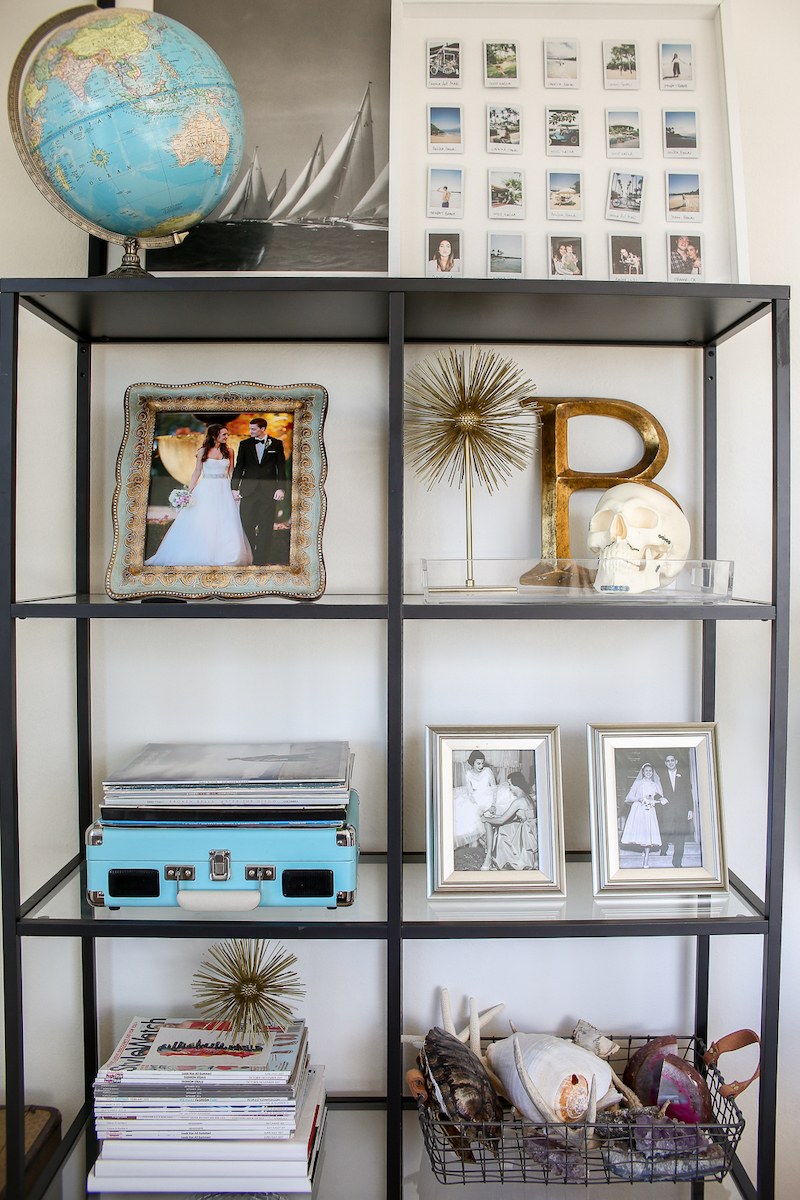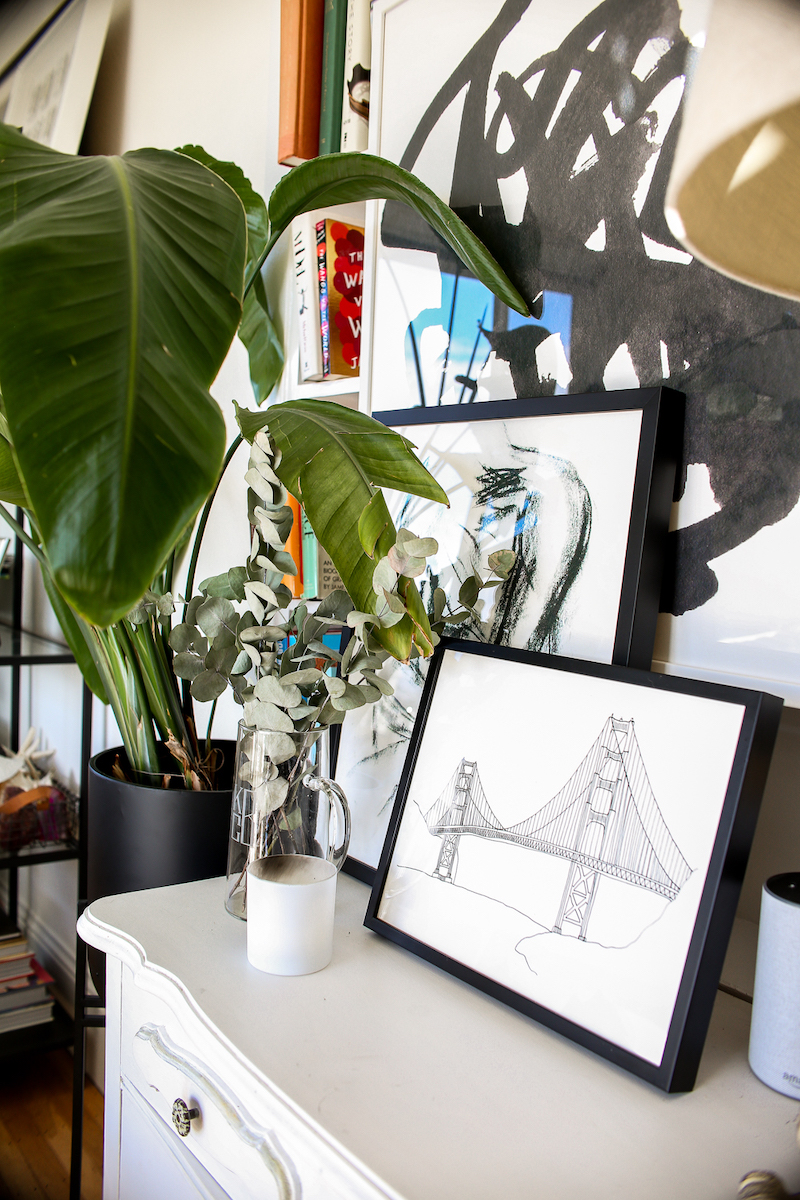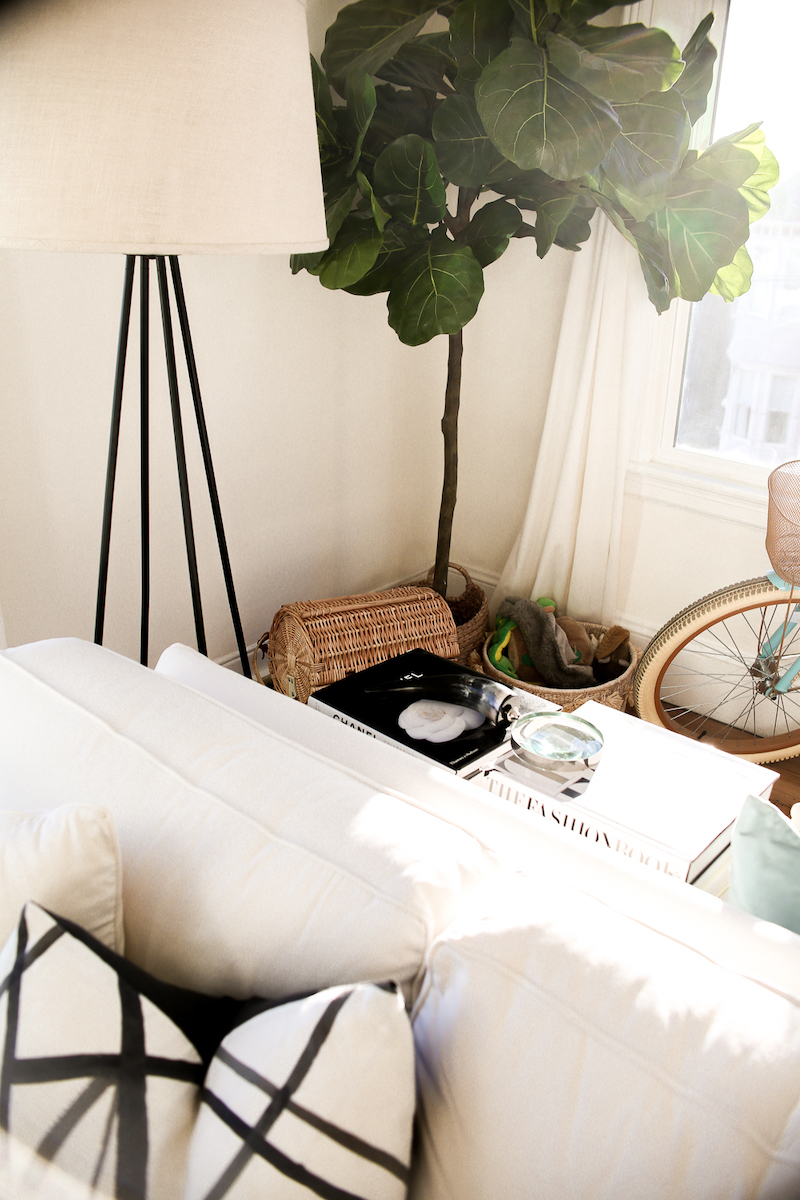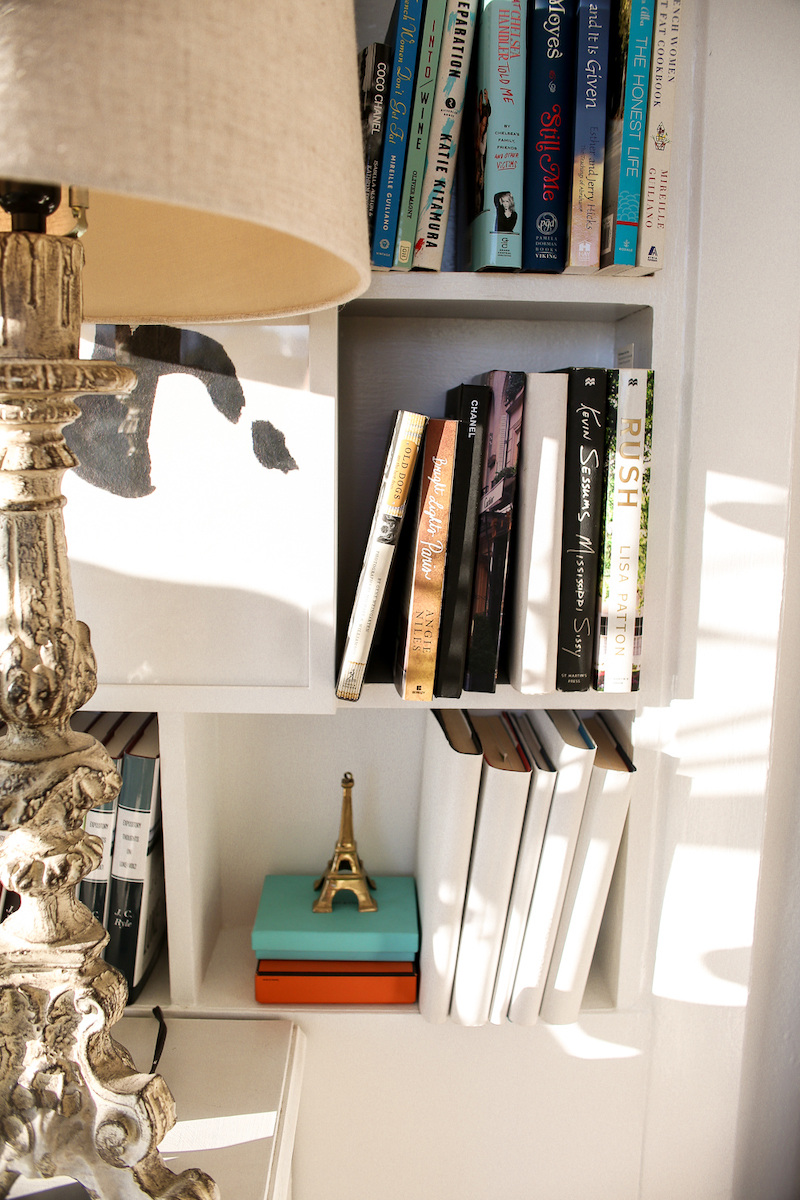 photos by Kathleen + Christian Barnes
OUTFIT
sweater dress (on sale), similar dress for less here (55% off) | belt | necklace 1, 2
KITCHEN
tea kettle | marble spoon holder | Nespresso
drop leaf table – antique, DIY here | slipcovered chairs here and here | courtly check planter | similar candlesticks
metal china cabinet – World Market (old), blog post here, also love this one and this one | similar breakfast trays here and here
HALLWAY
similar marquis letters
OFFICE
side table | tray – handpainted, similar style here | disco ball
sofa (on sale), also love this one | fur pillows, also love these | spotted pillows + pink pillow – Willa Skye Home
floor lamp – ZGallerie, no longer available, similar style here | desk lamp, also love these
desk | similar desk chair
rug c/o Summerhouse, also love this one | ottoman
garment/clothing rack, also love this one
cotton art – Anna Cate Collection | similar antlers
BEDROOM
similar rug here (on sale)
similar bedding (on sale) | headboard (on sale) | faux fur blanket
similar dresser here (on sale) and here (on sale)
custom chair via Dwell Studo
dresser and mirror c/o Joss & Main (blog post here), similar styles here and here (50% off)
closet: metal shelving | metal hanging rack | shoe rack | ghost chair
LIVING ROOM
black planter (44% off) and white planter
SF skyline art | abstract art | silhouette
rug, also love this one | sheepskin
sofa – Lee Industries, similar style here | chair & ottoman – Ikea, slipcovers from CustomWorks
mirrored tray | courtly check tumbler | skull succulents – Trader Joe's
black & white throw pillows – Willa Sky Home
blanket ladder – DIY, love this one and this one
floor lamp – World Market (old), love this one and this one
bar – junk store DIY, love this one | acrylic wine holder, also love this one
curtains (similar ones here) , black shelves, prints by bar – Ikea
faux fiddle leaf tree, also love this one and this one
beach cruiser, DIY basket shared here
record player (comes in tons of colors!)
pom pom basket, picnic basket, wine picnic basket
tray tables, white garden stools – many, many years old similar style here and here, love this one
If you see anything else that is not linked, it's either because I don't know the source or it is no longer available for purchase.  Thank you so much for reading this novel!  It's wild to think that in only 5 more months we'll be packing up this space and moving onto the next (city and state TBD)… but I am manifesting that it has a yard and no shared walls. I'm saying that jokingly… but also not at all.  I've been sharing walls with strangers for 7 of the past 8 years and I'd really like my own walls!
Thank you so much for reading today – and it's such a privilege to share this little space with you guys!  You can find all home-related content in the "home" category of this site, including our home tour video in OC.  Big hugs and have a beautiful weekend – XO