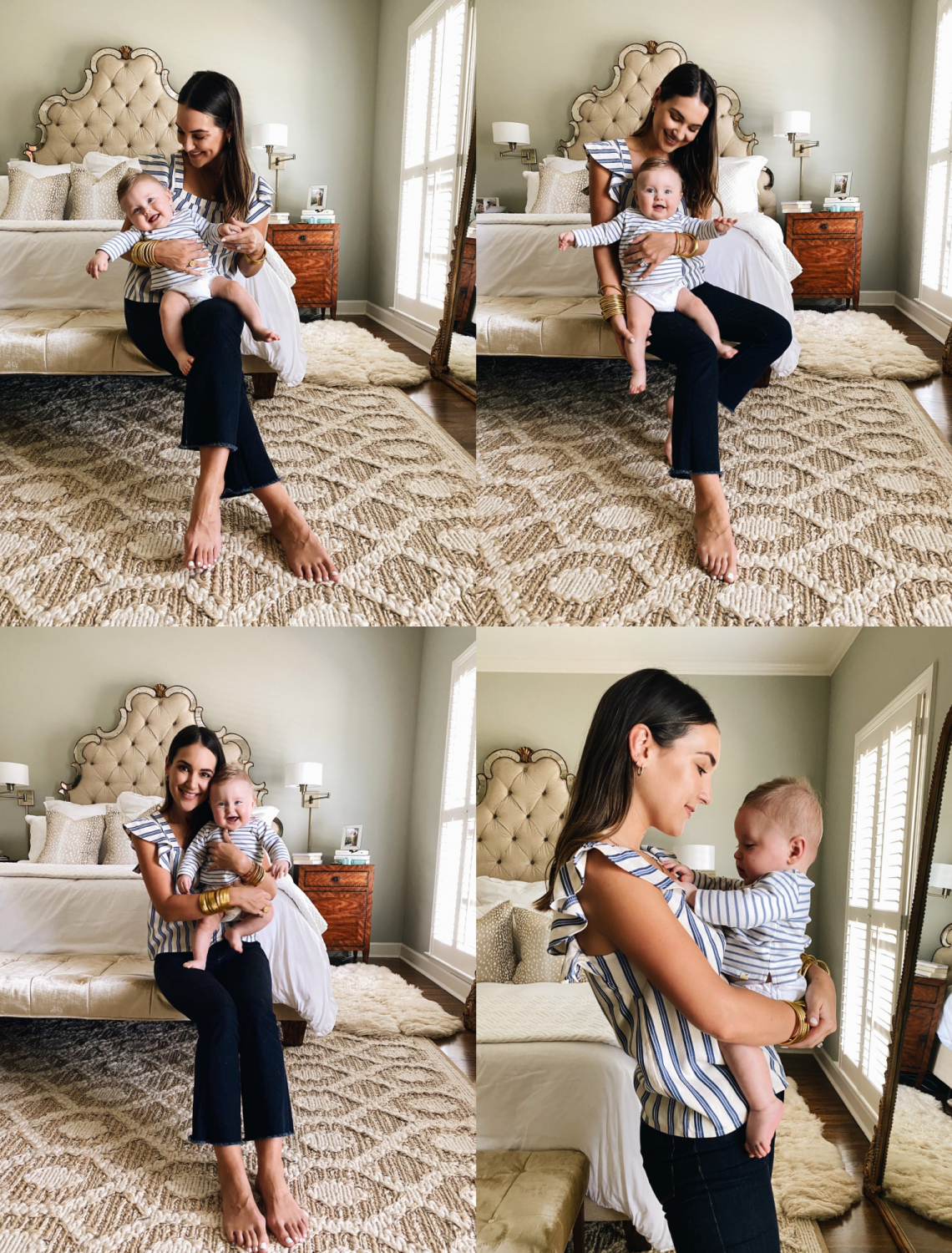 top | denim, also love these and these (on sale) | gold bangles | earrings | bedroom details here
More DIY's!  I have been loving them!
Thank you so much for this!  2020 has been the year at home for sure, so I've enjoyed getting crafty around the house, painting rooms, creating art and moving furniture and accessories around.  I need to be better about putting them into blog posts!
Can you talk about making home decor decisions and inspiration for the house?
I shared in this Q&A my opinion on getting started with home design, but my friend Macey told me once that she felt that quick decisions were often the way to go.  She has an amazing eye for design, and she said she thought often times too much research and options can actually cloud our gut instincts for choosing what we like.
I loved that thought, and it made me feel more comfortable with how we have filled our home so quickly.
I would start with a Pinterest board and pin images you like.  Then step back and connect the dots.  Do you notice a theme of sleek lighting with fluffy, cloud sofas?  Or rich, patterned rugs and leather accents?  What's your vibe?  Look for the consistent elements in your Pinterest vision board and start there.
How do you keep your light couches clean?
I either opt for slip covers so I can wash them if we spill or I go with Sunbrella fabric.  I've had a white or beige sofa for 8+ years now and it's never been an issue because I go for slipcover or Sunbrella.
We also don't allow pets on furniture, and I do think that really helps if you have pets!
Do you still love your LoveSac?
Yes!  We have a sactional in seashell polylinen in our basement and it's incredibly comfortable.  We're really happy with it.
How do you feel about essential oils?  Yay or nay and why?
We love them for diffusers in the house and Hudson's room.  I try to use them before taking medicine, but honestly… I usually forget.  My favorite ones to diffuse downstairs are in this set.
I don't find them to help me much with colds or sickness (I've tried onguard, oregano, etc. and never noticed much), but they have helped with sleep (doTERRA's lavender) or nausea (doTERRA's peppermint).
I think if they work for you?  Go for it.
How did you learn so much about gardening?
I literally googled and read tons of articles or I ask my neighbors who have incredible yards and gardens!  When they're out in the yard I'll ask questions and they are always so kind to offer their advice.  And they're always right).
What's a good swimsuit brand for women?  I want to splurge, but I want it to be worth it!
This may not be a popular answer, but I don't typically splurge on swimsuits.  The reason is that I only wear them for a few seasons, they look dingy over time or my preference changes.  I'm much more likely to splurge on a fabulous coverup, hat or beach bag that I can get longer wear out of.
The swimsuits I wear most often are from ASOS, Amazon or Aerie.
Favorite everyday bras?
I love this one from Tommy John or this one from Third Love.
How many gold serenity bracelets are you wearing?
I bought one set and then went back to buy another set.  So I usually am wearing all 18 from both sets!
I love them because they're lightweight, don't make a bunch of noise and they're waterproof.  I literally wear them all day and don't think twice.  To find your size, I would recommend measuring your wrist to make sure you get the right fit.
Where is your lock pendant from?
What do you tell your stylist for your hair?  Can you recommend at-home hair color?
I get my hair cut about twice a year and I do balayage about once a year.  I just ask for a blunt cut and low-maintenance balayage that leans more toward blonde than orange or red.
And I use this purple shampoo about once a week.
I've never attempted coloring my hair myself!
What do you use to curl your hair?
For a budget, I love a 1″ Conair.  For a splurge I love T3 1.25″ (on sale) or NuMe wand!
Any updates on your Amazon collection?
I LOVE Y'ALL for asking!  It's coming later this summer and when the samples come in I'm going to poll you guys on Instagram Stories to see which pieces you like best so we can include them.  I am SO excited to bring all of you into the final selection process!
Where are the beige sunglasses from?
My favorite Celine dupes!  They are called the Monroe and you can find them here (I have all of the colors).  I cannot believe what a steal they are.
Do you still use the Mirror for exercise?  Why or why not?  Do you have a Peloton as well?
I do still use the Mirror (full Q&A on it here), and I don't have a Peloton.
Christian uses the Mirror more than I do because he likes a class whereas I usually am on the treadmill watching TV.  But it is definitely still used and in our makeshift "gym!"
I mean this sincerely, but did you see blatant racism growing up in Mississippi?
I know this may sound naive, but no I honestly do not have memories of witnessing blatant racism.  I did attend a private high school that was mostly white and my mom was a stay-at-home mom and artist, but in my Dad's office there was always diversity.  He also started a free medical clinic in the town where I grew up and there was always diversity in that office as well.  I would work and volunteer at both offices during summers in high school.
I think I more so experienced black and white communities keeping to themselves outside of offices, school or work.  And in many Southern communities it still feels this way.  Moving back to the South from California, I definitely see that in ways I may not have otherwise.  So it's my responsibility to figure out how to put myself in a position of community and relationship-building in Georgia.
I've been told there was a time someone was using a derogatory racial term in front of me and my mom asked the person not to use that word in front of her or her children.  I don't remember the moment, but I now admire that she spoke up when someone was out of line.
Is there anything you miss about the Bay Area? Did you like anything about SF?  What made SF such a difficult city for you?
These questions made me laugh because I know I'm harsh when I reference my time in San Francisco.  It was, without question, the most difficult, abrasive and most expensive place I've ever lived (out of Mississippi, Florida, Alabama, New York, Southern California, Northern California and Georgia).
I always told Christian to shoot for the stars and see what was possible… which meant I had to be willing to sacrifice where we would live for the better medical program.  If you don't know much about the unusual path of medical training, it's based on a match system.  So you don't choose where you go.  You interview and you rank them, they rank you and a computer decides where you're moving if you want to continue your education.
I've talked a lot about my time in the city, what I experienced and why it was difficult in the "personal" category of CBL.  So to keep it more positive, you know I loved some wine country.  Outside of the city it was gorgeous, peaceful, quiet, cozy, friendly… absolutely love Napa and Sonoma County.  Yosemite, Half Moon Bay, Monterey – stunning.  I hope to visit those areas again!
I think most who have spent time in California consider themselves a Northern Californian or Southern Californian.  And we always felt we were Southern California people.  I love some SoCal, now!  We spent 5 years in SoCal vs. only 1 in NorCal.
Are there any aspects of your life that you've shared that you wish you hadn't?
I often share more than I'd prefer.  I started this blog as a hobby and it slowly over time developed into my career.  And I am forever grateful for that!  It's an actual dream come true.
With any Internet-based job I do get a lot of extremely personal questions that I am trying to learn how to kindly acknowledge while still respecting my boundaries and the person asking the question.  Like any person, there are lots of things in my personal life that I keep to myself.
I'm not perfect at it… but I'm always working on improving!
Have you ever considered going back to school to further your education/skills?
Definitely not.  Ha!  I get test anxiety and I've never been a person who loved school.  I considered getting my Masters after my Bachelor's and asked one of my favorite professors for her opinion.  She told me to get a job.  She wisely told me that for what I wanted to do, experience would trump additional degrees.
10 years later, I would still agree with her.
What baby sunscreen do you use?
I have bought and used this one, recommended by a friend, and have had no problems with it.
Were you scared or doubted ever having kids?
Definitely.  In our 20's, we weren't even sure we wanted kids.  We have 12 nieces and nephews under 13… so we were pretty aware of the lifestyle change and commitment that children bring.  To be honest, it didn't really look enticing to me until I turned 31.  All of a sudden my heart just changed and I knew I wanted that experience of raising a child.
I was fortunate to get pregnant that year and welcomed Hudson at 32.  Christian could have waited longer but he's always let me take the lead when it comes to kids as he knows I put in more time simply because I work from home and have a more flexible schedule.
They say "you'll know" when you decide you want to be married.  And I felt the same way about kids.  One day I wasn't sure, and then the next I was sure.  It was just in my gut!
How did you deal with not entering motherhood at the same time as a lot of your friends/peers?  We are waiting and I feel like we get left out of things because we don't have kids.
Christian once said something to me via text that was so impactful I literally wrote it down.
"It's like you're on a hike and you are stopping to smell the flowers before you get to the rocky peak where the flowers don't grow but the views are good.  Some people only want the view and some people only want the flowers.  We want both, so we can't really compare ourselves to people with other aspirations.  They'll do what's best for them and we'll do what's best for us."
We had some things we wanted to do before bringing a child into the mix.  While it's hard, just keep focusing on your path.
I'm drowning in resources for infant sleep.  What's your take?
I get asked about sleep training every week even though I don't really talk about Hudson's sleep.  I really think so many babies are different and the same things don't work for everyone.
But I'm sure if your little one isn't sleeping… it's all encompassing.  I feel you.  If you search "sleep train" you'll find many posts referencing this topic!  Most recently in March and February.
I truly just think some babies are great sleepers and others aren't.  I compare it to food – some babies are big eaters and others aren't.  Hudson has loved sleeping since we brought him home.  I always had to wake him up to feed him those first few weeks.  Once his weight was at a good place and the pediatrician said I could let him sleep, he just slept.
So we moved him to his room at only a few weeks old.  And he slept.
I did follow the recommendations in the Moms on Call book as well as Taking Cara Babies.  If those two resources didn't work for me I would have set up a call with a sleep specialist.
Our next child could never sleep, and I'll have to start from scratch – who knows!
Gift ideas for someone having a baby?
I always love receiving books.  Everyone's clothing and decor style is different, but a book for an acquaintance or silver spoon or baby cup for close friends is my go-to!
Thank you so much for sharing your questions with me for this month's Q&A!  You can see over a year of these posts in the "personal" category of this site.  Appreciate you guys taking the time – XO –