similar turtleneck here (60% off) and here ($25 off) | blazer | similar joggers here and here (have and love these, I ordered my usual size) | heels
What is the best gift you've ever given and received?
What a fabulous question!
Given – Christian's watch from Paris on our babymoon.
Received – A Chanel bag on my 29th birthday.  Although this year I bought myself this air fryer that I found at a store in town on sale for $40 and it might be rivaling my handbag because I am obsessed.
What did you ask for this Christmas?
A carpet cleaner.  This personalized bag.  And for Christian to repair the broken plantation shutters in our house (seriously though).
What is your favorite childhood memory?
Going to our church's Christmas Eve service (the church is over 150 years old) and singing Silent Night by candlelight.
How often do you clean out your closet?  And how do you get motivated to do it?
Usually at least 3x a year.  When I've run out of hangers, that's when I know it's time to start sifting.
I'm motivated to do it when my closet doesn't inspire me.  It should get me excited about getting dressed, not dread it!
Where are the consoles on your patio from again?
I bought two of these and put them side by side.
How do you keep them clean since they are made for the outdoors?
We have a large covered patio with curtains and furniture (peek here) and because of the design, somehow we don't really get anything other than some leaves on our patio.
So after having outdoor furniture, throw pillows and a rug for a year, they are all still in great shape.  So I don't worry about the cabinets, but it's also why I don't spend a lot of money on outdoor furniture.  I'm more willing to splurge on interiors and I don't want to feel bad if I need to replace something after a few years outside.
How do you care for your cashmere?  Dry clean?  Wash?
Depending on the item, I'll dry clean, hand wash or machine wash in a mesh bag on the delicate cycle.
I recently bought this cashmere and wool shampoo but haven't tried it yet!
Advice for where to find picture lights?
I love this one and this one.  Nice picture lights can be a splurge, but they really add ambiance!
Who is the artist that drew the watercolor/drawing/painting/sketch of your house?
You can find her work here.
What is the link to those $14 gold hoops again?
You can find them here.
What is that smoothing bra you talked about?
I love this one and you can find the same style for less here.
Where was that lightweight mask chain from?
I've noticed your lashes looking longer lately… different mascara?
I'll take it!  I use R+F eyelash boost a few times a week and bounce between this mascara and this one.  One thing I have stopped doing lately is curling my eyelashes… I wonder if that has helped less fall out?
What is the air fryer you bought?
I bought this one because I stumbled upon it in a store on sale for $40.  So far I am loving it.  Some of the things I have used it for: chicken tenders, root vegetables, fries, carrots, brussels sprouts, red potatoes, fried pickles, salmon and shrimp gyoza.
Where is the personalized tote bag from that you received for Christmas?
It's this one – I have the largest size.
Which brands of wool socks does Christian like best again?
Farm to Feet – made in the US!
Where were those super sharp knives from that you were talking about on Stories?
They are these!
How to handle a spouse in residency?
I wrote a blog post on this back in the day that you can find here.
How often are you actually live/pre-recorded?  Honestly just curious.
I'm always live unless I'm sharing sponsored content.  Sponsored content requires the brand to review and approve it before I can post it, which is the only reason it isn't live.
I wish I could always be live!
How do you rest during your busiest season?  What does your self-care look like?
Um… if I'm being honest, I don't really.  I'm a workhorse and it can be a weakness.  Now that I have a child, I don't have the option of when my work day ends.  So when I'm busy busy, which has been all of November and December, I shut my computer at 5PM and open it back up at 8PM once he's asleep and I've had dinner.
It's not great.  I'm working on it… hence hiring a "House Manager" to help me with day-to-day tasks so I can allow myself to actually relax more.
Do you use anything on your neck and décolletage to help prevent wrinkles?
I try to expand my serums and moisturizers down my neck and I use a body lotion on my arms and décolletage every night.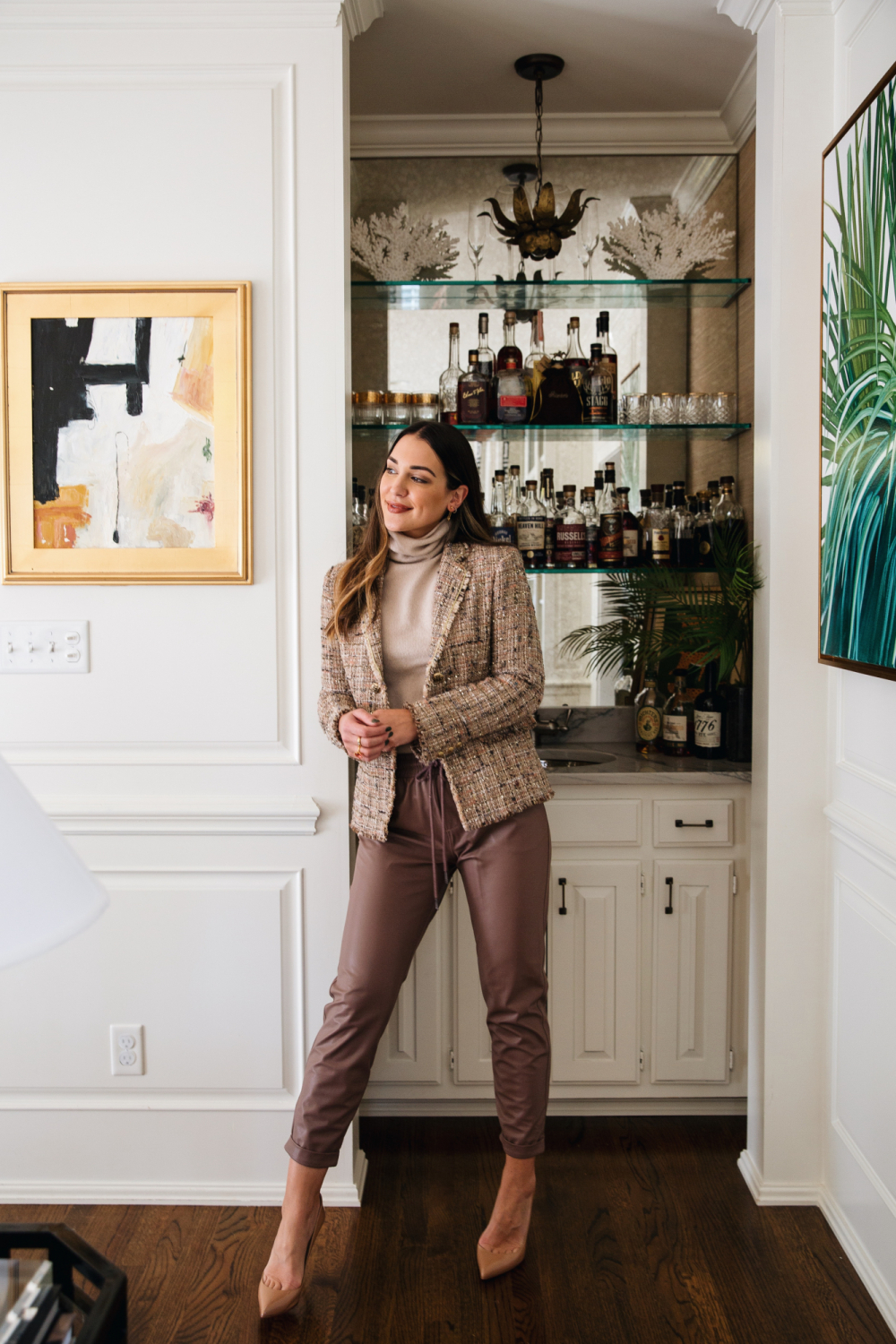 Do you get regular facials?  Use retinA?  Retinol?  Lash serum?
I don't get facials.  I use retinol sometimes but not regularly.  I do use this lash serum.
I religiously wash my face morning and night with a gentle cleanser and use any combination of an essence, serum, moisturizer or facial oil and under eye cream.  The lineup typically depends on how much time I have!
What is your makeup routine?  Everyday makeup tutorial?
I don't really have a set routine because I wear different products almost every day.  A part of my job is to try new products, so I'm mixing it up pretty regularly.
An everyday look will consist of under eye concealer, a brow pencil, bb cream or foundation, setting powder, bronzer, blush, highlighter.  I'll use some neutral brown eyeshadows and a mascara.  Love this lip liner and this lipstick in Liar. Setting spray if I did a good job!
I don't know how to do a makeup tutorial you guys… I don't know that it would be helpful.  I should try to figure out filming-wise how to do a good job.
Haircare and styling?  Curling iron?
I keep my hair routine pretty minimal.  I wash it 2-3x a week, switching shampoo/conditioner fairly often to avoid buildup.  I use Moroccan Oil on damp ends.  I let it air dry and then use my T3 curling iron and hairspray when I style it.
If I'm taking my time I'll use a volumizing spray and a heat protectant spray.
What life experience has changed you the most?
My brother's first child was born terminally ill.  Edie only lived to be four years old.  I was in my 20's when she passed and while I wish she could have been with us longer, she taught me so much in her short life.
It solidified that I would rather have a few close friends than an army of acquaintances.
Nothing in life is guaranteed.  Be grateful.  Really understand what basic gifts and senses are blessings and the value these things bring into your life.
And I ultimately chose to wait a little longer to have my own children because I wanted to feel ready for any child God sent to us.
Setting new year resolutions – what are yours?
I don't really make resolutions but I did make a vision board in 2020 and shockingly, somehow the majority of it came to fruition.  So I've already made another for 2021.
A quote I put on it: "God is not in a hurry.  You are.  It's why you are tired.  It's why you are anxious and stressed and disappointed.  Trust what was meant to be yours will be yours."
Meal ideas for Hudson?
I follow the Moms on Call books and we just give him bite-sized pieces of what we eat.  But if he doesn't like it, I also always have yogurts, applesauce, veggie straws, bananas, peanut butter and Trader Joe's bars nearby.
Is Hudson ready for a sibling?
Ha!  He has just entered a very busy stage – walking and into everything.  God bless everyone.  We definitely hope and plan to give him a sibling but we aren't in a rush.  He keeps us plenty busy all by his little self.
I also know this sweet time with just one baby is so special.  Just the three of us.  I want to enjoy it as much as I can before expanding our hearts to another little one.
Thank you so much for reading and for sending in these questions!  You could find all of this year's and years past Q&A's in the "personal" category of this site.  I hope you had a MERRY Merry Christmas! XO –