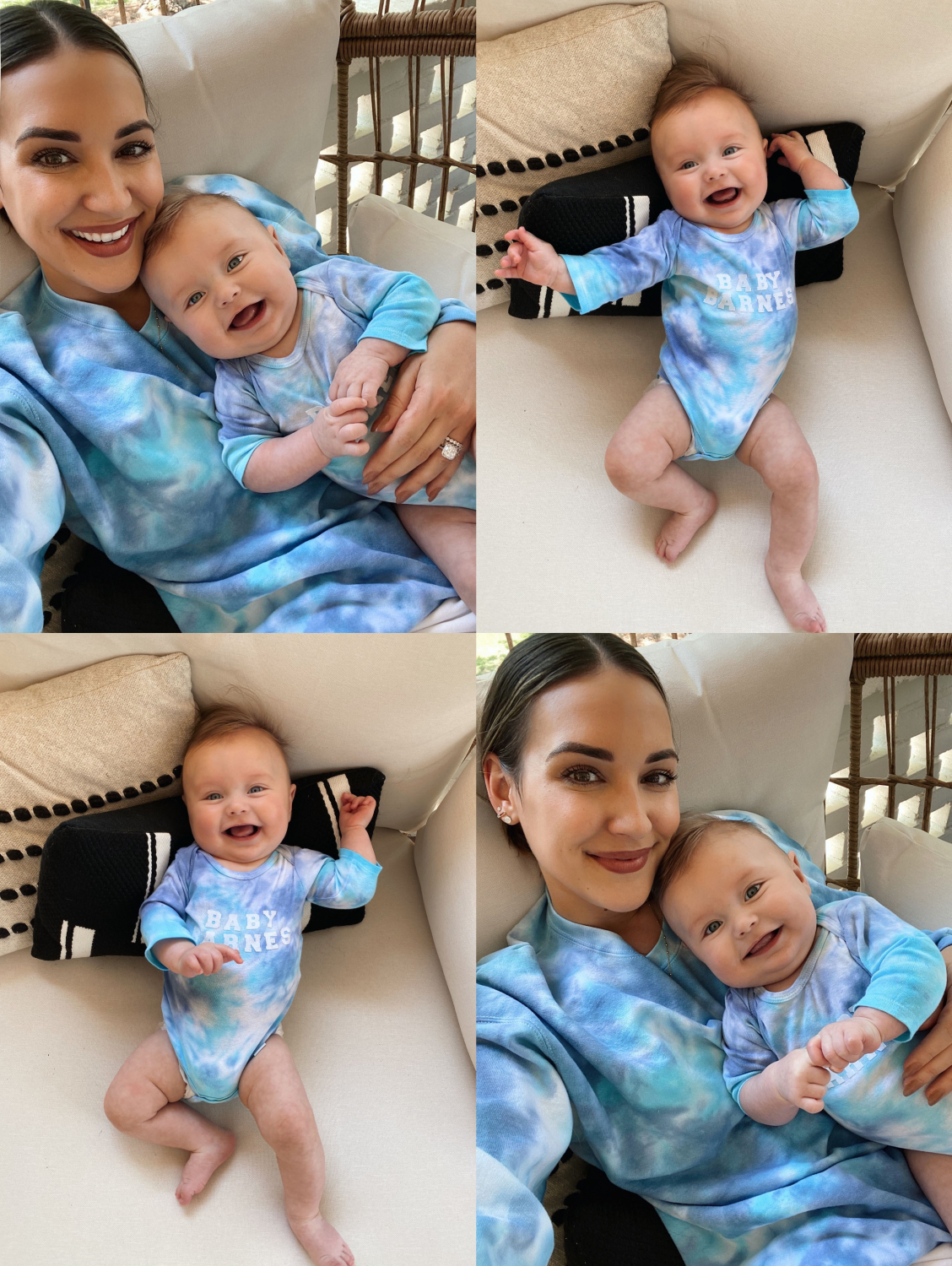 What are your decor must-haves for a first/tiny apartment?
Quality sofa and mattress.  It's tempting to save dollars on things like a mattress no one will see… but your comfort is top priority!
We have Mattress Firm, Casper and Tuft & Needle mattresses and love them all.
How do you hide your cords since your desk is in the middle of your office?
I have them hidden behind a curtain panel.  So when I need them, I pull them out.  When I don't, I hide them behind the panel.
Do you let Bailey on the furniture?  How do you deal with the fur?
Bailey isn't allowed on the furniture.  Occasionally we will lay a blanket down and she will lie on top, but we trained her to know that she has to be invited to do so.
I get this question about dog hair a lot.  We clean.  We vacuum all of the time, the Roomba runs every day.  There is no secret to dog hair – it's just cleaning more often.  Bailey will be 13 in May and because she is mostly an indoor dog… Christian knows she's most likely our first and last retriever.  The hair is relentless.  God bless her!
Out of all the places you've lived, where would you want to be during this pandemic?
This one, as it's the most spacious with a yard.  If I was in my previous apartment I would be losing it.
What would you call your interior design style?
I have no idea! I love mixing old and new and I try to stick to mostly black, white, neutrals, etc. because it allows me to mix and match all over the house.  I love antiques mixed with modern and traditional… may I like it all?
Where is the first place you're traveling when we are able to travel again?
The beach!  We have already had to postpone one trip but feel confident we'll be able to take this one.
Moving this week… any tips for purging?
If you're paying movers, know that everything you take is practically doubling its value with the added cost to move it.  Is ____ item worth increasing the value of?
If you have time and it's not worth it, sell or donate.
Who is your favorite housewife?
Oh boy… I have so many!  But my tip tops are Bethenny (OG), Lisa Rinna and Shereé.  Because they make me laugh.  But I love them all!!
I've never watched the Housewives.  Favorite city to start?
New York or Beverly Hills.
On a budget… where should I save/spend on skincare?
Save: cleanser, pimple cream, toner, chapstick, facial oil (one bottle will last you years)
Splurge: eye cream, moisturizer, essence, serum
The order of events (if you're using all of these things): cleanser, toner, essence, serum, moisturizer with/or facial oil, eye cream, pimple cream (as needed), chapstick.
Self-tanner recommendations?
If you search "self tanner" you'll find this post!
Any other filler or treatments you swear by?  How was Botox?
I have never gotten a peel and have only had a few facials in my life.  I genetically have been fortunate to have clear skin, but I do keep a several-step regimen morning and night (shared in the "beauty" category of CBL as well as above).
I've never had an injectable other than Botox in my forehead and in between my brows.  I love Botox, Christian has never strayed me!  A perk of his facial plastics training.
Cuticle/nail health while cooking/dishes/laundry 24/7?
I feel you.  I try to wear dish gloves when I'm at the sink and it makes a big difference.
Anything you do for foot care?
This mask is wild.  VERY good for a once-a-year shape up!
Where do you buy my scrunchies?
I probably wear these and these the most.
Favorite gold-plated jewelry under $100?
Definitely this selection from Baublebar.
When did Christian get you your Love bracelet?
He gave it to me when he graduated residency as a "thank you" for being along for the ride.  It's very special to me!
Best cocktail recipes?
Easiest cocktail ever:  2 ounces tequila, 1-2 fresh limes.  Shake it up with ice and enjoy!  Also love this one.
What kind of music are you into?  Share some artists!
I have several playlists if you search "playlist" on this site.  My favorite playlist is probably this one and this one!
Being a doctor's wife, how are you handling the cleaning after coming from outside?
We take off shoes, shower once we are home, wash hands, keep hand sanitizer in the car, wear masks when out, etc.  We are both mindful of it but I have chosen not to obsess over it.  All we can do is make conscious decisions and stay home as much as possible until we are advised otherwise.
Favorite thing you've learned to be thankful for during quarantine?
Well this may be obvious… but I'm thankful Hudson is here.  If you have kids, there's never a dull moment!  It also helps that I truly do not have time to watch the news.
How do you find the time to do anything with such a young baby?
Hudson has been on a pretty tight schedule forever (we use the Moms on Call schedule), so it makes it easier to know when I will have work time and when it's play time.  He takes two two-hour naps during the day, and Christian and I are currently taking baby and work shifts.
When we're not quarantined, I hire help.
But thanks to Moms on Call and Taking Cara Babies… he sleeps 13 hours at night now and has been sleeping 10-12 hours since he was 8-10 weeks old.  Which definitely helps.  I think I need to buy the next age group course, worth the investment!
Did Hudson experience the dreaded 4-month regression?
Not yet.  He's about five months, so I'm holding I'm breath!  But this kid loves to sleep.
Does Hudson use a pacifier?
When he's tired he will.  But he usually prefers his thumb when he's sleepy or upset.
How do you make it through the last few weeks of pregnancy?
Other moms told me to keep moving, so I did.  I think I was on a three mile walk the week before I had him.  Stretch it out, sister!
How did you lose the baby weight?
I haven't.  I think I had about 10-12 lbs to lose and now I'm still up 7 lbs. pre-baby.  My clothes mostly fit so I'm not too bothered, but I'm hoping it comes off by 9 months postpartum!
Have you experienced postpartum hair loss?
Around three months postpartum I started losing hair when I showered.  It's not ideal, but all I know to do is take vitamins (like this or this).
Tips for getting through colic?
I touched on it last month here, but I unfortunately don't have any groundbreaking tips.  Ultimately we gave him probiotics and knew when to take a break.  Know when to hire some relief, and know that colic is incredibly common.  Everyone who has dealt with it knows how challenging it is, and we all get through it and it becomes a distant memory.
I'm sorry I don't have anything more helpful to say about it, but it passes.  Be open and honest with your pediatrician!
Did you struggle with postpartum anxiety?  After I became a mom, my anxiety got worse.
I didn't, but I've heard that CBD can really help with this.  I actually started taking Equilibria a few weeks ago as I noticed my patience was shorter than normal (#stress).  I am still trying it out but I think I'm noticing that I'm more zen about things that would normally ruffle me.
How do we best support you?  Likes?  Comments?  How to ensure you get commission?
This is perhaps the most kind question I have ever received.  Thank you for even asking!  You're on the nose, sister.  Commenting on blog or Instagram posts that are relevant or helpful to you, liking content you enjoy, sharing my blog or social accounts with friends you think might enjoy it – incredibly helpful.  I appreciate you greatly!
That's a wrap for April!  Thank you so much for taking the time to ask and read these questions.  You can find all of CBL's Q&A's in the "personal" category of this site!
If there is something you would like considered for next month's post, please leave your question in the comments.  Appreciate you and hope you are all well – XO –