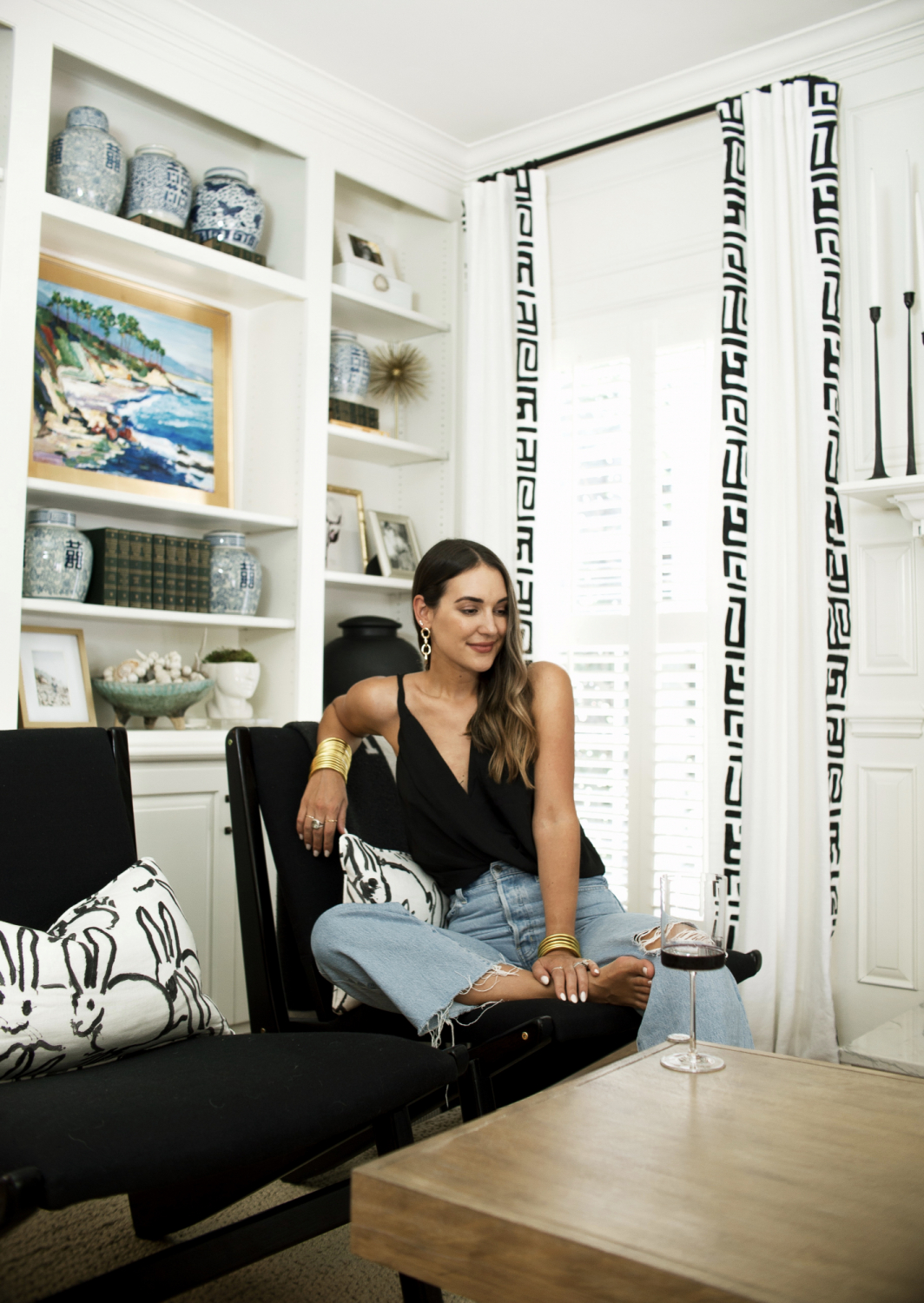 camisole | wine glass | similar denim here and here | bracelets | similar earrings | bunny pillows | room details here
Will your Amazon Drop collection be available to your loyal Canadians?
Yes – it will be available worldwide!  You can find more info about the collection details here.  As soon as I can release the launch date, I will.  And you can know immediately when the collection drops by signing up for their really simple SMS text notifications.  You only get one text when it drops!
Also… love you and that loyalty, sis.
What are your favorite wide leg, cropped flare denim?
I don't know that I have a single favorite (I love so many!), but I do love A&F's Ultra High Rise collection, these Levis and Etica.
Any luxury items you're eyeing?
I mean… always!  I would love a little red Chanel flap bag or a small black Birkin… but a gal can dream.
Can you speak about the effectiveness of blue light glasses and where are yours from?
I'm usually wearing this pair.  And you can read an article about blue light glasses here.  Also if you search "blue light glasses," my glasses will come up in the first post!
What is your favorite room in your house?

Without a doubt, our living room.
Any other renovation plans for your house/yard?
We are starting on our master bathroom next month (!!).  We have two backyards – an upper and lower yard.  The upper yard is kind of a mess… we're just not quite sure what to do with it.  The previous homeowners had plans to install a pool, which would be fabulous… but we're not there yet.
Honestly, we're just thrilled to have any yard.  It is such a huge luxury and we don't take it for granted.
What was on your must-have list for buying a home?
I wanted space.  A yard.  Preferably painted brick only because I love a brick house.  A kitchen that was up-to-date.  Some character that made it feel unique.  I mean… once you start looking you realize house hunting is actually the pits.  Or is that just me?
Ultimately, like with any big decision or investment, we just had to take a leap of faith.  So far, I have no regrets!
Where are your bunny pillows from?
You can find them here.
Where is the rug in your room from?
You can find our bedroom rug in our bedroom reveal post.  And you can find every single rug in this house linked when you search "rug" on this site!
What made you decide on that wallpaper for your dining room?
I knew I wanted something dark, floral and moody.  Anewall has some great patterns!
Do you have any favorite face masks you've been wearing?
Yes!  Lately I love this pack of two and this pack of three.  Both are under $15 and I find them really comfortable.
Where in Athens do you do Pilates?
In my basement.  I haven't ventured to a studio here yet.
I've got a case of the quarantine blues.  Will you share about your experience in SF and how you coped?
I hear you, girl.  I shared a lot of posts in the "personal" category of this blog about being down, perspective and what I decided to do about it.  You can find some posts on these topics here, here and here.
You also might like this post about signs to look for when it might be time to take a social media break.
Do you have any tips on managing anxiety?  Was doing ok with COVID until this month.
I'm so sorry you're dealing with that, and I know these uncertain seasons can be really triggering for those who struggle with anxiety.  My first recommendation would be talking to someone (I share my experience with therapy in San Francisco here).  My next would be trying CBD.  I've been taking Equilibria Women since March (kathleenbarnes will snag you 15% off your first order).  I really do feel it's helped me keep my cool in tense moments.
Can you share some of the behind-the-scenes of blogging?
I wrote a saga about this once here.  And Krystal and I talked about it a lot on her podcast!
How did you lose all the weight?
Time and patience.  I know it is annoying, but I didn't really think about it until about 4 months after having Hudson.  I had about 10-12 lbs. to lose, and half of that came off by being mindful of what I ate and exercising.
He is now 8 months, and I still have 5 lbs. left but I just can't stop eating cheese.  Hopefully I'll get it off… eventually!
Tips on "flipping" hand-me-down furniture?
This may be an unpopular answer… but it rarely goes well for me.  In my experience, I end up trying to make something work that I don't actually love.  And the time and energy I pour into it is just not worth it.  I would rather save for something I really love as-is (whether it's new or from an antique store).
I have a few hand-me-downs I love (very few).  I've learned to politely decline the rest.
Where do you shop for your ginger jars?
Ours are from all over, mostly antique malls and markets.  You can find some pretty ones online here and here.
What resources did you use to make a decision about what formula is right for your baby?
I spoke with our pediatrician, got several samples, talked to friends who had babies and ultimately found what worked with Hudson, had limited spit up, etc.  The most important advice, in my opinion, is from your pediatrician.
In my experience, trying several for a week or so at a time and then observing his behavior led us to what we use now.
Are you still making Hudson's baby food?  If so, what are you making?
Yes!  We love our Béaba to make his food.  I also feed him Beech Nut purees.  I've found some websites with great ideas here and here.
I shared this in our infant favorites post that you mind find helpful –
Can you share the baby monitor you use?
We use our Miku at home and we have this Infant Optics monitor for travel or sitters.
If you search "baby monitor" on this site you'll also find it linked here and here.
Thank you so much to everyone who submitted a question this month!  I always love hearing from you guys and learning what you're curious about.  Appreciate your time and support – XO –