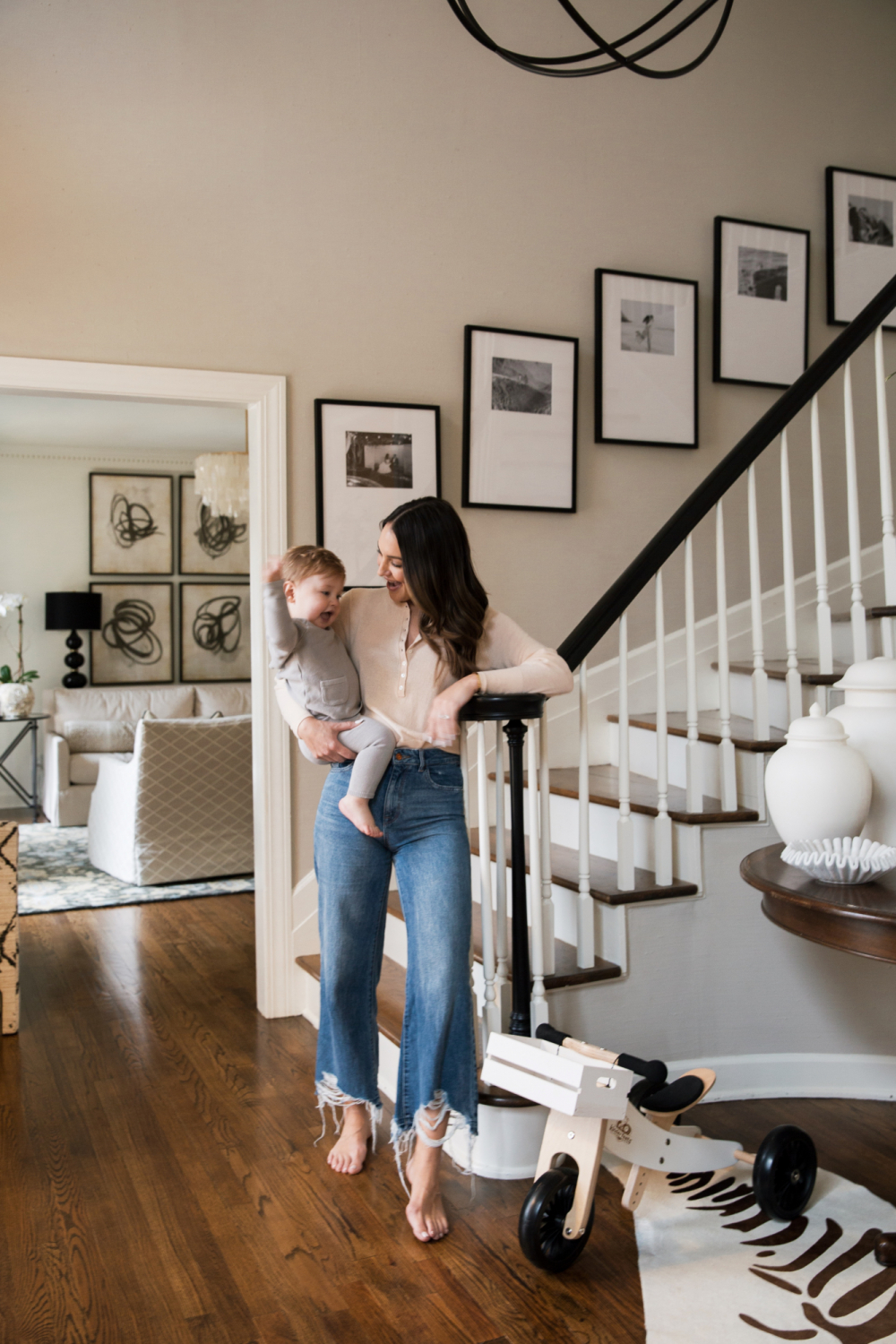 sweater | denim, also available here | staircase photos | trike bike | similar zebra hide | hudson's knit set | ruffled marble bowl
Could you do an art tour of your home?  You have so many beautiful pieces!
Thank you so much!  My mom and sister both paint, so I've had a love for art from a young age.
I've been asked this a few times but when I don't show much of something, it's usually because the pieces aren't available online.  So I try to limit sharing things that can't be easily found.  
However in this Q&A I shared some of my favorite sources for art and I'm happy to share them again!
What do you have the black living room lamps sitting on?  A hidden sofa table?
It's just a console table that is between the sofa and the wall, and I have the lamps sitting on the table.
Can you show a photo of your roman shades again?  Did you get the liner?
I did get the blackout lining and if you search "roman shades" on CBL you'll find a photo of them in the Friday's Five post that comes up!
What's the paint color on your walls?
Many of the walls in this house we left the same they were when we moved in (foyer, bedroom, upstairs bedrooms and hallway).  But I detail my favorite white pants and what we used (Benjamin Moore White Dove) in this post.
You can also find it if you search "paint."
Have you hired a house manager?
Yes!  I have someone helping me with errands, meal prep, house tasks.  We've been working together for about a month and so far it's been really helpful.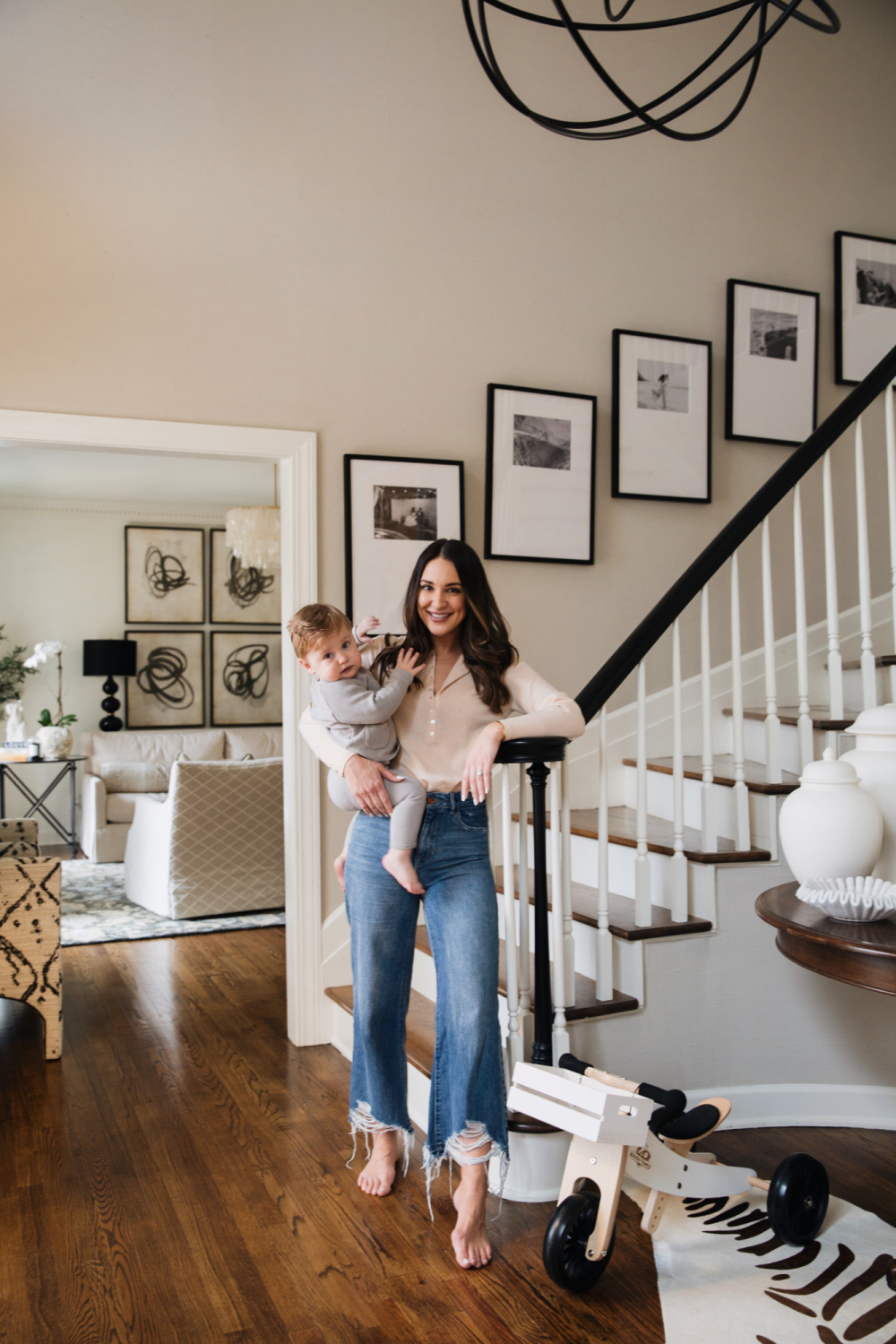 Do you have advice for making friends as an adult?
Yes!  I dedicated a blog post to it actually and you can find it here.
Where is your coffee table from?  The one that changes shapes.
You can find it linked in the den reveal post.
Where are the table easels from?
I have lots of easels that I've found from all over – Ballard Designs, Amazon, the attic of my parents house, Hobby Lobby, Home Goods.
Linking some options below!
Can you share what a bride these days should put on their registry?
I was engaged 9 or 10 years ago, so I'm a little rusty.  But I did share a blog post on what I'm glad I registered for here.
And you can also find it by searching "registry" on this site!
Can you share your bathroom organization?
I've yet to do a master bathroom renovation reveal because I'm still finishing up a piece of art for it (!!), but I just have little tray inserts that I have placed throughout the drawers.  
You can find similar drawer organizers here and here.
What is a day of meals like for you?  Favorite recipes?
Most of my favorite recipes can be found under the "food & drink" category of this site.  But by popular demand, I did share a typical day in this post!
Any picks for trench coats under $200?
I love this one above the knee under $200.
This one is a little longer, which is usually my personal preference for a trench coat.
This one is classic and under $100. 
Do you have any favorite white tees?
Yes!  I shared a full blog post with them here.  
How to style a neckerchief?  How to tie it?
I actually did a full YouTube video with 7 different ways to tie a scarf.  If you search "neckerchief" on this site, you'll see many styled outfits with neckerchiefs that might give you some inspo!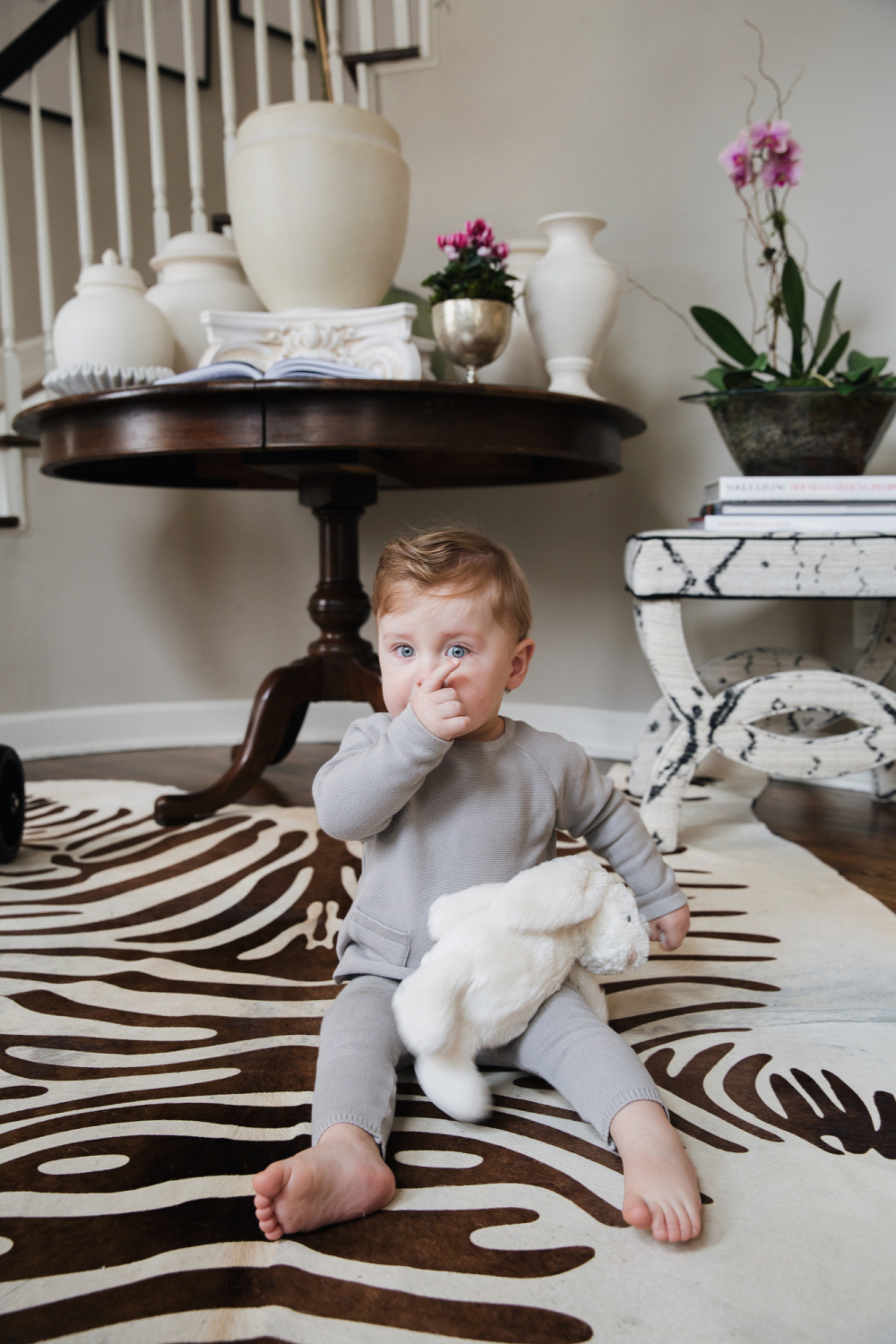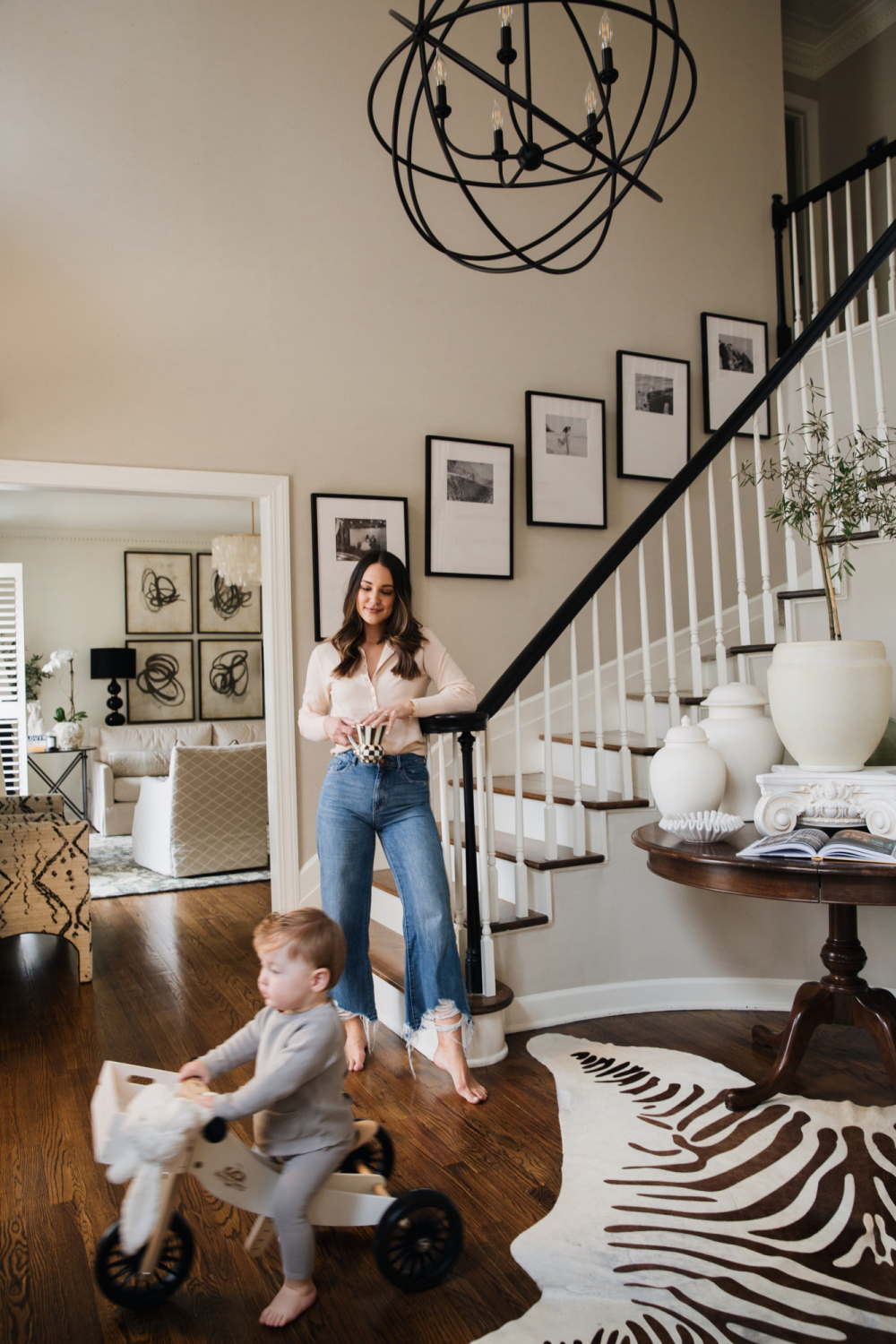 Where are Hudson's booties from?
$11 on Amazon!  You can find them here, we have them in a few colors and they've been great for winter.
What is your favorite book to read Hudson?
Ok sweetest question of all time.  There are so many, but lately we have been reading Babar's Guide to Paris and we love the Mr. Magee series.  We have so many sweet and tender ones, but we read them less often because I end up tearing up.  I want reading time to be fun!  Not Mom crying… again. Ha –
What are things you don't need for a baby and things you do?
I find this relative to each person, but I did share a few posts you might find helpful:
Favorite Newborn Products & Why
Hospital Bag Packing List | What I Did & Didn't Use
Would you share a blog post with your favorite places to buy Hudson clothes?
I get asked this from other little boy moms and honestly… we wear a lot of hand-me-downs from our 7 boy first cousins and gifted clothing.
However, when I do buy him new clothes they are typically from H&M, OshKosh, ZARA, Old Navy or Feltman knit sets from Grace & James.  My tip would be to try to stick to solids with the occasional print being a stripe or something classic.  Their clothing is already so small that I find the printed pieces to be a little overwhelming.  Some pieces I love below!
How do you keep Hudson from touching all of the decor you have?  Books, lamps, trays, etc.
When he was a newborn, everyone loved to tell me all the baby proofing and rearranging I was going to have to do.  You know, the "you just wait" kind of ladies.
But we have baby-proofed three cabinets (we use these), the outlets (we use these) and the corners of the den coffee table (we use these).  We also have a hand-me-down iron gate at the top of the stairs.  And that's it for now.
When he reaches for a lamp or a breakable item, I will say "no no" if it could be dangerous (like a lamp falling on him).  Otherwise, I just say the word, "gentle, gentle, gentle," and he gently touches it, explores it and moves on.
I found that if I let him gently explore items, he usually does just that.  I had NO idea how the Christmas tree situation was going to work out.  But I let him explore the ornaments gently, touching the tree limbs, and that was that.  The only person who happened to break ornaments this year was actually… me.  Ha!
So far, this has worked for us.  But I just take it week by week, and know that every kid is different.  I kind of view it as Hudson has to learn how to live in our house.  This isn't only his house.  You know?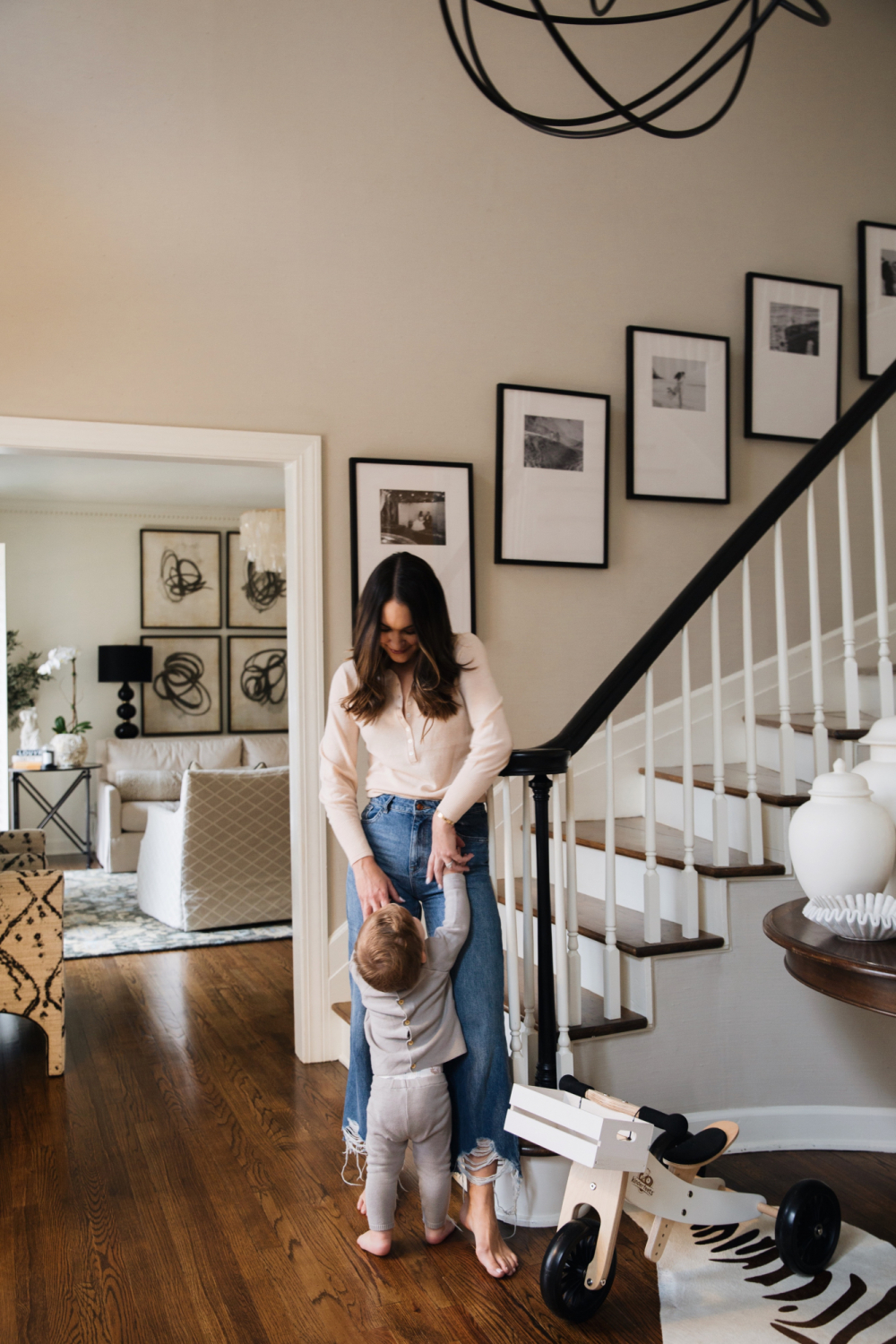 How do you keep having fun with the hubs when Covid is here to stay but marriage ain't goin' away? What's a perfect date night with Barnez?
I love this question!  We have started "theme nights," which has been really fun.  More on that here and a short video of how the first one went.
Other times we have prepared a nice meal on our wedding china and shared dinner and long conversation over candles in the dining room.  Board games can be a nice change of pace along with watching a pre-recorded concert (you can usually find them on YouTube).
Examples: John Mayer 2014 in LA, Vampire Weekend at ACL 2013, Vampire Weekend 2019, Leon Bridges in Santa Monica 2018
Did you breastfeed your baby?  If so, for how long?
I had wanted to keep my breastfeeding experience private, but after being asked so frequently I shared a full blog post with our experience.  I will try again with our next baby but will likely keep it private as I find nursing to be extremely personal.
You can also find it by searching "breastfeeding" on this site or in the "personal" category.
Are you comfortable talking about the blogging side and burn out during these times?
I share more about the "business of blogging" in the podcast interviews I've been a part of.  You can find those linked in the FAQ page of this site under "About Kat."
I'll be honest, 2020 gave me a lot of blogger burn out.  It was my first year as a new mom.  My first year in a new state, home, and region.  Coincidentally my first year being married to a healthcare worker in a global pandemic.  And my first year where I was really faced with reassessing what I choose to share and what I choose to keep private.  I'm also learning to accept that choosing to keep some areas of my life to myself may not be considered enough for some of my audience, and I have to accept that.
Ultimately, it's my responsibility to determine where that line is.  Now that I'm a parent, I find myself pulling back a little bit more due to the increased toxicity that is so often found on social media. 
I'm usually my most transparent on this blog as it feels like a safer, more positive place to share my opinions and heart.
Where would you recommend starting with the Housewives?
I would recommend hopping into the next season of New York or Beverly Hills.  I don't think you have to start from the first-ever episode, but it is helpful to start at the beginning of a season.  If you end up loving it, you can dig back into the archives!
A lot of people don't "get" the fascination or enjoyment of the Housewives franchises, but I laugh more watching these women on my television than I do in any scripted show.  And the meme and gif accounts that then create hysterical housewives content… it's just a real giggle fest.
Thank you SO much to everyone who submitted a question for this Q&A!  You can find all the past months Q&A's in the "personal" category or by searching "Q&A" on this site.